Hello NASM learners, and welcome to the PTPioneer Study Guide page. This article is the meat of the study materials and will provide the majority of the study content.
All in all, the basics covered in this article will be:
Get your copy of the NASM CPT exam cheat sheet and study plan. It helps immensely in studying for the exam.
Make sure to check out Trainer Academy for premium NASM CPT study materials. They will reduce study time by 50% and have an exam pass guarantee. Read my full review of them here. You can save $100 on their MVP study system with the code: PTPSUB
Let's check out this study guide next!
NASM CPT Study Series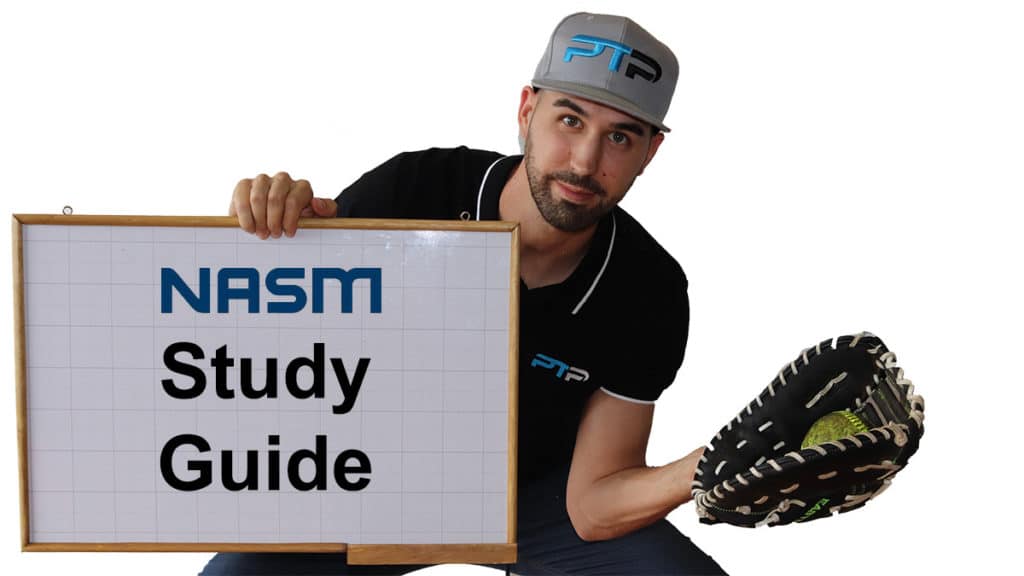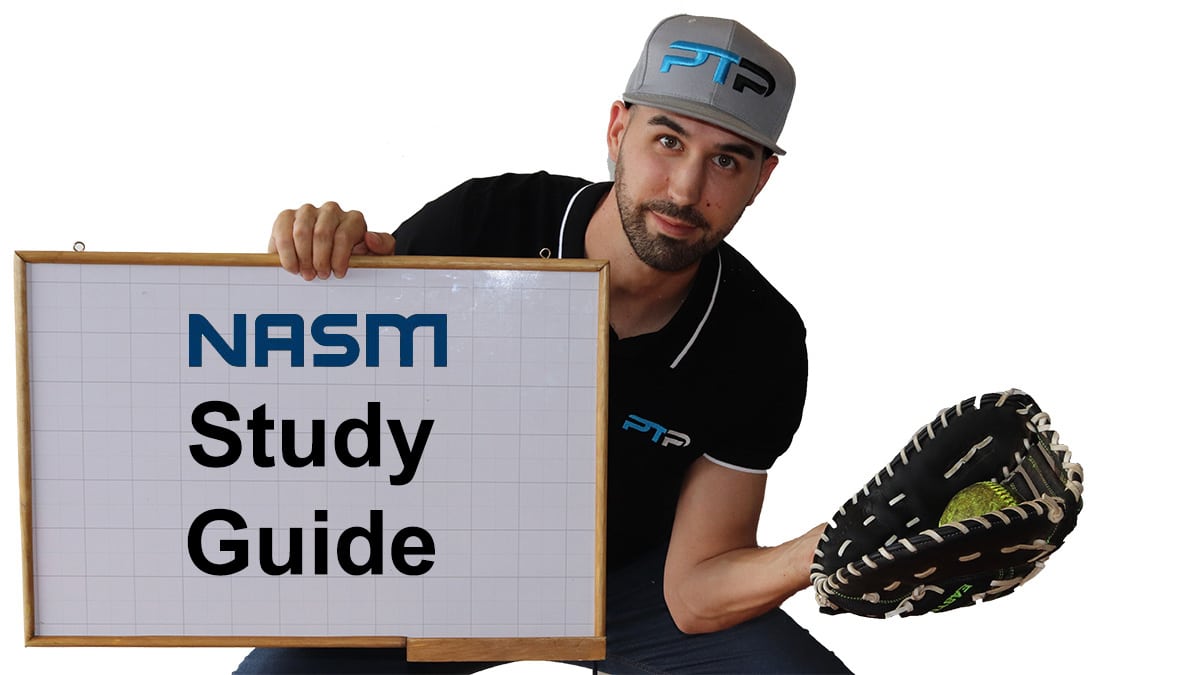 FREE NASM CPT Study Guide: 7th and 6th Edition 2023
There are two current valid versions to use for studying. The newest edition is the 7th in 2023.
This is the one you are using if you are logged on to the NASM study portal. The 6th edition, while dated, is still valid for use with the exam and test prep.
The 6th Edition will have its own separate text that accompanies this dated study material.
We have separate guides, so make sure to choose the one that coincides with your book.
NASM 7th Edition CPT Study Guide
NASM 6th Edition Study Guide
Using the PTPioneer ACSM Study Guide
The PTPioneer NASM study guide and all of our other PTPioneer free certification study guides will cover each of the chapters within the textbook and are kept up-to-date with the most recent editions of the text.
The most recent version of the NASM is the 7th edition study portal, which is highlighted in the NASM online study portal but can still be purchased physically.
For NASM certified personal trainer cert and a few of the other bigger names in fitness, we offer the most recent materials, as well as the past version of the text, when it is still a valid study resource recognized by the organization.
The ideal study method for these study guides would be going in order, chapter by chapter, in the textbook, and then following up by reading the study materials on this page.
If you are more crammed for time, the PTP materials on their own highlight the most important material, but perhaps not quite to the level of premium study materials, like Trainer Academy's NASM CPT packages.
If you are looking to help organize the reading of these chapters, make sure to look into our study plan, which serves as a basic calendar to follow and help learners organize their study time.
Next, let's look at some basic study material tips for other materials you may seek out.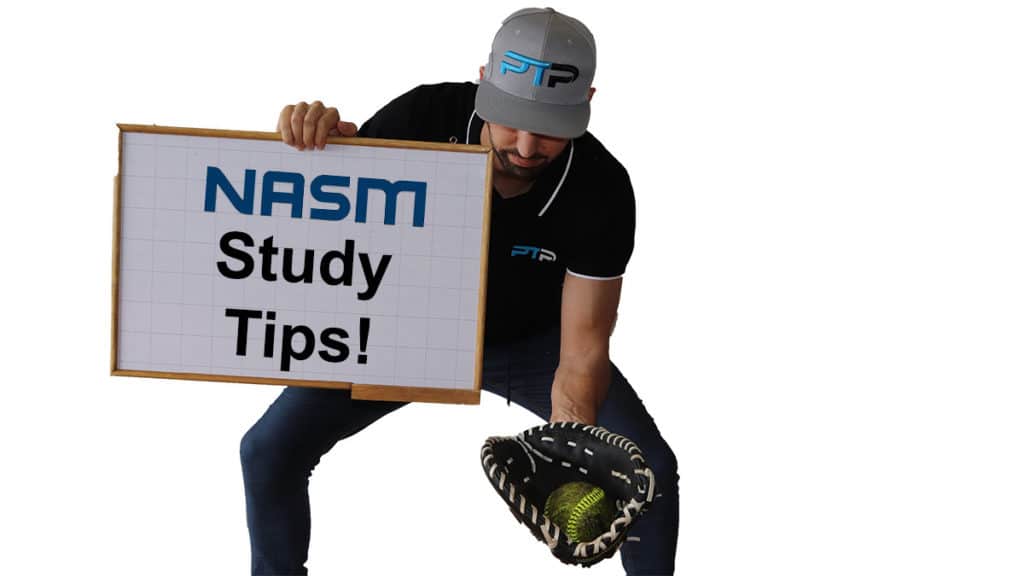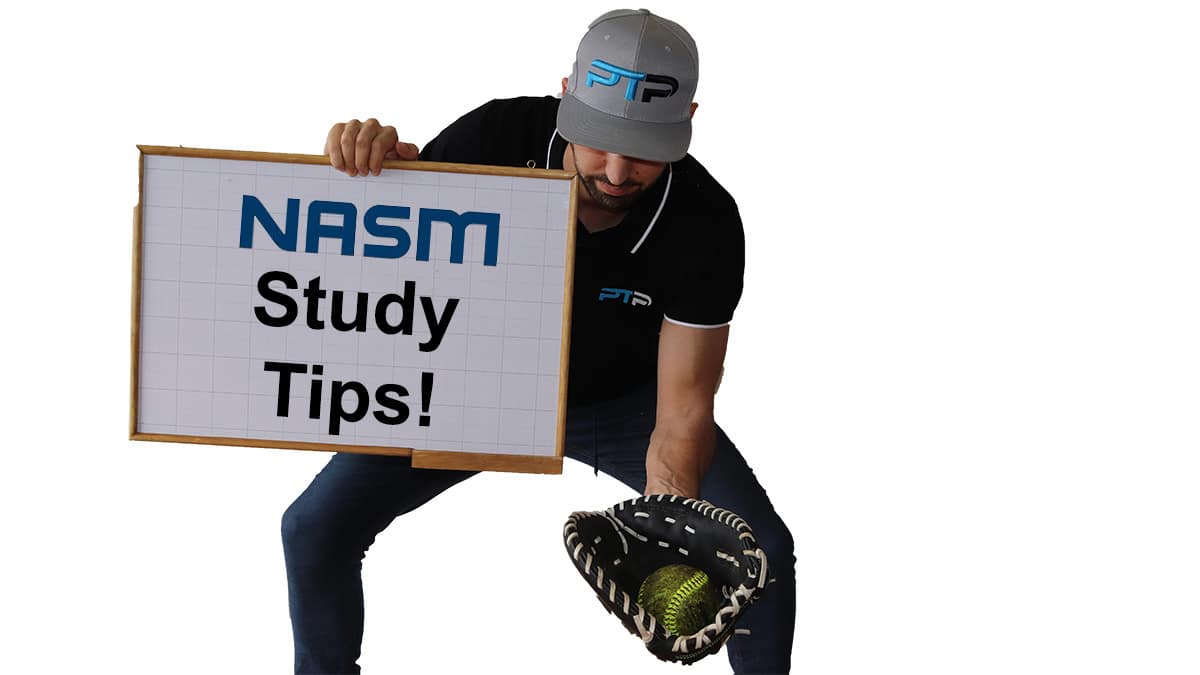 The NASM study guide on this page is meant to complement the full sixth or seventh-edition textbook from NASM. It is not meant to be studied by itself without the primary textbook, and I provide specific references to tables/specific pages of the textbook throughout the guide to point you in the right direction for studying.
To download the tips from the video above in PDF form, click here.
If you are still not sure whether or not NASM is the right certification for you, I recommend Taking the quiz to find which certification best fits your training style.
Another NASM Study Guide
The NASM study guide that I have on this page is a great place to start while studying for the National Academy of sports medicine exam.
That being said, this study guide does not really pinpoint exactly what you need to study in order to pass the NASM exam. It basically goes over everything, but in general, is slightly disorganized compared to other high-grade study guides out there.
If you want a study guide that points out exactly what is needed to pass the exam, I suggest checking out the Trainer Academy study guide.
Check out my review on Trainer Academy right here.
More NASM Practice Tests
The NASM practice test on this page only includes 50 questions and answers.
If you want to get a full grasp of all of the possible questions that can be asked on the exam, I suggest picking up additional practice tests as well. These are incredibly important because they really let you know if you are fully prepared to take the real final exam.
I know tons of students I have failed income to me asking me why. The biggest reason is that they did not take enough practice exams in order to gauge if they were really prepared or not.
I suggest the Trainer Academy practice tests as they let you know which chapters/domains you are doing good or bad in, and they have over 800 questions in total.
NASM Smart Flashcards
Using smart flashcards or spaced repetition flashcards is one of the biggest tips I have for my students that are studying for NASM.
Spaced repetition flashcards are basically flashcards that use an algorithm in order to show you the most important cards for you.
That system works like this: The intelligent flashcards learn which cards are difficult for you as well as which cards are hard for you to memorize. It will then repeatedly show you the difficult cards until they become easier and easier. On the other hand, easy cards will be shown less and less because you already have them memorized.
This is a huge timesaver overall and will dramatically decrease the overall study time for the NASM exam.
NASM Memorization Mnemonics
Fun, interesting and memorable mnemonics are one of the other great NASM study tips I have for my students.
Memorizing difficult topics such as the overhead squat assessment can be extremely tiresome and difficult to memorize.
Creating interesting and fun mnemonics is the best way to go about memorizing these difficult concepts. It is especially very helpful for the underactive and overactive muscles of the postural assessments.
If you are going to create these mnemonics yourselves, try to make them as weird as you possibly can. The weirder, the better!
If you want a NASM pass guarantee, check out the team over at Trainer Academy.
They offer study material such as a fantastic study guide, five full practice tests, spaced repetition flashcards study, study mnemonics, muscle coloring books, study blueprints, and study cheat sheets.
NASM CPT Cheat Sheet
Another helpful study device would be a cheat sheet that contains all of the most vital information to help with the exam.
This has all of the information on one single page to help with practice tests and other study times. This is best with things like formulas, mnemonics, etc.
Check our free NASM CPT Cheat Sheet out by clicking the button right below!
FREE NASM CPT 7th Edition Study Guide 2023
We have put together a free study guide to accompany the latest edition of the NASM materials and follow along with their own textbook.
Check out our study guide starting with chapter one by clicking the button right below.

FREE NASM CPT Study Guide (older edition)
We also have the older study guide to accompany the previous version of the NASM program materials.
If you'd like to check that out, click the link right below!