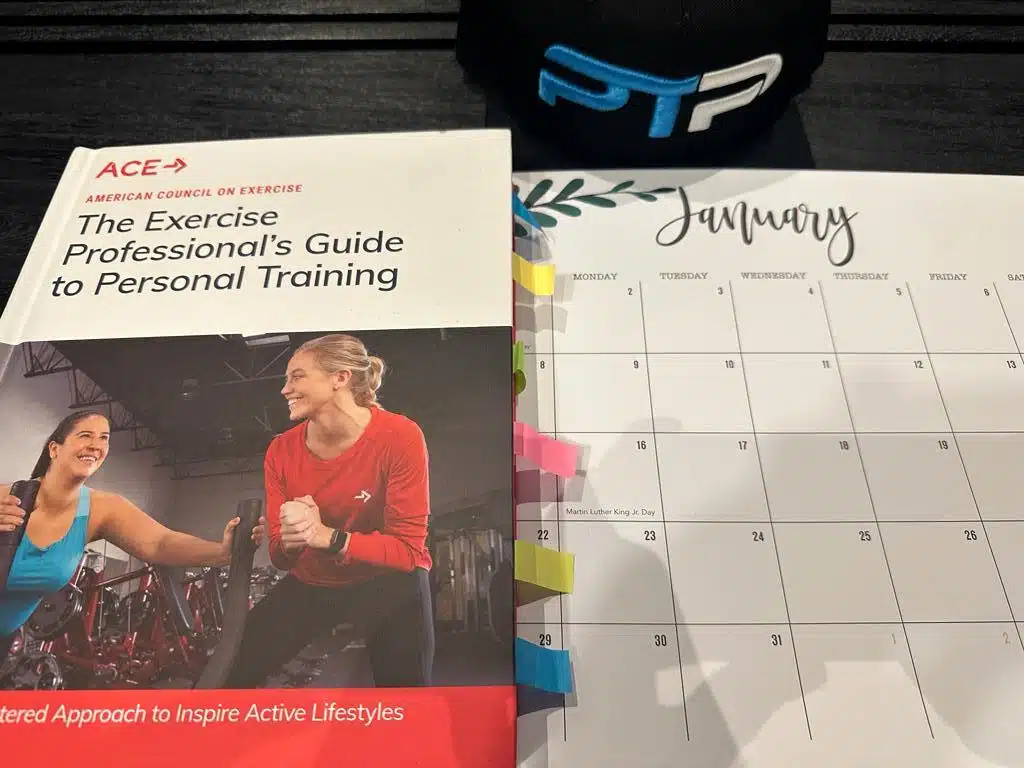 Welcome to my ACE Study Plan page, the first of the materials for studying for the ACE CPT program.
Check out this awesome free study plan preview, which includes 4 time frames to choose from to help all types of learners organize their study efforts for each ACE chapter.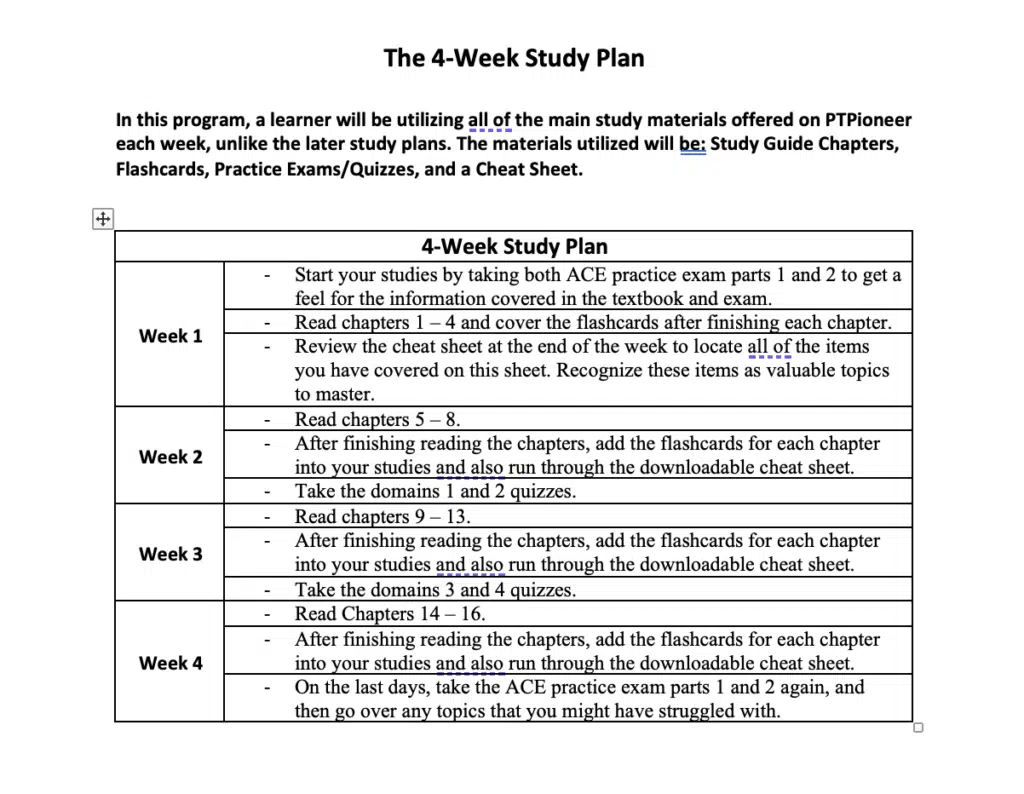 Get your copy of the ACE CPT study plan, and I will also include an example Cheat Sheet for the ACE materials for free in the same email. These help immensely in studying for the exam and understanding the concepts, topics, and domains you need to pass the ACE final exam.
Here, I'll help you decide on a proper plan and time frame for your study activities in the ACE CPT program according to your learning style by highlighting the following aspects:
The ACE study materials and their average ACE prep time
Downloadable PDF documents for visual help with planning your ACE study calendar
The next steps for studying for the ACE certification exam
In addition, Trainer Academy has premium ACE CPT study materials, which have been proven to reduce study time by 50% and have an exam pass guarantee.
Read my full review of them here and save $100 on their MVP study system with the code: PTPSUB.
So how long do the ACE exam prep materials take to sink in?
How long to study for the ACE exam until I've mastered all of it, or at least most?
Hold your horses, and let's explore these ACE studies schedules that I recommend for you to master the ACE exam content!
ACE CPT Study Series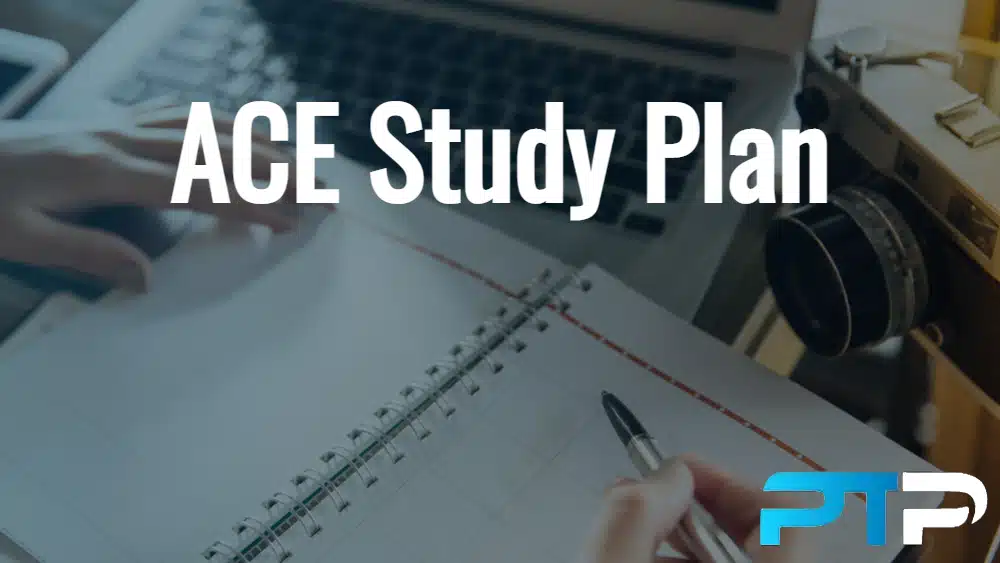 How Long Does it Take to Study for the ACE Exam?
The ACE exam provides a good challenge for learners without another fitness certification or a history of college classes in exercise science.
But, if someone already has a certification or degree, their study time is bound to be half the time to learn compared to someone without experience. People with background experience are the ones who can usually pass the exam without needing everything offered in the largest package.
Due to the materials covered within the ACE textbook, as an inexperienced exercise science learner, you can expect to take around 6 months of study time, with some variance depending on how much you study each week and how much reviewing is done. Note that YouTube and similar platforms sometimes offer some great courses from PT Pioneer you can further use to remember the facts at a higher level.
You can gauge your preparedness by taking an ACE practice test, which should give you an advantage because each answer allows you to learn whether you know each detail you need to improve faster and pay more attention to for passing the exam more quickly. The details are extensive, so do not take them lightly.
Many of my students have taken advantage of the Trainer Academy materials due to their extensive practice tests that in many cases do better than a teacher or classroom setting with classmates and grades due to their massive library of study materials and charts to organize your thoughts, a practice test and practices quizzes for all topics, excellent digital workbook, and spaced-repetition flash cards.
You could vary this and say the average learner of any eligible age without prior exercise knowledge will complete the ACE CPT study in 4 – 8 months with a good approach to each section.
Then, if you already have a solid base of exercise science knowledge, you should expect to complete the studying for the final ACE exam in 3 months or less.
You want to take your time overall, so you make sure you do not need a retake on this CPT exam. The list of students who pass the first time grows each year. In these modern times, you have tons of resources to hone your mind for the ACE exam.
With all that said, let's look at the specifics of my highly regarded PTP ACE Study Plan.
Downloadable ACE Study Plan
PTPioneer provides ACE exam schedules that you can download for yourself to have and follow through with.
When you click the button above, you can enter your email and receive the downloadable PDF ACE study plan immediately in a safe and secure method. This is the optimal way to deliver materials to the readers on PTPioneer. Consider this your manual for the book and study guides available to plan your sections of study.
In addition to that PDF study plan download, I will add the cheat sheet in the same email as another high-quality PDF download.
My ACE study blueprint/plan will assist with organization and framing for your studies, so you can follow the set study plan or craft your personalized study plan in your own time. Just like a workout plan in place for people at the gym, these resources are like mini courses for any person or friend who wants to pass their ACE assessments the first time around. They also give flexibility and feedback to help you pass ACE the first time. This system works better than a class, since its custom tailored to your needs.
Within the study plan document and this study hub article, the primary timeframes for studying will be four weeks, three months, six months, and one year.
These four main study plan timeframes you see to choose from will make it easier to visualize and plan while creating habits for a better future studying for other materials, like your likely fitness specializations.
The one-month plan, also called the 4-week plan, is more for someone who may already be a personal trainer with another organization or another fitness cert of some kind. This may also be someone who needs to cram for the materials offered in the ACE program.
The next shortest study plan timeframe would be a 3-month or 12-week study plan. This is slowly decreasing based on how much time you have to study and how much you can study.
The 3-month plan is optimal if you are the average reader here on PTPioneer as it is the most commonly used study timeframe. If you can easily invest 5 – 8 hours weekly, this is probably your option.
The 6-month plan will be optimal for someone who can't dedicate 5 – 8 hours every week and must stick to around an hour every day or less.
The 6-month study plan still benefits those studying to be an ACE-certified personal trainer.
And if you space your personal training studies out too much, things can be tougher to grasp and may not be as fresh when it comes time for the ACE test, affecting your overall ACE score.
Lastly, in terms of timeframe length, we have the 1-year plan or the 12-month plan.
This is designed for the busiest folks or perhaps a learner who desires to take their time and learn from PTPioneer before investing in the costly ACE study programs. It is a good start for anyone just entering the field or wanting to learn more about personal training.
Each of these plans will have its use and type of reader, and I will utilize these study plans for the other primary fitness organization certifications, like the ISSA, NASM, NSCA, and ACSM.
To help ease your searching and clicking, make a bookmark out of some of these study pages for easier access, especially the tests and quizzes, study home page, study guide, and flashcards.
Now let me share some study tips on how to maximize your efficiency.
Study Tips to Maximize Efficiency
Efficiency is key for your well-being, career, and studies.
A major part of truly mastering a subject matter when studying is creating habits and consistency. These will happen when you follow a plan and follow it through over the long term.
It is often said that it only takes 3 weeks to create a habit you will stick to.
It could be a good idea to set aside 3 – 4 days where you are making sure to study simultaneously. This will help create a solid study habit and plan that you almost do automatically.
Studying the study guide or flashcards seems best suited for quick bursts throughout the day if you split them into 10-minute bursts.
All of the time frames in the ACE study plan downloaded on this page can be optimally used to focus on creating habits and consistency with short study sessions, increasing your chances of passing the ACE CPT exam on your first attempt.
Topics You Need to Know for the ACE CPT Exam
The goals in your ACE preparation should support learning the various areas of knowledge, skills, and each ability you need to master to pass the final ACE exam.
These topics are broad, and include the following:
Theories of communication and behavior change
Strategies for building rapport
Research backed methods for designing exercise programs
Exercise technique and preparation
Exercise program considerations for special populations
Implementation of the ACE Integrated Fitness Training Model
Anatomy and physiology
Categories of adaptation and effects of resistance and aerobic training
Implementing the ACE Study Plan Into Your Studies
With the PDF download featured in this article, the hours per week for every learner is going to vary, just as the schedule for completing materials will.
That is why there is a lot of importance in finding the appropriate study plan for your schedule and implementing these successfully into your study habit.
And although PTPioneer's free study guide and materials are great, studying from the internet or social media is not always best.
And while it's true that paid study systems, such as Trainer Academy, will provide you with more intensive practice questions and practice exams, preparing is the best way to ensure you'll pass your final exam.
After reading through the study plan and the timeframes recommended by PTPioneer, visit the study guide page for a detailed summary of the 18 chapters of the textbook.
How long is the ACE textbook, anyway?
Too long, which is why I created this study hub!
Good luck with your studies, and I hope you can download and utilize the amazing free study plan on this page.