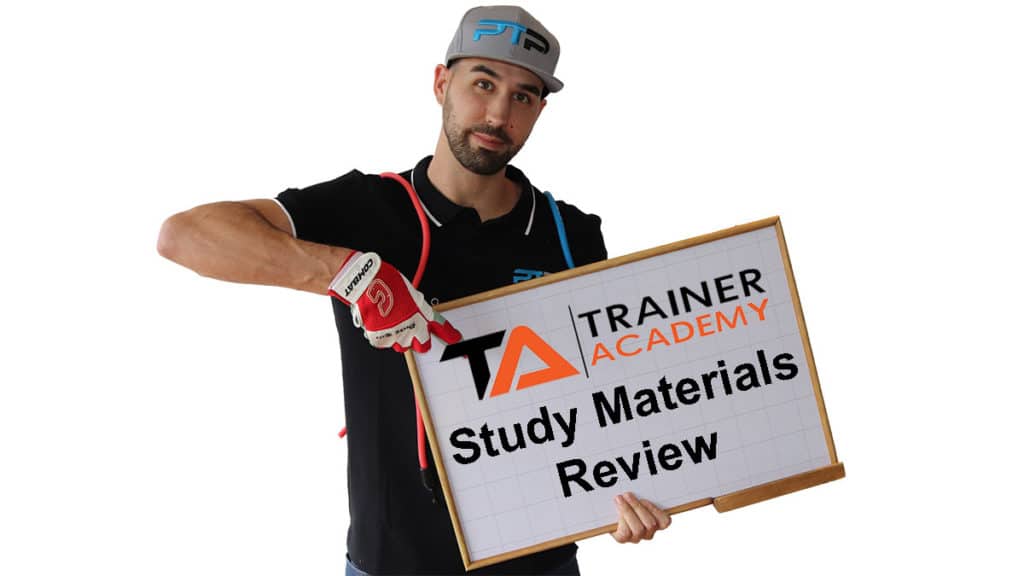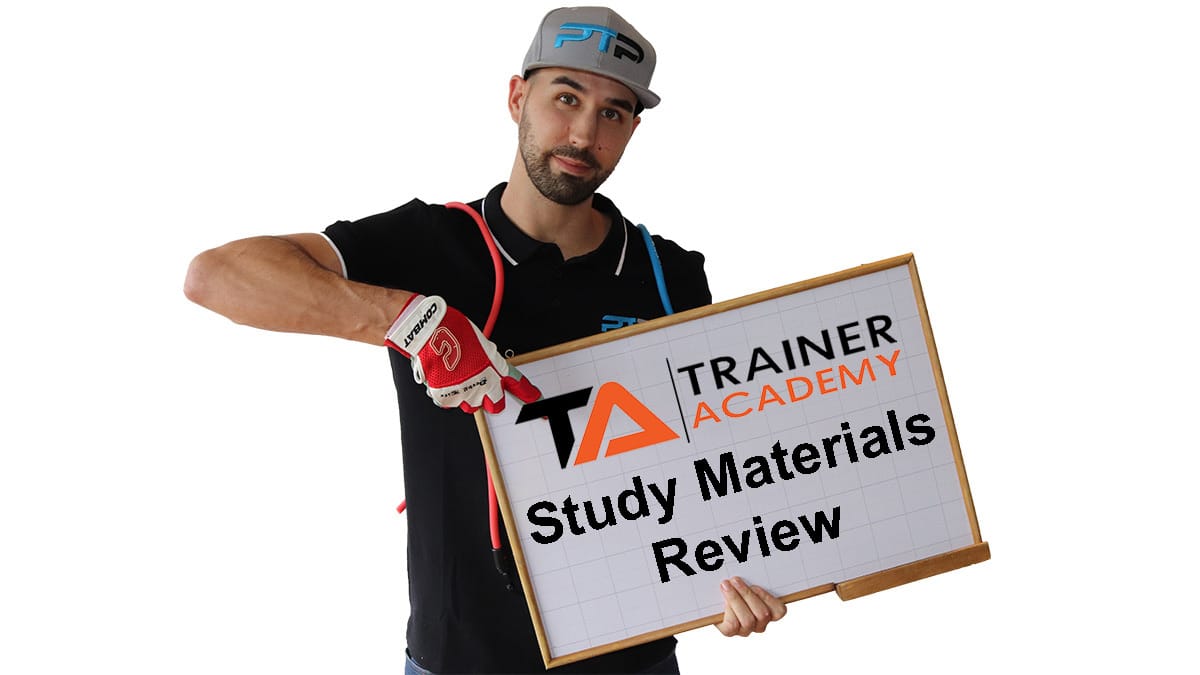 In this review, I'll be guiding all you PT hopefuls through what you will get and what you can expect to gain from the Trainer Academy premium study material packages.
This review will focus specifically on the top-tier MVP packages, which are all-inclusive suites of up-to-date study materials.
I will break down each package component and give you an in-depth look at how to use it most effectively and the expected outcomes.
I'll point out the most crucial materials to exam success and the more supplementary materials that will boost your odds.
If you're here, you've probably more or less decided to go for one of my tops recommended certifications. If not, I suggest you take this quiz. It will help you determine which certification suits you and your career aspirations.


Also, check out my certification comparison review, free study guides, or the same premium materials from Trainer Academy I will discuss here.
If you have any questions, don't hesitate to leave me a comment here (I'll respond within 24 hours).
After reading the review, if you think that Trainer Academy is something you might like to give a try, I have a special discount for my readers here at PTpioneer. Just follow the link for your appropriate certification to check out the limited-time deals.
Also, if you would like to check out more reviews of Trainer Academy, you can check out their trust pilot review page here to read additional user opinions.
With that said, let's get right into it, but first, a little introduction to the world of Trainer Academy.
What is Trainer Academy?
Trainer Academy is a premium resource base for up-to-date third-party study support materials for the top accredited certifications in the fitness industry.
The material is curated and provided by a dedicated team of experts in the fitness industry. The Trainer Academy team all have academic and in-the-field backgrounds in fitness, all with top credentials and qualifications.
With a wealth of knowledge from the certification level all the way to the university level, you can bet they'll have you covered.
Here at PT Pioneer, I've helped guide numerous people, just like you, trying to find their feet with PT certification. I always recommend the Trainer Academy materials, and the results astoundingly speak for themselves.
Almost all students I've directed to Trainer Academy come out on top, with only a handful failing, reportedly because they did not use their package correctly.
And that's exactly why I'm doing this review. So you can not only take advantage of the MVP study package, but you can also use it correctly for maximum benefit.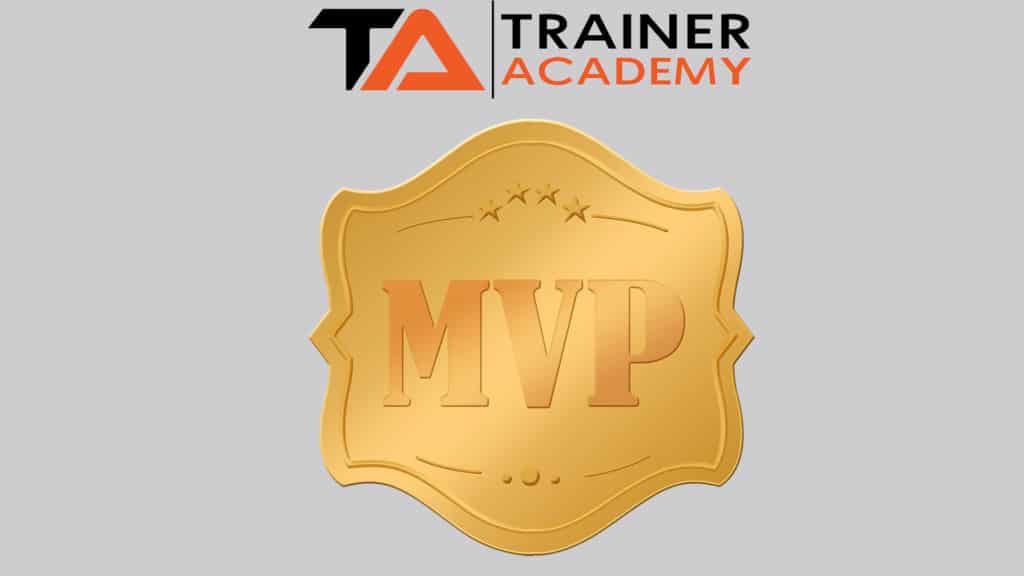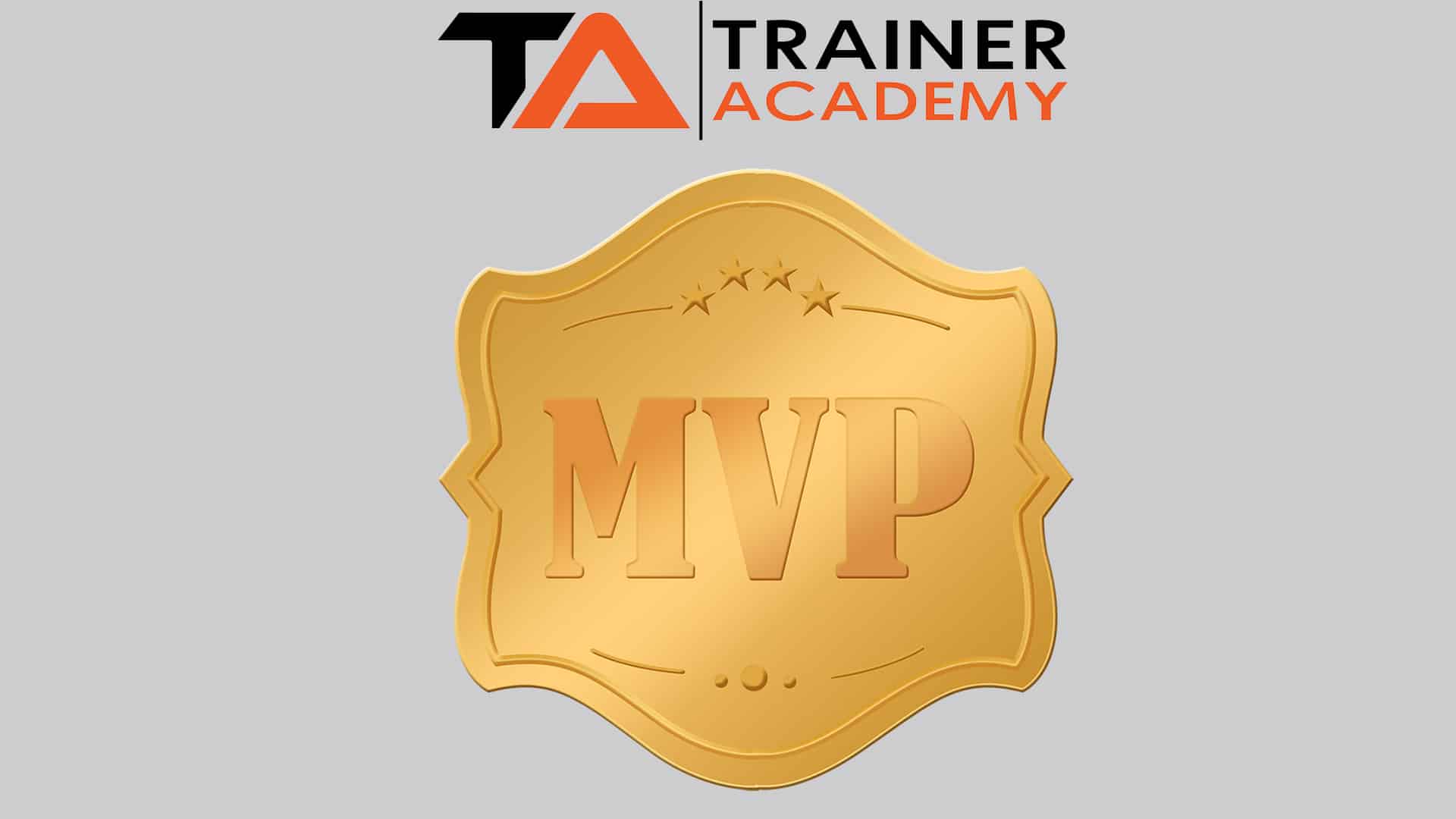 Before we delve into the MVP Package, let's briefly touch on the other products on offer. As you will see when you land on the TA page, there are typically 3 tiers available per certification for you to use.
Each has a varying amount of material included starting with the Rookie Package, which comes with the complete study guide, then the All-star, which contains the study guide, flashcards, and practice tests, and finally, the MVP Package, which is an all-inclusive and comes with a 99% pass guarantee.
Trainer Academy also allows you to purchase stand-alone materials and customize your experience.
Above, you can see the individual materials options available. I strongly advise going for the full MVP package (NASM in this case). Still, if you have a solid grounding in exercise science or are just on a bit of a budget, I suggest adding the blueprint and cheat sheet to the All-star and blueprint, cheat sheet and practice tests to the Rookie package.
Whatever you decide, you will still optimize your odds of passing the final exam.
This article will focus on the MVP packages, so buckle up as we dive deeply.
Trainer Academy Packages: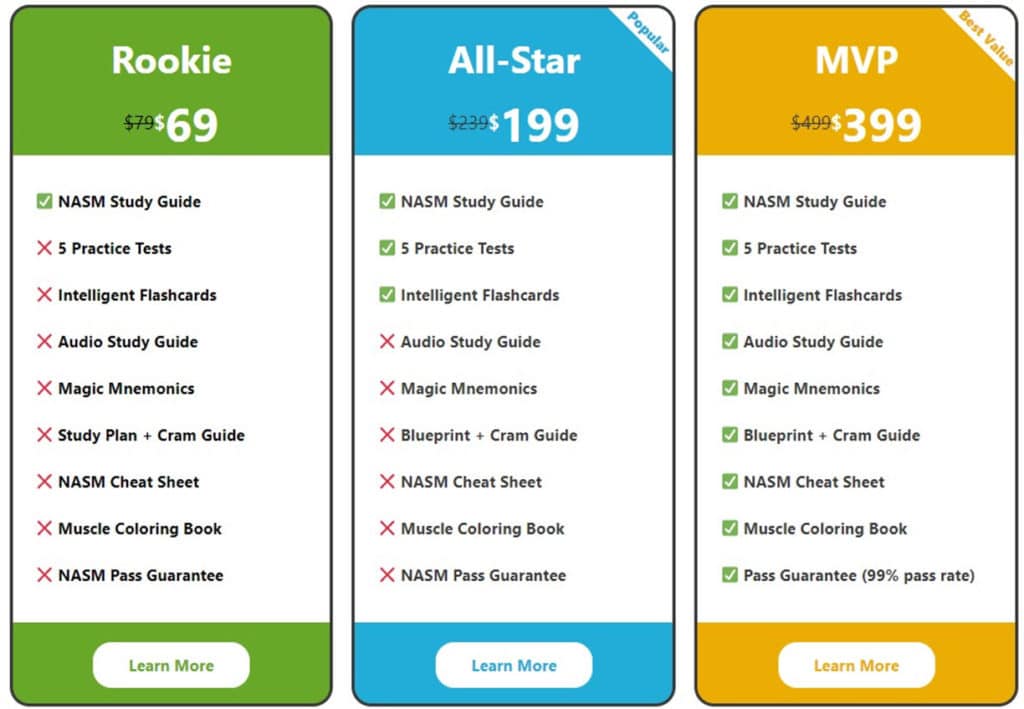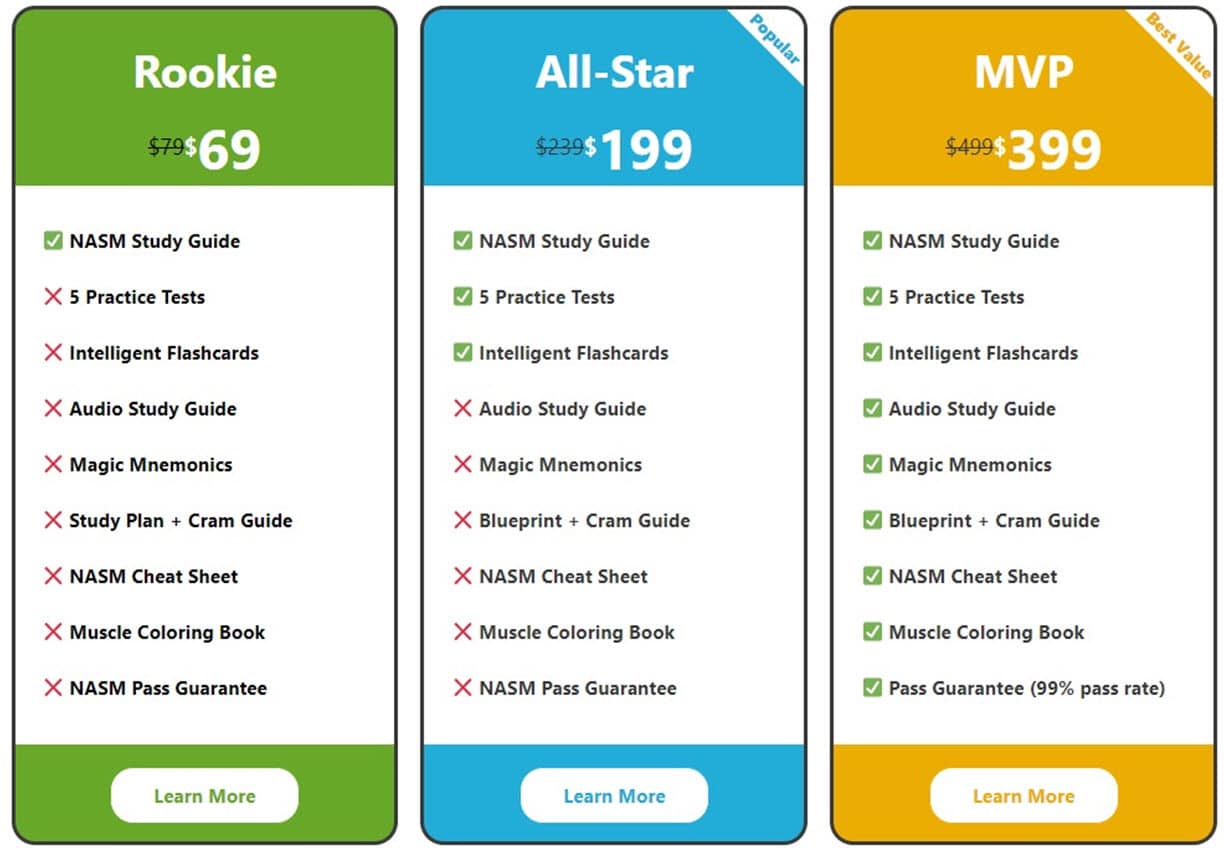 The MVP packages have included:
The audio study guide
Study guide
Intelligent flashcards
4 different study plans
Practice tests
Randomized and domain tests
Muscle coloring book
Cheat sheet
Mnemonics
Exam pass guarantee
I will break each of these down and tell you how to structure your studying according to the package contents.
Study Plans/Blueprint/Cram Guide
The first port-of-call should be your Study Plans/Blueprint.
This will set the tone and guide you correctly through the package and the standard issue study material.
The study blueprint helps you cut to the chase by separating what you know, what you don't know, and what you need to know.
It also helps you determine your learning style and pace for the best possible outcomes.
The plan helps you structure your learning and study commitments based on how much knowledge you have in the field of exercise science and how much time you have remaining before your final deadline.
As an idea, if you had very little fitness knowledge and had about 4 months until you had to take the test, your study plan would consist of fewer weekly hours on average over a 16 week stretch.

This helps you ease into the knowledge pool of personal training while also giving you ample time for the immersion.
The study blueprint directs you on how to space out your studies and advises you on using different materials for the different study phases and knowledge demands, making you aware of key areas to emphasize and how to manage your time.
I suggest placing your focus on the materials that work well together. For example, the study guide is very effective with the mnemonics and is also rounded off quite nicely with the audio guide.
Focus on first learning the key concepts you'll have access to in the textbook, then booting your understanding by cramming off the cheat sheet, study guide, and flashcards.
A nice addition to an almost perfect blueprint would include checklist tables that would help you keep track of your progress in black and white.
The cram component of the blueprint is aimed at helping you know exactly what to commit to memory. That's because there are many common recurring elements that you will need to be familiar with when it comes to the final exam.
This is where materials such as flashcards and magic mnemonics really shine.
This is the main tool you will use for this study package; use it before and with everything else.
As I mentioned, most of the very few students who failed, even with the MVP package, did so because they did not implement the study plan with the material.
You know what they say, "If you fail to plan, you plan to fail."
Intelligent flashcards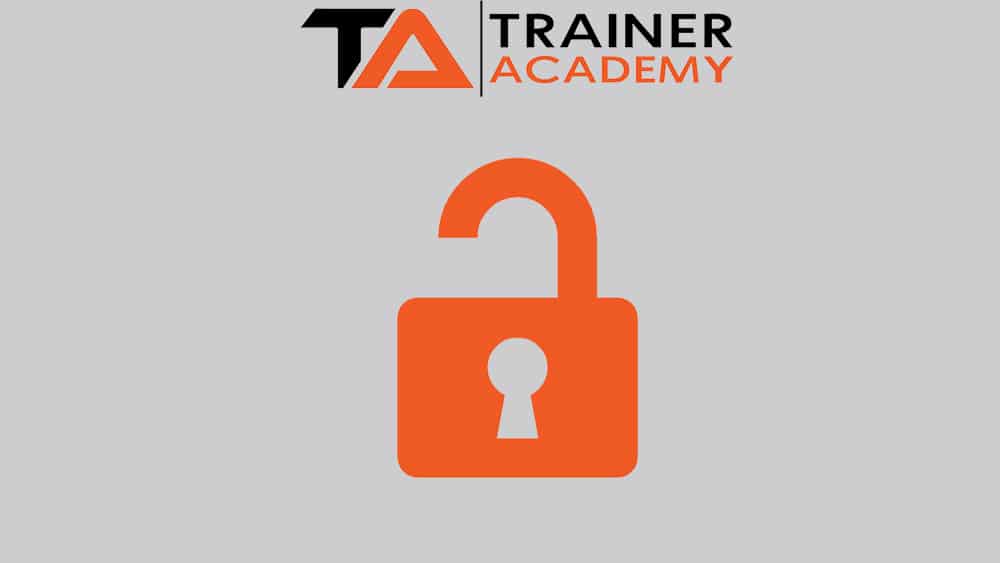 The Trainer Academy All-star and MVP packages have decks of chapter/domain-specific spaced repetition flash cards. The team over at Trainer Academy called these intelligent flashcards, and now I know why. Not only do these cards cover key concepts and terminology found throughout the textbook, but They also help you memorize these extremely well. Let me break down spaced repetition learning really fast.
After you have flipped over the flash card after thinking about the answer, you are given a scale of 1 to 5 that you need to rate yourself on how well you know that card. If you rate yourself a one, you are saying that you have very low confidence in having that make card memorized. If you rate yourself a five on a specific card, your confidence level is 100%.
To optimize your learning sessions, the smart algorithm will learn the cards you know well in the cards you do poorly on. This will save you dozens of hours of study time compared to regular flashcards. You optimize your study sessions by focusing on your difficult cards and skipping your easy cards.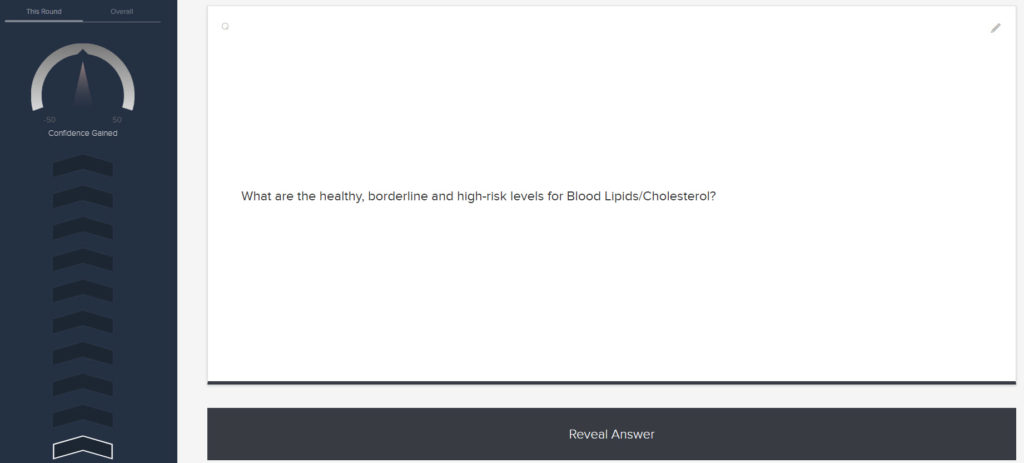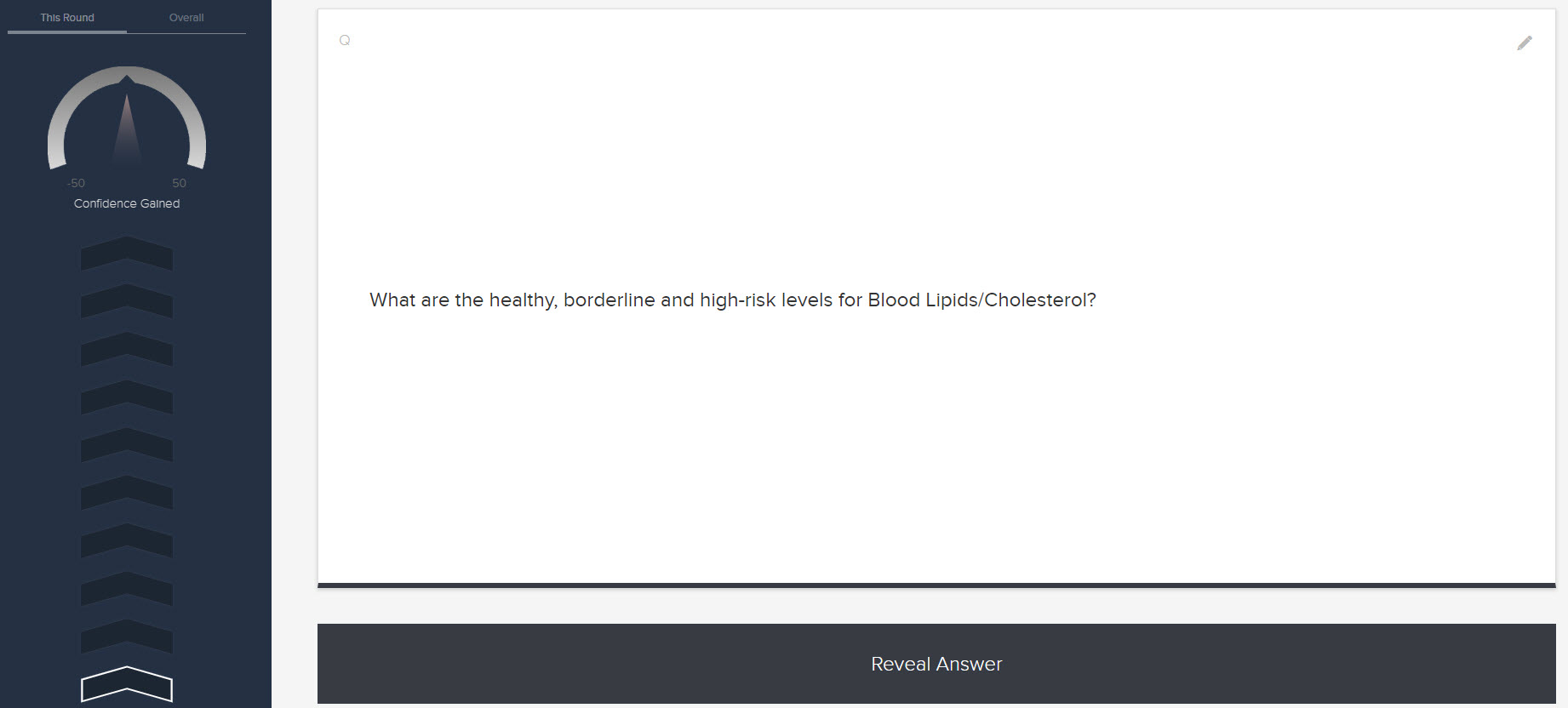 Here's an example of a card on the application.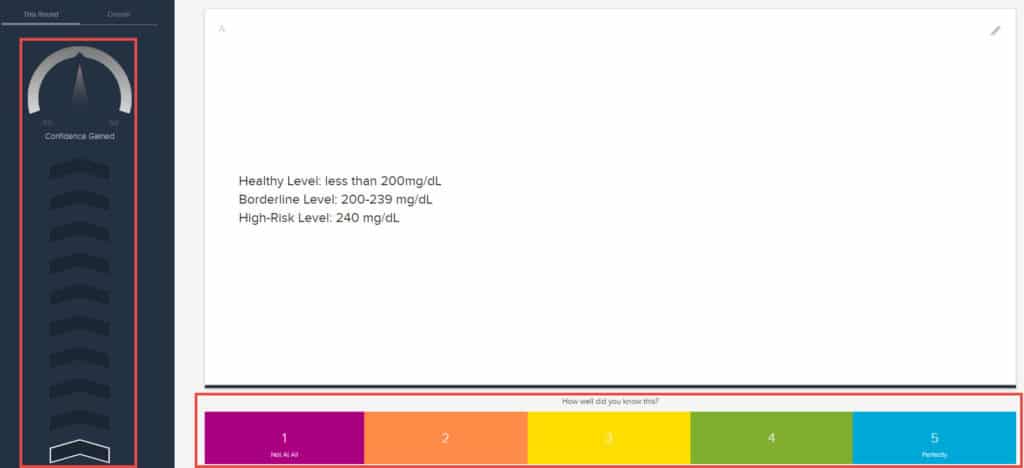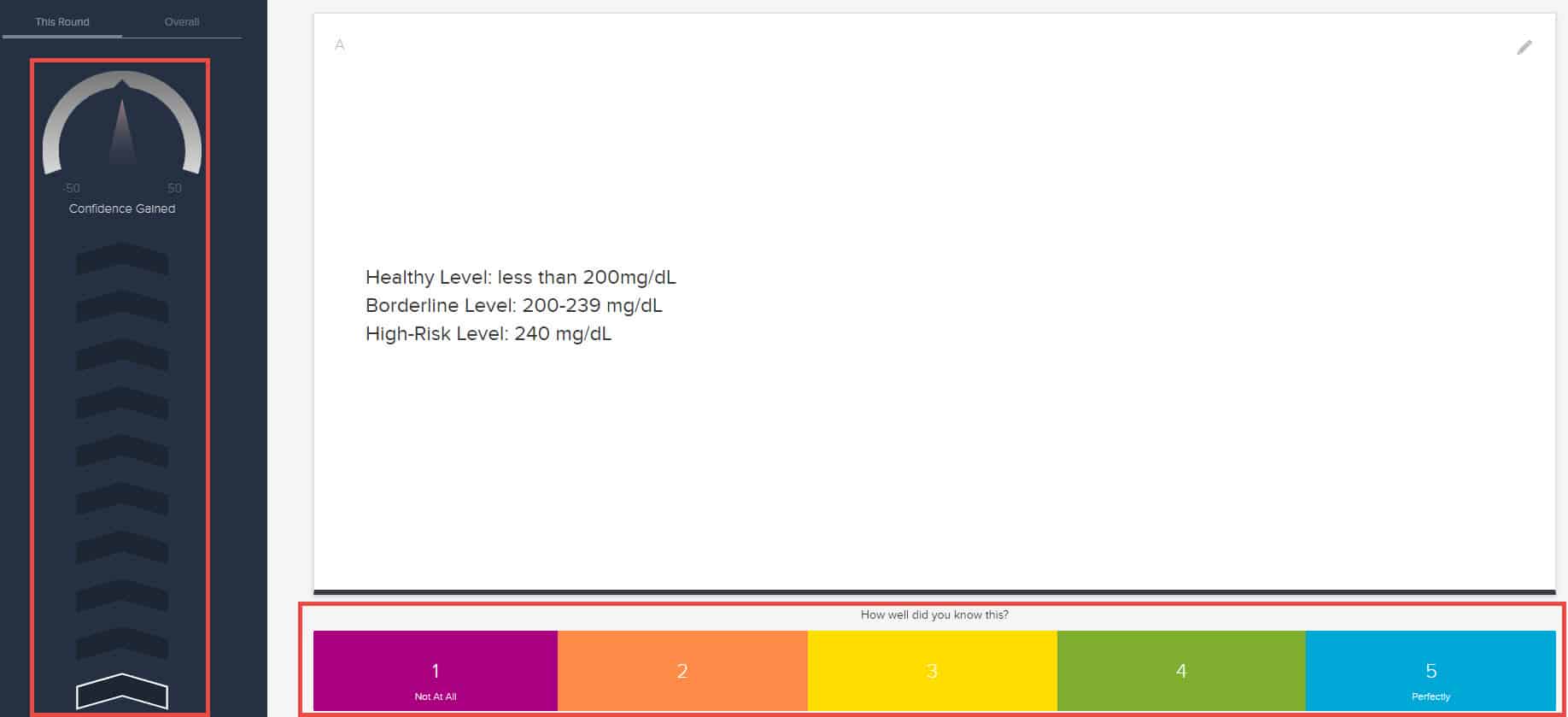 After flipping over the card, you need to rate how well you answered the card in your head. You would rate yourself a one or the purple button if you did horribly. If the card were extremely easy for you, you would rate yourself a five or the blue button. Over time you can see your confidence scale for each card on the left-hand side.
Trainer Academy has created these flashcards by taking the most important footnotes from each textbook for their personal training certification study materials. In this case, for NASM,
The idea behind them is to take all the footnotes, important names, terms, or descriptions and put them into a flashcard format for easy reference.
Footnotes, for those of you who don't know, are the little fact boxes that appear on the sides of pages that explain key concepts within the main text in smaller bite-sized info chunks.
The flashcards are designed to anchor your memory and foundational knowledge of key concepts. What they don't do is give you a full breadth and depth of what it is you're learning. You wouldn't need a textbook if that were the case.
For example, each one of the 20 chapters of the NASM CPT textbook has a deck of flashcards. The flashcard decks for each consist of the following:
| Chapter | Number of cards |
| --- | --- |
| Chapter 1 | 37 |
| Chapter 2 | 120 |
| Chapter 3 | 41 |
| Chapter 4 | 21 |
| Chapter 5 | 56 |
| Chapter 6 | 48 |
| Chapter 7 | 40 |
| Chapter 8 | 56 |
| Chapter 9 | 30 |
| Chapter 10 | 21 |
| Chapter 11 | 17 |
| Chapter 12 | 29 |
| Chapter 13 | 73 |
| Chapter 14 | 116 |
| Chapter 15 | 40 |
| Chapter 16 | 160 |
| Chapter 17 | 163 |
| Chapter 18 | 23 |
| Chapter 19 | 37 |
| Chapter 20 | 7 |
Once you purchase your study package, you will receive a link to the Intelligent Flashcards. Here you will have access to all card decks, separated into their respective chapters.
When it comes to flashcards, I rank them pretty highly as useful study material. Not quite as high as practice tests, blueprints,s or study guides, but close for sure.
Try to develop a habit of actively learning from the textbook and then using the cards as a way to revise those concepts instead of just relying on the flashcards.
That's because proper exercise science systems lean heavily on understanding things rather than just regurgitating from memory.
You're dealing with the physical well-being of real people, so it ultimately becomes about more than just remembering facts.
Flashcards will only help with memory, not the full breadth and scope of the exam content.
I would like to see the availability of flashcards through Trainer Academy's integrated platform Instead of using a third-party application. But, on the other hand, this third-party application is fantastic and they are specifically designed to make the flashcard learning system better and better.
If Trainer Academy had its own platform, it would eliminate the hassle of logging into multiple different things for the same intended goal. But overall, a great and essential study material.
Practice Tests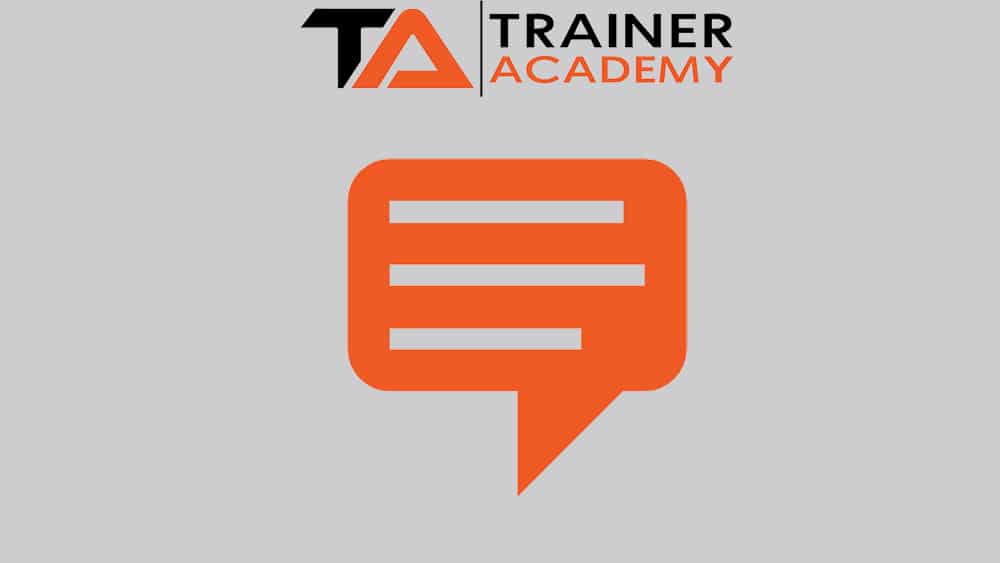 Taking a specific look at the NASM MVP package, it has 5 practice exams with questions curated from past tests, built to resemble what you could expect.
Other certification packages will have different practice test offerings based on how those respective exams are structured.
These exams are based on and built to resemble the same exam you must take to pass NASM.
Each practice test is timed over 2 hours with a total of 120 multiple-choice questions broken down over the 6 domains. The domains are weighted as follows:
Domain 1: Basic and applied sciences in nutritional concepts (17%)
Domain 2: Assessment (18%)
Domain 3: Program design (21%)
Domain 4: Exercise technique and training instructions (22%)
Domain 5: Client relations and behavioral coaching (12%)
Domain 6: Professional development and responsibility (10%)
The idea around the practice tests is to give you a fully immersive simulation of the actual test.
This is geared towards helping you not just know what to expect in the exam, but on a fundamental level, it also helps calm the nerves and provides the required psychological boost you will need when meeting a challenge such as an exam stress.
To take the practice test, you'll need to follow the link provided and enter the login details provided for the Brillium test portal. Check out these images to give you an idea:


An example of a test question. This test is the time practice test. I like how they have the review later option so you can save questions you want to skip over and return to.
To pass the practice test, you must score at least 85%.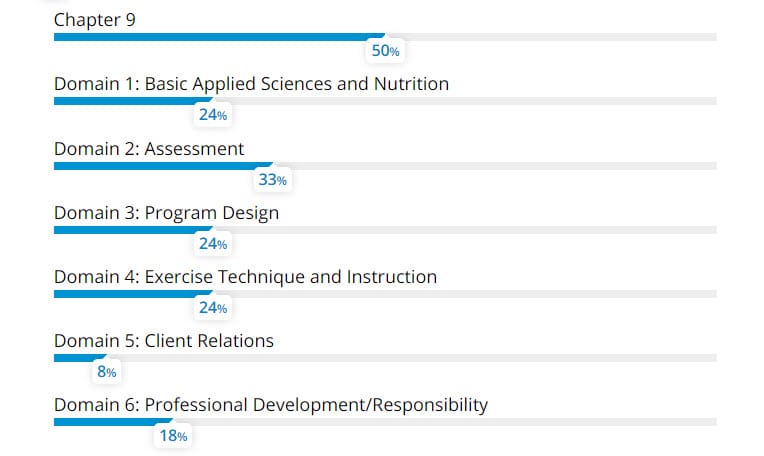 At the end of each practice test/quiz, you will be told how well you did in each domain of study and how well you did in each specific chapter. This is extremely helpful for returning to the chapters you did poorly in to strengthen that study section.


After completing a practice quiz or practice test, you can go to the review section, where it will show your incorrect answers and the correct answers for each question. This is extremely valuable and will increase the chances of passing the real exam tenfold.
Unlike the course exam, the awesome thing about these tests is that you can take and retake them as many times as you want, presumably getting better scores each time.
This is great because, with enough practice, you'll get the hang of it so much so that the final exam will be an absolute breeze.
Aside from the exam-simulating practice tests, there are various test materials you can take advantage of depending on the certification.
These include a randomized test and domain or chapter-specific quizzes.
The randomized test auto-generates a random and unique test each time you take it. This helps offer a more realistic challenge than static tests.
Consistent passes with the randomized tests are a sure sign that you will ace the final.
The domain or chapter-specific quizzes are, just as described, mini-tests that focus on one of the 6 aspects of the NASM exam.
They consist of a limited sample of questions that help you laser-focus on key concepts.
The domain quizzes are a great way to hone and strengthen weak areas.
The practice tests are definitely one of my top-rated materials out of the bunch. They represent and prepare you for the ultimate goal, the exam, and do so brilliantly.
Remember to treat the practice tests as end-game material. However, I value them as essential material in the package; they are practically useless without having covered the necessary ground in foundational knowledge.
The study blueprint, study guide, and audio guides are your allies in this case, along with the flashcards as a bonus.
Many of my students agree that it would be awesome to have more tests and have the test run on the Trainer Academy platform rather than an external link, as is the case with flashcards.
Cheatsheet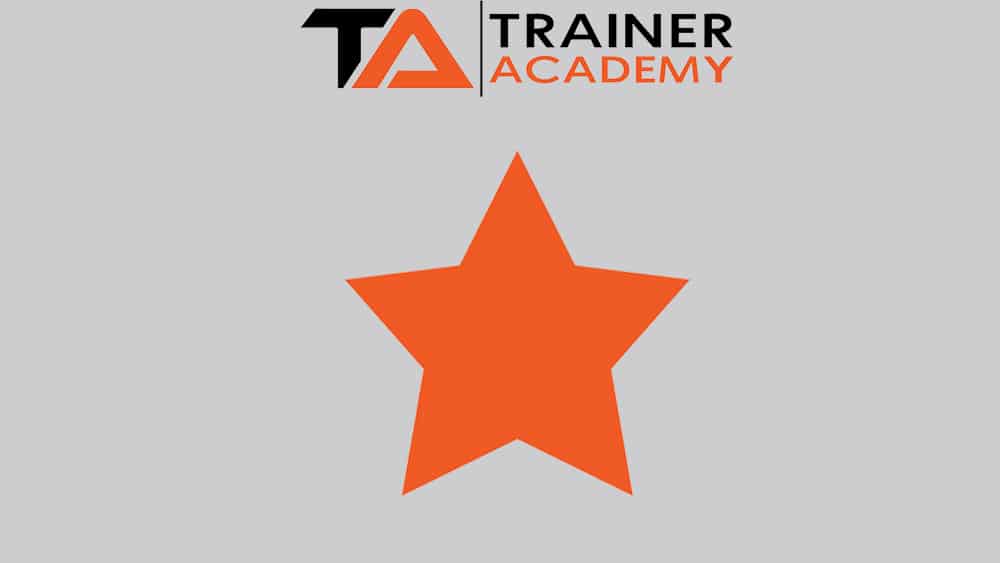 As the name suggests, it is a single sheet of all the essential key terms and concepts. The most important ones are highlighted.
Consider this an index or glossary, but instead of just an alphabetized or numbered list of stuff in a book, this is a precision-focused list of only the things you need to know.
Imagine having that at the back of every book in high school. A list of the things you must remember amidst a cluster of sometimes useless information.
All knowledge in the textbook material is useful, so don't get me wrong; however, when it comes to exams, some concepts are more crucial to memorize.
The key concepts in the cheat sheet are similar to what you would find in the flashcards or mnemonics, just in a more condensed way.
Magic Mnemonics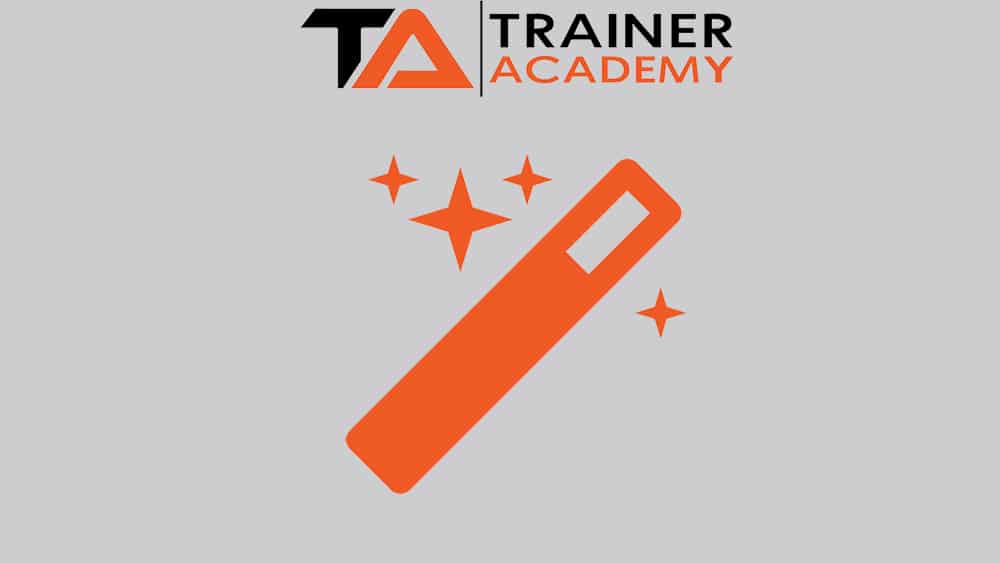 The Trainer Academy MVP study packages aren't all straight-laced and to the point as you think; there is also a bit of fun to be had with them.
This comes in the form of the nifty study mnemonics and the fun, color, and humor they bring to your study experience.
Some of you might wonder, "What are mnemonics" or "Is that first 'N' silent?".
Well, I'll answer your last question first and say yes, that is a silent "N."
Now a mnemonic is a method of memory commitment that uses catchy phrases or associations to anchor a fundamental concept.
In this case, the Trainer Academy mnemonics will expand important lists or acronyms into a catchy sequence of events with a memorable character.
Here is one of the examples of a mnemonic that Trainer Academy uses To help memorize the different phases of their OPT (Optimum performance training) model.
What you need to memorize:
Stabilization endurance training
Strength endurance training
Hypertrophy training
Maximal strength training
Power training
Magic Mnemonic
Sally
Starts
Heavy
Maximal
Performance training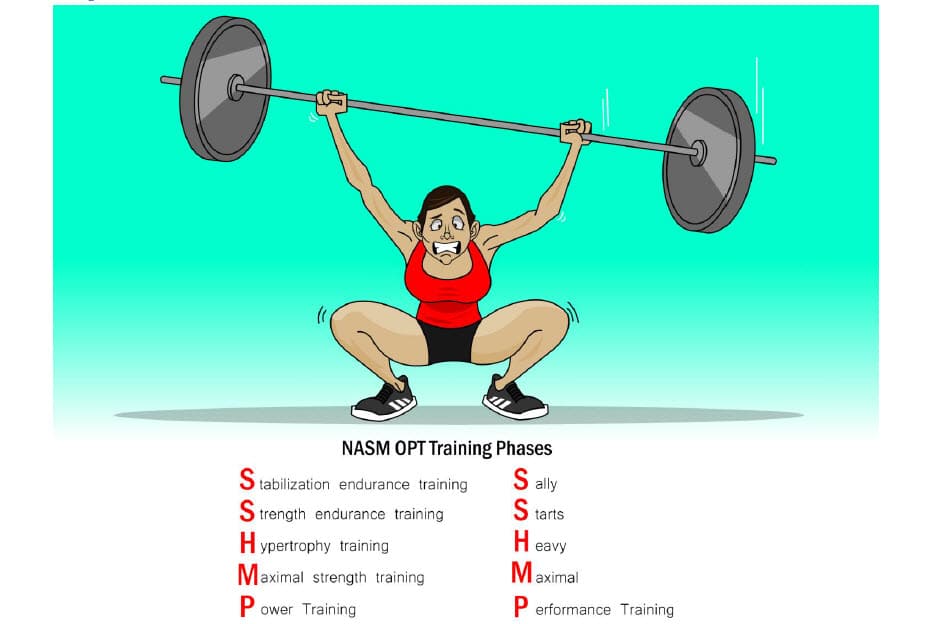 This is a perfect example because it's catchy and memorable and because it is so thematically compatible with the concept it anchors. This level of mnemonic brilliance is rare to achieve.
You can probably imagine that there are loads of lists, abbreviations, and acronyms to wrap your head around with exercise science. You would be correct.
The mnemonics will help you nail these down in a fun and immersive way. After all, having fun provides the greatest environment for practical learning and skills development, something you will use as a trainer in the field anyways.
The mnemonics use a rich combination of fantastical scenarios and famous pop culture icons such as celebrities and comic book heroes.
The colorful pictures are also really fun to look at and have been shown to give my students a chuckle or two while reading through.
The best way to take advantage of the mnemonics is to use them in conjunction with the study guide and audio guides. That's because many of the same concepts are present across these materials.
The audio guide, particularly, includes mnemonics relevant to its many chapters. The mnemonics themselves come with a "fill in the blanks" sheet that allows you to engage your memory and reinforce what you've learned.
The Study Guide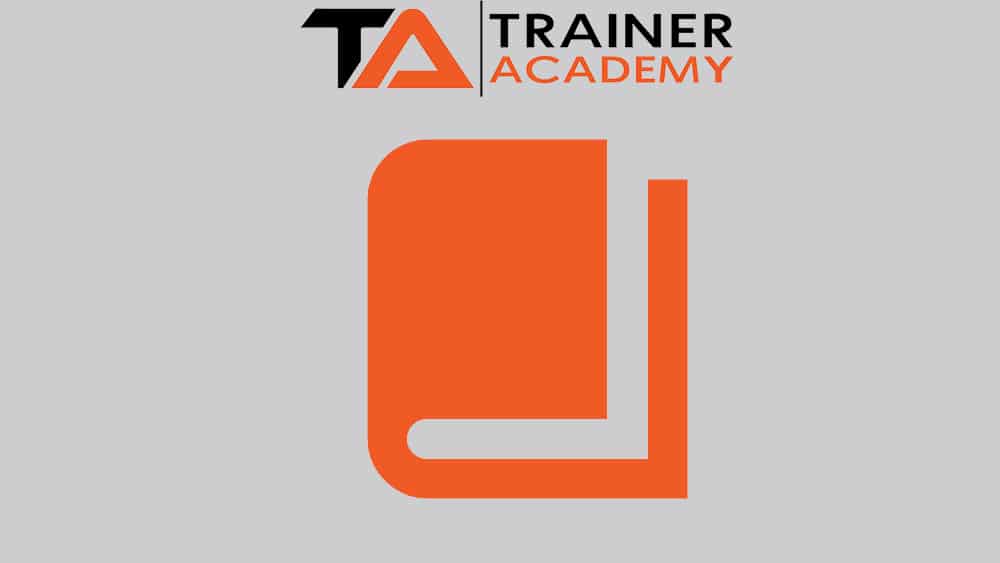 One of the biggest challenges in learning and passing a final exam is the intricate specificity of the study material, key concepts, and terminology as it will appear in the final. The study guide is the bread-and-butter study material for anyone studying for personal training certification.
You need to have more of a grasp of how something is instead of just what it is. That means deepening the material and figuring out the concepts' interconnectedness, origin, and endpoint.
Most people who fail tend to do so because they skim through the information without giving it a proper chance to cultivate an understanding.
In the study guide, you will easily find your bearings and learn how to learn.
Each chapter/domain is structured into 3 main parts:
The first part will direct you toward key concepts for the chapter in question to complete as homework-like assignments.

The emphasis is on learning these concepts directly from the textbook, as you would normally do even without the MVP package.

This is a significant aspect of your learning outcomes as it sets up about 70% of your guided study for the final exam.

You are encouraged to go through it with a fine-toothed comb. Generous use of highlighters and marks is advised.
Additional chapter definitions/info:
This section is a sort of addendum of extra info that the chapter in question contains. It's a way of rounding off the concepts with key definitions and valuable points.
This info will be highlighted for your convenience, but I'll advise you, as with all the students I refer, to focus on gathering this info from the textbook FIRST before skimming the stuff off the study guide.
I estimate this info to count towards 30% of your prep efforts.
Assignment answers AKA "the cram guide":
This section reveals the answers for the chapter-relevant assignment. It explains the why, what, and how of the assignment you just completed.
The answer section is great for cramming for the exam as it provides a realistic idea of what it demands you to know.
As with everything else, I advise you to master the information through the textbook before skimming the answer. Your response to reading the answers should ideally be, "oh, I knew that".
After that, you can revise your work by comparing it to the assignment answers provided.
The weight of this section is a combination of the previous two, giving it a 100% weight towards the final exam prep outcomes.
To fully take advantage of the study guide, students are advised to:
Be thorough with the textbook provided with whatever certification, and use this absorption of info to answer the assignment questions as best you can.
Use the assignment answers provided to compare with your answers.
Study the general terms and study them well.
4. Revise, revise, revise.
This is the real turning point in their personal trainer exam success, as do many students. For that reason, I rate the study guide quite highly.
The study guide is also the only study material consistent with ALL tiers of ALL certification packages offered by Trainer Academy. That goes to show how essential it is.
Audio Study Guide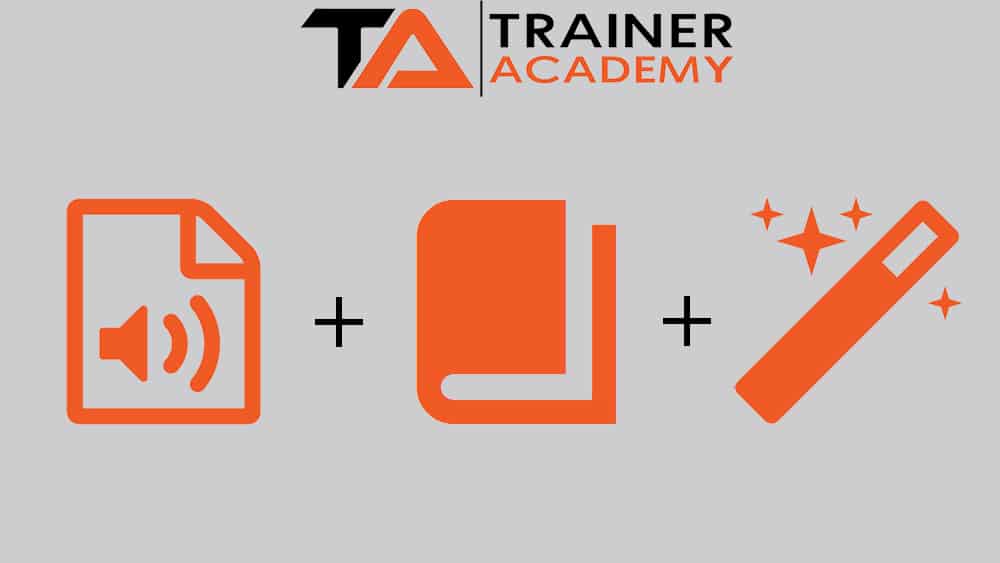 Continuing on with the study guide is the audio study guide for your PT final exam. This audio guide coincides with the assignment questions and answers contained in the written study guide.
Based on what Trainer Academy recommends and from student experience, the best way to use this audio guide is by completing the written study guide and the relevant revision.
The study guide is meant to embed all that you have gained from manually focusing your effort in the written guide, making a commitment to memory all the easier.
The mnemonics are also included in the studio component of the study package with hilarious consequences if I do say so myself. This adds to the ease of learning, in my opinion. As is said, it's easy to remember things we enjoy.
Like the assignments, I suggest you do the mnemonics sheet before using the audio component. That way, when you get to this section, you reinforce what you already know well enough.
The audio itself is recorded in a crisp, audible quality with a friendly conversational tone. I think this is a great way to help immerse students into a positive learning environment.
Muscle Coloring Book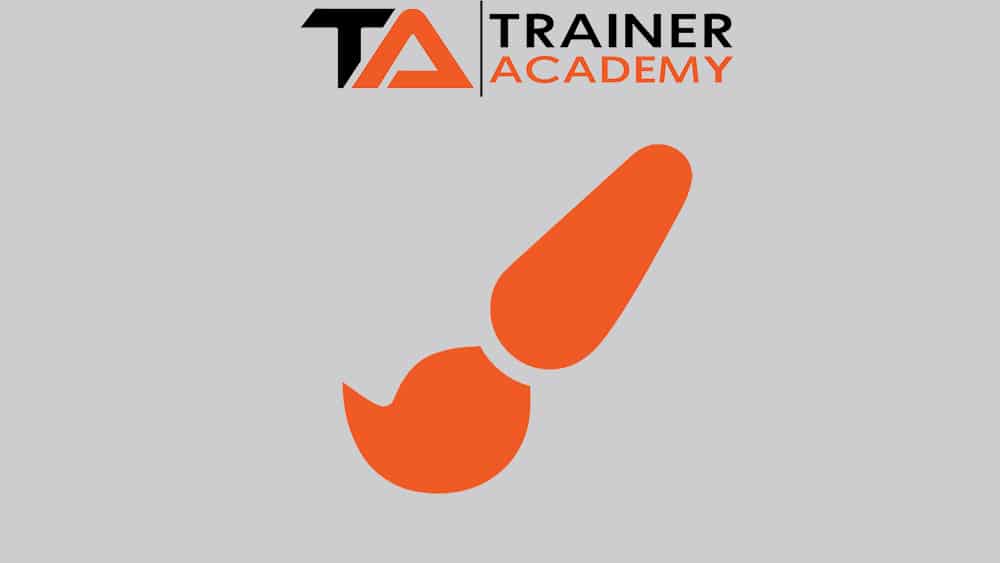 The muscle coloring book is another fun and immersive way to engage your learning outcomes. Its focus is, of course, muscle anatomy.
You get several anatomical figures laid out in black and white with the relevant muscle groups you need to target listed below.
This learning method has traditionally been effective with kids. Still, science is revealing that the visual centers for information gathering and visual-based learning remain the most active forms of knowledge retention, even into late adulthood.
That's why I advise my learners to review the written material before doing the audio guide.
In the case of the coloring book, you're engaging your visual learning and performing a creative task. This is a major advantage when learning, and most of my students agree that anatomy got a WHOLE LOT easier with this.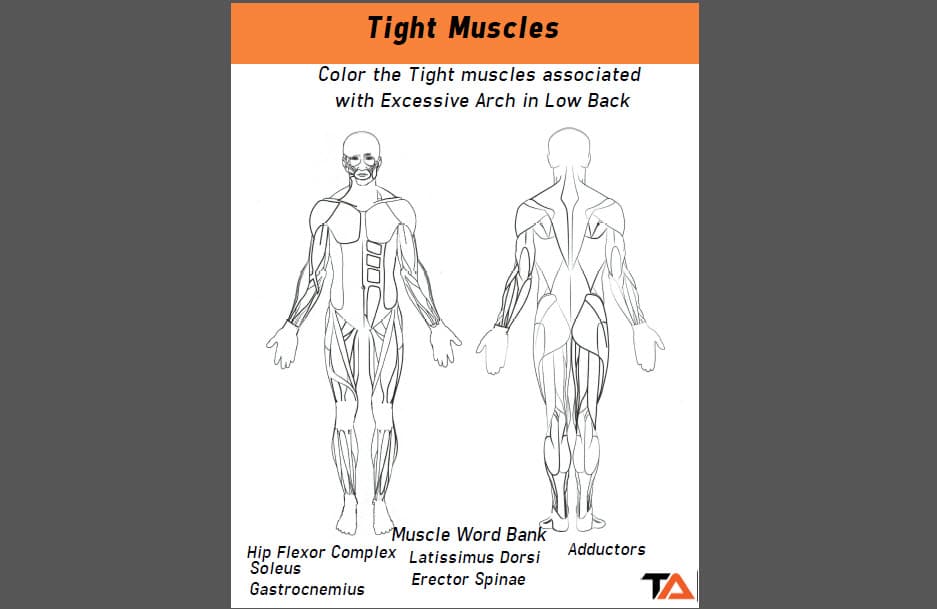 The best way to fully take advantage of the muscle coloring book is by going thoroughly through the textbook, finding all the anatomy and musculoskeletal sections, then nailing these in the study guide.
I find that way; the coloring book becomes a powerful tool in cementing knowledge. If done the other way around, students find it ineffective.
That's because instead of using it as a revision template, you are now oriented with the singular goal of coloring in the muscles, which is just a once-off task and doesn't lead to any lasting learning outcomes.
The book goes through all major muscle groups and presents both a front and rear view of a human figure.
It's pretty useful after reading the other relevant material and textbook.
One addition I would like to see is a skeleton coloring book and even one with the various organ systems. Both these aspects play significant roles in the NASM knowledge resources.
Learning digestion or different joint systems in this way would be amazing.
I would also like to see a more interactive/digital version of the book where you don't have to rely on a new page for each muscle coloring exercise. You can refresh and start with a new muscle group.
It would also be great to incorporate some challenging aspects to the book (in an interactive digital format) where there would be time elements or a wrong answer limit.
Incorporating challenge and reward mechanics into the book tasks will make learning more effective. Overall it's a very cool innovation to help amplify your learning. Talk about muscle memory.
99% Pass Guarantee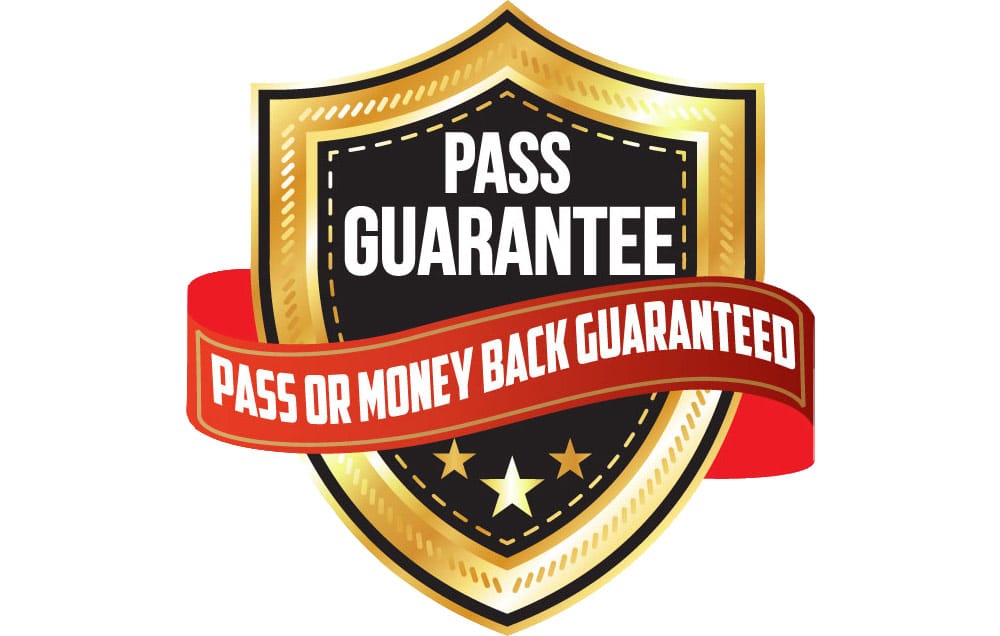 One of the big things with the MVP package is the guaranteed pass rate you are assured of by using this material.
In life, nothing is certain, so never assume that simply by checking out the contents of the package, you will automatically pass.
This guide assists active studying and is not a way to hold your hand through the final exam.
You have to apply yourself and pay close attention to the guidance provided by the blueprint and study guide.
Having a solid game plan is the key ingredient because, as I mentioned, the very few students I refer to Trainer Academy fail to do so because they haven't been fully attentive to the protocol laid out by Trainer Academy.
Trainer Academy aims to help you study smart instead of hard, but at the end of the day, you still need to study.
A good personal trainer certification will often have a challenging exam. Check out my full review here to understand what it takes and what you should expect.
But to give you a quick summary, NASM, for example, currently has a 64% pass rate for all test takers, which means the odds are in your favor, but not in a strong way.
However, by using the Trainer Academy MVP package, your odds shot up tremendously.
You will also drastically decrease your study time by up to 50% while boosting your chances. You can check out some of the reviews by students who've used this study suite for their success here.
All in all, this is probably the best solution for someone looking to maximize their chances of getting certified the first time around.
If you do happen to fail, even with the Trainer Academy package, your retest is a solid guarantee, as you will be going in with a lot more focus and knowledge of what to do right on a second attempt.
The stats for passing mean that from a mere 64% in the case of NASM, you go way up to 99% probability of passing.
That's why only a few hundred students who have used this don't cut. Im sure after reading this review, you won't be one of them.
Final Words
I can't really think of anything else that works as well, so in my humble opinion, I give them a clear 5/5.

So there you have it, folks, a full in-depth breakdown of the Trainer Academy MVP all-inclusive study package.
If you think the study materials might be for you, don't spend full price on the Trainer Academy website. Use the special discounts that I have for readers of my website here:
I focused primarily on the MVP package, which includes all possible material formats Trainer Academy offers.
I also used the NASM package as our case study. The ACE package comes with the same suite of materials.
Other cert packages will vary in the way their tiers are structured. This is based on what material is available or what material is necessary.
For example, NASM PES and NASM CES only include the Study Guide.
Be sure to check out Trainer Academy here for more relevant information about the various packages and materials on offer.
As I mentioned, Trainer Academy offers a variety of packages and guided study materials for other certifications.
These include:
ACE CPT
NSCA CSCS
NASM PES ( study guide only)
NASM CES ( study guide only)
ISSA CPT
Trainer Academy is currently deep in development for more awesome materials for you to use. These include the NSCA CPT, ACSM CPT, NASM CNC, ISSA Nutritionist certification, and more.
So what do I think of Trainer Academy? Well, as you've figured out, I love them. I recommend all my students to TA for their study guide.
If you have any questions about Trainer Academy or other guided study resources, I can advise you on; please drop a comment in the section below.
Happy studying.