Hello NASM learners, and welcome to PTPioneer's NASM CPT Practice Exam and Domain Quiz page!
Throughout this page, you will be able to test yourself on the knowledge gained from NASM or see where you stand before you begin your studies.
In this article, we will be covering the following:
Now, let's dive into some test preparation and see how NASM breaks up its Certification Exam for Personal Training!
Get your copy of the NASM CPT exam cheat sheet and our study plan. It helps immensely in studying for the exam.
Make sure to check out Trainer Academy for premium NASM CPT study materials. They will reduce study time by 50% and have an exam pass guarantee. Read my full review of them here. You can save $100 on their MVP study system with the code: PTPSUB
Let's dive in and take some practice tests!
NASM CPT Study Series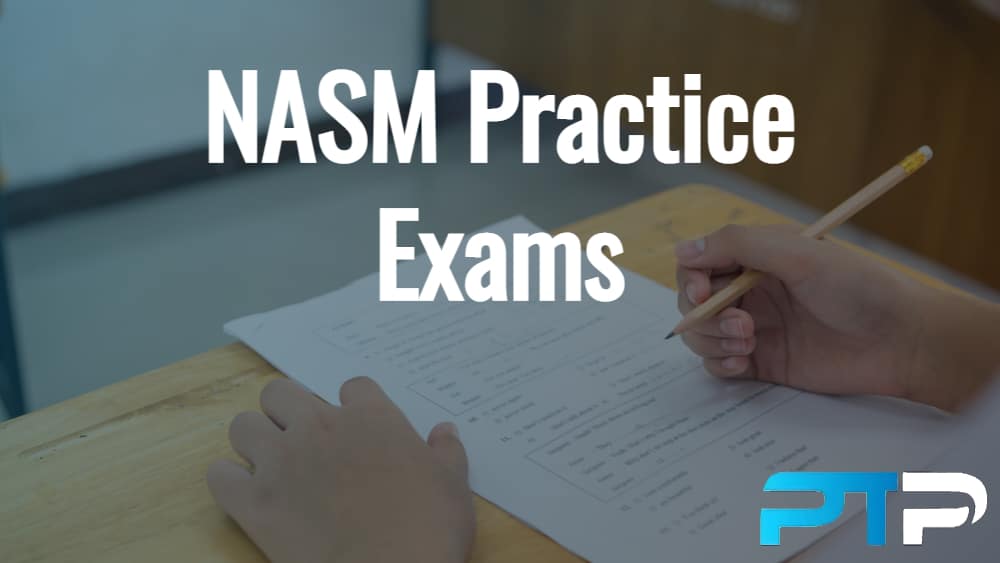 Free NASM Practice Exam Part 1
Free NASM Practice Exam Part 2
Domain 1: Professional Development and Responsibility
This section of the NASM CPT Includes these Chapters:
Chapter 1: The Modern State of Health and Fitness
Chapter 2: The Personal Training Profession
Domain 2: Client Relations and Behavioral Coaching
This section of the NASM CPT Includes these Chapters:
Chapter 3: Psychology of Exercise
Chapter 4: Behavioral Coaching
Domain 3: Basic and Applied Sciences and Nutritional Concepts
This section of the NASM CPT Includes these Chapters:
Chapter 5: The Nervous, Skeletal, and Muscular Systems
Chapter 6: The Cardiorespiratory, Endocrine, and Digestive Systems
Chapter 7: Human Movement Science
Chapter 8: Exercise Metabolism and Bioenergetics
Chapter 9: Nutrition
Chapter 10: Supplementation