Hey everybody, it's coach Tyler here!
Welcome to the one and only ISSA personal trainer certification exam study guide.
This is the most updated International Sports Sciences Association (ISSA) study guide which covers the following:
I highly suggest that you bookmark this page right now for future reference.
Trust me; you will be very frustrated if you lose this specific ISSA exam study material.
I will cover all of the ISSA certification course and study guide answers, too.
Don't forget to get a copy of the ISSA exam cheat sheet and ISSA study plan, which are best used when combined with the other ISSA exam prep materials and the ISSA practice exams.
Also, show some love to Trainer Academy for its premium ISSA CPT certification study materials and high-quality study guides for fitness certifications that go more in-depth than any ISSA exam prep free materials online.
Read my full review of them here and save $100 on their MVP study system with the code: PTPSUB.
Without further ado, let's dive right into this ISSA Study Guide!
ISSA CPT Study Series
FREE ISSA Study Guide Updated for 2023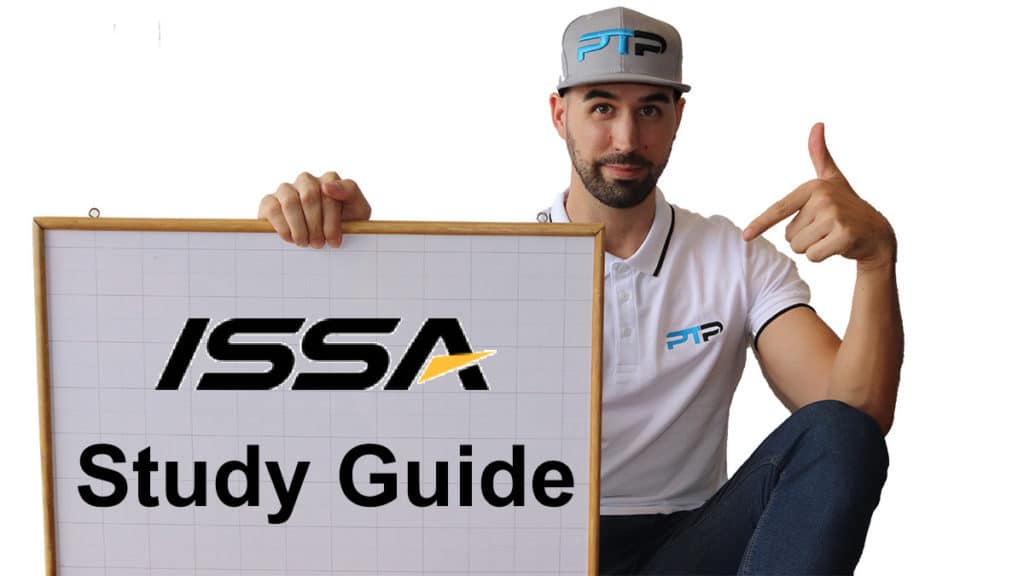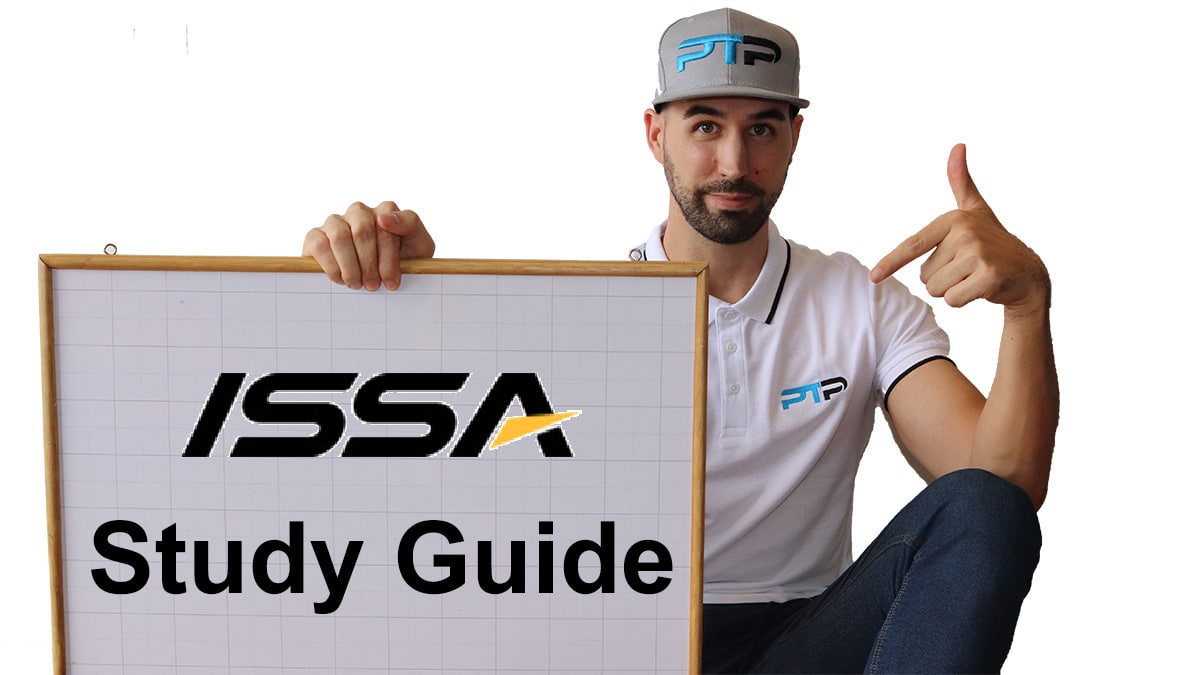 ISSA CPT 10th Edition Chapters
ISSA CPT 9th Edition Chapters
You should know that the ISSA website offers a 4-week ISSA Fast Track study plan which includes online study materials, access to a dedicated student success coach, ISSA community membership, and a free CPR/AED certification course.
There is also a pass protection which offers a free retest for those who fail the exam.
But the PTPioneer ISSA-certified personal trainer study guide answers the exact questions from the official ISSA personal training certification study guide included with the official cert textbook.
Anything you want to learn, from exercise science and anatomy to the basics fundamentals of strength training, ISSA covers it all.
You can either start studying for your final exam now before you purchase the ISSA certification program, or you can use this page to double-check your own answers as you answer them yourself.
Whether you're fresh out of high school or are earning this credential to fulfill continuing education units (CEUs) for recertification purposes, these ISSA practice questions and practice tests will definitely help you pass your exam.
Other ISSA Study Guide Tips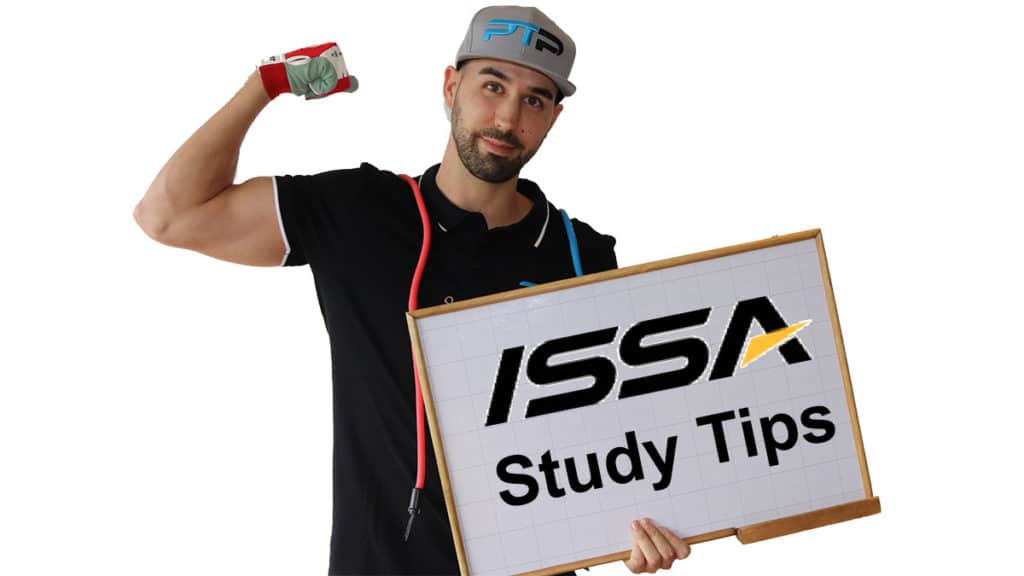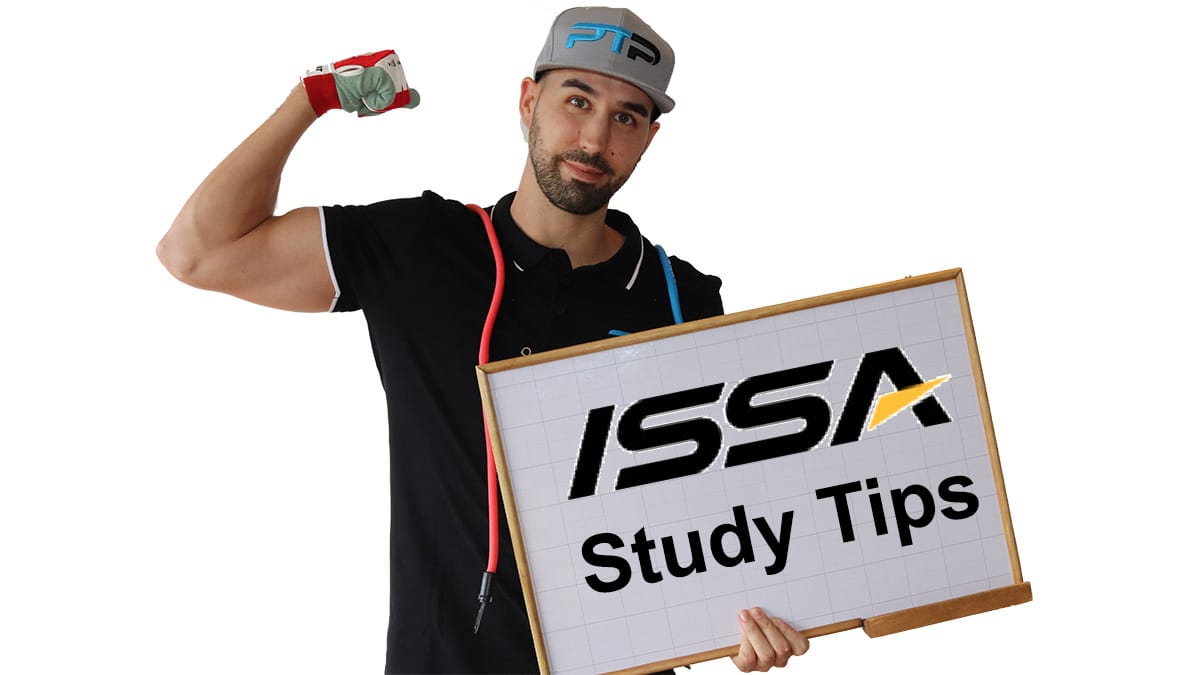 This ISSA CPT Exam Prep Hub is not meant to completely replace studying from the ISSA textbook. It is meant to supplement studying from it.
If you are still not sure if ISSA is the correct personal training certification for you, then I highly suggest that you take the quiz In order to find out if it is.
In my perspective, the ISSA CPT is among the top certifications for fitness professionals, in line with NASM, ACSM, and NSCA.
The ISSA CPT exam has only recently been accredited by the National Commission for Certifying Agencies, or NCCA.
NCCA accreditation is the gold standard accreditation in the fitness industry and is acknowledged by all gyms.
That's why most fitness trainer programs and specializations, such as group exercise, master trainer, powerlifting, and nutritionist credentials, are accredited.
Do I need to study for the ISSA exam thoroughly?
How do I study for ISSA in other ways?
Allow me to make the following suggestions to help you ace your ISSA personal trainer exam and accelerate your budding personal training career.
Use ISSA Flashcards
Sure, the flashcards I provide on this ISSA CPT Exam Prep Study Hub are a great place to start.
But quite honestly, there are not that many flashcards, and it does not utilize spaced repetition flashcard learning.
And why does that matter?
Spaced repetition flashcard learning is a flashcard studying method in which the more difficult flashcards show up more often, and the easier flashcards show up with less frequency.
This clever algorithm learns which cards are easy for you, and which cards are hard based on how you rate yourself as you are studying them.
This type of flashcard studying method covers hundreds of definitions in the ISSA textbook and workbook, saves you hours of studying time, and actually helps you memorize these definitions and concepts long after testing.
The team over at Trainer Academy has an excellent deck of over 750 flashcards for ISSA.
Although the pass rate for the ISSA CPT exam is currently at 90%, I still recommend using flashcards.
Create Mnemonics
Using mnemonics Is one of the other tips I have for studying for the ISSA exam.
I suggest creating some extremely weird and unique situations/stories for particular concepts in the textbook.
Find the concepts that you are having trouble memorizing and create your own mnemonics to help with retention.
I highly recommend making your mnemonics as weird as you possibly can.
For example, I like to include animals, aliens, superheroes, etc.
"One Slow Red Ox" is a great way to memorize Type I muscle fibers, which are slow twitch, red, and use oxidative metabolism.
Trust me, people who use mnemonics are much more likely to memorize a certain topic than those who are simply trying to memorize concepts directly out of the textbook.
Cementing this information from the textbook in your head with mnemonics is the best way to become an elite trainer as well as maintain that status for years to come.
Also, Trainer Academy has some pretty awesome and funny mnemonics for ISSA.
ISSA Cheat Sheet
A cheat sheet is best to help you remember mostly tougher concepts in the book, similar to how mnemonics help.
While going through the text and your training program, put the most important information all on one page, especially if you have it nearby for practice exams.
I've done this with the exercise science section and have had great success with learning the concepts.
You can either create your own or simply visit the PTpioneer cheatsheet by clicking the button below.
FREE ISSA Study Guide
Our free study guide should help you with your goals.
Dive into your ISSA CPT studies now by clicking the link below to start with ISSA Chapter 1!