Welcome to PT Pioneer, your ultimate destination for insight into the fitness industry.
If you're considering becoming a certified personal trainer, you're also probably thinking about what qualifications you need.
If that sounds like you, you're in the right place. I'm about to give you the lowdown on two of the best strength and conditioning certifications, NASM and NSCA.
My review contrasts both CPT certifications across the following key aspects:
Alright, let's get into it!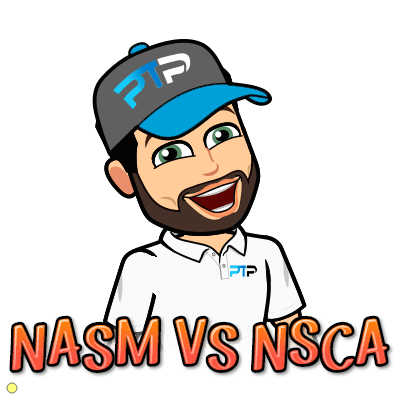 CPT
ACSM vs ACE Quick Breakdown
Features
Price
NASM-CPT

NCCA accredited program
The most popular and recognized certification providers in the world
Specializing in corrective exercise technique methodology
Great for newcomers and seasoned professionals
More expensive
Difficult exam

View on NASM Website
NSCA-CPT

NSCA accreditation
Huge NSCA network
NSCA clinics
NSCA accredited schools
Great CEU opportunities
Fair NSCA membership costs
Membership discounts and benefits
Access to the NSCA Journal of Strength and Conditioning Research
Lacks coverage on the personal training business, marketing, and sales
Some CPT exam prep material is inadequate

View on NSCA Website
Product
Exam cost
Exam cost
$849, $999, $1,499
$300 (Members) $435 (Non-members)
Study Material Cost
Study Material Cost
INCLUDED
$455 (Members) $511 (Non-members)
Prerequisites
Prerequisites
CPR/AED, 18 years of age, high school diploma/GED
CPR/AED, 18 years of age, high school diploma/GED
Exam Passing Score
Exam Pass Rate
Average Completion Time
Average Completion Time
3-6 months
3-6 Months
NASM vs NSCA (Video)
Introduction
Now it's time to peel off the lid on NASM and NSCA. In doing this, I won't only reveal the differences, but also the similarities and how each cert's aspects could contribute to a great start to your career.
Just to be clear, any mentions of NASM or NSCA will be about their tentpole CPT certs unless otherwise specified. I might mention other certs such as the NSCA CSCS certification.
The distinct features of each cert will allow you to decide, based on your career trajectory, which one is your best fit based on your career trajectory.
NASM vs NSCA: Quick Information
NSCA Personal Trainer Certification
The National Strength and Conditioning Association, or NSCA, is an academic institution that was established in 1978.
This makes it one of the oldest exercise science organizations in the world.
The NSCA is a non-profit organization that works towards pioneering research in the strength & conditioning and exercise science fields.
Ths focus on strength and conditioning, immortalized in the organization's name, speaks a lot to the scope of practice NSCA trainers tend to follow
NSCA is also accredited by the NCCA and is thus considered a gold standard certification.
NASM Personal Trainer Certification
The National Academy of Sports Medicine, also known as NASM, is a certification agency and academic institute that trains and certifies fitness professionals.
It was founded in 1987 and has since become one of the leading names in exercise science credentialing.
According to many metrics such as enrollment figures and google search data, NASM is often ranked as the most popular certification agency on the planet.
NASM is accredited by the National Commission for Certifying Agencies or NCCA.
This seal of approval stands as a quality guarantee which you can rely on.
The General Focus and Popularity/Recognition of NASM vs NSCA
Every certifying organization has its origins in a specific area of focus.
Some are more obvious with this, while others are more subtle.
Many sub-categories and fields fall under the health and fitness umbrella, so to set themselves apart, most cert agencies have different trajectories in terms of their syllabus and curriculum to set themselves apart.
This uniqueness and diversity benefit you because it allows you to match with the best personal trainer certifications that coincide with your strengths and preferences in fitness.
In the case of this comparison article, we'll be looking at two certs that follow very similar paths. Still, even within that close similarity, I will pluck out some of the differences so you can decide for yourself.
NSCA-CPT
NSCA is a performance-based organization.
Many of the principles, motivations, and methodologies espoused by NSCA are there to front an agenda of optimizing athletic ability.
Even when considering the general CPT cert I'm highlighting, you will notice an underlying theme of performance enhancement.
NSCA is also well known for its CSCS, or Certified Strength and Conditioning Coach certification, which is firmly centered around sports performance.
This means the NSCA CPT is a good gateway into qualifications and careers in professional sports and sports coaching.
NASM-CPT
As the name suggests, NASM is centered around sports medicine and corrective exercise.
These principles share a lot of overlap with the strength & conditioning and performance enhancement perspective presented by the NSCA.
The most notable difference between NASM and NSCA's approaches is that NASM aims to enhance performance primarily from a lifestyle perspective.
In contrast, NSCA aims to enhance performance primarily from an athletic standpoint.
At the end of the day, both certs present modalities that are applicable in either a lifestyle or athletic scenario.
They do this through their NASM OPT model, short for Optimum Performance Training.
It aims to equip trainers with the ability to improve:
Chronic conditions
Disabilities and impediments
Imbalance
Injury prevention and recovery from injury (post-rehab)
Movement compensations
Poor posture
Sub-optimal movement patterns
Skills and Knowledge Covered in NSCA vs ACSM
Before you click "buy" and purchase your cert, its a good idea to know what's in the box in terms of content and curriculum.
For the most part, you won't be able to get a full view of what the syllabus or curriculum of a certification looks like outside of a basic profile you might find in a student's handbook or similar document.
So I've taken it upon myself to purchase and go through the certifications curriculum as it exists for candidates.
With those resources, I'll go over all the significant aspects of personal training business practice and overview how well they're covered by each personal trainer course.
Exercise Science Principles:
Exercise science should be at the beginning of every personal training certification curriculum.
This usually means the first several chapters of the course textbook will cover this topic.
For NASM, exercise science is well presented in the first five chapters contained within the first section of the textbook.
These chapters cover topics such as
The Scientific Rationale for Integrated Training
Basic Exercise Science
The Cardiorespiratory System
, Exercise Metabolism, and Bioenergetics
Human Movement Science.
As for NSCA, exercise science is expertly presented in part 1 of the textbook, covering eight chapters.
Both NASM and NSCA do an excellent job handling exercise science, but based on the sheer volume of content, I'll have to say NSCA comes out on top.
Behavioral Coaching Principles
Behavioral coaching and coaching psychologies are quintessential to pushing towards goals and successful outcomes.
The bulk of the work you'll be doing with clients is changing their mindsets and outlooks on present lifestyle habits.
This is the only way they'll be able to develop successful and effective strategies towards their goals.
NASM covers behavioral coaching in the final section, Section 4: Client Interaction and Personal Development.
Within this section, only a single chapter is dedicated to behavioral coaching.
While it is covered in adequate detail, NSCA still does a more in-depth coverage.
Consulting and Screening Clients to Reduce Risks of Injury
Before any training commences, and even through the duration of your client/coach relationship, regular screening, assessments, and monitoring are necessary in order to gauge your client's limitations as well as avoid the risk of injury and aggravation of preexisting conditions.
This is where consulting and screening come into play.
There are two modalities involved when it comes to consultations and screening.
Exclusive PTP Offers



Gold Standard Cert

Most Popular Cert

A Good Option

Best Study Materials

Best online PT course

The Top PT Software

The first one is health screening, where you assess a client's current health status and what, if any, contraindications exist when implementing a training program.
A health screening assesses things such as:
Pre Existing and chronic conditions
Vital stats (blood pressure, heart rate, body composition)
Impediments and disabilities
Previous injuries and surgical procedures
Current medications
Age-based sensitivities
Dietary requirements
Pregnancy and post-pregnancy status.
The second one is fitness and movement screening.
This assessment allows you to determine the limitations and considerations a client will have towards achieving their fitness goals.
Movement assessments test the fitness level and biomechanical capability of your clients utilizing the following screening methods:
Cardiac endurance assessment
Dynamic assessment
Loaded assessment
Overhead squat assessment
Postural assessments
Single leg squat assessment
Split leg assessment
By establishing the current level of physical fitness, your client is subject to, you can more accurately map out a realistic, results-driven program.
This, along with establishing your client's health status, allows you to determine safe and effective parameters for exercise implementation.
NASM tackles this component of personal training practice in Part II: Assessments, Training Concepts, and Program Design.
Chapter 6: Fitness Assessment takes a deep dive into this topic, with the rest of Part II touching on it in some form or fashion.
NSCA takes on client screening in Part II of its course textbook.
However, unlike NASM, the entirety of this section, spanning three chapters, focuses on assessments and screening.
Resistance Training Program Implementation
Resistance training is a key component in exercise implementation.
Most of the exercises you prescribe will be resistance-based to a certain extent.
Understanding the biomechanical implications and implementations of resistance training forms the backbone of your program design.
NASM does a decent job of highlighting this concept in Chapter 13: Resistance Training Concepts.
I especially enjoy simplifying the GAS or general adaptation syndrome and other training adaptation concepts.
NSCA's coverage of resistance training is coincidentally also in the textbook's 13th chapter.
However, NSCA expands by splitting resistance training into its science and theory in chapter 13 and its program design implementation in chapter 15.
This gives you a fully equipped approach to resistance training. Not just learning what it is and how it works, but also how to include it in your training repertoire with clients.
For that reason, I would say NSCA has a better take on resistance training.
Aerobic Training Program Implementation
Aerobic training, known in layman's terms as cardio, is the basis of all physical fitness, so it naturally forms the basis of any fitness program implementation by trainers such as yourself.
But why is that the case?
Well, cardio training is training of the heart, and your heart is the organ directly responsible for the shuttling of nutrients and metabolic materials through the body.
That means your physical ability and fitness directly correlate with your cardiac output and aerobic status.
So what do NASM and NSCA do about this critical topic?
NASM dives into cardiac fitness and aerobic training in Chapter 8: Cardiorespiratory Fitness Training.
I like that this chapter looks at the respiratory component of aerobic training with as much focus as the cardiac component.
NSCA follows the same pattern as it was established with resistance training by separating aerobic training principles from aerobic training practice in chapters 14 and 16, respectively.
This again provides a level of depth and comprehension slightly superior to what NASM brings to the table.
Helping Special Populations with Fitness
When dealing with personal training clients, you'll very often encounter special scenarios and considerations from individual to individual.
This is a common function of dealing with different people.
However, sometimes, these special scenarios and considerations define the client's profile as well as how or what goals can be achieved.
This type of client would be regarded as being part of a special population group.
Examples of clients who fall into a special needs and preferences category include:
Youth and children
Elderly and senior fitness
People with disabilities or impediments
Professional or amateur competitive athletes
Prenatal and postnatal women
People with chronic health conditions
Special populations in this sense are defined as clients with unique physiological needs or profiles.
This garners the need for a unique approach and sensitive considerations.
NASM touches on special populations or special needs in Chapter 16: Chronic Health Conditions and Physical or Functional Limitations.
The coverage in the NASM textbook pales in comparison to how in-depth and well-rounded the NSCA curriculum tackles the topic.
In NSCA, the scope of special populations covers every single standard scenario I previously listed.
NASM only deals with special populations limited in their training capacity and only in the realm of chronic health conditions.
In contrast, NSCA tackles how to train athletes, and the youth, population groups that may be considered to have physical advantages.
NSCA also covers this topic over an entire part, that being Part V, while NASM only assigns a single chapter to this coverage.
Certification Popularity and Recognition of NASM vs NSCA
Popularity and recognition are easy to dismiss at face value.
I mean, this isn't a popularity contest. It's a quality and relevance comparison, right?
Well, yes, but the popularity and recognition of a personal trainer certification play an essential role in your decision-making when you think about it from a different perspective.
For instance, the popularity of something amongst the general community acts as a symbol of quality assurance.
The more people know about something, use it, and enjoy it, the more assured of a good quality experience you are.
This is known as confirmation bias, where we make decisions based on the cumulative decisions of others because those decisions communicate value and desirability.
Recognition plays a similar role in that a certification with a wider industry recognition shows a wider acceptance and approval from those in a position to hire, employ, and provide professional opportunities.
NSCA is a bit more "old-school," for lack of a better phrase, so it places little emphasis on its marketing and attention economy.
NASM is also a for-profit organization, so it pays to pump resources into image and marketing. NSCA, on the other hand, is an NPO, so its revenue is purely for operational purposes.
The Study Materials and Pricing of NASM vs NSCA
Study materials are the resources and content you will use in learning the curriculum and preparing for the final exam.
So far, we've taken a good look at the textbooks of each respective certification program. Still, it's important to keep in mind the selection of other documents and data that fall understudy materials.
It's also crucial to consider the cost of these materials so you can also decide based on your budget and financial circumstances.
NSCA Personal Trainer Certification Cost and Materials
Unlike NASM's four package options, NSCA presents just three options, which is the norm with most certifications anyways.
The packages are:
NSCA-CPT Essential Package
NSCA-CPT Essential Plus Package
NSCA-CPT Digital Package
The Digital package contains very little to motivate learning for a fresh-faced PT. It's more geared towards a seasoned professional looking to expand their credentials.
This package contains:
Study Guide
Over 200 digital practice tests
The Essential package offers some direction while not providing a complete spoon feeding in an exam prep sense.
It includes::
Essentials of Personal Training course textbook
Study Guide
Over 200 digital practice questions
Last but not least; we have the Essential Plus package which you could equate to NASM's All-inclusive package.
It's ideal for newcomers and includes:
Essentials of Personal Training course textbook
Exercise Technique Manual
Study Guide
Over 200 digital practice exams
And much more
An important consideration is the fact that your exam purchase and the purchase of the aforementioned packages are separate expenses.
You also need to bear in mind that costs shift based on your membership status.
As a member of NSCA, you will receive discounts on the purchase of all courses and products.
To give you an idea of what that looks like, let's check out the membership vs non-membership cost breakdowns.
Non-member pricing:
NSCA CPT exam cost: $435
NSCA-CPT Essential Package: $290.70
NSCA-CPT Essential Plus Package: $511
NSCA-CPT Digital Package: $202
Member pricing::
Exam registration: $300
NSCA-CPT Essential Package: $240.30
NSCA-CPT Essential Plus Package: $455
NSCA-CPT Digital Package: $152
So membership cuts your costs considerably, but what does membership entail, and what does membership itself cost?
Membership with NSCA comes in three possible plans. Those are:
Student Membership: $70.00
Professional Membership: $130.00
NSCA-CPT Digital Package: $418.83
The membership is a great option, I would recommend it, but you can also do without it.
This is in consideration of the other benefits that come with membership.
NASM Personal Trainer Certification Cost and Materials
NASM follows a tried and trusted approach of offering multiple package options for prospective candidates to choose from.
Exclusive PTP Offers



Gold Standard Cert

Most Popular Cert

A Good Option

Best Study Materials

Best online PT course

The Top PT Software

Each package is priced differently based on the variety and density of materials, with the cheaper option containing the least resources while the most expensive naturally containing the most.
The available NASM packages are: Self-study, Premium Self-study, Guided Study, and All-inclusive
The Self-study package includes the following::
The certification final exam
Textbook
A series of lecture videos
NASM exercise library
NASM practice test or practice exam access
NASM exam answers
Online CPT cert quizzes
Comprehensive NASM study guide
The Premium Self-study includes everything in the Self-study package in addition to
Job Guarantee
One-year NASM EDGE Trainer Plus
The Guided Study package, which in addition to everything you've already see, includes the following:
Unlimited Access to NASM Fitness Experts
Certification Exam Retest
NASM-CPT Hardcopy Textbook
Bonus Course: Motivational Interviewing for Coaches
The guided self-study package contains one amazing aspect I personally enjoy, and that's having a hard copy textbook.
I love it because you can have a permanent reference on hand at all times in the form of highlights, bookmarks, and sticky notes.
Last but not least I the All-inclusive package
Along with everything already mentioned, All-inclusive also contains:
NASM's Edge CPT Exam Prep
Gymternship™
Recertify for Life
CPR/AED Certification Online
I don't think the All-inclusive package is necessary, even if you have the money to spend, the extras included just won't give you much of a significant edge, ironic since one of those extras is literally a self-proclaimed "Edge"
So what do all these packages cost?
The Self-study package costs $899, while the Premium Self-study, Guided Study, and All-inclusive cost $1,199, $1,599, and $2,699, respectively.
This makes NASM one of the most expensive certification providers.
Prerequisites: NSCA and NASM Certification Requirements
Prerequisites are there to safeguard the quality and integrity of qualifying candidates.
Make sure those that enroll in an academic program are up to the task and can do so within the bounds of any laws or bylaws.
When it comes to personal training certifications, the prerequisites are pretty basic.
All you need to provide to gain access to either NASM or NSCA is the following:
High school diploma or equivalent
Be at least 18 years
Have current first responder certifications (First Aid, CPR, AED)
Information On The Tests and Recertification: NASM vs NSCA
Now I'd like to go into the final exam and discuss how it's structured.
I feel it's important to have a good grasp of what to expect in the exam so you can prepare for any potential surprises and to have a sense of calm confidence when writing.
This doesn't mean I'll be sharing any test answers as that would not only be impossible, but highly illegal.
What I'll do instead is give you the structure of the exam from a technical perspective and the content layout.
I'll also delve into recertification and the procedures behind maintaining your certification including CEUs (continuing education credits).
NSCA Certification
The NSCA CPT exam is a 155 question test. 140 of those questions are scored, while 15 are non-scored questions.
The non-scored questions are impossible to distinguish from those that will earn you points. They are there to test their viability for future exams.
Since you can't tell them apart, it's best to answer all questions possible.
The passing grade is 70% which you have 3 hours to achieve
The exam curriculum is broken down and weighted as follows:
Client Consultation/Assessment 23%
Program Planning 32%
Techniques of Exercise 31%
Safety, Emergency Procedures and Legal Issues 14%
The most recent statistics present that 72% of test-takers pass the NSCA exam.
This shows me that the test has an adequate entry barrier, but one which isn't prohibitive.
As for recertification, you'll be required to submit 6.0 CEUs after every three years from the initial certification.
In most cases, you'll need to recertify after just two years.
NASM Certification
The NASM CPT final test runs for two hours and consists of 120 multiple-choice questions.
The passing grade is 70%, of which current statistics indicate a 64% pass rate.
This puts NASM's CPT certification as one of the most difficult, so you better get to work if you want that cert.
The exam content breaks down as follows:
Basic and Applied Sciences and Nutritional Concepts 15%
Client Relations and Behavioral Coaching 15%
Assessment 16%
Program Design 20%
Exercise Technique and Training Instruction 24%
Professional Development and Responsibility 10%
As I mentioned, the common trend with certifications is recertifying after two years. NSCA requires renewal after three years, but in NASM's case, the two-year validity period is in place.
For this, you will need to submit 2.0 CEUs and pay a small recertification fee.
Review Methodology
My review process involved combing through official content and study material to give you insider insight.
I used the current course material, mainly relying on the course textbook for information regarding the curriculum and syllabus structure.
Use of other materials such as the study guide/workbook and exam also added to the overall outcome.
Lastly, the analysis of reviews and forum posts by prospective, current, and past candidates added to the pot of review data.
Frequently Asked Questions (FAQs)
Conclusion: Which is the best personal training certification, NASM or NSCA?
Which is the best between NASM and NSCA?
That isn't a question with a clear objective answer.
Both of these are nationally recognized personal training certifications and are therefore valid and relevant.
There are many areas where NSCA is stronger than NASM and many where NASM is stronger than NSCA.
At the end of the day, it all hinges on your preferred approach to a career as a fitness instructor or the business model of your personal trainer business.
Some people might want to focus more on working in the sporting field, while others would prefer more general population interactions.
The truth is, the bulk of the fitness industry lies in the hands and wallets of general population members, those with fundamental needs and goals.
For that reason, NASM would be your best choice.
Discover All PTP Fitness & Wellness Career Articles
Tick a box from each section to narrow the results.
×
I want to know more about: