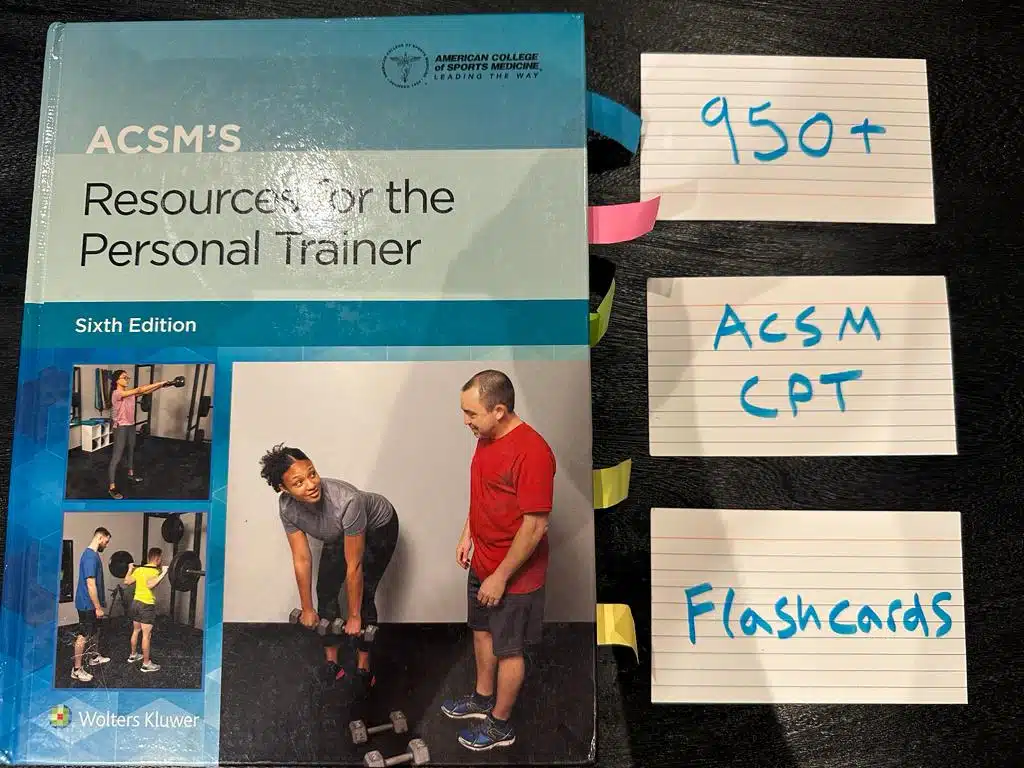 Welcome to the ultimate PT Pioneer ACSM flashcards page.
Secrets to Passing the ACSM Exam
Secret #1:
Get your copy of the ACSM CPT exam cheat sheet and our study plan. It helps immensely in your ability to study for the ACSM test.
Secret #2:
Check out Trainer Academy for premium ACSM CPT study materials. They will reduce your ACSM study time by 50% and have an exam pass guarantee.
Plus, the ACSM MVP Program includes hundreds of additional spaced repetition flashcards, which utilize an algorithm to ensure you focus primarily on the knowledge where you are weakest while fortifying your stronger areas.
You can save $100 on their MVP study system with the code: PTPSUB.
Secret #3:
The PT Pioneer ACSM flashcards will take numerous sessions to complete. I don't expect you to knock them out in one shot. With that said be sure to bookmark this page to ensure you can find it for your next ACSM Study Session.
Alright, let's dive into the best ACSM exam prep, the ACSM CPT exam study guide!
ACSM CPT Study Series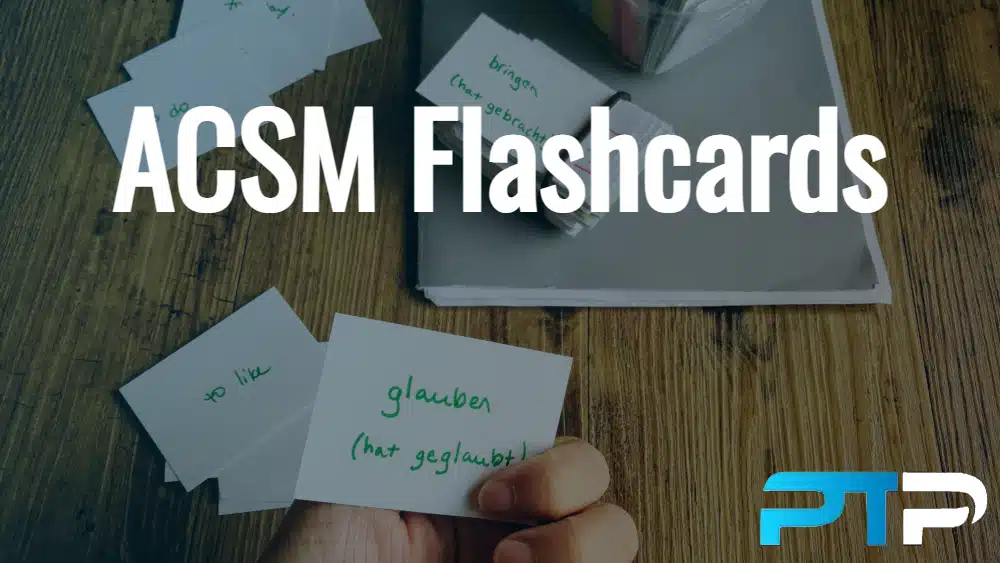 950+ ACSM Flashcards
Chapter 1: Importance of the Field and Profession of Personal Training
Chapter 2: Career Track for Personal Trainers
Chapter 3: Anatomy and Kinesiology Deck 1
Chapter 3: Anatomy and Kinesiology Deck 2
Chapter 4: Biomechanics
Chapter 5: Exercise Physiology
Chapter 6: Nutrition and Human Performance
Chapter 7: Theories of Behavior Change
Chapter 8: Adherence to Exercise: Helping Your Client Stay Active Deck 1
Chapter 8: Adherence to Exercise: Helping Your Client Stay Active Deck 2
Chapter 9: Eliciting Positive Perceptions and Behaviors: Coaching Techniques
Chapter 10: The Initial Client Consultation
Chapter 11: Preparticipation Physical Activity Screening Guidelines
Chapter 12: Client Fitness Assessments Deck 1
Chapter 12: Client Fitness Assessments Deck 2
Chapter 13: Comprehensive Program Design
Chapter 14: Resistance Training Programs
Chapter 15: Cardiorespiratory Training Programs
Chapter 16: Guidelines for Designing Flexibility Programs
Chapter 17: Personal Training Session Components
Chapter 18: Advanced Program Options
Chapter 19: Populations across the Lifespan Deck 1
Chapter 19: Populations across the Lifespan Deck 2
Chapter 20: Metabolic Disease and Cardiovascular Disease Risk Factors
Chapter 21: Business Basics and Planning
Chapter 22: Legal Issues and Responsibilities
Flashcard Study
Flashcard studying is one of the best ways to learn big sets of terms and new topics in a study form that can be done in short bursts or even longer sessions.
Any form of flashcard study can help learners, but for the best experience, you should seek out a program that uses spaced repetition learning, as it is proven to be the best option.
Trainer Academy Flashcard systems utilize spaced repetition, which is one of the main reasons their program ensures you will pass the certification exam or get your money back. That is how confident they are in the proven study system of spaced repetition flashcard learning.
The American College of Sports Medicine does not offer any flashcard study materials in its programs. This is an essential part of studying, especially if someone is completely new to a subject with test prep.
Ideally, when studying these, they will be studied daily for a regular set amount of time, like 15 – 30 minutes.
It can be a good idea to write down the ones you might struggle with and study them extra.
That is where more advanced study programs have the advantage of spaced-repetition studying, which notes the flashcards you struggle with and brings them to you more frequently.
Another thing to note is that you should aim to study these flashcards after reading the chapter in our study guide or the textbook.
Here on this page, we have chosen the best way to break down the flashcards in a per-chapter format.
At the top of the page, you will find a flashcard plugin for each of the 22 chapters within the ACSM certification for personal training.
The chapter plugins combine the most important terms and topics in a flashcard study format.
Domains of Study
The flashcards test you from domain I, domain II, through all 4 domains on the exam. Completion of these is one of the 'soft requirements' for PT Pioneer learners who want to pass the exam.
The domains of study consist of these:
Domain I: Initial Client Consultation and Assessment
Domain II: Exercise Programming and Implementation
Domain III: Exercise Leadership & Client Education
Domain IV: Legal & Professional Responsibilities
We break the flashcards down by chapters here on PTPioneer, but it is good to know the domains of study and their associated chapters.
When you are struggling with one of the chapters, take the domain quizzes and frequently study the chapters for that domain.
Some chapters contain harder materials and topics. These ACSM flashcards will hopefully focus on the ones you struggle with, as they hit all of the highlights that will potentially be on the ACSM-certified personal trainer exam.
Implementing Flashcards
Flashcard studying that is done frequently is one of the easiest ways to create lasting study habits and keep information fresh in your mind over the long term.
Daily studying of flashcards is ideal, and for as little as 10 minutes per day, you can create a lasting habit that will carry over into all your future endeavors.
Why is it helpful to study with flashcards?
Flashcards present a word or words and allow you to think of the answer or associated topics to reach the answer or definition.
They are extremely beneficial in studying all types of materials.
The PT Pioneer chapter flashcards above are curated to contain the most important information that can be studied in this flashcard format for every chapter. They will encompass what I view as the most important information.
If it doesn't have the term or topic you most struggle with, then it can be very beneficial to try and do the same form of studying by writing down the terms.
Some researchers even claim that writing or writing cards enhances studying.
If you see that you get a lot of value from flashcard studying, you could always try to make your own and write them to nail down the harder definitions.
All in all, these flashcards have been proven to assist learners by providing a concise page to cover the topics of the ACSM CPT, like exercise testing, BMI, body composition, general exercise science, fitness testing, strength training, and many more aspects and resources for the personal trainer.
The chapters are in the order above; make sure you are studying your correct chapter and deck for each chapter, as the larger chapters have multiple decks of flashcards. By the time you complete everything on this flash cards page, you'll be one step closer to becoming an expert in the field and passing your ACSM exam.