Hello and welcome to the PTPioneer ultimate review of the Precision Nutrition Level 1 Certification.
Following this article, you will know whether this is the nutrition certificate suited for you!
The article will cover these topics:
Now let's look into the Precision Nutrition Company and Level 1 Certification!
Quick Breakdown: PN Level 1 Certification
Behavior Change Strategies
6
Pros
A lot of essential nutrition science that builds on PT cert foundations
Future classes like Level 2 cert add on and continue coaching careers well
Option to be purchased through ISSA with CPT
ProCoach software can be very beneficial starting out
Cons
The organization only offers nutrition certs
A limited sign-up window for programs, only starts two times per year
Pricey compared to competing nutrition certifications, other nutrition certs cost less and offer nearly the same experience.
Not accredited
Precision Nutrition Information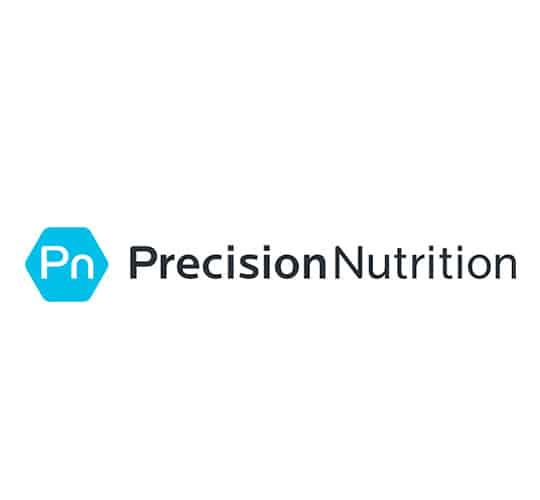 Exam cost: $999
Study material cost: $99/month for 12 months
Prerequisites: High School Diploma, CPR/AED
Exam pass rate: 70%
Average completion time: 2-6 months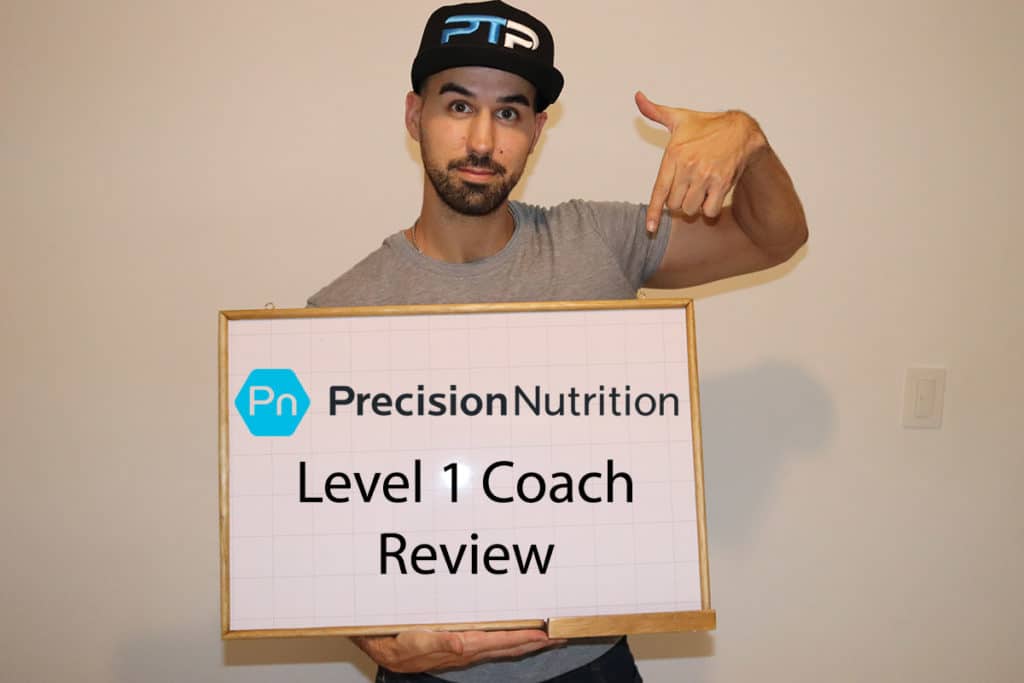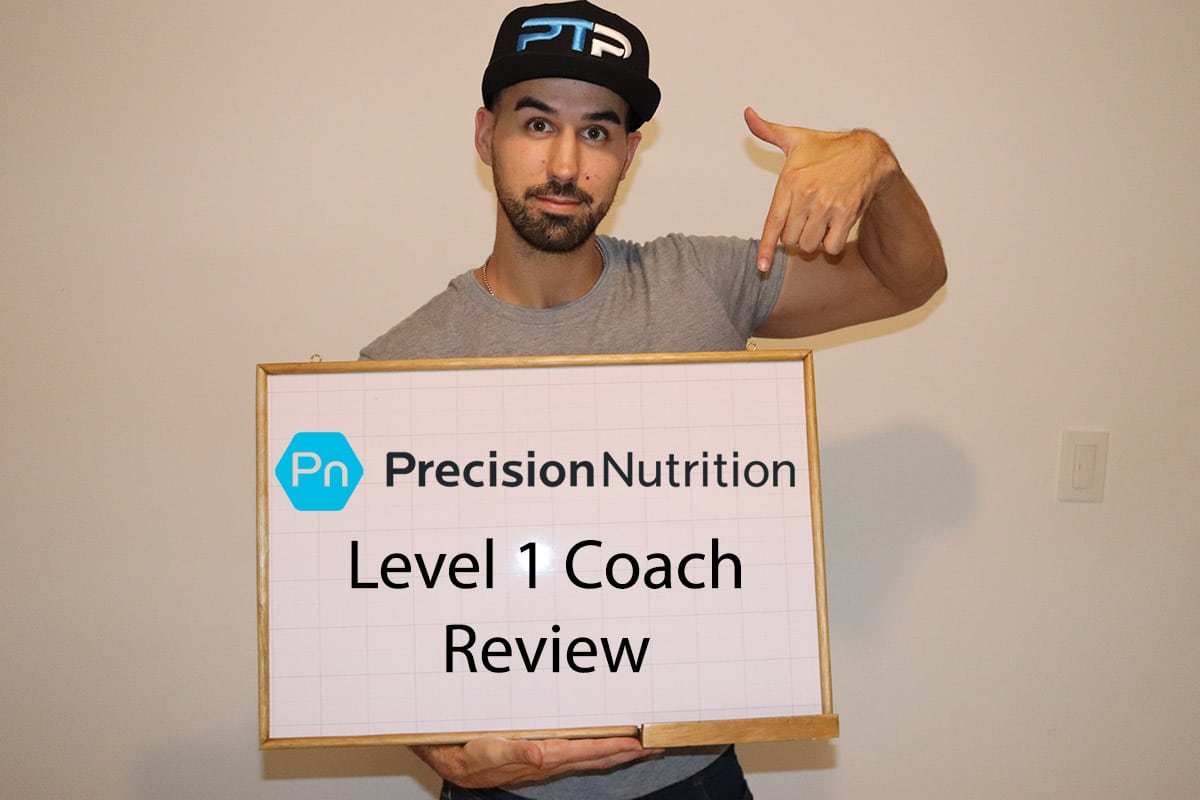 Precision Nutrition Certification Review (YouTube)
Here is an older video that I did a few years back. Check this out if you prefer to digest your information with a video.
Make sure to check this page for the most up-to-date information.
Precision Nutrition Certification Review (Podcast)
Here is the same audio from the video review, but check this out if you prefer to just hear the audio.
What is Precision Nutrition?
Precision Nutrition was started in 2005 with the idea to help clients live a fit and healthy life.
The company was founded by Dr. John Berardi and Phil Caravaggio. They have now expanded to have many renowned fitness experts, health professionals, and all-star athletes.
It is the largest and most respected private nutrition organization in the world. They only offer classes in nutrition, not other realms of fitness.
They currently offer level 1 and level 2 nutrition certifications. The first focuses on nutrition more so, and the second focuses more on coaching aspects.
The company is also well-known for its coaching software, ProCoach. This helps fitness professionals to deliver quality programs to their clients. They have a solid coaching network.
Let's look specifically at their Level 1 program to see what it is all about.
Precision Nutrition Level 1 General Info
The Level 1 Nutrition Certification course is a proven system of coaching and nutrition with support from some big names in the fitness and wellness realm.
This program is a science-based approach to coaching and nutrition. The program's structure is great at giving the learner the essential nutrition concepts in a quick way.
One of the main benefits that Precision Nutrition pushes is the ability to coach as you learn. The information is presented in a way where you can begin effectively applying the concepts to your current coaching practice.
The materials aim to progress in that way to grow your coaching business as you integrate what you learn. You will become a certified nutritionist after achieving this cert.
Precision Nutrition gets its research and methodology from Ph.D.-level resources and essentially gives a university-level program at a small fraction of that cost.
This is enforced by the fact that this course can count as college credit and take the place of a 3-hour course if presented to a university. This speaks to the quality of the information in the certification.
Exclusive PTP Nutrition Offers



Gold Standard Cert

Most Popular Cert

Best Study Materials

A Good Option

A Great Option

Best Cert for you?

The nutrition course is delivered online, with text in physical form, with a great community to interact among. It is a wonderful professional community and collaboration platform.
The Level 1 Certification is not accredited by the government, which is one of the main negatives. This is mostly due to the exam process for this certification. It is a bit easy compared to the rest of the industry.
Normally the most valued certifications would be accredited by the NCCA, but in the case of precision nutrition, they do not have this.
This cert from precision nutrition costs $999, and it can't be found for any cheaper. That is a bit expensive compared to other nutrition certifications, so it could be a big barrier for some people.
Precision Nutrition ProCoach


The ProCoach client management software is a solid system to help coach clients while being integrated perfectly with the teachings of Precision Nutrition.
The app works by managing the clients with a user-friendly UI that makes tracking simple. It has automated features that make it even more convenient and efficient.
A coach using this application will boost their productivity and the number of clients they could care for.
The software is costly after the trial, though. It is $99 a month for up to 20 clients and then changes after that number of clients. This is rather steep, but it is extremely effective at what it does.
Let's now look into the course content coverage.
Precision Nutrition Level 1 Content Coverage


The study materials included in the purchase of Precision Nutrition will be the textbook, split into 3, to be exact, and the accompanying online portal for test-taking and other quizzes and knowledge checks.
Currently, the text is on its 4th edition, being recently revised from the ground up. In total, there are 20 chapters in the textbook.
The text is broken up into three units, and each unit is a book. And then there is a study guide and workbook that comes with it.
Precision Nutrition also offers easy access to nearly all of the documents you might need as a nutrition coach. You can begin using these as soon as you find them in your program.
The assessment of your learning throughout your studies will come from three things: the workbook/study guide, the case studies, and the chapter exams. It is a pretty standard and efficient way to ensure the learner understands new information.
Let's break down the study materials and look at three main aspects: Nutritional Science, Behavior Change Strategies, and Nutrition coaching.
Nutritional Science
Nutritional Science usually serves as the foundation and start to a nutrition program, and in this cert, it is not. Nutritional Science will be the second unit textbook.
Within this section will be chapters 6 – 14. Here are the titles for those:
Chapter 6: Introduction to Nutritional Science
Chapter 7: Systems and Cells
Chapter 8: Through the GI Tract
Chapter 9: Energy transformation and Metabolism
Chapter 10: Energy Balance
Chapter 11: Macronutrients
Chapter 12: Micronutrients and Whole Foods
Chapter 13: Water and Fluid Balance
Chapter 14: Stress, Recovery, and Sleep
This is the bulk of what people believe they will learn with a nutrition certification, but it is not the strongest aspect of this cert.
The certification starts differently from most. They introduce digestion and the bodily systems before the macronutrients and micronutrients.
Compared to other nutrition certifications, like ACE or NASM, the nutritional science aspects are lacking in detail.
It would be nice to see more focus put into the specific nutrients. For example, one chapter per macronutrient is not too much to ask for, as these are quite complicated concepts.
They aren't covered quite to the detail of competing organizations that charge less for their study programs. So, that aspect is a bit more of an upset.
Exclusive PTP Nutrition Offers



Gold Standard Cert

Most Popular Cert

Best Study Materials

A Good Option

A Great Option

Best Cert for you?

The program does include and link to outside articles for assistance on each of the chapters. These are mostly the free articles already available to the public via the precision nutrition website.
So, it is an odd choice to have some of the taught information already available through their website for free. Especially when it is the science of nutrition.
Behavior Change Strategies
There is no dedicated section to behavior change strategies, but it is present throughout the certification study program.
The only main chapter dedicated to behavior change coaching would be Chapter 4: Helping People Change.
The Precision nutrition approach relies on our action creating change through 5 step formula for goal setting.
Goals are required to be strategic, segmental, sequential, simple, and supported. The ideas for realistic goals are set up as a partnership between the client and the coach. That makes the goals more relevant and personal to the client.
The textbook also goes through many examples and deep-dives into realistic scenarios between clients and their coaches.
This definitely gives a great piece of text to the professional for them to reference as they are training clients.
Then the concepts come back throughout the third unit textbook, where they bring everything together to talk about the actual nutrition coaching.
I would say that the actual behavior change concepts are the weakest of the three aspects of this certification.
It would be nice to include a deeper dive into psychological concepts and ideas on why people act the way they do. I feel other certifications like ACE or NASM hit the nail on the head when they go into this aspect.
Nutritional Coaching
The Nutritional Coaching sections come in the third unit of the textbooks. These concepts are represented throughout these chapters:
Chapter 15: Coaching in Practice
Chapter 16: Working With Level 1 Clients
Chapter 17: Working With Level 2 Clients
Chapter 18: Working With Level 3 Clients
Chapter 19: Special Scenarios
Chapter 20: Business 101
The Coaching In Practice chapter starts the section off running with videos and applications for everything learned prior.
This certification does an excellent job of introducing clients' ideas at varying levels, which means they need individualization of their programs.
This is so beneficial for clientele, as this can be a major problem with fitness and wellness coaching. Frequently, coaches get lazy or simply think that programs are universally beneficial for everyone.
The basic concepts of the precision nutrition coaching process are: Assess, Guess, Try, Measure, and Repeat.
So, again you can tell this will emphasize the idea of constantly testing and assessing clients, which can be very underutilized in practice.
I find that these concepts teach excellent nutritional coaching ideas, but they will make anyone a better coach in whatever field they may be in.
The textbook has clients placed in the categories of 1 – 3, with 1 being the majority of people and 3 being the highly restrictive and more advanced people.
It is helpful to have this idea of applying different techniques dependant on the level of intensity of the dietary choices and where someone already is in their general health.
And then, the incredibly well-done section ends with special scenarios and business tips for the coaches. I'd say without a doubt that coaching in this textbook is the strongest part.
The good thing about coaching being the strongest part of this text is that it may make everyone a better coach. This is helpful for one main reason, as this certification is often looked at as a specialization for personal trainers to add to their abilities.
This certification is bound to give even the best trainers some kind of advice to further their coaching abilities.
It is also good to note that the Precision Nutrition Level 2 certification from precision nutrition actually focuses on being a coaching specialization. It doesn't focus on nutrition too much, as everything is already taught here in Level 1.
That wraps up the major concepts that the book teaches for nutrition coaching; let's next look at the certification exam from precision nutrition.
PN Level 1 Certification Exam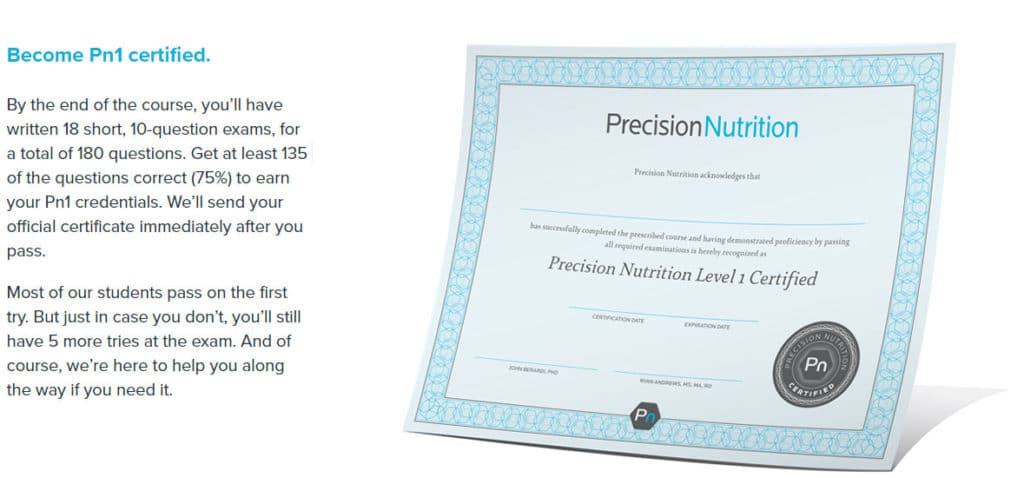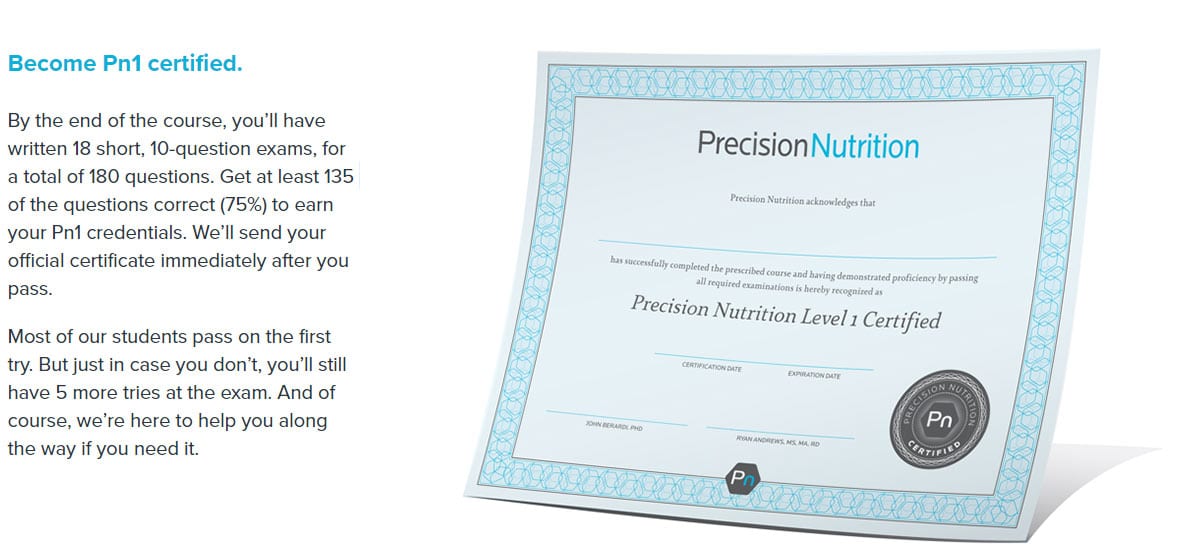 The certification exam for Precision Nutrition Level 1 is quite a bit different than most other organizations.
Instead of a final certification exam, they instead rely on 20 short exams with 10 questions each. This means one test for each chapter.
The questions are delivered in a multiple choice and true or false system. All of this is done through the online part of the program, and as you finish each chapter, you will generally take these singular tests.
As you complete one chapter, you unlock the materials for the next. This is a good way of keeping you on track as you study and not skipping ahead when you are not ready.
To pass, you would need a total of 150 out of 200, which would be 75% answered correctly.
If you do not receive 150 out of 200 questions answered correctly, then you will be expected to answer them all in a final exam format, with five retakes possible.
It is easily possible to get this program completed and aced with that many retakes.
It is virtually impossible to fail the examination process.
This PTpioneer Precision Nutrition review is based on my expert opinion and these criteria:
Gathered opinions of successful personal trainers and nutrition coaches within the health and fitness industry
Comparisons between other top specializations and certifications to verify quality and pricing
The usual information coming from new trainers that have passed the PN Level 1 certification exam
Many other specializations, certs, and entry-level fitness programs
Frequently Asked Questions (FAQ)
The Precision Nutrition Certification is good but not the best nutrition coaching certification in the industry.
It is a tad too high of a price for the materials and name attached to it. But, if you were to purchase the bundle with the ISSA certification, this increases the value ten-fold.
I would give this certification a 7.3 out of 10 in total.
This Level 1 nutrition certification is good, but I believe there are better options out there for future fitness and wellness coaches.