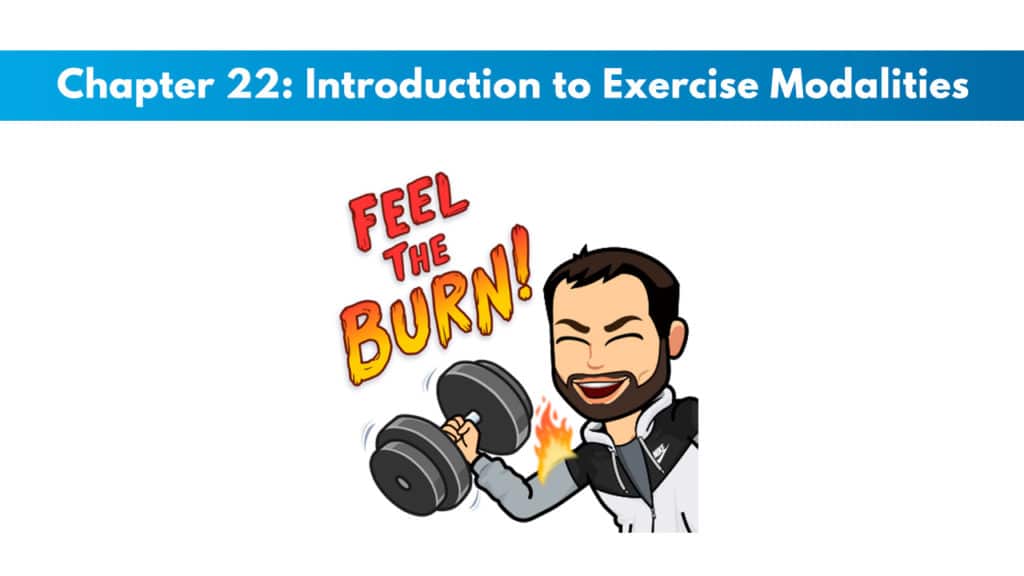 If you have not signed up for NASM CPT, sign up here to save 25% with my personal code PTP25.
Get your copy of the NASM CPT exam cheat sheet. It helps immensely for studying for the exam.
Make sure to check out Trainer Academy for premium NASM CPT study materials. They will reduce study time by 50% and have an exam pass guarantee. Read my full review on them here. You can save $100 on their MVP study system with the code: PTPSUB
Chapter Goals:
Know the various categories of exercise modalities and their uses.
Be able to discuss the usage of various modalities of exercise for the clients with specific goals.
Find the safe and effective way to use resistance and proprioceptive modalities and fitness trackers.
Introduction to Resistance Training Modalities
It is important to know all about the many modalities of exercise, and this is because we are always searching for new and effective ways to train and become motivated.
Risk Versus Reward
Fitness equipment makes have helped with the making of new fitness equipment and technology that allows for better accountability and tracking. Some new modalities can offer benefits, but some precautions need to be noticed before starting a new fitness modality.
There are some valuable times to recognize when the risk does not outweigh the rewards:
Do not ever try to compromise form over function. New modalities should only be utilized when they have shown mastery of basic movement patterns.
We should always use caution when starting training on a surface that is unstable. Balance exercises are done as an integral part of the OPT model and need to be introduced by trainers to their clients. The trainer should have a slow and measured approach to balance modalities.
The limitations of fitness apps should be recognized. These apps and trackers that exist are not always accurate. It is important for this to be seen and acknowledged when it comes to training.
Strength Training Machines
These are popular and often a good choice for the newer clients. Many of the machines are easy to use and less intimidating than the free weights that are better and more functional.
It can also be the case that those who lack stability will need to use these machines to develop strength.
Many of the machines that are commonly used will not require the use of a spotter.
The main drawback of these machines is that they will only train in one plane of motion and a fixed range of motion. Working in all planes of motion is a major part of functional training, so it is a big negative for this form of training.
Free Weights (Barbells and Dumbbells)
The free weights can be used by most populations to meet the goals for fitness, wellness, and sports performance.
Free weights allow for movements to be done in all the planes of motion, and this makes them more functional than the machine based training styles.
Exclusive PTP CPT Offers



Gold Standard Cert

Most Popular Cert

Best Study Materials

A Good Option

A Good Option

Best CPT for you?

These are effective in improving the motor learning and muscular coordination and performance.
For the novice trainers, these can present a major risk of being dangerous and possibly causing some form of injury to the exercisers.
Cable Machines
These allow a somewhat similar movement that is free, like that of the free weights. But they also provide some of the security seen with that of the strength machines.
These machines are good at developing some stability, muscular endurance, and hypertrophy.
It is good to align the resistance angle with the line of pull of the working muscle. This helps maximize the effectiveness of the exercise.
Elastic Resistance
This is rather inexpensive when compared to the free weights or machines, and there are many forms of this elastic training that helps improve the coordination, muscular endurance, and joint stabilization.
Elastic resistance allows the clients to move in many planes of motion and it helps to get a greater range of motion when training than using certain machines.
The client is able to adjust the line of pull by changing the fixed point to make it higher or lower, and also combining exercises seamlessly.
The elastic bands come in different colors, shapes, and thicknesses.
The biggest drawback of this is that the elastic tubing is going to change in its resistance as it is stretched, instead of there being a constant resistance.
These forms of resistance with elastic bands can be utilized in virtually all of the populations and all of the phases of the OPT model.
Kettlebell Training
Kettlebells are flat-bottomed cast iron balls with handles on the top. First, they were used as measurement devices at markets, and then the Russian military for training and conditioning.
Kettlebells are different from the dumbbells and barbells, as the center of mass isn't in the handle, but instead lower than that.
Some of the benefits for kettlebell training are:
Exclusive PTP CPT Offers



Gold Standard Cert

Most Popular Cert

Best Study Materials

A Good Option

A Good Option

Best CPT for you?

Enhanced athleticism, coordination, and balance
Increased mental focus and physical stamina
Increased oxygen uptake
Increased total body conditioning versus isolation training
Recruitment of the posterior chain (calves, hamstring complex, gluteal muscles, spinal erectors)
Increased core stability and muscular endurance
Increased strength and power
Improved grip strength
Increased metabolic demands and caloric expenditure
Kettlebells are effective in all of the phases of the OPT model.
Bodyweight Training
Bodyweight exercises use the person's own body weight to give the exercise some resistance for the move. It is possible to also add weight to the body, to make it weighted bodyweight exercise.
These forms of training allow people to learn in all of the planes of motion and also get a greater level of kinesthetic awareness.
Bodyweight moves are closed chain exercises.
Suspended Bodyweight Training
This is an innovative way to train with bodyweight training and it uses a system of ropes and webbing which allows the user to work against their bodyweight.
Some of the benefits of this training style are:
Increased core muscle activation
Low compressive loads to the spine
Increased balance
Potential increase in caloric expenditure
Increased flexibility and joint mobility
Sandbags
This form of equipment gives the trainer a very unique way to train clients. These are designed for carrying, lifting, throwing, and pulling and they often come with handles for easy gripping.
It was once only used for military personnel and first responders for training, but now it is common to see it as a fitness tool for everyone.
ViPR
This is an acronym for reconditioning, performance, and vitality. It is a cylinder and tube that is made of hard rubber and handles and openings on both ends. It can go through most of the common training forms like dragging, tossing, lifting, and more.
Load movement training is what is used by this modality.
Battle Ropes
This has gained a great amount of popularity lately and they are often called fitness ropes or training ropes. They give the user a high intensity workout and condition the whole body while increasing the cardiovascular side of training.
These battle ropes are considered to be a lower impact activity as it does very little damage to the joints.
Introduction to Proprioceptive Modalities
Proprioception is our ability to sense the position of the body and movement of the limbs. It is vital for the balance of the body.
Stability Balls
These are used in many training facilities and a wide range of the populations looking to train. The main function of these is to increase demand for stability in the exercise and to reinforce the proper posture when squatting.
Bosu Balls
This is an inflated rubber ball that is attached to a plastic surface. It is essentially a stability ball cut in half. This is meant to train balance and proprioception with certain exercises.
Terra-Core
This is made up of an inflatable rubber bladder and a hard back. It is ideally used for boot camps and small group training most of the time.
Trackers
Fitness trackers are shown to be very valuable in the fitness industry and they are likely to grow in popularity in the future. These wearable devices allow users to track their levels of activity.
These can come in the form of watches, bands, rings, heart rate monitors, and pedometers.
Fitness Trackers
The prices for these trackers varies quite a bit, so you should definitely take into account all of the options out there and what devices they work in conjunction with.
These trackers are good at motivating people, keeping people accountable, being somewhat accurate, but not perfect, and for medical reasons they are useful.
Fitness and Nutrition Apps
Smartphones make it easy to monitor our nutrition habits and have access to easy fitness programming right at your fingertips.
Fitness apps have these benefits:
Access to exercise routines anytime or anywhere with a computer, tablet, or smartphone
Personalized fitness programs based on the user's goals and exercise preferences
Access to exercise programs that do not require equipment
Tracking completed workouts and time spent exercising
Daily, weekly, and monthly reminders to complete workout routines
Simulation of 1-on-1 or group training
Tracking steps taken each day
Tracking calories expended from physical activity
Tracking fitness achievements like miles run or weight lifted
Instructing proper exercise technique
Heart Rate Monitors
These are very popular today in the fitness industry. They are often worn by many athletes, and even just the average joe that works out and watches their training closely.