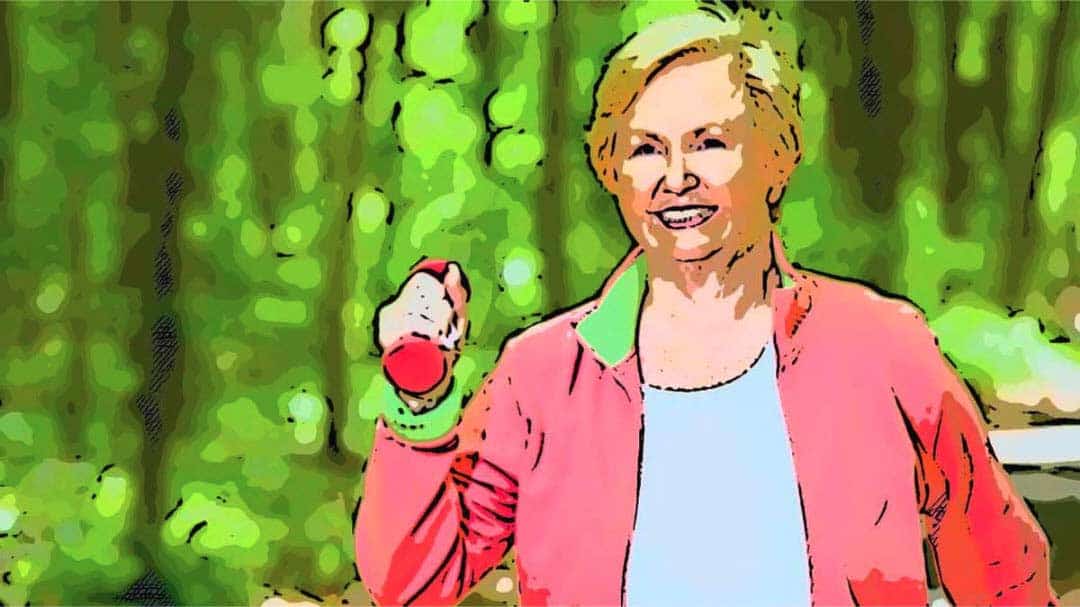 Senior personal training is much different than working with young and fit individuals. Most personal training textbooks provide a specific chapter on working with special populations.
The menu at the top of this page will answer any question related to your personal training. If you have any questions, don't hesitate to leave me a comment here (I'll respond within 24 hours). Also, visit the home page for the most recent and popular articles.
I suggest you take the quiz to find out which personal training certification Is the best for you.


Much of that chapter includes working with older adults. Over my years as a personal trainer, I've enjoyed working with dozens of elderly clients. Let's talk about how to work with these clients effectively.
My definition of elderly is clients who are 65 or older. Most individuals who purchase personal training (especially in commercial gyms) are seniors.
If you are starting out in the industry, chances are one of your first few clients will be in their 60s.
One great certification with a lot of advice on working with clients with muscular imbalances (which many elderly individuals have) is the NASM certification, their advanced Corrective Exercise Specialist certification, and the ACE Orthopedic Exercise Specialist certification.
Let's jump right into the tips I have for you!
Contents
Exclusive PTP CPT Offers



Gold Standard Cert

Most Popular Cert

Best Study Materials

A Good Option

A Good Option

Best CPT for you?

Assess their Fitness Level Before Starting a Program
Fitness assessments for senior individuals are ten times more important than for younger clients. Before you perform any fitness assessments, you need to review any previous injuries, illnesses, or diseases that might impact the training or them.
Pay particular attention to injuries at the joints, such as knee, hip, or shoulder injuries. These injuries are important in how they move their bodies and what kind of range of motion they can perform.
If your client is in rehab with a physical therapist, get the therapist's contact number. This way, you can better understand the client's exercise limitations.
Postural problems affect elderly clients more than most people know. I recommend you check out a great article from "Ask the Trainer" about muscular imbalances.
Fitness assessments are also critical. This gives information on their resting and exercises heart rate. You need to implement a cardio stress test to determine how fast their heart rate jumps.
Use the formula 220 minus their age to determine their approximate maximum heart rate. Ensure your client starts within a healthy heartbeat range during this stress test.
Pay close attention if your client has had pre-existing problems, such as a stroke or a heart attack.
Exclusive PTP CPT Offers



Gold Standard Cert

Most Popular Cert

Best Study Materials

A Good Option

A Good Option

Best CPT for you?

Start Slow: Keep the Range of Motion Low
As we get older, our range of motion starts to decrease. We get less flexible. I like to start my senior clients with a lower range of motion for most exercises. This enables me to see their base level.
Ask them how the movement feels as they go through the range of motion. Determine if they have any discomfort. Resistance training puts a lot of stress on the joints, especially at the beginning.
It is a smart idea to use static exercises in the early stage. Static activities build good base strength and minimize the range of motion at the joints.
Be Aware of Their Perceived Exertion Level
You should always have an intuitive idea of how challenging a workout is for your client. This feeling is still extremely subjective. The only accurate way to find out is by asking them.
I have come to understand that perceived exertion levels are much different for people in their 60s compared to individuals in their 40s. You need to monitor their heart rate as you ask them questions.
After a few training sessions, you should know where your specific client is and how hard you can push them.
Conclusion
In brief, I have three tips for personal training with seniors. Fitness screening and fitness assessments are some of the most important things you must do for your older clients.
Before getting started, you need to assess their range of motion, cardiovascular capabilities, and strength levels. You should focus on your client's range of motion at the beginning and start with a lower ROM.
This is especially true if your clients have pre-existing musculoskeletal injuries impacting how they move. The last tip is to pay attention to their perceived level of exertion during the workout.
Everyone is different in this regard, and the only way that you can find out is by asking.
I hope you enjoyed my article on training elderly individuals. Share your own experience working with senior clients in the comment section! You should also check out some of my other articles in my personal training tips part, such as Personal Training Tips for Beginners and Beginning Core Workouts.
A fantastic certification you should check out that prepares you well for working with elderly individuals is a Health Coach certification. Check out my lengthy article on How to Become a Health Coach if you're interested!