Welcome to yet another PTPioneer article serving you on your quest to becoming an ISSA-certified personal trainer!
This portion of the ISSA CPT Exam Prep Study Hub is the flashcard page, which is one of the most effective study methods.
Here's what I'll break down for you:
Want to increase your likelihood of passing?
Also, get your copy of the ISSA cheatsheet and ISSA study plan.
Furthermore, PTPioneer's affiliated website, Trainer Academy, offers premium ISSA study materials as well as more flashcards that use spaced-repetition learning to help master flashcard study.
Read my full review of them here, and .save $100 on their MVP study system with the code: PTPSUB.
Let's explore this flashcard study method and see how you can use this in your studies for the ISSA CPT exam!
ISSA CPT Study Series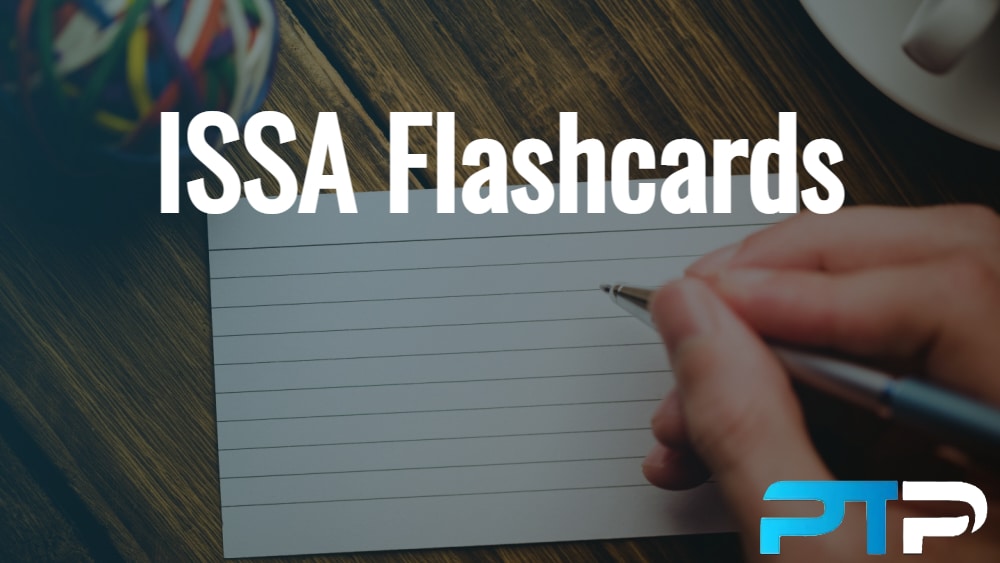 Chapter 1: Health, Fitness, and Personal Training
Chapter 2: Psychology of Behavior Change
Chapter 3: Movement Systems Deck 1
Chapter 3: Movement Systems Deck 2
Chapter 4: Supporting Systems Deck 1
Chapter 4: Supporting Systems Deck 2
Chapter 5: Concepts of Biomechanics Deck 1
Chapter 5: Concepts of Biomechanics Deck 2
Chapter 6: Energy and Metabolism
Chapter 7: Client Assessments
Chapter 8: Elements of Fitness
Chapter 9: Principles of Program Design
Chapter 10: Concepts of Flexibility Training
Chapter 11: Concepts of Cardiovascular Exercise
Chapter 12: Concepts of Resistance Training
Chapter 13: Exercise Selections and Technique
Chapter 14: Nutrition Foundations Deck 1
Chapter 14: Nutrition Foundations Deck 2
Chapter 15: Supplementation
Chapter 16: Chronic Conditions Deck 1
Chapter 16: Chronic Conditions Deck 2
Chapter 17: Lifespan Populations
Chapter 18: Business and Marketing
Chapter 19: Safety and Emergency Situations
Learning big sets of terms and breezing through new topics can be made hassle-free when you use flashcards.
In my perspective, for the best learning experience, I recommend programs that utilize spaced repetition learning, which is a method of reviewing material at systematic intervals.
More specifically, in the beginning, the intervals are spaced closely together (i.e., two hours; five hours; a full day), and as the material is reviewed, the intervals become longer (six days; a full week; two or more weeks).
Unlike ISSA and most of the other top-notch fitness programs like NASM, ACSM, and NSCA, do not offer spaced-repetition flashcards.
But Trainer Academy employs spaced-repetition learning, which alone is one of the main reasons why their program ensures you will pass the certification exam.
And if you fail, you'll get your money back.
Flashcard studying is best done daily for a set amount of time, like 15 – 30 minutes.
And with flashcards, it's easier to mark down the questions that you struggle with so that you could go back and study them until you master them.
Finally, this page was purposely created to break down the flashcards in a per-chapter format because I highly recommend using the flashcard study method only after reading the respective chapter in the study guide, or in the textbook.
Now let's jump ahead to the domains of study on the ISSA CPT exam.
The domains of study on the ISSA CPT exam are as follows:
Domain I: Basic and Applied Sciences
Domain II: Program Design
Domain III: Client Intake and Ongoing Evaluation
Domain IV: Exercise Selection and Technique
Domain V: Nutrition
Domain VI: Professional Practice
Based on my experience with all different fitness certifications, is useful to know the domains of study as well as their associated chapters while studying for the exam.
If you are struggling with one of the chapters, the domain quizzes make it hassle-free to study the chapters for the chapters in that specific domain.
In all, since some of the chapters contain harder materials and topics. these ISSA exam flashcards are made to help direct your focus.
Additional Flashcard Study Tips
As one of the most effective methods of study, the ISSA flashcards create lasting study habits that will help keep any learned information fresh in your mind more than any practice test ever would.
Now don't get me wrong, this does not mean you should skip the ISSA personal trainer certification practice exam, but definitely implement the flashcards appropriately into your studies.
The flashcards pair well with the ISSA study guide as well as the ISSA practice exam.
And all you need is literally 10 minutes daily.
Flashcards make up an essential part of your ISSA exam prep and present a word (or words) that provoke thought of the answer or even associated topics to reach the correct answer or definition.
There's no doubt that the PTPioneer chapter flashcards are equipped with the most important information that can be studied in this quick and easy flashcard format.
Furthermore, even research has proven time and again that the benefits of flashcard studying are enhanced when you physically write or type the cards yourself.
So make a note of this, especially for the material you struggle with most.
To conclude, these flashcards provide coverage of the most common topics of the ISSA CPT, like exercise testing, BMI, body composition, kinesiology, sports medicine, general exercise science, fitness testing, strength training, planes of motion of the human body, and much more!
The chapters are in the order above, so make sure you are studying your correct chapter.
I hope these ISSA flashcards help you on your mission to pass your final exam!