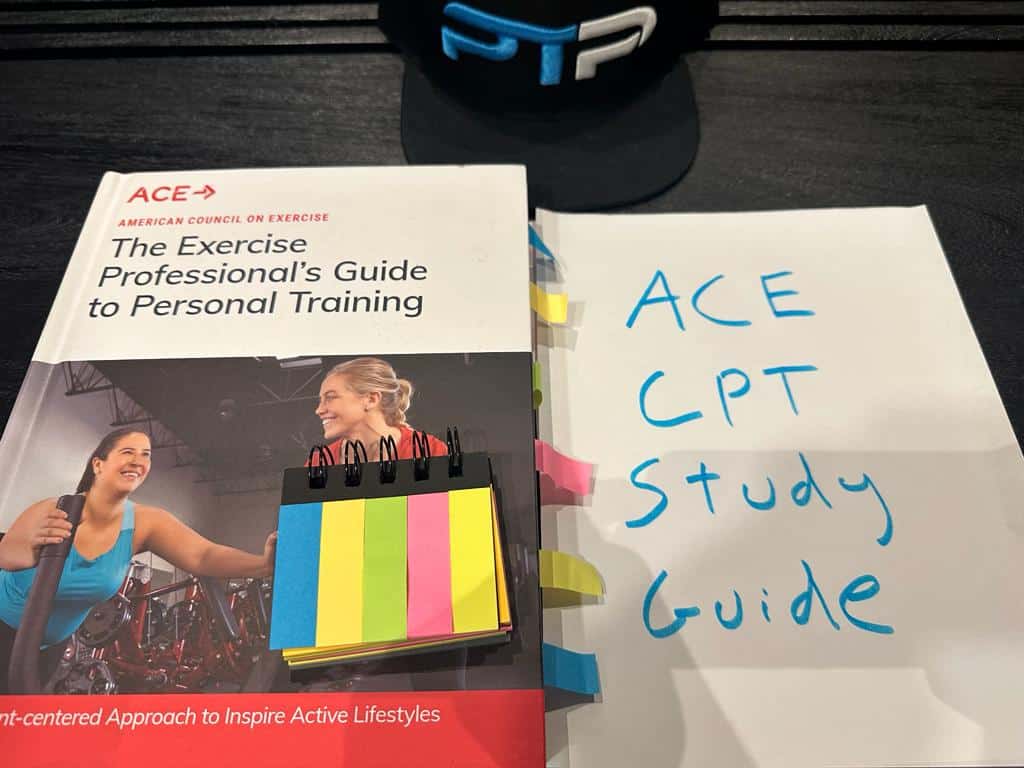 Welcome to the PT Pioneer ACE study guide. This is your ultimate resource for ACE exam preparation and implementation of the various activities used to help you pass your ACE exam.
Before we kick this off, check out my top secrets to passing the ACE exam below.
Secrets to Passing the ACE Exam
Secret #1:
Get your copy of the ACE CPT exam cheat sheet and our study plan. It helps immensely in your ability to study for the ACE test.
Secret #2:
Check out Trainer Academy for premium ACE CPT study materials. They will reduce your ACE study time by 50% and have an exam pass guarantee.
Plus, the ACE MVP Program includes a very comprehensive study guide with tons of positive user reviews. Trainer Academy is the reason that more students pass the exam the first time around. Factors include their amazing study system with spaced-repetition flashcards, study mnemonics, and planned study guide progression.
Every Trainer Academy account has access to the items through the learning management system and app, giving you the ultimate all-in-one resource to pass your ACE exam. You also can read my full review of the Trainer Academy materials.
Secret #3:
The PT Pioneer study guide will take numerous sessions to complete. I don't expect you to knock it out in one shot. With that said be sure to bookmark this page to ensure you can find it for your next ACE Study Session.
Alright, let's dive into the best ACE exam prep, the ACE CPT exam study guide!
ACE CPT Study Series
My Bitmoji counterpart will be walking you through the ACE CPT study guide to make sure that you are on track for passing the ACE exam. Say hello to Tyler-Moji.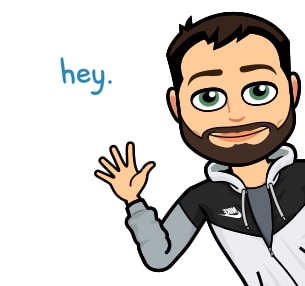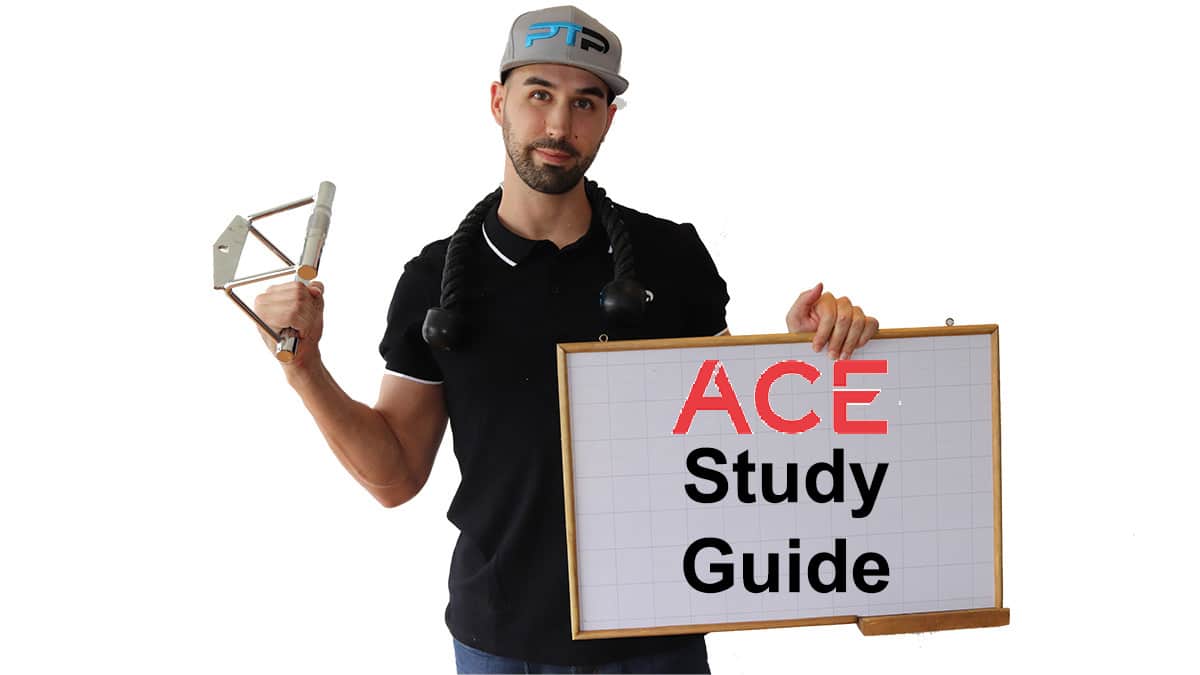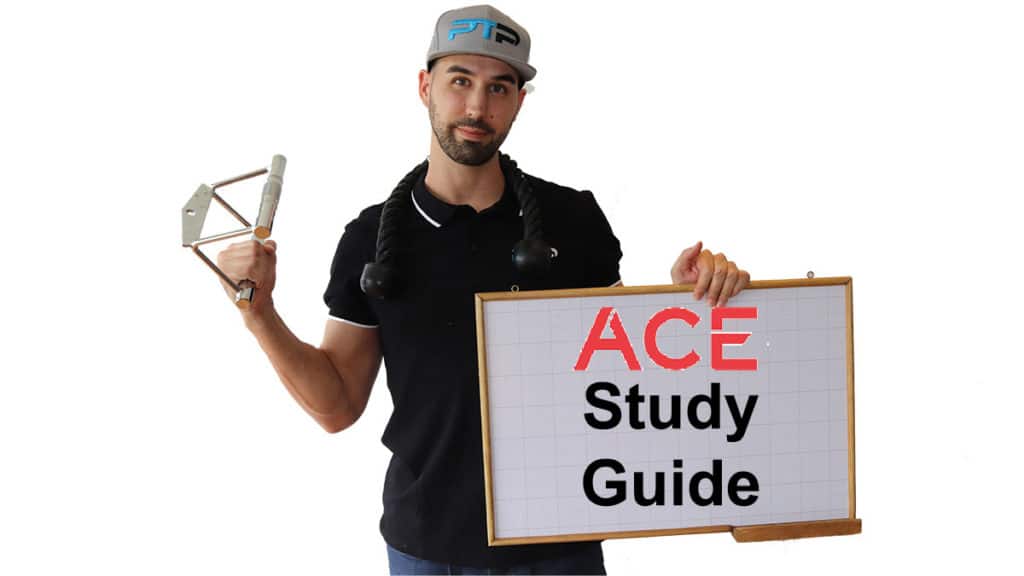 Top 10 Secrets For Passing the ACE Personal Trainer Certification Exam!
This video serves as ACE audio study guide tips.
Download the ACE tips in PDF form here.
FREE ACE Personal Training Study Guide for 2023
Do I need to study for the ACE exam?
I'd highly recommend it. The response of your mind to studying and its effects on your chances of passing are undeniable.
The PTPioneer ACE exam study guide makes studying for your online personal trainer certification course hassle-free and increases your chances of passing your A.C.E. exam the first time.
This ACE exam prep free study guide mimics the ACE personal trainer manual and the practice exam.
When you combine this study guide with the PTPioneer ACE personal training exam cheat sheet and ACE practice exams, there's no doubt you'll pass your personal training certification exam.
Check out my lists below of the complete ACE study guide chapters.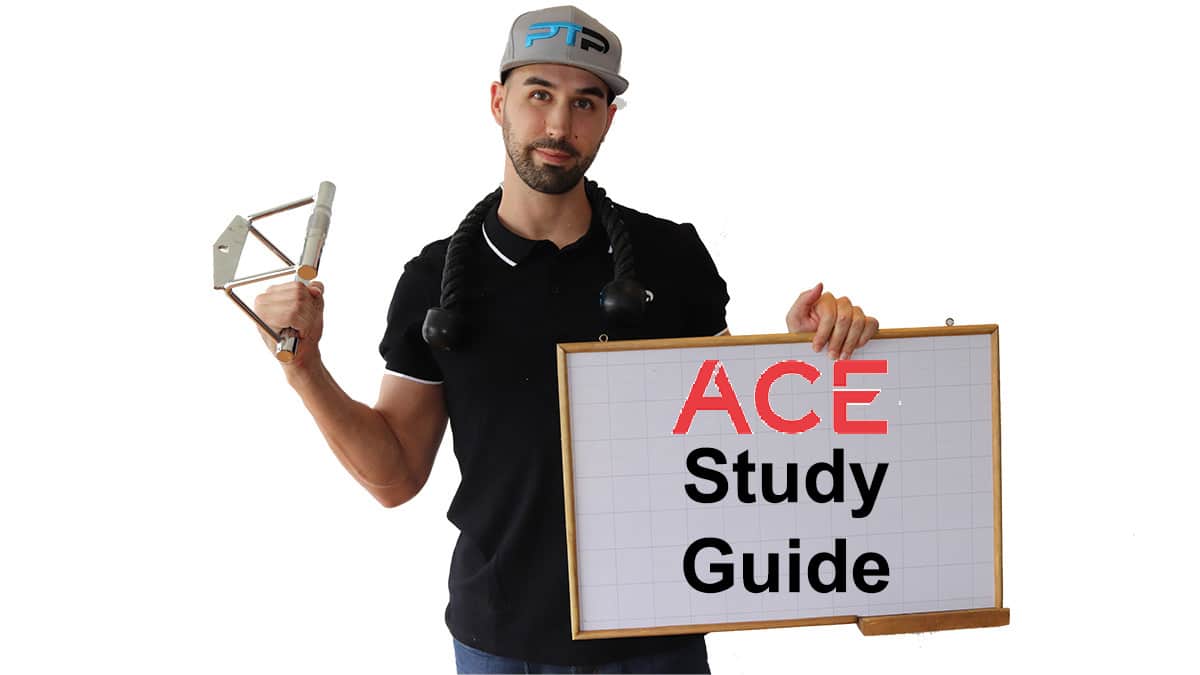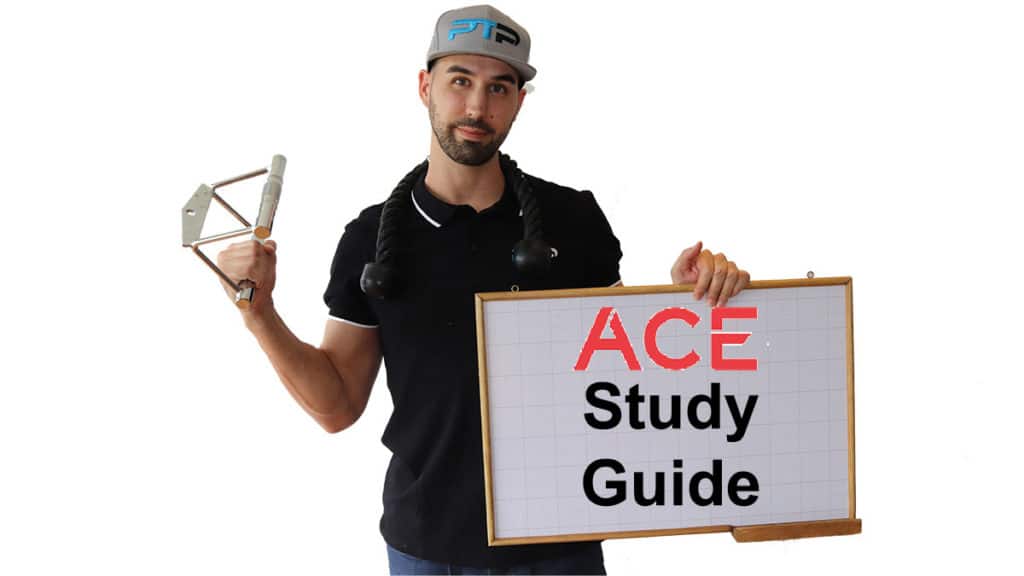 FREE ACE Study Guide: 6th Edition
FREE ACE Study Guide: 5th Edition
As you can see, studying for the ACE exam is made much easier with this study guide.
Implement this into your study routine with the ACE practice test and you'll be golden.
Now how do I study for ACE?
Next, I'll share some tips and tricks on navigating and dissecting the ACE practice and multiple-choice questions.
ACE CPT Study Tips
In preparation for the ACE personal trainer exam, Some of the major areas of focus include personal trainer scope of practice and professional conduct, client interviews, exercise science, cardiovascular and strength training fundamentals, program design, and risk management.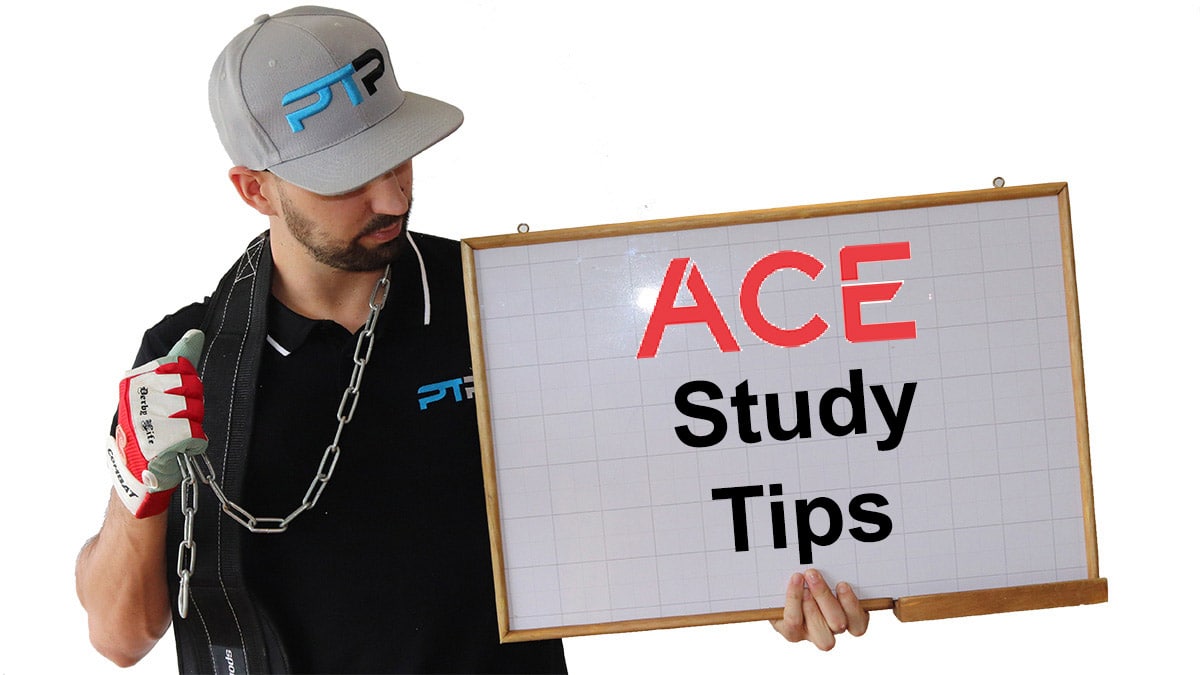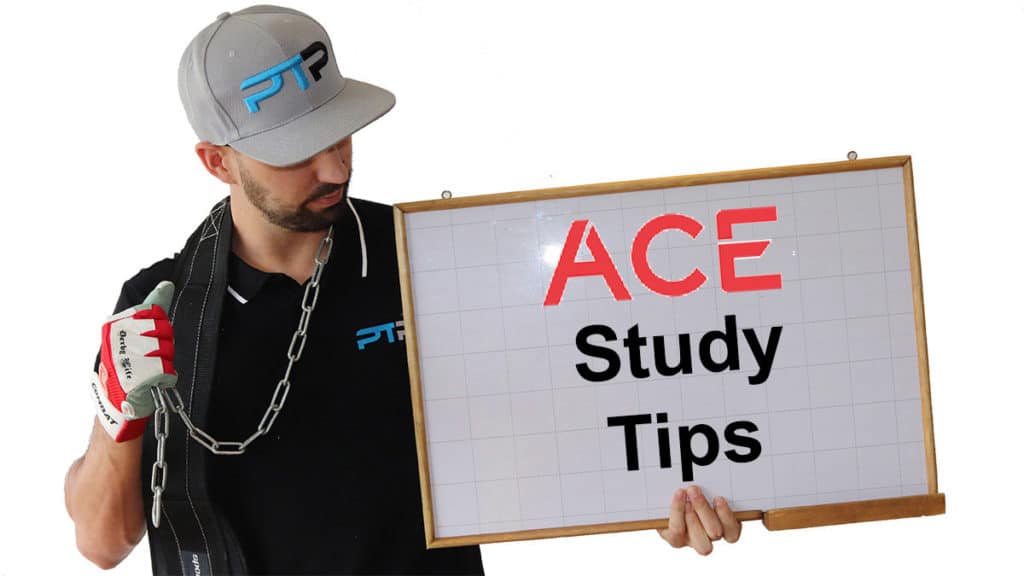 The ACE study guide and practice test questions on my website are designed to accompany the fifth edition ACE textbook.
It is not a one-stop shop.
In fact, I reference many different tables and charts in the book, which is extremely important to memorize and learn.
Since the ACE personal trainer manual is massive, this study guide is meant to steer you in the right direction regarding what to study. Just like working out with weights to achieve your fitness goals or studying math, English, and history, the more reps you get on your ACE studying, the better.
But if you are still unsure whether ACE is the right certification for you, then I recommend taking the quiz to find which certification best fits your training style.


A few great ones are NASM, NSCA, ACSM, and even the ISSA certification. All of these certifications teach you the best way to workout your clients, the anatomy and physiology of the human body including muscles, bones, the nervous system, and injury prevention.
The National Commission accredits ACE for Certifying Agencies (NCCA), and NCCA accreditation is the gold standard in the fitness and healthcare industries.
And moving onward, based on my experience as a personal trainer, here are my greatest ACE CPT study tips.
Take the ACE Personal Trainer Practice Test
Doing so will assess your knowledge and skills learned from the ACE CPT material. All great ACE study courses include practice exams, and these truly should be among your top requirements when prepping for your ACE certificate exam.
For example, let's say you want to create an exercise program for a client.
Or, you want to know which level of cardio training a client is in.
See what you know, how confident you are in what you already know, and which areas you might want to refresh. I recommend everyone do this, especially learners studying with the ACE exam training courses for maximal performance.
Utilize This Free ACE Personal Trainer Study Guide
Whether you are studying to become a personal trainer, group fitness instructor, or health coach, you can never be too prepared. At all stages of your exam prep, continued development of your knowledge requires maximal commitment to your development.
And after you finish the ACE personal trainer exam study guide, go back and retake that ACE personal training practice test to see how much better you do.
Implement the ACE Flashcards
PTPioneer's ACE flashcards are a great additional resource to help retain the material from your ACE personal trainer manual and other ACE study materials in your head.
For an ACE exam pass guarantee for the personal trainer test online, visit Trainer Academy, which offers a comprehensive ACE study guide, five full practice tests, spaced repetition ACE flashcards, study mnemonics, muscle coloring books, study blueprints, and even study cheat sheets.
Suppose you consider obtaining other certifications and specialties, such as NASM CPT, ACSM CPT, NSCA CPT, NSCA CSCS, or ISSA CPT. In that case, Trainer Academy has study material for those as well.
ACE CPT Cheat Sheet
If you would like to see my cheat sheet, which is all the most important information needed for the ACE CPT on one page, then click on the button right below.
FREE ACE CPT 6th Edition Study Guide 2023
Give my free study guide a look to get started on your ACE-certified personal trainer journey.
We have a free chapter-by-chapter study guide to aid you in your studies and help you focus.
Just click this link below for the 6th (current) edition textbook study guide here at PTPioneer.
FREE ACE CPT 5th Edition Study Guide
If you would like to check out the slightly older version of the ACE materials, take a look at my free ACE CPT 5th edition study guide.
Just click this button below for the old ACE study guide.