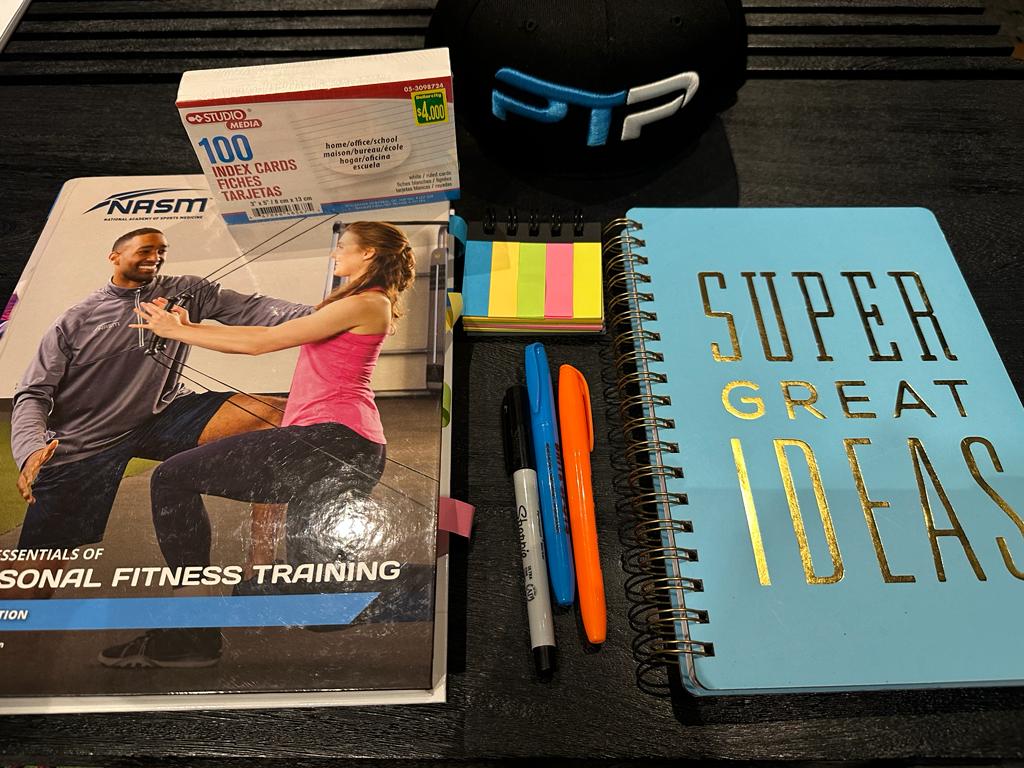 To pass the NASM CPT exam, you will need the right study material, study guides and plans, practice exams, as well as cheat sheets and flashcards to help you prepare adequately for a pass on the first try.
This CPT exam prep hub for NASM helps learners locate our many study hub articles and gives exam prep tips.
All in all, the basics covered in this article will be:
Navigation of the NASM Study Hub
How to pass the NASM Exam with simple tips for using PTPioneer Study Materials
Next Steps for Acing the CPT Exam
Get your copy of the NASM CPT exam cheat sheet and our study plan. It helps immensely in studying for the exam.
Make sure to check out Trainer Academy for premium NASM CPT study materials. They will reduce study time by 50% and have an exam pass guarantee. Read my full review of them here. You can also save $100 on their MVP study system with the code: PTPSUB
Let's dive in and look at our study hub first and see how you can start your studies to become a NASM-certified Personal Trainer.
NASM CPT Study Series
Top 10 Secrets for Passing the NASM CPT Exam (Video)
How To Navigate The NASM CPT Study Guide
We have a solid way to navigate through our study hub for the NASM CPT.
The primary navigation will be seen right after the intro of this home page, where you will see the 7 pages we offer for studying, all containing various study materials and tips to assist.
The pages included within our study hub are:
NASM CPT Exam Prep Hub (this page)
NASM CPT Study Plan
NASM CPT Study Guide
NASM CPT Practice Exam
NASM CPT Flashcards
NASM CPT Cheat Sheet
NASM CPT Exam FAQs
Feel free to skip ahead to specific study materials that you desire to check out first, especially returning learners who already know how to utilize the study hub.
If you are on your mobile device, use the sidebar to reach the topic you want to go to first or simply follow in order.
PTPioneer recommends all readers at least skim through the 7 main study pages to know what there is to offer and receive the most assistance with their studies.
Let's dive in next and look at each of the 7 materials specifically.
The PTPioneer Study Hub Materials, Tips for Usage
Throughout these PTPioneer study materials, there are 7 main study hub pages which contain 4 primary study materials and three pages that offer advice for studying this excellent National Academy of Sports Medicine's Personal Trainer Certification exam.
Let's see each of these materials and how they can be utilized throughout the program.
The Exam prep page, which you are currently on, serves as the home page and intro into the study materials for the NASM CPT here on PTPioneer.
This page introduces the PTPioneer study materials and their general usage to the learners.
Make sure to read through all of the test prep pages so that you know a lot of what you need to know going forward in your personal trainer exam study and professional development.
The PTPioneer NASM study plan gives an idea for readers on how they should schedule their studying time, specifically with a few commonly seen timeframes. It is essentially a calendar that helps learners with the goals of studying.
The NASM Study plan will be a high-quality PDF download, and inside of the download will be the 4 common study times that our readers use.
As far as these common timeframes go, we see the most common ones as follows:
1-month
3-month
6-month
1-year
The downloadable PDF arranges the ideal study times and sets goals for when you should be implementing the four primary study materials here on PTPioneer.
The NASM study guide here on PTPioneer will be an extremely beneficial study resource that highlights the most valuable information and topics within all 23 chapters of the NASM textbook.
The NASM has gotten together 23 highly detailed and lengthy chapters to study the main areas of personal training like exercise technique, applied sciences, nutritional concepts, client relations and behavioral coaching, human movement, and much more.
Our study guide brings the condensed version of the textbook and highlights the main material you will see on the real test of the NASM-certified personal trainer exam.
This study material is the first of the four main study materials, and this is for a good reason. Within all of our study plans, the study guide is utilized before the actual implementation of flashcards and testing outside of an intro test to see where you stand.
The chapters will also pair well with the flashcard study, as ideally, you will read the chapters first from the textbook, then the website here, and then end with some form of flashcard study.
The fourth main page of the study materials offered for this outstanding NASM CPT certification will be a must-use for test takers and future fitness professionals, as it will utilize practice questions to ensure you don't need a retake on the NASM certification exam.
PTPioneer has the NASM practice certification test questions broken up into two parts, so you aren't forced to finish a whole test simultaneously.
Also offered on the practice personal training certification exam will be domain quizzes, which allow you to test yourself on specific sections and domains of knowledge included within the NASM CPT test.
These free materials, like the NASM practice test, can be accessed anytime. We always recommend that potential future learners go ahead and take the test before even starting, as it gives you an idea of what you will learn in your studies.
These practice testing procedures are proven to help with the NASM exam prep time, as it translates directly to the actual certification exam.
You can also take the other practice exams offered on PTPioneer for organizations like NSCA, ISSA, ACSM, and ACE to see how the materials vary.
The NASM Flashcard study system benefits some types of learners even more than the study guide. On top of that, flashcards are the most used, as they are typically studied on a near-daily basis by the learners here on PTPioneer.
The flashcard study page covers each chapter in order and has the most vital information, terms, and similar materials found throughout each of the 23 chapters.
The PTP study plan suggests that it is ideal for studying the flashcards only once the learner has read the accompanying chapters via PTPioneer, the NASM textbook directly, or both.
Flashcards are best for learning when studied each and every day, or at least consistent throughout the weeks, a minimum of 2 – 3 days per week.
The best form of flashcard study will be spaced-repetition flashcards, which help readers more than the standard study materials.
Still, feedback from learners has shown us that the flashcards are still very valuable to use here on this site. Still, if you seek our quality paid program, like with trainer academy, you may get a more beneficial study program for flashcard study.
The PTPioneer Cheat Sheet comes directly from Trainer Academy, which is the top option for premium study materials that guarantee learners a pass on the personal training and other fitness certification exams, or a refund is given.
This one-of-a-kind cheat sheet is a one-page sheet of the most vital information, which makes these study topics and terms easy to locate while you are studying or even taking practice tests.
This resource should be studied and then only used for minor help when testing or when going over something and needing some help with it. Simply memorizing it is good for studying, but relying too much on it during a practice exam might hinder you on the real exam.
Some other materials we don't offer but are seen in a few high-end ACSM test prep programs would be mnemonics, audio guides, and similar offerings.
The FAQ page is the final page within our PTP NASM study hub, and it allows readers to see the most frequently asked questions and important test and certification topics to wrap up the NASM CPT coverage.
This page also serves as a general info page. We feature two FAQ sections for NASM, one specific to the exam and one more general for the cert.
Next, let's look at what your next steps need to be after finishing up this exam prep page.
Next Steps in NASM CPT Exam Prep
The obvious and best option for the next steps is to continue through the study hub that we have set up starting on this page, which means the next page would be the study plan page to see the ideal study timeframe layouts.
Another solid option, especially if you are not fully decided on whether you will start with the NASM CPT, would be to read the NASM CPT review and decide if that is the ideal certification for you.
If you go with the first option of the study plan, you will get more prepared for your long road of studies for the inevitable passing of the NASM CPT cert.
And the second option for reading the NASM review could lead you to our other study hubs that you should most definitely check out. The other top certifications, and consequently, PTP study hubs, would be the ISSA, NSCA CSCS, ACSM, and ACE.
You can also try to look for specialization and other ideas for the future of your personal training career. Setting fitness goals for your career and studying the OPT exercise program model can be some ideal next steps.
Make sure to take these study tips in and go through each of these 7 study hub pages eventually. This will get you on the right track to passing your exam or discovering if the certification is right for you.
Good luck with your studies with the NASM CPT Program!