Hello NASM learners, and welcome to the PTPioneer FAQ page.
All in all, this article will answer the most popular questions that people have regarding these NASM CPT study materials.
The basics covered in this article will be:
Get your copy of the NASM CPT exam cheat sheet and our study plan. It helps immensely in studying for the exam.
Make sure to check out Trainer Academy for premium NASM CPT study materials. They have a guarantee of passing the exam, or your money back. Read my full review of them here. You can also save $100 on their MVP study system with the code: PTPSUB
Let's dive in and look at our study hub first, and see how you can get started with your studies to become a NASM certified Personal Trainer.
NASM CPT Study Series
NASM CPT Exam FAQ In Video Form
This is the final page of our PTPioneer NASM Study hub, and it is going to answer all of the remaining questions and reiterate some of the important topics that may have been touched on in the other 6 study hub articles.
In the article will be two FAQ sections, one for general NASM and CPT questions, and one for specific exam-related questions.
All of these questions are the most frequently requested questions on the internet, and from readers within PTPioneer.
Let's dive in with some of the more general questions for the National Academy of Sports Medicine's amazing fitness certification.
Currently, in 2023, the NASM Certified Personal Trainer test is comprised of six separate domains. Out of the 120 multiple-choice questions on the exam, each of these six domains occupies a certain percentage.
Here is a list of the six domains of exercise science, the percentages on the test, the chapters each domain covers, and a quick summary.
The domains for the real NASM personal trainer exam and this practice test are:
Domain I: Professional Development and Responsibility (15%)
Domain II: Client Relations and Behavioral Coaching (15%)
Domain III: Basic and Applied Sciences and Nutritional Concepts (20%)
Domain IV: Assessment (20%)
Domain V: Exercise Technique and Training Instruction (12%)
Domain VI: Program Design (8%)
Domain 1 is made up of chapters 1 and 2, and it really lays down the foundations for the NASM and Personal Training business and career expectations.
Domain 2 is represented in chapters 3 and 4, and this works to introduce the proper ways to interact and enact change with clients through coaching.
Domain 3 is found throughout chapters 5 through 10, and this lays out all of the exercise science information and some focus on one chapter of nutritional sciences. This is one of the harder domains for those without knowledge in exercise science going in.
Domain 4 is found within chapters 11 and 12, and this deals strictly with assessing clients and the proper technique and skills for this.
Domain 5 is found throughout chapters 13 through 20, and this is the second most important section of the book as it looks at the meat of personal training with exercise technique and instruction for training clients.
Domain 6 is found in the final 3 chapters, chapters 21 – 23, and this wraps up the textbook with detailing program design and the NASM OPT model.
NASM Test Difficulty – How Hard Is The NASM CPT Exam?
I get asked all the time by visitors to my website, "How hard is the NASM CPT exam?"
To be honest, I've seen test-takers that have failed the test over three times, and I have also seen test-takers say they feel like they did not miss one question.
Overall, the NASM certification has been notorious for being one of the more difficult in the industry over the last decade.
NASM has made their test difficult on purpose because they are trying to raise the standard for the knowledge required for personal trainers.
Sometimes, it seems like NASM reached deep into the textbook to pull out one single sentence of information and then test you on it.
Other questions seemed like they are trying to trick you with the vague wording that they use. Plain and simple, this test is hard, but that doesn't mean that there aren't strategies you can use in order to successfully pass it.
The best way to gauge the NASM test difficulty is to look at the stats from previous years. Also, make sure you go in as prepared as you can be.
Although the NASM exam is constantly being changed, the average pass rate for the last few years is approximately 65%. In 2015 the NASM pass rate was 67%.
In 2016 the NASM CPT pass rate was 61% (one of the lowest years).
The most recent data released by NASM is the passing percentage between the dates of August 2017 and August 2018, which reveals that in that timeframe, 18,115 students passed and 9,550 failed.
This equates to exactly a 66% pass rate between those two dates.
It's safe to say that one in three people will fail the NASM personal training exam.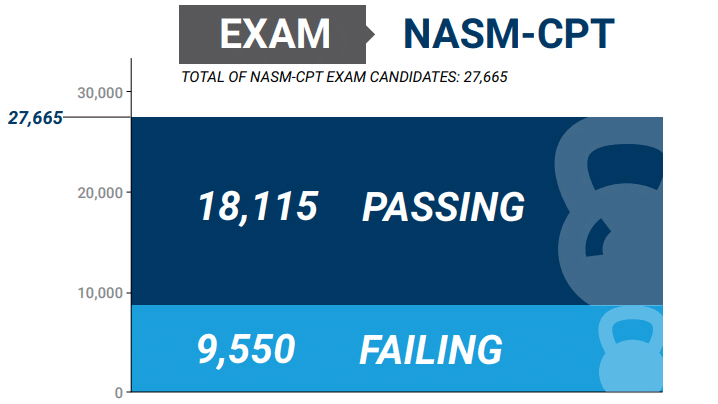 In general, this personal training certification is difficult compared to the average personal training certification.
That being said, it is still the most well-recognized and prestigious certification out there so don't let these statistics scare you.
You just need to be prepared, that's all.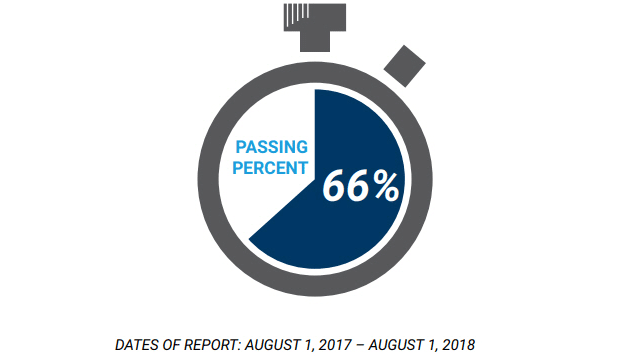 NASM Practice Test vs Real Test
Another popular question I get is what are the differences between the NASM practice tests and real tests?
This is a very good question in general because there are a lot of websites that provide practice tests for the NASM exam as well as NASM test tips on how to pass NASM CPT exams.
In general, the NASM CPT practice tests are created by people who don't work for NASM, while the real test is.
The NASM practice tests are compiled from people's experiences of the test, whereas the real NASM test is constantly changing and never static.
Overall, you will not find the exact NASM personal training exams online compared to the official test.
This is because NASM is constantly switching the questions that they have on the exam.
Imagine if all the NASM CPT exam answers and NASM practice exam answers are always the same.
My guess is that every few months they take out some old questions and throw in some new ones.
They probably change the wording on a lot of the questions and NASM test answers, too.
If they had one static test of 120 questions that never changed, people would figure it out very easily and this test would be spread across the Internet within months.
"NASM final exam answers, get your NASM final exam answers. Come one, come all."
It would reduce the legitimacy of the NASM brand and would result in a ton of personal trainers that are not equipped with the knowledge needed.
Although you will not see the exact same question (written word for word the same) on the real tests compared to the practice tests, they are still useful for learning different ways in which questions can be worded.
These practice NASM tests will still cover the same information that you will see on the real test.
In my experience with the thousands of people I have helped pass the NASM certification exam, if they receive a passing grade from my practice tests, then they have no problem with the real NASM exam.
Many of them have even told me that they saw some of the exact same questions on the real test compared to my NASM certification practice tests.
Here are some specific NASM exam frequently asked questions I get.