Hey guys and gals, if you are looking for a complete breakdown of the NASM CPT personal training certification, you have come to the right place.
The NASM, the National Academy of Sports Medicine, Personal Trainer cert is one of the top personal training certifications in the fitness industry and this page is going to help you to know how to pass NASM CPT exam.
Here I'll be breaking down how NASM organizes the exam into separate sections and what those sections are. You will learn all about how hard the NASM CPT is to pass as well as the current NASM exam pass rate for 2022. You will also learn the differences between NASM practice tests vs the real test. If you have not signed up for NASM CPT, sign up here to save 25% with my personal code PTP25.
If you are anxious to start studying, you can check out my free study guide, practice test in flashcards here as well as my NASM exam prep article. Also, I recommend checking out the team over at Trainer Academy. They produce the best NASM study materials, will reduce your study time by 50% and even provided an exam pass guarantee.
Get the NASM exam cheat sheet for free here. Courtesy of Trainer Academy.
If you are undecided on which personal trainer certification to choose, I suggest you take the quiz to find out which Cert is the best fit for you. The menu at the top of this page will answer any question related to personal training that you have. If you have any questions, don't hesitate to leave me a comment here (I'll respond within 24 hours). Also, visit the home page for the most recent and popular articles.
I'll be talking about the cost of the NASM CPT test and lots of other NASM frequently asked questions. So without further ado, let's jump right in!
NASM CPT Exam FAQ In Video Form
NASM CPT exam breakdown
Currently, in 2022 the NASM Certified Personal Trainer test is comprised of six separate domains. Out of the 120 multiple choice questions on the exam, each of these six domains occupies a certain percentage. Here is a list of the six domains of exercise science, the percentages on the test, the chapters each domain covers and a quick summary. I will be referring to the most current NASM textbook, the seventh edition.
Domain 1: Professional development and responsibility (10%) (Chapter 1-2) In domain one you will be tested on the types of training facilities, their demographics and how to be a professional and responsible personal trainer. You also be tested on marketing and sales techniques and strategies to become successful.
Domain 2: Client relations and behavioral coaching (15%) (Chapter 3-4) In domain number two you will be tested on different communication and coaching strategies such as active listening, expressing empathy, positive affirmation, and extrinsic and intrinsic motivation. You will be tested on coaching styles and behavior change strategies. You will also be tested on SMART goals.
Domain 3: Basic and applied sciences and nutritional concepts (15%) (Chapters 5-10) This domain covers the human body, the systems involved with exercise/movement and their adaptation to exercise. You will be tested on the nervous system, muscular system, skeletal system, cardiorespiratory system, endocrine system, and energy systems. A testy one the study of kinesiology as well as how forces affect the body (biomechanics). Questions on the planes of motion, movement terms, muscular imbalances, types of movements and kinetic chain dysfunction.
Domain 4: Assessment (16%) (Chapters 11-12) Domain four tests you on all the processes of assessing a client. You will be tested on all of the various exercise assessments such as cardiorespiratory assessments, strength assessments and muscular imbalance assessments such as the overhead squat assessment.
Domain 5: Exercise technique and training instruction (24%) (Chapter 13-20) In domain number four you will be tested on, core training, flexibility training, balance training, SAQ training, reactive training and resistance training. You will be tested on which exercises fall into which type of training, how to perform them as well as how they relate to the OPT model.
Domain 6: Program design (20%) (Chapter 21-23) Here you will be tested on the various training principles needed in order to design a program for a client waste on their goals and needs. You need to know different acute variables such as tempo, training volume, resistance, rest periods and intensity for all of the different stages and types of training for the OPT training model.
NASM test difficulty – How hard is the NASM CPT exam?
I get asked all the time by visitors to my website "How hard is the NASM CPT exam?". To be honest, I've seen people that have failed the test over three times and I have also seen people that came out of the test after 1/2 an hour who told me they feel like they did not miss one question.
Overall, the NASM certification has been notorious for being one of the more difficult in the industry over the last decade. NASM has made their test difficult on purpose because they are trying to raise the standard for the knowledge required for personal trainers.
Sometimes it seems like NASM reached deep into the textbook to pull out one single sentence of information and then test you on it.
Other questions seemed like they are trying to trick you with the vague wording that they use. Plain and simple, this test is hard, but that doesn't mean that there aren't strategies you can use in order to successfully pass it.
Exclusive PTP CPT Offers



Gold Standard Cert

Most Popular Cert

Best Study Materials

A Good Option

A Good Option

Best CPT for you?

The best way to gauge the NASM test difficulty is to look at the stats from the previous years.
NASM exam pass rate
Although the NASM exam is constantly being changed, the average pass rate for the last few years is approximately 65%. In 2015 the NASM pass rate was 67%. In 2016 the NASM CPT pass rate was 61% (one of the lowest years).
The most recent data released by NASM is the passing percentage between the dates of August 2017 and August 2018 which reveals in that time. 18,115 students passed and 9,550 failed.
This equates to exactly 66% pass rate between those two dates. It's safe to say that one in three people will fail the NASM personal training exam.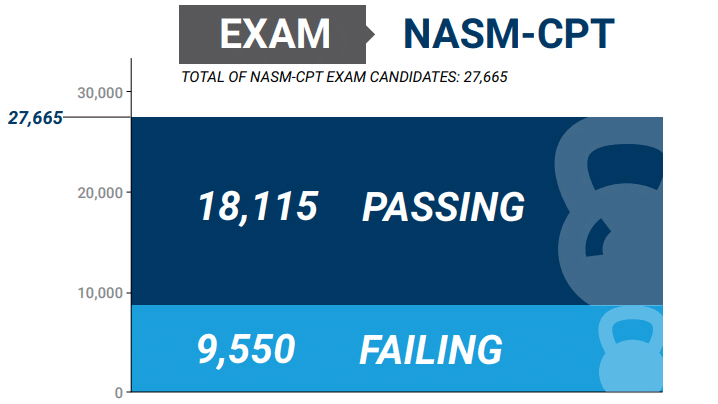 In general, this personal training certification is difficult compared to the average personal training certification. That being said, it is still the most well-recognized and prestigious certification out there so don't let these statistics scare you. You just need to be prepared, that's all.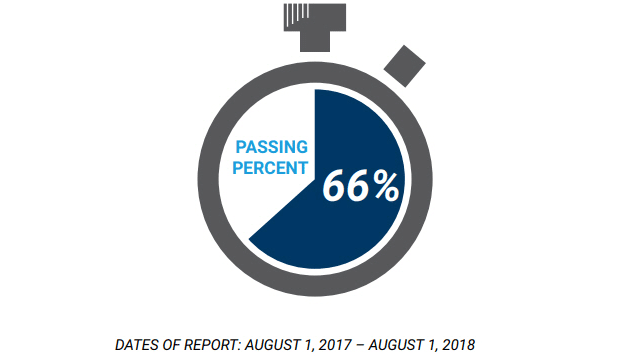 NASM practice test vs real test
Another popular question I get is what art are the differences between the NASM practice tests and real tests? This is a very good question in general because there are a lot of websites that provide practice tests for the NASM exam.
In general: The NASM CPT practice tests are created by people that don't work for NASM, while the real test is. The NASM practice tests are compiled from people's experiences of the test, whereas the real NASM test is constantly changing and never static.
Overall, you will not find the exact NASM personal training exams online compared to the official test. This is because NASM is constantly switching the questions that they have on the exam.
My guess is that every few months they take out some old questions and throw in some new ones.
They probably change the wording on a lot of them as well. If they had one static test of 120 questions that never changed, people would figure it out very easily and this test would be spread across the Internet within months.
It would reduce the legitimacy of the NASM brand and to be honest, would result in a ton of personal trainers that are not equipped with the knowledge needed.
Although you will not see the exact same question (written word for word the same) on the real tests compared to the practice tests, they are still fantastic for learning different ways in which questions can be worded.
Exclusive PTP CPT Offers



Gold Standard Cert

Most Popular Cert

Best Study Materials

A Good Option

A Good Option

Best CPT for you?

These practice tests will still cover the same information that you will see on the real test. In my experience from the thousands of people I have helped pass the NASM certification exam, if they receive a passing grade from my practice tests, they have no problem with the real NASM exam.
Many of them have even told me that they saw some of the exact same questions on the real test compared to my practice exams. That is is the NASM practice test vs real test summary.
NASM Test FAQ
Here are some additional NASM exam frequently asked questions I get.
NASM CPT exam conclusion
If you have not signed up for NASM CPT, sign up here to save 25% with my personal code PTP25.
Well, there you have it ladies and gentlemen, a complete breakdown of the NASM test. Overall, the exam is one of the more difficult personal training tests to pass in the industry. The textbook is over 700 pages long and can be very daunting because it is dense with information.
If you are still are not sure whether or not NASM is the right certification for you, I recommend you take the quiz to find which certification best fits your training style.
Let's get you Studying with my free NASM Personal Training study guide that you can check out here. If you want additional study materials, check out the team over at Trainer Academy. They have incredible study materials for NASM.
How hard is the NASM test? Well, With the NASM exam pass rate being only 65%, and the retest fees being so steep, it's best to have proper direction in order to study the most important areas.
I have made a free NASM study guide that can be located here. The study guide also has a free practice test as well as NASM flashcards so that you can cement the information in your head before the test.
If you want to cut your study time in half, I suggest checking out my premium study materials for NASM. With my premium study materials, you will receive an exam pass guarantee!
Discover All PTP Fitness & Wellness Career Articles
Tick a box from each section to narrow the results.
×
I want to know more about: