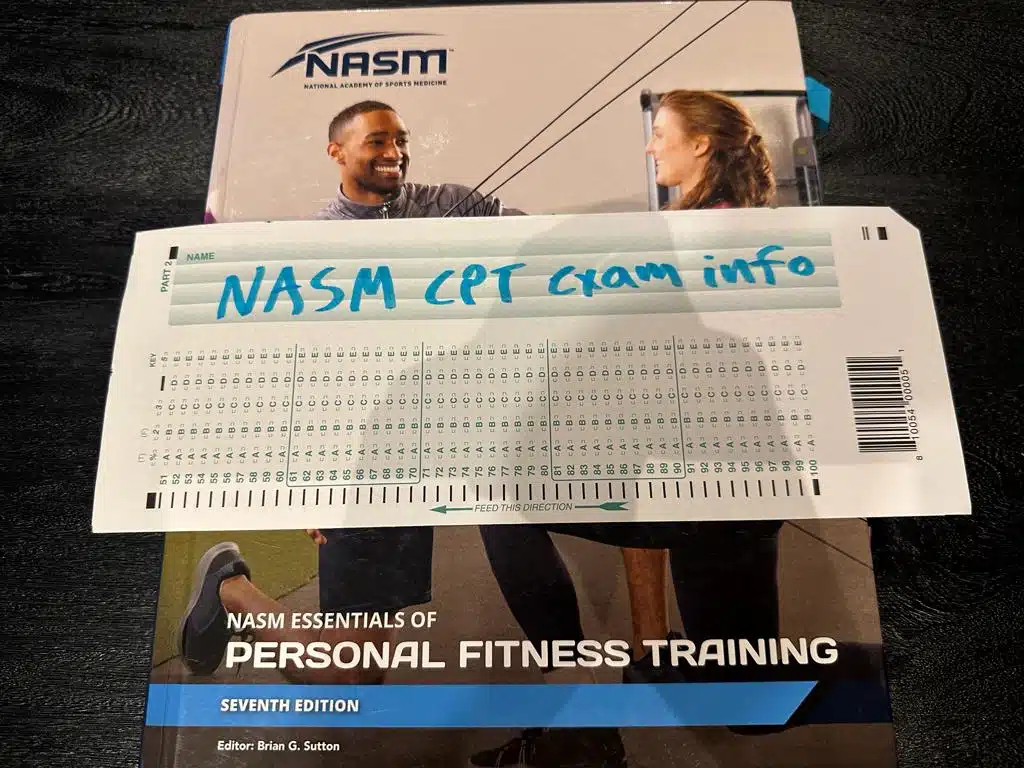 Hello NASM learners, and welcome to the PTPioneer FAQ page.
All in all, this article will answer the most popular questions that people have regarding these NASM CPT study materials.
The basics covered in this article will be:
Frequently Asked Questions
General NASM Certification Information
Exam and Other NASM Material Costs
Get your copy of the NASM CPT exam cheat sheet and our study plan. It helps immensely in studying for the exam.
Make sure to check out Trainer Academy for premium NASM CPT study materials. They have a guarantee of passing the exam or your money back. Read my full review of them here. You can also save $100 on their MVP study system with the code: PTPSUB.
Let's dive in and look at our study hub first and see how you can start your studies to become a NASM certified Personal Trainer.
NASM CPT Study Series
NASM CPT Exam FAQ In Video Form
NASM FAQ Intro
This is the final page of our PT Pioneer NASM Study hub, and it will answer all of the remaining questions and reiterate some of the important topics that may have been touched on in the other 6 study hub articles.
The article will have two FAQ sections, one for general NASM and CPT questions and one for specific exam-related questions.
These are the most frequently requested questions on the internet and from readers within PTPioneer.
Let's dive in with some of the more general questions for the National Academy of Sports Medicine's amazing fitness certification.
General NASM FAQs
How long does NASM certification take?
From starting your studies to passing the NASM CPT exam for certification, it will take 3 – 6 months for the average person to give or take some time, depending on the level of education in exercise science before starting.
Is NASM CPT the easiest personal trainer certification?
NASM personal trainer certification is not the easiest in the industry. The company is actually around the middle to the hardest when we look at the NASM exam pass rate. This truly means you will get a quality and thorough certification for personal trainers.
Is NASM certification worth it?
NASM personal training is highly valued in the industry and the company has some of the best specializations with which you can expand your services later in your career. It is one of the most highly sought-after certs, up there with ACE.
What is the NASM CPT?
NASM CPT stands for NASM Certification for personal trainers. They handle all things exercise technique, human movement, and general health through physical activity for the general population.
Who can we contact from NASM?
To contact NASM, you should reach out to NASM customer service at this number: 1 (800) 460-6276
What does NASM CPT cost?
The base NASM certification costs a base price of 999$ without any promotions. There are many packages to consider for certification from NASM.
How do I study for NASM?
Studying for the NASM requires the textbook/study portal for the NASM CPT and then optional help like a free study guide through PTPioneer, or premium study materials through a website like Trainer Academy. Use materials like a NASM cheat sheet, NASM exam flashcards, NASM exam practice test, and more test prep materials.
How long is the NASM CPT certification valid?
After taking the exam, your certification is valid for two full years. During this time, NASM requires you to receive 2.0 continuing education credits, which equates to 20 hours, to get recertified.
NASM CPT Exam Breakdown
Currently, in 2023, the NASM Certified Personal Trainer test comprises six separate domains. Out of the 120 multiple-choice questions on the exam, each of these six domains occupies a certain percentage. The NASM courses for fitness professionals span these domains, ensuring the NASM credentials require each candidate to have comprehensive knowledge of personal fitness training.
Here is a list of the six domains of exercise science, the percentages on the test, the chapters each domain covers, and a quick summary.
The domains for the real NASM personal trainer exam and this practice test are:
Domain I: Professional Development and Responsibility (15%)
Domain II: Client Relations and Behavioral Coaching (15%)
Domain III: Basic and Applied Sciences and Nutritional Concepts (20%)
Domain IV: Assessment (20%)
Domain V: Exercise Technique and Training Instruction (12%)
Domain VI: Program Design (8%)
Domain 1 is made up of chapters 1 and 2, and it really lays down the foundations for the NASM and Personal Training business and career expectations.
Domain 2 is represented in chapters 3 and 4, which introduce the proper ways to interact and enact change with clients through coaching.
Domain 3 is found throughout chapters 5 through 10, and this lays out all of the exercise science information and focuses on one chapter of nutritional sciences. This is one of the harder domains for those without knowledge of exercise science going in.
Domain 4 is found within chapters 11 and 12, which deal strictly with assessing clients and the proper technique and skills.
Domain 5 is found throughout chapters 13 through 20, and this is the second most important section of the book as it looks at the meat of personal training with exercise techniques and instruction for training clients.
Domain 6 is found in the final 3 chapters, chapters 21 – 23, and this wraps up the textbook by detailing program design and the NASM OPT model.
NASM Test Difficulty – How Hard Is The NASM CPT Exam?
I get asked all the time by visitors to my website, "How hard is the NASM CPT exam?"
To be honest, I've seen test-takers that have failed the test over three times, and I have also seen test-takers say they feel like they did not miss one question.
Overall, the NASM certification has been notorious for being one of the more difficult in the industry over the last decade, requiring exceptional performance and preparation.
NASM has made their test difficult on purpose because they are trying to raise the standard for the knowledge required for personal trainers.
Sometimes, it seems like NASM reached deep into the textbook to pull out one sentence of information and test you on it.
Other questions seemed like they were trying to trick you with their vague wording. Plain and simple, this test is hard, but that doesn't mean that there aren't strategies you can use to pass it successfully.
The best way to gauge the NASM test difficulty is to look at the stats from previous years. Also, make sure you go in as prepared as you can be.
NASM Exam Pass Rate
Although the NASM exam constantly changes, the average pass rate for the last few years is approximately 65%. In 2015 the NASM pass rate was 67%.
In 2016 the NASM CPT pass rate was 61% (one of the lowest years).
The most recent data released by NASM is the passing percentage between the dates of August 2017 and August 2018, which reveals that in that timeframe, 18,115 students passed and 9,550 failed.
This equates to exactly a 66% pass rate between those two dates.
It's safe to say that one in three people will fail the NASM personal training exam. However, this reflects the excellent standards of the NCCA accreditation process.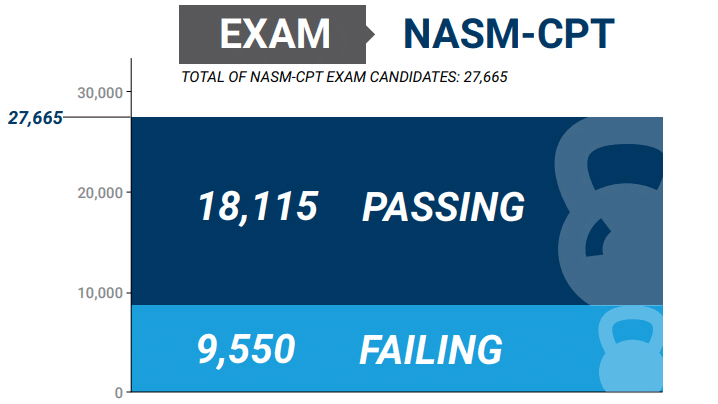 In general, this personal training certification is difficult compared to the average personal training certification.
That being said, it is still the most well-recognized and prestigious certification out there, so don't let these statistics scare you. Furthermore, once you pass, as long as you follow the recertification requirements, you will not have to take the test more than once.
You need to be prepared, that's all.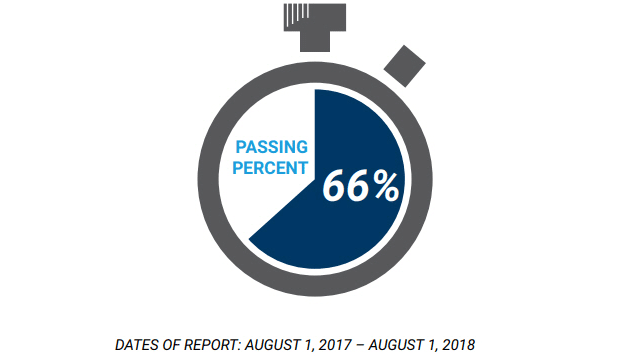 NASM Practice Test vs. Real Test
Another popular question I get is the differences between the NASM practice tests or mock tests and real tests.
This is a very good question in general because many websites provide practice tests for the NASM exam and NASM test tips on how to pass the NASM CPT exams.
In general, the NASM CPT practice tests are created by people who don't work for NASM, while the real test is. However, most practice NASM tests are based on people who have taken the NASM exam and have a good sense of the difficulty it entails.
The NASM practice tests are compiled from people's experiences of the test, whereas the real NASM test is constantly changing and never static.
Overall, you will not find the exact NASM personal training exams online compared to the official test.
This is because NASM is constantly switching the questions that they have on the exam.
Imagine if all the NASM CPT exam answers and NASM practice exam answers are always the same.
I guess that they take out some old questions every few months and throw in some new ones.
They probably change the wording on many of the questions and NASM test answers, too.
If they had one static test of 120 questions that never changed, people would figure it out very easily and this test would be spread across the Internet within months.
"NASM final exam answers, get your NASM final exam answers. Come one, come all."
It would reduce the legitimacy of the NASM brand and result in many personal trainers not being equipped with the needed knowledge.
Although you will not see the same question (written word for word the same) on the real tests compared to the practice tests, they are still useful for learning different ways to word them.
These practice NASM tests will still cover the same information you see on the real test. Consider it like a workout in the gym before a competition, you are preparing for the real thing, with each question being a single repetition to support your larger goal.
In my experience with the thousands of people I have helped pass the NASM certification exam, if they receive a passing grade from my practice tests, then they have no problem with the real NASM exam.
Many of them have even told me they saw some of the same questions on the real test compared to my NASM certification practice tests.
NASM Test FAQ
Here is some specific NASM exam frequently asked questions I get.
Are there NASM practice exams?
Yes, absolutely. There are plenty of free and paid NASM practice exams, including NASM study tips and NASM test questions and answers. Passing the NASM exam is made much easier and most NASM practice questions are self-study.
What is the exam enrollment period?
From the date that you purchased your NASM package, you have 180 days to get CPR/AED certified, organize a test date, and take the test.
How many questions are on the NASM exam, and what is the NASM passing score?
There are 120 NASM exam questions. Of those NASM CPT test questions, 20 of them count as research only and do not count toward your final score. You'll have two hours to complete the exam and you must score 70% or higher to pass.
Where can you take the NASM Personal Trainer exam?
To take the NASM test, you must set a test-taking appointment at a PSI test-taking facility. It is easy to search for where to take NASM exams near you, and all NASM testing sites will require your enrollment ID number.
What are the prerequisites for the NASM exam?
The NASM exam requires that you have a high school diploma (or the equivalent), be at least 18 years old, and have a valid CPR/AED credential.
Can you see your exam score afterward?
No, NASM never releases exam scores whether you pass or fail. They tell you if you pass or fail after you take the test.
What happens if you fail the NASM CPT exam?
If you fail the NASM test on your first try, you may purchase a retake voucher. Depending on your exam package, a retest voucher may or may not be available for free. If it is not included in your package, the retest voucher costs $199.
How much does the NASM test cost?
The exam-only option costs $599 without study materials. But due to the respect of this organization, it is totally worthwhile.