This is the most comprehensive review of the 8 best nutrition certs for professionals working in the fitness industry. I'll compare them based on:
At the end of this review, you'll be able to understand which one to choose as well as understand who exactly is allowed to give nutrition advice.
Make sure to take the quiz to get a good idea of which certification is right for you.
Here are the Top 8 Nutrition Certifications.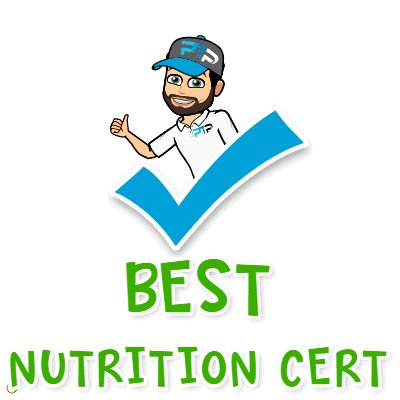 Introduction
If you have searched google with the goal of finding the right nutrition program for you, you probably came out more confused than you did when you went in. That is why I created this guide.
I want to give some clarification on the different nutrition certifications that are available. In the end, I suggest checking out the NASM CNC, and the ISSA nutritionist certification (or the elite trainer deal when they are running this special), and the Precision Nutrition level 1 certification (But only under specific conditions which I will tell you about).
In addition to talking about these nutrition certifications, I will discuss the importance of nutrition certifications combined with knowledge of fitness (general personal training certification) for the best overall results for clients.
There is also a widespread confusion between holding a nutrition certification and being a dietitian and the schooling/requirements for both of these. In addition to this, there is widespread panic for who can give nutrition advice.
As a fitness professional, are you allowed to give nutrition advice? Will you get sued? The overall answer is, no you will not get in trouble. I will talk more about this down below.
Here are the best nutrition certifications currently available in 2023.

ISSA centers its training on the psychology of eating a good diet at the appropriate time.
This certification covers the impact of nutrition in our lives and how it can really influence our fitness and wellness successes and failures. It gives you as a personal trainer all the necessary information you need to really understand the role of nutrition and its impact on our bodies.
And that opens up a range of new clients like those who are overweight and looking to drop some pounds, for example.
A full range of nutritional principles are covered by this certification including:
How proper nutrition improves performance, not only physically but mentally, as well
How to properly scrutinize various dietary strategies
How to make unique nutrition plans for various clients requirements
And many more
And this nutritional component, when combined with a planned fitness program can improve overall results for all your clients.
One of the advantages of this certification is that is can all be completed online through the ISSA study portal. With just a few hours a night, you can be nutrition certified in around three months.
This is currently one of my top ranked nutrition certifications because frequently there is a deal to get their nutrition certification for free with the purchase of their regular personal training certification.
So whether or not you want to become a certified personal trainer, you can at least have the option to become one. And, their CPT + free nutrition certification is the same price as the nutrition certification alone, so there is really nothing to lose. Definitely the best bang for your buck.
Cost
Currently, the value of the ISSA Nutritionist certification is $799. I frequently see this drop-down as low as $699. ISSA offers a 12months 0% interest payment plan for the certification. They also have a fantastic deal called the Elite trainer program. I'll explain more.
The elite trainer program includes their nutritionist certification, their personal training certification, and a third certification of your choice Much cheaper than each certification alone. If ISSA is currently running this deal, do not miss it.
They also have a fantastic nutritionist certification + training certification deal that they run frequently. For the elite trainer program, I usually recommend to my nutrition students to choose the ISSA transformation specialist certification as their specialization, but you have the option to choose from any of the following specializations.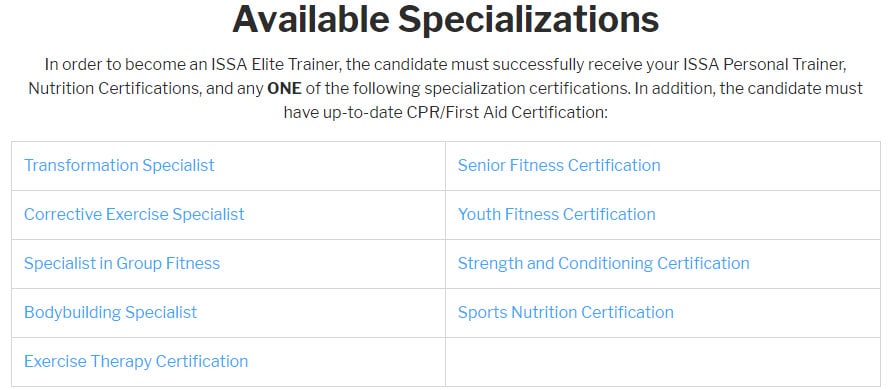 Note: you do not need to become a personal trainer if you do not want to. You can simply study for and pass the nutrition certification/s and have those as standalone certifications. Only if you want to become an elite trainer would you need to pass their trainer exam. But still, the value for both nutrition certifications is worth it.
Curriculum and study materials
As with all ISSA certifications, the study materials and course work you will receive when signing up for this nutritionist certification are both impressive and extensive.
They will include:
A coursebook which includes 300 pages of information that are critical to helping you pass the certification exam
A step-by-step study guide for each module in the sports nutrition certification curriculum
Access to practice quizzes online to help you test your knowledge before taking the final exam
Readily available help from ISSA staffers should you have any questions about the certification or the content
Access to a popular forum where like-minded students discuss key concepts found in the course and help answer each other's questions
An online exam or a pen-and-paper test at a participating exam center
The fact that ISSA provides access to trained staff members to quickly and efficiently answer any queries is a major plus point for me. Also, the step-by-step study guide, as well as practice quizzes, give you a good indication of how prepared you are to take the final exam.
Exam
The exam consists of three sections;
Section 1 consists of 230 multiple-choice questions
Section 2 consists of 120 multiple-choice questions
Section 3 consists of 1 essay and a case study.
Altogether you have 363 questions so you need to brace up!
I have created a helpful study guide for the ISSA nutritionist cert that covers every single chapter. Make sure to check it out.
Also, trainer Academy has premium study materials for the ISSA nutritionist certification. They will cut your study time in half and provide an exam pass guarantee.
This certification is what I called the best value nutrition certification. But only when it is combined into the buy one get one or the elite trainer package. Alone, it is just as costly as the following certifications.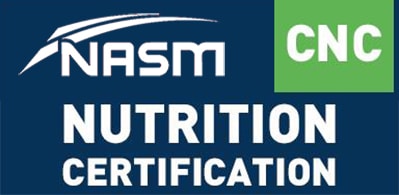 As a certified nutrition coach, you will be able to deliver quality nutrition information and behavioral change strategies to your clients.
You will be able to use this knowledge to increase the likelihood of a successful lifestyle change of your client so that they can lose weight, gain muscle or achieve their health and fitness goal.
Some of the things that you will get from the NASM CNC are:
The most cutting edge nutrition information related to wellness, building muscle and losing fat.
You will learn a ton about the psychology of mental plateaus with diet and nutrition and how to get past them.
Gain the skills on how to combine behavioral change with nutritional science so that your real-world clients can see the results that they deserve.
This course can also get you 1.9 NASM continuing education credit
Cost
Currently, the cost for the NASM CNC is $899. I have seen it drop to as low as $675 while on sale.
Although this certification is a little bit pricier than the other ones, it provides an excellent well-rounded approach towards nutrition and behavior change that are both very helpful towards your client's success.
You have the freedom of installment payment; you can spread your payment from 4 to 12 months with no interest and the duration of this program is 12 weeks.
NASM also has a nutrition certification plus personal trainer certification combination. Although it is much more costly than the combo packages from ISSA, is it still something worth considering if you were going to go with NASM.
Curriculum and study materials
The NASM CNC does everything online through their study portal. This is one downside if you are the type of person that loves to have a hard copy of the textbook.
The e-book is interactive and contains 24 chapters.
Within each chapter, you will find infographics, downloadable templates, interactive videos, mini-quizzes (knowledge checks), chapter quizzes ( with 15 questions per chapter) and a 100 question practice exam.
The 100 questions multiple-choice exam is done online and you have three full attempts to take it before purchasing a retest fee. You need 70% in order to pass. From the date that you purchase the CNC, you will have one full year in order to take and pass the exam.
Currently, in 2023 this is one of the best nutrition certification options, but it has some fierce competition with the other certifications on this list. Here is a link to the NASM CNC.
I have created a free study guide for the NASM CNC that is essential.
Trainer Academy has premium study materials for the NASM CNC certification. They will cut your study time in half and provide an exam pass guarantee.
Exam
NASM CNC exam consists of 100 multiple-choice questions.
You will have 90minutes to answer these questions.
Your passing score is 70% or higher and you can only attempt this exam three times.
Here is the official video for the NASM CNC:
Differences between the NASM FNS and new NASM CNC
There are two primary differences between the old nutrition certification and the new one. The old NASM FNS was simply a credential that was mostly used to gain continuing education credit as well as useful information on diet and nutrition principles.
The first difference is that the new NASM CNC is a full-fledged certification that you will need to get recertified with every two years.
The requirement to get recertified every two years is essential in a field that is constantly changing with new discoveries on nutritional science.
The second difference is that the NASM CNC includes a ton of information on behavioral change and how to implement and combine this information with the nutritional advice you give to clients.
The NASM FNS did not have this information. Changing your client's daily habits is just as important as giving them nutritional advice.
Exclusive PTP Nutrition Offers



Gold Standard Cert

Most Popular Cert

Best Study Materials

A Good Option

A Great Option

Best Cert for you?

The right approach to behavior change can be through corrective exercise or physical activity using industry knowledge.
The new CNC is kind of a combination of a nutrition certification in a health coach certification.
The fact that it is a completely online nutrition program makes it not only one of the best programs overall, but also one of the top online nutrition certifications.
Something to consider if you are going to get the NASM CNC is to get it in combination with the NASM CPT.
Check out my full review on the NASM CNC.

Here are some of the things you will learn in the precision nutrition coaching level I:
You will teach your clients to diet and eat better without feeling totally deprived
You will be able to teach your clients how to avoid fad diets and ditch food rules that are misguided.
You'll be able to teach your clients how to integrate fitness into their lives without completely dominating their lives.
Teach clients how to set achievable goals and maintain a healthy lifestyle even when life tends to get out of control.
Overall I really like what is presented in the precision nutrition certification. The information that they provide is definitely top-notch. There are only a couple of downsides that I will explain in a second.
Cost
The cost of precision nutrition is based on two different purchasing times. The regular non-presale list is listed at $999. If you join the presale list you can get a 20% discount and have it only cost $799. Shipping for the project cost $11 so you contact that on either to the presale list or regular sale list.
Overall definitely one of the more expensive certifications, and despite being at the cutting edge of nutritional coaching, the cost is a major deterrent and limits the value proposition in my opinion.
You can avoid this entirely by purchasing it through ISSA who offers a great bundle deal with their Personal trainer cert. This will cost you $999 (if they are currently running the deal), the same price tag as the PN program on its own.
This is a great deal for the Precision Nutrition certification and the ISSA personal trainer certification. But, it's not quite as good as the Elite trainer package that comes with the ISSA nutritionist + cpt + one other cert in my opinion.
Another drawback is the fact that precision nutrition certification only opens up two times a year (three times if they are in high demand). This means that you're subject to a very strict enrolment window. Again, if you purchase through ISSA, there is no enrollment window which gives it way more value in my eyes.
Purchasing the program through ISSA also allows you to enjoy access to the student support resources ISSA typically provides in addition to all the standard benefits from Precision Nutrition's support resources.
I believe PN would be the big winner here if they relaxed their enrollment policies. This is a legitimate online nutrition certificate, but it fails to provide good value for money unless purchased through ISSA.
Curriculum
With the purchase of the precision nutrition certification level 1 you will receive:
The three-unit textbook
Twenty animated video lectures
A workbook and study guide
Additional assessment forms and questionnaires for your clients
Online access to the study forum
More than forty premium coaching tools
Overall the curriculum for the precision nutrition certification is quite good. I really like how you get a physical textbook as opposed to an e-book.
At the end of completing all of the study materials provided, you will need to pass the 18 chapter exams that each contain 10 questions each. So essentially, the final exam is 180 questions.
Exam
180 multiple-choice and true or false questions
You are required to do 10 short exams which comes after you complete each chapter. You have 20 chapters.
You are to score at least a minimum of 75%
Precision Nutrition is one of the best certifications out there. The price to value is not the best, but it's made a lot better through ISSA.
Here is the official video for Precision nutrition:
In their mission to provide top quality resources, they've compiled and created their own in-house certifications aimed at equipping trainers, coaches, and instructors with a cutting edge toolkit of results-driven, evidence-based knowledge to cater to the market.
It is well understood that without the complement of sound nutritional protocols, any efforts regarding fitness or exercise won't yield satisfactory results.
That's why Fitness Mentors have taken strides to provide a comprehensive, accessible, and affordable option for trainers who want to bolster their repertoire with the necessary array of coaching skills.
Cost
In most cases, a nutrition cert is much more affordable than your standard personal trainer cert.
In fact, it is often the case that nutrition certs come bundled with a personal trainer or any other exercise-based certification.
When it comes to FM, the standard cost for their Nutrition Specialist cert is $399.00.
Unlike most other certifications, the FM Certified Nutrition Specialist comes in a single package option.
Other certs will typically present you with numerous package options, priced according to the study materials and support resources included.
having said that, while the nutrition cert doesn't offer much variety, it comes bundled with many of FM's other certs meaning you save big while signing up for multiple DEAC accredited qualifications.
Speaking of materials and resources, let's take a look at what FM has on offer in its package.
Curriculum
The course curriculum of the FM Certified Nutrition Specialist is comprised of 10 chapters. These chapters are as follows:
Scope of Practice
The Digestive System
Metabolism
Carbohydrates
Lipids
Protein
Micronutrients and Water
Nutrition Assessment
Nutrition Coaching
Exercise and Sports Nutrition
This is what you'll get in the course textbook, and this is what you'll be assessed on in the final exam.
In order to ace that exam, FM has compiled and provided some handy study materials, which include:
Digital Textbook
Access to Instructor & Personal Fitness Mentor
Audio Book Lectures
Business Growing Study Group
Chapter Quizzes
Lecture Video Presentations
Premade Nutrition and Meal Templates
I quite like the arrangement of this study suite. It shows an attention to detail and necessity by fitness professionals on the frontlines of career growth.
Exam
The FM FNS is a 60 question exam with a passing grade of 70% or higher.
The exam can be taken at home, and you'll have two attempts to pass.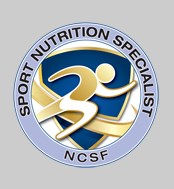 NCSF prides itself on being an advocate for public health awareness.
In fact, one of their biggest missions is towards pushing legislation for health and fitness practitioner to be recognized as part of the medical field.
The NCSF Sports Nutrition program carries this message through by delivering a comprehensive course relevant to high performance and general populations alike.
One of the key issues with effective nutrition coaching is behavioral change.
Unlike exercise, where simply programming a workout and instructing it are enough to get someone moving, nutrition requires a huge personal mental shift in order for effective results to take place.
That's, why you'll find the NCSF Sports Nutrition program, is centered on behavioral change.
Cost
The cost for nutrition certs is generally lower than what you'd pay for a CPT cert or any other specialization.
Another common feature is having multiple packages to choose from which vary in price depending on the study content included.
The NCSF Sports Nutrition cert is available in three packages.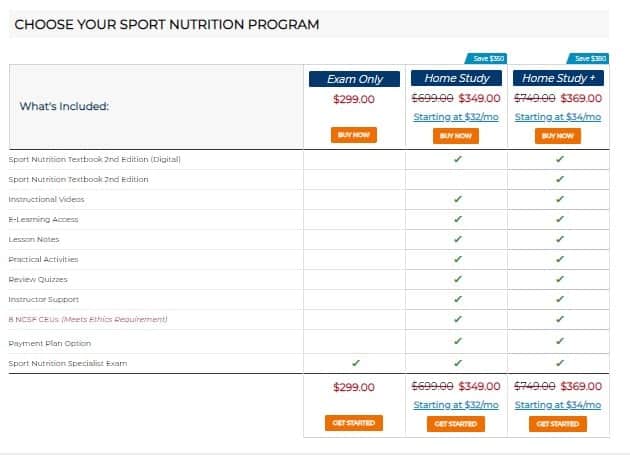 These are:
Exam Only
Home Study
Home Study +
The Exam Only package, as the name suggests, only allows you access to the exam, with none of the recommended study content.
This one normally goes for $299
After that, the Home Study package goes for $349 and includes most of the essential materials for exam prep.
Lastly, there's the Home Study + which costs $369.
Exclusive PTP Nutrition Offers



Gold Standard Cert

Most Popular Cert

Best Study Materials

A Good Option

A Great Option

Best Cert for you?

This package has everything included.
The NCSF Nutrition packages are a great deal price-wise, but even better is the fact that they periodically have discounts and promo deals which slash the price even further.
Make sure to take advantage of these when they do occur.
NCSF also has a good package that combines the SNS with their personal trainer certification (CPT).
Curriculum and study materials
The NCSF curriculum is based on the course text, Sport Nutrition Textbook 2nd Edition.
The book is described as a guide to nutrition for fitness competitors, but looking through it, one can tell it's very applicable to a general health and fitness market.
It is comprised of four units which break down as follows:
Unit 1 Macronutrients
Unit 2 – Micronutrients
Unit 3 – Dietary Supplements and Ergogenic Aids
Unit 4 – Nutritional Analysis and Weight Management
The textbook is what you'll be assessed on in the exam, which brings us to the actual study packages.
The first one is the Exam only package, and as you would expect, you're only getting the exam.
I don't recommend this package since, as stated, you will be tested based on the textbook content.
Let's take a look at how the other two packages break down.
Home Study
Sport Nutrition Textbook 2nd Edition (Digital)
Sport Nutrition Textbook 2nd Edition
Instructional Videos
E-Learning Access
Lesson Notes
Practical Activities
Review Quizzes
Instructor Support
Home Study +
Sport Nutrition Textbook 2nd Edition (Digital)
Sport Nutrition Textbook 2nd Edition
Instructional Videos
E-Learning Access
Lesson Notes
Practical Activities
Review Quizzes
Instructor Support
As you can see, not much separates the two packages in terms of content.
The only difference being the inclusion of a hardcopy textbook with the Home Study + option.
When considering the price difference between the two packages, and the price of the stand-alone hard-copy, it's much more sensible to get the Home Study + package.
So instead of paying $109 for a textbook, you get it for $20.
Exam
The exam is a 150 question multiple choice paper that runs for 3 hours.
You'll need to score at least 70% to pass and get certified, failure of which will result in you need to wait 30 days and pay $99 for a retake.


The fitness integration of this nutrition program makes it an excellent choice for certified personal trainers that are willing to take their career forward.
In this ACE fitness nutrition certification, you will learn all of the essentials of nutritional science. You will learn the strong correlation between nutrition and body weight and how to change your client's perspective with evolving behavioral tactics.
The ACE nutrition certification focuses half of their efforts on changing your client's behaviors as they do on the nutrition aspect.
This is an excellent approach to nutrition overall. You can teach your clients all day long about food, but if they don't put it into practice when they are alone, it was useless.
After purchasing the ACE certification, you will have six months to study for and take the test. There are no requirements for the ACE nutrition certification.
Cost
There are two separate options for purchasing the ACE fitness nutrition specialist program.
The first is the e-book only option which costs $249
The next option is the hardcopy plus e-book textbook for $299.
Check out the current price for the ACE nutrition certification here.
When I personally purchased the ACE nutrition certification, I got the hard copy. But I just love the feel and smell of real paper.
Curriculum
The fitness nutrition manual
A four-part video series on fitness nutrition
A three-part video series on how to integrate fitness nutrition with your existing clients
Coaching behavior change book
Coaching behavior change podcast
The curriculum and study materials that ACE provides are excellent for different styles of learning. I got great use out of the coaching behavior audio as well as reading materials.
They also have a strong emphasis on business practices and how you can make more money with the addition of this nutrition service. This is very beneficial especially for those of you who are strong business minded.
In addition to that, fitness integration into this nutrition program makes it an excellent choice for individuals that have little knowledge about personal training.
This is a decent option for an online nutrition certification program.
Exam
The test consists of 150 multiple-choice questions where 25 of those questions are experimental questions.
You have up to 3 hours to answer all the questions.
The marking is scaled from 200 to 800 points.
You must get at least 500points upward to pass the test.
Here is a link to the ACE Fitness Nutrition Specialist.
7) National Exercise and Sports Trainers Association (NESTA) Fitness/Sports Nutrition Coach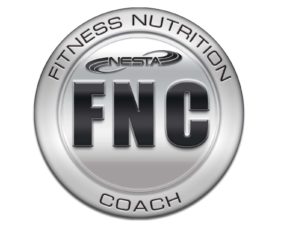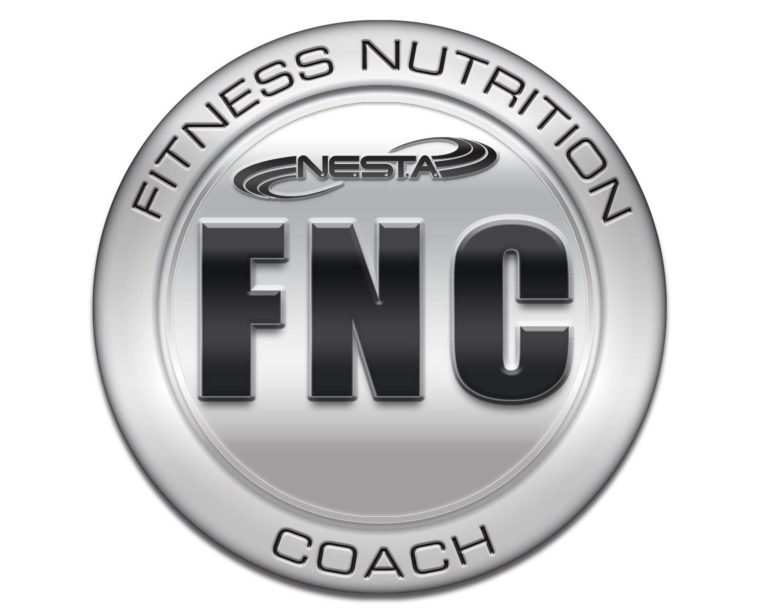 The first is their fitness nutrition coach certification which is meant for the general public or general clients of personal training.
The second is their sports nutrition specialist certification which is intended only for athletes or those looking to boost their athletic performance.
Overall these are some of the more basic fitness/sports nutrition certification options out there. They will teach you some of the essentials in regards to making your clients healthier and more fit.
NESTA has a decent section on doing nutritional assessments for clients and lending practical advice for performance enhancement for athletes.
Both of these NESTA certifications also have a strong emphasis on building your personal training business and increasing your earning potential by offering nutrition advice in addition to your regular training.
There are no prerequisites for this nutrition certification, and you will be given 12 months to take the test after you sign up.
This is yet another all online fitness nutrition certification.
Curriculum and study materials
Online textbook in e-book format
Multiple training videos
Access to the test
Overall, the study materials did not blow my mind. They do however have everything available to you online and are very easy to access and study. Videos and the textbook are sufficient but are not optimal.
Cost
The cost of the NESTA fitness nutrition coach certification is $297.
The cost for the NESTA sports nutrition specialist certification is $347
They also have the option to purchase and study for both nutrition certifications for only $449. This will save you $195 compared to buying both separately. This is a very reasonably priced online nutrition course.
Exam
The NASM Sports Nutrition Specialist tests consist of 100 multiple-choice questions.
All 100 questions to be answered within 2hours.
You are required to score a minimum of 70% or higher
You have just three attempts.
Check out NESTA here.
8) American Fitness Professionals Association (AFPA) Nutrition and Wellness Certification

The AFPA Nutrition and Wellness consultant certification teaches you mostly how to apply nutrition information for weight management, fitness performance and overall health enhancement of your clients,
AFPA also offers Nutrition consultants certifications like Holistic Nutritionist certification and senior nutritionist specialist. These nutrition programs gives you more in-depth knowledge about nutrition and healthy living.
You will learn how to be motivational and be able to change the lifestyle habits of your clients. This involves how to communicate effectively with your client's nutritional concepts and teach them the importance of habit building.
After purchasing the nutrition certification, you will have six months to take the test. There are no prerequisites to sign up for the AFPA. This is another 100% online fitness nutrition certification.
Curriculum and study materials
There are two separate ways you can receive study materials. The first is the 100% digital access. This gives you access to the interactive e-books, full textbook, student practice activities, assessments and nutrition assignments.
The textbook only version allows you to have a physical copy of the book, physical assignments but without the online learning platform.
Both digital access and textbooks are available as well.
Cost
The current cost for the AFPA nutrition and wellness consultant certification is $599. This is an average price for an online nutrition certificate.
AFPA Nutrition and Wellness certification Exam
AFPA Nutrition and wellness certification exam format is a lot different from the others.
You will be given 28days to do the tests.
You can save your answers online and continue later.
You have 280 questions altogether.
You can see the AFPA here.
Who's allowed to give nutrition advice?
The short answer is, it's legal to give nutrition advice!
This is especially true if you have some knowledge on the topic (i.e., a certification).
What you are not allowed to do is prescribed a diet that is meant to treat an illness or disease for a client. Prescriptions are intended for registered dietitians (an RD) or medical doctors (MD).
So if a client comes up to you and asks for advice on the best diet for their celiac disease, you're not legally allowed to advise on this.
On the other hand, if you are a personal trainer or strength and conditioning coach, for example, you can give nutritional advice for losing weight, eating balanced/healthy or advice on macronutrients for building muscle.
All of these are acceptable nutrition advice that can come from someone holding a nutrition certification.
You are allowed to talk about overall healthy nutrition practices, provide strategies to improve nutrition and offer tools so that they can incorporate this nutrition advice into their lives.
Not only are fitness professionals in personal trainers allowed to discuss nutrition advice with their clients, but they are also absolutely encouraged to do so.
This is due to the hugely increasing obesity epidemic that we are suffering in the United States (and in the world in general).
As personal trainers or fitness professionals, the only problem is, lots of them don't feel qualified to give this nutrition advice. If this is how you currently think, the logical next step for you is to obtain an accredited nutrition certification program.
What you will learn from a nutrition certification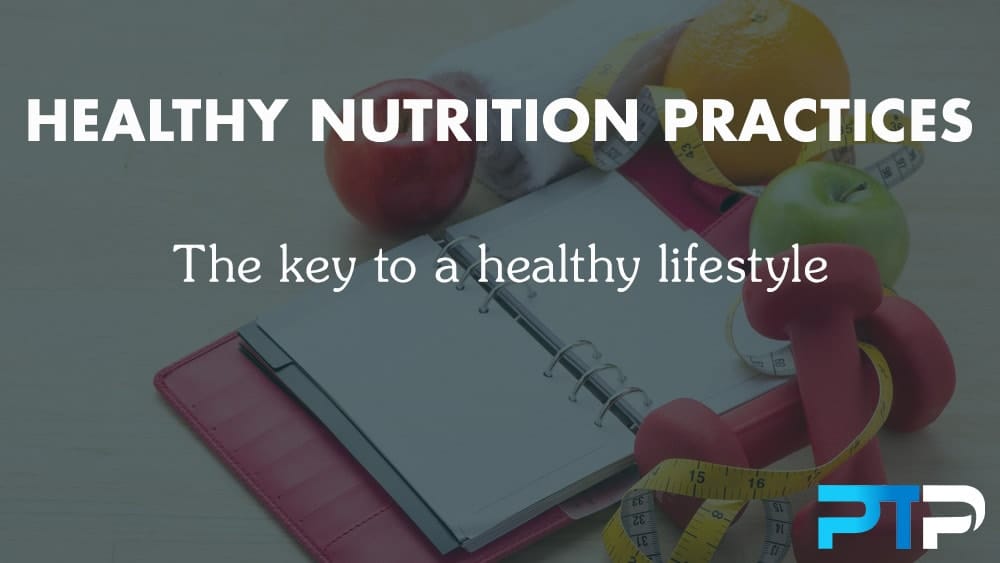 If you are a certified fitness professional such as a personal trainer or strength and conditioning coach, you probably learned a little bit about nutrition from your general CPT certification.
These nutrition certifications go into a lot of the same topics of study but anyway more detail. You will learn all of the nutrition science fundamentals and how to apply them to your clients.
You will go into how nutrition plays a role in sports performance, body composition and body weight. You will learn all about digestion, absorption, food intake, micronutrients, and macronutrients.
By the end, you will be a full-blown expert in all of these areas.
These nutrition certifications will also teach you a lot about habit building and habit changing, how to integrate nutrition into personal training/coaching as well as the business benefits you can receive from offering these new services.
Do not forget that health and safety are science-based and a top priority in fitness training, which must align with best practices.
Speaking of studying for a nutrition certification, Here at PTPioneer, we are currently working on free study guides for the majority of personal training in nutrition certifications. Currently, we have finished the free NASM FNS study guide, and are working hard to complete the study guides for all of the other major certifications. Stay tuned!
And finally, dun dun dun, here are some excellent accredited nutrition certification programs!
Conclusion on Online Nutrition Certifications
Well, there you have it ladies and gentlemen, my article on the top nutrition programs. I hope you guys walked away knowing the difference between a dietitian and a certified nutritionist. For now, I suggest that you check out my top three nutrition certifications below.
If you have not done so yet, Take the quiz to get a better overall idea of which nutrition certification is the best match for you. Make sure to utilize my free NASM CNC study guide or ISSA Nutrition study guide if you choose either of those.
Overall my top three accredited nutrition certification programs are:
These 4 are the 4 best online nutrition programs.
Make sure to check out Training academy for excellent nutrition certification study materials and exam pass guarantees.
You will come away from either one of these three online nutrition courses with a great new toolset of knowledge! 🤓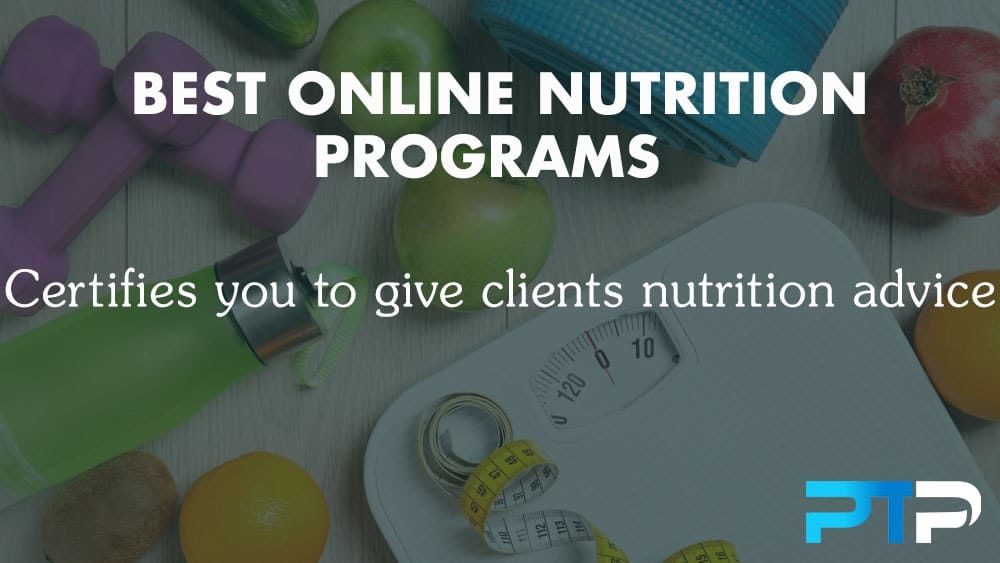 Remember, it's not illegal to give clients nutrition advice! In fact, it is wholly encouraged! As long as you are not "prescribing" a nutrition or diet plan toward somebody attempting to fix a disease that they have.
As trainers and coaches, we are responsible for helping our clients maintain a healthy lifestyle and weight. If we keep our mouths shut, we are accomplices to this epidemic.
Getting the right health care for chronic disease outside the comfort of your home is very helpful in the long run.
This is why it is essential to have knowledge of a certified nutrition specialist.
Let me know what you guys thought of my top six nutrition certifications.
Have you guys tried out any of the certifications? What were your experiences with them? Make sure to leave me a comment down below the FAQ section!
Certified Personal Trainer Course and NCCA Accredited Exam