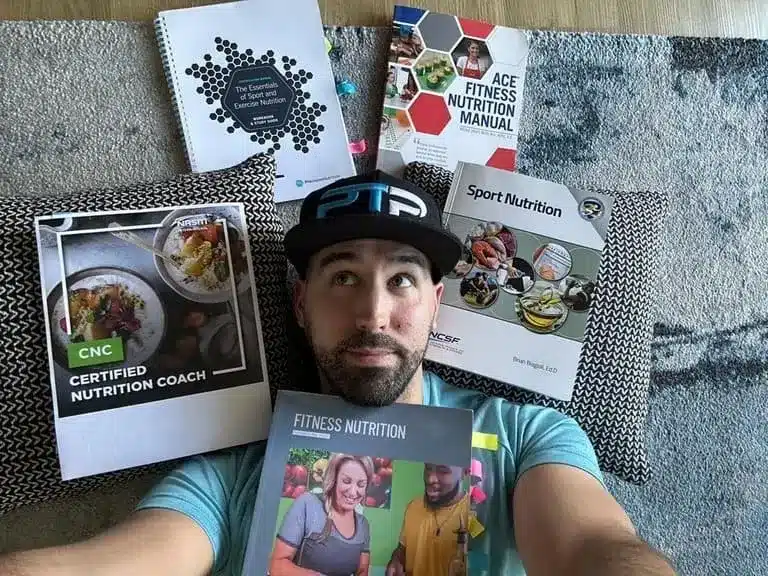 This article is a collection of my experience taking the eight best nutrition certifications in the fitness industry.
For each nutrition certification, I studied for several weeks to months, took the nutrition certificate online exam, and used the knowledge to coach clients.
As such, I have direct experience with each nutrition certificate program.
I look at the following aspects of the nutrition certificate programs:
Nutrition coaching certification details
Nutrition certification content coverage
Difficulty of each nutrition certification exam
Salary for each nutrition certification
At the end of this review, you will understand which nutrition coaching certification program is best for you.
If you need to get certified as a personal trainer, be sure to take the quiz to determine the best training certification for your goals.
Without further ado, here are the top eight picks for best nutritionist certification.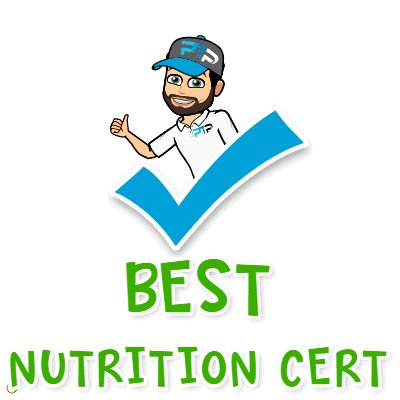 Our Top Picks
CPT
CPT
Features
Price

Excellent research-backed nutritional science
Gives you business tools as well
Best fitness certification bundles

Check ISSA Pricing

Most comprehensive nutrition content
NASM is the biggest name in the industry
Great online portal study system

Check NASM Pricing

Best behavioral tools
Competitive price (when on sale)
Easy-to-use online interface

Check ACE Pricing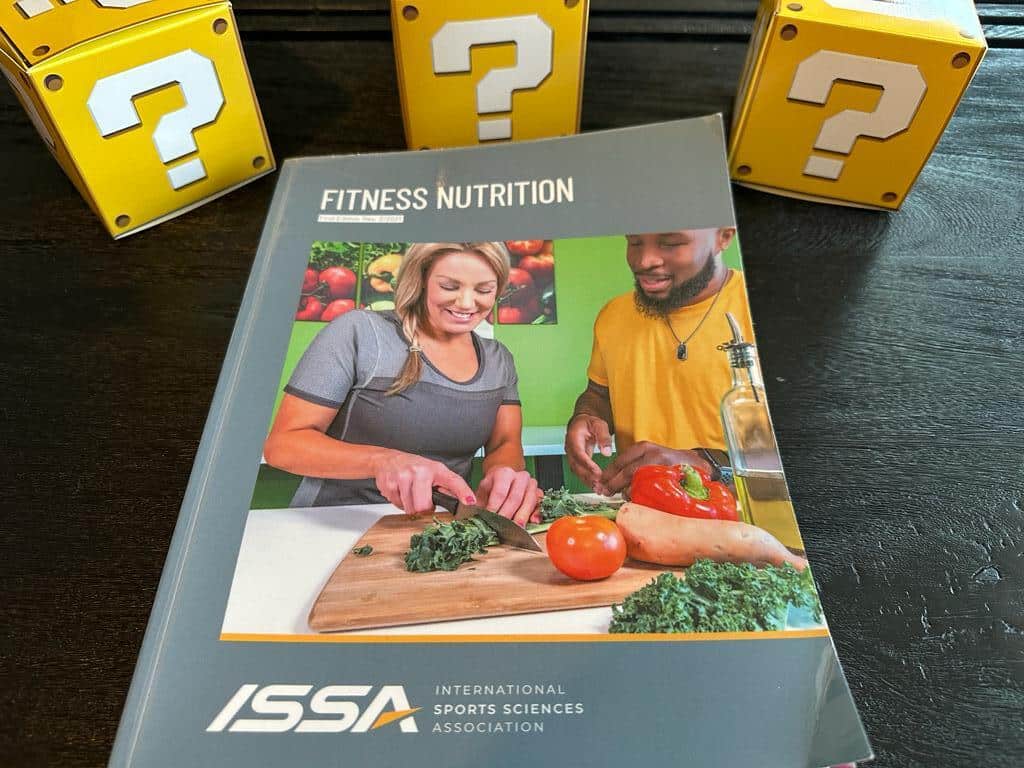 What is the ISSA Nutritionist Certification?
The ISSA nutritionist certification is a premier nutrition coaching certification offered by the International Sports Sciences Association (ISSA).
However, the certification works very well with the ISSA personal trainer certification and other ISSA specializations.
ISSA Nutritionist General Information
Exam cost: $639.20
Study material cost: $53.27/month for 12 months
Prerequisites: High School Diploma, CPR/AED
Exam passing score: Scaled 550/800 – 90/125 Scored Questions
Exam pass rate: 70% (2022 data)
Average completion time: 2-6 months
ISSA credibility and reputation

The ISSA was founded in 1988 and has since become one of the largest fitness education providers across the globe. The ISSA personal trainer certification is accredited by the National Commission for Certifying Agencies (NCCA).
This conveys the highest standard of vetting from experts before the curriculum goes live. Similarly, the ISSA standards for the nutritionist certification are rigorous as well. To put it plainly, if you want any ISSA certification, you will have to know your stuff.
This certification gives students the skills they need to guide clients toward making healthier food choices and avoiding unhealthy ingredients or products such as snacks with high sugar. The certification tries to "bridge the gap" between nutrition and exercise. ISSA Nutrition certification requirements allow anyone to take this coursework.
ISSA training courses include excellent study materials, so you will have access to various resources.
ISSA is also notable for the deals they offer when you bundle multiple certifications. In fact, you can‌ get a free ISSA nutritionist certification when you sign up for the ISSA personal trainer certification with ISSA's buy-on-get-on-free certification package.
A personal trainer who can provide qualified nutritional guidance will deliver much better results to clients, and they are a much stronger applicant when applying for employment with businesses.
ISSA Nutritionist pros and cons
Pros
Solid research-backed nutritional science
Open book final exam
Cons
Insufficient behavioral coaching
ISSA nutrition certificate program study materials and costs
The ISSA Nutritionist course costs $639.20 with the option for 12 month interest-free financing coming in at $53.27 per month.
They also have a fantastic deal called the Elite Trainer Program.
The Elite Trainer Program includes their nutritionist certification, their personal training certification, and a third specialist certification of your choice. The price ends up much cheaper than each certification costs alone. If ISSA is currently running this deal, it is worth considering.
ISSA also has a fantastic nutritionist and training certification deal that they run often.
For the Elite Trainer program, I usually recommend ‌my nutrition students choose the ISSA transformation specialist certification as their specialization. However, you have the option to choose from any of the ISSA specializations.
You need not become an ISSA personal trainer to earn the nutrition certification.
However, it rarely makes sense to go for just the ISSA nutritionist since the Elite Trainer is such a great deal, and becoming a personal trainer with a nutrition certification opens up many career doors.
ISSA nutritionist certificate content coverage
The ISSA Nutrition certificate program coursework covers the following topics:
Macronutrients and Micronutrients
Lifestyle Changes and Strategies
Client Assessments and Goal Setting
Product Labels and Claims
Dietary Guidelines and Applications
Trending Diets and Myths
Supplementation
Business of Nutrition Coaching
The International Sports Science Association (ISSA) nutrition certification has a heavy emphasis on scientific nutritional principles.
However, it also covers the various behavior change coaching skill sets you need to elicit behavior change in your clients.
This nutrition certification looks at nutrition's vast impact on our lives. This includes reducing the risk of diabetes in adults, reducing blood pressure, and even helping with anxiety symptoms.
In fact, dietary changes are a common part of high blood pressure treatment program. However, you would require a Registered Dietician credential to discuss dietary treatments for high blood pressure, diabetes, or any other illness.
Topics such as medication are reserved for physicians.
Nevertheless, having knowledge of these fundamentals opens you up to new clientele and also allows you to be more empathetic with your clients. It also helps expand your expertise.
Ultimately, this leads to better results and happier nutrition clients.
Taking the ISSA nutrition certificate online exam
You can take the ISSA Nutritionist exam online with a portal or at home with a pencil and paper test you print off and mail or scan.
I took the ISSA exam through the portal and found it to be fairly straightforward.
If you work through the materials provided, you will not have a problem passing. The exam is also open book, so if you get stuck you can find the answer in the materials. The length of time it will take to get through the fundamentals depend on your learning style and existing sports nutrition knowledge.
With no prior knowledge, I recommend 2-3 months to prepare.
ISSA Nutritionist continuing education, salary, and career prospects
The ISSA Nutritionist certification provides 20 CEUs towards recertifying your personal training certification. The ISSA Nutritionist does not have a CEU requirement to stay certified.
Your salary and career as a nutrition coach can vary substantially across markets, geographical areas, and specific niches. Generally, the more specialized your services become and the more experience you gain, the more your income will grow.
ISSA Nutrition Certification overall rating
One of the advantages of this certification is that it can all be completed online through the ISSA study portal.
With just a few hours per day, you can be nutrition-certified in around three months.
This is currently one of my top-ranked nutrition certifications in large part because of how well it bundles with the CPT program. I recommend all fitness professionals become certified as personal trainers, even if they only want to focus on nutrition. Companies are definitely more likely to higher graduates of both a CPT and nutritionist program.
With that said, the ISSA BOGO CPT and Nutrition certification is an amazing deal.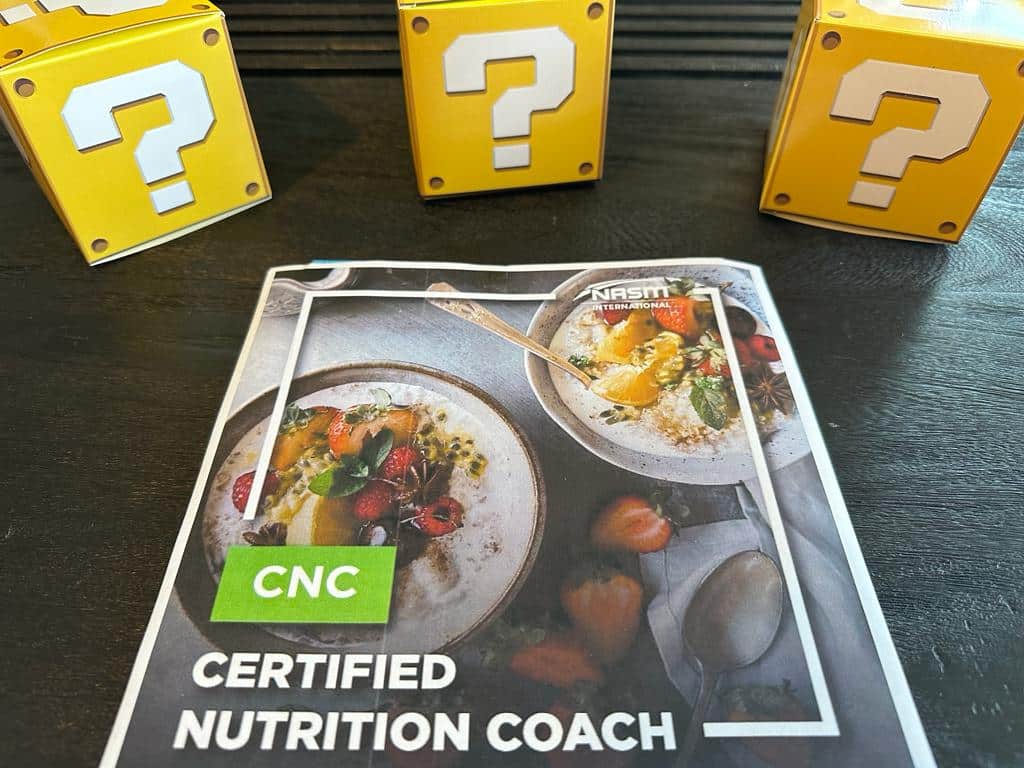 What is the NASM Certified Nutrition Coach?
The NASM Certified Nutrition Coach (NASM CNC) is the flagship nutrition certification offered by the National Academy of Sports Medicine (NASM). The certification focuses on guiding clients toward nutrition choices that support health and wellness-related outcomes.
The NASM Nutrition Coach course is full of peer-reviewed scientific information that forms the basis of the curriculum.
As a certified nutrition coach, you will be able to deliver quality nutrition information and behavioral change strategies to your clients.
You will be able to use this knowledge to increase the likelihood of a successful lifestyle change for your client so that they can lose weight, gain muscle, and achieve their health and fitness goals.
NASM CNC General Information
Study program cost: $699
Prerequisites/Recommendations: None
Exam passing score: 70%
Average completion time: 1 – 3 months
NASM credibility and reputation
NASM is among the most respected fitness certification provider names in the industry. Their NASM CPT program and OPT training model sets a high standard in the fitness certification market.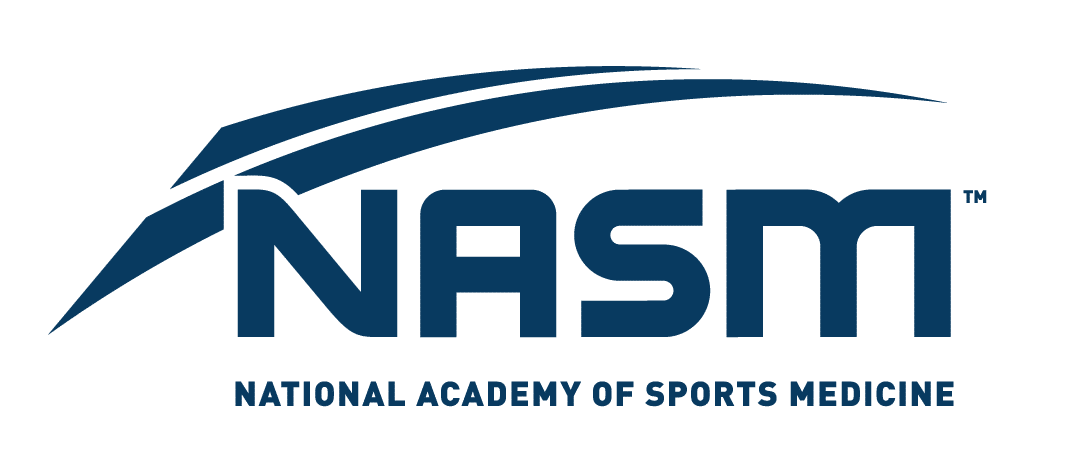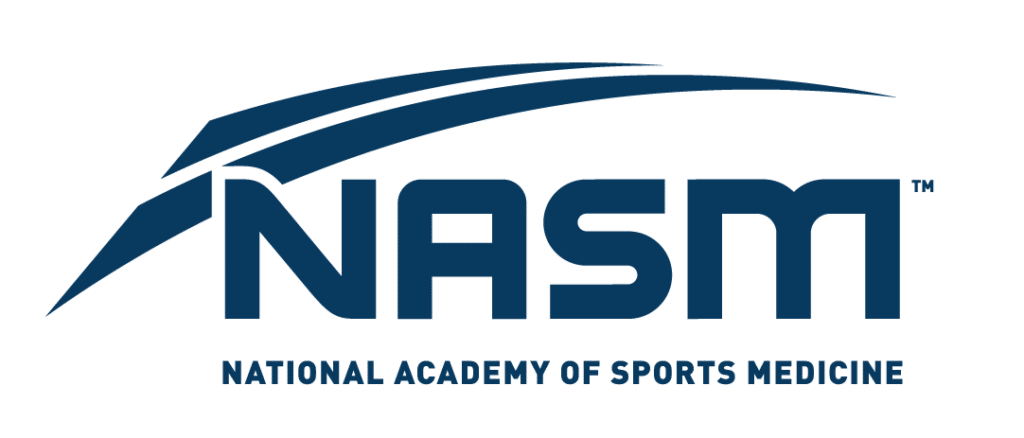 NASM has multiple NCCA-accredited certifications in its offerings and a large team of experts backing the curriculum. The various NASM products are tailored for every learning style.
NASM CNC pros and cons
Pros
Most reputable certifying organization
Densely-packed textbook and handouts
Excellent digital portal
Cons
Fairly expensive
Must retake exam to recertify
NASM Nutrition Coach study materials and costs
Currently, the cost for the NASM CNC is $699.
Although this certification is a little bit pricier than the other ones, it provides an excellent well-rounded approach towards nutrition and behavior change that are both very helpful toward your client's success.
You can also bundle the NASM CNC and NASM CPT to get a better deal on both.
You have the freedom of installment payments; you can spread your payments from four to 12 months with no interest. The duration of this program is as little as 12 weeks, but you'll have up to one year from your start date to take the exam.
Exclusive PTP Nutrition Offers



Gold Standard Cert

Most Popular Cert

Best Study Materials

A Good Option

A Great Option

Best Cert for you?

NASM also has a nutrition certification plus a personal trainer certification combination. Although it is much more costly than the combo packages from ISSA, it is still something worth considering if you're set on NASM.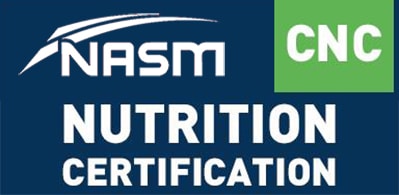 The NASM-CNC does everything online through their study portal. This is one downside if you are the type of person that loves to have a hard copy of the textbook.
The Ebook is interactive and contains 24 chapters.
Within each chapter, you will find infographics, downloadable templates, interactive videos, mini-quizzes (called knowledge checks), chapter quizzes ( with 15 questions per chapter) and a 100-question practice exam.
Trainer Academy has premium study materials for the NASM-CNC certification. They will cut your study time in half and provide an exam pass guarantee.
NASM CNC personal trainer content coverage
Some of the things that you will learn from the NASM-CNC include the following:
Cutting-edge nutrition information related to wellness, building muscle, and losing fat.
Psychology of mental plateaus with diet and nutrition and how to get past them.
Skills on how to combine behavioral change with nutritional science
Taking the NASM Nutrition certification exam
The 100-question multiple-choice exam is done online and you have three full attempts to take it before purchasing a retest fee. You need to earn a 70% score or higher to pass. From the date that you purchase the CNC, you will have one full year to take and pass the exam.
NASM Nutritionist continuing education, salary, and career prospects
The NASM Certified Nutrition Coach gives you 1.9 NASM continuing education credits towards recertifying your personal training credentials. To recertify your NASM CNC, you need to retake the exam every 2 years, which is a bit of a bummer.
According to ZipRecruiter, a NASM Nutrition Coach earns an average of $45,500 per year.
You can earn a lot more once you are an established nutrition coach, especially if you are also a personal trainer.
Differences between the NASM-FNS and the new NASM-CNC
There are two primary differences between the old nutrition certification and the new one. The old NASM-FNS was simply a credential that was mostly used to gain continuing education credit as well as useful information on diet and nutrition principles.
The first difference is that the new NASM-CNC is a full-fledged certification that you will need to get recertified ‌every two years by retaking the exam.
The second difference is that the NASM-CNC includes a ton of information on behavioral change and how to implement and combine this information with the nutritional advice you give to clients.
The NASM-FNS did not have this information. Changing your client's daily habits is just as important as giving them nutritional advice.
The fact that it is a completely online nutrition program makes it not only one of the best programs overall but also one of the best online nutrition certifications.
NASM CNC overall rating
Overall, the NASM CNC gets a 4.2 out of 5. The information is very in-depth. However, it does get a bit pricey, especially compared to some of the other deals out there.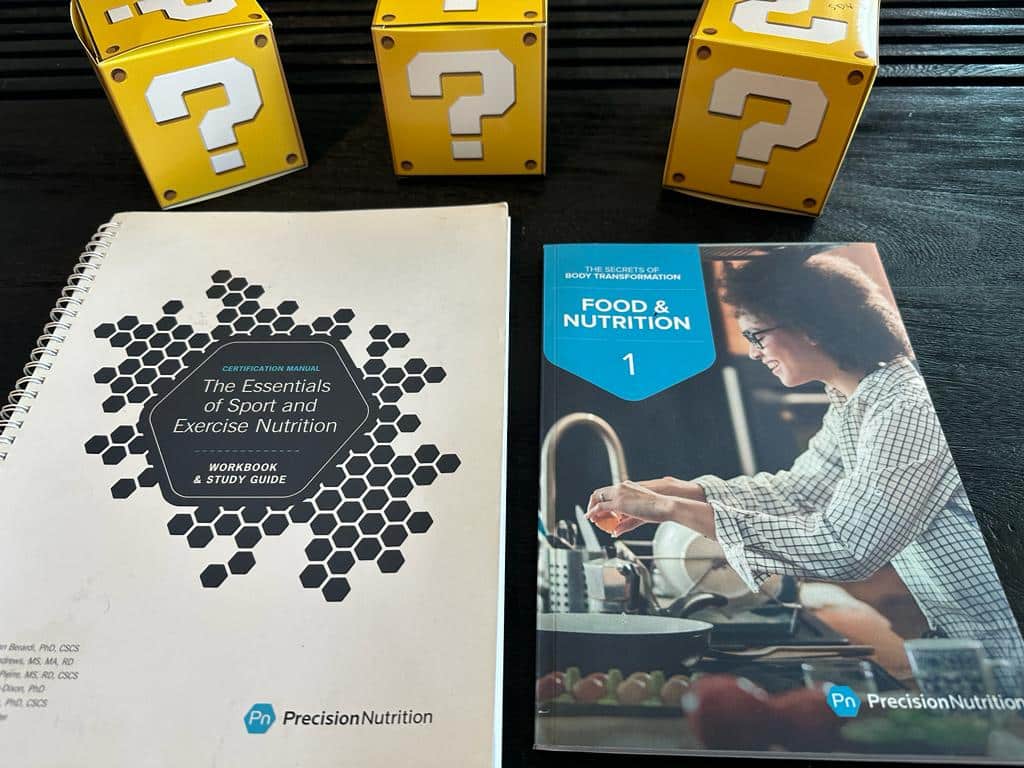 What is the Precision Nutrition Certification?
The Precision Nutrition Certification is perhaps the fitness industry's best-known nutrition certification. The certification has 2 different levels, and every student must complete level 1 before trying level 2.
Precision Nutrition is highly focused on the business side of building a nutrition coaching practice as well as the science of nutrition. Precision Nutrition offers some of the best nutritionist certifications.
If you are planning to be a self-employed nutrition coach, then you will likely find Precision Nutrition incredibly useful.
PN Level 1 General Information
Study program cost: $999
Exam passing score: 150/200 or 75%
Average completion time: 2 – 4 months
Precision Nutrition credibility and reputation

Dr. John Berardi and Phil Caravaggio founded the Precision Nutrition brand in 2005. In addition to its flagship PN Level 1 certification, the organization also offers a Sleep, Stress Management, and Recovery Certification, as well as a Change Psychology Course. Precision Nutrition is among the most well-known nutrition credentialing companies.
The organization is partnered with the ISSA to deliver the Precision Nutrition Certification. You can sign up for Precision Nutrition directly through the ISSA. I recommend this since it keeps you from having to deal with the annoying Precision Nutrition waitlist.
Overall, the Precision Nutrition brand stands apart from other nutrition certifications because they focus entirely on the skills and subskills that are most useful for nutrition.
With that said, if you want a specific career in nutrition coaching, the overall PN brand is worth checking out.
Precision Nutrition Certificate pros and cons
Pros
Excellent resources for nutrition coaching business
Ecosystem of nutrition certifications
Cons
Extremely pricy
Annoying waitlist when purchased through PN
Precision Nutrition certification cost and study materials
The cost of Precision Nutrition is based on two different purchasing times. The regular non-presale list is listed at $999. If you join the presale list, you can get a 20% discount and get it for only $799. Shipping for the materials costs $11, regardless of whether you're on the presale list or regular sale list.
Overall, the PN L-1 is definitely one of the more expensive certifications, and despite being at the cutting edge of nutritional coaching, the cost is a major deterrent and limits the value proposition‌.
You can avoid this entirely by purchasing Precision Nutrition through ISSA, which offers a great bundle deal with their personal trainer certification.
This will cost you $1,200 for both the Precision Nutrition and the ISSA Certified Personal Trainer certificate. This deal ends up costing barely more than the PN program on its own.
Purchasing the program through ISSA also allows you to enjoy access to the student support resources ISSA typically provides in addition to all the standard benefits of Precision Nutrition's support resources.
With the purchase of the Precision Nutrition Level 1 Certificate, you will receive:
The three-unit textbook
Twenty animated video lectures
A workbook and study guide
Additional assessment forms and questionnaires for your clients
Online access to the study forum
More than 40 premium coaching tools
Overall, the curriculum for the Precision Nutrition certification is quite good. In particular, I like how you get a physical textbook as opposed to an Ebook.
Precision Nutrition coaching content coverage
The PN Level 1 Nutrition Coaching course breaks down into the following units.
Unit 1 – The Precision Nutrition Approach

Introduction
Your learning plan
What is a great coach?
Helping people change
What is good nutrition?

Unit 2 – The Science of Nutrition

Intro to nutritional science
Systems and cells
Through the GI tract
Energy transformation and metabolism
Energy balance
Macronutrients
Micronutrients and whole foods
Water and fluid balance
Stress, recovery, and sleep

Unit 1 – Working through the PN Coaching Process

Coaching in practice
Working with Level 1 clients
Working with Level 2 clients
Working with Level 3 clients
Special scenarios
Business 101
Here are some of the overall details you will learn in the Precision Nutrition Coaching Level 1 course:
You will teach your clients to diet and eat better without feeling totally deprived.
You will be able to teach your clients how to avoid fad diets and ditch food rules that are misguided.
You'll be able to teach your clients how to integrate fitness into their lives without completely dominating their lives.
Teach clients how to set achievable goals and maintain a healthy lifestyle even when life tends to get out of control.
Overall, I really like what is presented in the Precision Nutrition certification. The information that they provide is definitely top-notch.
Taking the Precision Nutrition certification exam
At the end of completing all of the study materials provided, you will need to pass the 18 chapter exams, each of which contains 10 questions. So essentially, the final exam is 180 questions.
You need to score a minimum of 75% across all topics.
As such, the Precision Nutrition exam is essentially a 180 multiple-choice, true or false exam.
I found the exam fairly easy. Remember that you can take it from home and the exam is open book, so overall it's not too bad.
Precision Nutrition continuing education, salary, and career prospects
After earning your Precision Nutrition certification, you have the option to take the PN Level 2 coaching course. I generally recommend as much education as possible. You can use Precision Nutrition courses to recertify your CPT, however you do not need to do continuing education for Precision Nutrition itself.
ZipRecruiter pegs the average Precision Nutrition salary at $50,584 per year, with a large variation across locations and experience levels. Career-wise, Precision Nutrition supports a variety of career paths in the fitness industry. Students range from personal trainers, to nutritionists, and athletic performance coaches.
Precision Nutrition Level 1 overall rating
Overall I rank Precision Nutrition with a 4 out of 5 rating. The curriculum and resources are solid, but the expensive price tag and PN waitlist make it prohibitive unless you plan to double up on the ISSA CPT and Precision Nutrition certification package.
I believe PN would be the big winner here if they relaxed their enrollment policies. This is a legitimate online nutrition certificate, but it fails to provide good value for money unless purchased through ISSA.
Precision Nutrition video review
What is the Fitness Mentors Fitness Nutrition Specialist?
The Fitness Mentors Fitness Nutrition Specialist certification is an affordable nutrition coaching certification option meant for personal trainers and nutritionists working with general fitness clients.

Fitness Mentors FNS General Information
Exam cost: $499
Study material cost: $66.58/month for 12 months
Prerequisites: High School Diploma, CPR/AED
Exam passing score: Scaled 550/800 – 90/125 Scored Questions
Exam pass rate: 70% (2022 data)
Average completion time: 2-6 months
Fitness Mentors credibility and reputation
Fitness Mentors is a newer certification provider on the scene. Fitness Mentors takes strides to provide a comprehensive, accessible, and affordable option for trainers who want to bolster their repertoire with the necessary array of coaching skills.
In their mission to provide top-quality resources, Fitness Mentors has compiled and created their own in-house certifications aimed at equipping trainers, coaches, and instructors with a cutting-edge toolkit of results-driven, evidence-based knowledge to cater to the market.
Fitness Mentors pros and cons
Fitness Mentors Nutrition Coach study materials and costs
The Fitness Mentors study package includes the following:
Digital Textbook & Study Assets
Access to Instructor & Personal Fitness Mentor
Business Growing Study Group
Premade Templates from Experienced Nutrition Coaches
The standard cost for the Fitness Mentors Nutrition Specialist certification is $499.
This low price and great array of digital materials make this certification a great bang-for-your-buck option.
Fitness Mentors nutrition content coverage
The course curriculum of the FM Certified Nutrition Specialist consists of 10 chapters. These chapters are as follows:
Scope of Practice
The Digestive System
Metabolism
Carbohydrates
Lipids
Protein
Micronutrients and Water
Nutrition Assessment
Nutrition Coaching
Exercise and Sports Nutrition
Overall, this encompasses most of the skills I have used as a nutrition coach over the years, so I do think Fitness Mentors is up-to-snuff when it comes to providing the best possible information. It is also a little bit sparse on sports nutrition knowledge and behavior change coaching, which are vital topics.
Taking the Fitness Mentors Fitness Nutrition Coach certification exam
The FM FNS exam consists of 60 questions. You need to score 70% or higher on the exam to pass.
The exam can be taken at home with an open, and you'll have two attempts to pass.
I had no problem passing the online exam. However, this means that your actual application of the knowledge in the real world far outweighs the fact that you have the certification.
Fitness Mentors FNS continuing education, salary, and career prospects
Fitness Mentors FNS certification provides CEUs for various fitness certification providers. You do not need to recertify your actual FNS certification.
Because Fitness Mentors is less mainstream than other certifications, we don't have specific salary data for the FNS. However, nutrition coaches in general typically earn between $30,000 at the lowest end and upwards of $80,000 per year at the high end.
Exclusive PTP Nutrition Offers



Gold Standard Cert

Most Popular Cert

Best Study Materials

A Good Option

A Great Option

Best Cert for you?

As with many niches in the fitness industry, your career is really what you make of it. However, the Fitness Mentors FNS certification is a good launch point for becoming a nutrition coach.
Fitness Mentors Fitness Nutrition Specialist overall rating
Fitness Mentors receives a 3.9 out of 5. The reason for the lower score is the lack of recognition. However, at $499 for the course, the FM FNS is a pretty good deal given the resources you receive.
You can often get discounts on the Fitness Mentors FNS when you check pricing directly on the website.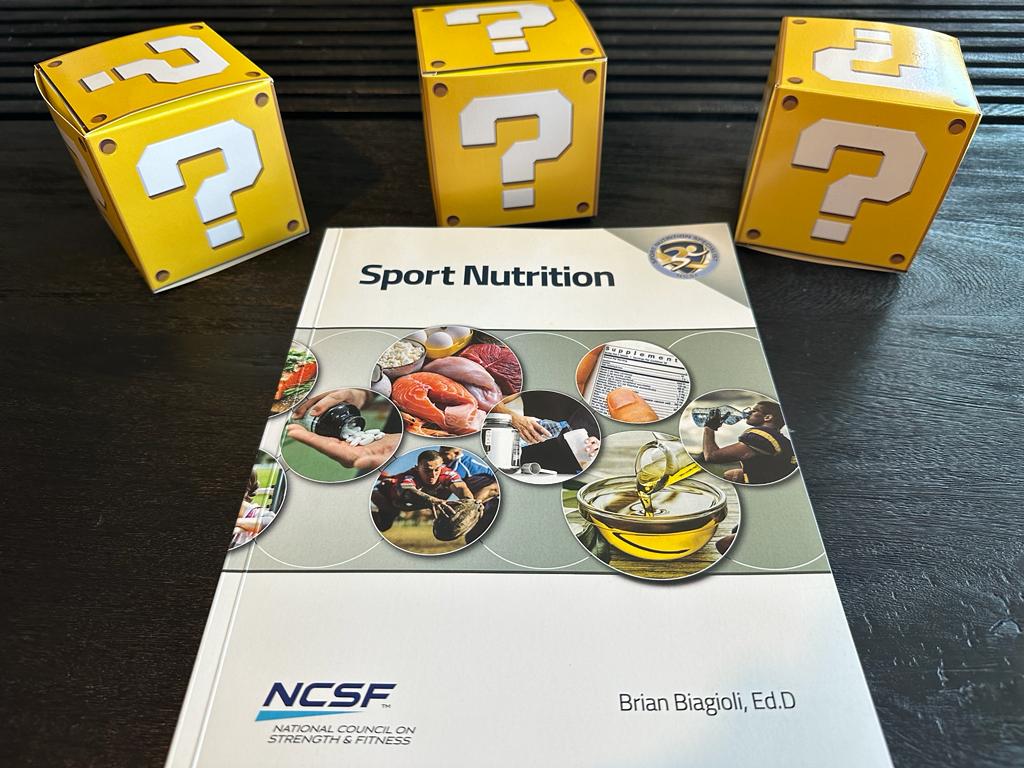 What is the NCSF Sports Nutrition Specialist?
The National Council on Strength and Fitness (NCSF) Sports Nutrition Specialist Certification is a sports nutrition program credential focused on improving health and performance through a sensible, science-backed approach.
The NCSF SNS certification is great for personal trainers and performance coaches who want to offer a complete fitness-nutrition package to their clients.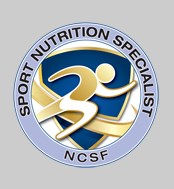 NCSF-SNS General Information
Study program cost: $699+

Prerequisites:

C

urrent and valid NCCA-accredited fitness certification, license/certification in an Allied Health Profession, teacher-specific state-issued license/certification, enrollment in the CPT/SNS or Master Trainer program



Exam passing score: 70%
Average completion time: 2-4 months
NCSF credibility and reputation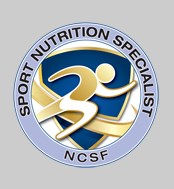 NCSF prides itself on being an advocate for public health awareness.
In fact, one of their biggest missions is towards pushing legislation for health and fitness practitioners to be recognized as part of the medical field.
The NCSF Sports Nutrition Specialist program carries this message through by delivering a comprehensive course relevant to high-performance and general populations alike.
NCSF Nutrition certification pros and cons
Pros
Excellent performance nutrition coverage
High-quality study portal for low cost
Cons
Less recognition than other nutrition certifications
Insufficient behavioral coaching skills
NCSF Sports Nutrition Specialist study materials and costs
The NCSF Sports Nutrition cert is available in four packages. The first two include the NCSF SNS certification only. The second two options include two certifications for the price of one. You can choose the NCSF Certified Personal Trainer certification or NCSF Certified Strength Coach.
Pricing for these packages is as follows:
Exam only
Home Study – Starts at $349.00
Home Study Plus – Starts at $399.00
Bundled SNS and CPT certifications – $649.00
Bundled SNS and CSC certifications – $649.00
All packages include access to the eLearning platform, over 200 practice questions, digital flashcards, and instructional videos.
The NCSF nutrition packages are a great deal price-wise, but even better is the fact that they periodically have discounts and promo deals which slash the prices even further.
Your best bet to catch a deal is to check the NCSF website directly and capitalize on further discounts.
Overall, I found the videos and practice programs in the Home Study extremely helpful for my studying. I personally found it easiest to learn each module one at a time and ensure I could ace that section's practice exam before moving to the next module.
I recommend the Home Study basic package. The only difference between NCSM home study and Home Study Plus is that the Plus includes the physical textbook.
The digital textbook was enough for me. Unless you really need the hardcover textbook, I would save yourself $50 and stick with the basic package.
NCSF Nutrition coach content coverage
The NCSF SNS focuses heavily on the interaction between nutrition and athletic performance. However, the skills also apply to general fitness clients who want to lose weight, increase muscle mass, or pursue other healthy outcomes via hiring a nutrition coach.
It is made up of four units which break down as follows:
Unit 1: Macronutrients
Unit 2: Micronutrients
Unit 3: Dietary Supplements and Ergogenic Aids
Unit 4: Nutritional Analysis and Weight Management
I appreciate the focus on athletic performance and nutrition for general fitness goals. However,‌ the NCSF could do better on the behavioral coaching side of it. After all, most clients are resistant to change even after they hire you to help them. With that said, you need good behavioral change skills if you plan to work with this type of client.
Taking the NCSF Sports Nutrition Specialist certification exam
The exam is a 150-question multiple-choice test that runs for 3 hours. You can take the exam online or in-person.
You'll need to score at least 70% to pass and get certified. If you fail, you must wait 30 days and pay $99 for a retake.
The NCSF is one of the more difficult nutrition certification exams. While you can technically do it open-book if you take it from home, you still have the three-hour time limit, so you cannot go into it blind if you are serious about passing.
The NCSF recommends 2-4 months of prep time before attempting the exam. I studied for 3 months before the NCSF SNS test and found that to be enough time.
NCSF Nutrition certification continuing education, salary, and career prospects
The NCSF program gives NCSF-certified personal trainers 8 CEUs towards NCSF CPT recertification. If you do not have your CPT through NCSF, you need to check with your certification provider to make sure they do accept NCSF.
There is no additional CEU requirement to maintain the Sports Nutrition Specialist certification itself.
Per the data from Salary.com, a Sports Nutritionist can expect an average income of around $57,070. Although this figure isn't exclusive to NCSF-certified professionals, it offers a reasonable estimate of the potential earnings as an NCSF Sports Nutritionist.
Bear in mind, factors such as your geographical location and terms of employment can influence this salary range.
NCSF SNS overall rating
Overall the NCSF SNS gets a 3.7 out of 5. The material it covers is great, but the lack of recognition and the insufficient behavioral coaching make this certification come in at #5 on our list.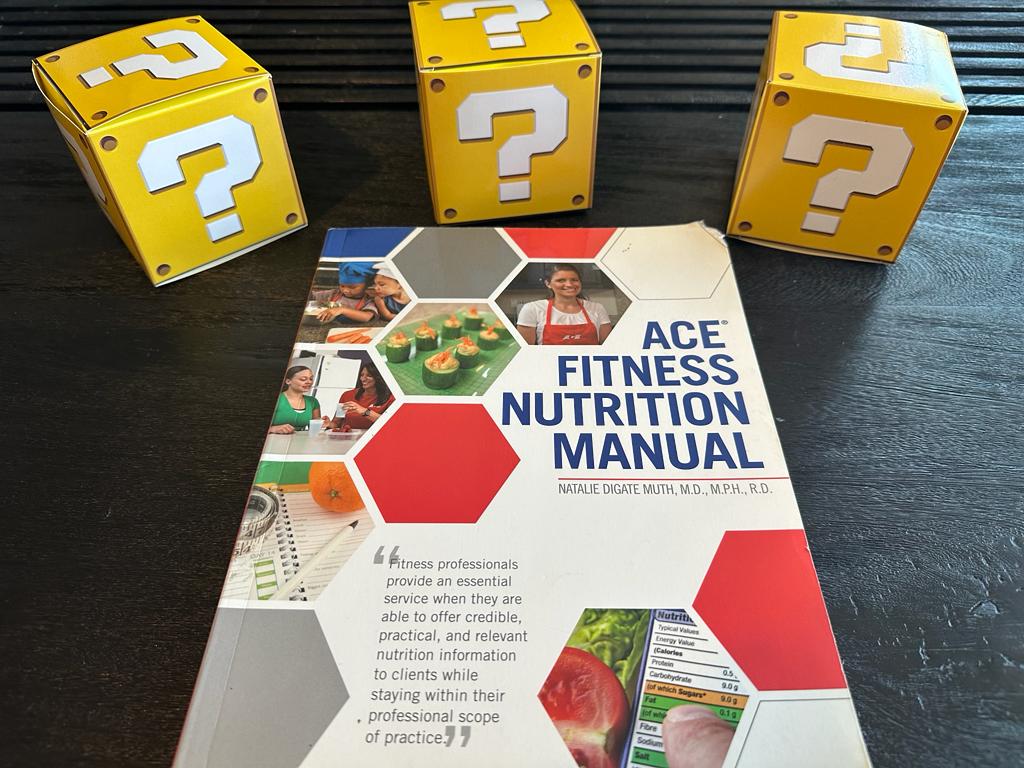 What is the ACE Fitness Nutrition Specialist?
The ACE Fitness Nutrition Specialist is a nutrition coaching certification aimed at changing behavior towards better nutrition in general fitness clients.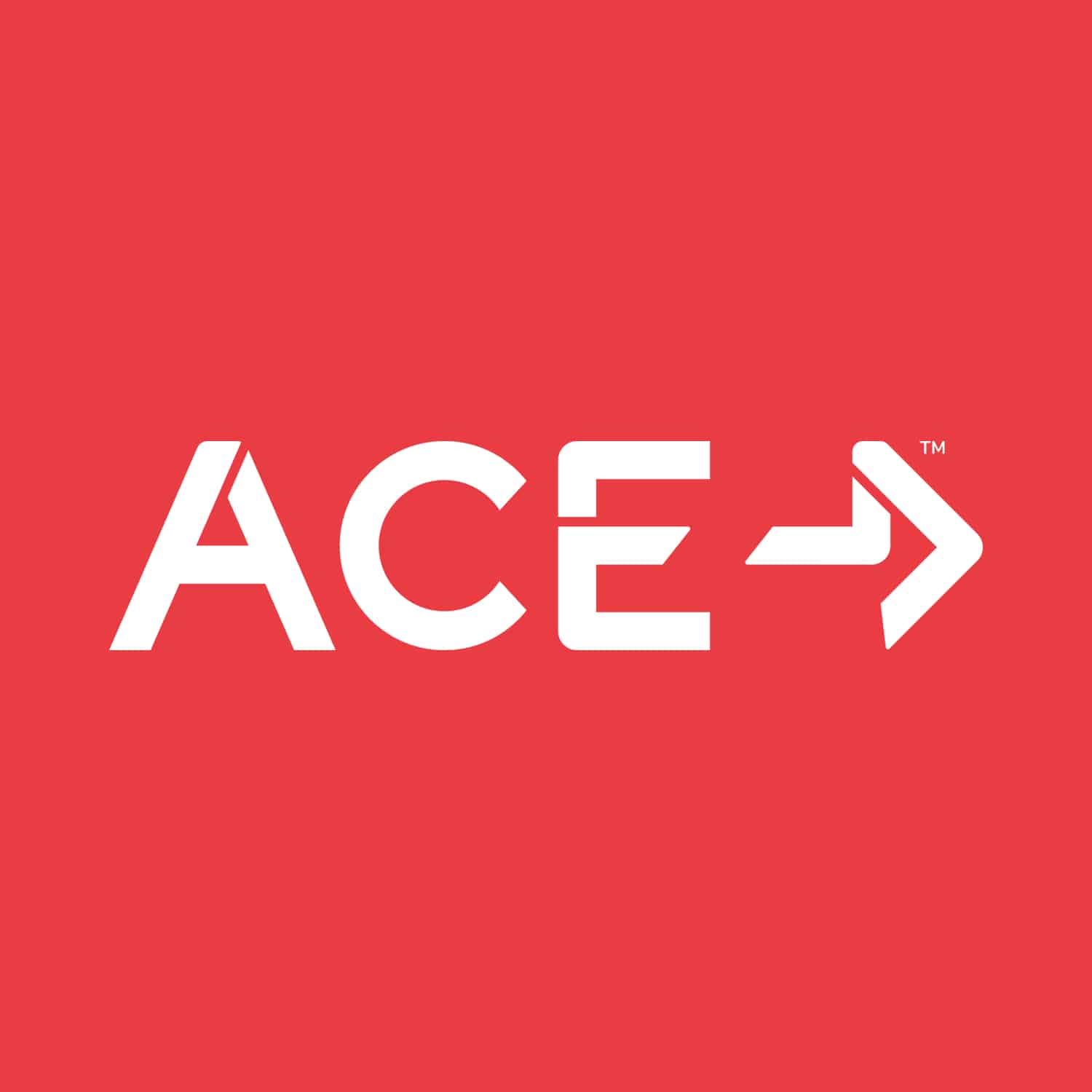 ACE Fitness Nutrition Specialist General Information
Exam cost: $419.40 (ebook), $479.40 (with textbook)
Study material cost: See above
Prerequisites: High School Diploma, CPT certification from NCCA-accredited organization (optional)
Exam passing score: Home study
Exam pass rate: No data
Average completion time: 1-2 months
ACE credibility and reputation


The American Council on Exercise is a non-profit fitness certification advisor. Its flagship offering is the ACE CPT certification, but it offers dozens of CEUs and related courses on a variety of fitness topics.
ACE offerings are solid in terms of science. However, ACE certifications have a reputation for being easy, which can sometimes diminish their credibility among employers. You can gain all the knowledge you need from ACE, but sometimes employers want to see you earn a harder CPT certification.
ACE Certified Fitness Nutrition Specialist pros and cons
Pros
Excellent behavioral change
Reasonably priced
Cons
Easy exam is less respected
Less emphasis on performance nutrition
ACE Nutritionist study materials and costs
There are two separate options for purchasing the ACE fitness nutrition specialist program:
Ebook-only option – $399
Hard copy plus Ebook textbook – $424
When I personally purchased the ACE nutrition certification, I got the hard copy. But I just love the feel and smell of real paper.
The curriculum and study materials that ACE provides are excellent for different styles of learning. I got great use out of the coaching‌, audio as well as reading materials.
ACE Fitness Nutrition Specialist Certificate content coverage
In the ACE Fitness Nutrition Certification, you will learn all of the essentials of nutritional science. You also get an amazing section on behavioral change, which is a major skill you need for success as a nutrition coach.
The ACE nutrition certification focuses half of its efforts on changing your client's behaviors as they do on the nutrition aspect.
This is an excellent approach to nutrition overall. You can teach your clients all day long about food, but if they don't put it into practice when they are alone, it's useless.
The ACE FNS also has a strong emphasis on business practices and how you can make more money with the addition of this nutrition service. This is very beneficial, especially for those of you who are strongly business-minded.
In addition to that, fitness integration into this nutrition program makes it an excellent choice for individuals that have little knowledge about personal training.
Taking the ACE Fitness Nutrition certification exam
The ACE Fitness Nutrition Specialist certification does not have a final exam. You just have to pass a quiz at the end of each chapter to complete the program. Compared to in-person final exams, the ACE FNS chapter quizzes are a walk in the park.
ACE Fitness Nutrition Specialist Certification continuing education, salary, and career prospects
The ACE Fitness Nutrition Specialist provides CEU/CEC credits for 7 organizations, including NASM, ACSM, AFAA, and of course ACE, among others.
You do not need to complete additional CEUs to maintain the FNS certification itself.
Salary-wise, ACE FNS nutrition coaches can expect to earn anywhere from $35,000 to $70,000 per year.
Career-wise, I recommend ACE if you want to work with clients who need a lot of behavioral coaching.
ACE Fitness Nutrition Specialist overall rating
Overall, the ACE FNS certification gets a 3.5 out of 5. While it does have a great behavioral coaching methodology, the lack of performance nutrition and diminished industry respect mean this certification comes in at #6 on my list.
7. National Exercise and Sports Trainers Association (NESTA) Fitness Nutrition Coach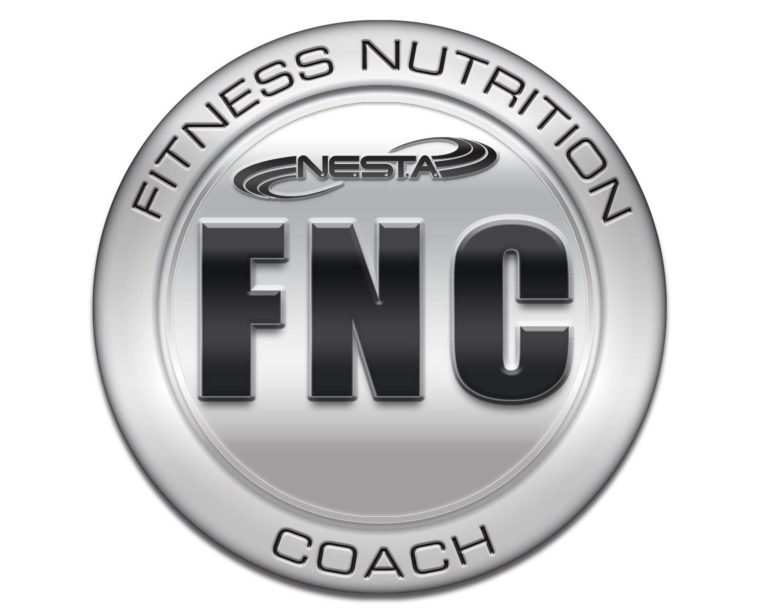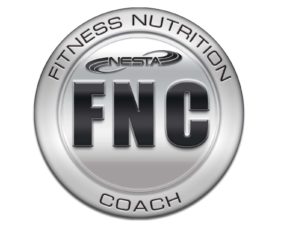 What is the NESTA Fitness Nutrition Coach certificate?
The National Exercise and Sports Trainers Association (NESTA) offers two nutrition programs. The first is their fitness nutrition coach certification, which is meant for the general public or general clients of personal training.
The second is their sports nutrition specialist certification, which aims more at athletes and those looking to improve athletic performance.
Overall, these are some of the more basic fitness/sports nutrition certification options out there. They will teach you some of the essentials for making your clients healthier and fitter.

NESTA General Information
Exam cost: $447
Study material cost: $477
Prerequisites: CPR/AED or Basic Life Support Card, High School Diploma
Exam passing score: 71%
Average completion time: 30 – 90 Days
NESTA credibility and reputation
NESTA is a much newer certification provider and does not have the same recognition as other companies. NESTA covers the basics of fitness nutrition for personal trainers. Additionally, all of the NESTA certifications place an extra focus on coaching clients in the digital era. This includes discussing online nutrition coaching methods as part of the curriculum.
NESTA Certified Fitness Nutrition Coach pros and cons
Pros
Emphasis on online nutrition coaching
Affordable packages
Cons
Less recognized by employers
NESTA Fitness Nutrition Coach study materials and costs
The NESTA FNS curriculum is entirely online and includes the following:
100% online training & online exam
Immediate access to training & exam
Flexible self-study
Receive a digital certificate upon passing the exam
Paper certificate with official seal mailed within North America 2-3 weeks upon verification
Lifetime certificate
Lifetime access to online training
The cost of the NESTA fitness nutrition coach certification is $447.
The cost for the NESTA sports nutrition specialist certification is $487.
NESTA's FNC certification pricing makes it among the more reasonably priced nutrition certifications.
There are no prerequisites for this nutrition certification, and you will be given 12 months to take the test after you sign up.
Overall, the study materials did not blow my mind. They do, however, have everything available to you online and are very easy to access and study.
NESTA Nutritionist content coverage
NESTA has a decent section on doing nutritional assessments for clients and lending practical advice for performance enhancement for athletes.
Both of these NESTA certifications also have a strong emphasis on building your personal training business and increasing your earning potential by offering nutrition advice in addition to your regular training.
The outline of the NESTA-certified fitness nutrition coach is as follows:
Nutrition Concepts: Foundational nutritional concepts including a review of the anatomy of the digestive system (oral cavity, esophagus, stomach, small intestine, large intestine, etc.), and the physiology leading to nutrient metabolism.
Understanding Components of Nutrition: The various roles of macronutrients (carbohydrates, proteins, fats, and water) and their importance to human performance.
Nutrition Requirements: Vitamins from foods consumed and mineral intake requirements
Assessing Nutritional Needs: Body Composition, BMI and approaching change in biometrics
Understanding Alternative Approaches: Supplement usage and ergogenic aids
Performance Nutrition: Easy-to-learn math formulas for Fitness Nutrition Coaches and practical suggestions for optimizing performance
Taking the NESTA Fitness Nutrition Coach exam
The NESTA nutrition tests consist of 100 multiple-choice questions.
All 100 questions to be answered within 2 hours.
You are required to score a minimum of 70% or higher and have three attempts to pass.
NESTA Fitness Nutrition Coach continuing education, salary, and career prospects
You do not need to recertify your actual NESTA FNC certification. However, the certification does provide 2.0 credits towards recertifying your NESTA CPT, as well as some other programs.
According to ZipRecruiter, Fitness Nutrition Specialists can expect to earn an average of $44,730 per year. This is highly variable depending on location.
The NESTA FNC certification is a good affordable nutrition certification option for nutrition coaching careers. However, given the choice, I would probably go for NASM or ISSA.
NESTA Fitness Nutrition Coach overall rating
Overall, NESTA gets a 3.2 out of 5. I do like the fact that there are tons of online resources. However, the lack of name recognition and the splitting of performance and general fitness nutrition into two separate certifications makes the NESTA nutrition coaching certification comes in at #7 on our list.
8. American Fitness Professionals Association (AFPA) Nutrition and Wellness Certification

What is the AFPA Nutrition and Wellness Certification?
The AFPA Nutrition and Wellness consultant certification teaches you ‌how to apply nutrition information for weight management, fitness performance, and overall health enhancement of your clients.
AFPA also offers nutrition consultants certifications like Holistic Nutritionist Certification and Senior Nutritionist Specialist. These nutrition programs gives you more in-depth knowledge about nutrition and healthy living. If you want to be a holistic nutrition coach, then any of the certified nutritional coach options from the AFPA.
You will learn how to be motivational and be able to change the lifestyle habits of your clients.
This involves ‌communicating effectively with your client's nutritional concepts and teaching them the importance of habit-building.

AFPA General Information
Exam cost: $599
Study material cost: $599
Prerequisites: High School Diploma
Exam passing score: 71%
Average completion time: 30 – 90 Days
AFPA credibility and reputation
The (American Fitness Professionals and Associates) AFPA) was established in 1994 by Dr. Mark J. Occhipinti and Amy Campbell, M.S. Their goal for the organization was to establish a community of health and fitness professionals with exceptional skills to promote better living for millions via innovative nutritional and exercise concepts.
Overall, the AFPA has less credibility than mainstream certifications. This is not due to a lack of quality, and you will learn some great skills in the course. However, if you are hoping to get hired by an employer, be sure to check which nutrition certifications they accept.
AFPA Nutrition & Wellness Consultant Certification pros and cons
Pros
Emphasis on online nutrition coaching
Affordable packages
Cons
Less recognized by employers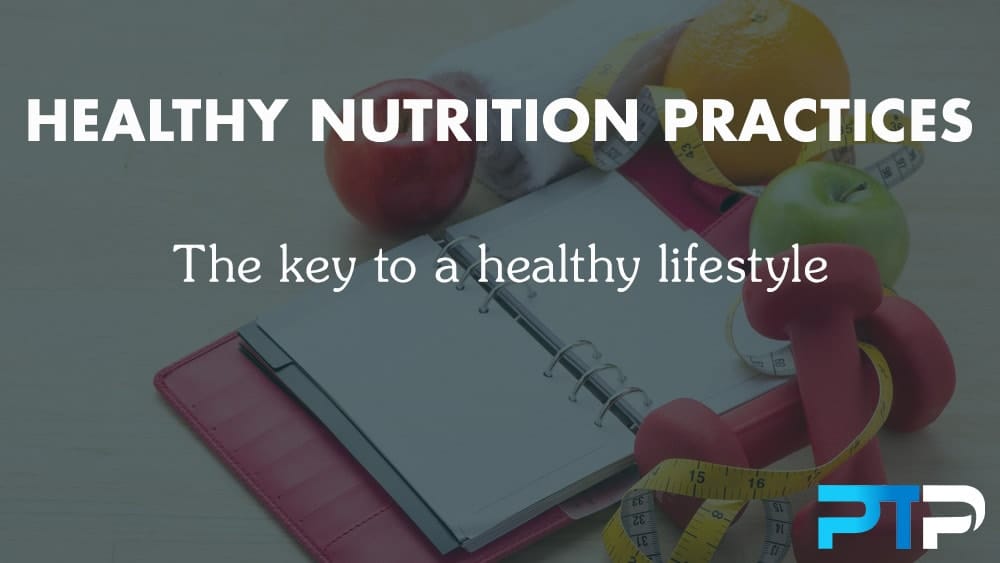 AFPA Nutrition and Wellness Consultant study materials and costs
The current cost for the AFPA nutrition and wellness consultant certification is $599.
This is a more expensive price for an online nutrition certificate.
There are two separate ways you can receive study materials for this program. The first is 100% digital access. This gives you access to interactive e-books, full textbooks, student practice activities, assessments, and nutrition assignments.
The textbook-only version allows you to have a physical copy of the book and physical assignments, but without the online learning platform.
Both digital access and textbooks are available as well.
AFPA Nutrition Certification content coverage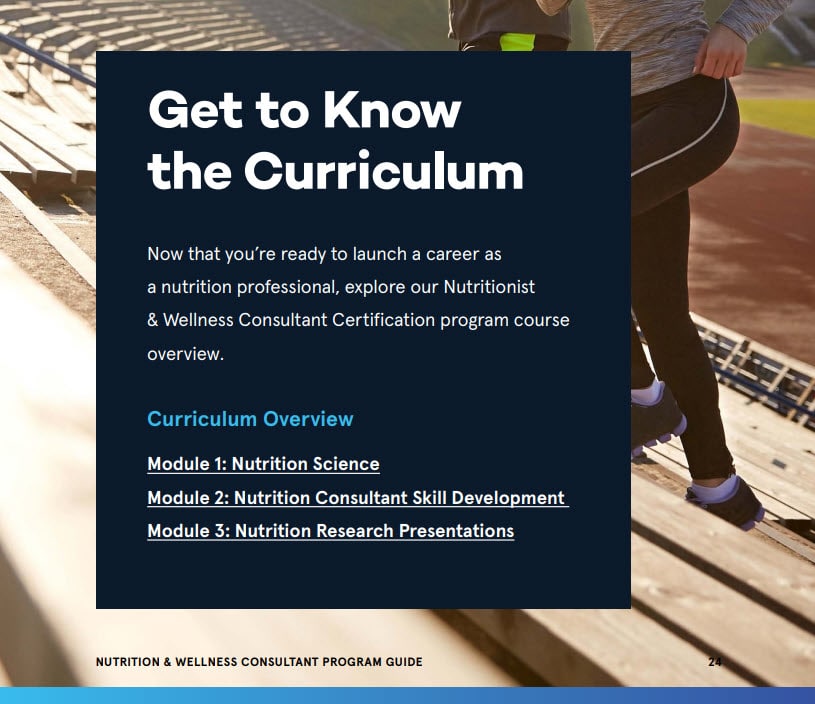 Primarily, the AFPA sports nutrition certification equips you with the comprehensive nutritional understanding required to cater to each distinct client and their individual goals. This includes those who have perfected their training routine but want to optimize their nutrition, athletes seeking guidance on supplementation, or simply those intending to lose weight through dietary modifications.
However, the learning doesn't stop there. You'll also gain insights on how meal timing can impact performance, the influence of nutrition on the immune system, and the management of eating disorders along with their implications on performance and nutrition.
With this certification as a sports nutritionist, you're empowered to provide your clients with the tools they need to maintain their fitness and health.
Taking the AFPA Sports Nutrition Coach exam
The AFPA Sports Nutrition exam is straightforward compared to other exams. It took me 3 months of studying to pass on the first try.
AFPA Sports Nutrition continuing education, salary, and career prospects
There is no continuing education requirement for the AFPA Sports Nutrition Certification. The medium salary for a Sports Nutritionist in the United States is $57,070. This certification is a great launch point for any nutrition coaching career.
AFPA Sports Nutrition overall rating
I rate the AFPA Sports Nutrition last on my list of the best nutrition certifications. This doesn't mean it isn't a great option, but the competition is stiff and there are simply more respected and comprehensive options on the market.
How to get a nutritionist certification
To get a nutritionist certification, you first need to select which nutrition certification you will get. From there, complete your coursework, pass your exam, and you'll officially have your nutritionist certification.
Accredited Nutrition Courses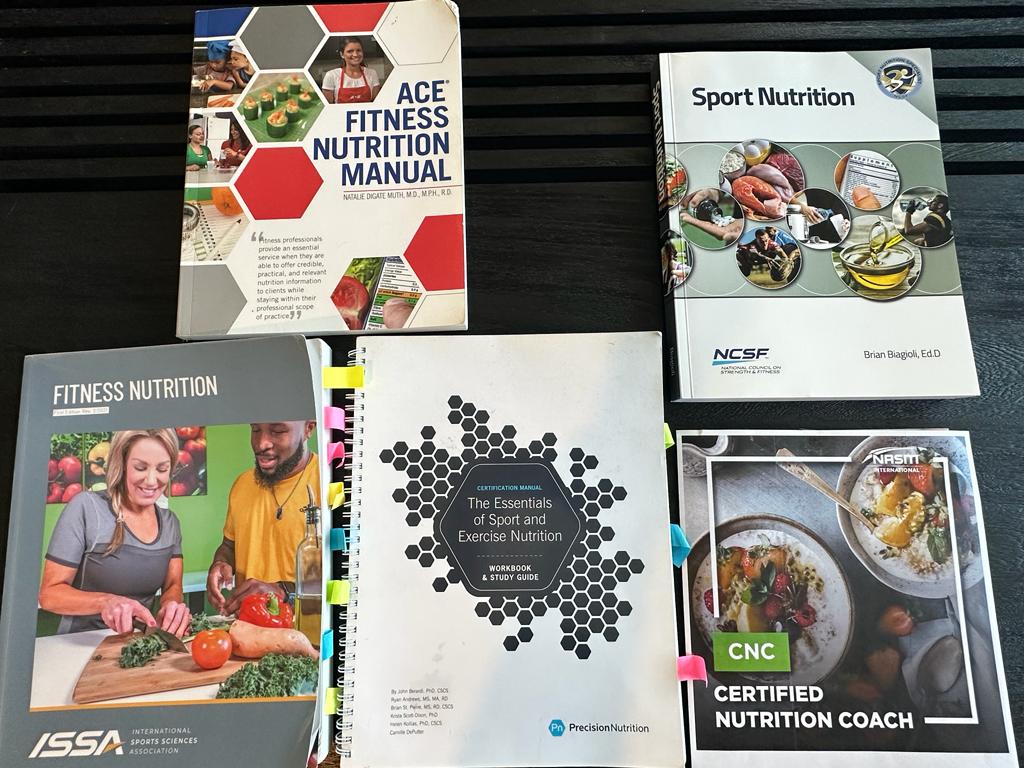 Best Nutritionist Certificate for Holistic Nutrition
Best Nutrition Certificate Program for Registered Dieticians
Best for Graduate Nutritionist Degree
Best Nutrition Certificate Online for Undergraduate Nutritionist Degree
Conclusion on Online Nutrition Certifications
Well, there you have it ladies and gentlemen, my article on the top nutrition programs. I hope you walked away knowing the difference between a dietitian and a certified nutritionist. For now, I suggest that you check out my top three nutrition certifications below.
If you have not done so yet, take the quiz to get a better overall idea of which nutrition certification is the best match for you.
Make sure to utilize my free NASM-CNC study guide or ISSA Nutrition study guide if you choose either of those.
Overall my top four accredited nutrition certification programs are:
These are the four best online nutrition programs.
Make sure to check out Trainer Academy for excellent nutrition certification study materials and exam pass guarantees.
You will come away from either one of these three online nutrition courses with a great new set of knowledge! 🤓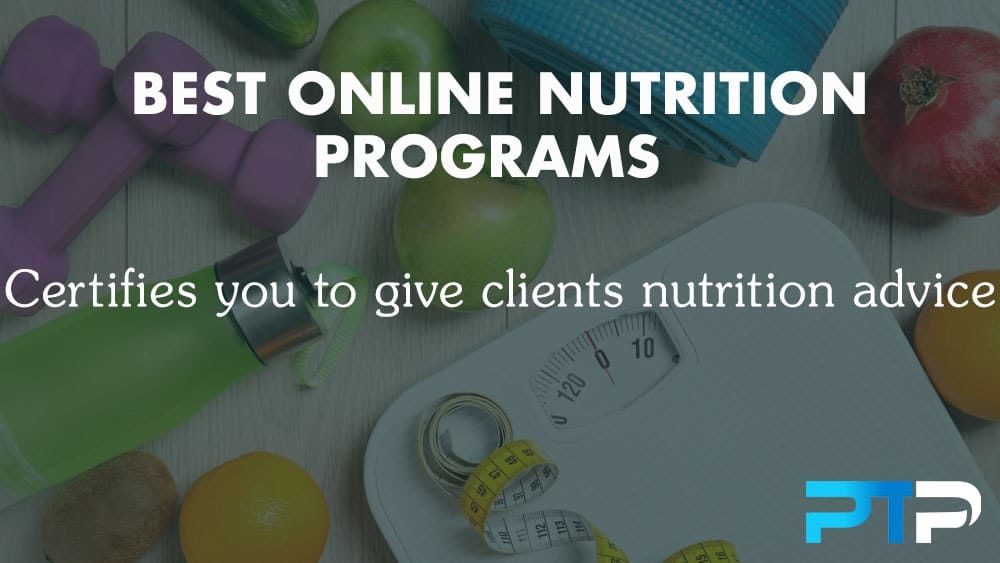 Remember, it's not illegal to give clients nutrition advice! In fact, it is wholly encouraged! As long as you are not "prescribing" a nutrition or diet plan toward somebody attempting to fix a disease or specific health condition that they have.
As trainers and coaches, we are responsible for helping our clients maintain a healthy lifestyle and weight. If we keep our mouths shut, we are accomplices to this epidemic.
Getting the right health care for chronic disease outside the comfort of your home is very helpful in the long run.
This is why it is essential to have knowledge of a certified nutrition specialist.
Let me know what you guys thought of my top nutrition certifications.
Nutrition Certification Frequently Asked Questions (FAQs)
Who's allowed to give nutrition advice?
Anyone can legally give generalized nutrition advice. However, only a Registered Dietician (RD) can prescribe specific diets for specific health issues or foods.
How do I become a certified nutritionist?
To become a certified nutrition coach, you need to take an accredited nutrition coaching course from a reputable agency and pass the exam, as well as maintain any required continuing education credits.
Is a nutritionist also a dietitian?
A certified nutritionist is not the same as a registered dietician, although you may see the credential "registered dietitian nutritionist." To become an RD or RDN, you must complete a postgraduate degree and clinical hours.
What is nutrition and wellness?
Nutrition and wellness is the act of using nutritious food and vitamins to maintain healthy body weight, decrease the chances of chronic diseases, and promote overall health.
Can I become a nutritionist without a degree?
Technically, it depends on the country and state in which you live, and what you mean by "nutritionist." In general, certified nutritionists or certified clinical nutritionists need a bachelor's degree in a nutrition-related field or postgraduate education if the bachelor's degree is in an unrelated field. Certified nutrition coaches, however, do not. You can become a nutrition coach by completing a nutrition coach certification program.
Can I be a personal trainer and nutritionist?
Yes, you can be a personal trainer and study further to be a nutritionist. In fact, this is a plus to you.
What does a certified nutrition coach do?
A certified nutrition coach works with clients that have a sedentary life, those who are overweight, or people with general have health issues to change their lifestyle through healthy eating habit.
Can I do a free online nutrition courses?
Yes, you can do an online free nutrition course, but you might not be able to use this certification to work with clients that are conscious of certification recognition.
It is always better to be a certified nutritionist with an accredited health and fitness organization.
What is the salary of a nutrition coach?
Drawing from the United States Bureau of statistics, a nutrition coach earns an average of $60, 370 annually depending on the state where you work.
What are the prerequisites for becoming a nutrition coach?
There are different requirements from different nutrition program but the most basic is that:
You are 18 years or older
Have a professional certification in wellness, health education, and other related fields from an accredited health and fitness organization.
How long does it take to become a nutrition coach?
To become a nutrition coach, it will take a minimum of three months and a maximum of 12 months counting from the date of registration to writing the exams.
What is a holistic nutritionist certification?
A holistic nutritionist certification course will teach you to integrate nutrition into a client's life as one aspect of an overall healthy life. Holistic certifications generally take into account many other factors that affect nutrition and health, including mental health, fitness, stress, sleep, and more.
Which is the best online nutritionist certification?
In my opinion, there are three nutrition coach programs that offer an excellent curriculum in the industry. These are the ACE Fitness Nutrition Specialist, NASM-CNC, and ISSA Nutrition Certification.
References
Become an ISSA Nutritionist | ISSA. https://www.issaonline.com/certification/nutritionist.
Certified Health Coach | ISSA. https://www.issaonline.com/certification/certified-health-coach.
Become an Elite Trainer | Certification Program | ISSA. https://www.issaonline.com/certification/elite-trainer-certification.
"Become a Certified Nutrition Coach – NASM Nutrition Certification." NASM, https://www.nasm.org/continuing-education/certified-nutrition-coach.
"Get Your Sports Nutrition Certification – NASM-CSNC." NASM, https://www.nasm.org/continuing-education/sports-nutrition-certification.
Ziprecruiter. Nasm nutrition coach salary. Ziprecruiter. 2023. Available from: https://www.ziprecruiter.com/Salaries/NASM-Nutrition-Coach-Salary
Nutrition Certification. https://www.issaonline.com/certification/nutrition-certification.
Nutrition & Fitness Coach Certification. https://www.issaonline.com/certification/precision-nutrition-bundle.
"Precision Nutrition Salary." Ziprecruiter, 13 Apr. 2023, https://www.ziprecruiter.com/Salaries/Precision-Nutrition-Salary.
Certified Online Virtual Nutrition Coach Certification Course – 100% Online. 11 Apr. 2023, https://www.fitnessmentors.com/virtual-nutrition-coach-certification/.
Sport Nutrition. https://www.ncsf.org/sport-nutrition.
Fitness Nutrition Specialist. https://www.acefitness.org/continuing-education/specialist-programs/fitness-nutrition/.
"Nutrition Certification | Fitness Nutritionist Course | Consultant Education." Personal Trainer Certification, Nutrition Courses, Fitness Education, https://www.nestacertified.com/nutritionist/.
"Sports Nutrition Certification." AFPA Fitness, https://store.afpafitness.com/sports-nutrition-certification/.