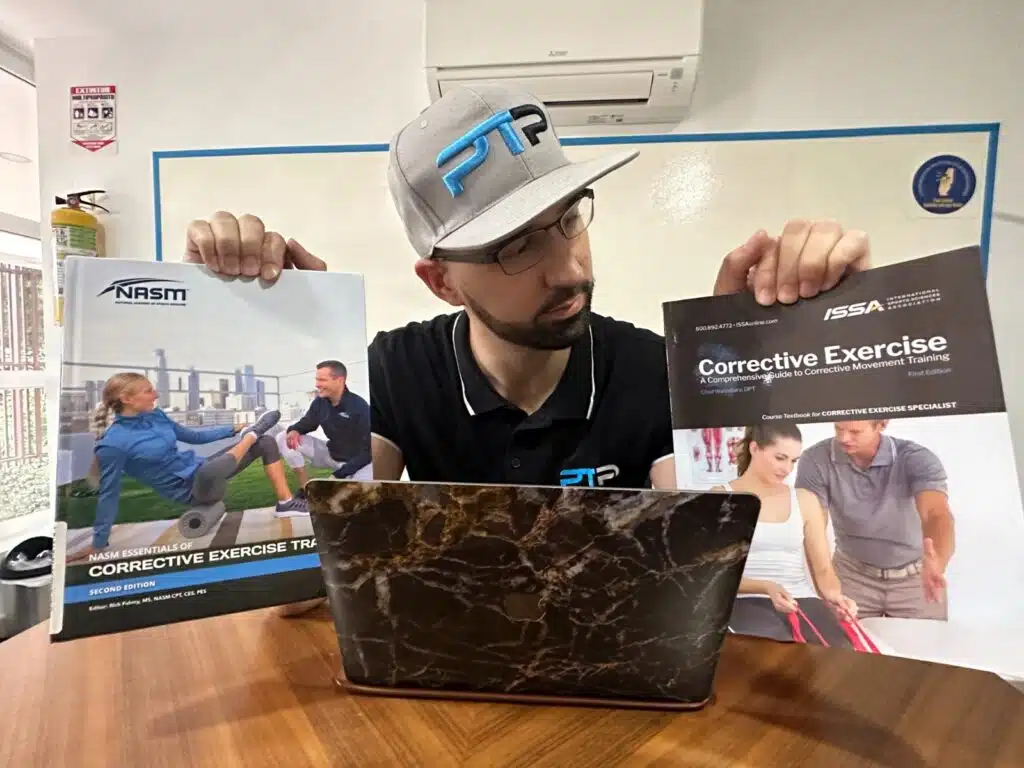 This certification roundup article reviews my experience taking the best Corrective Exercise Certifications (CES).
I will detail the pros and cons of these three top corrective exercise programs and give you my takeaway since I have personally taken each certification program.
In this best CES certifications article, I will cover these topics:
Topical Information for the NASM, TBMM, and ISSA CES certs.
My experience with these three top corrective exercise training programs
The quality of these three CES certifications and study materials
An overall comparison of the three certifications and my thoughts on who these are best for.
Let's dive in and see the best corrective exercise course options.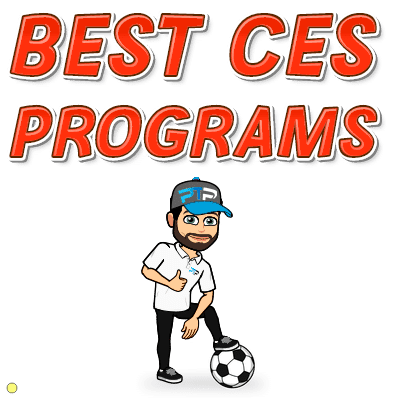 Our Top Picks
CES Cert
CES Cert
Features
Price

Great exercise science
Good online resources
Includes free exercise website

Check ISSA Pricing

Well known exercise certification
Detailed corrective coverage
E-book only

Check NASM Pricing

The Biomechanics Method Corrective Exercise Specialist Certification

Complete biomechanics course
Exercise library
Not a whole lot of study materials

Check TBMM Pricing
ISSA (International Sports Sciences Association) Corrective Exercise Specialist

What is the ISSA CES?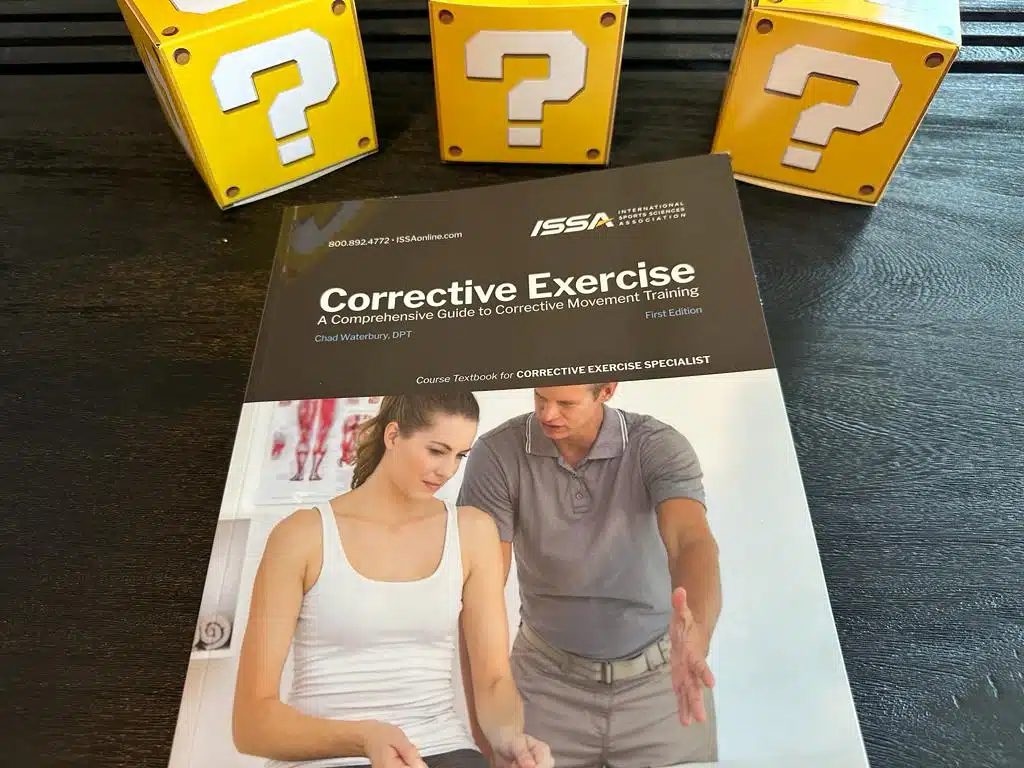 The ISSA is a popular fitness organization and offers one of the widest varieties of certifications and specializations. It is easily one of the top choices among fitness professionals, alongside the likes of NASM and ACE, to name a few.
The ISSA CES is the ISSA's Corrective Exercise Specialist Certification, which aims to teach trainers to help clients with injuries and musculoskeletal issues.
ISSA has been around since 1988 and has its fair share of time in the fitness landscape.
In my experience, ISSA-certified trainers are sought after in my gyms and facilities.


ISSA Credibility and Reputation
ISSA has NCCA accreditation on several certifications, and because of this, they are known to offer quality content in their courses.
NCCA is the gold standard for certification accreditation, and thus, any company with NCCA accreditation in certification is known to offer quality content.
ISSA is also affiliated with many organizations which help to provide high-quality, up-to-date research.
There are ISSA-certified individuals across the globe, and the ISSA brand will give employers an immediate idea of how qualified a professional may be.
In my opinion, the credibility and reputation of ISSA get a 9.5/10.
ISSA CES Pros and Cons
Pros:
Teaches exercise science foundations more so than other CES certs
Free personal exercise website included
High-value certification with large deals often offered
Cons:
Slightly dated online study portal
ISSA lacks a training model similar to ACE IFT and NASM OPT
ISSA CES Study Materials and Costs
The ISSA CES offers one package to choose from, but there are also bigger certification packages that include this CES certification for trainers looking to have multiple certifications.
The CES study course from ISSA costs a base price of $799, which is right around the cost of the other two programs in this article.
Included in each purchase of the ISSA CES will be these materials:
Online Course Textbook
Online Study Guide and Workbook
Online and Home Study Exam
Online Exercise Lab
Online Student Forum
Practice Exams and Section Quizzes
Free Professional Website
Unlimited Educational Support
Bonus Support After Your Exam
The program's main focus will be the online course textbook.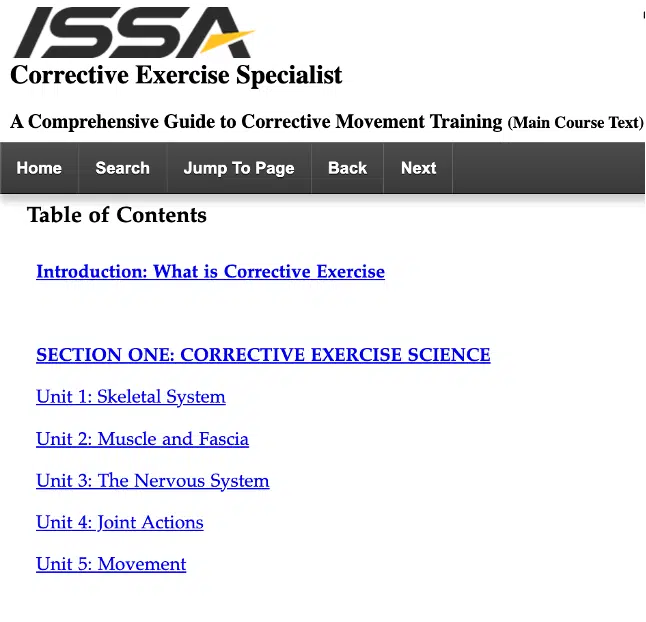 The ISSA CES textbook is divided into two primary sections: corrective exercise science and practice.
Compared to the other certifications in this article, none of the study programs come as close to the detail of exercise science as ISSA.
Other CES programs more or less assume that their learners have a solid background in exercise science while still offering some of the content. Still, ISSA introduces exercise science and corrective exercise technique together. The chapters found in the ISSA CES textbook are:
Unit 1: Skeletal System
Unit 2: Muscle and Fascia
Unit 3: The Nervous System
Unit 4: Joint Actions
Unit 5: Movement
Unit 6: Preparing for the client
Unit 7: Create a Just Right Challenge
Unit 8: Perform a Single-Joint Movement Analysis
Unit 9: Perform an Upper Body Multi-Joint Analysis
Unit 10: Perform a Lower Body Multi-Joint Movement Analysis
Unit 11: Restore Structural Alignment and Stability
Unit 12: Restore Mobility through Stability
Unit 13: Soft Tissue Assessments and Correctives
Each chapter, or unit of the text material, breaks down the primary goals that each learner will go through on the first page.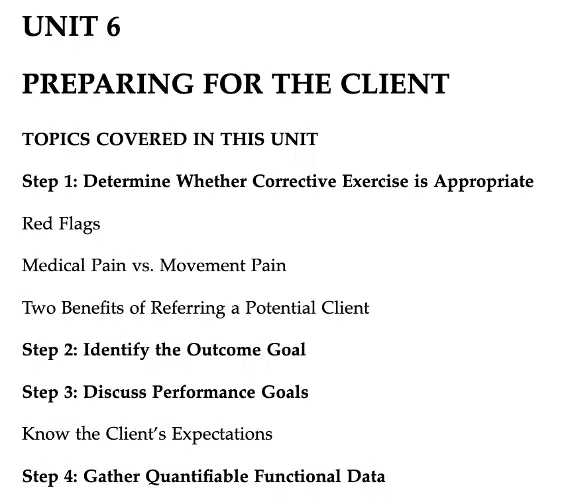 Overall, I find the online textbook layout functional and easy to navigate, but compared to NASM, it seems a bit outdated. It would be nice to see an improvement in future iterations of study materials.
That said, the dated feel of the online materials does not detract from the program's overall value.
On top of the impressive online course textbook, there is a guided study, quizzes, and downloads for learners to utilize.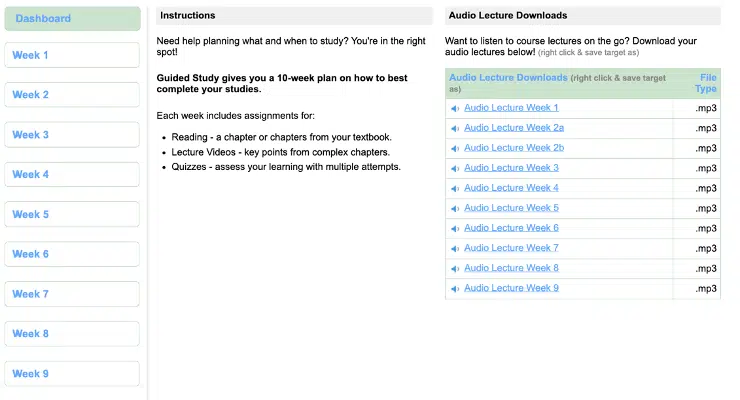 The guided study layout splits the materials into nine weeks, which is what ISSA recommends for the average learner.
All the weeks use chapters in the textbook to read, audio lectures, some small exam prep skills, and quizzes for the learner to cover all the materials.
In addition, I found the guided study to be quite beneficial, as it gives you an easy-to-follow schedule, which some people will like more than others.
The audio lectures are nice, but it would be nice to have more of a direct audio version of the textbook instead of just having someone talk about the chapters and materials.
The downloadable forms are one place where ISSA stands out significantly above the competition. You have unlimited access to a number of downloadable forms on your account, and they will all help kickstart your client analysis needs after you have been certified.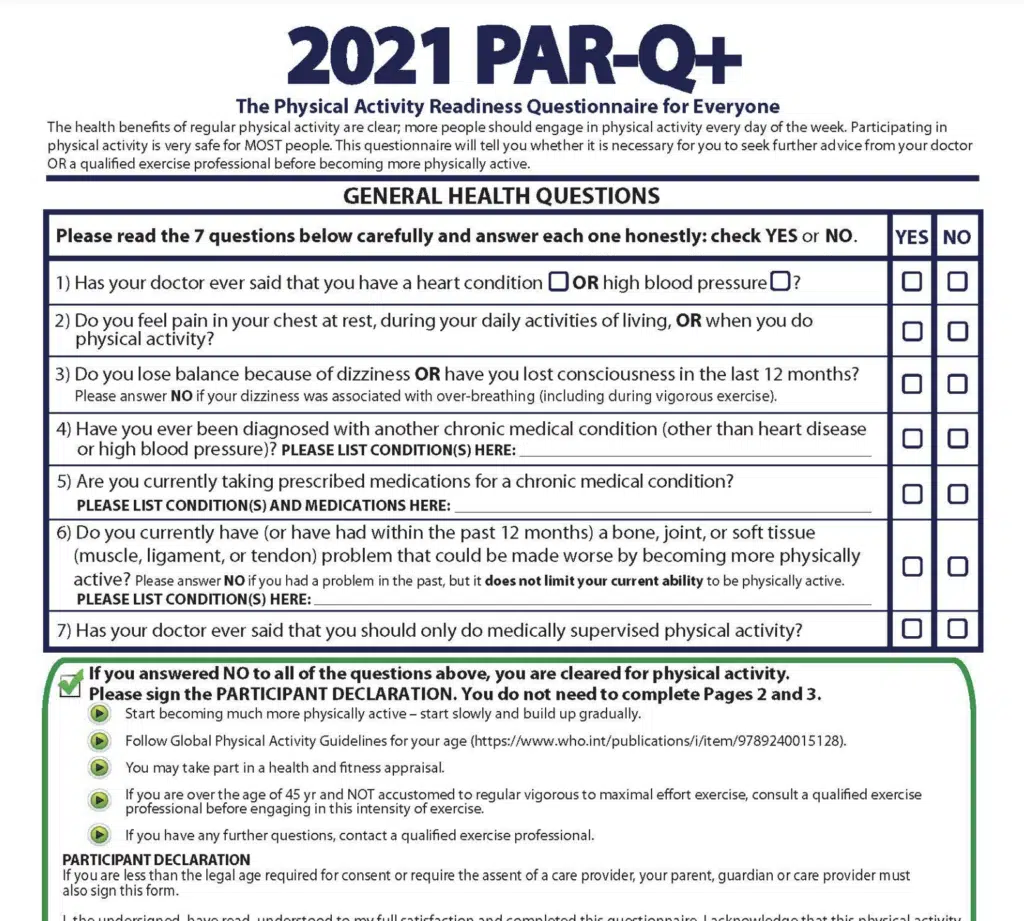 On top of just having downloads, everything is presented in PDF form and can be easily printed and written in as the learner sees fit.
The ISSA CES program offers unprecedented value and focuses on exercise science foundations that other CES programs do not, creating a balance between teaching tips on corrective exercise, but also basic body biomechanics functions and structures.
It is extremely beneficial for trainers to pursue this cert, especially since it will also help with recertification.
I would give the ISSA CES a 9 out of 10 from me, mostly due to a slightly dated feel to the online course, but a top-certification quantity of knowledge. Upon completion, you should be well prepared to specialize in corrective exercise.
And when it comes to the cost and value of this great CES program, I would give it a 10 out of 10, the best value within this article.
ISSA CES Exam
The final exam for the ISSA CES is an open-book test, allowing test-takers to do some work, exit, and then finish the exam later. This reduces the overall stress of taking it and you can test your abilities in the comfort of your own home.
Some people work better in different environments, so this is a nice option.
The exam results are returned within 24 hours, and it is not the most challenging fitness exam you will encounter, but you still will want to take your time and ensure you pass.
It is a good idea to be very familiar with your study materials and the locations of vital information within the online textbook to avoid test retakes.
The quizzes must all be completed before being eligible for the final examination. This makes sense as the purpose of the quizzes is to serve as a learning module for the exam.
I passed the ISSA CES exam on my first try and without using study materials, but I also studied the textbook religiously and kept notecards and more.
The exam process receives an 8 out of 10 from me.
ISSA CES Overall Rating
Credibility and Reputation
9.5
NASM (National Academy of Sports Medicine) Corrective Exercise Specialist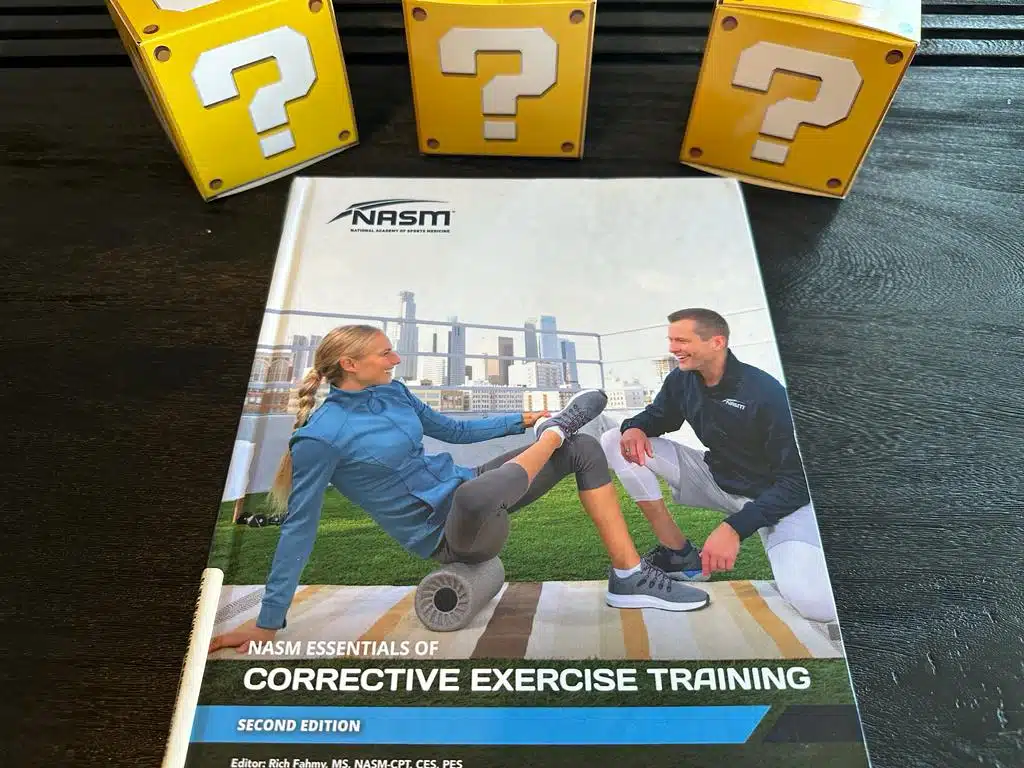 What is the NASM CES?
The NASM is one of the top choices for exercise science certification and brings excellent knowledge to its students.
This is no different from the NASM Corrective Exercise Specialist Specialization.
NASM has been around for over 35 years and offers one of the widest fitness certifications, only matched by ISSA (also has a top CES certification in this article).
NASM has attained NCCA accreditation on their top certifications, which adds to the organization's reputation as a whole. This brings us to the next point the credibility and reputation of NASM.
NASM Credibility and Reputation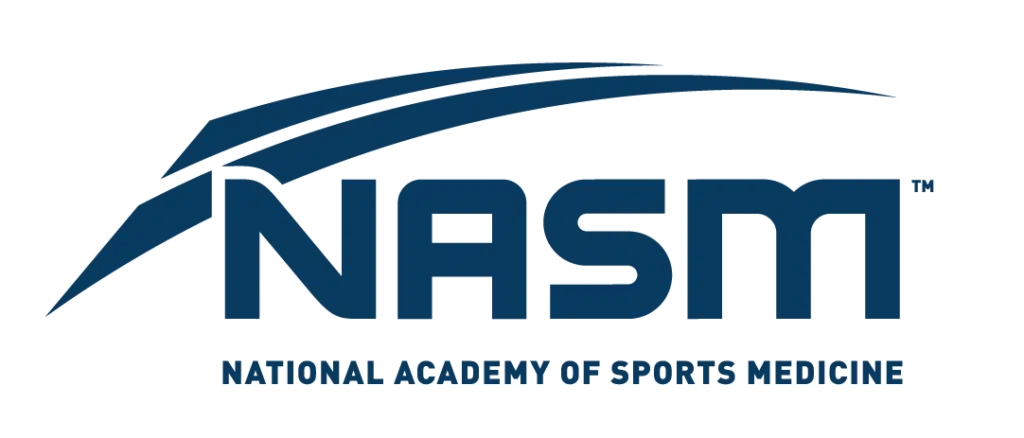 NASM is at the top of fitness due to its overall respect from employers and the numerous options brought to NASM-certified professionals to specialize in many great realms of fitness.
There are over 1.4 million professionals educated through NASM; thus, a huge network of connections and many partnerships allow NASM trainers to thrive in their businesses in terms of networking. NASM also now owns AFAA, and uses their Group Exercise Certification.
NASM's credibility and reputation status and CES certification earn a 10 out of 10 from me.
NASM CES Pros and Cons
Pros:
NASM OPT Model is at the top of the industry
Study Materials are constantly updated
Most well-known CES certification
Cons:
Expensive for a specialization
Lacking behavior change information
NASM CES Study Materials and Costs
The NASM CES offers two packages for learners to purchase. The NASM CES Self-Study course and the NASM CES Premium Self-Study Course.
The NASM CES Self-Study package has a base purchase price of $899, which is a bit higher than the other packages in this article, but for a good reason.
Included within the NASM Self-Study package will be the following:
19 hours of CEU credits
NASM CES Digital Course Content
Content and Learning Videos
Coaching Demonstrations
Advanced Video Animations
Quizzes
Online Practice Exam
Online CES Exam
The NASM CES Premium Self-Study package has a base price of $1,199 and includes some new materials on top of the former package to make it worthwhile.
Included in the NASM Premium Self-Study package will be:
19 hours of CEU credits
NASM CES Digital Course Content
Content and Learning Videos
Coaching Demonstrations
Advanced Video Animations
Quizzes
Online Practice Exam
Online CES Exam
16 Audio Lectures
6 Webinars
Biodigital Models
Suggested Study Schedule
Exam Study Guide
The real selling feature of this program is the extremely easy-to-navigate CES digital course content, which stands above the other certifications in this article.
The digital course content is more or less the new way to present textbook materials in the fitness industry.
As far as digital content goes, this is perfect, but it's never a bad idea to have some form of PDF or physical textbook for learners.
The course menu is on the left, allowing easy navigation and a feature to pick up where you left off. There are also convenient percentages which function to specify the sections you have gone through and to what degree you went through them.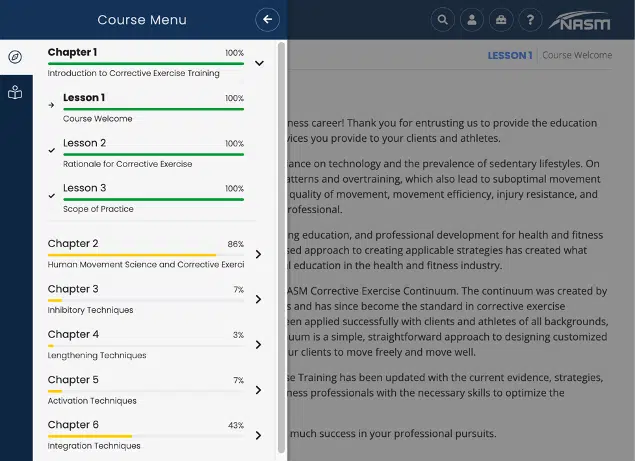 As far as the overall course content, there are a total of 18 Chapters packed full of information, with the second half of the book going into great detail for CES regarding specific joints and areas of the body and anatomy.
The chapters in the digital course include the following:
Chapter 1: Introduction to Corrective Exercise Training
Chapter 2: Human Movement Science and Corrective Exercise
Chapter 3: Inhibitory Techniques
Chapter 4: Lengthening Techniques
Chapter 5: Activation Techniques
Chapter 6: Integration Techniques
Chapter 7: Client Intake and Assessment
Chapter 8: Static Assessments
Chapter 9: Movement Assessments
Chapter 10: Mobility Assessments
Chapter 11: Corrective Strategies for the Foot and Ankle
Chapter 12: Corrective Strategies for the Knee
Chapter 13: Corrective Strategies for the Lumbo-Pelvic-Hip-Complex
Chapter 14: Corrective Strategies for the Thoracic Spine and Shoulder
Chapter 15: Corrective Strategies for the Wrist and Elbow
Chapter 16: Corrective Strategies for the Cervical Spine
Chapter 17: Self-Care and Recovery
Chapter 18: Real-World Application of Corrective Exercise Strategies
Each chapter begins by setting the stage for what you will learn within each chapter and section. This comes in the form of learning objectives.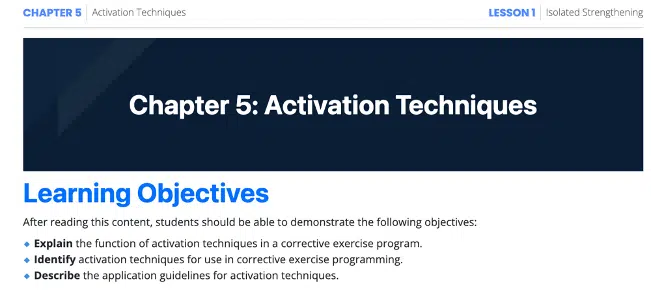 NASM's collection of quizzes, demonstrations, and videos are spread throughout their appropriate chapters on the digital course content and are perfectly located.
NASM video instruction is the best of all the organizations.
The practice quizzes all come at the end of the chapters in an easy format to find and are completely optional.
The quizzes accurately cover the topics you just went through with each chapter and section.
I found it extremely helpful to recap all the information you just learned, whether that's corrections for the neck, knees, and hip girdle or the effectiveness of different ankle dysfunction fixes.
When you are looking at the premium self-study package, you will find all of the additional information included in this package within a separate study module.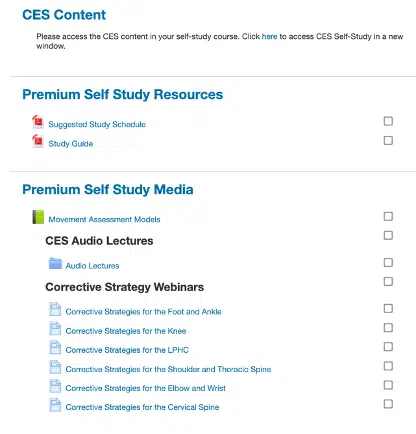 All in all, this is an excellent offering from NASM, and it does engage the learners very well.
The premium self-study content includes the study guide, audio lectures, and webinars.
For me, I think the most important information here comes in the form of webinars. These webinars cover the most important information throughout the final half of the book, which is on the various joints and their corrective strategies, so you can identify causes and ways to correct problems with case studies.
These videos are around 30 or so minutes per body part, and this really helps drive home the corrective techniques, which will make you a better trainer overall, raising your ability levels as you learn contraindications for movements, communication strategies, and how the body moves and different muscle groups interact.
Everyone will have different exercise needs and steps to take to improve their physiology, so knowing these tips is key.
You learn great injury prevention material which will aid beginners and advanced clients in their wellness journey, stopping issues at the root of the problem before they become injuries.
The NASM CES study materials receive a solid 9.5 out of 10 from me.
And for the cost and value, I would give the NASM CES certification an 8 out of 10 for being the highest cost and not quite having the deals seen with the likes of ISSA. The main limitations with this program is that it's not a full certification, although it is thorough.
Next, let's look at the NASM CES Exam and the details of that part of it.
NASM CES Exam
The NASM CES Exam is similar to most other fitness specializations in its layout.
A passing score on the exam would be a 70%, and the content is broken up into four domains of study from the digital content: Introduction to Corrective Exercise Training, Corrective Exercise Techniques, Assessment, and Programming Strategies.
In total, there are 100 questions, and the exam is done in a multiple-choice format.
Test-takers have 90 minutes to take their exam, and since it requires a 70% on the exam, this means you would need 70 questions answered right.
NASM gives their students three attempts to pass, so if you fail once, study a bit harder and take it again. These guidelines are much less restrictive than their CPT, giving you more flexibility if you fail.
There is also no renewal process, although I would stress the importance of taking some continuing education courses to refresh your expertise and keep current with the world of fitness and current business practices.
Make sure to also keep your CPR/AED certification current for safety reasons although that is not part of the requirements for these CES certs.
The exam process for the NASM CES receives an 8 out of 10 from me.
NASM CES Overall Rating
Credibility and Reputation
10
TBMM (The Biomechanics Method) Corrective Exercise Specialist


What is the TBMM CES?
The Biomechanics Method appeared got its start in fitness not too long ago, back in 2006 and became a prestigious agency approved by many health education organizations.
This wonderful certification company is present in over 75 countries worldwide, helping people of all walks of life overcome musculoskeletal issues.
The Biomechanics Method Corrective Exercise Specialist course is one of the three top choices for fitness professionals and other health professionals to advance in their jobs.
TBMM Credibility and Reputation
One of the main fitness organizations partnering with TBMM is the well-known non-profit company ACE.
ACE advertises the TBMM as one of the best CES certifications you could strive for, and this speaks for itself, given the credential of ACE.
The TBMM has achieved partnerships with all of the most prestigious certifying agencies, like the aforementioned ACE, as well as the NASM, NSCA, ACSM, and ISSA.
Because of this, the TBMM also gets its certification out to people across the globe and even has a presence in colleges and universities.
Like the other two certifications within this article, you can rest assured that the TBMM CES is a respected and beneficial certification for fitness professionals.
The credibility and reputation of The Biomechanics Model receive an 8 out of 10 from me.
TBMM CES Pros and Cons
Pros:
Incredible focus on dealing with chronic pain
Lifetime Access to course materials
Extensive Exercise Library
Cons:
The organization lacks NCCA Accreditation
Inequal CEC credits across organizations
TBMM CES Study Materials and Costs
The TBMM CES course comes with two options for packages to buy. The only difference between one to the other is the inclusion of the physical textbook, which is rare among the CES certifications and most specializations in fitness.
I personally enjoy having a physical textbook when I am studying as it allows me to make notes directly in my book, and I find it easier to follow along when reading physical books.
The main package for the TBMM CES is called the TBMM-CES Course, costing $749.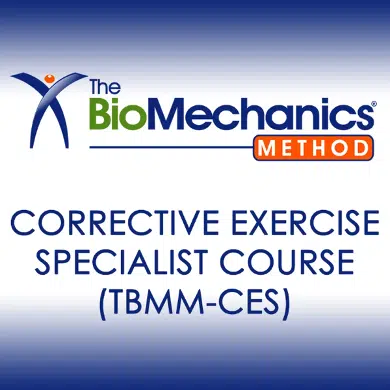 And there is the second package, which is everything included in the package above, plus the physical textbook.
This TBMM-CES Course + Physical Textbook package costs $829.
On top of the standard certification options for learners new to corrective exercise, TBMM also has a "Bridging Course" for professionals with a CES or similar certificate but still want to learn The Biomechanics Method models of CES by transitioning other certifications to this one.
This TBMM CES Bridging Course can be bought as a solo course or as a package, including the textbook.
The TBMM CES Bridging Course costs $599 without the textbook, and with the textbook, it will cost $689, which is nearing the standard course already.
The standard TBMM CES course found in all packages will include these materials:
Practice Lessons
Video Demonstrations
Skill Building Activities
Unlimited Course Access
Untimed Tests
The TBMM CES course is a fully online course, and it splits its materials into five modules:
The Fundamentals of Structural Assessment
Understanding Muscles and Movement
The Fundamentals of Corrective Exercise
The Complete Corrective Exercise Library
Corrective Exercise Program Design
For a newer fitness professional, I believe module 4 is one of the most beneficial video libraries that I have found in the world of corrective exercise. This corrective exercise guide is great.
There are 200 highly descriptive exercises addressing all of the musculoskeletal imbalances and using the fundamental principles for each category of exercise. This is a great variety of ways to learn regressions and progressions, and correct muscle dysfunction so people live without restrictions.
Remember things like weight loss, strength or muscle endurance improvements are only possible if someone is able to move with control and without pain. As a corrective exercise specialist you can fix hip, shoulder, or feet issues so that people can go to the gym and workout safely.
The TBMM CES study materials receive a solid 9 out of 10 from me, and the cost and value of the certification get a 7 out of 10.
The study materials will prepare you exceptionally well for the TBMM Exam and work as a top-tier Corrective Exercise professional.
The TBMM CES Exam is untimed, and you have unlimited retakes, so it is a much more chill process than other CES certifications, and this could bring down the overall opinion of the CES since it could be a bit too easy to pass.
I would rate the exam process as an 8 out of 10 for the TBMM CES final certification exam.
TBMM CES Overall Rating
Credibility and Reputation
8
Best Corrective Exercise Certifications Frequently Asked Questions (FAQs)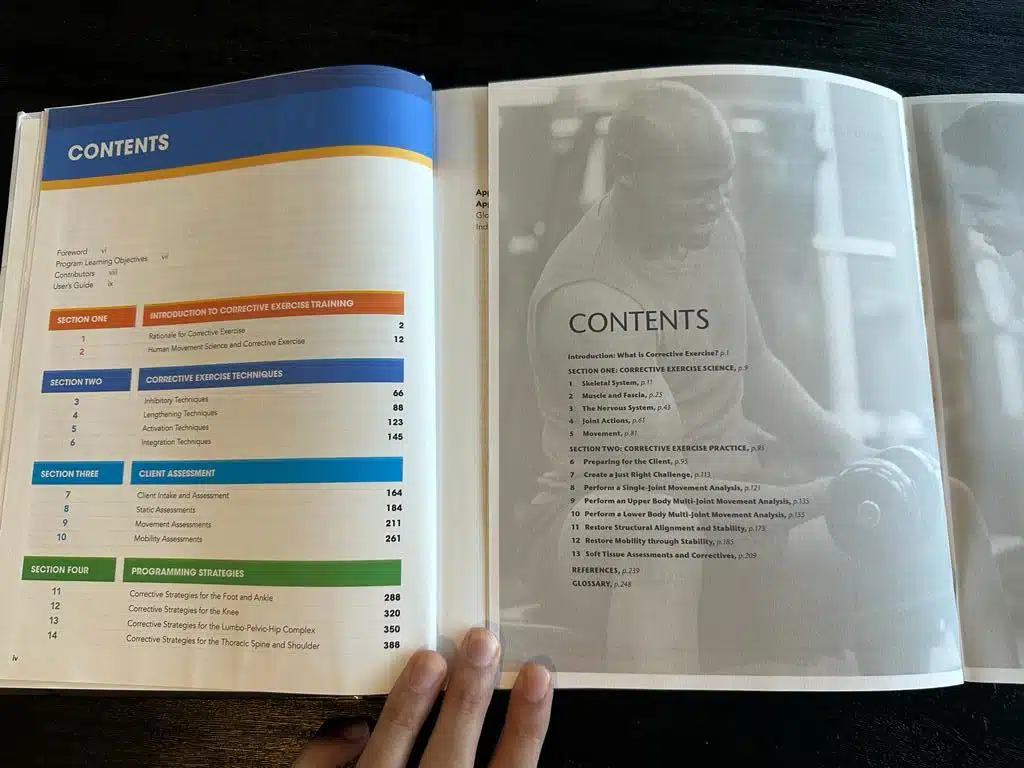 What can I do with a corrective exercise certification?
A corrective exercise certification is useful for coaching general fitness clients who have various muscular imbalances and movement impairments associated with modern sedentary living and common injury histories. While you don't directly help with rehabilitation of injuries, you can gives precautions and discover dysfunctions in clients that may lead to injuries if left untreated. 
What is the difference between corrective exercise ACE and NASM?
NASM is a much better corrective exercise certification than ACE (also known as the TBMM).
Is NASM corrective exercise worth it?
NASM corrective exercise is worth it for most general personal training applications since most clients, no matter their exercise type, will demonstrate some level of movement impairment.
Best Corrective Exercise Certifications Overall Rating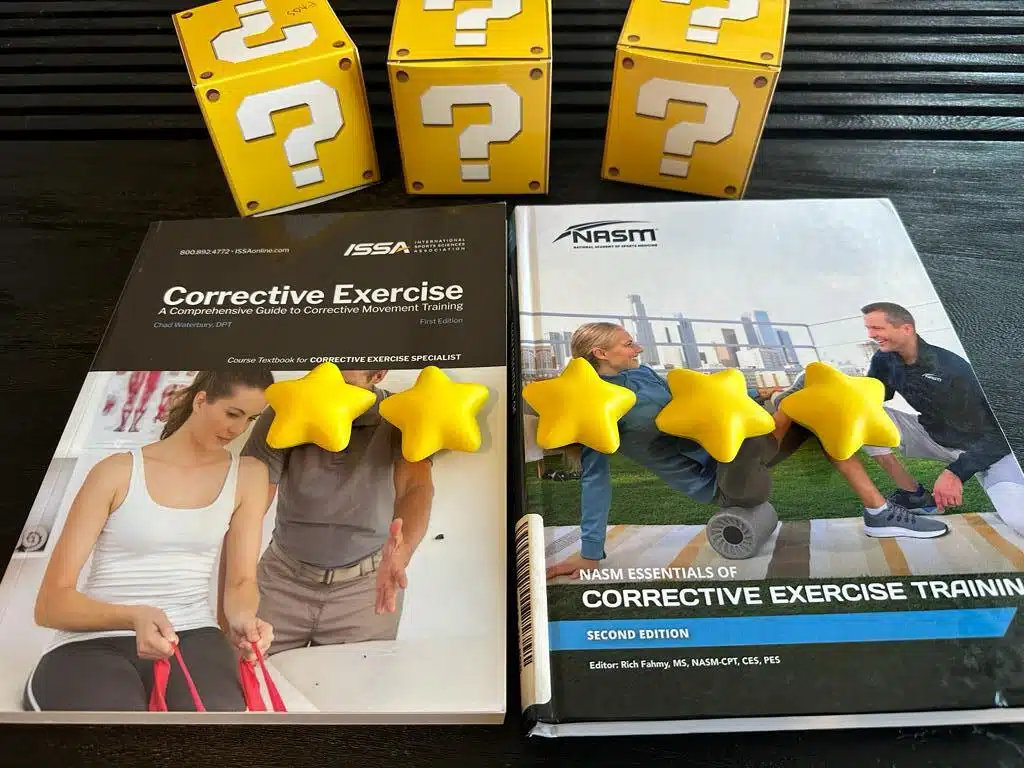 In my opinion, ISSA offers the best corrective exercise certification closely followed by the NASM Corrective Exercise Specialist certification. While I do not recommend the ACE-backed Biomechanics Method over ISSA or NASM, its definitely an option to consider.
No matter the exercise category, runners, weight lifters, and athletes of all kind need some form of correctional exercise assistance. If you can assist those needs in your sessions, you will be able to really do some good!