In this article, I'll be unveiling the best corrective exercise training programs available for personal trainers.
I'm going to do a comparison based on:
You'll certainly benefit from the experiences I've gathered from the 10+ years of holding each certification.
If you are in a rush, you can take my quiz to quickly find out which corrective exercise certification is best for your goals.
By the time you finish the article, you will be set and ready to pick the best corrective exercise certification.
Let's dive in!
Our Top Picks
CPT
CPT
Features
Price

Great exercise science
Good online resources
Includes free exercise website

Check ISSA Pricing

Well known exercise certification
Detailed corrective coverage
E-book only

Check NASM Pricing

ACE (Biomechanics Method) Corrective Exercise Specialist Certification

Complete biomechanics course
Exercise library
Not a whole lot of study materials

Check ACE Pricing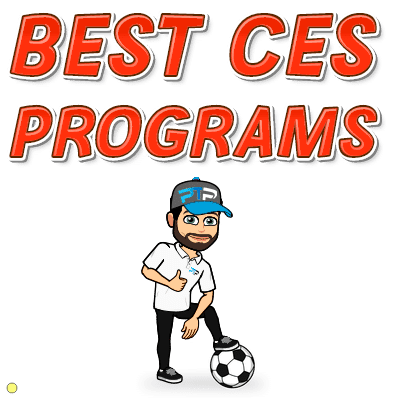 Best Corrective Exercise Training Program (YouTube)
Best Corrective Exercise Training Program (Podcast)
Introduction
Corrective exercise training is becoming significantly in demand as personal training is becoming more and more specialized.
But there are a significant amount of corrective exercise specialist certifications that are currently on the market.
With so many options, which one should you choose?
Make sure to check out the NASM CES and the ISSA corrective exercise websites afterward for more info as overall these are my top two.
This is just an estimation, read the article to get the full understanding.
Make sure to check out Trainer Academy as well.
The team over there creates epic study materials for personal trainer certification exam that will dramatically reduce your overall study time and boast a 99% exam pass rate.
I also have free NASM CES study materials here.
The menu at the top of this page will answer any question related to personal training that you have.
If you have any questions, don't hesitate to leave me a comment here (I'll respond within 24 hours).
Also, visit the home page for the most recent and popular articles.
I will be breaking down the four most recognized corrective exercise certifications in this article so you can get a good feel of what each one is about as well is which one you should start studying for.
I also suggest looking at the top nutrition certifications as well as the top strength and conditioning certifications.
Whether you are just starting out with personal training, a group fitness expert, or merely looking for some continuing education credits for your general personal training certification, a corrective exercise specialization will improve your abilities as a certified personal trainer!
The 3 Best corrective exercise specialist certifications
The corrective exercise specialist certifications I will be comparing are the NASM CES vs ISSA and ACE corrective exercise specialist certifications.
In my list below you will learn about the top three corrective exercise specialist certifications.
We will be going over things such as the price, reputation, study materials, exam information, and more so that you can decide which one's right for you.
1) ISSA corrective exercise certification

The ISSA corrective exercise specialist certification is a brand-new certification from the International Sports Sciences Association.
This certification came out in 2017, and they released it due to the high demand for corrective exercise specialist jobs.
ISSA is a world renowned certification organization with several certifications and specializations to their name.
Besides their CES cert they have a great personal training certification and offer some amazing bundle opportunities for anyone looking for multiple credentials.
As a working fitness professional the more knowledge you have, the more you can stand out in a crowded marketplace and with ISSA's current Elite Trainer deal, it's virtually the same cost as getting one certification. Head over to their website to see if the offer is still there. It's definitely touch to pass up if they are still running it.
With the ISSA CES certification, you will learn a lot of similar practices as you do from the NASM certification.
They break the studying down into two primary parts.
Corrective exercise science
In the corrective exercise science portion, you'll learn about the skeletal system and how it relates to corrective exercise training, you will learn about fascia in muscle as well as the nervous system and joint actions and how it refers to human movement.
Corrective exercise practice
The second portion teaches you how to incorporate this knowledge into your current exercise routines.
It shows you how to prepare for a client, perform movement analysis, restore alignment and stability, restore mobility, and how to perform soft tissue assessments.
What's included in the ISSA corrective exercise certification
Unlike the CES, there is only one package that can be purchased from ISSA.
Let's go over what's included real fast.
A hard copy as well as a digital textbook
One thing that I liked about the ISSA corrective exercise certification is that you will get a digital as well as a hard copy of the manual.
As I explained above, I'm a person that likes to highlight and add notes to my textbooks physically.
Study guide and workbook
The study guide is something that you should be going through as you are working your way through the primary textbook.
An online exercise lab
The exercise lab has over 250 animated exercises to help you learn proper corrective exercise training.
It's pretty cool because they have a 360° viewing angle so you can understand how to perform the exercises.
A free personal training website
This is one bonus that I was not expecting with any personal training certification programs. As a personal trainer, is very important to have an online presence.
Having your website is one of the things that can make you stand out professionally from the rest of the personal trainers.
ISSA provides you with a fully hosted and professionally designed website that you can point your clients to.
Entrance to take the exam
Naturally like any other certification, it includes entry to take either a pencil and paper version of the exam or the ability to take the test online.
There's no retest fee which is something that should be noted!
Access to their student forum
Another unique angle that ISSA is taking for people that want to take their exam is having a private forum.
On these forums, people can ask questions related to the study material and create other discussions regarding corrective exercise training.
Overall this is a handy feature that lets the students teach each other!
Practice quizzes and tests
What would a personal training certification be without a few practice tests and quizzes to go along with it?
I highly recommend taking at least one practice quiz and one practice test before you sign up to take the full exam.
Access to unlimited education support
Another feature that people have is the ability to talk to fitness professionals regarding any issue they may have while studying.
The combination of the forums, as well as the access to fitness professionals, will make sure you have a firm grasp of each fitness concepts.
How much does the ISSA CES cost?
As of the time of the writing, the price for the corrective exercise specialist certification is $799.
I frequently see this price drop as low as $599 when they are promoting a sale.
Check out the current price for the ISSA CES.
They also can pay for the certification with a payment plan. I
You have the option to pay all $799 upfront, have a six-month payment plan of $133 a month, or have a 12-month payment plan at $66 a month.
You will have up to six months from the date you sign up to complete the certification.
My Overall Rating 9.5/10.
The curriculum and study materials are on par with NASM, and the value options take it to the next level.
Check out the ISSA corrective exercise certification here.
2) NASM corrective exercise specialist certification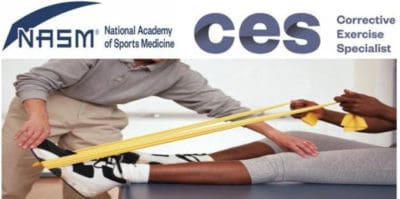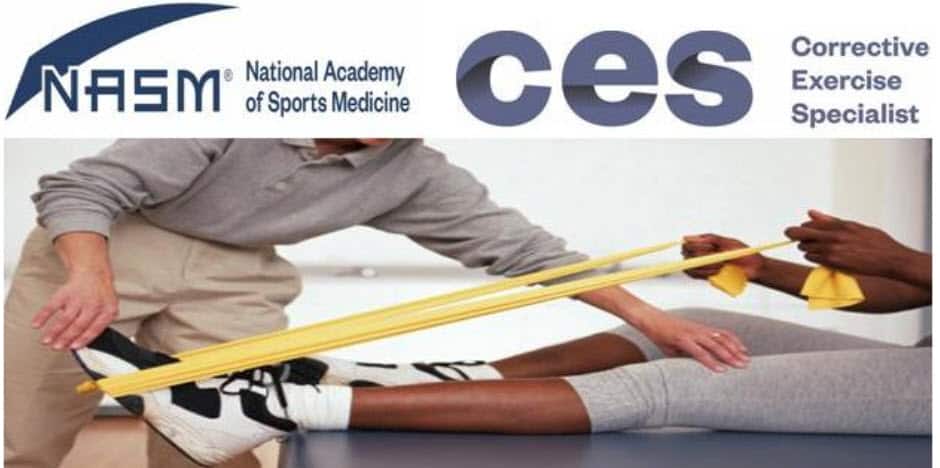 What is the NASM CES?
The NASM corrective exercise certification or CES is one of the longest standing corrective exercise certifications that are currently available.
I'm pretty sure other types of certifications focus on the style of training to what is now called "corrective exercise."
But to my knowledge, NASM coined the term with their very popular CES certification.
The NASM corrective exercise specialist certification focuses sharply on what they call the "corrective exercise continuum."
This is how the course material is taught for the NASM CES.
So, what is the corrective exercise continuum?
The corrective exercise continuum consists of four different ways to corrective movement.
Let's go over all four parts of the CES corrective exercise continuum.
Inhibit
This training strategy helps reduce tension in identified areas that are considered shortened muscles or overactive muscles.
The primary tactic to help inhibit muscle groups is by using self-myofascial release tactics.
These tactics can help reduce muscle soreness, improve circulation, and reduce muscle tension.
Length
The lengthen portion of the corrective exercise continuum is to help stretch muscles using neuromuscular stretching as well as static stretching practices.
These stretching techniques problems, reduce muscle stiffness and increase the overall range of motion.
Activate
On the opposite end of the corrective exercise continuum is where underactive muscles are the culprit.
These are muscles that we need to activate because they are underdeveloped, underactive and weak.
Strength training is the primary way that we can activate these underactive muscles.
These resistance training techniques will help to increase strength and underactive muscles, increase muscular endurance, and help us focus on activating individual muscles.
Integrate
The last section of the corrective exercise continuum is where we integrate total body exercises that help our clients to solidify the corrective exercise changes we have done with them.
This is known as integrated strength training techniques and helps to increase total body coordination, performance and helps movement patterns improve.
Is the NASM CES worth it?
Overall, I think that the corrective exercise specialist from NASM is a fantastic certification.
They have been around for a long time, and will continue to make improvements to both their study materials as well as program design.
The NASM CES might also worth more if you already have the general NASM CPT or are interested in combining the two.
This is because there are a lot of similar concepts that you will already be well accustomed to such as integrating the OPT training models with clients.
NASM has an Elite Trainer deal as well which contain the CES, their CPT, and four other specializations for a total of 6 different certs. It's more expensive than the ISSA deal, but you also get way more total value per what you spend.
Lots of employers encourage their personal trainers to pursue the CES training program, and some even give pay raises to those who have it.
Make sure to double check the website because NASM only runs this deal periodically.
How much does the NASM CES cost?
Currently, NASM CES provides only one option for you to acquire this certification and it costs $899.
This specialization course is worth 1.9 continuing education credits ( the maximum).
The NASM CES course curriculum includes four sections;
The introduction to corrective exercise training
The techniques to corrective exercises
The assessment
The strategies for designing exercise programs
The $899 cost of the NASM CES covers the following;
Lecture videos
You get a chapter containing Self-Care and Recovery in the study material
Access to the soft copy of study materials that can work with any device
Exclusively new exercise technique & cueing videos
Interactive learning modules & test questions
Full and up-to-date exercise library with more than 200 exercise demos
Real-life client scenarios case study and sample programming
A new scientific approach to exercise science techniques.
Access to additional Training Programs
Online practice exam questions and answers
Online CES exam
My overall rating: 8.5/10. Overall this is a fantastic CES certification from NASM.
I wish that I got a hardcover book for paying over $500 for any of these fitness certifications.
If you have no problem working with only the e-book, then it's a total 10!
Make sure to check out the epic CES study materials over at Trainer Academy that will cut your study time for the certification exams in half.
The team over there has produced the best study materials overall, much better than the standard study materials.
Check out my free NASM CES study materials right here.
Check out the NASM corrective exercise specialist here.
3) ACE (biomechanics method) corrective exercise specialist certification


The last corrective exercise specialist certification that I will be talking about is the ACE CES certification.
The only thing that's odd about this certification is that it's not provided by American Council on Exercise.
It is produced by the biomechanics method.
The two seem to have joined together, and the biomechanics certification is now offered through the ACE website as a full certification as well as continuing education credits.
What Is the Biomechanics Method?
The biomechanics method is a process to systematically fix chronic pain such as back pain, hip pain or knee pain to name a few.
The biomechanics method has become a prevalent systematic approach to performing structural assessments and prescribing corrective techniques to fix misalignments.
This is thought of by some as one of the best corrective exercise certification programs on the market.
The study materials are broken down into five different sections.
The fundamentals of structural assessment
Understanding muscles and movement
The fundamentals of corrective exercise
Corrective exercise program design
The complete corrective exercise library
How much does the ACE-CES course costs?
From the ACE website, you can purchase the biomechanics methods CES course for $749 but it is on sale now for $561.75.
I think that the biomechanics method has more control over how much the certification costs compared to ACE.
With the certification, you will receive the electronic textbook, video lessons, and the exercise library as well as online quizzes to help you prepare for the exam.
Overall I consider the study materials for this CES to be lacking compared to what ISSA and NASM provide with their corrective exercise courses.
The benefit of choosing a ACE CES certifications is that it proves that you have biomechanics certification and this certification is currently well recognized in the health and fitness industry.
My overall rating: 8.
This is just because of the lack of study materials compared to the NASM and ISSA certifications.
Head over to the ACE website to find more information on their ACE CES credential.
What is a corrective exercise specialist?
Have you been wondering to yourself: what does an exercise specialist do?
Well before you go off and purchase a random certification, let's dive into what type of training a corrective exercise specialist does on a day-to-day basis.
And what about doing personal training vs corrective exercise specialist training, is there a difference?
Let's talk real quickly about what is corrective exercise training.
But before we do, I recommend checking out this 3-minute video where the creator of the ISSA CES breaks down what corrective exercise training is.
When it comes to corrective exercise training vs personal training, all CES trainers are personal trainers, but not all trainers are CES qualified to do corrective exercise training.
In your general CPT certification, you might have learned how to do some postural or corrective exercise assessments.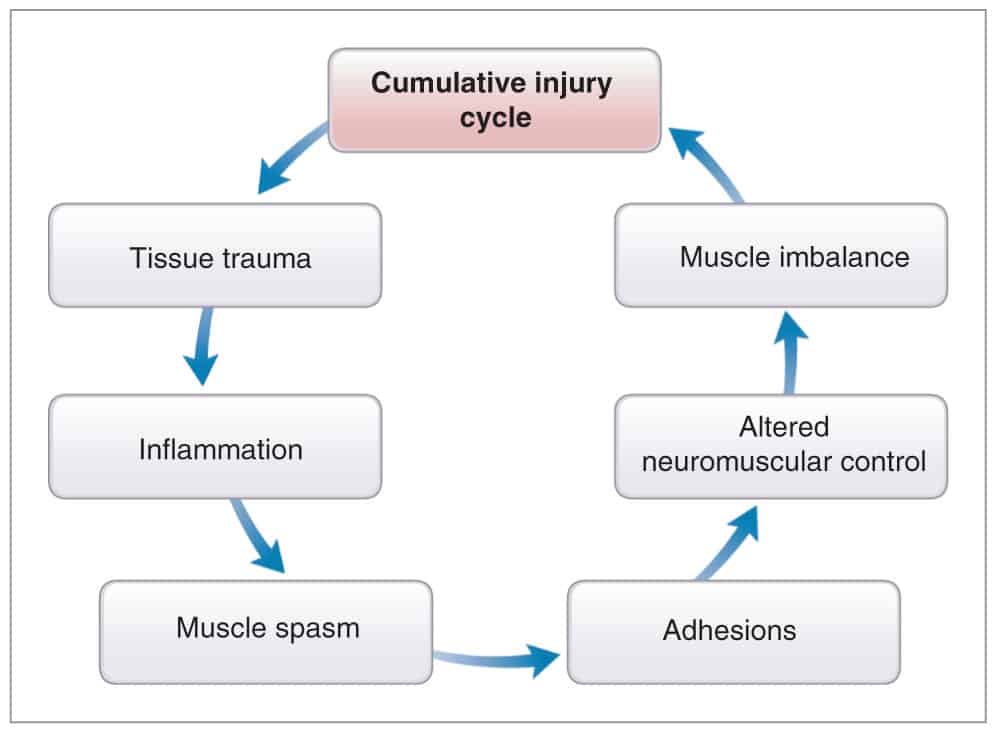 I know most of you did if you took the general NASM CPT.
Corrective exercise goes over dozens of other assessments to be able to pinpoint tight spots, overactive muscles, under-active muscles and other musculoskeletal problems that might need to be corrected to move correctly.
In this modern era where probably close to half the population is sitting all day long, we have developed different types of musculoskeletal problems.
Due to these improper movement patterns, we are much more likely to experience musculoskeletal pain.
Approximately $50 billion is spent on a yearly basis in the United States to help fix back pain
About 14% of people will have neck pain at some point in their life
21% will have shoulder pain at some point
Overall, $213 billion is expended every single year on some form of musculoskeletal pain.
A lot of these problems can be fixed by actively trying to correct the imbalances that are causing the pain.
Not only does it completely suck to live day-to-day with excruciating pain, but one misalignment can lead to others throughout the kinetic chain.
There are millions of Americans that would like to start exercising but need to fix essential musculoskeletal alignments before they start doing real weight training.
As a corrective exercise specialist, it is our job to perform assessments to pinpoint imbalances, create a program to treat those imbalances and deployed this exercise routine with our clients.
Should you get a corrective exercise certification?
So how do you know if a CES certification is right for you or not?
Keep your clients healthy and training with you
It is straightforward to answer this question with over ten years of personal training experience under my belt.
You need to ask yourself have you ever done senior fitness, trained an overweight or an out of shape individual?
If you answered yes to any of these questions, yes, you should get CES certified.
Knowing corrective exercise is one of the best ways to keep your clients healthy and injury free for them to be able to continue going to your personal training sessions and training with you.
Before I became a corrective exercise specialist, I have lost plenty of clients due to injuries and the fear of getting reinjured with personal training.
If your client needs to fix muscular imbalances first, make sure they do that.
Here is an example of the type of CES training you will learn from the NASM-CES:
If you need continuing education, it's a no-brainer
If you are at the two-year mark-four-year general CPT certification and need to get continuing education to recertify, you will get the most from a CES certification.
Anyone of the certifications will fill the need for every significant certifying agency including NASM, ACE, NSCA, ACSM, NCCPT, NFPT, NESTA and every single other one.
Don't worry about the price compared to some other continuing education credits that you can get.
This is because you will increase your income by holding a CES certification.
Let's dive right into how much more you can make as a trainer.
How much money can you make as a corrective exercise specialist?
Can you make a higher salary or income as a corrective exercise specialist?
Let's break down what type of corrective exercise specialist salary you can expect.
According to NASM, their personal trainers that hold the corrective exercise specialist certification earn on average 48% more than their ordinary CPT holders.
By holding a CES certification, you bring so much value to future clients as well as the clients that you already have.
Not only regarding being able to keep them healthy and training with you, but you will now be able to market new styles of training to the members in your gym.
As a corrective exercise specialist, you can also make your younger, more athletic clients perform better.
This is because you have mastered how the human body can move more efficiently.
An efficient moving body can also produce more power and be more explosive.
Conclusion on CES certifications
Well, there you have it ladies and gentlemen, the breakdown of the top three corrective exercise certifications on the market.
Out of all three of the certifications, I have to recommend the NASM CES as my favorite one currently.
The ISSA certification is fairly new but I really like their study materials and I'm sure it is a very well-recognized certification.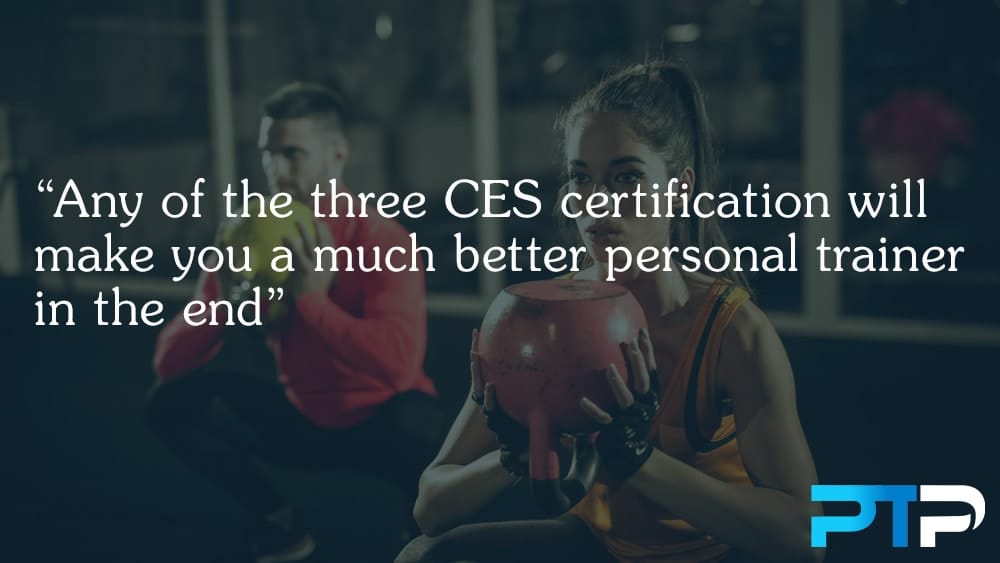 I like their study materials as well as how they integrate well with the optimum training model that I use on a day-to-day basis.
The prices in descending order; the NASM CES certifications is $899, ISSA CES is $799 and the ACE/biomechanics method is $749.
The ISSA CES is also a fantastic certification especially because it has only been around for one year and it is already gaining traction in the personal training industry.
The biomechanics method is a very well renowned CES certification as well.
The only downside is that the study materials are not fantastic and it is relatively pricey as well.
Any of these three will make you a much better personal trainer in the end.
You will be able to market your services as a corrective exercise specialist as well as an efficient movement specialist.
Your overall income should be able to increase by becoming a corrective exercise specialist.
Let me know what you guys think of my article?
Read also: The best personal trainer programs!
Do you guys have any experience with any one of these three CES certifications?
What did you like about the certifications and what did you not like about them?
Let's try to get a discussion down below in the comment section below the FAQ section because I get a ton of great information from you guys that inspire me to write new content!
Best corrective exercise training program FAQ