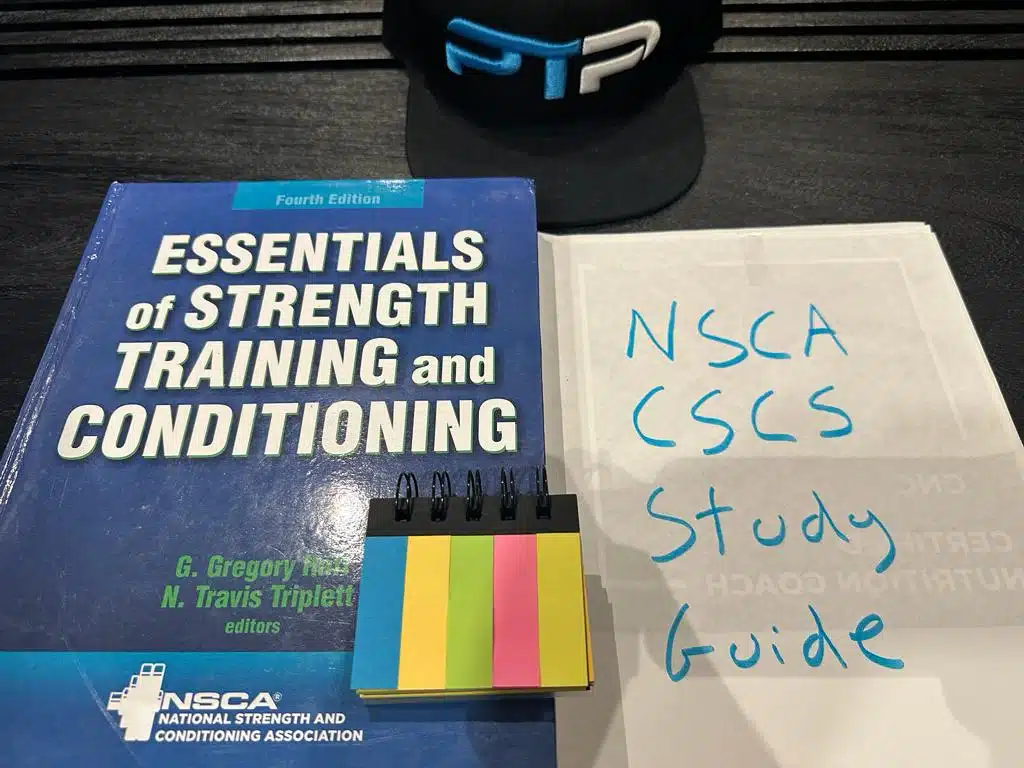 Welcome to the PT Pioneer Free NSCA CSCS Study Guide, your ultimate resource to help you master the details you need for completion of the difficult NSCA CSCS exam. This study guide covers the topics and areas of knowledge and understanding you need to pass the CSCS test, even with no background in exercise science.
You can utilize this study guide on any exam study schedule, but I recommend starting as soon as possible. Before we dive in, I want to let you in on my secrets to passing the CSCS exam.
Secrets to Passing the CSCS Exam
Secret #1:
Get your copy of the CSCS exam cheat sheet and our study plan. It helps immensely in your ability to study for the CSCS exam.
Secret #2:
Check out Trainer Academy for premium NSCA CSCS study materials. They will reduce your CSCS study time by 50% and have an exam pass guarantee.
Plus, the CSCS MVP Program includes a complete, comprehensive study guide. You can also read my full review of the Trainer Academy materials and company.
You can get $100 off the price their CSCS MVP Study System with the code: PTPSUB.
Trainer Academy is excellent for CSCS candidates who want additional resources.
Secret #3:
There are a ton of CSCS practice questions here on PT Pioneer. I don't expect you to knock them all out in one shot. With that said be sure to bookmark this page to ensure you can find it for your next CSCS Study Session.
Becoming an NSCA certified strength and conditioning coach is a major milestone, but you will need to put the work in.
NSCA CSCS Test Study Series
FREE CSCS Study guide: 4th Edition 2023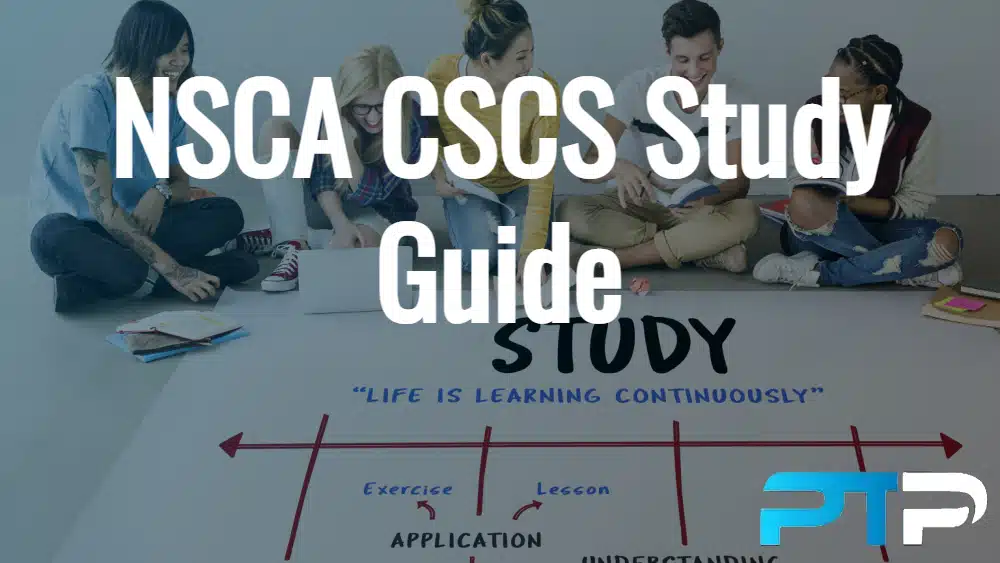 Using the PTPioneer CSCS Study Guide
This study guide for the CSCS and all study guides found throughout PTPioneer will contain each chapter simplified for readers to study easily.
It is not a perfect test prep substitute for the book, as learners should, ideally, still read and utilize the chapters in the textbook at least once. There are many things you can do and products you can buy to increase your pass rate.
Consider watching the NSCA workout and lifting technique videos to ensure you know how to use exercise to work all the muscles in your body. Additionally, mastering the principles of cardio training is one of the requirements for all people workout through the CSCS courses.
The current CSCS textbook is the Essentials of Strength Training, 4th Edition.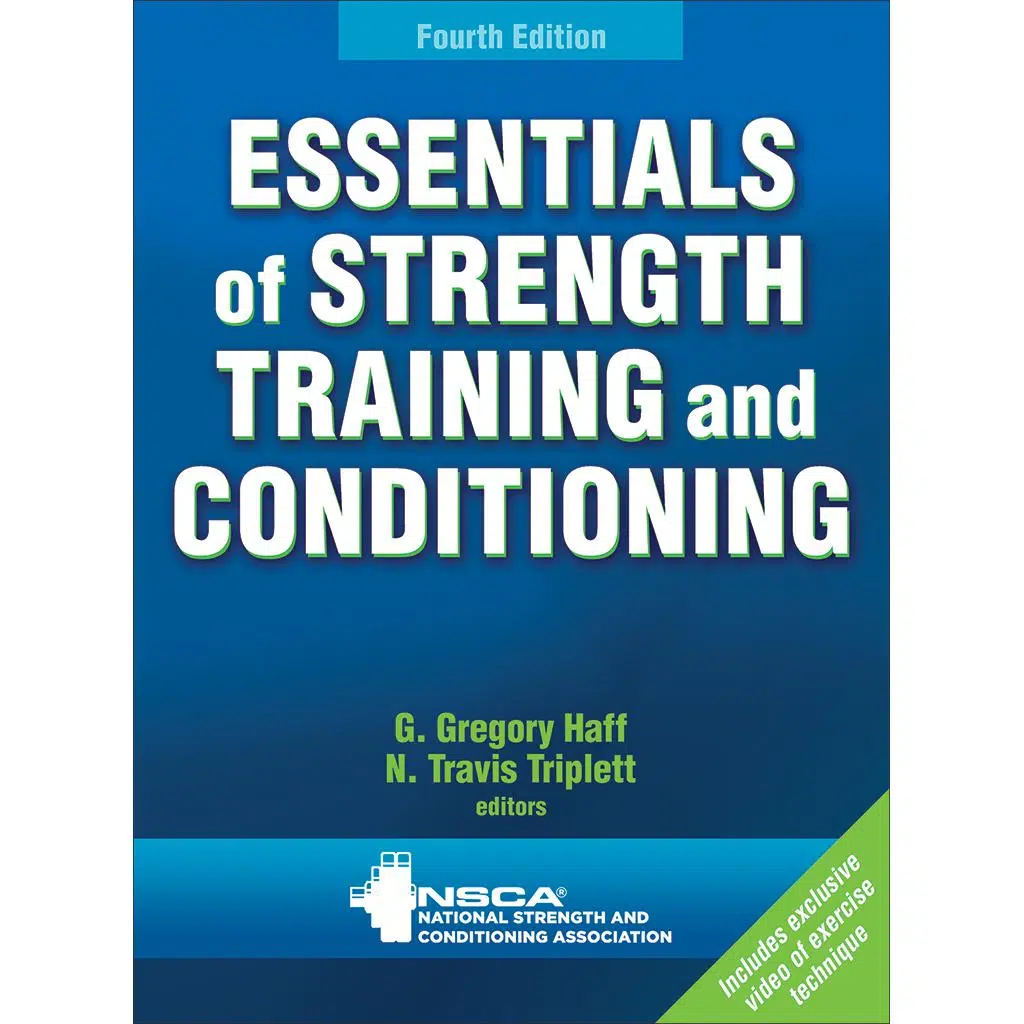 For the most optimal study experience, readers will go through the chapter in the official CSCS textbook and the more condensed version of our chapter-by-chapter study guide here on this page.
Our flashcard system also follows chapter-by-chapter and should be utilized to keep everything fresh for learners on a daily or semi-daily study basis, training your mind on each of the different sections.
Regularly studying the CSCS materials can help create some optimal study habits that translate well to future endeavors.
Make sure to check out the PTPioneer study plan for the National Strength and Conditioning Association Certified Strength and Conditioning Specialist, as well.
In the study plan, I break down the study guide's chapters to fit each of the four main calendar time frames seen by learners. This can help you set goals, a vital skills for all professionals and individuals in the fitness industry.
CSCS Practice Test Breakdown
The NSCA CSCS Test, and subsequently the practice test we offer, are broken up into two daunting tests.
The first CSCS test will be the Scientific Foundations Exam. The Scientific Foundations exam holds questions from the first three domains (out of seven total) from the CSCS textbook.
Domain 1 Exercise Science: (55% of section score/44 questions)
Domain 2 Sports Psychology: (24% of section score/19 questions)
Domain 3 Nutrition: (21% of section score/17 questions)
Non-Scored Questions: a total of 15 questions are not scored
The second CSCS test is the Practical/Applied exam. The practical and applied test will contain questions from the remaining 4 domains
Domain 4 Exercise Technique: (36% of section score/ 40 questions)
Domain 5 Program Design: (35% of section score/ 38 questions)
Domain 6 Organization and Administration: (11% of section score/12 questions)
Domain 7 Testing and Evaluation: Percentage of section (18% of section score/20 questions)
Non-Scored Questions: a total of 15 questions are not scored
CSCS Practice Exam Study Tips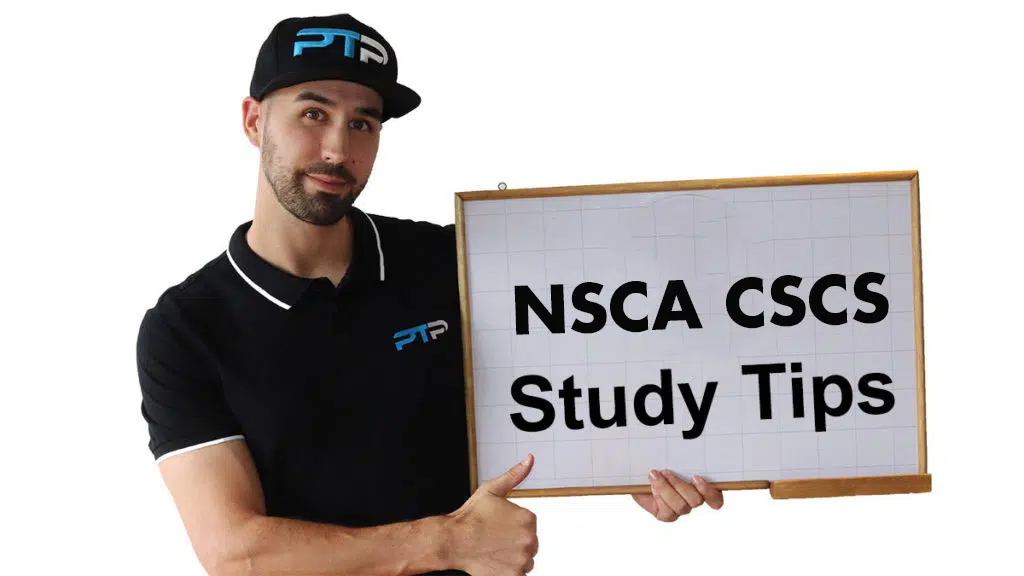 The CSCS certification study guide located on this page is meant to supplement the full 4th edition Of the essentials of strength and conditioning. This is the primary textbook for the CSCS test.
I will go over some additional study tips and techniques I have for you guys so that you can easily ace the CSCS exam.
How to Prepare for the CSCS Exam
Here are some excellent CSCS study materials/study techniques that I like to use with my students and have implemented into the Study Hub pages for the CSCS.
CSCS Practice Tests:
I have practice tests with legit CSCS questions included in this study hub, and they come next in the sequential order of the study materials for the CSCS.
I also suggest picking up additional practice tests and practice quizzes for each of the individual domains of study in the CSCS (there are seven domains).
I only have one practice test and domain quizzes for each of the 7 domains, and someone may want even more practice for this challenging certification exam.
Practice exams and practice questions are extremely important because they let you know if you are 100% ready to take the real exam. Hundreds of students came to me asking me why they failed the CSCS exam.
It turns out that most of them never took one full practice exam and thus did not fully go through exam prep for the NSCA CSCS Exam. How can you know if you are ready if you have never returned from a practice exam?
Personally, I recommend checking out the practice exams over at Trainer Academy.
Check out my review on Trainer Academy right here.
Premium CSCS Study Guide:
Although this study guide here is a great place to start, it really covers a lot of content but doesn't hold up to more focused and premium models.
This might seem counterintuitive, but the shortest study guides are the best. What I mean is that the best study guides will point out exactly what you need to study to pass the exam. My study guide, on the other hand, basically goes over everything but does not pinpoint the most important parts to study.
I suggest picking up the Trainer Academy CSCS study guide if you want to save the most time while studying for the CSCS.
Spaced repetition flashcards:
The old-school way of using flashcards is done. Physically writing down the information on hundreds of flashcards is tedious and time-wasting. In addition to this, the flashcards you study after you create them are not nearly as effective as they could be.
What you need to use are spaced repetition flashcards. This is the flashcard system I have used to learn Spanish and study for all my personal training certifications. It has worked fantastic for me and all of my students who have tried it.
Spaced repetition flashcards use an algorithm to learn which flashcards you already know and which flashcards you have trouble with. The program will continuously show you your difficult cards until you know them well. The cards you already know well will show infrequently. This saves you a ton of time and really drills the difficult concepts until you have mastered them.
CSCS Cheat Sheet
A cheat sheet is a good way to keep all of the information you struggle with or find yourself forgetting on one page together.
You can either make your own or click on the button below to look at and utilize ours in your studies.
Well, that's it, ladies and gentlemen, for all my CSCS study tips. If you utilize all of these tips that I have given you, I am sure you will have no problem passing the CSCS test. Good luck, and get to studying!
CSCS Exam Study Plan
Strategizing your CSCS studying is a must. You need a solid CSCS exam study plan to structure your study blocks leading up to the exam. You can draft your own study schedule by breaking down each section by domain. You can also check out our PT Pioneer CSCS exam study plan.
The plan will help manage your CSCS practice test taking, especially when you are taking the CSCS test with a non-exercise science bachelor's degree.
Additional CSCS Study Resources
I highly recommend checking out additional CSCS study resources. My top choice is the Trainer Academy CSCS study system, which also includes a full CSCS exam study plan.
Start the Free CSCS Study Guide 2023
If you're ready to study or looking for some of the information in the CSCS, check out our free study guide by clicking the button right below!
You will be beginning your road to becoming a strength and conditioning coach. If you have your bachelor's degree, CPR, AED, and first aid, and are prepared for the CSCS, you will pass the exam.