Welcome to the ultimate guide on how to become a personal trainer in 2023.
In this article, I cover the following aspects of becoming a certified personal trainer:
By the time you finish, you'll know how to be a personal trainer and how to get your personal trainer certification.
From there, you can kickstart your new career in the fitness industry and help clients reach their fitness goals.
If you feel overwhelmed, be sure to take the quiz to help decide which personal training certification makes the most sense for you.
Without further delay, let's get after it!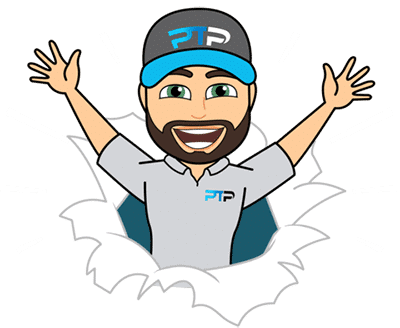 How To Become A Personal Trainer (YouTube)
How To Become A Personal Trainer (Podcast)
Becoming a personal trainer can be the start to a rewarding career in the fitness industry. Generally, becoming certified with any of the best personal trainer certifications can launch you towards success as a fitness professional.
Depending on your long-term career goals, certain certified personal trainer (CPT) courses might make more sense for you than others.
For example, if you plan to look at nutrition certification programs or online personal trainer certifications, consider which baseline CPTs might be best for those career paths.
For a quick way to find out which personal trainer certification is best for you, take my quiz below.
Although getting a personal trainer certification is the first step in becoming a personal trainer, for long term success, I recommend looking into a nutrition certification as well.
After all, the physical training in the actual session is just half the battle. Without addressing the nutritional component of fitness, it's much harder to attain real fitness goals.
Combining a nutrition coaching credential with your personal training certification allows you to deliver better results to your clients, ultimately allowing you to charge more as you get a reputation for successful client transformations. (Additionally, dual certification makes you more attractive to potential clients from the start.)
I also recommend specializing as soon as possible. A fitness specialization allows you to serve a specific clientele or deliver a particular style of training.
Examples of fitness specializations include corrective exercise, group fitness coaching, and strength and conditioning coaching.
Overall, trainers with specializations tend to earn more money and have greater success in their careers compared to non-specialized trainers.
Becoming a sought-out expert in a specific area of fitness is far more lucrative than attempting to chase "any and every" type of client.
Sadly, the price for getting double- or triple-certified adds up quickly.
As such, I highly recommend looking for bundle deals when shopping for your CPT certification.
One of the best bundles in the fitness industry is the ISSA Elite Trainer package.
This package contains the ISSA CPT as its baseline personal trainer certification, which is by far my top choice for the best personal trainer certification on the market.
The Elite Trainer bundle also includes the ISSA nutrition coaching certification, on top of a third certification in an ISSA fitness specialty of your choice.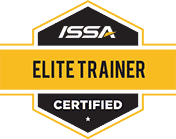 The cost for the full Elite Trainer package is less than half of the full retail value of the three certifications.
If you end up deciding to choose the ISSA as your personal training certification, the Elite Trainer bundle is a no-brainer.
Sometimes, the ISSA also runs Elite Trainer deals on their main website.
If they currently offer a discount on the Elite Trainer package itself, it's tough to pass up.
For a deeper look at the top CPT programs in the industry, check out my article breaking down the best personal trainer certifications.
You can always get a sneak peek at the curricula for my top choices for the best personal trainer certificate by checking out my free ISSA study guide, NASM study guide, or ACE study guide (hint: these are my top choice for CPTs).
If you plan to get into strength and conditioning, especially for athletes, consider checking out my CSCS study guide to see what this challenging but rewarding certification has to offer.
While your specialization will certainly affect your personal trainer salary after employment, your own goals and personality should be the primary factors in which direction you go.
And don't worry about how long it will take to become a personal trainer: If you follow the steps I lay out in this article, you will be well on your way to an amazing career in the fitness industry.
1. Fulfill CPT Prerequisites
So what does it take to be a personal trainer?
The first, and one of the most important, steps to becoming a personal trainer is fulfilling the CPT prerequisites.
Virtually every NCCA-accredited fitness certification has the following prerequisites in addition to being 18 years of age:
High school diploma or equivalent
Certified in adult CPR/AED through the Red Cross
If you have yet to graduate high school or finish your GED, that should be your first priority.
Next, you must complete your adult CPR/AED certification, typically through the American Red Cross.
Pretty much every single reputable certifying agency will require you to be certified in Cardio Pulmonary Resuscitation (CPR) and Automated External Defibrillator (AED) before taking their exam or even signing up for the certification program.
Exclusive PTP CPT Offers



Gold Standard Cert

Most Popular Cert

Best Study Materials

A Good Option

A Good Option

Best CPT for you?

Many prospective trainers look at CPR/AED certification as ticking a box on your CPT application. However, this is the wrong mindset to have.
Physical activity has inherent risk, especially when dealing with deconditioned clients who may have comorbid cardiovascular health issues.
Being able to provide CPR/AED care in the event of a cardiac emergency is vital for ensuring client safety and is an absolute must for anyone working in a fitness center or gym environment.
Generally, you are not allowed to sit for your CPT exam until you possess this certification, which is typically valid for 2 years.
The good news is that getting CPR/AED certified is easy and the Red Cross has locations in virtually every major city.
Furthermore, some health clubs and fitness facilities will periodically offer CPR classes, so be sure to check out your local options.
It's also worth checking out a Red Cross First Aid certification, which is often offered in conjunction with CPR/AED.
Note that if you are still working on your high school education, you can knock out your CPR/AED certificate at the same time.
CPR/AED classes typically last one or two days, so getting it done on a weekend will allow you to hit the ground running once you get your GED or equivalent.
Although most personal training certifications do not have additional requirements beyond what I discussed above, you should always check the specific requirements once you choose your preferred CPT certification to ensure you meet the criteria.
In addition to the "hard" prerequisites, there are a few "soft personal trainer prerequisites" you should be aware of as a new or prospective trainer.
Generally speaking, professional trainers display the following qualities and skills:
Motivational skills
Organizational skills
Social skills
The ability to maintain professionalism
Behavioral coaching
If you are a new trainer and feel you lack these skills, don't worry! You'll learn them through real-world experience as you work in fitness, and you can develop these 'soft' training skills throughout your career.
With that said, one of my biggest tips for new personal trainers is focusing on social and professional skills. Your certification will handle the technique and programming components, but there is only so much you can learn from a textbook.
These are far from the only important qualities of a personal trainer, and your unique personality and interests will ultimately help you connect with the types of clients you want to train.
2. Select your preferred certification
With so many certifications on the market to choose from, you might feel overwhelmed when selecting the best fitness cert for your goals.
Regardless of which certification you choose, it is vital that you choose an NCCA-accredited certification to ensure you become a successful personal trainer
NCCA stands for National Commission for Certifying Agencies and represents the gold standard requirement for ensuring your certification has been vetted by experts in the field. An NCCA-accredited certification also represents the most up-to-date knowledge in the profession.
The certification you choose will depend primarily on which population of clients you want to work with.
For example, training general clients who need corrective exercise is a different focus than training athletes for sports performance.
The following are some of the top NCCA accredited personal training certifications:
International Sports Sciences Association (ISSA)
The National Academy of Sports Medicine (NASM)
The American Council on Exercise (ACE)
The American College of Sports Medicine (ACSM)
The National Strength and Conditioning Association (NSCA)
My overall top pick for CPT certification is the ISSA CPT, followed closely by the NASM CPT and ACE CPT, although these are far from your only choices.
As I mentioned, if you do choose the ISSA CPT, it is highly advisable to look at the ISSA Elite Trainer Program.
The Elite Trainer package includes the CPT on top of the nutrition coaching certification and an additional specialist certification for a marginal increase in cost of the CPT program alone–and a fraction of the cost of the retail value of each certification.
Checking directly on the ISSA website is the best way to view any additional promotions.
If you find any Elite Trainer deals, it's definitely worth considering the purchase.
If you have a specific gym in mind where you want to work, you should check which certifications that gym will accept.
Finally, you can take my quiz to determine which CPT is the likely best fit for your career goals.
Unless you have prior experience, the personal fitness trainer program you choose will have a big impact on the personal trainer skills you'll have on day one of the job.
A great CPT certification teaches you the following:
Basics of physical fitness training
Designing exercise programs
Working with special populations
Leadership skills
Personal training business skills
As I said, my top pick for mastering these skills is the ISSA personal trainer certification; however, becoming an ACE certified personal trainer or NASM certified personal trainer are great options as well.
While most personal trainer certification costs are roughly the same, if you are on a tight budget, there are many cheap personal training certifications available that still provide all the value you need to start training clients.
3. Study and pass your CPT exam
Now that you have completed your prerequisites and selected your certification, its time for the meat and potatoes, or perhaps the "chicken and broccoli" of getting your CPT cert: studying for and passing your CPT exam.
The overall difficulty of the personal training certification you choose–plus your background in exercise science–will determine exactly how much preparation you need.
Logically, easier personal training certifications generally require less study preparation.
Be aware, however, that no NCCA-accredited fitness certification is easy enough to pass without preparation.
Starting with a free personal trainer study guide is a good way to kickstart your CPT exam prep.
Don't underestimate any of the CPT exams, lest you risk failing your first attempt and potentially incurring a hefty reexamination fee.
For all major CPT certifications, you have a choice between purchasing study materials directly from the organization, typically at a hefty price, or finding a third-party option.
Third-party study guides offer an excellent and more affordable alternative to the full-price packages from the main organization.
My students have great things to say about the Trainer Academy CPT Prep Courses, which include an exam pass guarantee in addition to study guides, practice questions, and flashcards.
These personal trainer courses will speed up your study time and improve passing rates.
There are many other great third-party options as well, so do not feel limited to Trainer Academy.
Just be sure your study course includes personal trainer practice exams.
Note that for all accredited fitness certifications, you do not need to purchase the study materials from the certifying agency itself.
However, if you would prefer the full packages from the organization, that option is always on the table.
4. Update resume, obtain liability insurance, and look for employment
Assuming you passed your CPT certification exam, congratulations!
It's now time to build your personal trainer resume, obtain personal trainer insurance, and look for employment.
Exclusive PTP CPT Offers



Gold Standard Cert

Most Popular Cert

Best Study Materials

A Good Option

A Good Option

Best CPT for you?

While the clients you train are unlikely to see your resume, potential employers such as fitness centers and gyms will need these items before deciding to interview you.
If you are stumped on how to get hired as a personal trainer, I highly recommend finding a gym where you want to work and applying directly.
Also, familiarize yourself with the specific personal trainer job description to ensure you properly tailor your resume and interview responses based on the employer's needs. On the same note, be sure you completely understand your personal trainer duties and responsibilities.
The best gyms to work as a personal trainer really depend on which of the many personal trainer specializations you want to choose.
Additionally, one of the benefits of becoming a personal trainer is having access to the gym where you work, so if you like the vibe at a certain gym, I'd recommend applying there.
If your goal is to build your own personal trainer studio from the get-go, your initial resume will matter less. In this case, the personal training equipment you need will be a higher priority task.
However, updating your resume is still a useful exercise.
If you have no prior experience with personal training, don't worry. You can still show prospective employers that you're a professional who knows how to show up on time, are responsible, and can stick with a company. To do so, list any previous jobs you've had for more than a few months and list any references who are willing to vouch for you.
If personal training is the first job you've ever applied for, don't worry. If that is the case, you are probably fairly young, and employers will be less put off by a lack of work history.
Once you have an updated resume, it's important to obtain personal trainer insurance, even if you plan to have an employer.
The good news is that personal trainer liability insurance is fairly easy to obtain. Once you are certified, you can buy insurance from a number of providers at an average cost of about $150 per year.
Having PT insurance will protect you from liability should your client suffer an injury during training. It is also typically required in the scope of practice for all fitness professionals.
Medical and legal bills add up quickly if you end up getting sued by a client, and personal trainer insurance is a relatively cheap way to "cover your glutes," so to speak, from serious financial damage.
Now it's time to find a gym to work at: Your best bet here is to dress professionally, go to the gym you are interested in with a resume in hand, and ask the front desk to speak with the personal training coordinator or hiring manager.
If they aren't available, ask to leave your resume with the staff to be delivered to the relevant manager's desk. If that request is an issue with the gym, chances are it wouldn't have worked out anyways.
If you follow the above steps and have no luck getting calls back, you still have options.
Browsing job boards is another great way to see which gyms in your area are actively hiring trainers. You may encounter gyms and studios you would not have otherwise known about.
If you still have trouble finding personal training employment, getting your foot in the door at a gym may require you to get hired in another department as a gym staff member.
Examples include working the gym floor to keep equipment clean or other staff positions. Just be sure the management knows your goal is to become a personal trainer.
Getting related experience working other positions at a gym is another one of my tips for personal trainers if you are having trouble finding a job at a gym.
If they do not end up giving you the opportunity to train clients within a few weeks or months, be prepared to look for other opportunities: The good news is you will now have recent work history in a relevant environment.
I want to emphasize that finding your first personal training job can be very demoralizing at first. You will probably hear "no" at least a few times before finding a place that will bring you on.
Don't worry, though; once you get hired and get momentum going with your training career by securing a few clients, it will be much easier in the future to find employment, build a private practice, or continue growing within your current gym.
If for some reason you still cannot find employment after pounding the pavement and browsing job boards, or you continually get rejected when applying, consider looking for a personal training internship.
While these may pay less or be experience-only gigs, having actual hands-on experience dealing with clients will definitely be a boost to your resume when you start looking for actual employment again.
Regardless, sooner or later you will find a gym or fitness center that will give you an interview and your first personal training job.
5. Build your client base
Now that the "easy" steps are done, it's time to build your client base and start changing people's lives through fitness.
Of course, this is also where you start making money as a trainer to keep the whole operation going.
The best methods for getting clients vary depending on your employment situation. Expect to have a flexible lifestyle since many clients will train in the morning or evening while the middle of your day may be slower.
Learning how to sell personal training is arguably the most crucial skill for being a successful personal trainer since obtaining and retaining personal training clients will make or break your fitness career.
Building a client base involves some sort of sales funnel.
A sales funnel might sound fancy, but it just refers to the overall steps that result in a "prospect," which is just another way to refer to potential clients, becoming a paying personal training client.
The typical personal trainer sales funnel looks something like the following:
Acquiring leads via marketing
Following up with prospects and setting up consultations
Closing the sale
Training the client
Renewing the client (for non-automated payment systems)
Each of these steps is its own skill set and has its own methods. Often, the fitness club you work at will have its own sales funnel to bring in clients.
Personal trainer marketing is the first step of the sales funnel.
There are many great personal training marketing ideas out there, including the following:
Flyers, posters, and other physical advertisements
Organic and paid social media advertising
Word-of-mouth advertising
Word-of-mouth is probably the best form of advertising, although it takes more time to build up a good word-of-mouth network because you must already have satisfied clients who begin recommending you to friends interested in fitness.
A direct recommendation from a trusted friend is arguably the most powerful form of advertising.
After all, you can claim five-star service and results in your ad, but a direct endorsement from a friend blows the best advertisement out of the water in terms of bringing you interested hot leads that turn into paying clients.
In line with this, getting reviews from current clients on your social media or business page builds the additional social proof that can turn you into a lead-generating machine without running expensive, flashy ad campaigns.
This depends on you providing excellent service to every client you train. Among other things, tracking client progress, being a great listener, and of course, knowing your programming and exercise technique coaching skills are the best ways to ensure your clients leave raving reviews.
Once a lead reaches out to ask about training and gives you some form of contact information, they are now a prospect.
At this point, following up is key. You don't want to be too pushy, but following up immediately to the first contact is crucial to build the prospect's trust in your business.
If they do not schedule a consult, follow up in 24 to 48 hours to ask if they still want to come in for a free consultation.
Usually, a truly interested prospect will schedule a free consultation without a ton of hassle.
If you find yourself following up several times with no interest, the individual is probably not interested enough yet to become a paying client.
Once you get your consultation scheduled and your prospect is in front of you, it's time to build rapport, perhaps offer a free training session (especially if you do not have a ton of clients yet), and ultimately, discuss pricing and ask for the sale.
I personally stopped offering free sessions after I had enough clients that I wasn't desperate to close more sales.
Interestingly, I actually ended up closing more sales without a free session. Unless you totally blow the first training session, clients won't complain about paying for their first session.
Note that big gyms typically offer the free sessions to prospects but still pay you as the trainer.
As a self-employed trainer, you do not have the luxury of getting paid when offering free sessions, so that is another consideration depending on your employment arrangements.
Once you close the sale, congratulations!
You now have a paying client and can begin the actual work of being a personal trainer.
6. Commit to continuing education
Just because you have a nice schedule of clients and steady income does not mean you can rest on your laurels.
In fact, learning how to be a good personal trainer requires an obsession with self-improvement and a commitment to your personal trainer CEUs.
Improving your knowledge allows you to provide better training services and increase your hourly rates over time.
Additionally, CEUs are the time to focus on the different personal trainer specialties to get more personal trainer career information and decide your long-term trajectory.
Even if you know what you want to do, completing personal training continuing education credits is a requirement for staying certified as a personal trainer.
The good news is that there are so many different CEU options for personal trainers. You typically need to complete CEUs every two years, although each agency has a different CEU requirement scale and process.
I highly recommend saving money upfront by purchasing a certification bundle when buying your CPT program.
Often, you can save money on each individual certification and get ahead of the curve through bundled programs.
The best deal on the market is by far the ISSA Elite Trainer Program.
The Elite Trainer bundle includes the ISSA CPT, nutrition certification, and third ISSA certification of your choice.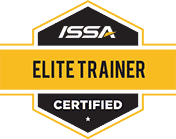 The whole deal comes in at slightly more than the cost of the CPT alone, making it an absolute no-brainer for anyone considering the ISSA CPT.
If there are currently any further discounts on the ISSA, it's even harder to pass up.
Savings in hand, it's easy to select the right personal training CEUs for your career.
You are not limited to the ISSA however, and other organizations such as NASM and ACE often bundle certifications as well.
With so many great options from many different providers, you have the freedom to take your personal training career in whatever direction you want!
The following are a few top personal trainer program CEU options you have on the table:
Weight management and weight loss specialist
Furthermore, there are many personal trainer online certifications focusing on how to be an online personal trainer. If you plan to work with clients online, these are worth looking into.
On top of your CEUs, you should constantly be thinking about tangential skills such as time management, improving your fitness clients' motivation, and keeping things interesting by getting creative with your exercises and workouts.
Additionally, be sure to think about important personality traits for personal trainers to help you develop motivating and positive energy when coaching your clients.
FAQ
Conclusion: Becoming a Personal Trainer
Regardless of your career goals in the fitness industry, the initial steps to becoming a personal trainer are the same.
It all starts with becoming certified through an NCCA-accredited certification program.
From there, kickstarting your career depends on finding the right employment situation for your personality and career goals and then building your client base.
Finally, you must commit long-term to your CEUs in order to advance your career and grow into your full potential as a personal trainer.
If you're wondering what your exact first step should be, you can take the quiz to determine the best CPT for your goals.
From there, be ready to dive in to life as a personal trainer.
Good luck!
References: