This article is the most informative piece you will ever find on the internet concerning NASM CEU options.
It is an opportunity to learn:
With over a decade of experience, I will explore with you the options NASM offers in continuing education.
Let's get right on to it!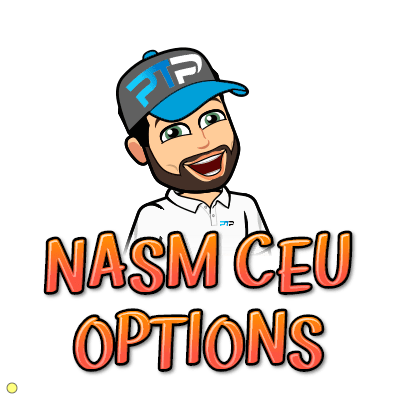 Introduction to NASM CEU options
Are you looking for some continuing education credits as one of the nasm fitness professionals? Look no further; you have found the best article that will break down all of your options.
If you are not yet certified as a personal trainer, check out my article on how to become a certified personal trainer and top personal training certifications.
You will see the cheapest options as well as the most beneficial options as well.
A similar article you might find helpful are the best corrective exercise certifications, the top strength and conditioning certifications, or fantastic fitness nutrition certifications.
All of these certifications are excellent choices for continuing education!
One of the best continuing education options is to get a second certification.
Take the quiz to see which certification would be a good fit for you.
The menu at the top of this page will answer any question related to personal training that you have.
If you have any questions, don't hesitate to leave me a comment here (I'll respond within 24 hours).
Also, visit the home page for the most recent and popular articles.
In this article, you'll learn all that you need to know about obtaining NASM continuing education credits for the popular personal trainer certification from NASM.
Although they are not the cheapest options, getting additional certifications such as ACE, AFAA, or NASM CES, Corrective Exercise Specialist, certifications is important for professional development and making you a valuable and better trainer.
It is very similar to my article on ACE continuing education credits.
A lot of the material is also the same as my article on the cheapest CEU's for personal trainers.
Depending on who your certifying agency is, they might call continuing education credits either CEU's or CEC's.
Both of these are the same thing, and most certifying agencies require approximately 2.0 or 20 hours of continuing education credits every two years to get approved for recertification with the organization.
It is also worth checking out the NASM recertify for life options for nasm ceu courses.
In this article, I will go over the three primary ways you can obtain continuing education credits, what the most beneficial ones are, and which ones are the cheapest.
Let's jump right in so you can learn all about it!
Obtaining an advanced/specialized certification
This is my preferred method of getting continuing education and training for any certifying agency because it adds the most value to your profession and allows you to work with a wider variety of individuals.
This will also increase your earnings as a personal trainer or nasm-CPT.
One of the best parts about having advanced certifications is adding them to your kick-ass resume in case you need to apply for another personal training job.
You'll have much more knowledge to work with special populations.
For example, if you work with a lot of elderly individuals that have muscular imbalances you should have a NASM-approved CEUS certification that specializes in muscular imbalances such as the NASM CES (link to the site).
The NASM, the National Academy of Sports Medicine, personal trainer certification is a foundation for continuing education programs that will give a major boost to your career.
On the other hand, if you like to work with athletes that are trying to reach their peak performance in a particular sport, a good option would be NASM's PES (link to the site) certification or the CSCS by NSCA.
Some other advanced certifications that I recommend are ACE's group instructor (link to site) or their health coach certification (link to the site or my article on how to become a health coach).
Another option is to get an additional general certification.
For example, if you are already certified through ISSA or the NSCA, you might want to consider getting another general certification from NASM or ACE.
Not all general certifications are the same.
If you want to learn about the differences between my favorite general certifications, check out my article here.
Obtaining a course online
Besides getting continuing education units from another certifying agency, there are also plenty of companies that offer online courses for a very fair price.
Out of all the places that sell online courses, the best place that I have found is a website called exerciseetc.com.
I have purchased two separate courses from them in the past to fill 1.9 out of my 2.0 required CEU credits.
For the money, they sent me a physical textbook on the subject, and once I was done studying, all I had to do was log onto their website and take a test on the book.
Their assessments are quite solid.
Both books were approximately 200 pages long, and I had three months to take the exam from the date that I purchased it.
Other websites also have online course options.
For example, the largest certifying agencies also offer continuing education courses alongside their advanced or general certifications.
Going to a live workshop, conference or local seminar
If you live in or near a large city you can probably find a regional workshop or seminar that you can attend for continuing education credits.
Most of these live events cost approximately $100-$200 and will fulfill most, if not all of your continuing education needs.
If you do not live close to a large city, you might not be in luck.
The best way to find out is to Google "local fitness seminars near me," and that should return a good amount of results.
I wish I had a good website that had a schedule of all the conferences or seminars for continuing education credits, but there are none that I know of.
You can also google the NASM-approved CEUS list for the NASM re-certification application and NASM CEU provider.
Before you can get better personal trainer jobs with great salaries, you need to receive CEU with accredited agencies.
This is a great way to get practical and possibly hands-on experience while getting continuing education credits at the same time.
Conclusion on NASM continuing education credits
I hope you all enjoyed my post on NASM CEUs.
These are the best ways that I have obtained continuing education credits not only for NASM but other certifying agencies as well.
The standard for continuing education is the international association for continuing higher education with its continuing education programs.
By far the cheapest option is for you to purchase an online course at exerciseetc.com.
Although that is not my preferred method, it is easy on the bank account.
Once again my preferred method is to get another general certification (such as the general ACE certification here!) from a separate certifying agency or to get an advanced or specialized certification such as the PES or CES.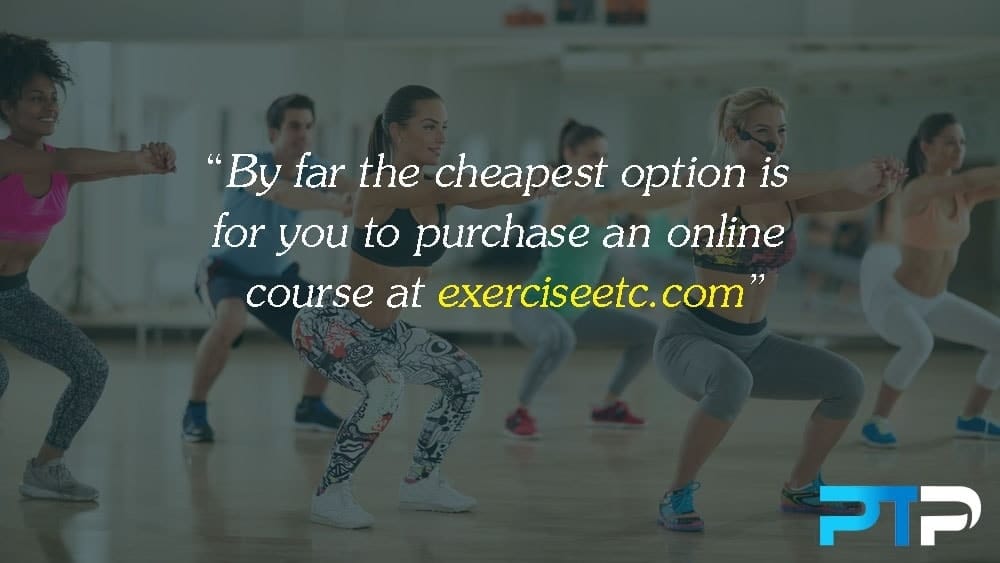 You add a lot more value to your clients choosing this method and can become a more successful trainer that makes more money.
My last option is also great for hands-on experience but is mostly only available in large cities.
NASM courses are part of the best personal trainer certification around.
Let me know what you guys think about my NASM CEU article in the comments below and please share it on social media if this was helpful to you! Happy personal training!