Welcome to the PTPioneer NASM study plan page, part of the extensive NASM study hub.
Throughout this page, you will be able to help decide on a proper plan and timeframe for your studies in the NASM CPT program.
Here is a preview of my PTP ACSM Study Plan PDF, which offers 4 timeframes for you to choose from and help organize your studies and the materials in the ACSM Study program.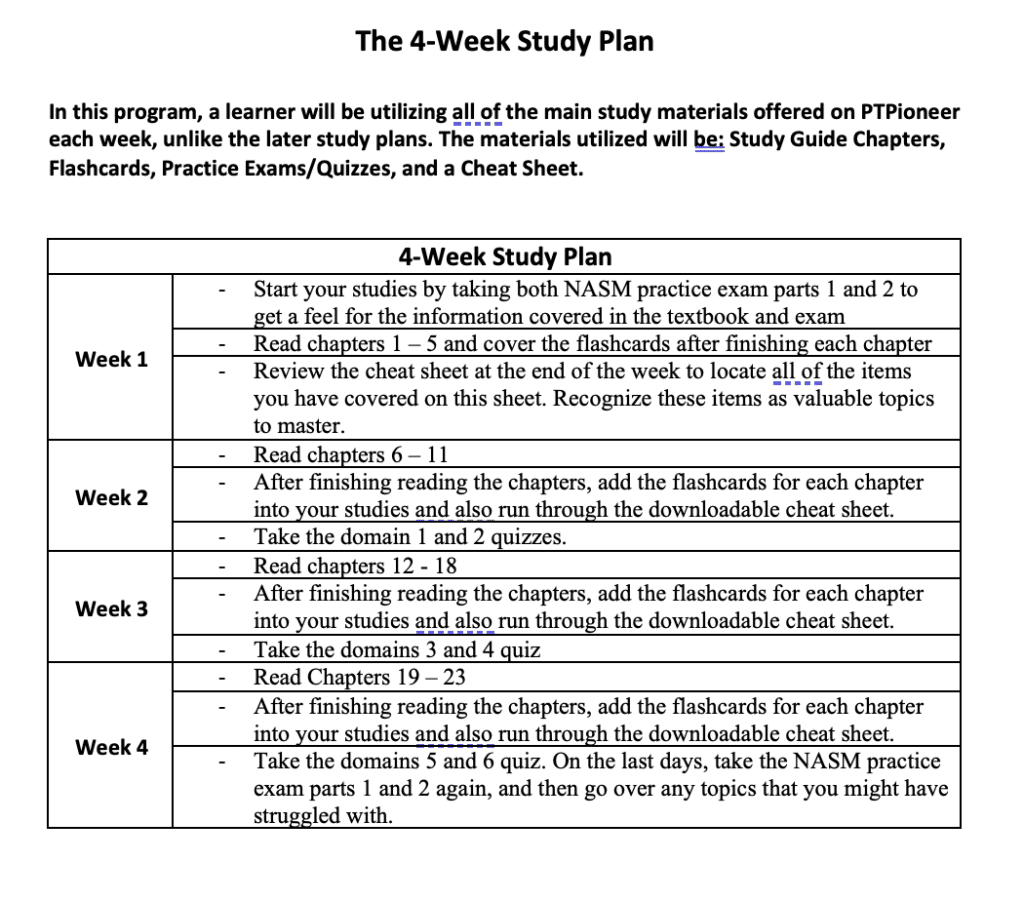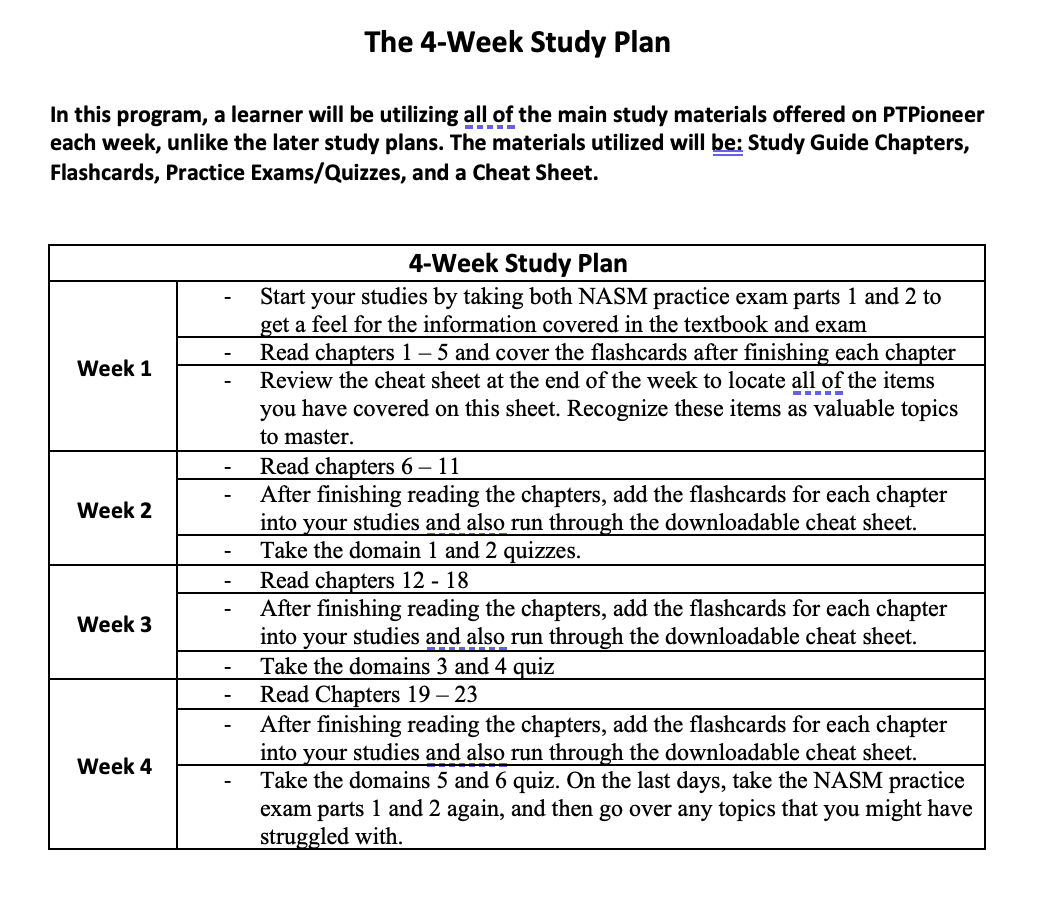 Get your copy of the NASM CPT study plan and I will also include a Cheat Sheet for the NASM materials for free in the same email. These help immensely in studying for the exam.
Within this article, we will highlight:
Make sure to check out Trainer Academy for premium NASM CPT study materials. Trainer Academy is proven to shorten study time and has a pass rate of 99%. Read my full review of them here. You can save $100 on their MVP study system with the code: PTPSUB
Next, let's dive in and look at this study calendar we suggest for you to master the materials!
NASM CPT Study Series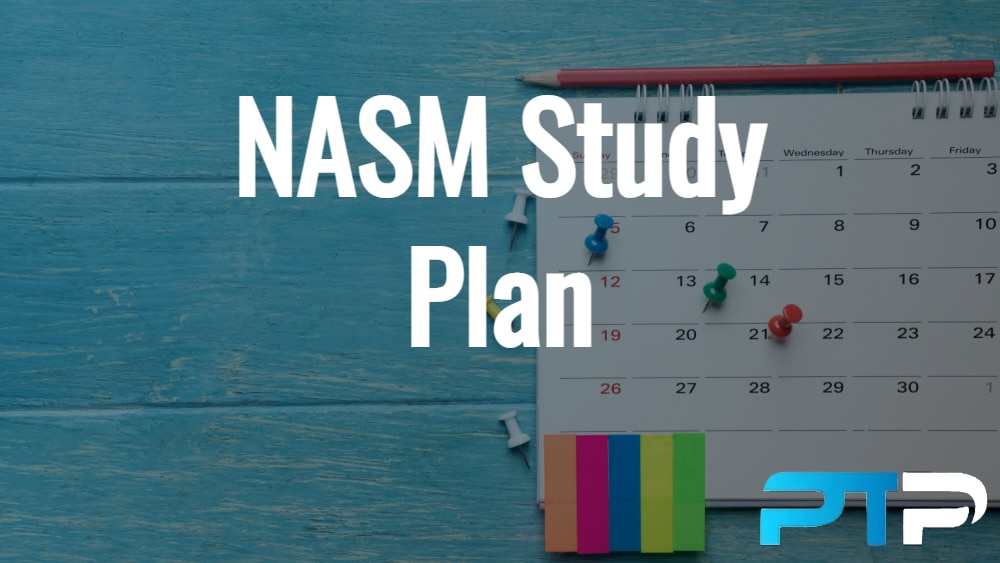 How Long Does it Take to Study for the NASM Exam?
The NASM exam is one of the more challenging and higher reputation Personal Training certifications, and the final certification exam is challenging.
This means you will have to master all the content within the NASM CPT textbook, which can be daunting if you do not have any experience studying exercise science.
If you do not have a degree or certification in fitness, then you can expect to take around 6 months, on average, to finish properly learning the NASM CPT materials. This could be even longer if you are extremely busy and unable to study as regularly as most.
For an experienced personal trainer or someone with a degree in exercise science, you can expect to take half of the time it takes someone without experience.
So, expect about 6 months for someone without experience, and 3 months or less for someone that has a degree or other fitness certification.
Next, let's see a little more about my downloadable study plan.
Make sure to look at the preview picture above to see a small piece of what is offered with the PTPioneer Study Plan.
If you like what you see, then make sure to click the button and receive the Study Plan for free in your email.
On top of this high-quality downloadable PDF Study Plan for the NSM CPT, you will also receive our amazing Cheat Sheet to help with your studies, as well.
The PTPioneer NASM CPT Study Plan is very helpful in organizing your efforts as a learner, and some people need this extra visualization tool.
There are four options that we have found as the most common study periods for learners, these are:
4 – Week
3 – Month
6 – Month
1 – Year
These are the four options that give readers the easiest way to visualize the studying choices they have and organize the materials as they see best fit to their schedule.
Most people choose to start a plan that lines up with when they plan on taking the NASM Certified Personal Trainer Exam. Using the NASM Study Guide here, the Practice Test, Cheat Sheet, and Flashcards will all come togethFor the 4er to create an excellent exam prep resource, but requires a bit of help organizing at times.
The first option we give learners is one of the more popular ones, and it is a 4-week, or one month, study plan. The ideal learner for this would be someone that may have a fitness certification or other major personal training certification, and just needs to see how this one differs from another, and catch the highlights in a quick manner.
Another person who might use the 4-week option, is someone who is very effective in cramming for the exam, but this is not as common.
The 3-month option is our second option in the study plan, and it is the most popular option for learners on PTPioneer.
This is a good amount of time for someone to learn the material well and is optimal when someone has the time to study most days of the week.
The 6-month plan is the third option we have for the study plan for NASM, and this is as popular and commonly used as the 4-week option, but for a different type of learner.
Usually, we see this option for those that wish to learn at a good pace, but have zero experience with the covered NASM materials, like: program design, cardiorespiratory and resistance exercise technique, general fitness training, training instruction, applied sciences, bioenergetics, human movement sciences, client relations and behavioral coaching, and professional development and responsibility.
The final option is the 1 – year, or 12 – month option, and this is the least common, but it is very useful for the busiest of learners.
1 – year is a long time, and for some it is needed when they have a busy schedule and need to learn the ins and outs of the national academy of sports medicine personal trainer certification and the extremely effective optimum performance training model.
Regardless of the plan chosen, sticking to the studying is the main concern, and hopefully these study plans in the downloadable PDF all help to create good studyhabits that benefit future learning efforts, as well.
Trainer Academy, who we affiliate with and use their Cheat Sheet, does this even better with a thoroughly detailed study blueprint to organize their premium study content. They offer premium materials for all of the major cpt certifications and many exercise science certs that are desired by fitness professionals.
Study Tips to Maximize Efficiency
The most important study tip you can take aways from the study plan and this page, would hopefully be that creating consistency and habitual efforts will work best in the long run.
Study habits are very rare and take time to form and appropriately utilize in your life. When it comes to learning something for the long term benefits, it is important that you study as much as you can and as often as you can.
3- 5 days a week should be expected for most learners, and 3 really is more of a minimum.
Studying can be done in short bursts, and most of the exercise information spread throughout the textbook is going to be optimal for this type of studying.
Flashcards and practice exams within the NASM study hub here on PTPioneer need to be seen and recognized frequently to aid with the memorization of materials.
The PTP study plans and their timeframes will focus on the idea of frequent and short study sessions to pass your ACSM certifications and get the best test prep possible.
Fitting a Study Plan to Your Schedule
As you likely have seen in the Free PDF Download within this page, there are varied hours recommended per week, as well as different schedules and goals for completing and implementing the 4 main study materials to your study routine.
It is important that you choose one that fits your timeframe best, and if none of them are perfect, feel free to start one and shift to another more fitting study plan.
The free study guide and materials offered here on PTPioneer are great, but studies are not always the best option on the internet, especially when compared to paid study systems, like that of Trainer Academy.
On PTPioneer, you will find practice exams with a good amount of practice questions, but if you want to nail down the materials and have no doubt about achieving a passing score, then most paid study organizations offer a pass guarantee to give you peace of mind in your purchase.
Once you have finished with this study plan page, the next ideal step is for you to go on to the study guide page, which is more of the meat of the materials, since it summarizes the most information from the text.
The study guide page that follows this study plan is one of four main study materials offered on the site, so you are officially starting studying once you enter that page.
Good luck with your studies, and make sure that you keep that PDF study plan handy by downloading and printing off, if possible.
See you in the next article!