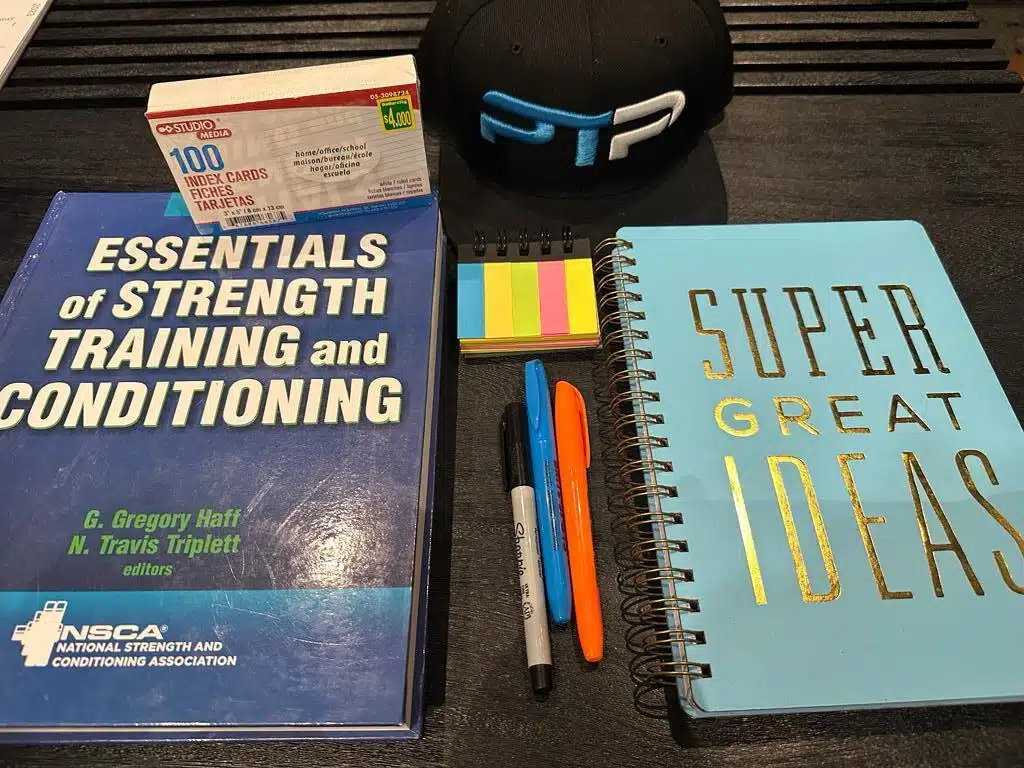 What's up PTPioneer Readers!?
Welcome to the CSCS Study Guide Exam Preparation.
This CSCS exam prep hub will serve readers with many articles to help you prepare for the exam with various materials.
All in all, the primary information covered in this article will be:
How to navigate this CSCS Study Hub
How you can pass the CSCS Exam with simple tips for using PTPioneer Study Materials
The next steps to take in your studies
This article covers all the background knowledge requirements and understanding students and candidates need to prepare for their CSCS test.
Get your copy of the CSCS exam cheat sheet and our study plan. It helps immensely in studying for the exam.
Make sure to check out Trainer Academy for premium NSCA CSCS study materials. They will reduce study time by 50% and have an exam pass guarantee. Read my full review of them here. You can save $100 on their MVP study system with the code: PTPSUB
NSCA CSCS Study Series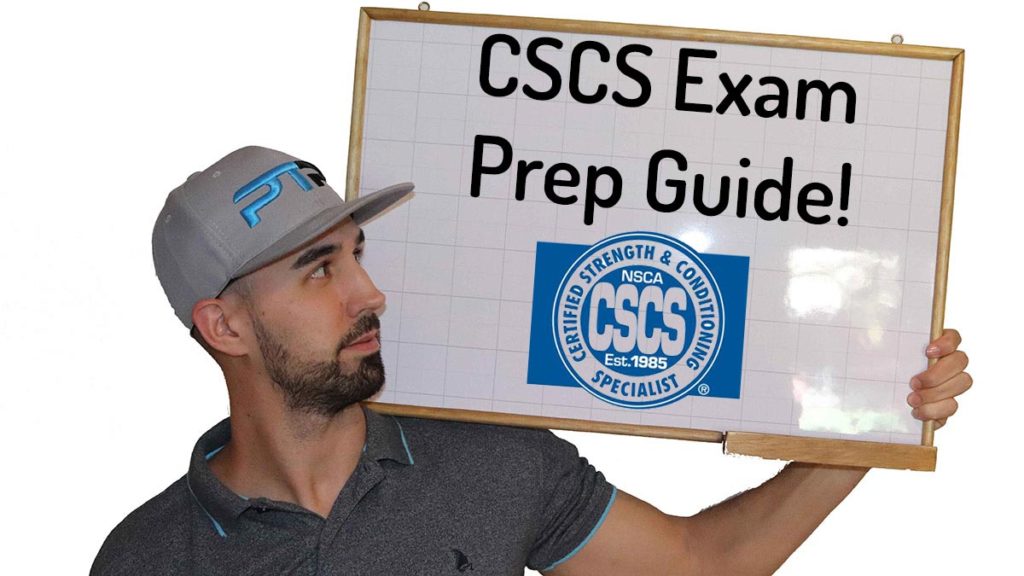 Top 10 Tips To Pass The CSCS Exam (Video)
Top 10 Tips To Pass The CSCS Exam (Podcast)
You can navigate the study hub easily, our PTPioneer CSCS study hub, with a few different options.
The primary navigation after the intro will be found on all of the other study hub pages as well, and it is a drop-down list that puts the seven main articles to choose from.
From this drop-down study hub menu, you can immediately jump between the articles and study materials that you would like to visit, such as the CSCS practice questions.
If you happen to be using a mobile device, then make sure to utilize the drop-down sidebar that appears so you can successfully navigate our seven main pages.
The materials within the study hub are all of the major study materials you see with the typical study programs, plus a few recommendations and most-asked questions to help ensure learners that they know all they need to about the organization and its certification.
In general, and in this order, we have pages for a study plan, study guide, practice test, flashcards, cheat sheet, and frequently asked questions.
It might help to bookmark and save the links to the pages you will be using for easier access to the materials.
The PTPioneer Study Hub Materials: Tips
Our excellent free study system here on PTPioneer offers 7 primary pages filled with content to help readers start and finish their journey to certification with the NSCA CSCS.
The National Strength and Conditioning Association is one of the biggest names in fitness. It has one of the most challenging tests for certification, which is the certification on this page, the CSCS. Since the CSCS requires a bachelor's degree to even begin studying, you know the CSCS test is going to be difficult.
You will need a strict study schedule or study calendar that includes reading the books, completing CSCS certification prep, taking plenty of CSCS certification test practice questions, and your CSCS test prep's flashcards and other resources. You do have a ton of courses out there that can boost your level of understanding before sitting for the CSCS exam.
If there were ever a fitness certification that needed a study guide, the NSCA CSCS is definitely it.
Look at the main pages of our study guide here on PTPioneer.
CSCS Exam Prep
Our initial main page for the study materials is the Exam Prep page that you are currently reading.
This page serves as an intro to the materials offered in the study program as well as tips on how to start your journey of learning the CSCS's major topics.
Readers should listen to the video/audio materials at the top of the page, as well, if they want the material in a slightly different format.
Our PTPioneer Study plan page provides a high-quality PDF download, which will help organize learners' study times.
The Study plan is essentially a calendar of the suggested study materials for the organization.
The readers at PTPioneer typically come with select timeframes, which I have emphasized within the study plan. These timeframes are 1-month, 3-month, 6-month, and 1-year.
This downloadable PDF study plan will come directly to your email for safe and secure download.
This PTPioneer NSCA CSCS serves as the meat of the study materials, as it contains a condensed version of the text that helps to break down the chapters into more manageable but cut-down versions.
This study guide goes chapter-by-chapter and follows along with the chapters set up in the Official NSCA CSCS textbook, The Essentials of Strength Training, 4th Edition.
There are a total of 24 densely packed that discuss the advanced topics found throughout the field of strength and conditioning.
The Study guide will be the first of the actual study materials within our 7 primary articles of the CSCS Study hub.
Just remember as you are studying, that this study guide is more for help with studying and as a tool to use along with the textbook; it should not be considered a full-on replacement for the NSCA CSCS text.
The practice exam and domain quiz page are possibly the most valuable sets of study materials, as nothing will prepare you for the certification test like taking a practice test to emulate this challenging strength and conditioning coach final exam.
On top of a practice test that resembles the final certification exam, PTPioneer also offers domain quizzes that tackle all of the primary domains with a set of individual questions.
If you already have some form of fitness certification, like a personal training certification, you can see how you would currently do on the CSCS exam as a test-taker before even diving into the studies.
Since the practice test and domain quizzes are an actual layout like the exam, you can look at the things you need to study, and for the domain quizzes, specifically, you can get an idea of what subjects you need to study more.
Flashcards have been tested and proven to be efficient study materials for memorization and learning dense amounts of the content found within materials such as the NSCA CSCS.
The chapters in our study hub page go in order, and they contain all of the most important terms and topics throughout each of these chapters.
Within the study plan page, the second page in the study hub, we lay out when you should begin studying the chapters of flashcards, and typically this is going to be right after finishing the associated study guide chapter page.
For flashcard studying to work best, it is ideal to study on a daily or semi-daily basis.
Some of the premium paid study programs for the CSCS will offer spaced-repetition flashcards, and they are preferable for studying as they place the topics you have the most trouble with before the others.
Focusing on your areas of weakness focuses on your needs and helps your track the details and increase your exam pass rate because the answer explanations will be exactly what you need to master the hundreds of details needed for the CSCS exam.
If you are looking for more premium flashcards, a site like Trainer Academy would be the optimal place to go.
The Cheat Sheet for the CSCS comes from Trainer Academy, which is an affiliated company that offers up premium study content for all of the certifications from major fitness organizations like NSCA, NASM, ISSA, ACE, ACSM, and more.
This cheat sheet, like others that can be found, is a one-page document that aims to contain all of the most vital information that can be easily put on a single page.
The cheat sheet can also be seen as a small sample of the broad subject of certification in strength and conditioning, but without the context of studying, it might not make the most sense.
Some other premium study materials offered will be things such as audio guides, mnemonics, and other offerings.
The Final piece of studying and general information for the NSCA certified strength and conditioning program comes in the form of a gathering of the most frequently asked questions and the last general info that hasn't been covered or is best reiterated.
This page will answer all of the most common questions seen by readers and other folks across the internet.
The information contained within this page will be along the lines of general test preparation tips, organization discussion, professional fitness advice, and other recommendations covered in question-and-answer format or simply in general paragraph format.
Let's take a look at the exam breakdown so you know what to expect from the NSCA.
CSCS Exam Break Down
You've heard it a million times by now, but the CSCS exam is super tough. The best way to begin the battle is to know how the exam is laid out. The testing structure was updated on Sep 1st, 2021.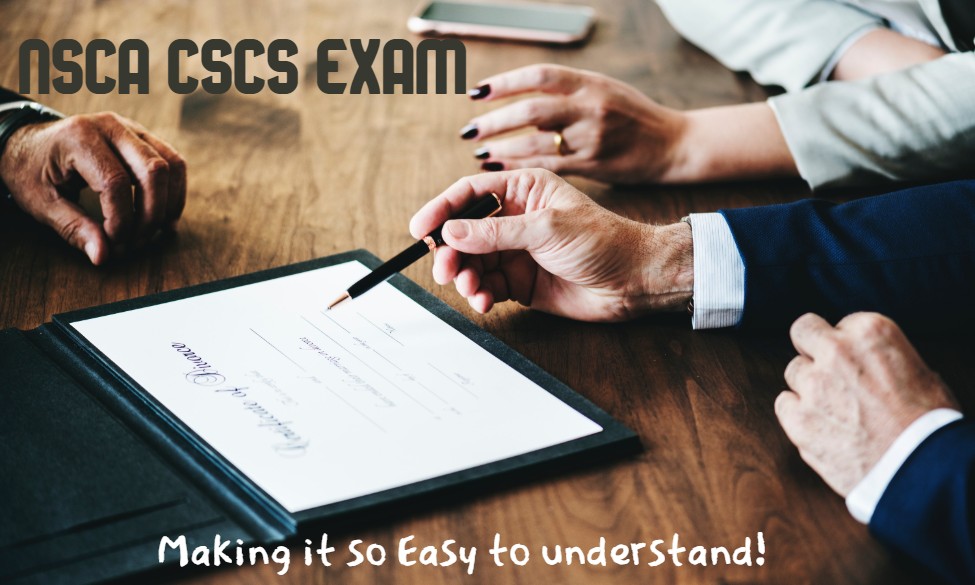 Section 1: Scientific Foundations. These are the basic principles behind strength and conditioning. There are three domains in this section.

The meat and veggies of the exam, section 1, is a take on the fundamentals of strength and conditioning theory.

Look forward to basic physiology, biokinetics, and anatomy in domain 1 of this section, while domain two looks at the principles of nutrition and biochemical activity.


Domain 1 Exercise Science:(55% of section score/44 questions). Organ systems, musculoskeletal systems, neuromuscular activity.
Domain 2 Sports Psychology: (24% of section score/19 questions). Psychological techniques and knowledge to enhance training.
Domain 3 Nutrition: (21% of section score/17 questions)
Diet and nutrition, energy systems, and the influence of nutrition on biochemical reactions
Non-Scored Questions: a total of 15 questions are not scored.
Section 2 Practical/Applied. This section tests your knowledge of the practical and organizational components of being a certified strength and conditioning specialist. The CSCS exam won't actually test you in any practical way, even though the concepts in this section are based on practical application.

There are 4 domains in this section. 1 focuses on exercise technique, 2 is on program design, 3 looks into organizational and administrative skills, and 4 tests your ability to test and assess your clients.


Domain 1 Exercise Technique: (36% of section score/ 40 questions)
Focus on resistance and plyometric training, maximizing speed and agility, flexibility and spots, as well as ATP and energy pathways.
Domain 2 Program Design: (35% of section score/ 38 questions)
Focus on programming, program design, and personalized plans based on client assessment data. Client follow-up, exercise progression, warm-up, and warm-down strategies.
Domain 3 Organization and Administration: (11% of section score/12 questions)
Focus on industry policy, laws, bylaws, and insurance implementation for the setup, maintenance, and growth of a coaching business.
Domain 4 Testing and Evaluation: Percentage of section (18% of section score/20 questions)
Focus on testing tools, standards, and protocols required to effectively determine areas in need of a corrective approach where optimizing performance is concerned.
Non-Scored Questions: a total of 15 questions are not scored.
Non-scored Questions
Like most cert exams, CSCS contains a bunch of non-scored questions. These questions don't count anything towards your final score. Instead, they are a way to test the test, test inception!
On a more serious note, the non-scored test questions are there as a means of quality and research control. They are used to determine the future structuring of the CSCS exam. You won't see them coming because they are spread out across the entire exam within relevant sections and domains.
Because of this, I advise you to treat every single question with the same high degree of attention and urgency.
Next Steps in Exam Prep
If you haven't read the PTPioneer review for the CSCS certification, then you could start by doing that, but if you have committed mostly to the CSCS, it may be time to dive into this PTPioneer study system.
To dive in and start this free study system, you will need to go to the study hub and find the next page, which will be the CSCS Study Plan page.
It can also be a good idea to look into the other specializations you could go for after you have achieved, or while studying for, your CSCS certification, as specializations help you stand out and craft your career.
Another ideal option will be going straight to the practice test if you are curious about how you would do today!
Regardless of your choice, keep up the studying and hard work, and enjoy this free CSCS study system!