Welcome to the ultimate guide to online personal trainer certifications/courses in 2022. I will discuss:
Being certified by all of these certifications, I will help you decide which one is right for you.
Make sure to take the quiz to get a good idea of which certification is right for you.
Let's dive right in!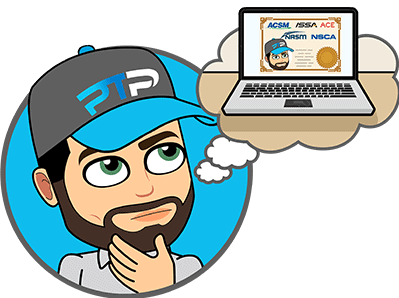 Online personal trainer certifications are what is required to be a credentialed trainer for employment (both online and in-person).
In these certifications you will learn about exercise science, client assessments, how to program routines Etc.
Online Personal trainer courses teach you how to become a successful online personal trainer, but they do not provide the knowledge of training like personal training certifications do.
Let's take a look at the top 5 online personal training certifications.
Before we get started, I have three important things to tell you:
I have free study guides and practice tests for most of the PT certifications talked about in this article.
Trainer Academy has fantastic study materials and they offer an exam pass guarantee.
My Running Start course is 100% free and will guide you A to Z to starting your PT career.
Many traditionally administered certifications have made the jump to an online format, but ISSA has been leading the charge as the ruling online personal trainer certification.
Because of this, ISSA has been a global name in fitness education, making it a highly recommended personal trainer certification. Let's have a look at what that actually means.
Certification Information
So ISSA stands for International Sports Sciences Association, and as the name entails, it is one of the truly international certifying agencies out of the top tier certs.
It positions itself this way and has successfully branched across the world through its online-only approach.
Unlike other US-based certifications, ISSA has a massive international contingent, making it the most popular of all the big certs we currently have on offer.
ISSA leans significantly into the fundamentals of fitness and nutrition, not only the science and coaching application, but also the business of nutrition.
This business-minded approach is what sets ISSA apart from many other certs.
ISSA is very accessible not just in its online-international approach, but also in how it administered its exams as well as its value for money, making it one of the most cost-effective certs you could hope for.
ISSA has a very straight forward, value-added package when it comes to their CPT course.
No crazy tiers to choose from, just go with the standard CPT package that comes bundled with the Sports Nutritionist course free of charge!
That will set you back $799, but be sure to check for discounts such as their buy one get one (with nutrition cert) or their elite trainer package.
They run these deals from time to time.
The materials you'll find include:
Online Practice Exams and Quizzes
Audio and Video Lecture Options
Online Study Guide and Workbook
Online Student Forum
Online Exam
I also have my own free ISSA study guide and practice test here.
For premium study materials and ticket your study time in half, check out the ISSA study materials from Trainer Academy.
Exam information and recertification
If there is one thing ISSA is known for, it's having the most passable exam in the game.
With a pass rate of 90%, it got the highest ratio of qualifying trainers.
This is mainly due to the open book nature of the exam.
Many would argue that this makes the exam too easy and limits the amount of necessary challenge required to incentivize candidates to apply the knowledge.
It also has many people questioning the quality of ISSA certified trainers if almost everyone manages to pass.
But if you really look at it, ISSA's testing model is designed to teach and not to challenge. You can only pass by going through the motions of learning and applying the principles and concepts you will be introduced to.
Recertification occurs every two years from initial certification.
You will of course be required to produce CEU credits as well as a $75 recertification fee. A whole lot cheaper than most of the other certs out there.
Because of its online/distance learning structure, ISSA is accredited by DEAC, an accrediting body that is the gold standard for distance learning institutions.
Recently, in 2020 ISSA gained their NCCA accreditation!
This is great since the NCCA is the most authoritative and trusted accrediting body out there.
You can take the test at any time, any place, completely online
It is an international and national personal training certification, which is widely accepted
It has a good pass rate
It offers a wide range of training
Flexible payment plans
Excellent instructional videos
NCCA Accredited
Open book, self-paced exam may leady to a lower entry barrier and quality of certified trainers in some instances
The ISSA certification comes highly recommended by everyone that has done the course.
It has more than enough study materials that are focused on imparting practical skills so you can become a great trainer.
Like others who have passed the ISSA certification, I also strongly recommend it given that, among other things, it continues to support you after training with a free website to promote your services.
Overall ISSA is definitely one of the top personal training certifications that can be done 100% online.
They also have some of the best package deals (2 or 3 certs for 1). Keep an eye out for those.
In the world of personal training, only a handful of certifying agencies give the same level of familiarity and reputability as NASM.
When asking what personal trainer certification is most respected, NASM is far from an uncommon answer.
Certification information
NASM is one of the top dogs so to speak, and for good reasons.
Reasons which we will introduce to you so you can decide if this is the way your career is headed.
NASM is an NCCA accredited online personal training certification program started in 1987 with an emphasis on corrective exercise.
Its reputation as a certifying agency increases daily thanks to its unique Optimum Performance Training model.
NASM CPT enjoys wide acceptance and popularity in the United States by employers.
Over 500,000 personal trainers have received their certification from this great body owing to the prestige attached to it.
NASM offers 4 varieties of the program to fit into the goals of everyone interested.
Whether you want to choose the self-study program, the premium self-study program, the guided study program, or the all-inclusive program, I assure you the body has you in mind when they were crafting their programs.
Here are the current prices and my discounted price.
Readers of my site can use my personal discount code PTP25 to save 25% on all NASM CPT certifications.
$699 $524 (25% off) – Self-study package
$1099 $824 (25% off) – Premium self-study package
$1499 $1024(25% off) – Guided self-study package
$2199 $1649 (25% off) – All-inclusive package
The resources you will receive in your study pack will depend on the program you have chosen.
Generally, this includes the following:
A digital textbook of 20 chapters and 720 pages
Video lectures
A wide variety of exercises and cueing library which contains everything suitable for your clients
Practice exams and quizzes which helps to test retention of knowledge level
An official study guide for monitoring progress while studying the textbook
Anatomy memorization and learning activities to make it easy to understand the anatomy section of the textbook and other sections
Use of webinars to prep for exams and to explain difficult concepts
Students have access to a coach and mentor to guide them
You get to receive a hard copy of the textbook which is great for people who love to read from printed copies
To cap it off is the CPT development program which is an 80-hour practice time working with real clients
Introduction to the NASM business accelerator program which teaches the business angle of personal training
I also have my own free NASM study guide and practice test here.
For premium study materials and ticket your study time in half, check out the NASM study materials from Trainer Academy.
Exam information and Recertification
Once you've settled on your preferred package, it's time to get busy and prepare for the exam.
NASM offers a reasonable amount of challenge when it comes to exam difficulty. Not too hard, but certainly not too easy.
While originally administered through various select physical testing centers, the exam has become 100% online-based.
Consisting of 120 multiple choice questions, you will be shooting for success against a 64% pass rate.
The NASM final test is online and proctored via webcam so that you have the structure of a real-world exam experience in the controlled safety of your own preferred environment.
Remember, though, you must go along with a proof of identification and CPR/AED certification.
NASM is accredited by the NCCA, being one of the most popular certifications with this seal of approval.
Assurance of a job offer after training
It has a rich training module
The customer service is top-notch
The exam is conducted online
It has very limited international reach
NASM has a great reputation, and this reputation certainly matches its value as a useful and practical way to equip yourself with the necessary tools to be an awesome fitness instructor.
We rate NASM as the best all-round option for any fledgling trainer who wants to learn and certify online.
The support and applicability of its training principles make it a great fit for trainers and their prospective clients.
Be sure to check to price regularly as the listed package prices often get discounted.
If you are in the UK make sure to check out NASM/Premier global certification here.
Certification Information
Fitness Mentors was founded as a platform for helping new and established fitness professionals optimize their careers.
This is achieved by providing skills and knowledge in gaining the right credentials and employing effective business strategies.
this often involves giving comprehensive reviews and comparisons on several different certs and their respective certifying agencies.
Today, Fitness Mentors is a certifying agency in its own right, providing a number of DEAC accredited certs including the FM Personal Trainer Certification.
The Fitness Mentors PTC might not have the same time-honored heritage as other established certs, but through the work, FM has done over the years, they are poised to have a great program.
With so many options to choose from, FM certification comes with a wide spread in terms of pricing.
This makes it an amazing choice, whatever your preferences or budget will allow.
The costs for each package breakdown as follows:
| | |
| --- | --- |
| Package | Price |
| The Personal Trainer Starter Package | $399 |
| The Personal Trainer Plus Bundle | $699 |
| The Personal Trainer PRO Bundle | $899 |
| The Personal Trainer Ultimate Bundle | $1,499 |
Check out the current prices for Fitness mentors here.
Fitness Mentors has one of the best study material package options available. this is probably because they are so used to the critical analysis of materials by other certs that they've isolated what works and discarded what doesn't.
From the table above, you can see that there are four packages available to choose from. let's see what each contains:
The Personal Trainer Starter Package
FM-CPT Certification and Certification Exam (CPT)
Digital Textbook
Video Lectures
Audio Book
Test Prep Study Guide
Chapter Quizzes
Practice Exams
Facebook Support Group
The Personal Trainer Plus Bundle:
Online Trainer Certification and Certification Exam (COPT)
FM-CPT Certification and Certification Exam (CPT)

Digital Textbook
Video Lectures
Audio Book
Test Prep Study Guide
Chapter Quizzes
Practice Exams
Facebook Support Group
Exercise Library
Bonus Learning Videos
Flashcards
Interactive Learning
Study Guide Answers
Exam Prep Guide
The Personal Trainer PRO Bundle
Certified Nutrition Specialist (CNS)
Online Trainer Certification and Certification Exam (COPT)
FM-CPT Certification and Certification Exam (CPT)

Digital Textbook
Video Lectures
Audio Book
Test Prep Study Guide
Chapter Quizzes
Practice Exams
Facebook Support Group
Exercise Library
Bonus Learning Videos
Flashcards
Interactive Learning
Study Guide Answers
Exam Prep Guide
Access to Personal Fitness Mentor
Pass Guarantee
The Personal Trainer Ultimate Bundle
Virtual Group Fitness Instructor Certification (VGFI)
Virtual Health Coach Certification (VHC)
Pain Management Specialist (PMS)
Certified Nutrition Specialist (CNS)
Online Trainer Certification and Certification Exam (COPT)
FM-CPT Certification and Certification Exam (CPT)

Digital Textbook
Video Lectures
Audio Book
Test Prep Study Guide
Chapter Quizzes
Practice Exams
Facebook Support Group
Exercise Library
Bonus Learning Videos
Flashcards
Interactive Learning
Study Guide Answers
Exam Prep Guide
Access to Personal Fitness Mentor
Pass Guarantee
Exam information and Recertification
The Fitness Mentors CPT exam is comprised of 100 multiple choice questions that you can take at home. The passing grade is 70%, which means you'll need to get at least 70 questions correct to certify.
As with most other certifying agencies, your FM personal trainer certification expires after two years.
Upon expiry, you will need to renew your cert by submitting 2.0 CEUs equivalent to 20 hours of continued education as well as a $99 recertification fee.
Fitness Mentors is accredited by DEAC, distance education accrediting commission. that makes it the second health and fitness cert to receive this badge of honour along with ISSA.
DEAC is considered in the same league as the NCCA when it comes to accreditation although it is far less common.
Comprehensive and to-the-point curriculum
An entrepreneurial focus that helps trainers accelerate their careers
Affordable with a wide range of good options
Top tier study materials and support resources
Not as well recognized as legacy certs
Still has a lot of room for improvement
Fitness Mentors offers a great alternative to the established top dogs of the certification world.
It manages to pull this of because of all the work they've put into understanding what is and what isn't effective when it comes to education and credentials in professional fitness.
FM is however still finding its stride, so it will take some time before they can reach top-tier gold standard status.
National Council on Strength and Fitness is a reputable certifying agency and has been around since 1996.
It is widely accepted and is known for its deep academic approach to health and fitness, peering into the effective use of program design.
Certification Information
The NCSF CPT certification has the standard requirements you'd expect from most other general PT certs.
You'll need to be at least 18 years old.
The NCSF CPT cert is available in 5 tiers based on material included.
The first one is just the exam ($299), which will leave you to your devices as far as prep is concerned.
This one is only advisable if you already have a strong background in fitness science principles.
If you're just starting out, we advise you to go for one of the other two complete packages.
The first is the Home Study Course ($688).
This one includes the following:
Digital textbook
Lesson notes
Online practice tests
Q&A
Review quizzes
Support and a one-year membership
Video lectures
The next package is the Home Study Plus ($757.95).
This includes all that you get in the Home Study package, plus a hard copy of the textbook.
Next, we have the Workshop + exam package ($728).
This one is great for getting a practical feel of the course material which helps you prepare for real-world personal training.
Last we have the Workshop-Plus package ($797).
This includes everything you'll get in the Home-study Plus package as well as workshop access.
Exam Information and Recertification
With no solid data on pass rates, we can say based on anecdotal accounts that the NCSF CPT exam is relatively easy in comparison to other certs in this list.
The exam consists of 150 multiple choice questions spread across the different principles you'll encounter through your studies and prep.
The emphasis will be on the prescription of health and fitness, so learning how to collect data and process it into comprehensive, results-driven programs is your strategy.
Recertification occurs every 2 years at the cost of 20 hours of CEUs as well as a recertification fee.
NCCA accredited
They offer lots of practical experience
NCSF is well known and accepted in the fitness industry
A considerably barebones textbook
Lacking in program design
NCSF is a solid introduction to the principles of health and fitness science.
Even though it isn't quite as recognized as the other big cats, it holds up pretty well and is priced attractively in comparison.
This is one of the online personal training certification programs that are NCCA certified.
It allows you the benefit of a general fitness certification which would, in turn, enable you to work with people that have weight issues.
Certification Information
ACE stands for American Council on Exercise and is one of the leading organizations when it comes to delivering knowledge and research in the field of health and fitness instruction.
ACE has a global reputation, with a robust international network of certified trainers and affiliated organizations.
This certifying agency has a history spanning all the way back to 1985 making it two years older than NASM.
This similar timeline has seen ACE develop a top-tier reputation that gives its trainers the same degree of leverage and access as NASM when it comes to job opportunities and business development options.
As far as ACE's field of focus, we would place it as a generalized certification, one that encompasses just the fundamentals of all important pillars of health and fitness.
This makes ACE a very broad spectrum training system, and one without a unique focus.
This isn't to say ACE has an inadequate approach, rather than its approach is adequate for most people.
It can be described as a "one size fits all" approach to health and fitness prescription through its own integrated fitness training model.
The impact of ACE with respect to online administered personal trainer certifications shouldn't be ignored, so far, it has certified over 85,000 health and fitness professionals.
ACE CPT is priced based on 3 study package tiers. Basic, which goes for $599, Plus, which goes for $799 and Advantage, which goes for $1299.
Check the current price of the ACE certification here.
The differences, as you'd expect, lie in the study materials included in each. Let's take a look:
ACE Academy Elite
ACE Answers
ACE Certification Exam
1 Practice Test
ACE Personal Trainer Manual
ACE Essentials of Exercise Science for Fitness Professionals
ACE Study Companion
ACE Academy Elite
ACE Answers
ACE Certification Exam
2 Practice Tests
ACE Personal Trainer Manual
ACE Essentials of Exercise Science for Fitness Professionals
ACE Study Companion
ACE Applied Exercise Science Workbook
Getting Started Video
ACE Academy Elite
ACE Answers
ACE Certification Exam
2 Practice Tests
ACE Personal Trainer Manual
ACE Essentials of Exercise Science for Fitness Professionals
ACE Study Companion
ACE Applied Exercise Science Workbook
Getting Started Video
I have a free ACE study guide in practice test here.
For premium ACE study materials, check out trainer Academy here.
Exam information and recertification
The ACE exam is as straightforward as they come.
It is administered online with live remote proctoring.
It consists of 150 questions that span the various study topics.
You will need to score 500 points in order to pass, and with a pass rate of 65%, your chances are great, but still pose an adequate level of challenge.
As with most certifications, you will also need to recertify every couple of years.
In the case of ACE, that means retaking the exam every two years as the cost of recertification along with 2 continuing education units (CEUs).
The recertification fee is $129.
ACE is accredited by the NCCA, making it one of the gold standard certs you can get.
It helps to understand all aspects of personal training
It is designed to be flexible so as to meet the needs of individuals
The exam is conducted at a brick and mortar computer-based-testing center
ACE is generally accepted because of the easy pace of the program which makes it easy to understand.
ACE is a solid grounding when it comes to all-round knowledge resources for health and fitness.
It helps you deal with the average man, woman, and child, and is a good direction if your career goal is just to promote health consciousness and good lifestyle habits.
One major attraction to ACE for candidates is its discounts and special offers which serve as a motivating factor.
It also maintains its certified trainers by giving them current information via its monthly fitness publication which they receive in a digital format.
6. AFAA (Athletics and Fitness Association of America)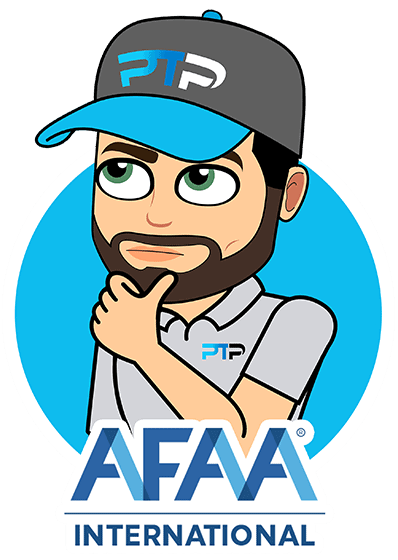 In this section, I'll be unveiling how AFAA has been a leading force in functional mobility and movement-based training for over 35 years.
Certification Information
Founded over 35 years ago, AFAA has taken a path less trodden by other certifying agencies.
The emphasis they place on their scope of focus is to instill a sense of enjoyment through the training and programming their certified trainers to prescribe.
Because of this AFAA are a leading force in functional mobility and movement-based training, creating a platform for both trainers and clients to enjoy their respective sides of the fitness journey.
The AFAA institution is actually a subsidiary under the same umbrella as NASM.
While different, it shares many resources and traits with NASM, albeit as a more rudimentary introduction to health and fitness prescription.
The study materials you get with AFAA kick off with the exam-only option which costs $199.
You can also grab the AFAA study guide of their official site.
The official course text "Fitness Training," costs $69 as a stand-alone purchase.
Other prep materials include the assessment DVD and practice exam which each cost $20
Overall, you should expect to be set back about $600 for the complete study materials suite as well as the workshop.
Exam information and recertification
As an outlier, AFAA's exam comprises a practical component as opposed to the regular multiple-choice format you will see with the other exams in this list.
The only other cert to have had such a variegated structure was ISSA, which has since adopted the typical multiple-choice only format.
This is what gives AFAA its 120 multiple choice and 20 research/case study questions format.
You have 120 minutes to complete the test.
To pass, you must score at least 70%.
AFAA is another NCCA accredited certification, albeit one of the lesser-known ones.
Great workshop
NCCA accredited
Delivered online
Not the most accurate study materials for the test
Not very well known by employers
AFAA is definitely adequate from an educational perspective.
It's very moderate in terms of its field of focus, which allows you to gain a firm grasp of the fundamentals of fitness.
What AFAA isn't is a very popular cert.
It's just not in the same league as the big fish such as ISSA, NASM and ACE, but at the end of the day, it's NCCA accredited and allows you to certify completely online.
That still sounds like a great deal.
The Best Online Personal Trainer Courses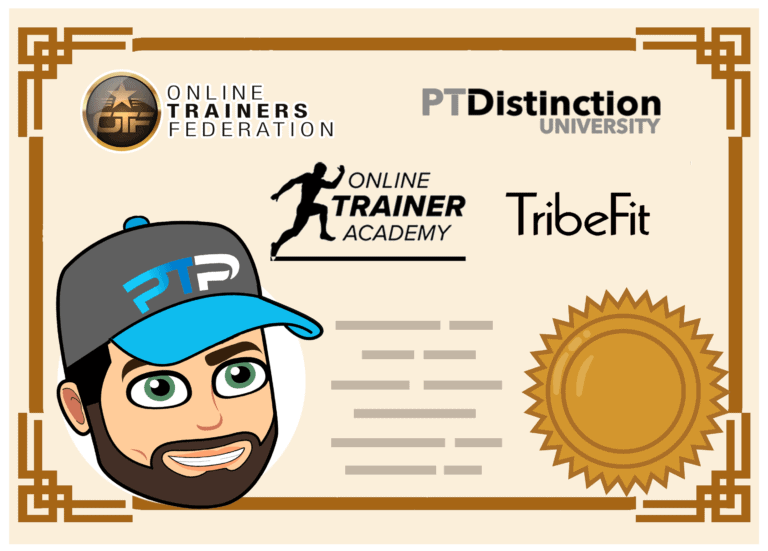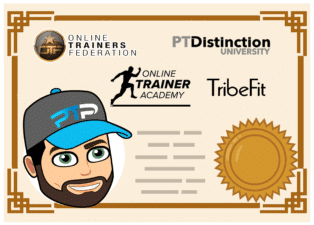 Unlike online personal training certifications, personal training courses teach you how to become a financially successful online personal trainer.
You will not learn about exercise science and routine programming here. These are not accredited certifications that are necessary for employment.
Out of the many out there, this lot stand out.
Now that you have taken the quiz to see which personal trainer certification is right, for you to gain your trainer credentials, let's talk about the best online pt courses so that you can have success with training clients online.
For this, I've picked 4 of the best, let's check them out.
Fitness Mentors have been at the forefront of personal trainer career guidance for quite some time, but nowadays, they are just as well known for providing the same sort of credentials they would usually advise over.
Certification Information
Fitness Mentors is a new kid on the block when it comes to being a certifying agency. Still, few can measure up when it comes to delivering strategies and resources for fitness pros from a business perspective.
This is especially true when considering their work and resources in online fitness coaching, which have been consolidated into the Fitness Mentors Certified Online Personal Trainer cert.
The FM COPT typically goes for $999. However, you can often catch it on a discount or get the total cost significantly reduced when it comes bundled with their CPT cert.
Study materials include:
FM-COPT Certification Exam
Digital Textbook
Business growth assignments
Audio lectures
Bonus videos
Downloadable business templates
Example Templates
Video lectures
Business Support Group
Strong entrepreneurial angle
Years of knowledge from all the top certifying agencies condensed into a contemporary format
Completely online
DEAC Accredited
Entirely new and relatively unrecognized
Online fitness trends are changing rapidly, meaning course content can soon become irrelevant.
The FM COPT is a second to none certification for the business of online training.
There are few certs in this category, and of those few, fitness Mentors shine due to their pioneering position in this new frontier.
ISSA Online Coach Certification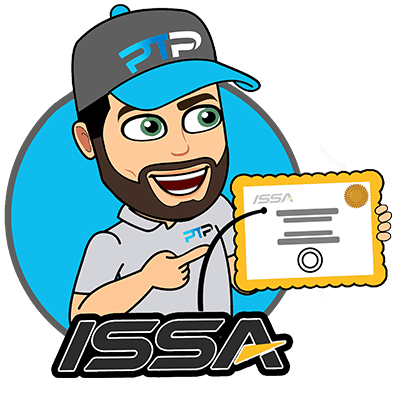 Just like their General personal training certification that I talked about above, the international sports Sciences Association is definitely one of the best online personal trainer programs as well.
ISSA was founded in 1988, making it one of the longest running and reputable certifying agencies.
through their time, they've produced some of the most unique and comprehensive resources for fitness credentials across the globe.
Certification Information
ISSA has a long-standing heritage as an innovator in the world of fitness credentials.
Being the first and for a long time, only distance-based fitness certification, they pioneered the online cert revolution.
Taking things further, ISSA now offers certification for the very purpose of equipping trainers for the next frontier of fitness, online coaching.
As the fastest growing sector in the fitness services industry, online coaching is almost a must if you truly want to succeed.
From social media positioning to e-commerce, ISSA Certified Online Coach has you covered.
The ISSA Certified Online Coach program normally goes for $399.50, but this price often fluctuates based on whatever promo, discount, or bundle deal you manage to nab.
As for study materials, you'll get only one option in terms of packages and it includes:
84 tutorial videos
Downloadable professional templates
Free website
2 digital textbooks
Guided study
Self-paced
Online exam
Student support
Check out the current price and study materials for the ISSA online trainer certification.
Administered completely online
NCCA accredited exam
ISSA heritage and quality guarantee
Great study materials
Fairly new and may have some teething problems
Online fitness is a rapidly evolving industry sector so the curriculum could quickly become obsolete
ISSA is a tried and trusted veteran when it comes to health and fitness certifications.
They are also a pioneer in online fitness, so this cert from them might just be your golden ticket.
PTDC or Personal Trainer Development Center is a vast platform dedicated to the furtherance of good quality health and fitness prescription on the foundation of success-driven entrepreneurship.
Founded by fitness business icon, Jonathan Goodman, the company provides one of the industry's leading educational experiences for online trainers, a market segment that is rapidly taking over the way fitness is sold and administered.
Certification Information
The PTDC Certified Online Trainer Course is administered by the company's online trainer academy or OTA.
It focuses more on the fundamentals of running a fitness business online rather than the science and application of programming and health and fitness prescription.
That's because it's done under the assumption that you will have gained enough experience and general credentials to understand health and fitness concepts and are now rounding off your skillset with some business acumen.
The PTDC COTC is available in two packages, priced according to what comes included with regards to study materials.
The cheapest option is the Essentials package which costs $799.
It comes with:
1k Extra Success Guarantee
CEC Approval Guarantee
Certification Exam
Digital Graduation Certificate
Digital Textbook
Facebook Group Support
Legal Forms and Sales Scripts
OTA Answers
OTA Success Center
Next up is the Advantage package, which costs $217 and includes:
INCLUDES ALL ESSENTIALS FEATURES
12-Months Personal Breakthrough Coaching
Facebook Ads Minicourse ($199 Value)
Free Worldwide Shipping
Instagram Mastery Minicourse ($199 value)
Physical Graduation Certificate
Physical Textbook
Unlimited Founding Client Challenge Access
Website Design Minicourse ($199 value)
The assessment process of the Certified Online Trainer Course doesn't have you writing one big final exam.
Instead, you will do a worksheet assignment at the end of each chapter.
According to PTDC OTA, the assessment process goes as follows:
Step 1. Read a chapter in the textbook (each chapter takes 20-40 mins).
Step 2. Watch a corresponding video in the online portal (5-7 mins).
Step 3. Complete a worksheet assignment (10-15 mins).
Step 4. Reach out to a mentor to break through any barriers or answer any questions.
The aim of this certification is to progressively equip you with the skills to run a successful online PT business.
You are actually encouraged to apply what you learn as you learn it.
Provides practical insight into the step-by-step implementation of an online fitness business
Easy to digest and apply as you learn course material
Administered completely online and self-paced for maximum convenience
Does not provide you with any formal qualification, is simply an online course
Does not teach any principles of health and fitness science or prescription, purely a business course
The PTDC OTA Certified Online Trainer Course is a great knowledge resource that grants you insight into one of the most lucrative segments of the fitness industry, online coaching.
However, it is not a qualifying credential, it's not a prerequisite for any employment opportunity I can think of. It's simply an information product that gives you technical knowledge of the online business.
Check out the OTA here for a special PTP discount.
Online Trainers Federation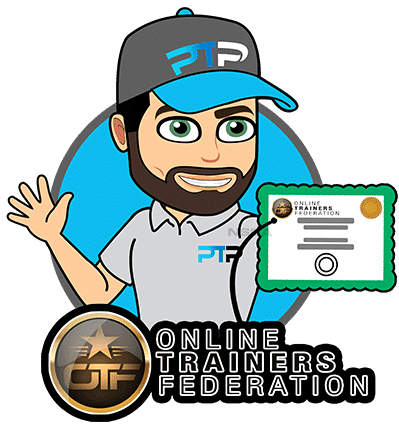 Did you know that the fastest way to scale up your personal training career is by continuous learning?
Read on to learn where you can do this optimally.
Certification Information
Founded by Canadian fitness icon, Dave Smith, OTF took two passions, online business, and fitness, and merged them into one resource base for fitness entrepreneurs who had already cut their teeth in the real world of coaching.
OTF is aimed at the established fitness pro wishing to scale up its business to meet the ever-growing demands and opportunities of the online segment.
OTF is a coaching program and not a certification.
Based on their website, you will undergo a series of live coaching sessions and seminars where you will be required to document and of course, apply what you've managed to learn.
The course comes with two options.
The basic OC 101, is $199.
Elite which is $300 – $600 per month.
Pros:
Hands-on learning and practical skills-based coach
You gain knowledge directly from fitness pros through live workshops
Cons:
You will need to prepare and organize your time. Not self-paced
Not an accredited qualification
OTF is a great way to scale up your real-world, in-person work towards the burgeoning segment of online training through live learning.
For those who prefer sitting down and digesting course material and going through it in a self-paced manner, this one might not be your best option.
PT Distinction University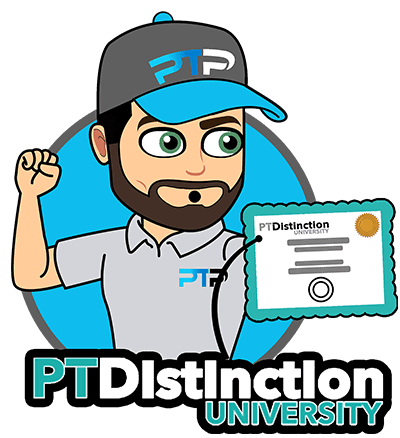 This section talks about how PT Distinction does not only give you fitness education but also provides client management tools.
Certification Information
PT Distinction is well known for providing one of the online fitness industry's greatest client management tools.
I have a full review that you can check out here.
Added to that, they also have a full educational platform aimed at helping you achieve success with your online fitness business.
There are various courses on PTD University, all of which teach you how to manage a valuable aspect of online coaching.
They are as follows:
Foundations of Online Training: $515, which is a bundle of all other individual courses
Getting Started As An Online Personal Trainer: $195
Online Success using the Super System: $130
Sales and Marketing For The Online Trainer: $195
Webinars From The Industries Greatest Minds and Leaders: 150
Bear in mind that these prices are actually conversions since the original listings are in British pounds sterling.
The material itself comes in a great variety.
You will gain access to:
Video lectures
Surveys
PDF Downloads
Course Text
Multimedia Content
Assessment Quizzes
PT Distinction University's various courses include 3 quizzes which you will complete as part of your assessment.
Other than that, there doesn't seem to be any big final exam to prepare for.
Very well structured course material with a variety of study content
Offers a comprehensive insight into many important aspects of online training
Integrates with the well respected PT Distinction personal trainer software
Not accredited as is the case with most online trainer courses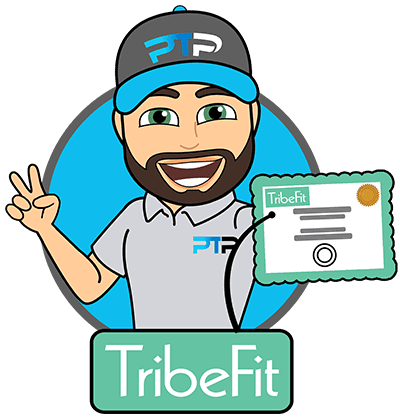 Are you interested in learning how to combine health and fitness services with great business skills?
Stay tuned to learn more.
Certification Information
Founded in 2018, TribeFit is another entrepreneurial platform that takes fitness and scales it up for an online business application.
In recognizing that most certifying institutions teach trainers to be great fitness experts but not great business owners, the emphasis is on merging the two concepts of health and fitness service with great business skills.
One of the key concepts TribeFit works on helping you achieve is the perfection of your sales funnel.
This places a stronger emphasis on marketing and sales strategy than the other courses in this category.
TribeFit is a coaching program, which means you will receive hands-on training from an assigned expert $3,500.
It doesn't require any prep material as the assessment is in real-time it would seem.
Hands-on approach coaching program
Helps you perfect your sales funnel and marketing skills
Highly regarded and well-reviewed
The most expensive option of the four
Non accredited.
TribeFit is great if you want to learn through a live coaching program and have access to knowledge resources that you can apply in real-time.
But at $3500 for the entire program, it's certainly one to think long and hard about before making the jump.
And with that said, let's dive right into it!
Beware of Online Scams – We've Got You Covered Here!
Where there is an opportunity, there will be opportunists.
Those who are prepared to capitalize on a trend or lucrative market with little or no regard for providing authentic value.
That's a fancy way of saying there are tons of scammers out there, and in the world of online fitness certification and coaching, you won't find a shortage.
But how do you weed out the scammers from the legit certs and courses?
One word. Accreditation!
Accreditation is a seal of approval from a national body of organizations and experts that dictate the standards of quality and research in the fitness world.
In the US, we have two major accrediting bodies.
These are DEAC and NCCA, which I'll get into in more detail.
There are other smaller ones here and there, which are legit but hold little leverage in terms of industry recognition as compared to DEAC.
THE IMPORTANCE OF CERTIFICATION
Below are the seven key reasons why certification is a really BIG DEAL!
The essence of having a certification in a profession is to shield the public and to also ensure that the certified individual has met the required qualification for professional and ethical standards.
Passing the credentialing examinations for your profession shows you have indeed studied and met the standard of practice.
It also depicts an allegiance to the profession and devotion to keep updating your knowledge to uphold them.
Nowadays, employers want their employees to possess the right certifications to show a level of competence, further boosting the company's business profile.
Possessing a valid national certification is proof of a wide and profound understanding of the profession.
You also need these accredited personal training certifications to boost your earning potentials and advance your career at any time.
Lastly, you also get to be ahead of your peers in terms of current knowledge in your field considering the continuous educational requirements needed for recertification.
The online personal trainer certified programs we are focusing on got their accreditation from the two most recognized accreditation agencies.
And as mentioned, it is this accreditation that actually lends credibility and confers legitimacy on the CPT certifications issued by these bodies.
The agencies are:
NCCA (National Commission for Certifying Agencies).
DEAC (Distance Education Accrediting Commission).
Be that as it may, the direction you choose to take your career should be considered before deciding on an online personal training certification program that is accredited by any of the above-named bodies.
5 Best Online Personal Trainer Certifications FAQ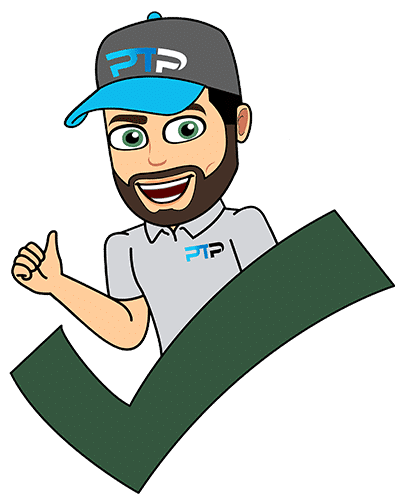 That's all you need to know to obtain an Online Personal Trainer Certification.
It is a splendid opportunity to maximize during this season where most activities are being done online.
The PT certs that you can do online are proving that technology wins, and you can get the same, if not a better quality education through online distance learning.
The courses that also teach you to be an online coach are great too, and I would suggest as essential if you seriously want to take your online coaching to the next level.
That's because the certifications are what you need to know your craft, the online training courses are what you need to learn to turn that craft into a business.
In this day and age, you really can't have one without the other.
Discover All PTP Fitness & Wellness Career Articles
Tick a box from each section to narrow the results.
×
I want to know more about: