Hello and welcome to the PTPioneer ultimate review of the NASM CNC Certification.
Following this article, you will know whether this is the nutrition certification suited for you!
The article will cover these topics:
Now let's look into the NASM Nutrition Certification!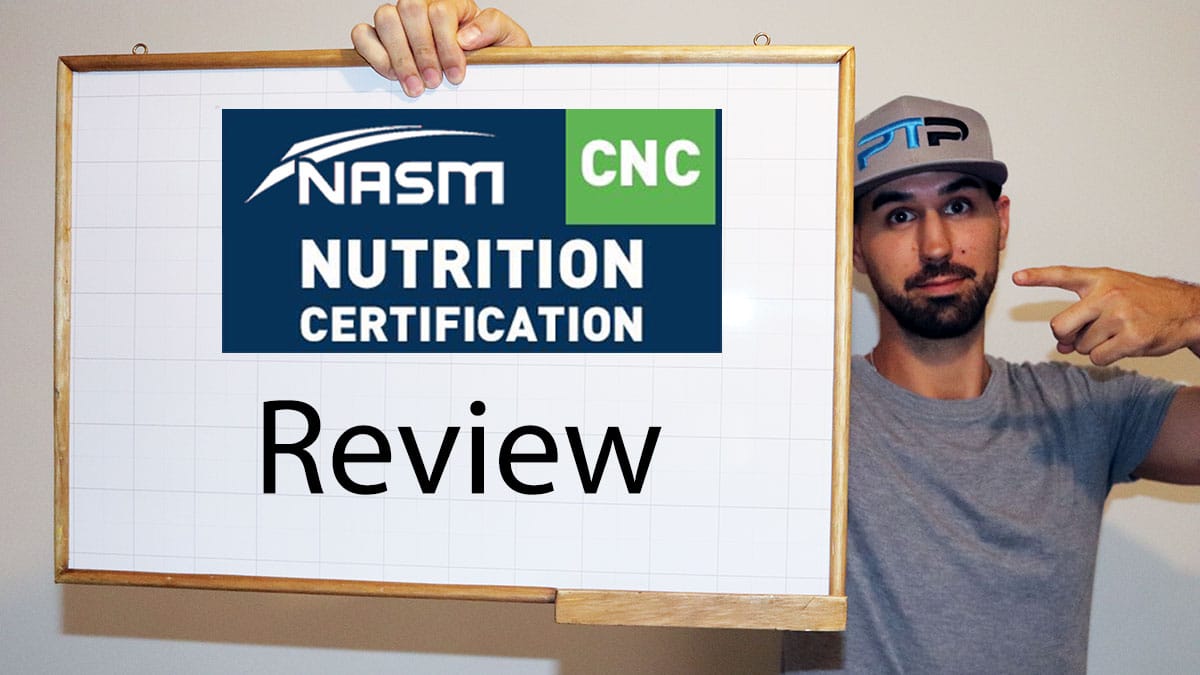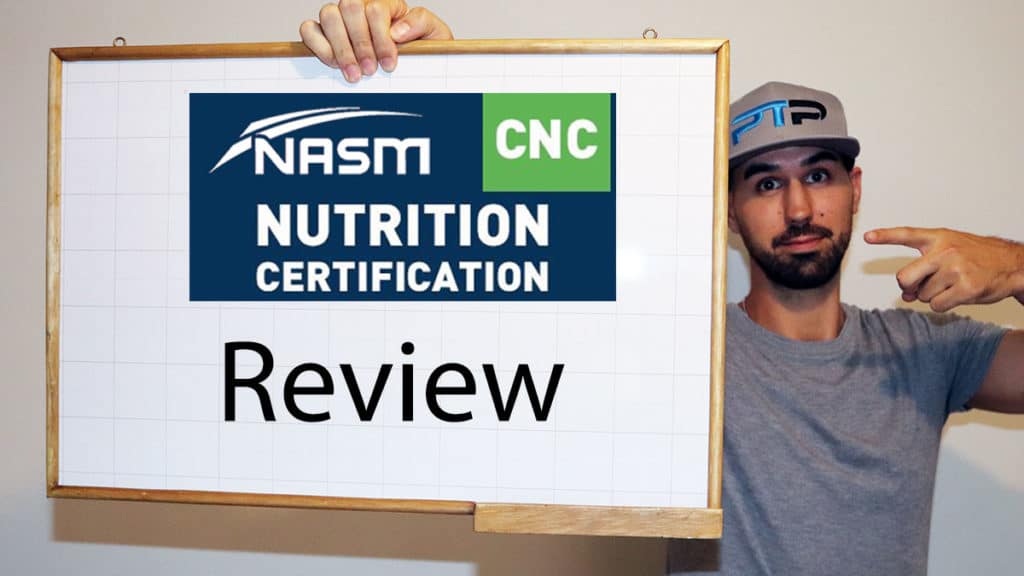 Quick Breakdown: NASM CNC Certification
Behavioral Change Strategies
10
Pros
Excellent certifying organization
Densely-packed textbook
Excellent digital portal
Cons
High Cost
No NCCA accreditation
Only 1.9 CEUs, instead of the 2.0 required for recertification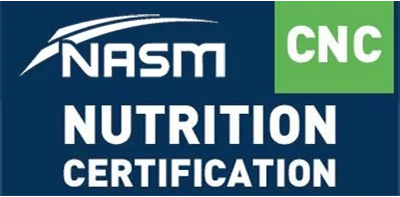 NASM-CNC General Information
Exam cost: $899 ($449 on sale)
Study material cost: $400-$1000+
Prerequisites: None
Exam passing score: 70% or higher
Average completion time: 4-10 weeks
NASM Nutrition Certification Review (Video)
This video is a few years old, but it still shows an excellent representation of my opinion on the NASM CNC certification.
NASM Nutrition Certification Review (Podcast)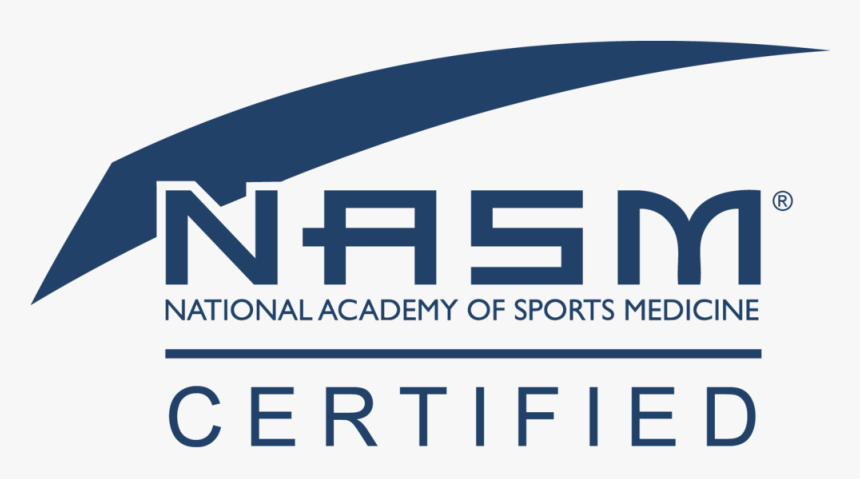 The NASM is the National Academy of Sports Medicine, and this organization has been in fitness for over 34 years. The NASM is easily one of the most respected organizations throughout the fitness industry.
There are over 1.3 million fitness professionals with NASM certification throughout the world in over 80 countries.
NASM is best known for their presence in personal training, but they also have a strong presence in other certifications and specializations like this nutrition cert.
NASM also has well-known specializations in more niche markets like corrective exercise and performance enhancement specializations.
NASM offers continuing education units for this nutrition coach course and similar specializations. Some of them (like this nutrition coach certificate) count as certifications that need to be recertified; otherwise, they are lost.
It's also good to note that you do not have to be a certified professional through NASM to benefit from continuing education credits coming from this cert. You can be a certified trainer through ACE or any other organization and still get continuing education units for recertification.
NASM is well-known for its optimum performance training model, or OPT model. This is not a prime focus of the NASM nutrition certification, but it does add to their credibility and evidence-based research.
The certifications through NASM all offer excellent digital learning portals, which allows them to be accessed anywhere in the world via computer.
You have the possibility of paying for the nutrition certification program all at once or paying them off monthly.
The NASM CNC, or Certified Nutrition Coach, is the nutrition coaching specialization from this great organization. If you want to be a fitness nutrition specialist, this is where you should begin.
NASM also has another nutrition certification, which is called the sports nutrition coach. The sports nutrition coach certification is catered more toward athletes.
Generally, this is a specialization added to a personal trainer certification who wishes to increase their earning potential and the type of clientele someone can work with.
This CNC certification only has one package that it is sold with, but you can often find it in bundles along with other certifications.
The NASM nutrition certification costs a base price of $899, but it is often on sale for $629.
When it comes to CEUs, the program gives 1.9 NASM CEUs, 15 AFAA, 10 CIMSPA points, 3.0 ACE CECs, and 10 EREPS hours.
Certified Nutrition Coaches know that living a healthy lifestyle is not only about physical activity but also involves a deep dive into what fuels our bodies.
This certification in nutrition makes sure to teach the facts needed to make real and permanent impacts on client nutrition.
There are no prerequisites for this nutrition certification, which is a major plus compared to other organizations.
The curriculum for this nutrition cert is split up into three different sections.
Nutritional Science
Behavior Change Strategies
Nutrition Coaching
To reiterate, this is not an NCCA accredited certification; it carries no accreditation with it, just the NASM name.
Now, let's look into the online certification course materials included with the purchase!
Unlike most courses you will come across from all fitness organizations, the CNC course from NASM only has one package to purchase.
We are going to detail what is included in this singular package here.
The package includes the main study materials in digital form; this is the textbook which holds 24 detailed chapters.
There are over 40 high-end lecture videos that will aid in the learning process.
The program has many downloadable templates and infographics to aid with learning the tougher subject matter.
There are many knowledge checks and chapter quizzes to close out each chapter and ensure you learn as you go through the program.
The included practice exam will follow the same format as the final exam, and you have unlimited attempts on this practice exam.
The course package will also include access to up to three attempts to pass the final certification exam.
And this wraps up the items included in the program. All in all, this is included for the nasm certification price of $899, but you can also find it on sale for around $629.
Considering everything included here, it is a pretty good deal. The only thing we could fault NASM on is not giving 2.0 CEUs for the course completion. They only give 1.9 CEUs.
Now, let's look at the course content coverage for the NASM CNC.
NASM CNC Content Coverage
As I briefly mentioned, this nutrition certification is broken up into three sections or domains of study.
We are going to be looking at these sections in close detail to rank the certification on how well it teaches the learner.
We will start by detailing the layout of the digital platform.
The chapter always begins by informing the user of what they will be expected to learn and the general breakdown for each of the lessons.
The certification has a chapter broken up into many lessons, which can be found in the top right of the pages.
There are many terms, charts, tables, and lots of text to read and learn within the lessons.
The NASM does a great job teaching all of the information and representing it through their tables and charts.
When a lesson has been completed, the learner will see a few questions known as a knowledge check.
These checks are to keep you engaged in your learning, and they aid in keeping the terms and knowledge fresh in your mind.
Nailing down some of the concepts later in the book is easier with this type of study layout.
Once the lessons for a chapter have been complete, the chapter is almost done. You will need to take your chapter quiz to close it out.
The quizzes are essential pieces of study materials, as they ensure you are learning.
Since you have the study materials with you when you do these quizzes, you can always look up the right answers and take your time with answering the questions.
Now, let's look at each of the three sections: Nutritional Science, Behavior Change Strategies, and Nutrition Coaching.
Nutritional Science
Within this major section of the book is over half of the chapters, 13 to be exact.
Let's look at the chapters here:
Chapter 1: Introduction
Chapter 2: Scope of Practice
Chapter 3: Evidence-Based-Practice
Chapter 4: Food Preference and Influences
Chapter 5: Energy Balance and Metabolism
Chapter 6: Protein
Chapter 7: Carbohydrates
Chapter 8: Fats
Chapter 9: Alcohol
Chapter 10: Micronutrients
Chapter 11: Hydration
Chapter 12: Nutrient Timing
Chapter 13: Supplements
So, there is a solid introduction to coaching and the fitness realm done from chapters 1 – 3. It breaks down the scientific method and the limits of the scope of practice for the profession.
Those first three chapters should be their own section altogether, as they serve the same introductory purpose, but that is the only gripe I have.
The rest of this section goes into great detail about each type of nutrient.
All of the macronutrients receive their own chapter: Protein, Carbohydrates, Fats, and Alcohol.
These are done very well, and you will know each of these macronutrients' structures, how the body utilizes them, and the dietary needs of different populations.
Here is how the protein chapter is handled, for example:


It is nice having each one covered in such great detail within its own chapter. The structure makes it easy to find the information you need if you are taking a quiz or practice exam with an open book.
From there, we have other chapters focusing on Micronutrients, Hydration, Nutrient Timing, and Supplements.
The text and digital study portal go into depth about the actual uses of all of these items in the body.
When it comes to micronutrients, you will know every single vitamin and mineral and how they serve their own purpose in our everyday life.
Hydration and Nutrient Timing chapters will give ideas for when clients should intake these particular materials for optimal use in life scenarios.
The supplement chapter also gives a rough idea of everything that is being used on the market. NASM provides readers with details on the supplements proven to work, as well as the ones that are less scientifically proven.
It makes it so much easier to give suggestions to your clients when you know the ins and outs of all things nutrition.
Behavior Change Strategies
Here is the chapter-to-chapter layout:
Chapter 14: Psychology of Weight Control and Behavior Change
Chapter 15: Coaching and Communication
Chapter 16: Motivational Interviewing
Chapter 17: Goal Setting
Section two is on behavior change strategies, and this is going to look at the application of the materials studied in the first section.
The first chapter, Psychology of Weight Control and Behavior Change, gives a deep-dive on different themes and ideas in psychology which govern how the general public makes decisions and chooses how they act every day.
This chapter helps to understand different views and helps the coach learn how to overcome the issues that arise with program adherence in clients.
Then the study materials move on to how a coach should be interacting with their clients and tips for helping engage and adhere to programs.
This comes in the chapters of Coaching and Communication, Motivational Interviewing, and Goal Setting.
These are three of the best chapters I have seen regarding training clients and designing programs. It teaches how to be a solid coach, trainer, and friend to a client.
These chapters could easily flow over into other coaching certifications and be applied well in nearly any scenario to build rapport with clients.
This is the smallest section of the three but vastly important for the future of one's career.
Nutrition Coaching
Here are the Chapters within this section:
Chapter 18: Dietary Assessment and Body Composition Testing
Chapter 19: Food and Supplement Labels and Portion Size
Chapter 20: Helping Clients Navigate the Real World
Chapter 21: Navigating Diets
Chapter 22: Nutrition Hot Topics and Controversies
Chapter 23: Managing Weight Loss Plateaus and Maintaining Weight Loss
Chapter 24: Programming – Putting it All Together
The last section could apply to almost any coaching scenario, but section three will be focused on applying section one knowledge and adding to it in a coaching session.
This entire section looks at putting new concepts and all the coaching and science learned into real-life scenarios to be the best coach to our clients.
There is an abundance of scenarios that should cover anything in training with the general public.
The text also gives great insight into the common controversial diets that pop up in the industry, and this should allow a coach to explain issues with these fads and other hot topics thoroughly.
As a personal trainer, at the least, you will be able to answer in greater detail some of the common questions that come up concerning nutrition. But, it is possible to offer even more types of coaching, as is common with those who have this nutrition certification.
The sections are organized in the best possible order, and they provide more detail than most nutrition certifications.
Even with the amount of information within this certification program, you will find it passable within four weeks or up to 3 months. The average is right in the middle of those two figures.
Someone coming from NASM as a certified personal trainer may find that some of the material is reiterated from the personal training cert, but that is expected. I find that the reiterated information is truly the stuff that, when known well, makes a trainer stand out.
Behavior coaching is insanely valuable in the industry, as this may separate a good trainer from a bad one.
Next, let's look at the certification exam!
NASM CNC Certification Exam and Recertification
The NASM CNC has a final exam that requires a 70% to pass the test.
The final exam allows for 90 minutes to answer 100 questions. This means you must get 70 right to earn the certification.
The one standout part of this cert, as is seen with a few other NASM specializations, is that you may retake this exam two more times if you fail.
It is almost impossible for a person to fail three times, but it could happen. For that reason, you need to ensure that you are ready for the exam still.
On top of that, it is important to know about recertification, which is not the same for this certification.
To recertify this nutrition cert, you will need to pass the exam after every two years. This is how you stay current as a NASM Certified Nutrition Coach.
When you recertify, you will still be given the three attempts you get when purchasing this program. You must pass the exam under the same qualifications here.
This PTpioneer NASM CNC review is based on my expert opinion and these criteria:
Gathered opinions of successful personal trainers and nutrition coaches within the fitness industry
Comparisons between other top specializations and certifications to verify quality and pricing
The usual information coming from new trainers that have passed the NASM CNC certification exam
Many other specializations, certs, and entry-level fitness programs
Frequently Asked Questions (FAQ)
This is an excellent nutrition certification that can add to the knowledge and earning ability in the fitness industry.
It is commonly bought as a specialization for personal trainers to recertify and add to what they may do in their training scenarios with clients. It gains even more value as a nutrition certification for personal trainers to add to their abilities and knowledge.
If you are looking for one of the best nutrition coaching certifications in the industry, look no further than NASM.
The exam is not too challenging, and it gives you all of the study materials in an easy-to-find arrangement in a convenient digital format.
I hope this has helped in your decision for fitness nutrition certification! Make sure to check out other certifications here on PTPioneer!
Discover All PTP Fitness & Wellness Career Articles
Tick a box from each section to narrow the results.
×
I want to know more about: