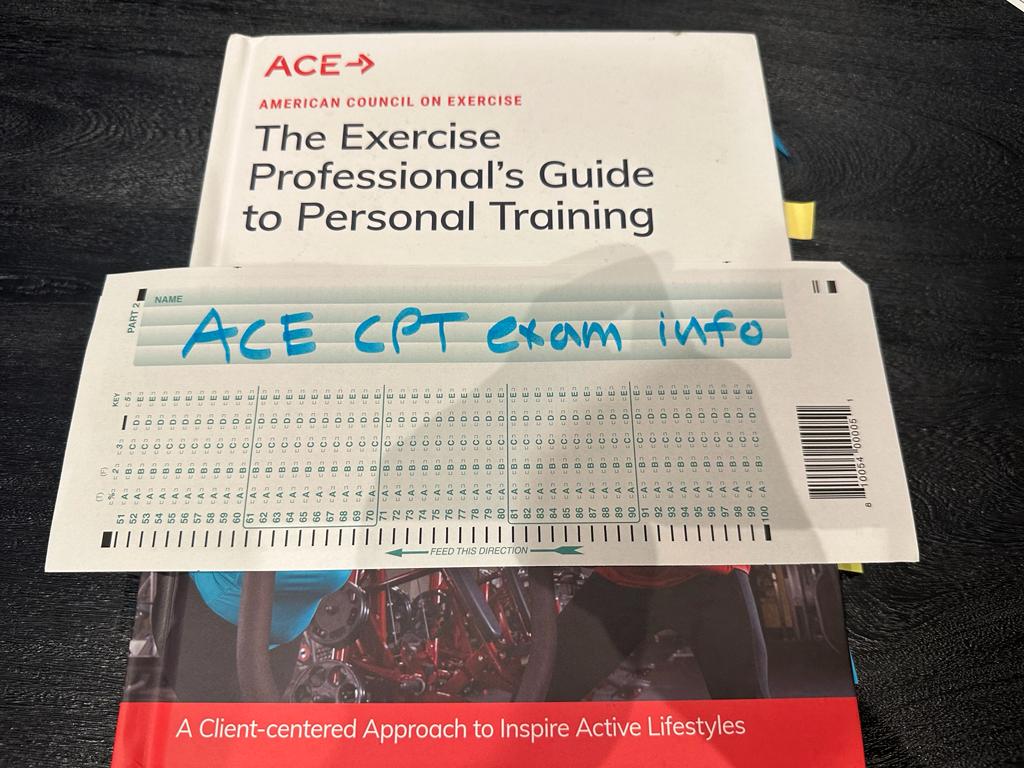 PT Pioneer, what's up?
Welcome to my article on the complete breakdown of the ACE personal training exam questions for 2023, where you will learn all about the ACE PT exam, including:
Besides your ACE personal trainer manual and ACE personal trainer textbook, there's no better way to prepare than with a copy of the ACE cheat sheet and ACE study plan.
Also, I highly recommend Trainer Academy for its premium ACE CPT study materials, which cut study time in half and guarantee an exam pass. The best way to earn your ACE certificate is by completing the Trainer Academy courses, which levels the playing field especially if you don't come in with a background in exercise science.
Read my full review of them here and see how you can save $100 on their MVP study system using the code: PTPSUB.
With that said, let's stop wasting time and get right into this article!
ACE exam passing score
The ACE exam passing score is 500 out of 800, which corresponds to answering 90 out of 125 questions correctly.
ACE CPT Study Series
ACE Exam FAQ in Video Form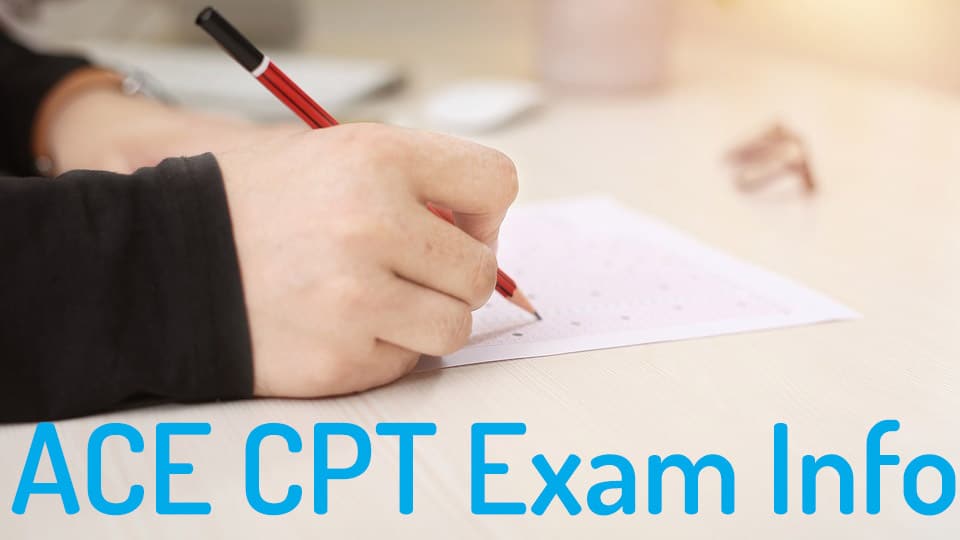 PTPioneer's ACE CPT Exam FAQ
Below are the most commonly asked questions regarding the ACE personal trainer final exam.
Whereas PTPioneers provides you with the ACE personal training exam cheat sheet and ACE personal trainer exam answers on the study guide, this page was designed to answer all questions you may have regarding the ACE test questions and study program.
Briefly put, I want to help you ACE the exam.
Yes, pun intended.
So let's dive in!
What is the ACE CPT test?
The ACE CPT test is the American Council on Exercise Certified Personal Trainer exam.
Is the ACE CPT exam hard?
The ACE exam is hard for some people, and can be difficult to pass on the first try without proper preparation. However, there are ways to prepare more adequately for the exam to ensure a first try pass.
What is the ACE personal trainer exam pass rate?
With a pass rate of 65%, you are more likely to pass the ACE personal trainer exam than to fail. That said, the lower pass rate means that you would work harder to nail down information by using multiple study guides and working through different practice tests.
What are the ACE CPT exam prerequisites?
To qualify for the ACE CPT exam, you must be 18 years old, hold a current and valid CPR/AED certification (from an approved course provider), and have a high school diploma (or the equivalent, GED).
How long do I have to prepare for the ACE CPT exam?
To become ACE certified, you will need at least 3 – 6 months of academic studies after you enroll for the exam, set a date, pass a 3 hour exam of 150 multiple choice questions, and pass the exam.
How much does the ACE personal trainer certification cost?
ACE provides different packages to choose from, each containing various study materials. For example, the ACE CPT exam-only option costs $399 and comes with no study materials, not even the primary textbook.
How many questions are on the ACE CPT exam?
The ACE CPT exam consists of 150 multiple-choice questions. You will have three hours to complete the test.
What happens if I fail the ACE CPT exam?
If you happen to fail the exam on your first try, you must pay a retake fee of $199. Take full advantage of the free ACE practice tests. It may get expensive if you keep on failing.
Can you see your ACE certification exam score?
Yes, you can see your exam score whether you pass or fail the exam. After taking the exam, you can log into your ACE account online and view your score under the "My examination information" section. You can see how well or poorly you did in each of the four domains. If you fail the exam, you can use this information to refocus your studies.
What score do I need to pass the ACE test?
Numerically speaking, the ACE personal trainer exam passing score is 500/800.
Out of the 150 questions on the exam, 25 of them are sample questions that won't be graded. Out of the 125 graded questions, you must answer approximately 90 questions correctly.
How long does the ACE personal trainer certification last?
As with most personal trainer and fitness certifications, maintaining a current ACE CPT is done by demonstrating your continued competence through completing and submitting continuing education units (CEUs) and certification renewal every two years.
Is the ACE CPT worth it?
I believe obtaining an ACE CPT to launch your fitness career is a great place to start.
Is the ACE CPT a respected personal training certification?
Yes. ACE is NCCA accredited, meaning the National Commission for Certifying Agencies has identified its coursework as reputable and meets the criteria for what is considered a high-quality program within the personal training industry.
What is the average annual income for ACE-certified personal trainers?
According to the most recent statistics, the average salary of an ACE personal trainer is $52,537 per year.
What, if any, other certifications or specializations does ACE offer?
ACE offers other certifications and specializations, such as group fitness instructor, fitness nutrition, physical activity for seniors, corrective exercise, pilates, and more. Visit www.acefitness.org and see what you'd like to specialize in.
How long is the ACE Personal Trainer exam
The 3 hour long ACE personal trainer Exam is standardized with four different certification exams. Each exam consists 150 multiple-choice questions, 125 of which are scored, and The remaining 25 questions are experimental and must be completed in 3 hours.
You will need to score at least 500 out of 800 to obtain ACE Certification and pass the ACE Certification Exam.
The exam for personal training covers a wide variety of topics, including exercise science, program design, coaching techniques, and professional conduct. It is crucial for candidates to be fully prepared for the exam, which evaluates both theoretical knowledge and practical applications in the field of personal training.
What does the ACE Test look like?
On July 1, 2018, ACE completely changed the exam content and how they broke it down.
The biggest reason why this is important is that many "test prep" websites or services have not updated their material accordingly, leading to people focusing on the wrong content. As such, the ACE mock exam that you take matters substantially, so be sure to stick with PT Pioneer or Trainer Academy.
Here at PTPioneer, you can rest assured that I have updated my content accordingly to provide the best test prep information available online in 2023.
The exam is broken down into four primary domains of exercise science and fitness content, and each domain occupies a certain percentage of the test questions.
I will discuss here what each domain is, their percentage on the test, and the relative number of questions from each domain.
Domain I: Interviews and Assessments – 23% (approximately 35 questions)
Information for this domain is found in chapters 2, 3, 4, 6, 7, and 8.
You will be tested on obtaining clients' comprehensive medical, health, exercise, and lifestyle information using interviews and questionnaires to determine their risk for exercise participation. You will be tested on your ability to assess client readiness for behavior change and evaluate their attitude toward exercise to build rapport and establish goals.
You will be tested on movement assessments and observations to develop appropriate exercise programming for enhanced function, fitness, health, and performance.
You will be tested by conducting baseline physiological assessments.
Domain II: Program Design and Implementation – 31% (approximately 46 questions)
Information for this domain is found in chapters 5, 9, 10, and 11.
You will be tested on your ability to establish appropriate functional, fitness, health, or performance goals based on your assessments and data to design specific exercise programs.
You will be tested on your ability to apply appropriate exercise principles and guidelines to improve muscular strength, cardiorespiratory fitness, endurance, and flexibility.
You must know about appropriate exercise equipment and how to integrate them into programs for improving function, fitness, health, and performance.
Domain III: Program Modification and Progression – 26% (approximately 39 questions)
Information for this domain is found in chapters 2-15 (new chapters being 13, 14, and 15).
You will be tested on your knowledge of promoting exercise adherence through education, motivation, and modification.
You will be tested on your ability to recognize and respond to problems with exercise adherence by noticing barriers and providing solutions to these barriers.
You must know how to modify programs by evaluating client progress using observations, data, and client feedback.
Domain IV Professional conduct, safety, and risk management – 20% (Approximately 30 questions)
Information for this domain is found in chapters 1, 15, 16, 17, and 18.
You will be tested on your ability to apply risk management strategies following guidelines, standards, laws, and regulations to protect yourself and your client.
You must know how to secure client information, communications, and progress following confidentiality and liability.
You will need knowledge of injury prevention and identifying potential hazards.
ACE CPT Exam FAQ Conclusion
Well, ladies and gentlemen, this concludes my full breakdown of the ACE CPT exam FAQ and test.
Overall, this test is extremely difficult but definitely a worthwhile certification with its industry gold standard NCCA accreditation. I highly recommend you take many practice questions before you sign up for the exam. Mock questions and mock exams are a must, especially if you have not gone to college for something exercise science related.
You can also consider tutoring to learn the curriculum, but generally speaking, the PT Pioneer guides and Trainer Academy course are far superior to taking a general class since you have the independence, flexibility, and guarantee of the program.
Just read through your ACE personal trainers manual, take the practice exams, and prepare with the respective study materials, including the free exam prep that PTPioneer offers.
With all of this said, becoming an expert at fitness coaching requires an exceptionally serious commitment to long term continuing education. After all, you don't just become an expert because you pass a single class, and the same is true for every fitness certification.
If you are still unsure whether ACE is the right certification for you or not, then I recommend you take the quiz to find which certification best fits your training style.
Best wishes to you on your journey to becoming a personal trainer certified by the one, the only ACE!