Hey everybody and welcome to my article on the complete breakdown of the ACE CPT personal training exam for 2022.
Here you will learn everything you need to know about the exam including how to pass the ACE CPT exam, how difficult the exam is (ACE pass rate), what the test consists of, ACE practice tests vs the real test, the ACE test cost, and common frequently asked questions.
Let's stop wasting time and get right into the article. Afterward, if you are ready to start studying, I have a free ACE study guide and practice test and ACE exam prep article that you can check out, or I recommend checking out the team over at Trainer Academy. They produce the best ACE study materials, will reduce your study time by 50%, and even provide an exam pass guarantee.
Get the ACE personal training exam cheat sheet for free here. Courtesy of Trainer Academy.
If you are undecided on which certified personal trainer certification to choose, I suggest you take the quiz to find out which Certification study programs are the best fit for you. The menu at the top of this page will answer any question related to personal training that you have. If you have any questions, don't hesitate to leave me a comment here (I'll respond within 24 hours). Also, visit the home page for the most recent and popular articles.
ACE CPT Exam FAQ Video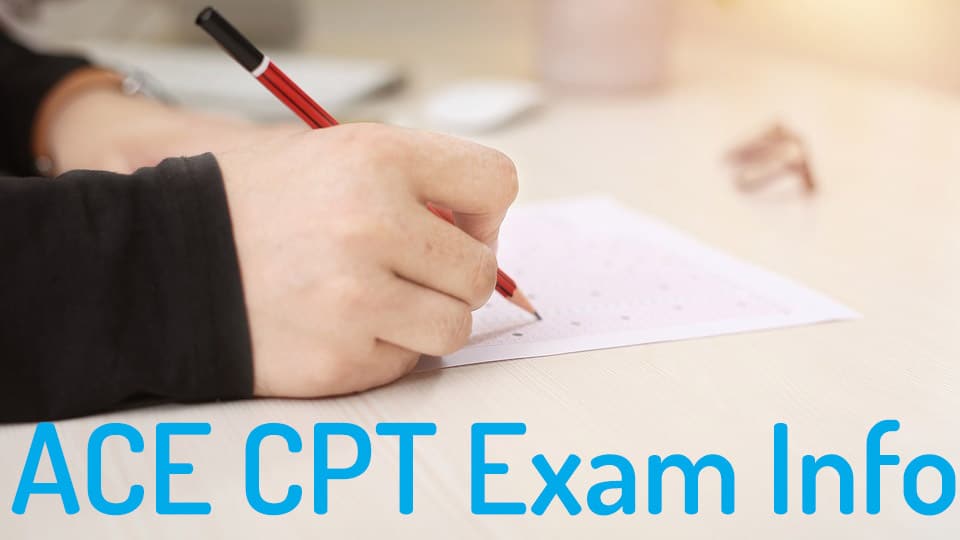 ACE CPT exam breakdown
Something a lot of people don't realize is that on July 1, 2018, ACE, The American Council on Exercise, completely changed up the exam content and how they break the exam down.
The biggest reason why this is important is that a lot of "test prep" websites or services have not updated their material accordingly and this leads to people focusing on the wrong content while studying for the exam.
Here at PTpioneer, you can rest assured that I have updated my content accordingly to provide the best test prep information available online in 2022.
The exam is broken down into four primary domains of exercise science. Each domain occupies a certain percentage of the test questions. I will be breaking down what each domain is, their percentage on the test, and the relative number of questions from each domain.
Domain I: Interviews and assessments – 23% (approximately 35 questions)
What you will be tested on in domain I:
Information for this domain is found in chapters 2, 3, 4, 6, 7, and 8.
You will be tested on obtaining comprehensive medical, health, exercise, and lifestyle information from clients using interviews and questionnaires to determine their risk for exercise participation. You will be tested on your ability to assess client readiness for behavior change as well as evaluate their attitude toward exercise in order to build rapport and establish goals. You will be tested on movement assessments and observations to develop appropriate exercise programming for enhanced function, fitness, health, and performance. You will be tested on conducting baseline physiological assessments.
Domain II: Program design and implementation – 31% (approximately 46 questions)
Information for this domain is found in chapters 5, 9, 10 and 11.
What you will be tested on in domain II:
You will be tested on your ability to establish appropriate functional, fitness, health or performance goals based on your assessments and data in order to design specific exercise programs. You will be tested on your ability to apply appropriate exercise principles and guidelines in order to improve muscular strength, cardiorespiratory fitness, endurance, and flexibility. You will need to know about appropriate exercise equipment and how to integrate them into programs for improving function, fitness, health, and performance.
Domain III: Program modification and progression – 26% (approximately 39 questions)
Information for this domain is found in chapters 2-15 (new chapters being 13, 14 and 15).
What you will be tested on in domain III:
You will be tested on your knowledge of promoting exercise adherence through education, motivation, and modification. You will be tested on your ability to recognize and respond to problems with exercise adherence by noticing barriers and providing solutions to these barriers. You will need to know how to evaluate client progress using observations, data, and client feedback in order to modify programs.
Exclusive PTP Offers



Gold Standard Cert

Most Popular Cert

A Good Option

Best Study Materials

Best online PT course

The Top PT Software

Domain IV Professional conduct, safety and risk management – 20% (Approximately 30 questions)
Information for this domain is found in chapters 1, 15, 16, 17, and 18.
What you will be tested on in domain IV:
You will be tested on your ability to apply risk management strategies in accordance with guidelines, standards, laws, and regulations in order to protect yourself and your client. You will need to know how to secure client information, communications, and progress in accordance with confidentiality and liability. You will need knowledge on injury prevention and identifying potential hazards.
ACE Test difficulty – How hard is the ACE CPT exam?
Overall, the ACE CPT exam is one of the most difficult exams in the industry. This is partly due to the fact that the textbook is huge with over 800 pages. Choosing the information to constitute a 150 question test from 800+ pages of material is going to result in a very difficult exam for the test-taker.
This is what causes a lot of people to have anxiety while going into the test. This is especially true when people encounter very obscure and vague questions that come with one single sentence located deep within the textbook. On top of that, ACE uses a lot of vague language when asking certain questions on the exam. It's almost as if they are trying to mislead you on purpose.
So how hard is the ACE CPT exam? Let's look at the ACE CPT exam pass rates for the last few years.
ACE Exam Pass Rate
ACE exam pass rate 2017: Out of 20,129 candidates that took the test, 13,084 passed while 7, 045 failed Resulting in a 65% pass rate for 2017.
ACE exam pass rate 2018: Out of 22,923 candidates that took the test, 16,046 passed resulting in a 70% pass rate for 2018.
ACE exam pass rate 2019: Out of 20,069 candidates that took the test 1425 passed while resulting in a 71% pass rate.
ACE exam pass rate if the user takes the ACE Academy elite certification program and completes both elite practice exams: 93%. As you can see, going through the academy elite program will drastically help your chances of passing.
ACE exam pass rate if the student is using trainer Academy study materials is 99%. Trainer Academy even offers an exam pass guarantee or you are money back.
These are the most recent statistics released by ACE according to the pass rate for their test. On average there is a 65% pass rate which means one out of every three people will fail the test. The only problem is that these percentages were before they made major changes to the structure and layout of their personal training test. Currently, the ACE personal trainer exam pass rate is almost identical to that of the NASM CPT.
With the one in three people failing the test, this is why you need a study guide that tells you exactly what you need to study. Take note that users that go through the ace Academy Elite program have a much higher chance of passing (93%). Also, take note that people using Trainer Academy study materials also have a fantastic pass rate (99%).
This means that a lot of people are studying older study guides and practice tests that focus on different percentages for the four primary domains. My guess would be that this would lead to an even lower pass rate than before.
ACE practice test vs Real test
When comparing the ACE practice test vs the real test, you have to take into consideration when the practice test was compiled.
The general differences between the practice tests in the real tests.
The ACE practice tests are compiled by individuals who do not work for ACE fitness, whereas the real tests are compiled by ACE fitness. ACE practice tests may or may not have been compiled based on the new exam structure for 2018, while the real test is compiled for these new domain percentages.
Luckily for you guys, here at Ptpioneer, all of my study materials such as my study guide and practice tests are completely up-to-date for this new testing structure for the ACE CPT. Although I do not work for ACE, I compile my information based on the hundreds of students that take the ACE exam and the questions that they experience on the real test.
ACE FAQ
Here are some other general frequently asked questions for the ACE test.
Conclusion on the ACE CPT test
Well, ladies and gentlemen, that's about it for my full breakdown on the ACE exam. Overall, this test is extremely difficult with only 65% of people passing the exam. It is definitely a worthwhile certification with its industry gold standard NCCA accreditation, which is the National Commission for Certifying Agencies.
If you are still are not sure whether or not ACE is the right certification for you, I recommend you take the quiz to find which certification best fits your training style.
I suggest checking out my free study guide for ACE. If you want additional study materials, check out the team over at Trainer Academy. They have incredible study materials for ACE.
This is partially due to the fact that the textbook is massive and very difficult to understand exactly what areas you should be paying attention to and which areas are not as important.
If using third-party study materials such as practice exams, study guides or flashcards I would make sure that their information is up-to-date for the new test structure at the end of 2018.
If you are looking for a fantastic study guide and practice tests, we have a completely free study course here at PTpioneer that I highly recommend checking out. Until next time guys, good luck with your studying and continue your pursuit of being a fantastic personal trainer.
Resources:
https://acewebcontent.azureedge.net/assets/certification/pdfs/Certification-Exam-Candidate-Handbook.pdf
https://www.acefitness.org/fitness-certifications/schedule-your-exam/
Discover All PTP Fitness & Wellness Career Articles
Tick a box from each section to narrow the results.
×
I want to know more about: