Welcome to the PTPioneer CSCS study plan page, part of the extensive NSCA CSCS study hub.
Throughout this page, you will be able to help decide on a proper plan and timeframe for your studies in the CSCS program.
As you can see in the preview below of the 4-week PTPioneer Study Plan for CSCS and in the downloadable PDF, there will be three more timeframes to help organize your study efforts.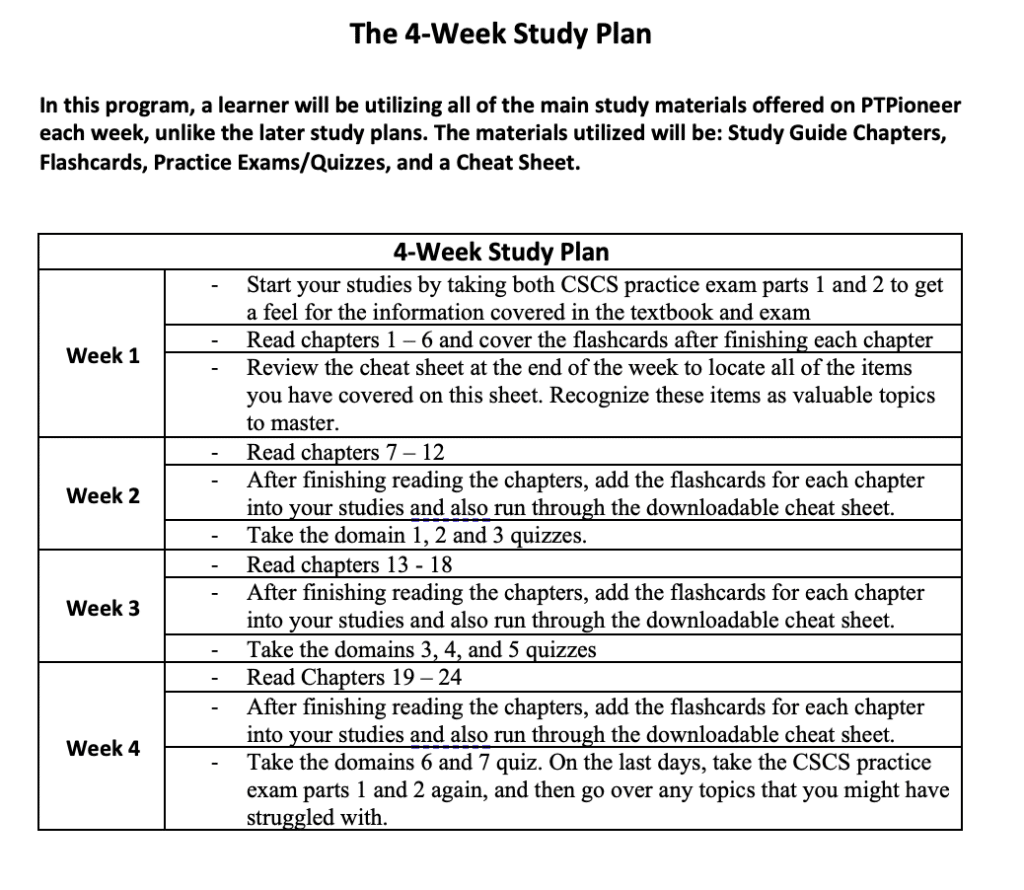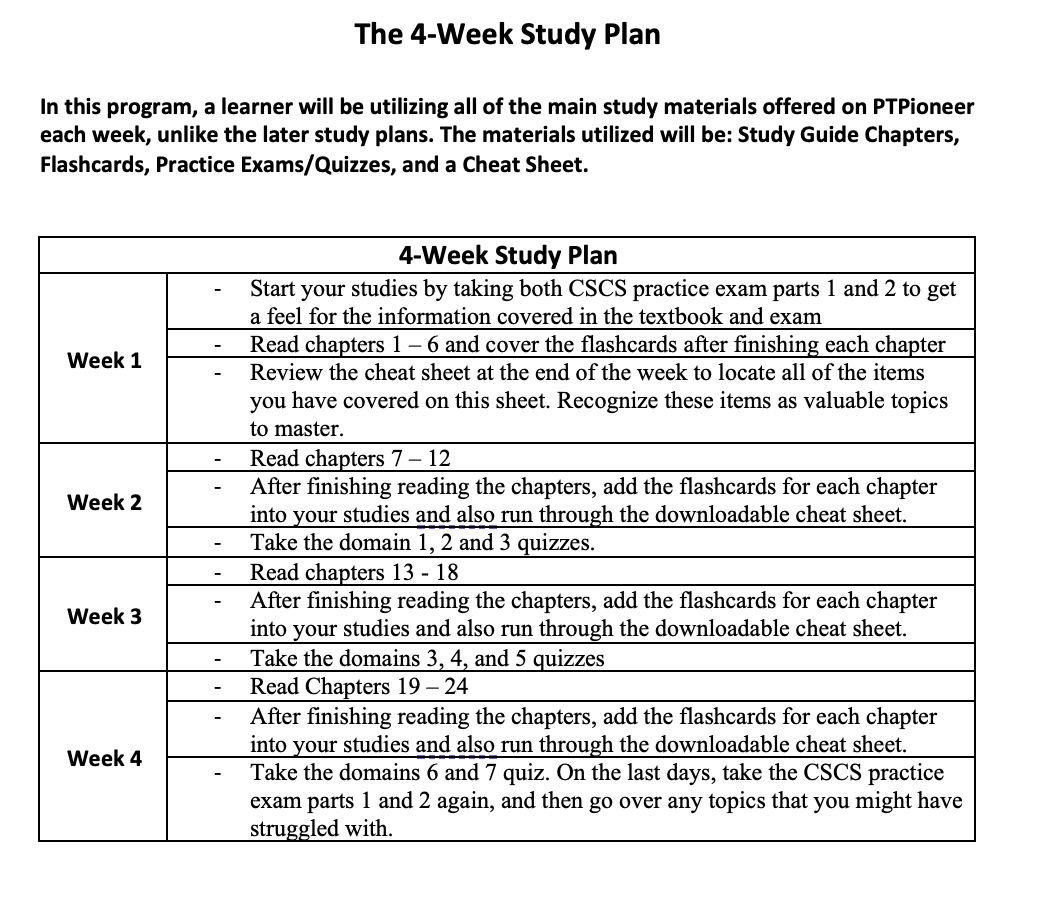 Get your copy of the CSCS Study Plan, and I will also include a Cheat Sheet for the CSCS materials for free in the same email. These help immensely in studying for the exam.
Within this article, we will highlight:
Make sure to check out Trainer Academy for premium NSCA CSCS study materials. They will reduce study time by 50% and have an exam pass guarantee. Read my full review of them here. You can save $100 on their MVP study system with the code: PTPSUB
Now, let's dive into the article!
NSCA CSCS Study Hub Pages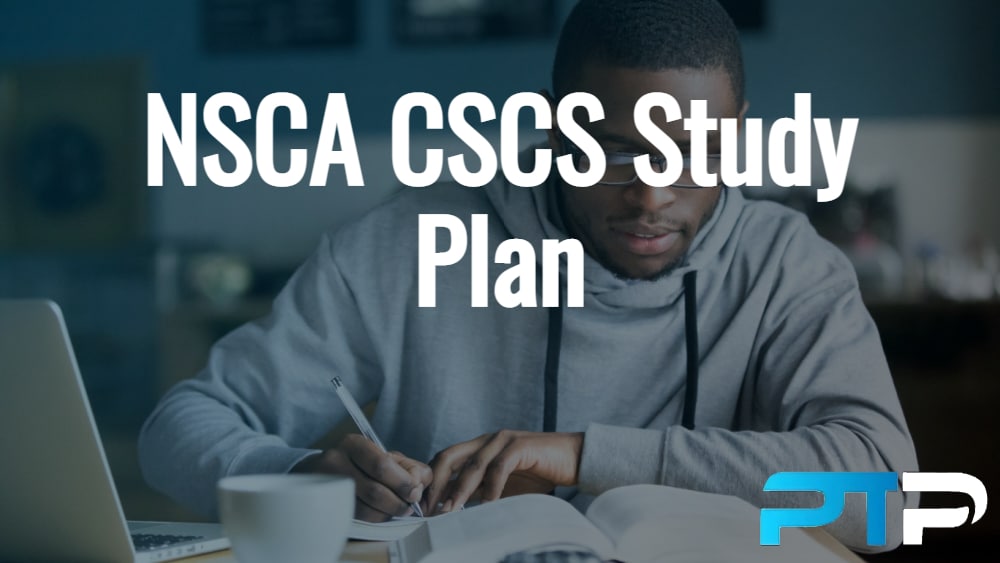 How Long Does it Take to Study for the CSCS Exam?
The NSCA Certified Strength and Conditioning Specialist certification is one of the most challenging fitness certifications and thus, has one of the lowest pass rates (in the upper 50% range) year after year.
Like with other certifications, your time to study and prepare will depend on your level of knowledge in exercise science, whether or not you have an existing fitness certification, and a few other factors.
This means this CSCS cert will have one of the higher study requirements for people that have no experience in fitness and training.
In cases where someone has not studied exercise science in the past or achieved no certification in the field of exercise, it should take an average of 6 – 8 months of study to complete the required material for passing the CSCS.
For someone with a certification in personal training or some form of college class in the exercise field, you can expect it to take about 3 – 4 months of study time to pass the CSCS with flying colors.
All in all, the exam is quite challenging, and it is important to seek out outside materials like this free study guide, and even some paid premium materials to help with studying and make sure you are looking at the appropriate materials.
Next, let's look at the CSCS study plan here on PTPioneer.
Check out the preview picture right above the button to get a small idea of what is offered throughout the study plan and our free materials in general.
If the preview interests you, make sure you put your email with the button above, and you will receive the full free downloadable high-quality PDF document straight to your email.
In addition to this great study plan resource, you will get the free PTPioneer Cheat Sheet, which is part of the CSCS study system, as well.
The study plan is going to help learners organize their efforts and look at the typical study timeframes that other learners set.
The main timeframes that we see set for learners and, thus, cover in the study plan will be:
4 – Week
3 – Month
6 – Month
1 – Year
The CSCS study plan looks at the four above timelines to set up a blueprint or calendar for readers to study in the set order or simply help with setting up their own modified version of a study plan.
If you are deciding on a study plan, it may help to look at when you are planning to take your own certified strength and conditioning coach exam.
All in all, studying for this extensive CSCS exam content from the National Strength and Conditioning Association requires a bit of work organizing the CSCS study guide, CSCS practice exams, cheat sheet, and flashcards.
That is why a page such as this study plan exists, for the organization and ease of studying.
Let's look at what the four calendars look like and the type of learners they aim to assist.
The Four Study Timeframes
The first and shortest timeframe that we see being utilized by learners of the CSCS is the 4-week study plan.
Someone who is studying for the CSCS and using the 4-week plan likely already has a solid foundation of exercise science, exercise technique, and program design experience under their belt.
The ideal student for the 4-week plan has likely already achieved a similar certification in fitness, like a personal training cert, or they have possibly graduated with a degree in exercise science.
The 4-week plan is more of a cramming plan to quickly study if you are in a rush for the exam.
The next shortest option which is seen pretty often, is one of the two middle-ground study options, coming in at 3 months or 12 weeks.
The 3-month option for the study plan is the most popular option for learners as it isn't too crammed, and most people expect to study for 3 – 6 months for their cscs test.
3 months is going to be optimal for pretty much everyone, as it's quick but keeps learners focused and materials fresh when studying more often.
The third option we see used almost as much as the 3-month study plan will be the 6-month calendar, which is double the time, and where the plans start to differentiate even more based on your availability to study.
The longest study plan, which isn't used as much, is the 1- year, or 12-month, study plan. This 1 year study plan is for someone with very little time to study but a person who wishes to learn at a very chill pace.
For the 4-week and 3-month plans, the typical learner should be studying daily or as close to daily as they can manage, especially with flashcard studying. This helps keep the material as fresh as possible.
For a 6-month or 1-year plan, the idea will be to get around 2 – 3 days of study in and implement all of the materials, but at a much slower pace than the first two programs.
Study Tips to Maximize Efficiency
"Consistency is key" is a message that many people have heard in regards to learning something new and mastering a new skill, and it is no different with learning the advanced concepts within the 4th edition CSCS exam prep.
A conditioning specialist is going to need to be well-versed in the essentials of strength training, scientific foundations, sport psychology, periodization of exercise, and even in-depth knowledge of the muscle fibers and energy systems, to name a few specifics.
The materials throughout the PTPioneer study plan include the study guide, practice test, flashcards, and a cheat sheet page.
For all of these, we want to make sure to study frequently enough, so you do not forget any of the concepts taught in the study course.
The easiest way to consistently get your study time in and not let materials get lost in your studies is to study flashcards daily, and take the tests on a frequent basis. Daily and semi-daily studying is ideal for learning anything, but another important thing is simply sticking to a new habit.
Creating regular study time and sticking to it every week will create these beneficial habits, and this will help carry over to other things you study in your life.
Hopefully, this study plan helps you in your journey, and you will continue on to the study guide next, which gets into the meat of the study program here on PTPioneer.