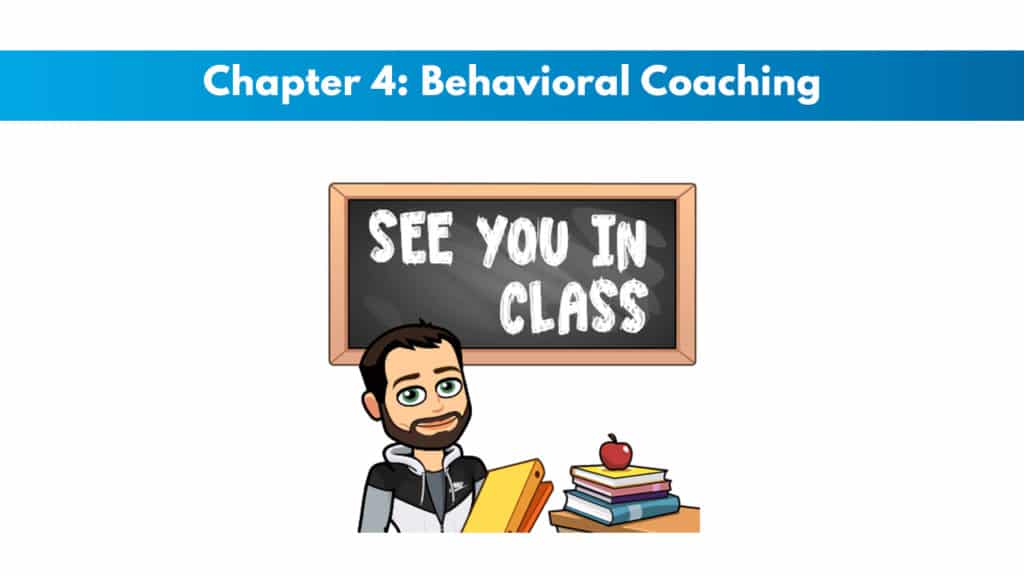 If you have not signed up for NASM CPT, sign up here to save 25% with my personal code PTP25.
Get your copy of the NASM CPT exam cheat sheet. It helps immensely for studying for the exam.
Make sure to check out Trainer Academy for premium NASM CPT study materials. They will reduce study time by 50% and have an exam pass guarantee. Read my full review on them here. You can save $100 on their MVP study system with the code: PTPSUB
Chapter Goals:
Be able to give a summary for the client expectation of a certified personal trainer and the fitness environment.
Assess the client's stage in changing unwanted behaviors.
Be able to structure initial client sessions for optimal effectiveness.
Talk about effective communication and building client rapport.
Use behavioral change techniques for the enhancement of adherence to exercise.
Introduction to Behavioral Coaching
There is a widespread failure in engaging in, maintaining, and achieving adequate levels of activity, and the effective coaching techniques can help to promote activity and exercise.
It is important that we go through all aspects of behavior theory and expectation, and how to apply these ideas.
Client Expectation of a Certified Personal trainer
Certified trainers have a great influence on their client's health, and the responsibility of the fitness professional is to design programs, give effective advice, and create environments that will help clients adhere to routines.
It is important to make a good first impression to your clients, and you should try to come off as both an ally and an authority in the gym environment.
A good first impression usually has these things:
Make eye contact
Introducing yourself by name and asking their name
Smile
Shake hands with the clients
Remember the name of the client and continue to use it
Use positive body language
On top of the first impression, there are some things we should look to do to make an inclusive environment that keeps clients returning:
Look profession: clean, neat, and dressed appropriately
Take time to build a good relationship with new clients
Ensure that clients feel heard and understood
Ensure the client is safe when exercising
Build a community by making the client's routine collaborative
Client Expectations of the Environment
The training environment may either foster or hinder intrinsic motivation, which, again, is the best form of motivation to instill in your clients.
When a client is deciding to join a gym, they likely will consider these things:
Is there a great variety of training options?
Does the environment seem supportive?
Does it seem to fit in with the club's culture?
What is the cost of a membership and personal training?
How convenient is the gym?
Are the facilities neat and clean?
Introduction to Behavior Change Techniques
For the improvement of coaching interventions that will change behaviors, trainers need to know the right behavior change techniques.
To improve self-efficacy in clients, you can aim to set specific tasks, provide instructions, practice for mastery, and communicate positively.
Exclusive PTP CPT Offers



Gold Standard Cert

Most Popular Cert

Best Study Materials

A Good Option

A Good Option

Best CPT for you?

Positive outcome expectations and attitudes can be possibly solved by supplying information, prompting anticipated regret, and applying motivational interviewing.
To manage social influence, you can encourage social support and foster discipline in the client.
To promote self-regulation, you can do things like making a plan, identifying coping responses, setting SMART goals, and promoting self-monitoring.
Determinants of Participation in Exercise
To successfully change behaviors, you should begin with a clear understanding of the factors that go into whether people will participate in activities.
Determinants of Participation in Physical Activity and Exercise
Self-efficacy is one of the strongest determinants of adult physical activity. Determinant of the behaviors also include the stage of change the individual is in and the intentions they have.
Determinants of Participation in Resistance Training
Resistance training is unique and likely more challenging for everyone to start when compared with cardio.
Resistance training should be addressed on its own and separate of other forms of activity.
Determinants include things like self-efficacy, affective judgment, perceived behavioral control, and intention.
Stages of Change Model
This is also known as the Transtheoretical Model of Behavior Change. This model views change as a process involving progression through a series of stages.
Here are the stages for the transtheoretical model of behavior change:
Precontemplation stage: the individual does not exercise and is not planning to start exercising within the next 6 months
Contemplation stage: the individual does not currently exercise but is planning to start within 6 months
Preparation stage: the individual is planning to begin exercising soon and has taken steps toward it and may even be sporadically exercising
Action stage: the individual has been exercising for less than 6 months
Maintenance stage: the individual has been exercising consistently for 6 months or more
Also, in the model we see the processes of change, self-efficacy, and the decisional balance.
People will move through all of these changes by using different behavior and cognitive processes of change strategies.
Importance of Effective Communication Skills
Effective communication skills are needed to understand the needs of the client and build trust in the relationship.
Good communicators do these things:
Create a safe environment where challenging and emotional issues can be discussed.
Clear away distractions such as cell phones and focus on the client.
Ask questions to understand the meaning of what the person is saying.
Observe nonverbal cues such as body language.

Provide empathy and validation
Nonverbal and Verbal Communication
Nonverbal communication is the exchange of information through bodily cues and not words. These forms of communication can have a major impact on social interactions.
Exclusive PTP CPT Offers



Gold Standard Cert

Most Popular Cert

Best Study Materials

A Good Option

A Good Option

Best CPT for you?

Nonverbal communication includes things such as facial expressions, posture, and where you look. It is important to pay attention to these to give off good cues to the client.
Verbal communication is through the use of words and how things are said. It is important to pay close attention to words to make sure not to invoke any form of negative emotion in people.
Active Listening and Rapport Building
To be a good active listener, a fitness professional should use these techniques in their conversations:
Asking questions
Reflecting
Summarizing
Affirming
Asking permission
There are two main forms of questions to know about and utilize. Close-ended questions are ones that can be answered with just one word. And open-ended questions are the questions that require longer responses and allow you to learn more about the individual speaking.
Reflecting is important to let the client know you are listening and they are understood. This has you repeating important information.
Summarizing demonstrates depth of listening in the whole conversation.
Using affirmations shows the appreciation for clients and their strengths.
Asking permission recognizes the autonomy of the client.
Motivational Interviewing
This is defined as a client-centered, directive method for enhancing intrinsic motivation to change by exploring and resolving ambivalence.
Applying Motivational Interviewing is done best through self-discrepancy, change talk and sustain talk, avoiding arguments, and through importance, confidence and readiness.
Strategies to Enhance Exercise Adherence
The health benefits for exercise depends on the commitment had with the programs.
Purchasing a gym membership oftentimes gives a strong intention to stick with working out. And so, anyone who has gone far enough to purchase personal training, likely has the intention to exercise and stick with a program.
People overestimate their estimated times that they work out in their average week.
Behavioral Strategies
We have many different techniques to assist exercise adherence.
Goal setting is a main way to help with adherence to exercise. The goals should fit the rules of SMART goals. This stands for specific, measurable, attainable, realistic, and timely
Goals work through four main functions:
Directing attention and effort toward relevant activities and away from counterproductive activities
Energizing action and effort
Influencing persistence of effort
Leading people to seek out goal-relevant information
To help with the searching for long term goals, it is helpful to ask questions such as these:
What do you want to accomplish in the next 6 months?
What do you want to accomplish in the next year?
What does success in fitness look like to you?
Enhancing Self-efficacy is a proven way to increase adherence to exercise, and this is often done simply through the acknowledgment of the improvements clients make in fitness or any metric they may improve on.
Planning allows for helping intentions and behavior. Two behavior change techniques to utilize are implementation intentions and coping plans.
Self-monitoring is a good thing to ask clients to do for themselves and it allows them to play a role and stay mindful in the process of changing behaviors.
Some ways we can manage our time better are through these:
Assigning priorities to daily tasks and completing the more important ones first
Not accepting every request for one's time; keeping hours open for unexpected events and personal needs
Turning key tasks into repetitive habits
Scheduling buffer time between important tasks
Implementing systems of organization
Eliminating nonessential tasks
Limiting time spent on empty activities like scrolling through social media feeds
Cognitive strategies are important to understand and help with changing the thoughts and attitudes that a client may have toward exercise and physical activity.
Positive self-talk is best implemented when there may be the presence of a lot of negativity toward exercise.
Imagery allows for help in imagining a situation and experience that will enhance participation in exercise.
Psyching up helps motivate someone who may be new to exercise and perhaps a bit apprehensive toward the experience.
The Initial Session
Success in the industry depends almost entirely on the ability to build lasting relationships with your clients. It is essential to work on the skills highlighted in this chapter to enhance that ability.
In the initial consultation, the client is going to decide if they want to continue this relationship with you and train with you.
It is important that throughout this meeting you get a feel for their stage of readiness, understand the goals they have, listen to them, show support for them, and collaborate to create an individual exercise program.
You should discuss any major health concerns that the client has, along with clarifying their fitness goals and reviewing their previous experiences they've had in the fitness realm.