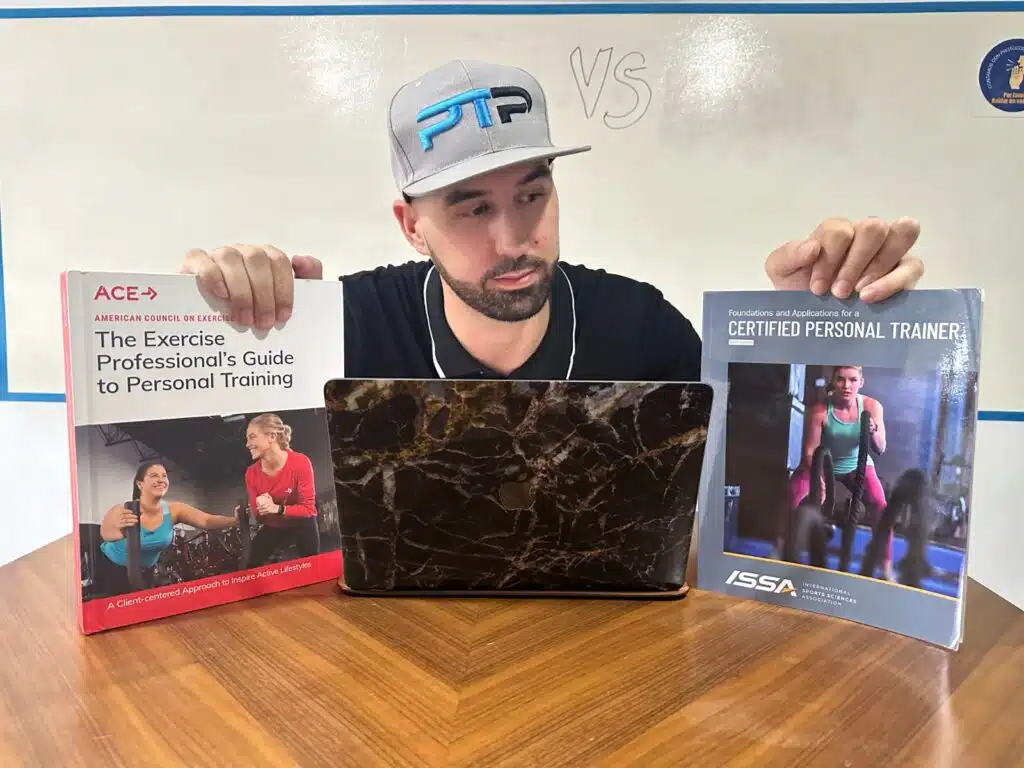 Welcome to the ultimate comparison of the ACE and ISSA CPT certifications. Having taken both ISSA and ACE training programs I can give you an accurate assessment of which is best.
I've been a trainer for over 10 years, utilizing ISSA and ACE CPTs in my practice. I am also certified through the other main fitness organizations and the team at PT Pioneer includes coaches with top training certifications from ACE, ISSA, NASM, and NSCA, among others.
Together we assessed ISSA vs ACE using our PT Pioneer methodology to find the best personal training certification.
This ACE vs. ISSA review looks at these certifications closely and involves diving into the similarities and differences in these categories:
Pricing, packages, and prerequisites for ACE and ISSA
A deep dive into content, knowledge, and skills of the two certifications
Difficulty of exams and study material review
Pros and cons of ISSA vs ACE
If you feel overwhelmed by the number of CPT certifications on the market, I recommend you take the quiz to find out which top fitness certification is the best fit for you to obtain.


Once you finish reading this ISSA vs. ACE comparison article, you will know which of these two impressive personal training certifications is right for your career.
I hope you are ready; let's dive in.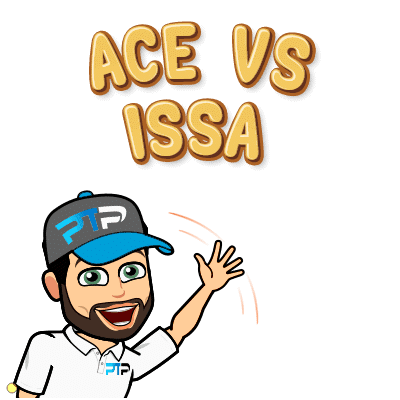 Quick Breakdown: ACE vs. ISSA
CPT
ACSM vs ACE Quick Breakdown
Features
Price
ACE

One of the most popular and highly regarded certification providers in the world
A non-profit organization that drives many community-based projects
A good entry point for new, up-and-coming fitness professionals
NCCA accredited

View on the ACE website
ISSA

Great customer experience and support
It goes in-depth into the business aspect of personal training
It tests you on a wide variety of skills
Relaxed testing and retesting criteria
In-depth, robust main text and study guide

View on the ISSA website
Product
Exam cost
Study Material Cost
Study Material Cost
$509+
$828+
Prerequisites
Prerequisites
18 years of age, High School Diploma/GED, CPR/AED Certified
18 years of age, High School Diploma/GED, CPR/AED Certified
Exam Passing Score
Exam Pass Rate
Average Completion Time
Average Completion Time
3-6 Months
2-4 months
What is ACE?
ACE stands for the American Council on Exercise and is a leading nonprofit exercise professional and health coaching certification organization.
ACE's primary mission is to increase access to exercise for the general population.
A lot of the ACE content revolves around teaching how to inspire clientele to put the work in and stay motivated so they can increase their overall well being.
ACE uses their patented Integrated Fitness Training (IFT) program, which gives trainers a great starting template for workout programming.
Every person you work with will be different, so having a starting template which you can make adjustments to can be helpful.
Also, ACE's personal training certification is accredited by the National Commission for Certifying Agencies (NCCA), the gold standard for any fitness certification.
I notice that most gyms like hiring ACE-certified trainers.
What is ISSA?
ISSA is the International Sports Sciences Association and is among the most respected CPT providers in the fitness industry.
ISSA was one the first certifications to take their teaching online, and they have an incredibly easy-to-follow workflow for getting your certification right from your home.
ISSA also offers great certification options for an entry-level candidate learning how to become a personal trainer and supplies some incredible specialist fitness certifications.
One thing to note is that ISSA gives you two options for your personal training exam: one is DEAC-accredited and completely open-book, while the other ISSA exam is NCCA-accredited and closed-book.
Regarding the ISSA exam information, the study materials for each version of the ISSA CPT exam are identical.
However, the NCCA accredited version of the exam is more difficult than the distance education version and also more respected.
Regardless of your specific certification, I recommend all aspiring trainers consider adding a nutrition coaching certification to their personal training resume.
After all, physical training is important, but without the ability and qualifications to help your clients on the nutrition side of things, you will deliver mediocre results.
Conversely, combining nutrition coaching and personal training will help you get better results for your clients and earn more money doing so.
To crush it as an ISSA certified trainer, I would further consider adding specialized programs such as group exercise, health coach, or corrective exercise to your resume.
Having the "full stack" of certifications means you can serve even more niche clientele with everything they need to crush their specific fitness goals – ultimately leading to a much more lucrative personal training career.
The great news is that the ISSA and ACE offer additional nutrition and specialist certifications. If you pick either of these organizations for your CPT, you can stack up your credentials.
I will say that the price tag for three certifications adds up quickly.
If you choose the ISSA CPT, I highly encourage you to check out the ISSA Elite Trainer Bundle.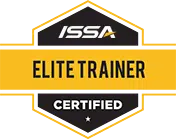 The Elite Trainer package gives you these three ISSA certifications (ISSA CPT, nutritionist, and choice of specialization) at over a 50-percent discount to purchase each product individually.
With our exclusive PTPioneer offer, you can pick up the ISSA Elite Trainer bundle for $1308 paid in full or $109 per month for 12 months.
The interest free financing allows you the time to finish the certifications and start making money before paying for everything.
If you aren't fully sold on doing the full three certifications up front, you can still get 2 certifications for the price of one when you choose the ISSA CPT and Nutritionist certification.
With our PTPioneer ISSA deal, you pay $1188 in full or $99 a month for 12 months, which is a similar cost to purchasing the CPT alone without any deals.
Now, deals do not last forever, so I highly encourage you to check the ISSA website. If you can take advantage of this deal, it's tough to pass up.
Pros and Cons of ISSA vs ACE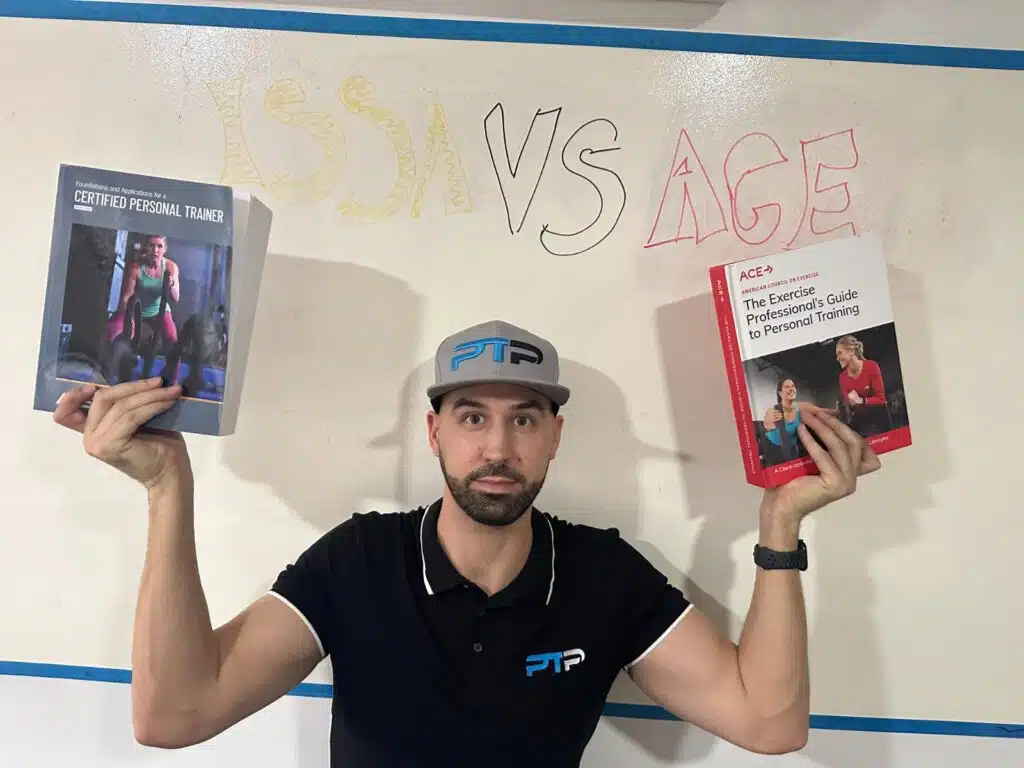 ISSA and ACE both cover the essentials you need to become an excellent personal trainer. Despite this, each CPT offers unique benefits and drawbacks.
ACE shines in the area of motivational coaching. If you feel as if you don't have the tools to get someone excited about changing their fitness habits, making healthier choices, I would definitely consider ACE.
The ISSA cert covers behavioral coaching thoroughly, but ACE gives candidates more.
If you are more interested in learning the science behind how the body works and responds to exercise, how to program good strength and muscle building workouts, ISSA excels over ACE.
ISSA also gives you excellent business skills content compared to ACE. This enables you to actually make money as a personal trainer, once you know how to sell your services and manage your client roster in and out of the gym.
On the negative side, ACE doesn't include too many business skills in their CPT certification. When you're taking your first steps as a new trainer, having some business know-how should be a priority, so you can earn an income with your passion.
The only real negative with ISSA comes from the price: the ISSA CPT costs more than most other personal training certifications.
Exclusive PTP CPT Offers



Gold Standard Cert

Most Popular Cert

Best Study Materials

A Good Option

A Good Option

Best CPT for you?

ISSA and ACE certification packages and study materials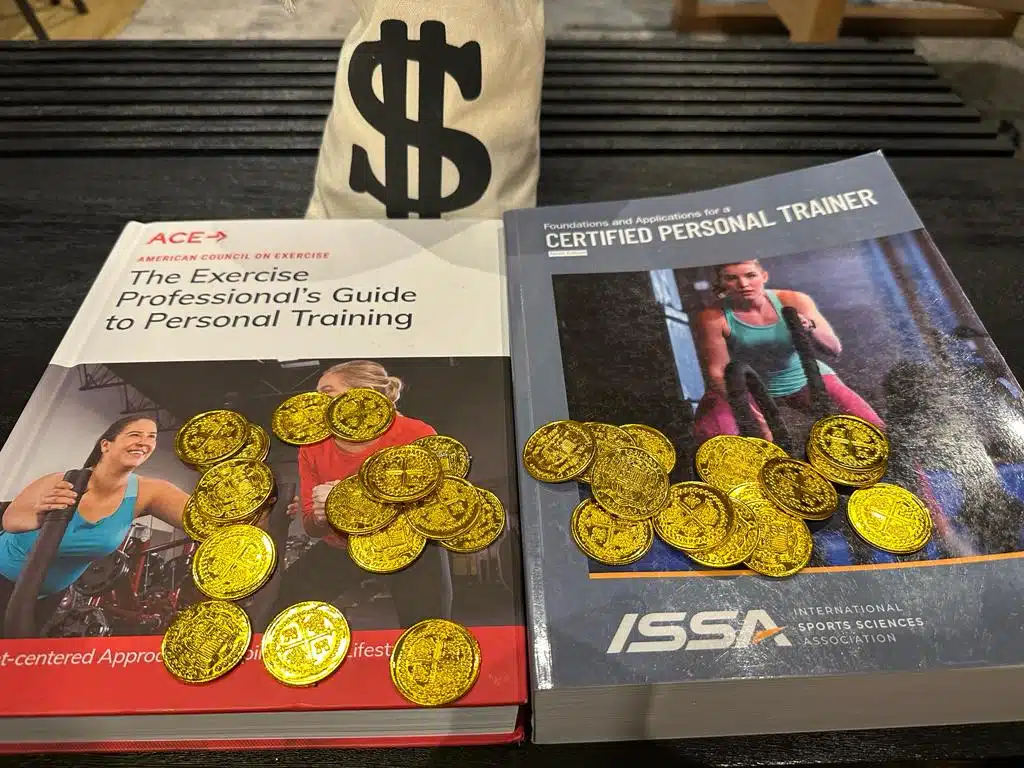 CPT certifications from ISSA and ACE come with multiple pricing options depending on level of study materials and features.
ACE offers three main packages for their CPT certification. All of the packages are of high quality, and when choosing a certification package to pursue, it really comes down to how much someone thinks they need to study.
Here are the three main packages:
ACE Basic Study Package – $489 on sale; this includes:
ACE University
ACE Certification Exam
ACE Practice Test / Practice Exam
ACE Personal Trainer Textbook (digital)
ACE Personal Trainer Study Companion
ACE Answers (basic)
ACE Plus Package – $574 on sale; this includes:
Everything in the previous ACE Basic Package
ACE Personal Trainer Textbook (both digital and hard copy)
ACE Personal Trainer Study Companion
ACE Answers (plus)
Exercise Science 101 Certification Course
ACE Advantage – $864 on sale, this includes:
Everything in the previous ACE Plus Package
Facilitated Study Groups
Exercise Science 101
Dedicated Advantage Team
If this seems pricey upfront, don't stress about the decision.
You can start studying today with my free ACE CPT study guide and practice test before spending any money on expensive materials.
For an affordable paid study guide with premium materials and an exam pass guarantee, my students consistently prefer the Trainer Academy ACE CPT MVP Study Package.
If you do want to pay a premium for the official ACE CPT Study Materials, you are always free to do so.
Now, let's look at the ISSA personal training certification cost.
ISSA offers a one full payment option, but they also offer monthly payments. The ISSA CPT costs $999.
This price includes ISSA online study materials:
Online textbook
Study guide
Online practice quizzes
Audio and video lecture options
Online workbook
Online student forum
ISSA take home personal trainer certification exam
Free NCCPT accredited exam
CPT education boot camp
Fast track program
5 in 5 client program
Free professional Website
Unlimited support
You can kickstart your ISSA CPT studying today by checking out my free ISSA study guide and practice test, which will give you a better feel for what to expect from the ISSA.
Suppose you are stressed about spending money and potentially failing the ISSA exam. In that case, I recommend purchasing a third-party study package with an exam pass guarantee, such as the Trainer Academy ISSA CPT MVP Study Bundle.
As I also mentioned, I highly encourage you to get a nutrition certification and additional fitness specialization alongside your CPT certification.
If you do opt for the ISSA CPT, the best move by far is to get the ISSA Elite Trainer Bundle which includes the CPT, nutritionist, and specialization certifications.
As I mentioned, you can get an exclusive discount on the ISSA pricing when signing up through our link below.
If you are going to become an ISSA CPT, it's really a no-brainer to go for the Elite Trainer program for the added skill development. 
Also, if the Elite Trainer seems like more than you want to handle right away, you can get the ISSA CPT and nutrition certification together for a lower price through our PTPioneer deal.
Of course, if the ACE CPT is more up your alley, they also frequently run promotions. Check the ACE website directly to take advantage of any current deals.
It's certainly safe to say the ACE CPT will not let you down regarding the skills and knowledge needed to be a successful personal trainer.
ACE and ISSA course layouts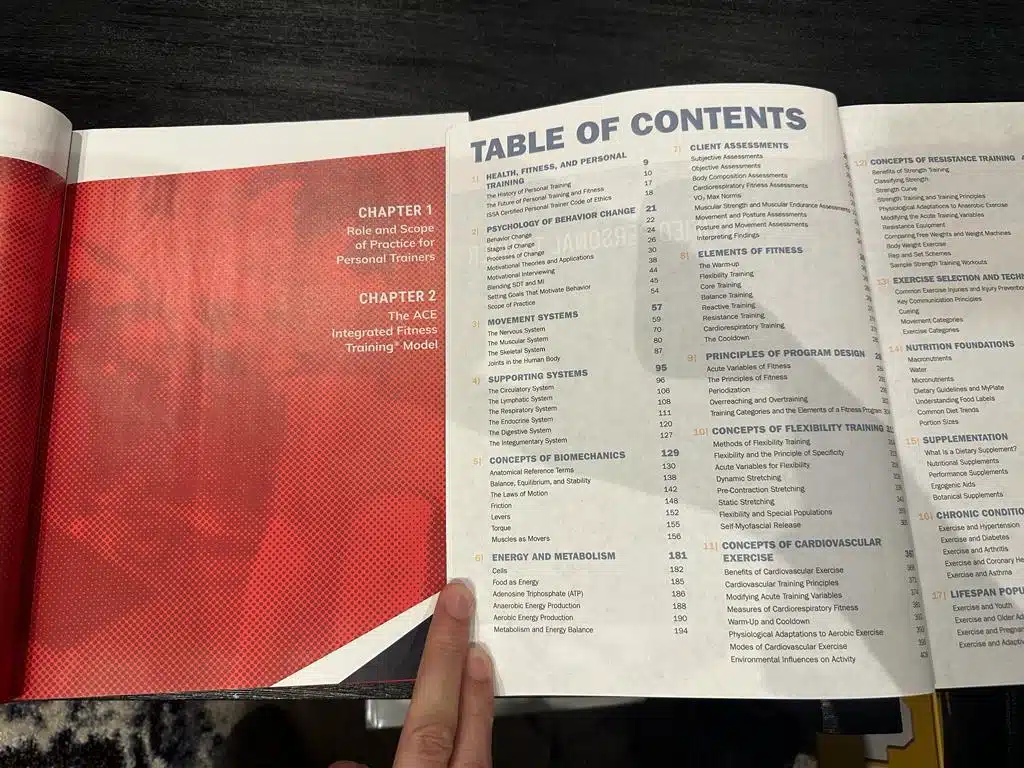 ISSA and ACE trainer certifications teach different domains to various degrees.
Let's dive into each one and see how these training courses handle exercise science, behavior change, consultation, screening, program design, special populations, business skills and nutrition. 
These topics cover the essentials needed to become a successful personal trainer.
If you want more detail into the individual certifications, look at the rest of PTPioneer for articles like the ISSA personal training certification review.
Exercise science
All fitness certifications cover the foundations of exercise science and kinesiology in some way, and both ACE and ISSA both include sections on these topics.
The American Council on Exercise handles the basics of exercise science in the same textbook sections as their practical skills.
Combining exercise science with practical skills gives you some detail on the two topics, but I personally don't like this method.
ACE does a great job of merging this exercise science information with their IFT model for designing programs, but some of the finer points of biomechanics and body systems feel a bit underdeveloped.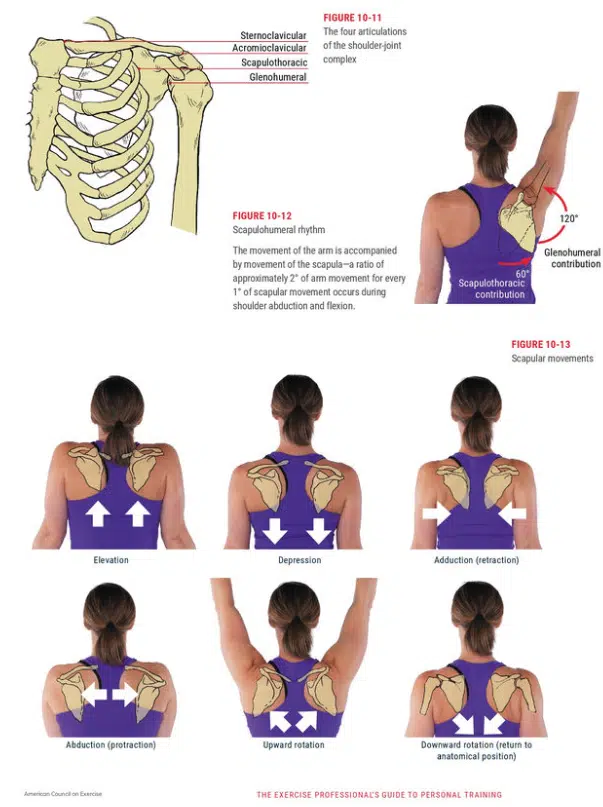 When I compare ACE to ISSA, I think that the ISSA cert gives fitness professionals a bit more here.
ISSA mainly aims to teach their personal trainers to develop great programs. But, they still meet the expected mark for their exercise science foundations, including info on kinesiology, biomechanics, and diagrams of the body's muscles. 
Both ACE and ISSA offer specializations which go deeper, but both these programs will be enough to get you started as a personal trainer.
ISSA's anatomy and physiology coverage is done well and worth looking into when considering exercise science.
Let's look at Behavioral Coaching next.
Behavioral coaching
ACE does an excellent job with behavioral coaching, surpassing many of the top certifications in personal training.
The ACE CPT offers their own behavioral change coaching system known as the Mover Method.
I would say that the Mover Method stands above all other PT certifications as the best behavioral change system I have reviewed.
The Mover Method is a philosophical approach that believes healthy lifestyle behaviors begin with empowering clients to take a personalized journey where they can achieve their goals.
This happens due to the empathy and trust set up from the personal trainer and the proper communication and collaboration developed with the client.
The first step comes from assessing the stage of change the client is at, then establishing processes of change, and finally building self-efficacy.
It truly is the better approach to behavior change when compared to most other CPT certifications. That doesn't mean other certificates offer bad behavior change ideas, as ISSA still provides in-depth materials to study optimally and learn motivational tips as well.
ISSA covers all of the motivational interviewing and other required materials well in their chapter on behavior change. They do a good job setting up how to set smart goals for clients to succeed.
Exclusive PTP CPT Offers



Gold Standard Cert

Most Popular Cert

Best Study Materials

A Good Option

A Good Option

Best CPT for you?

The ISSA cert content offers a similar approach to ACE, but it is not presented in as clean and comprehensive as with the ACE Mover Method. It is much easier to apply a behavioral change system like ACE teaches than the individual components discussed with ISSA.
Motivations and behavior coaching are essential so that you can help your clients progress and stay motivated throughout their journey.
Some other items touched on by both organizations in this realm would be the important personality traits and similar improvements for personal trainers.
Let's look at client health screening next.
Client health screening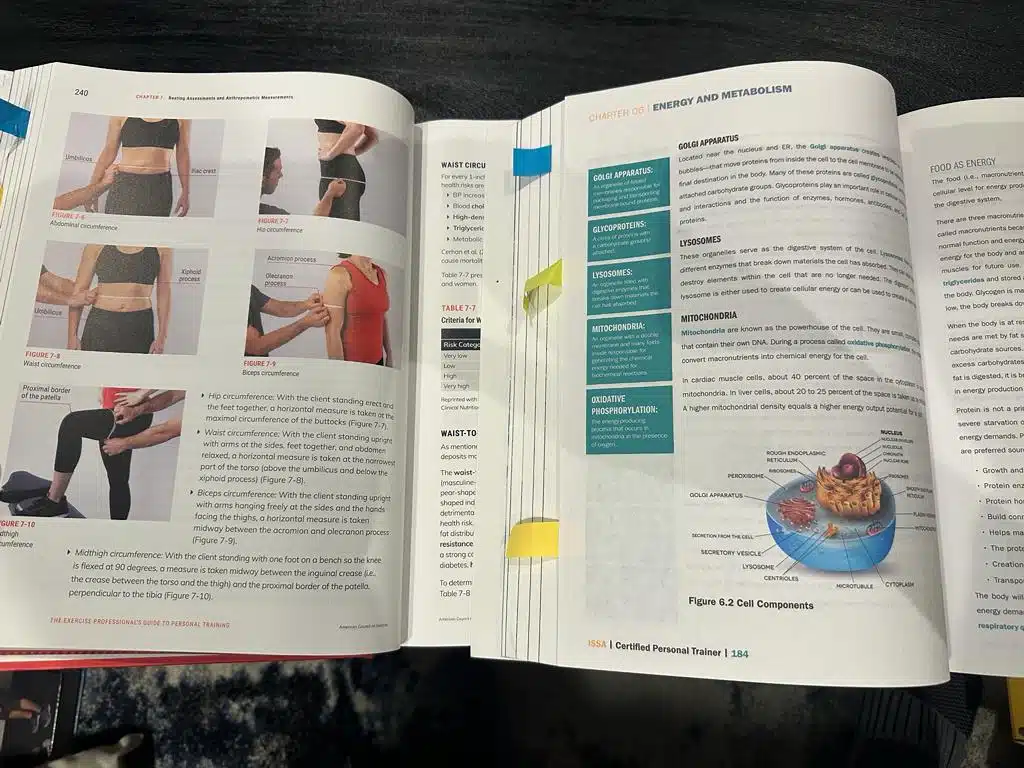 ACE uses the risk screening protocols from ACSM, and ISSA has a very similar offering.
So, ACE uses some reliable information from which they receive from outside certification organizations, but they only give you one real cardiovascular performance assessment, which is based around the Talk Test.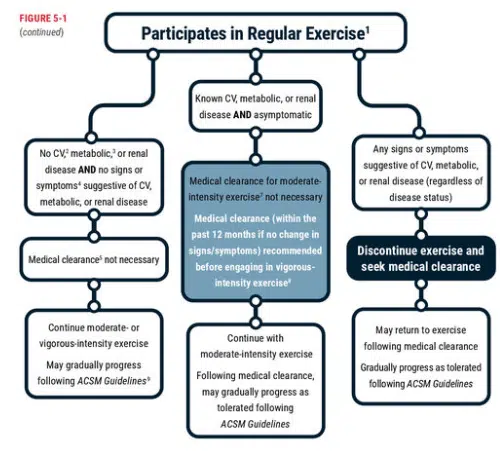 I personally don't think this test is enough. ISSA gives you multiple examples of cardiovascular assessments like the Step Test, the Cooper 12-min run test and the one-mile walk test.
ISSA also offers more postural chain assessments, a component to corrective exercise. It's also good to assess motion restrictions within your client's movement in the screening session. Different individuals will all have different mobility. 
The health screening documents are mostly the same, as all CPT certifications handle this subject well.
All in all, ISSA wins out here, although ACE will work as well.
Next, let's look at the program design and resistance/aerobic exercise technique.
Program design and resistance/aerobic exercise technique
ACE is at the top of the game when it comes to setting up exercise program designs for both resistance and aerobic training. They provide a library of thousands of exercises for the user to access, which ISSA has as well.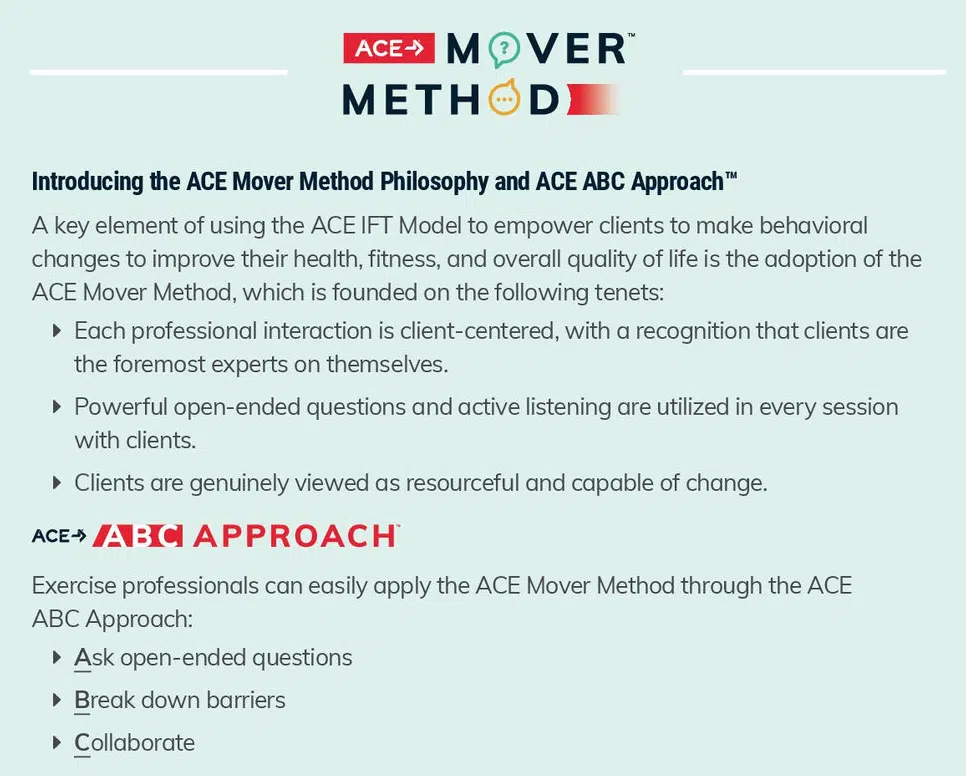 The textbook also utilizes its own ACE IFT model, which is the integrated fitness training model. Their online study system will categorize the exercises based on that, so it is very fluid and understandable for someone once they have a little knowledge of ACE's IFT model.
The ACE IFT model translates well with either aerobic or resistance training, and they really implement the program variables such as reps, weight, sets, rest time, and periodization. It is a comprehensive training program, and ACE makes studying and learning for new trainers very easy.
ISSA does not have a competing model for training, like the ACE IFT. Still, ISSA teaches the basics and beyond regarding exercise programming, form, and ways to progress towards a goal with weights. 
Their exercise library and other online mediums do contain the same breadth of knowledge that ACE holds.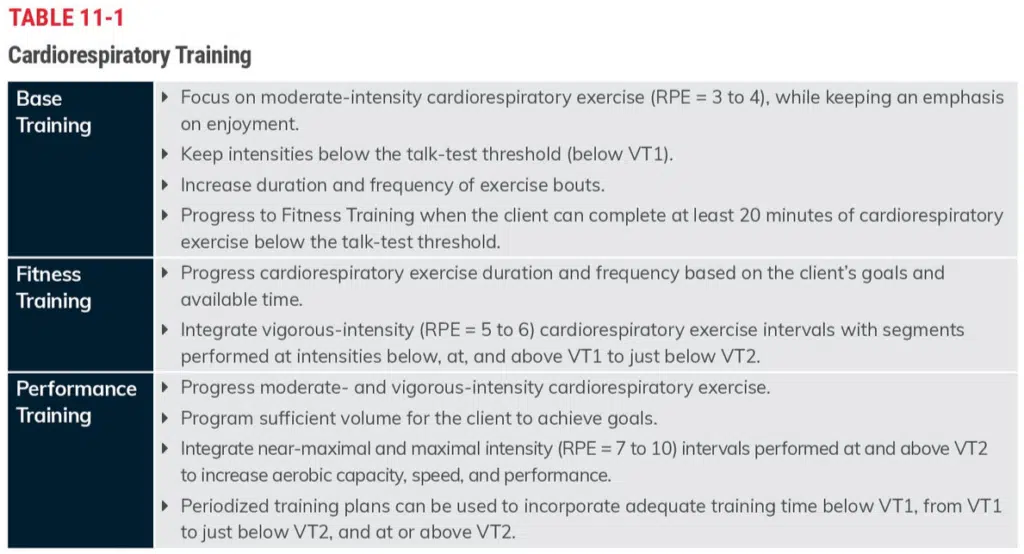 The training principles and periodization techniques are taught to par with the competitors. They still give everything a trainer needs to use their creativity with program designs and workouts for clients.
Let's look at how these two organizations handle special population training next.
Special populations
Special population training is essential for fitness trainers, as it needs to be done correctly to adequately teach all types of clients.
The specific special populations that certifications cover include a range of groups like:
Pregnant clients
Clients with chronic ailments
Obese clients
Adolescents
Senior clients
Clients with disability
Clients with other long term injuries
Both ISSA and ACE place great care on this topic, so you can rest assured knowing that you get a quality certification with special population training covered well, assuming you choose one of these certifications.
ACE and ISSA devote many chapters to different special population groups, like personal training for senior citizens. They do an excellent job of clarifying how the general population's training guidelines change for these special populations.
They both also handle explaining these issues in their entirety. This really adds to the understanding of not just what you change in special population training plans but also why you make the specific changes for each category. 
There are even example plans for these special population groups, which can't be any more helpful than what they provide. Both certifying organizations receive a 10/10 in handling special population groups.
Nutrition
Both ACE and ISSA cover nutrition fundamentals throughout their study materials.
Both programs cover this material across multiple chapters and go through all of the standard parts of CPT nutrition coverage.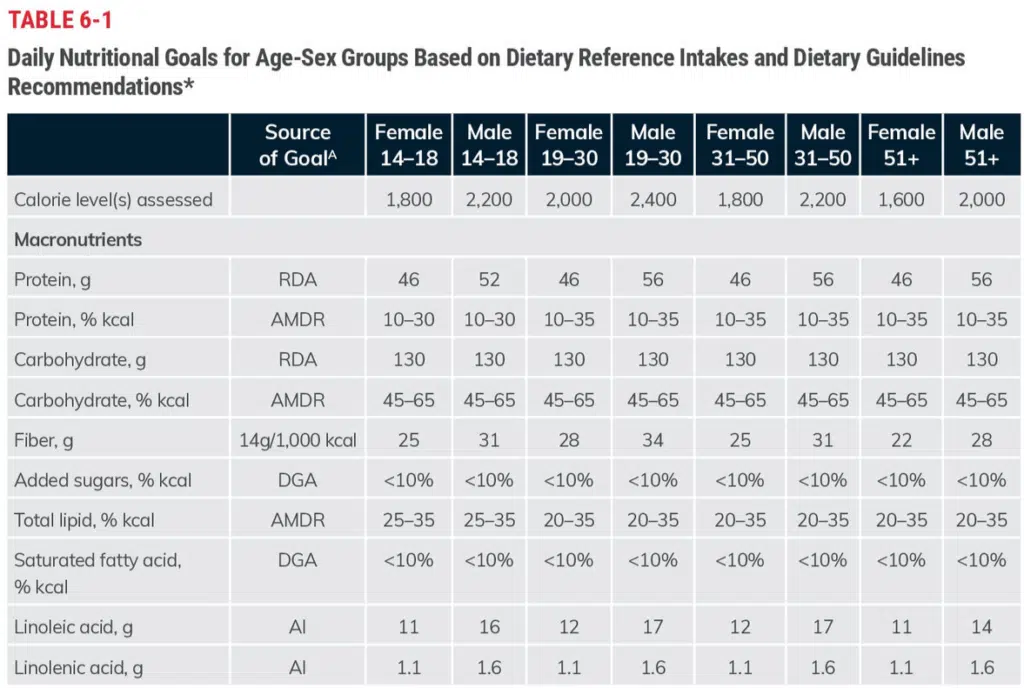 The certification programs cover topics like basic nutrient information, metabolism of nutrients, supplementation, and more.
The two organizations also put a lot of emphasis on hydration and fluid guidelines to help with keeping your clients healthy while exercising and in everyday life.
You won't miss out on any fundamental information with either of these certifications, and they all lay the excellent groundwork for their nutrition or health coach certifications. These certs are the ACE FNS and ISSA nutritionist.
In terms of comparing ACE vs ISSA here, I think ACE gives you more habit-based tools to work with, while ISSA deals more with nutrition science and sport performance.
Business skills
While ACE does give you all you need to know about scope of practice and legal guidelines, they don't mention a significant amount of personal trainer marketing tips and business strategies.
For someone planning to build their own fitness business, it would be good to know more from the get-go.
ISSA, on the other hand, does give you an entire chapter on business and marketing, including how to write a business plan, and keep track of clients.
This is a huge boon to anyone getting started in the fitness industry and one of the reasons I think ISSA trainers tend to make slightly more money than ACE certified personal trainers.
For a deeper look at the content in both of these certifications, check out my comprehensive ISSA personal trainer certification review and ACE certification review.
Next, let's dive into the certification requirements with these two and compare personal training certification requirements.
Certification prerequisites
Both ISSA and ACE require the standard personal trainer prerequisites: you must be over 18, have a current CPR/AED certification and a high school diploma or GED equivalency.
ACE vs ISSA CPT salary
According to Ziprecruiter, average ACE certified personal trainers make on average $53,838, while ISSA CPTs make $65,555.
I think in part, this disparity comes from the fact that ISSA includes more business skills advice in their training program.
Remember that both these numbers give you just a suggestion of how much you can make with these programs rather than actually tell you your starting salary. I know many trainers who make much more than this and some who make less.
Which exam is harder, ISSA or ACE?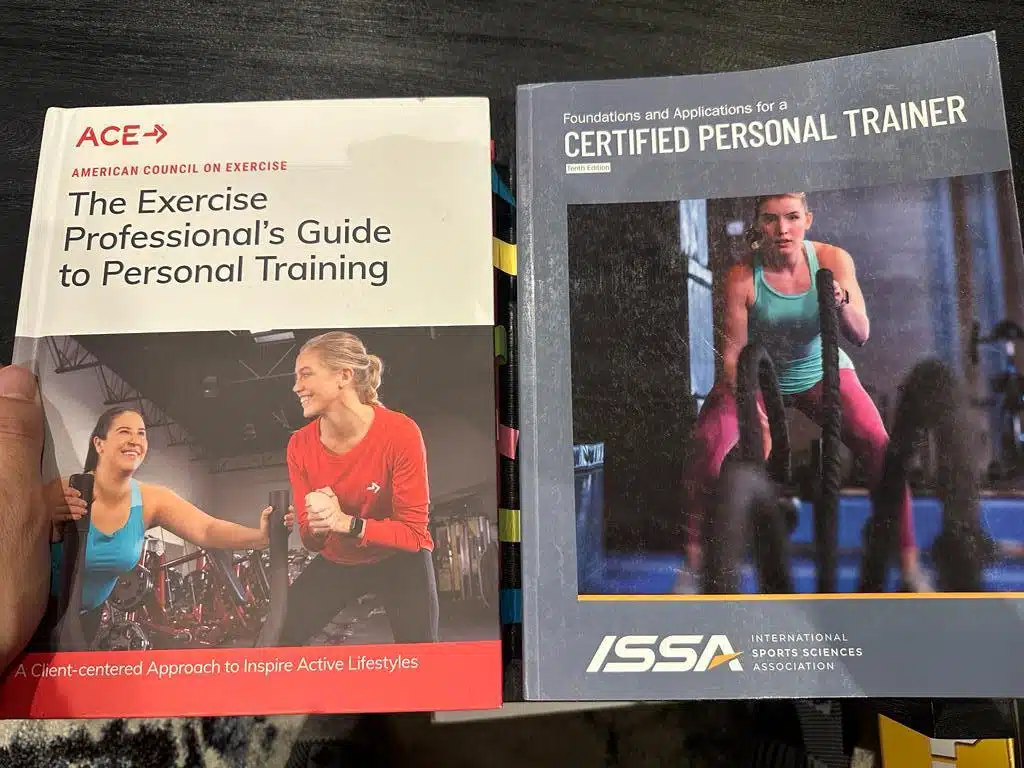 The exam experience could decide the best online personal training certification; let's see how that looks for these digital fitness certifications.
The ACE CPT exam has a pass rate of 70%, sometimes dipping down into the upper 60s. If you compare the ACE vs NASM CPT exam, you see that ACE is quite a bit easier based on data. 
The exam grade required to pass is 500 out of 800 on the test, which comes in at 90 out of 125 scored multiple-choice questions.
This is a pretty standard passing score and passing rate for the industry, whereas ISSA has an easier and less common score.
If you do happen to fail ACE's exam, you will be forced to pay a fee of $249 to retake the exam. That should be enough motivation to want to prepare adequately with lots of study. 
The DEAC-accredited ISSA exam has a pass rate of 90% for first-time test-takers. This is an absurdly high pass rate for the industry, and it is for one specific reason.
The ISSA test is not proctored, so no one is monitoring the activity and integrity of the test-taker.
It is also an open-book exam, so nothing can stop someone from looking up all the information needed to pass it. Partner this with the free retake, and it is virtually impossible to fail this certification on account of all the retakes and open-book format.
There is also no time constraint on the exam.
With that in mind, I highly recommend taking the NCCA accredited version of the ISSA exam, which has a pass rate of 70 percent, making it on par with ACE. It is nice to have the flexibility with ISSA to take either exam though.
I would say you need more time for ACE exam prep to pass the ACE test than it does for a future ISSA coach to pass theirs if you take the non-accredited ISSA exam.
With the accredited version of the ISSA exam, the exam difficulties are even, but ACE is still slightly more difficult in this matter. 
ISSA vs ACE recertification details
Most CPT certifications require recertification every few years, so you must keep up with their terms, submit a set amount of hours, and recertify; otherwise, you do not stay certified.
Continuing education units, or continuing education credits as they are sometimes called, are attained through attending specific classes and events and then receiving the accompanying hours, which count as the credits.
ACE has one of the most standard policies for recertification. They require 20 continuing education unit hours, equal to 2.0 continuing education units. These must be attained within two years.
The ACE organization also supports many outside organizations for trainers to attain their units for recertification.
Also accompanying these hours will be a recertification fee. For ACE this is $129 for one certification, which then decreases in price per certification depending on how many you have from ACE.
ISSA has a similar recertification process where they work on a two-year recertification basis and require the exact same 20 hours of continuing education units.
ISSA recertification implements one exceptional policy: you do not have to pay a recertification fee if you get your units through their organization. But, if the hours are achieved through other organizations, you must pay a minimal cost of $99 to recertify.
So, if you are looking to not pay for recertification, ISSA would be a better choice, as when you achieve CEUs through them, you do not pay.
Examples of great ISSA CEUs include the ISSA group fitness certification and the ISSA nutrition coach, which is the same certification as the Precision Nutrition Coach.
Both organizations still have rather great deals regarding recertification, which is part of the reason they stay at the top.
This is a list of ISSA programs which will give you CEUs:
These ACE programs will also count towards recertification:
ACE Medical Exercise Specialist
ACE vs ISSA overall ratings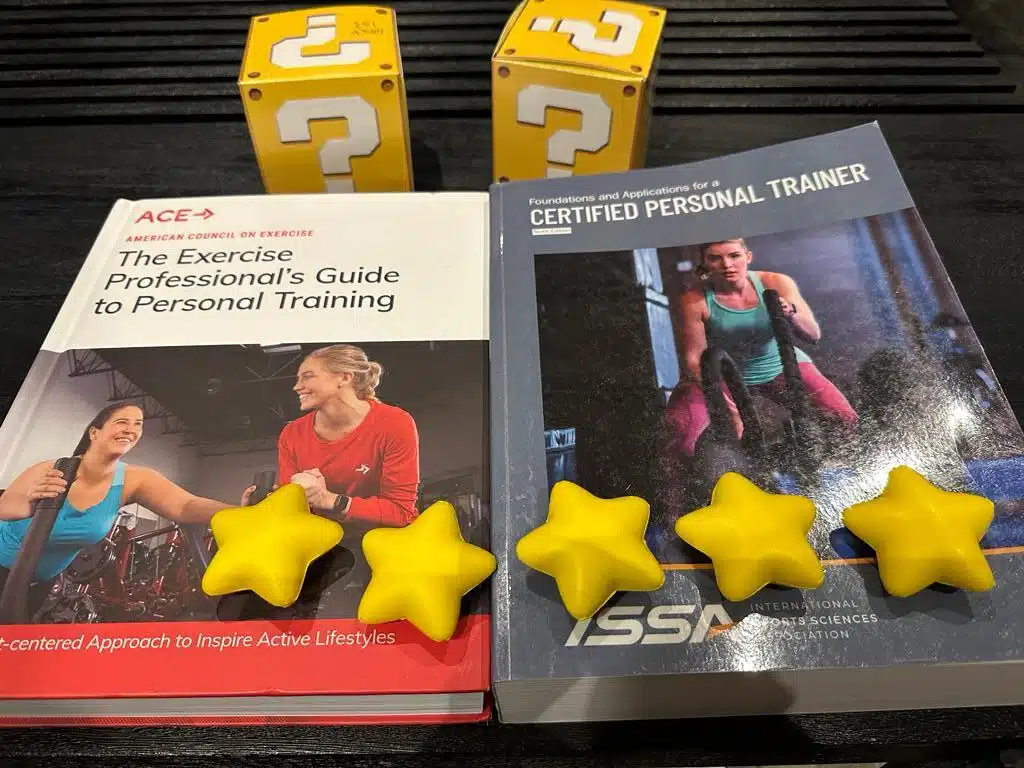 In conclusion, the ISSA and ACE are highly regarded in the fitness industry, and they have some similarities that make it hard to choose between them.
I give ISSA a rating of 9.5 out of 10 and ACE a 9.2. This is due to the inclusion of business skills in the ISSA CPT and the better assessments.
Which personal training certification would you consider to be the best certified personal trainer program? In other words, Which is better, ISSA or ACE?
An ISSA course will be my recommended choice for personal training certification in most scenarios, even without NCCA accreditation, a still well-respected exam, and it covers the essential skills and knowledge to a greater degree.
If you are still deciding which personal trainer certification is best for your goals, be sure to take my quiz below to get started on your personal training journey!
It is likely the best fitness trainer certification in the industry next to organizations like the National Academy of Sports Medicine fitness trainer cert.
Free study guides for the ISSA CPT or ACE CPT can be very helpful to kick start acing the materials.
The value of both organizations is quite high, so it depends on where you want to go with your career. Which fitness certification is best for you may depend on various factors we have not gone over here.
Ready to start your CPT program?
Then check the official websites to view the latest PTPioneer deals on ISSA and ACE. You can also look at my individual ACE or ISSA personal training reviews.
Frequently Asked Questions (FAQs)
How does ISSA Stack up to ACE?
ISSA beats ACE at the end of the day, but the two are both in the top class leading CPT certifications in the fitness industry. You can be a successful personal trainer with either company, but if you are on the fence, I urge you to go with the ISSA fitness trainer certification. It is the best personal trainer certification, in my opinion, when compared to ACE.
How do you become a Personal Trainer?
By learning the fundamentals of exercise science careers and fitness programming through an educational experience such as a fitness certification in one of these companies or many more.
Is Personal Training with a credential from the ACE or ISSA organizations worth it?
Yes, personal training is an excellent field to get into, and it is highly recommended that you choose a certification from a respected organization like these two. I would still put preference toward ISSA accreditation.
Do Personal Trainers Need a degree?
No, you do not need a degree to be a personal trainer. Extra education will never hurt your job chances, but it is not a requirement for personal training. Strength and conditioning (like the ISSA strength and conditioning, ISSA SAC) jobs may require further education.
Is the future of personal training good?
A personal trainer's prospects usually depend on many factors, from coaching ability, marketing, certification recognition, etc. If you want more information about this, check out the link here. ISSA jobs in fitness are growing.
How hard is the ACE certification?
The ACE certification is moderate-to-hard. The personal trainer exam should not be underestimated. However, with adequate preparation, you can readily become an ACE certified personal trainer.
How hard is the ISSA certification?
The ISSA certification is moderately difficult and requires you to prepare beforehand, especially if you take the accredited exam version.
Is ISSA nationally accredited?
The ISSA certification can be accredited or not, depending on which version of the exam you take. You can become an NCCA accredited CPT with your ISSA certificate when you purchase your ISSA exam or CPT package.
Is ACE internationally recognized?
Is ISSA any good? Yes. ACE is recognized internationally in many cases and is accredited in Europe through the EHFA. Nevertheless, I always recommend checking the gyms or fitness trainer employment setups in the country where you plan to sell your services for what certifications they require.
How long is the ISSA certification good for?
The initial ISSA certificate is valid for two years, at which point you will need to recertify by completing continuing education credits.
ISSA vs ACE (Podcast)