Everyone and welcome to my review of the personal training software PTminder.
Out of all of the personal training software I have tried, PTminder takes a unique stance for being the only one that focuses strongly on the financial aspect of your business.
I will go over all of the different features that PTminder provides you so that you can get an in-depth look at the software. By the end, you will have a good idea of whether this software is right for you or not. Let's get started.
The menu at the top of this page will answer any question related to your personal training. If you have any questions, don't hesitate to leave me a comment here (I'll respond within 24 hours). Also, visit the home page for the most recent and popular articles.
Here is an image quickly portraying the main features of PTminder. I will go into depth into the majority of these down below.

Layout, design, and user-friendliness
Overall the layout and design of PTminder are very intuitive. The learning curve is very short, especially if you are remotely tech savvy.
The services are broken down into six different sections, which are the dashboard, calendar, clients, services, finances, and reporting. Here is what the dash looks like.

For having tons of different features, I like how PTminder made navigating extremely easy. To me, the desktop version was more comfortable than the mobile version, but that is purely my preference.
The overall focus of PTminder: who is the software meant for?


The overall focus of PTminder is for personal trainers that are looking to expand their business and burn as much money as possible.
This personal training software is very financially centric. This all begins from the dashboard, where you can see the total amount of money you have made over the year, the previous month, and the current month.
Exclusive PTP CPT Offers



Gold Standard Cert

Most Popular Cert

Best Study Materials

A Good Option

A Good Option

Best CPT for you?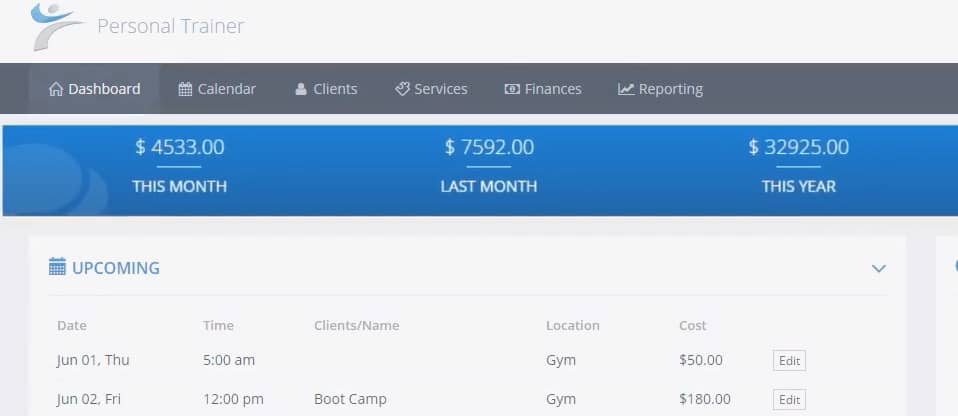 Many people can get lost in schedule design, booking clients, and the sessions themselves without realizing how much money they're earning.
By putting this front and center and making it a priority. From there, you can determine how many more clients you need to sign on to reach weekly or monthly goals.

There are also many other options to break down the money that you have learned. PTminder also lets you create your products right on your account. Your clients can see your products, from nutrition packages to group exercise packages.
PTminder does a great job of tracking the financial progress of your business. You can see which clients have purchased what and whether the payments have gone through.
The software targets those who want to grow their business as big as possible, earn more money, and save time.
The workout and nutrition planner
After hearing other people talk about PTminder, I was not expecting too much in the area of program design and nutrition planning. I was pleasantly surprised.
The workout planner is just like any other workout planner regarding organization and ease of use. I was pleasantly surprised to see how big their exercise library was.
If you type any exercise into the search bar, dozens of different variations of the same exercise will appear. My example here is the deadlift.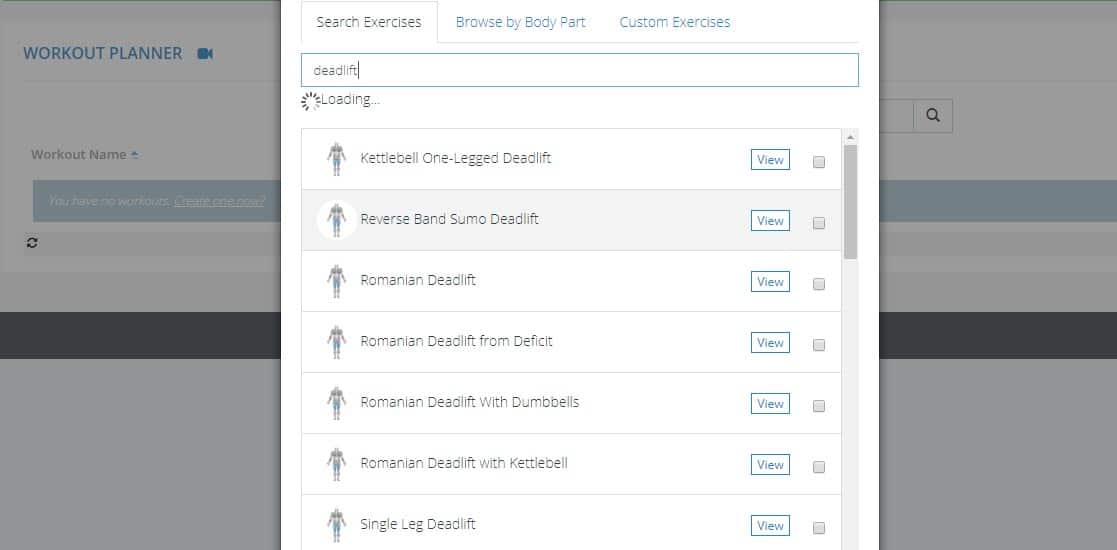 Another cool thing that I liked was that you could view the exercise, and it will give you a step-by-step instructions on how to perform the exercises.
If you want to view the exercise, a pop-up window opens with a search of instructional YouTube videos that you can choose from. In the case of the deadlift example, YouTube videos were beneficial.
Exclusive PTP CPT Offers



Gold Standard Cert

Most Popular Cert

Best Study Materials

A Good Option

A Good Option

Best CPT for you?

The nutrition plan was just as helpful. This is great because you can easily sell additional nutrition services to existing clients by including a nutrition section.
The nutrition planning allows you to set a personalized diet for each client. The search function holds a vast variety of different foods and their macronutrient breakdown.
This is a full-fledged nutrition plan, and I was not expecting it as I am pretty sure it is a relatively new feature.
Scheduling and client management
Scheduling and client management are as good as can be expected. It is a general calendar that can be accessed by you or your clients to set your schedule.
It is straightforward to book a personal training session, book a class, or set your overall availability. These are the three essential features that any calendar needs, and it works flawlessly.
The client management section manages the payment options, and the progress tracking is accessed.
Overall the client tracking section is average. It tracks many of the necessary things and displays this information in an obvious fashion. This is what to be expected in modern personal training software and it works fine.
PTminder pricing
There are three tiers to the pricing plans that are offered by PTminder. Overall I thought this three-tier pricing was very simplistic and kind of a relief compared to other personal training software.
The free plan is free and limits the account to one personal trainer and a maximum of two clients.
The premium plan costs $39 a month and includes unlimited clients, multiple trainers (to a certain degree), and access to every feature of PTminder.
The platinum plan costs $75 a month and includes unlimited clients, multiple trainers, and the ability to brand the mobile application to your training business personally.

I thought this was a neat idea to be able to brand your business personally. But the price is almost double, and I think the premium plan is the best deal for a single trainer.
I like this pricing structure a lot because most personal training software programs keep increasing in price for every 5 to 10 clients that you have. It gives me peace of mind that for only $39 a month, I can handle as many clients as I want.
On the other hand, if you only have a few clients, it might be hard to rationalize the price. Most personal trainers have more than a few clients, though.
What can be improved upon
Although I did like the idea of bringing up a YouTube search to see how to do exercises, there's a lot of misinformation on YouTube.
A video can get brought up that shows that form. You need to make sure the video you recommend to clients is good. You should not merely let them search YouTube on their own. It would be better if they created personalized videos and uploaded them to YouTube instead.
They can go a little bit more in-depth on the client measurement and tracking section. Some personal training software programs better measure millions of things, from the V02 Max to flexibility tests.
Conclusion on PTminder
Overall I think PTminder provides many excellent features for a very reasonable price. This is a very competitive personal training software that is continually improving in coming up with new features.
If you are a business savvy personal trainer that is striving to make as much money as possible, this is an excellent option for personal training software.
This will help you save a lot of time while at the same time focusing on tweaking your business so that you are financially well off. Check out PTminder here and leave me a comment down below if you guys have other experiences with this great software!