Hey everybody, and welcome to my Trainerize personal training software review.
Overall, this is one of the most popular programs on the market for being able to run a personal training business efficiently.
In this review, you'll learn about the different features that Trainerize offers, as well as what type of trainer should be using it. Let's stop wasting time and get right into it.
The menu at the top of this page will answer any question related to personal training that you have. If you have any questions, don't hesitate to leave me a comment here (I'll respond within 24 hours). Also, visit the home page for the most recent and popular articles.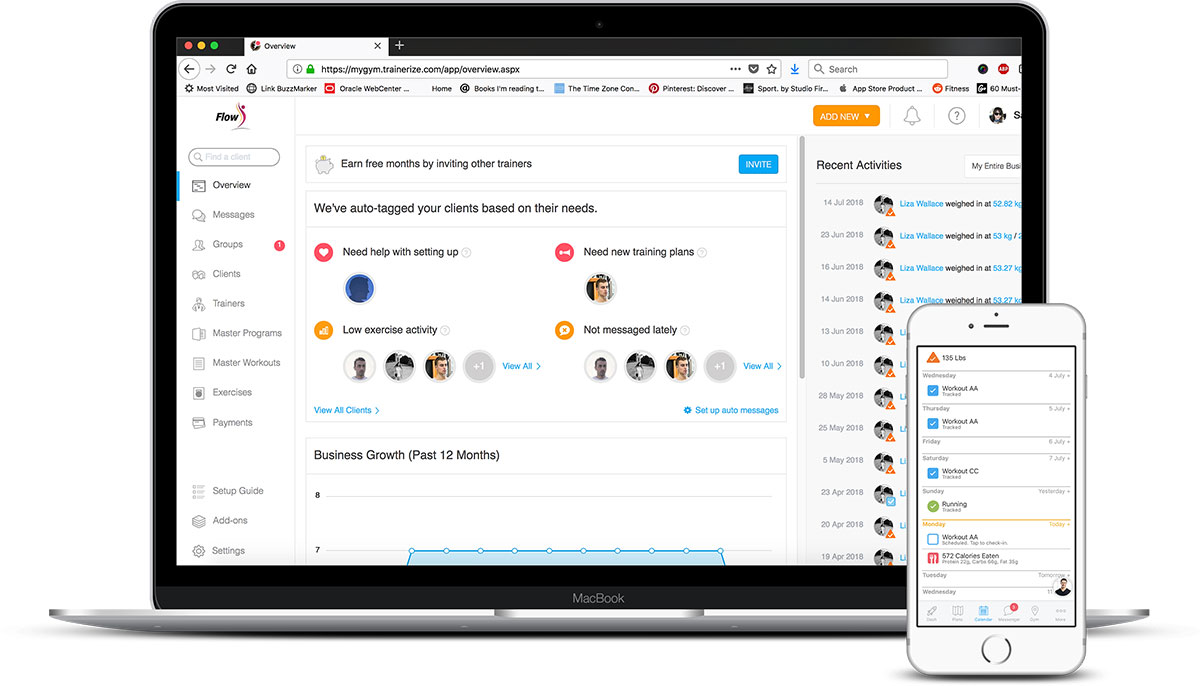 The overall focus of Trainerize
When you first sign up for Trainerize, you'll notice that they talk about their three-step process.
The first step is to create a workout program, either designed for a specific group of people or one client individually.
The second step is to assign the program to a client or batch of clients.
The third step is to get paid.
To me, this system is a lot different than most other personal training software programs on the market.
This software can be used by people that do in-person training, but it is perfect for people that primarily do online personal training.
Exclusive PTP CPT Offers



Gold Standard Cert

Most Popular Cert

Best Study Materials

A Good Option

A Good Option

Best CPT for you?

It is fantastic for creating general workout programs that may last four, eight, or even 12 weeks. It lets you create customized workout programs, name them and then market them. It does this better than other personal training software I have used.
It can be used for people that do one-on-one training as well, but it has such a fantastic interface for clients to follow workouts, diets, and overall programs. This makes it perfect for online trainers that are working with clients that are not physically there.
Creating programs to sell to your clients
The program design section has a very smooth drag-and-drop feel with a great exercise library to choose from as well.
Trainerize was made for creating extended programs, and it's easy to tell because it is incredibly easy to repeat specific workouts with merely a few clicks.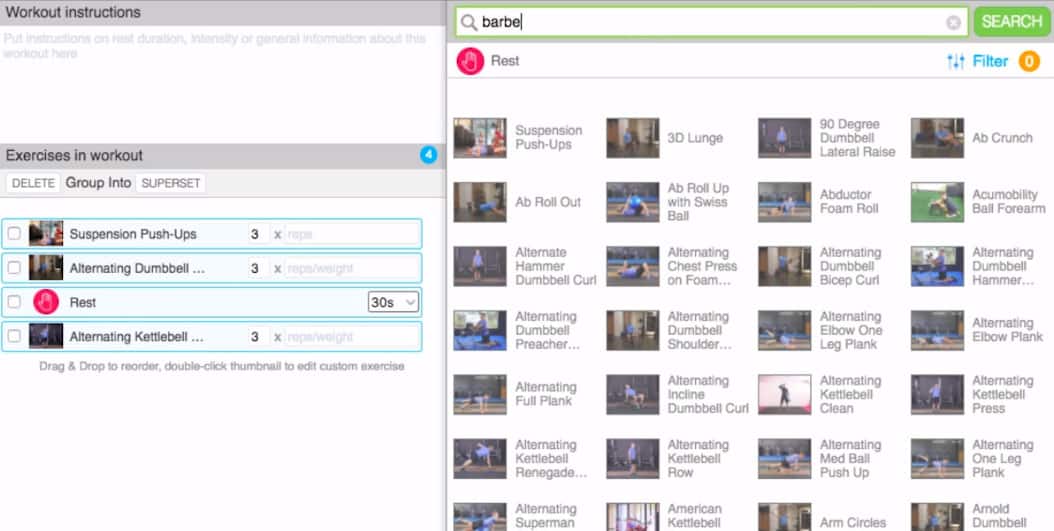 All of the exercises have an excellent descriptions with step-by-step instructions on how to perform the exercises. This is more important than ever if you're going to be doing online training since you will not be able to correct their form in person.
Another thing I thought was pretty cool was that on top of adding workouts to specific days of the month; you could also add information on when your clients should take measurements or upload progress photos.
There is also an additional section just for cardio in case you want your client to do simple supplementary work for weight loss.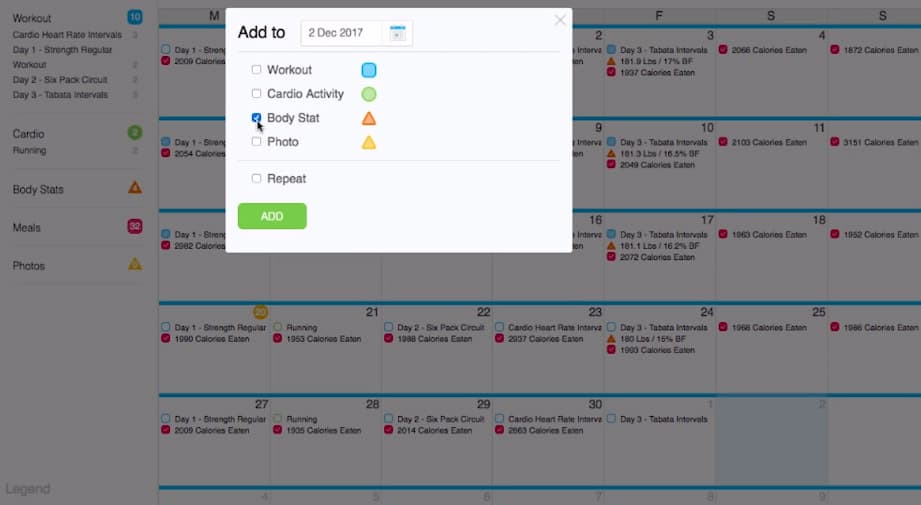 Nutrition and tracking results
Any personal training software that does not come with a nutritional section loses some serious points.
In the case of Trainerize, they incorporate a very in-depth nutrition section. Nutrition advice is essential to upselling. Almost every single client you have is very likely to buy nutrition services from you as well.
A bonus is that Trainerize lets you work perfectly in sync with Evolution Nutrition. So if you already have been working with evolution, it integrates perfectly with Trainerize without the need to switch between the two.
Exclusive PTP CPT Offers



Gold Standard Cert

Most Popular Cert

Best Study Materials

A Good Option

A Good Option

Best CPT for you?


Regarding the options with nutrition planning, you can either create your meal plans or upload a PDF or Evolution Nutrition program.
Both on the desktop version as well as the mobile app, following the nutrition program is extremely easy to do. The visual display looks great, and it breaks down the calories in macronutrients by grams and the percent of overall calories consumed. This was very helpful.
The progress tracking section of Trainerize was nothing surprising, but it is a straightforward feature in any personal training software. As long as it lets you do the necessary measurements and can graph this information visually, it has done its job.
This is an essential feature, and Trainerize gives me all of the basic fields that I would expect. This is one of the biggest motivating factors for clients. If they can visually see the progress that they are making, they are much more likely to stick to their diet and exercise program.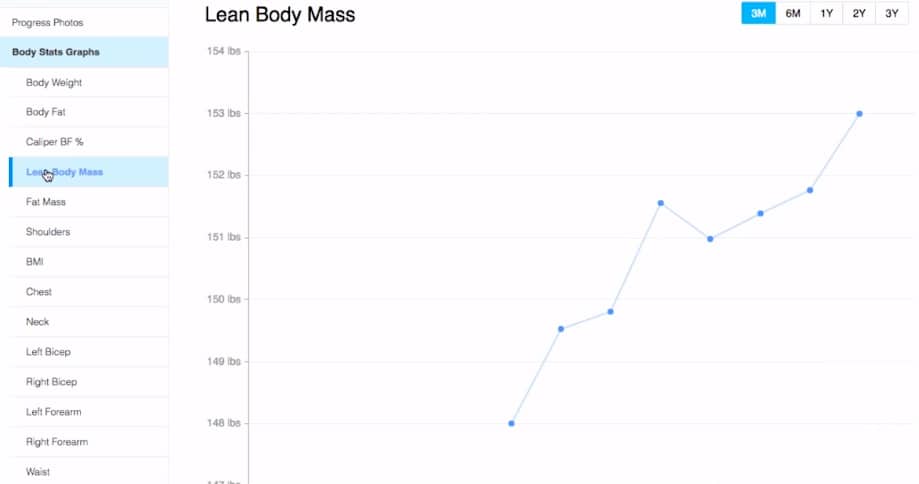 The various ways you can sell your programs/services
Trainerize has a strong emphasis on building a successful personal trainer business.
You can see this directly from the dashboard, where they track your training business month by month so that you can see how you are doing and tweak anything if needed to reach your goals.
Because they are so business-centric, they have two great ways that you can sell your programs and services to your clients.
The first way is to design a program and invoice a client. The client will receive an e-mail with an invoice. Once the invoices are paid, they will have access to the program.
The second way (which is excellent for online personal training) is to offer predesigned workout programs on your Trainerize page.
These can be specific programs such as sports specific training, rapid weight loss, or hypertrophy training. This lets people browse your particular products and can make a purchase using the online form directly from your Trainerize page.
I like the integration of both payment methods, especially for people that are doing online personal training.
Additional perks that come with Trainerize
There are a couple of other perks that I encountered while using the Trainerize software.
The first part is the messaging system that is integrated into Trainerize. I like to keep my family and friends separate from my personal training clients. If there is an option to talk with my clients on a completely different platform, I would much rather do that. The messaging system that is built into Trainerize works like a charm. It is so much easier to communicate with my clients through here as opposed to using good old-fashioned e-mail. This is another reason why it is excellent for online training.
The second part that I found was the ability to create groups. This is sort of like a social media function where people can interact with one another and talk about their experiences with specific programs. It is also a great place to motivate one another for your clients to stick to their diets and workout routines. I can see this being great for the premade workout routines especially if a few people are going through the same one together.
There is the ability to earn free months by recommending Trainerize to other personal trainers. I can see this potentially being very valuable, especially for personal trainers that have other trainers working underneath them.
One of my favorite parts is the visual display on the client's side. The desktop and mobile application work flawlessly together and sync without any problems. The user interface is very intuitive and shows workouts completed, current weight, their nutrition program as well as their recent personal bests. The colorful layout almost makes it seem like you're playing a video game!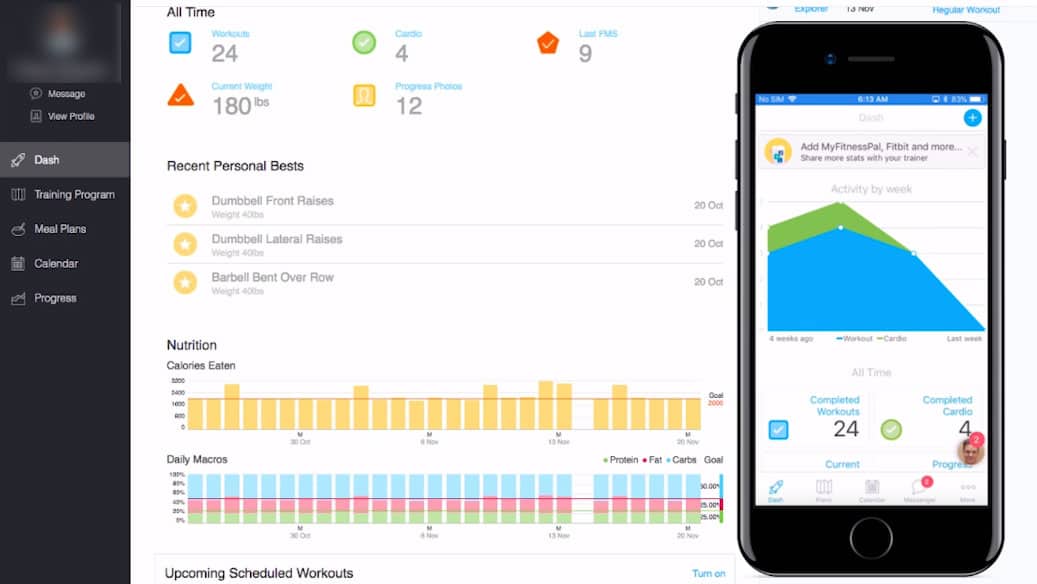 Pricing options
There are multiple different pricing options available with Trainerize.
Before starting any program, they offer a 30-day free trial. This free trial gives you access to every feature, which is fantastic.
After that, they have three general tiers. They have the growing tier, which lets you have up to two clients. They have two pro-tiers that cost $20 and $40 a month and let you have up to five and 15 clients, respectively.
The next tier is the studio tier, in begins at $60 a month. This lets you have up to 30 clients and two locations. The studio 50 plan and studio 75 plan cost $90 a month in at $125 a month, respectively. Both of them let you have two locations as well.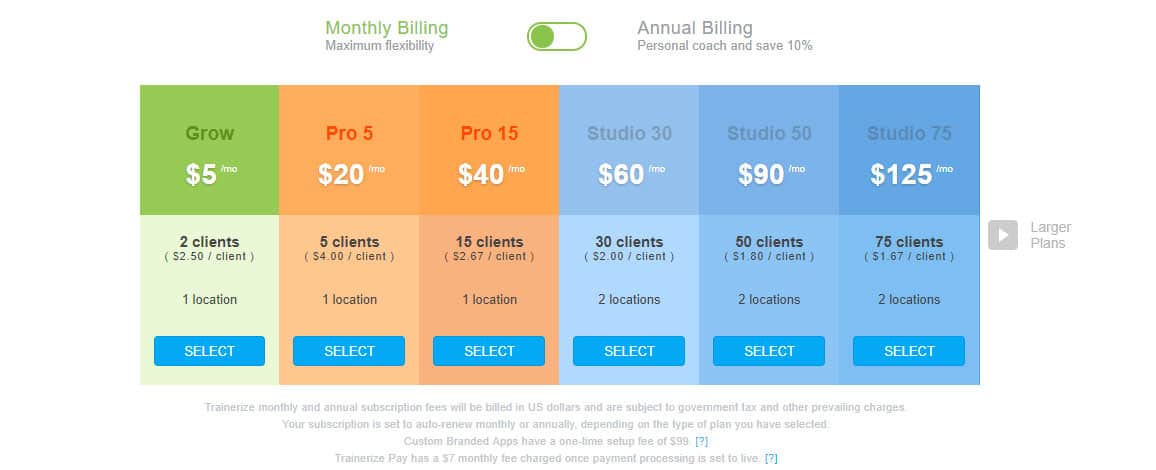 Most individual personal trainers will probably fall in the studio 30 tier, which would cost you around $60 a month. If you have never used personal training software, you probably don't know how much time it saves you overall.
Between booking sessions, creating workout programs, and accepting payments, it is a no-brainer that you should be using personal training software.
My overall impression of Trainerize
Trainerize has a slew of different features that they offer for their personal training software. This can be used at the personal trainer level as well as the club level, where you have multiple personal trainers underneath you.
Overall it is one of the complete personal training software packages that I have seen. This is especially true when it comes to online personal training. Check out Trainerize here!
They have a strong emphasis on business growth as well as upselling other services. This is where a lot of extra money is made in the personal training industry. The general sessions are essential, but being able to sell another service, such as nutrition advice, is vital to growing your business.
I hope you guys liked this review on the Trainerize personal training software. Have you guys tried the software? What were your experiences with it? Leave me a comment down below so we can start a discussion!