Hey Everyone, today I'm going to be doing a review of the personal training software Virtuagym. Any of you who have been reading my blog will know that I am a big fan of using technology instead of old-fashioned paper and pen to increase my workflow and productivity for my business and my clients.
Virtuagym is much more than just personal training software. It is also meant for gym owners at the personal and corporate levels.
For my website and this review, I will focus on the software's personal training aspect and how it can help you save time and be a more efficient trainer. Let's get right into it and stop wasting time.
The menu at the top of this page will answer any question related to your personal training. If you have any questions, don't hesitate to leave me a comment here (I'll respond within 24 hours). Also, visit the home page for the most recent and popular articles.
Keep your clients more engaged
Before using personal training software, I used a workout template on my android tablet. The benefits of having a digital copy of the workouts will save you hours of unnecessarily rewriting the exercises for your clients.
By having a digital copy of the workout, both you and your client can have a copy with a couple of clicks on your tablet.
Virtuagym makes everything that much more comfortable and is much better looking aesthetically. Their advanced workout editor has over 4000+ exercises already programmed into the database.
Exclusive PTP CPT Offers



Gold Standard Cert

Most Popular Cert

Best Study Materials

A Good Option

A Good Option

Best CPT for you?

You can adapt these personal training templates to fit various clientele and their personal goals. Not only will you and your client both have the same copy of the workout, but your client will be able to see exactly how to perform the exercises in case they forget.
I can't stress enough how many calls I get from my clients about exercise forms and techniques. This will save you hours of time just from the calls alone.
This list of 4000+ exercises to choose from also saves you a lot of time while creating the workout plans themselves. It is straightforward to sort through exercises based on intensity or body part to find the exercise that best fits your client.
The easy to use the drag-and-drop method of program design is very smooth, and the learning curve is rapid. Program design per client has dropped approximately 10 min. Since I started using Virtuagym, depending on your many clients, this can be a huge timesaver.


Keep your clients on track.
The fitness tracking and progression part of Virtuagym is one of my favorite features and the most motivating for my clients. Virtuagym has created brilliant, smooth-looking charts and graphs analyzing exercise performance and progress.
It will analyze performance over time, including set and repetition volume, one rep maximum, and much more. They can keep track of their body fat percentage, circumference measurements, and endurance test results. It has a location to upload progress pictures so you can visually track your progress.
As I have explained hundreds of times on my website, visual data is probably the most critical part of keeping my clients motivated. A can be easy to feel like you have not made progress if you don't have numbers or progress pictures laid out in front of you.
Having a chance to see the quantitative progress you have made makes continuing with your routine much more accessible. The software even includes virtual badges that you can receive when you hit milestones! It almost makes it like a mini video game for my clients, who love it!
Exclusive PTP CPT Offers



Gold Standard Cert

Most Popular Cert

Best Study Materials

A Good Option

A Good Option

Best CPT for you?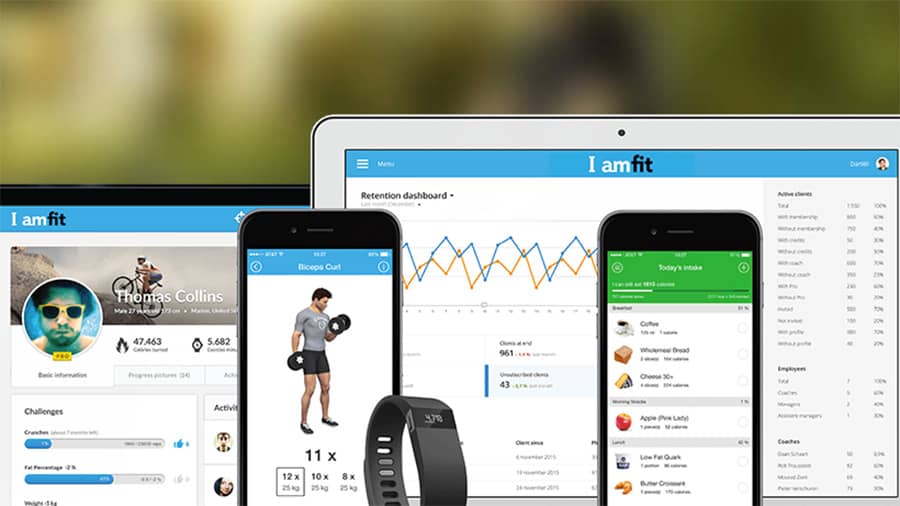 Client management and booking
I cannot describe to you how many times I have lost personal files for clients. With Virtuagym, all of the personal client information is stored on the Virtuagym servers and within the application. You will have to worry about losing personal information files ever again.
Virtuagym also makes booking your clients extremely easy. The virtual calendar is very nicely laid out, and you can set the hours you would like to work so your clients can see your availability.
You will never have to worry about double-booking appointments again because the software won't let you do it. You can easily communicate with your clients through the application by texting them and organizing dates and times.
You can tell your clients to log onto the app and book a session with you whenever you are available. This takes calling your clients and organizing time entirely out of the equation. Once again, saving you hours of time!
Online invoicing and payment options
This set of features from Virtuagym is exceptionally beneficial for those personal trainers that own and run their own businesses. It takes payment processing and makes it extremely simple for your clients to pay and for you to receive your money for personal training sessions.
Invoices are created automatically and sent to your clients for the sessions that you have done. They can pay with various payment methods, including credit cards, direct debit, or PayPal options.
If you are running your training business, Virtuagym is worth it just for the payment processing features alone.
Other bonuses
Some of the bonuses that they include are the ability to create an online community. This allows you and your clients to create profiles similar to Facebook.
This allows secure communication and a sense of community where everybody strives for similar fitness goals. Your clients can share weight loss tips, recipes, personal achievements/badges, and much more with each other.
This also allows you to present other personal training services to your clients. For example, there is a nutrition system built into Virtuagym, and as an extension to personal training sessions, you can offer nutrition advice as an add-on service.
This is a fantastic way to earn additional revenue and have everything centered around Virtuagym and the digital community of clients you already have!
Conclusion
Well, that's about it for my training software review of Virtuagym. If you have not yet tried this software, I highly recommend it.
This is especially true if you are running your training business. Even if you work at a commercial gym such as 24-hour fitness, the features to keep your clients more engaged to track their progress are still completely worth it.
Let me know what you guys think in the comments down below. Check out the Virtuagym software here, and like always, thanks for stopping by the personal training pioneer!