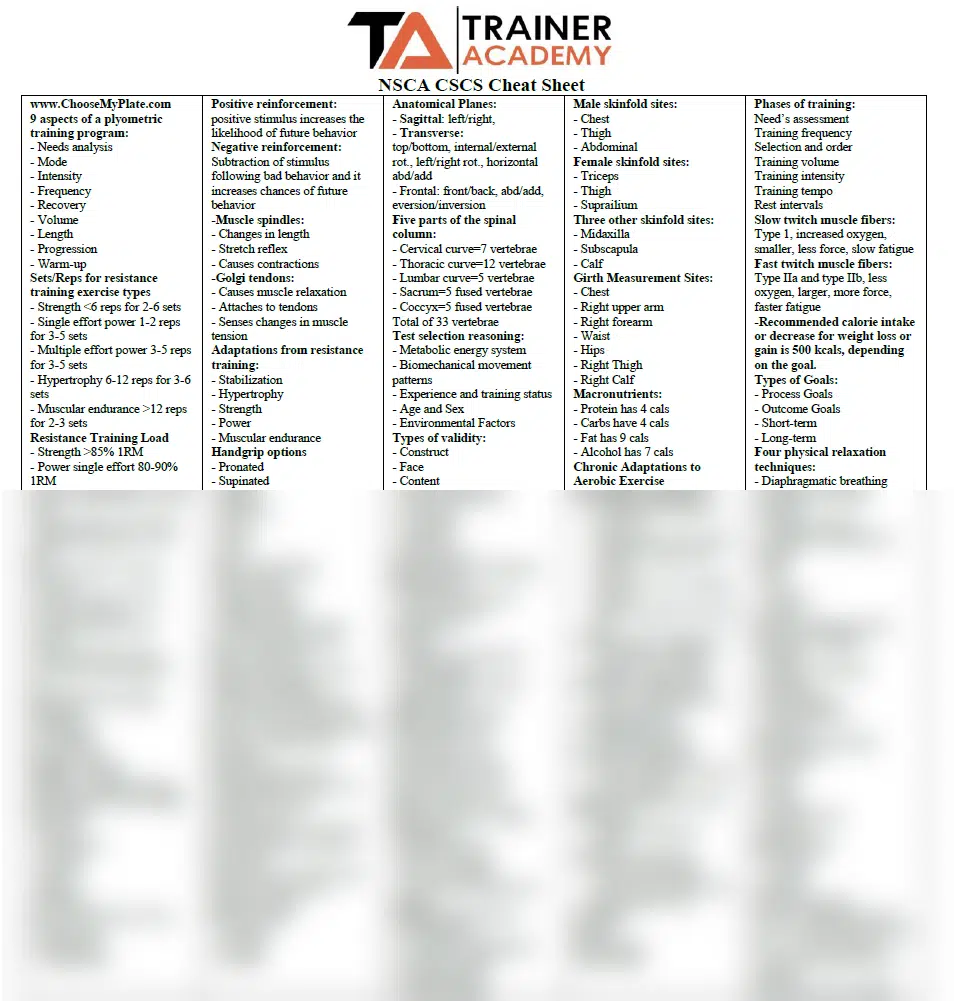 Hello friends and students. Welcome CSCS learners to the PT Pioneer study hub page for the CSCS cheat sheet.
This page contains a high-quality, downloadable PDF cheat sheet and advice on its utilization in your study efforts. The cheat sheet gives an excellent breakdown on the topics and concepts in the CSCS content to develop an understanding of the knowledge you need to ensure you pass your CSCS exam.
Grab your downloadable copy of the CSCS exam cheat sheet and the PT Pioneer study plan. These will help immensely in your CSCS exam prep.
In this article, PTPioneer offers:
An easy-to-download PDF Cheat Sheet Document
Tips on the utilization of Cheat Sheet pages in your studies
Next Steps PTPioneer CSCS Study Hub
Make sure to check out Trainer Academy for premium NSCA CSCS study materials. They will cut the study time in half and have an exam pass guarantee. Read my full review of them here. You can save $100 on their MVP study system with the code: PTPSUB
Let's jump on in and check out the NSCA Certified Strength and Conditioning Specialist study materials with this Cheat Sheet page.
NSCA CSCS Study Series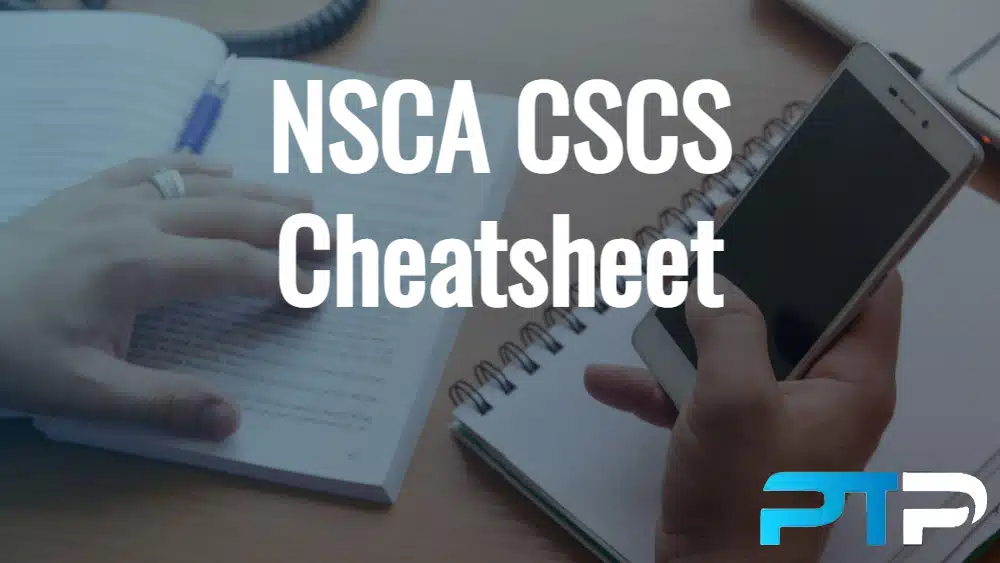 Cheat Sheet Download
You might have missed the above button or scrolled quickly past. If so, click the button below and have the high-quality PDF sent directly to your email.
In addition to this excellent cheat sheet featured and discussed on this study guide page, I have included the excellent study plan for the CSCS to help organize your study efforts.
Both documents are delivered directly to your email for you to download safely and securely, all for free.
Now let's look more into what exactly a cheat sheet is.
What is a Cheat Sheet?
A cheat sheet document is a very useful test prep and study resource. In the case of more relaxed certification organizations, it can be utilized during testing in an open-book exam.
Cheat sheet pages will be a one-sheet fits all, for all the most challenging and important sets of info that are harder to remember or fit well in small spaces.
Everything is held within a singular page, so there is no flipping around through a large journal or group of study pages.
The PTPioneer cheat sheet may also assist learners with their cheat sheet ideas, so they can make a more personalized version of things they specifically struggle with, as all learners will have different challenges.
Cheat sheets allow for useful studying and practice test-taking. Not only do you memorize where all the exercise science information is on the sheet, but you also memorize the info once you find it and can associate it with the specific questions.
This cheat sheet page is the last of our study materials offered within the CSCS study hub here on PTPioneer.
The cheat sheet will go well with the other study materials in the CSCS exam prep study hub, like the practice questions, CSCS flashcards, CSCS study plan, and CSCS study guide.
To best use the cheat sheet, utilize it during the CSCS practice exams on that page of our study hub. Print off the PDF document and have it handy to help with studying.
Where does this PTPioneer Cheat Sheet come from?
PTPioneer is affiliated with one of the top options for premium study materials, Trainer Academy.
Trainer Academy makes paid study materials for almost all of the fitness industry's most taken certification exams, whether a CSCS, CPT or other specialization.
The National Strength and Conditioning Association's CSCS cert is challenging, and sometimes you need more than what is offered on the PTPioneer free study pages. That is why seeking paid materials for a website like Trainer Academy can be a good idea. They have so much confidence in their product that they offer a money-back guarantee.
This Cheat Sheet offered as a download here on the PTPioneer page comes directly from Trainer Academy and is one of their many tiered packages that allow you to choose the level of intensity of study for the CSCS.
Cheat Sheet Study Implementation
Proper utilization of the cheat sheet will depend on the study plan you choose to go with or focus on the most.
Again, at PTPioneer, I often see four different study plans being utilized by learners; this comes in the form of a 4-week, 3-month, 6-month, and 1-year study timeframe.
If you are going through the quickest of the study plans, the 4-week study plan, then you will be looking at the cheat sheet as soon as you complete the chapters; that way, you can familiarize yourself with the information right as it becomes known to you.
Ideally, everyone would study this way and familiarize themselves with the information as it comes up, but it must be stressed when studying only within a month.
I do want to add that you will need to understand the knowledge and techniques for strength training exercises that performance improvement professionals and strength and conditioning coaches need to properly deliver program design and coaching services either at the team or individual level.
You may notice some significant crossover between the cheat sheet and the flashcards, but it is just another way to view the information and master this advanced certification.
With the 3-month or 12-week plan, the cheat sheet is focused on later in the plan, toward the final month, as the idea is to focus on the study materials used earlier and not flood the learner with too much to keep track of.
Again, for any of the plans, the more you can look at it, the better, so if you desire to introduce the cheat sheet earlier, then it is an option.
For the 1-year and 6-month plans, the cheat sheet is not introduced until later in the studying; in the last months, the focus shifts more toward taking the practice CSCS tests.
One thing to remember with the cheat sheet and using it on practice testing is that it may be best to take your initial practice test without any help, as this shows what you really know.
Make sure that you familiarize yourself with the cheat sheet and keep it handy during some of your test attempts, and good luck with this aspect of your studying!
I'll see you next in the final study hub article, the CSCS FAQ page.