Hello NASM learners, and welcome to the PTPioneer Study hub page for the Cheat Sheet!
Within this page, you will find a downloadable PDF Cheat Sheet and advice on how to use it within your studies.
Get your copy of the NASM CPT exam cheat sheet and our study plan. It helps immensely in studying for the exam.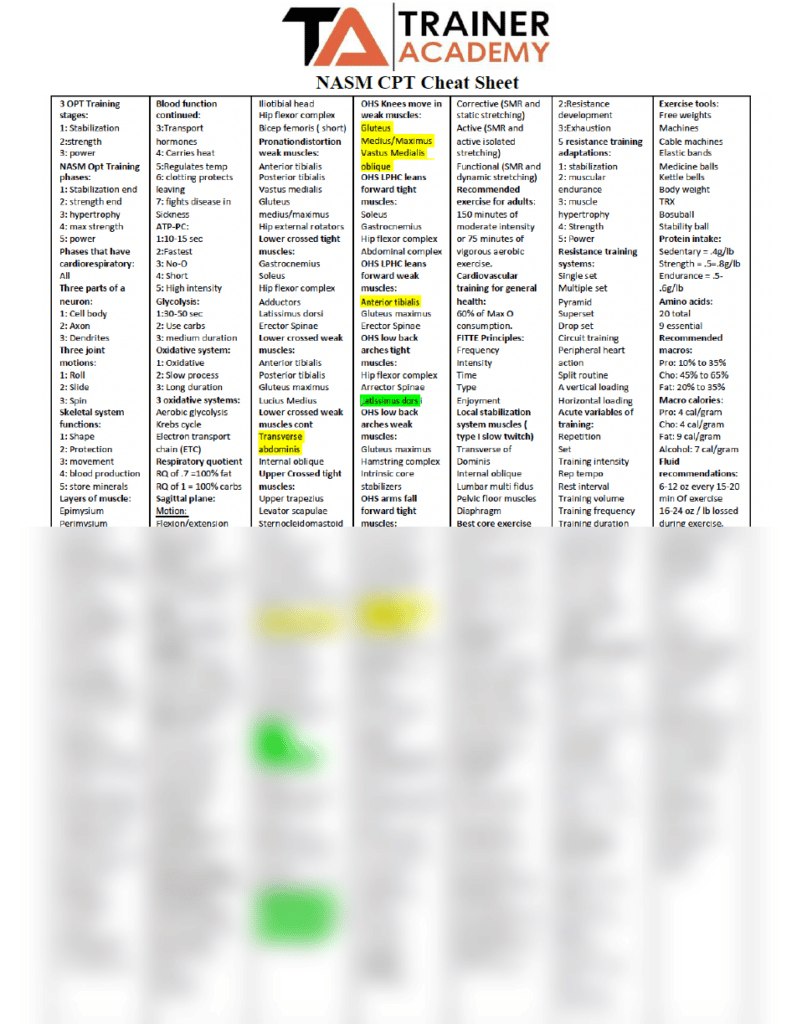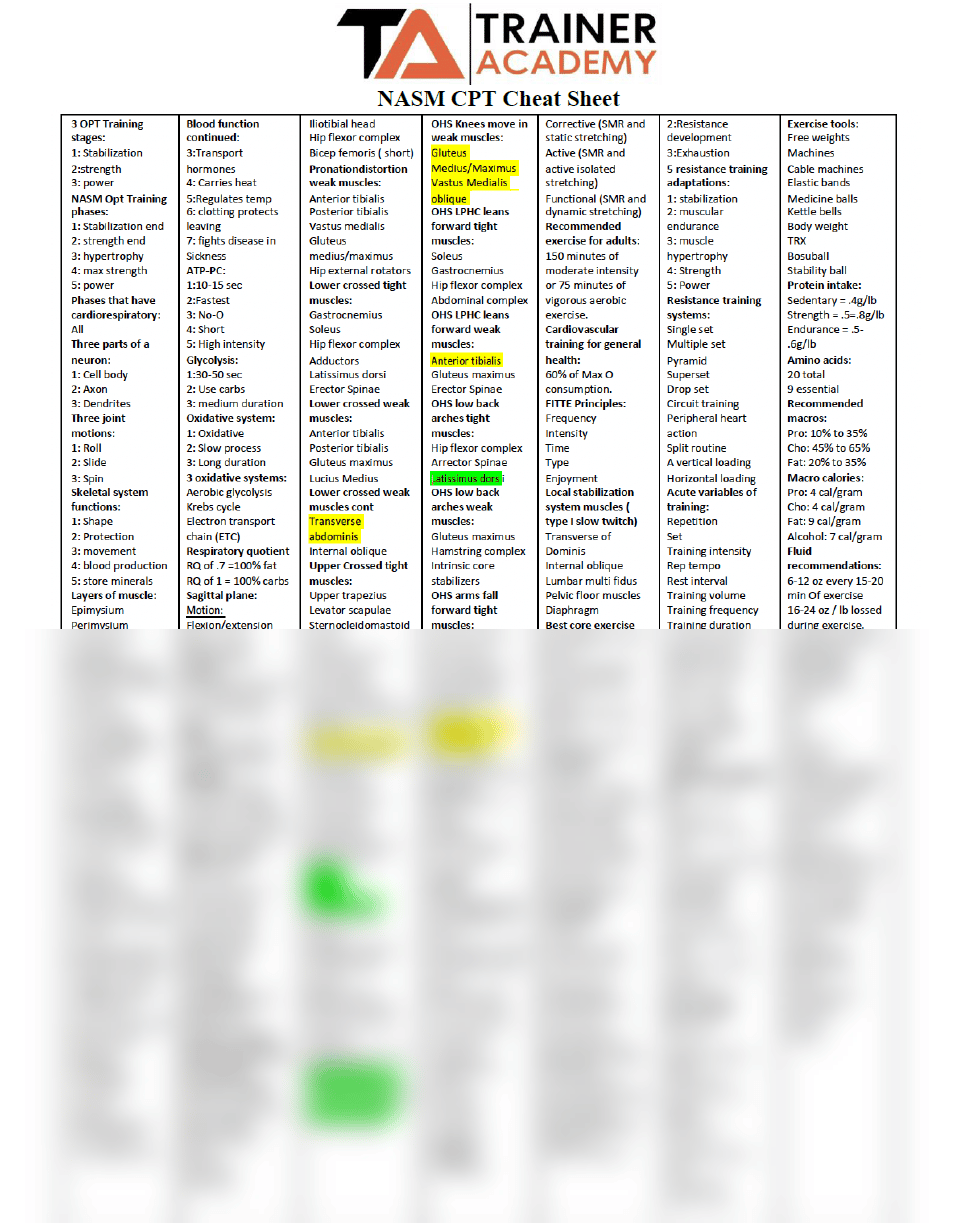 In this article, PTPioneer offers:
Make sure to check out Trainer Academy for premium NASM CPT study materials. They will reduce study time by 50% and have an exam pass guarantee. Read my full review of them here. You can save $100 on their MVP study system with the code: PTPSUB
Now, let's dive in and check out the NASM study materials with this Cheat Sheet page.
NASM CPT Study Series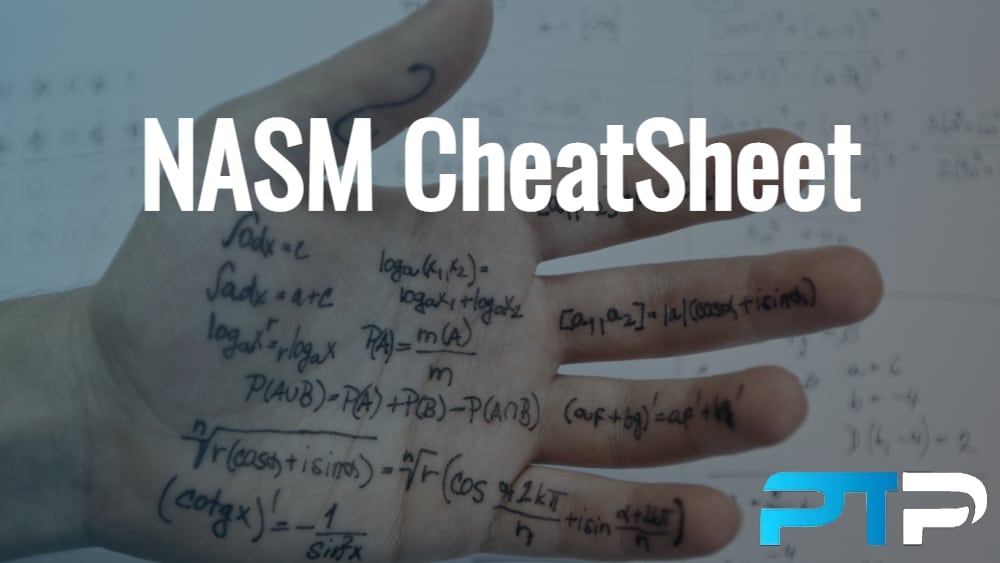 If you didn't click above, make sure to click the button right below and put in your email to receive this high-quality PDF Download for a NASM Cheat Sheet.
On top of the cheat sheet, we will also include a valuable PDF study plan for the NASM certified personal trainer certification.
These two materials are completely free and sent directly to your email to download and print off to help with the organization of your studies.
A Cheat Sheet is an extremely valuable test and prep study method and an additional part of a great NASM CPT study guide.
Many people use these one-page sheets for open-book exam taking since it contains all of the need to know information.
The Cheat Sheet is a one page document that will contain all of the most important topics and terms, similar to the flashcards, but all in one location. There is no need to flip through a bunch of study pages to find the materials you need for a test question.
This PTPioneer cheat sheet may give some ideas for your own version of a cheat sheet, as not everyone struggles with the same materials.
Cheat sheets are proven to be very useful in the studies of our learners, as it serves as another way to memorize information, as you have to know where to find the specific exercise science information, so it benefits in ease of location of information and in the actual memorization.
The cheat sheet is the last of our four main study materials within the NASM study hub on PTPioneer. The practice test, study guide, and flashcards are all included in this count.
Make sure to utilize the study plan for ideas on when and how to implement this Cheat Sheet.
Where does this PTPioneer Cheat Sheet come from?
The cheat sheet that is used here on PTPioneer for the ACSM study plan actually comes from an affiliated website, Trainer Academy, that makes premium study materials.
They make study materials for all of the top organizations and the most popular fitness certifications, like the NASM CPT, which we cover for free here.
The premium study materials are much more thorough and intensive, and they include a pass guarantee, where you would get your money back if you happen to not pass the certification exam.
This is a great option for learners that wish to have the most study materials that are offered for online study, and it comes with some great deals on their prices.
Trainer Academy also offers multiple tiers of packages, so it is important you choose the best one for what you need.
Cheat Sheet Study Implementation
For the proper use of this cheat sheet, based on the PTPioneer recommendations, it is important to go through the Study Plan sheet in the NASM study hub, and it is fully downloadable as a PDF.
One of the most challenging topics on the NASM personal trainer certification exam is the tightened and weak muscles that accompany different distortions. You can see on the cheat sheet that this has received some focus.
The National Academy of Sports Medicine is going to have this information in the exam in some form, and it is a good idea that you have this sheet with you when you are taking practice tests during your study time.
Go ahead and print out this sheet so you can have it by your side in the future.
Within the study plans here on all of the PTPioneer study hubs, the study plans look at four different timeframes for learners to utilize, and they help different types of people.
When someone is looking to use the 4-week study plan, the ideal use of the NASM cheat sheet will be simply looking for the appropriate materials and reviewing them as they come up in each chapter.
There will be some crossover between the flashcards and the cheat sheet, but having different ways to view these most important topics will help with answering exam questions in our practice exam and, eventually, the NASM CPT exam.
For the 3-month study plan, the cheat sheet comes in later in the plan, toward the end. It is familiarized before taking the practice tests again and should be able to help with those practice questions as you go through them, readying for the final exam.
Both the 6-month and 1-year study plans have the cheat sheet at the end of their last months. This is because they are always viewed as most helpful when taking practice exams, and that is when they are recommended in the study plans.
For all of these NASM resources that are offered on PTPioneer for the CPT certification, the goal should be familiarized with every aspect within the downloadable guides.
The PTPioneer NASM study guide cheat sheets are jam-packed and full of information, which serves as a form of exam content outline.
Ideally, learners should not utilize the cheat sheet on their first attempt at our NASM certification practice fitness assessment.
After you familiarize yourself with the cheat sheet, you should keep it handy during your personal trainer certification practice test attempts, and only use it when you can't think of the answer to a test.
You should aim not to rely too greatly on this cheat sheet, as that can hinder your learning and make the cheat sheet more of a crutch you rely on. This would only hurt you on the inevitable real exam after test prep is done.