Hello!
This PTPioneer article is all about the American Council on Exercise, or ACE, Exam Prep Study Hub page for the ACE Cheat Sheet, which offers the following:
Obtain a high-definition printable PDF copy of the ACE CPT exam cheat sheet and implement it while studying for your personal training certification exam, courtesy of Trainer Academy.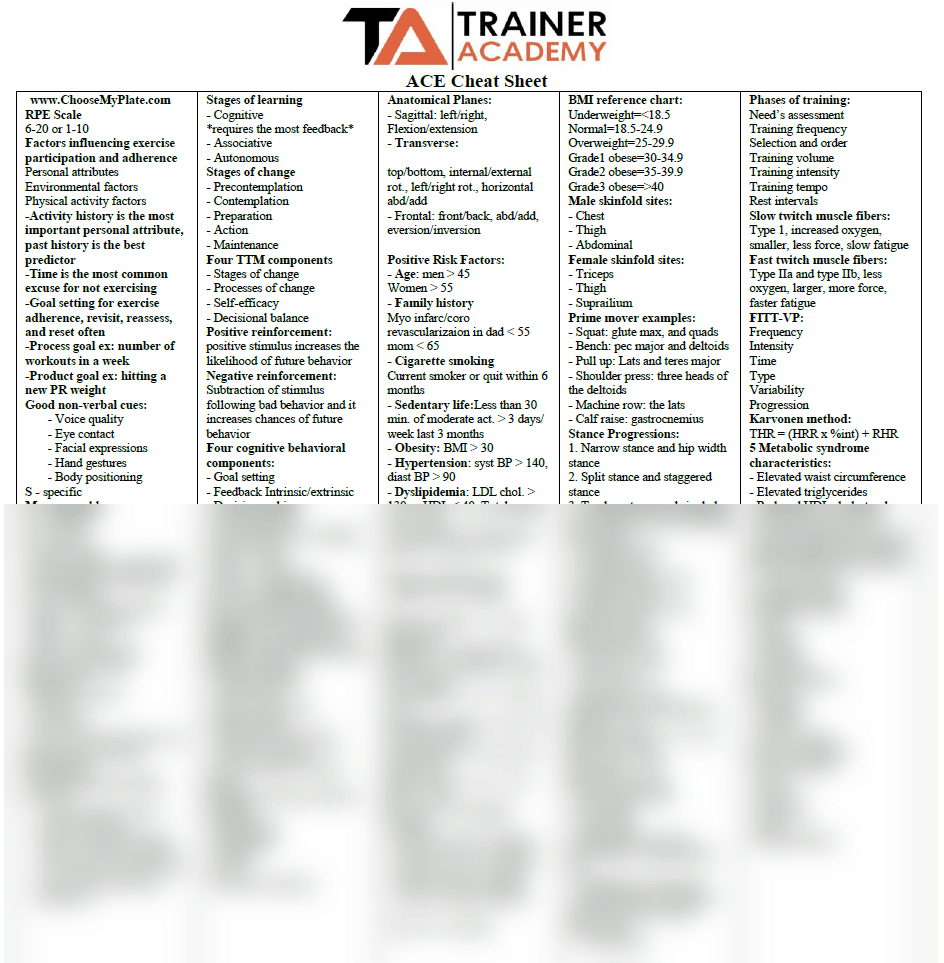 Want more ACE exam prep?
Go back to Trainer Academy for premium ACE-certified personal trainer study materials.
Not only will they reduce your study time by 50% but have an exam pass guarantee, or a refund.
Read my full review of them here and see how you can save $100 on their MVP study system with the code: PTPSUB.
Now, let's explore this free study template that can help you nail your ACE personal trainer exam!
ACE CPT Study Series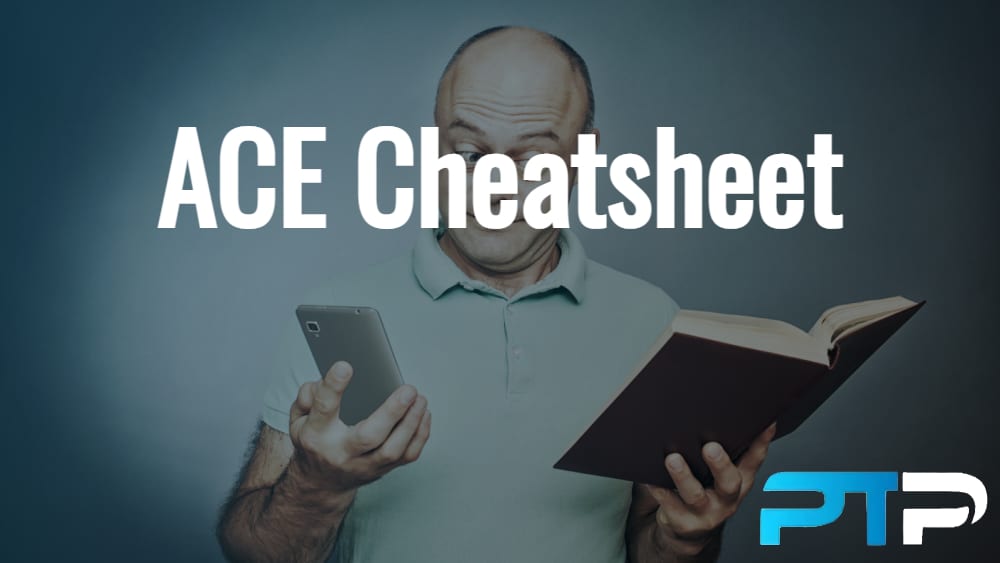 Firstly, let me define for you what a cheat sheet is.
Basically, this sophisticated study resource serves as a content outline and is especially helpful in the case of an open-book exam.
And if you're now wondering what to bring to the ACE exam, bring NOTHING but preparedness.
That's right.
But although the ACE CPT final exam is not open book, this cheat sheet will definitely help you study and prepare for your fitness training certification exam.
The ACE cheat sheet covers all essential topics from the ACE personal trainer manual and helps you master any topic that may otherwise be too hard for you to remember.
Topics covered include exercise science, resistance training, cardiorespiratory training, functional assessments, the investigation stage of interviewing, measuring blood pressure, behavior change, the scope of practice, teaching techniques, repetitions, hypertrophy, muscular strength, and more.
Since the cheat sheet is a single-page document, there's no flipping clumsily through billions of pages to find what you need.
Imagine studying program design and how to create an exercise program appropriate for those with obesity, but you need to flip through lots of pages.
Also, the PTPioneer cheat sheet allows you the freedom to create your own version of a cheat sheet, which helps because the exact materials that everyone needs may not be covered.
Overall, cheat sheets are proven useful in studies for beginners and those who are experienced alike.
It goes hand-in-hand with the other ACE personal training test preparation materials, too, like the study hub chapters, ACE CPT study guide, ACE practice exams, and ACE flashcards.
Not only has it helped ACE personal trainers but group fitness instructors and other health and wellness professionals as well.
This cheat sheet is the last of the four primary study materials that are online through the study plan on PTPioneer.
But where does this PTPioneer ACE cheat sheet come from?
Let's find out now.
Where does the PTPioneer ACE Cheat Sheet come from?
The PTPioneer ACE Cheat Sheet comes directly from Trainer Academy, which is an affiliate company with an excellent reputation for offering premium study materials for all of the main certification organizations, like NASM, ISSA, ACSM, NSCA, and of course the ACE CPT.
The only difference is that PTPioneer covers these certification exam prep materials completely free, whereas Trainer Academy is a paid study system.
Trainer Academy's premium study materials are much more in-depth, and they include a pass guarantee, where you would get your money back in the case of failing your certification exam.
This is ideal for people that want to have many study materials available within an online format and allows for some fantastic deals on packages.
You can choose between multiple tiers of packages based on what you desire to study, so it is essential that you choose the best one for you personally.
In all, you can never go wrong with Trainer Academy, and the money you spend on their quality materials will reward you in the long run.
Your career is an investment, never an expense.
Think about it like this and watch your overall personal trainer salary quadruple.
Now without further ado, let's move on!
If you did not do so at the beginning of the page, then you can receive the high-quality PDF download for my Cheat Sheet by clicking the button right below.
ACE Study Plan, what's that?
The ACE study plan is another easily downloaded PDF to help you with a calendar for your study materials.
The two PDFs are completely free and will be received safely and securely straight to your email account for download.
Tips On Implementing the ACE CPT Cheat Sheet
Ideally, this ACE CPT Cheat Sheet is designed to help you retain the more complex materials covered in ACE, like planes of motion, designing clients' training sessions, risk factors for heart disease, and aspects of the muscle fiber types.
You can see on the cheat sheet that this has received some focus, even more than the ACE study guide and test prep materials.
There's no doubt that ACE is going to have this information as test questions on the exam, so it's a good idea to have this sheet with you when you are taking practice tests during your study time.
I recommend that you bookmark this page and maybe print it out to keep it by your side, as soon as you start studying for the ACE certification exam.
Rather than trying to master everything before reading through the book, read this cheat sheet to familiarize yourself with the concepts on here.
Most likely, there will be exam questions similar to what you see here on this cheat sheet.
Whenever you are ready to review the concepts you have struggled with, bring this cheat sheet back to the center of your study materials to highlight anything you feel necessary.
PTPioneer's free ACE cheat sheet allows you to find particular information quickly while going through your other ACE study materials.
In closing, I wish you luck with your ACE studies and the final exam, and I hope that this ACE CPT Cheat Sheet has helped you retain this vital information.