Looks like you made it to the PTPioneer article, which focuses on the American Council on Exercise (ACE) CPT Exam Prep Study Hub flashcard page, one of the most effective forms of study materials.
On this page, I will cover:
I highly recommend obtaining a copy of the ACE cheatsheet and ACE study plan.
These ACE exam prep materials are a tremendous help in studying for your official personal trainer certification exam.
Based on conversations I've had with other fitness professionals, Trainer Academy's premium ACE CPT study materials had always led them toward successful studying and a passing score.
Trainer Academy does offer ACE exam flashcards which use spaced-repetition learning to help master flashcard study.
Read my full review of them here and save $100 on their MVP study system with the code: PTPSUB.
You should know that Trainer Academy provides all top fitness trainer and group fitness instructor certification providers, like ACSM, NASM, ISSA, and NSCA, with the best quality study materials.
But let's zero in on how you can utilize the ACE flashcard study system and implement this into your daily routine, along with your other ACE study materials.
ACE CPT Study Series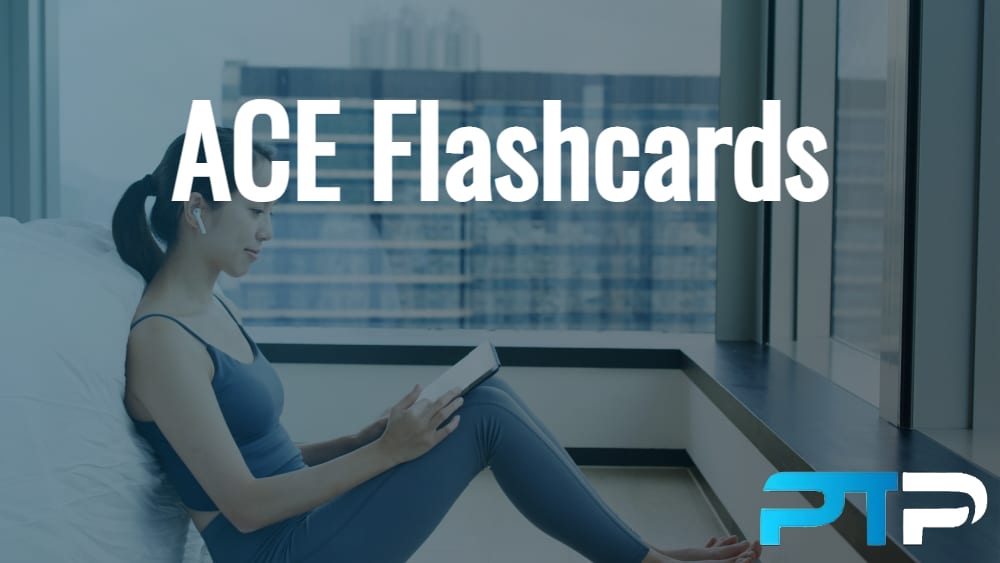 Chapter 1: Role and Scope of Practice for Personal Trainers
Chapter 2: The ACE Integrated Fitness Training Model
Chapter 3: Basics of Behavior Change
Chapter 4: Effective Communication, Goal Setting, and Teaching Techniques
Chapter 5: Preparticipation Health Screening
Chapter 6: Nutrition for Health and Fitness
Chapter 7: Resting Assessments and Anthropometric Measurements
Chapter 8: Cardiorespiratory Training: Physiology, Assessments, and Programming
Chapter 9: Muscular Training: Foundations and Benefits
Chapter 10: Muscular Training: Assessments
Chapter 11: Integrated Exercise Programming: From Evidence to Practice
Chapter 12: Considerations for Clients with Obesity
Chapter 13: Considerations for Clients with Chronic Disease
Chapter 14: Exercise Considerations across the Lifespan
Chapter 15: Considerations for Clients with Musculoskeletal Issues
Chapter 16: Legal Guidelines and Business Considerations
Want to become an ACE-certified personal trainer?
Flashcard studying most effectively helps you learn big sets of terms and new topics in short bursts or even longer sessions.
Since ACE does not offer any flashcard study materials in its training programs, I not only recommend using PTPioneer's ACE flashcards but seeking out a program that uses spaced repetition learning, such as Trainer Academy.
Most fitness professionals I've interviewed have found the Trainer Academy flashcard study system helpful during study times and the flashcards even mimicked the final exam questions and answers.
That is where more advanced study programs have the advantage of spaced-repetition studying, which makes a note of the flashcards you struggle with and brings them to you more frequently.
Ideally, flashcards should be studied daily for a regular set amount of time, such as 15 – 30 minutes.
Write down the ones that you might struggle with and study them extra, and study these flashcards after reading the chapter in the ACE study guide, or in the ACE personal trainer manual.
In my perspective, the best way to break down the flashcards is in a per-chapter format.
At the top of the page, you will find a flashcard plugin for each of the 16 chapters within the ACE certification textbook for personal training.
The chapter plugins group together the most important terms and topics from the ACE personal trainer manual in a flashcard study format.
Frequently implementing flashcard studying into your routine is one of the easiest ways to create lasting, positive study habits and information fresh in your mind over the long term.
Moreover, flashcards present a word or words and allow you to either think of the answer or think of associative words, definitions, or topics to reach the answer or definition.
For example, let's say while studying for your cert exam, you are absolutely baffled by the differences between concentric and eccentric, plantarflexion vs. dorsiflexion, bodyweight and cardio recommendations for clients with heart disease, or agonists vs. antagonist muscle groups.
Hint: refer to your flashcards!
Not only are flashcards extremely beneficial in studying all types of materials but are paired well with the ACE practice exam and study guide as well.
The PTPioneer ACE chapter-by-chapter flashcards contain the most important information which may likely be potential test questions.
Examples include concise coverage of common ACE CPT topics, such as exercise testing, body composition, heart rate, exercise science, fitness testing, cardiovascular and resistance training, program design, muscular strength, muscular endurance, risk factors, weight loss, and much more.
If it doesn't have the term or topic that you most struggle with, then it can be very beneficial to try and do the same form of studying on your own by writing down the terms.
So if you're struggling with physical activity recommendations for clients with low-back pain, then this is where writing stuff down may come in handy.
In fact, according to research, studying is enhanced dramatically when you physically write or type the cards yourself, especially for beginners.
For your convenience, the chapters are in order, so make sure you are studying the correct chapter, along with the correct deck for each chapter.
Furthermore, the larger chapters have multiple decks of flashcards.
Again, the ACE flashcards are a great supplement to the practice test and study guide, and it is my mission to help you prepare for the ACE personal trainer exam.
Hopefully, I've fulfilled it with this PTPioneer ACE flashcard study page.
Best wishes to you on your journey to becoming an ACE-certified personal trainer!