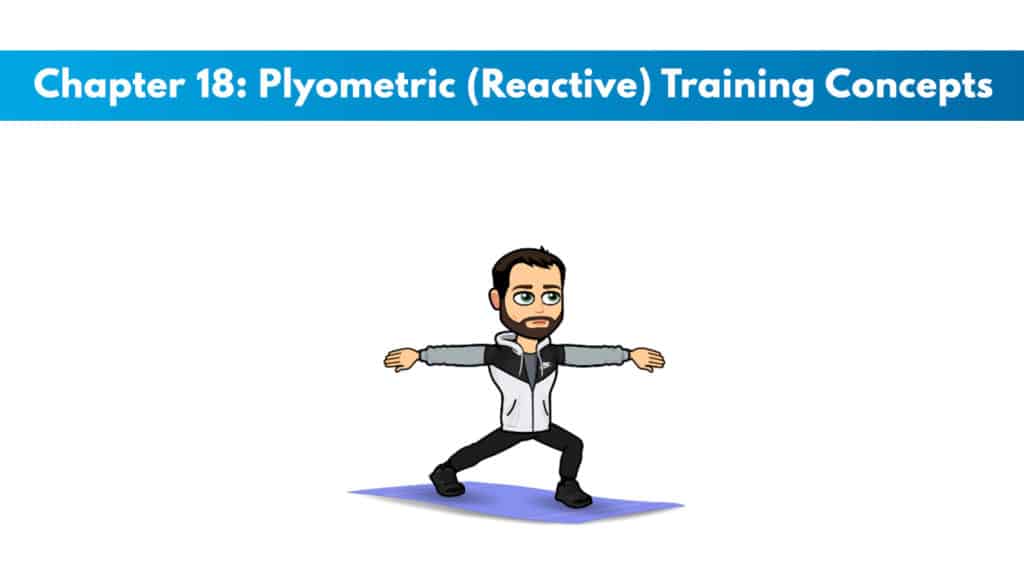 If you have not signed up for NASM CPT, sign up here to save 25% with my personal code PTP25.
Get your copy of the NASM CPT exam cheat sheet. It helps immensely for studying for the exam.
Make sure to check out Trainer Academy for premium NASM CPT study materials. They will reduce study time by 50% and have an exam pass guarantee. Read my full review on them here. You can save $100 on their MVP study system with the code: PTPSUB
Chapter Goals:
Discuss plyometric training and the three phases for fitness clients.
Be able to summarize the benefits of plyometric training for different types of clients with varying goals.
Find the right progressions for the exercises of plyometric training.
Employ the proper methods for effective execution, instruction, and cueing of plyometric exercises.
Principles of Plyometric Training
Plyometric training is also called jump and reactive training, and this is a form of exercise using explosive moves like bounding, jumping, and other forceful upper body movements to develop muscular power.
Using plyometric training develops great control and ground reaction force, which we can use to project the body with more velocity and speed of movement.
Exclusive PTP CPT Offers



Gold Standard Cert

Most Popular Cert

Best Study Materials

A Good Option

A Good Option

Best CPT for you?

It is very important for trainers to get that the clients need to have good core strength, stability of the joints, and range of motion and be able to balance efficiently before starting explosive plyometric exercises.
This may not be a good form of training for all clients, as it is rather advanced, but t can be progressed to and trained up to rather easily. It is meant for power.
What is Plyometric Training?
The ability to generate force fast is known as the rate of force production. Success in daily living and sports activities will sometimes depend on speed for the muscular force.
Plyometric training has to do with quick, powerful exercises with a concentric muscle contraction that has an eccentric contraction.
The stretch shortening cycle is at work in this style of training. This is when there is an eccentric contraction which stores energy and then releases it during the concentric contraction to then make it more powerful and explosive.
The three phases of plyometric exercise are the eccentric, amortization, and concentric phases.
Exclusive PTP CPT Offers



Gold Standard Cert

Most Popular Cert

Best Study Materials

A Good Option

A Good Option

Best CPT for you?

The eccentric phase is when the agonist's muscles are preloading or stretching. This energy will be stored, and muscle spindles are then stimulated, which sends the signal to the nervous system.
The amortization phase is referred to as the transition period or phase, which is the time between eccentric and concentric. This is the electromechanical delay that can exist in this process.
The concentric phase is the response to the other two phases before, which produces the force to contract and shorten the muscle. When this is done, the concentric phase will be more powerful. 
Importance of Plyometric Training
Plyometric training increases force production rates and the recruitment of muscle fibers. They should only be started when the client has a solid fitness base, proper stability of the core, and the ability to balance. 
The speed of muscle exertion is limited by neuromuscular efficiency and improves the speed range set in the central nervous system.
This training style may often be considered too dangerous, and the risk of injury can be quite high.
Guidelines for Plyometric Training
Plyometric exercises are an important part of someone's personal training program for enhancing movement quality, landing mechanics, and power development. 
It may be beneficial to thoroughly analyze a client's training history, age, and injury history. 
Designing a Plyometric Training
Before progressing to plyometric training, clients need to show basic levels of total body strength, core strength, and balance. 
Intensity needs to be watched as it controls how much someone can do. Plyometric intensity is the distance covered and the amount of effort and stress applied by the muscles, connective tissue, and joints during drills.
Volume is expressed as foot contacts, throws, or catches.
Training frequency and recovery are two other variables to pay attention to. It is determined by the client's fitness level, their current training program, the history of training and injury, and the training goals.
These exercises can be progressed easily.