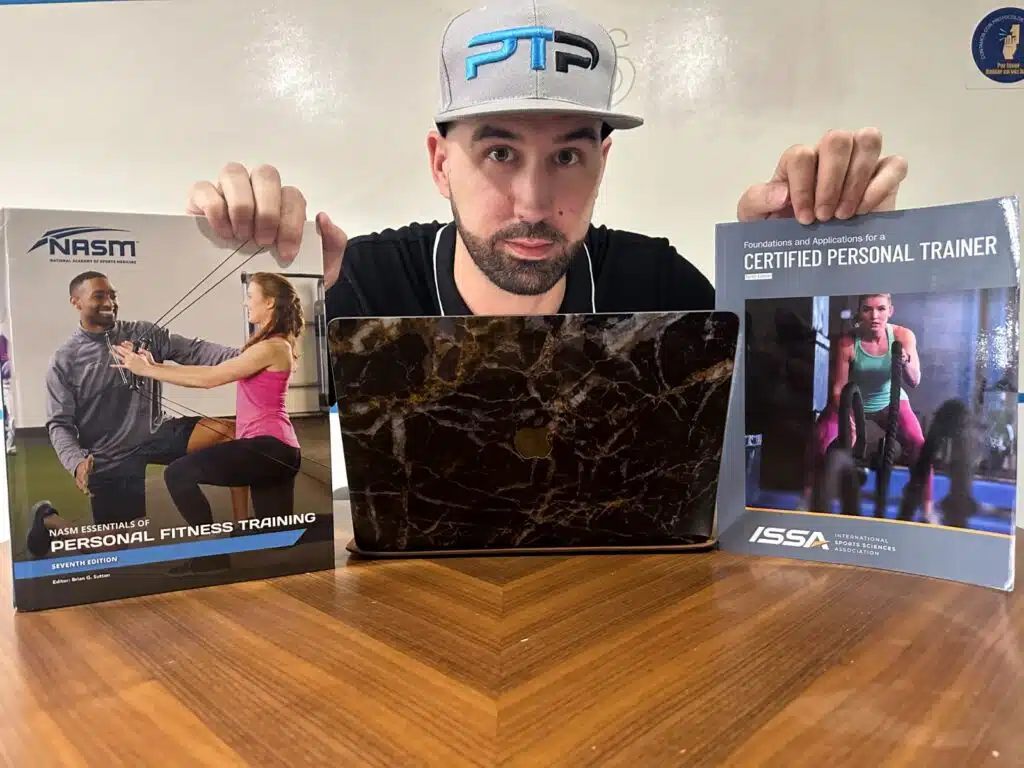 Welcome to my comprehensive ISSA vs NASM comparison of two mainstay personal trainer certifications: National Academy of Sports Medicine Certified Personal Trainer (NASM-CPT) and the International Sports Sciences Association Certified Personal Trainer (ISSA-CPT).
After studying for, taking, and passing the personal training certification exams for the NASM and ISSA organizations, I bring you this guide so you can decide which program is best for you.
I have more than 10 years of experience as a personal trainer using the ISSA and NASM certifications, and our team at PT Pioneer has fitness professionals certified through both organizations.
Together, we present to you the best possible comparison of the ISSA certification vs NASM certification.
In this NASM vs ISSA CPT article, I review the following:
For more tips on which CPT is best for you, please take my quiz to determine which PT certification is the right fit.


By the time you finish reading up on ISSA vs NASM, you'll know which is better, ISSA or NASM, and whether NASM or ISSA is best for you.
Let's get started.
CPT
ACSM vs ACE Quick Breakdown
Features
Price

Solid technique and programming
Excellent business skills
Comprehensive skillset
Internationally recognized
Best cert bundle deals in the industry

View on ISSA Website

Focus on corrective exercise
Groundbreaking OPT Model
More expensive
Difficult exam

View on NASM Website
Product
Exam cost
Exam cost
$599+
$799 (on sale)+
Study Material Cost
Study Material Cost
$749-$2699+
Included in exam price
Prerequisites
Prerequisites
High School Diploma/GED, CPR/AED Certified
18 years of age, High School Diploma/GED, CPR/AED Certified
Exam Passing Score
Exam Pass Rate
Exam Pass Rate
64%
90%, 70% (NCCA version)
Average Completion Time
Average Completion Time
3 to 6 months
2-4 months
Trainer Academy Guides

Complete curriculum study preparation
Audio guide, flashcards, and mnemonics
800+ practice questions
Exam pass refund guarantee
Cheaper pricing than ISSA and NASM materials
Provider Materials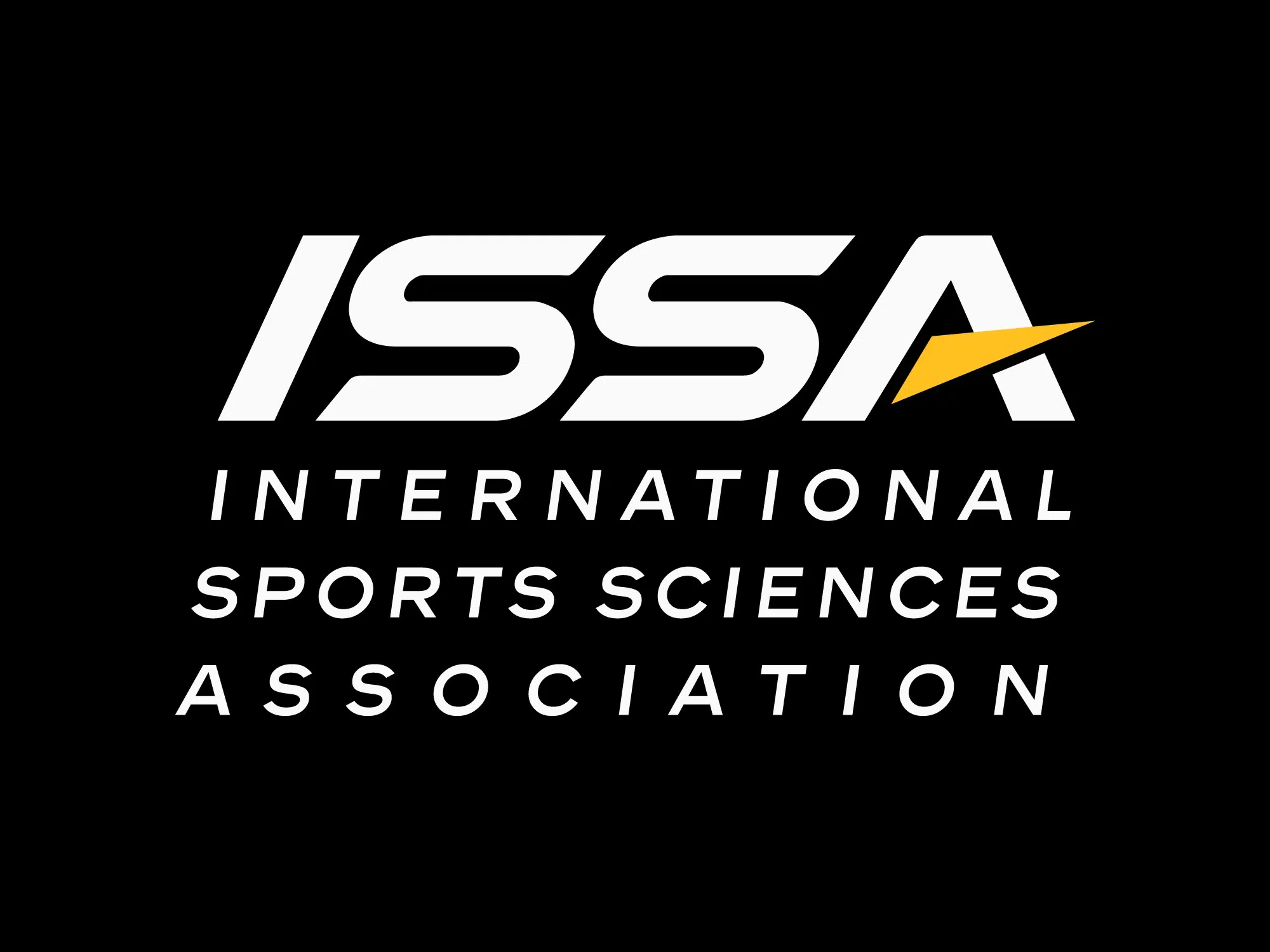 Curriculum study preparation
Includes text, graphics, and videos
200+ practice questions
No exam pass refund guarantee
$950.00 for ISSA starter package
$899.00 for NASM starter package
PTPioneer Study Guides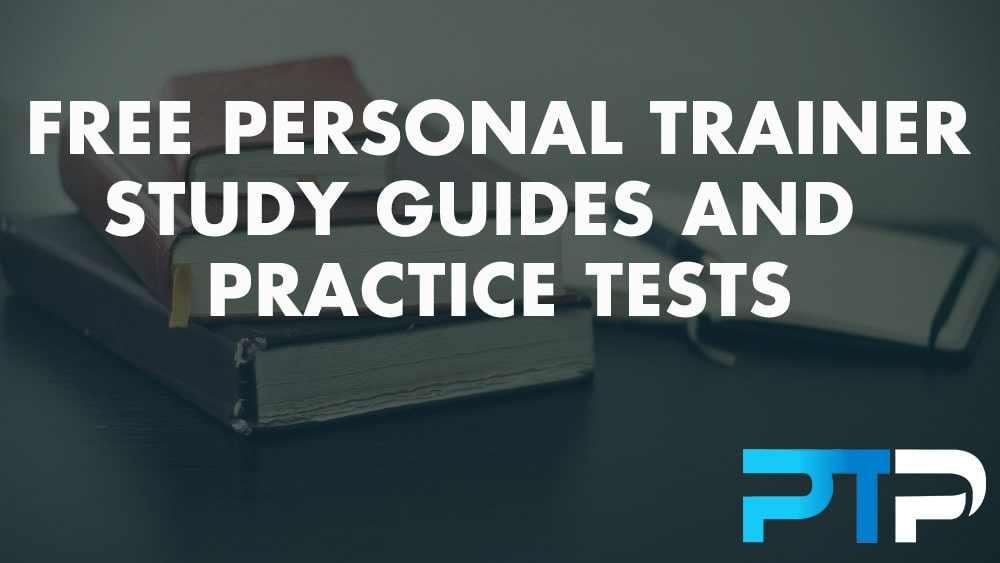 Curriculum material overview
Complete chapter breakdowns
60 practice questions
130 flashcards
Exam cheat sheet
Free from PTPioneer
What is NASM?
The National Academy of Sports Medicine (NASM) is a fitness professional certifying agency. Since its conception in 1987, NASM has grown into one of the biggest fitness certification organizations in the world.
Their NASM Personal Training Certification is fully NCCA-accredited by the National Commission for Certifying Agencies, the gold standard for the best personal training certifications.
Besides their prestigious NASM Certified Personal Trainer (CPT) certification, NASM offers many other specializations, such as:
According to a recent survey, NASM provides one of the best corrective exercise certifications for working with sedentary individuals and post-rehab clients.
I have some great news if you prefer to go with the NASM-CPT. NASM also has an Elite Trainer offering, where you can bundle six NASM certifications on their highest-tier package. This is a massive deal, should your decision be that NASM makes the most sense for you.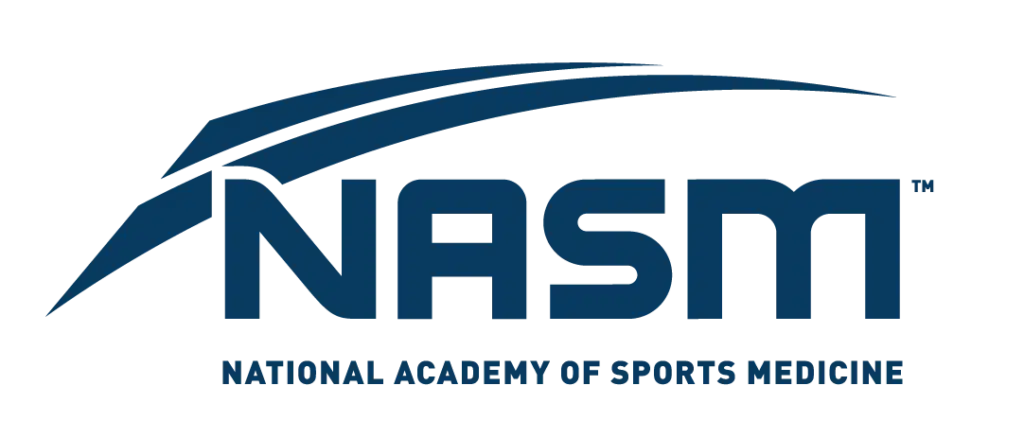 As with any great deal, you never know when it will end, so I wouldn't delay checking it out if you think NASM is the right move for your career.
I'd strongly consider signing up today if NASM has any number of slots left.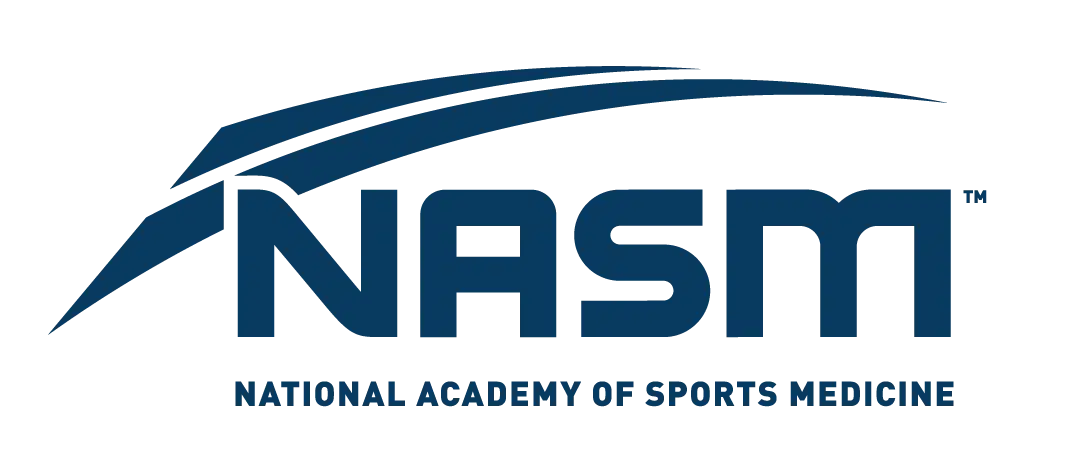 NASM-CPT General Information
Exam cost: ~$749
Study material cost: $749-$2699
Prerequisites: High School Diploma (or GED), CPR/AED certification from a qualifying provider
Exam passing score: 70%
Exam pass rate: 60-75% depending on year
Average completion time: 3-6 months
What is ISSA?
The International Sports Sciences Association (ISSA) is a fitness certifying agency founded in 1988.
One of their main goals is to bring healthy living to the world through both education and community.
ISSA stands out from other certification agencies as they include business skills in many of their programs, which other fitness organizations tend to leave out.
ISSA also offers great certification options for the entry-level candidate learning how to become a personal trainer and provides some incredible specialist fitness certifications.
To become a successful personal trainer, specialist certifications can be vital in kickstarting your career.
When you combine the ISSA-CPT certification with a nutrition coaching certification, more opportunities open up for you than for the CPT-only trainers.
After all, nutrition and physical training go hand in hand.
Without taking the two-pronged approach to fitness that you get by becoming a nutrition coach and personal trainer, you will not deliver the same level of results.
Additional specializations such as corrective exercise or strength and conditioning coach further allow you to serve niche clientele.
Becoming a sought-out expert in a specific fitness area increases demand and potential for earning a higher personal trainer salary.
Furthermore, a niche specialization allows you to have a much easier time finding great clients to work with within your training styles.
With the triple-threat of a personal trainer certification, nutrition coaching, and a specialization, you will have a much easier time starting your fitness career.
On a final note, you need to complete CEU credits regardless to keep the CPT certification valid, and adding in these specializations gives you plenty of extra credits right out of the gate.
The add-on certifications count towards the recertification credits, meaning you can essentially knock out two to four years of CEUs in a single purchase.
Your career also immediately benefits from the added credentials as opposed to waiting two years before becoming a nutrition coach, which would‌ delay early growth in your career.
Sadly, these certifications add up in price, potentially costing thousands up front.
The great news is that if you go with the ISSA certificate, you can purchase the ISSA Elite Trainer Program. The ISSA Elite Trainer bundle includes the ISSA-CPT, ISSA nutrition coach, and a third fitness specialization for less than the cost of purchasing two certifications at full price.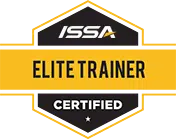 With the Elite Trainer deal, you can get the three certifications for $1,308 paid in full or just $109 a month for 12 months.
Getting any high quality fitness certification at $436 a piece is the best deal in the industry.
If you don't want to bite off three full certifications right away, you can still get a great buy-one, get-one free deal on the ISSA-CPT and Nutrition Coach programs, with the two certs coming in at $1,188 or $99 a month for 12 months. Sometimes, this bundle goes on sale further for $799 or $83.25 per month for 12 months.
That said, any great deal won't last forever.
While we don't have a specific date for when the deal ends, I would avoid delaying checking the ISSA website if you do plan to look at the ISSA-CPT.
If the ISSA Elite Trainer deal still stands, it's tough to pass up.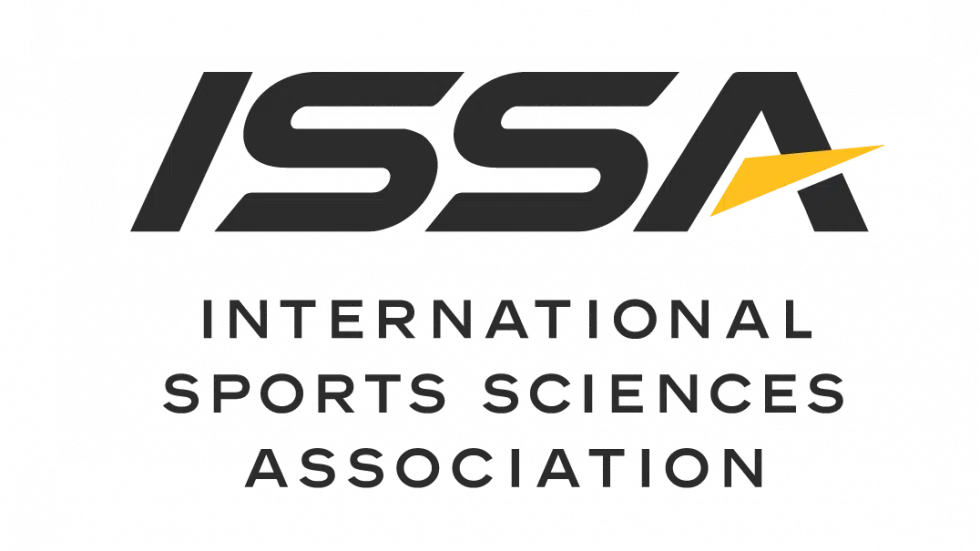 ISSA General Information
Exam cost: $999.00 (only purchased with study materials)
Study material cost: $83.25/month for 12 months
Prerequisites: CPR/AED, High School Diploma
Exam passing score: Scaled 550/800 – 90/125 Scored Questions
Exam pass rate: 89.99%
Average completion time: 3 to 5 months
Pros and cons of ISSA Certification vs NASM CPT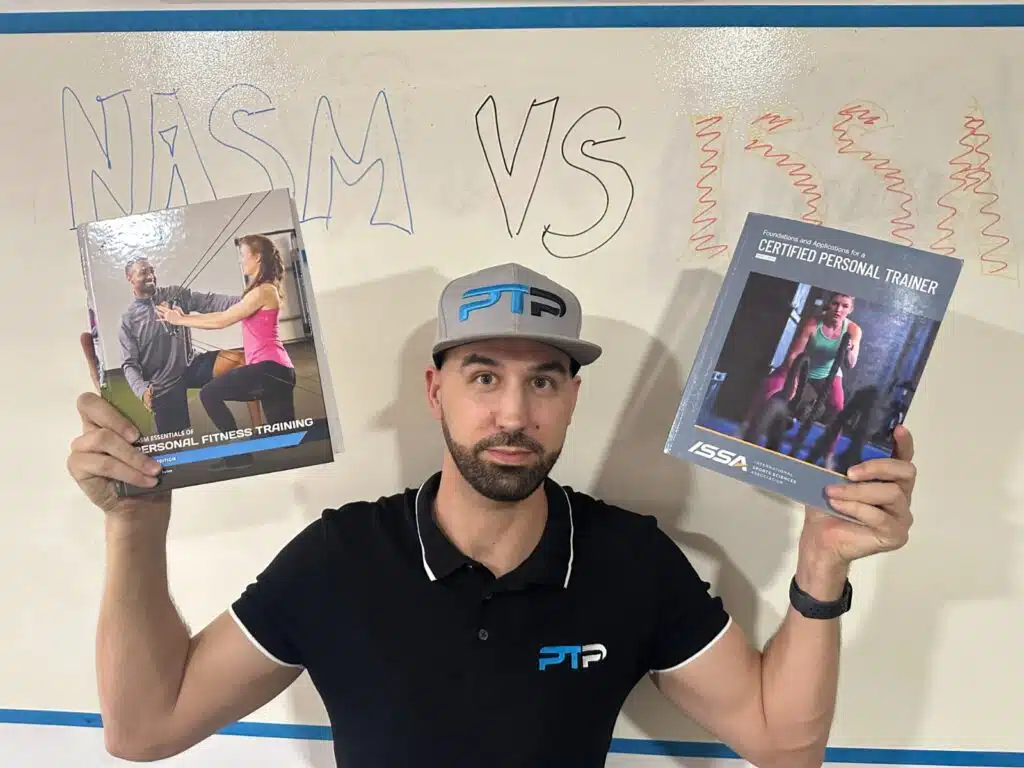 Pros for ISSA and NASM
Without a doubt, NASM is the more well known organization in the US, while ISSA has the most global reach.
Both textbooks provide comprehensive coverage and explain personal excercise training content in a very easy-to-understand way.
NASM boasts one of the best online study systems, and its library of online exercise instructionals is easily the best.
ISSA provided some of the first online training programs, so they know how to provide an easy path toward certification. They give you easy interfaces to use and include many additional online resources like forums for any additional questions and a way to get your CPR/AED certification from home easily.
Also, from my own personal experience, I rate ISSA's customer service team as highly responsive and helpful.
Regarding content highlights, NASM provides excellent coverage of correctional movements for a CPT.
ISSA's section on how to market yourself as a trainer also gives you a lot of unique insights which could increase your career opportunities immediately.
Cons for NASM and ISSA
Both the NASM and ISSA CPT can be on the pricier side compared to other certifications, but you definitely get your money's worth for everything.
ISSA's coverage of advanced exercise programming isn't as thorough as other certifications like the National Strength and Conditioning Association (NSCA).
NASM gives you some good workout templates, but they really rely on their OPT model in terms of programming and periodization rather than explaining the fundamentals. If you are training more athletetic populations, I think you'd need more information than NASM really gives you. So because of this imbalance, I prefer ISSA in this area.
Additionally, NASM's section on nutrition doesn't have as much depth as ISSA's. However, it's important to remember that these are just personal training certifications, and both NASM and ISSA have great individual nutrition programs you can also check out.
ISSA vs NASM Certification packages and study materials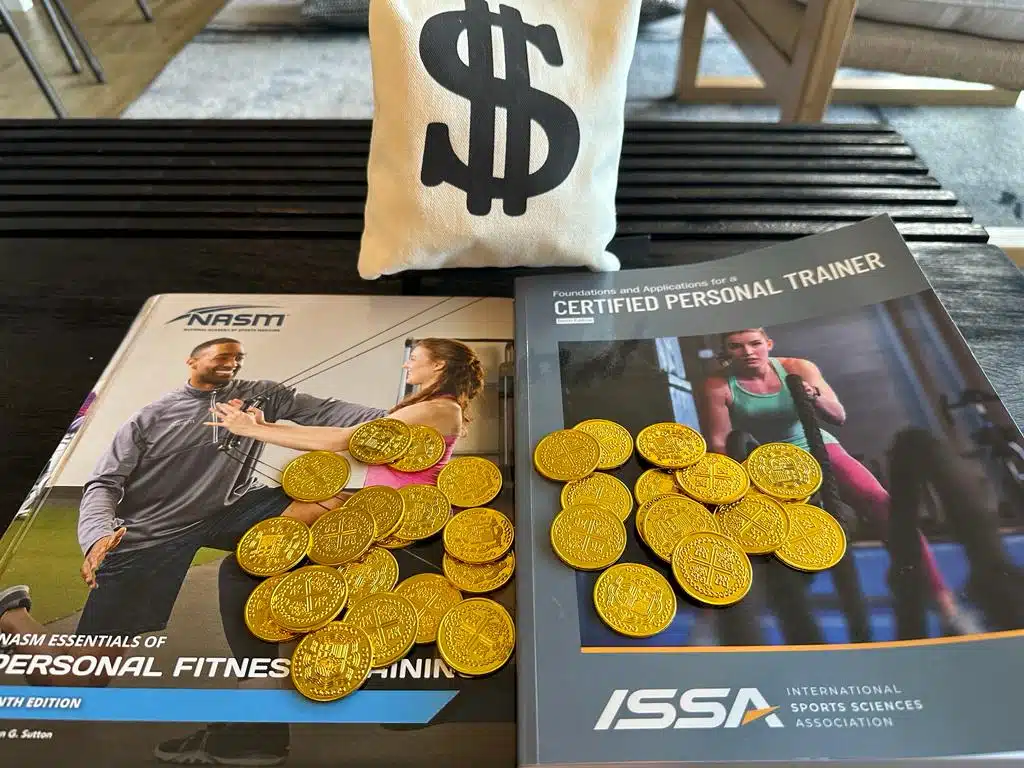 If you wonder how much personal trainer certifications cost, stay tuned as I compare NASM vs ISSA differences on study materials and price.
Rather than just one NASM-CPT exam cost, there are four distinct CPT certification packages:

The first option is Self-Study.
This is the best option for those who want to study everything and sit for the exam without any additional training materials like flashcards and challenge quizzes.
Secondly, NASM's Premium Self-Study includes exactly what the Self-Study does, with the addition of the following features:
Anatomy memorization activity
Correcting form videos
Learning activities
Flashcard bundles
This package appears to be the most ideal for a visual, hands-on learner.
The NASM Guided Study is the most popular package and includes the following:
Reading materials
Exam readiness webinars
Access to coaches and mentors
Nine discussion questions
NASM Live workshop
NASM exam prep guarantee
NASM-CPT hardcopy textbook
This package is perfect for those who crave the hands-on aspect of studying.
And finally, the fourth and juiciest one of all – the NASM All-Inclusive, which costs the most.
Here's what you get:
Exclusive PTP CPT Offers



Gold Standard Cert

Most Popular Cert

Best Study Materials

A Good Option

A Good Option

Best CPT for you?

NASM job guarantee after completing your NASM Gymternship
Real-life experience
All the benefits from the NASM Guided Study
You even get the ultimate level of assurance with the job guarantee, which means that you get your money back if you do not get a job within 90 days.
The job guarantee proves to be an excellent addition because sometimes, even if you are certified, getting hired as a trainer can be challenging.
Remember that combining the CPT certification with nutrition coaching and other fitness certifications makes you more qualified from the get-go.
With the exclusive offerings available to PTPioneer readers, you can get a massive discount on every tier of the NASM package.
If you are serious about getting the absolute most out of your fitness career, I would not delay checking the NASM deals because you never know when they'll decide that their offer is too good.
Also, while most personal training organizations neglect the sales, marketing, and business aspect of the profession, NASM does the exact opposite.
In fact, the NASM Business Accelerator Program guides the personal training business and even how to get a personal training internship.
You'll learn actionable techniques to help you maximize your profits, use of time, and the value that you provide.
If you want the fastest track toward becoming a successful, industry-leading personal trainer, the NASM Business Accelerator Program is definitely the package I recommend.
But what if you'd rather test only?
Thankfully, a CPT Exam Only option costs $599 and does not include study materials, online courses, or any other perks of the full packages.
I wouldn't recommend this unless you have a strong exercise science or kinesiology background or a bachelor's degree in either discipline.
But if you decide to go this route, it's recommended to browse through this free NASM study guide.
To get access to better premium materials at a lower cost than official study materials, my students prefer the Trainer Academy NASM-CPT MVP Study Package, which includes flashcards, audio guides, practice tests, and an exam pass guarantee.
You are always free to buy the more expensive NASM CPT study packages directly from the organization.
We're talking about ISSA or NASM, so let's look at ISSA too.
As I mentioned, considering the ISSA nutrition coach and fitness specialization certification is seriously worth considering right after your CPT program.
Why waste time with just a CPT when you could come out of the gate offering full-spectrum fitness, nutrition, and niche clientele training?
There is no doubt that the initial investment will pay off quickly as you surpass your peers with just the CPT certification.
Additionally, you'll have to do CEUs at some point regardless, so why delay the inevitable?
In line with this, I will again encourage you to consider the ISSA Elite Trainer Package.
The Elite Trainer includes the triple-threat CPT, nutrition, and fitness specialization certification. Overall, the price tag for the Elite Trainer is lower by far than if you were to purchase the CPT and nutrition certification alone – meaning even without the third included specialization, you are still saving money.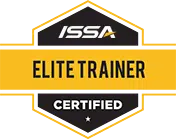 With that in mind, the Elite Trainer is really a no-brainer if you plan to go with ISSA.
Finally, you can routinely find promotions on the Elite Trainer package from the ISSA website – effectively stacking your savings on top of each other.
With the exclusive offers on the ISSA programs for PTPioneer readers, it's tough to pass up on the ISSA Elite Trainer.
As a PTPioneer reader, you can also combine the CPT and nutrition certification for the same price as the standard retail price of just the ISSA CPT alone.
Thankfully, ISSA provides a free physical book with your purchase of its online personal trainer certification course.
Some people, such as myself, love the idea of hardcopy books because they are much easier for note-taking purposes.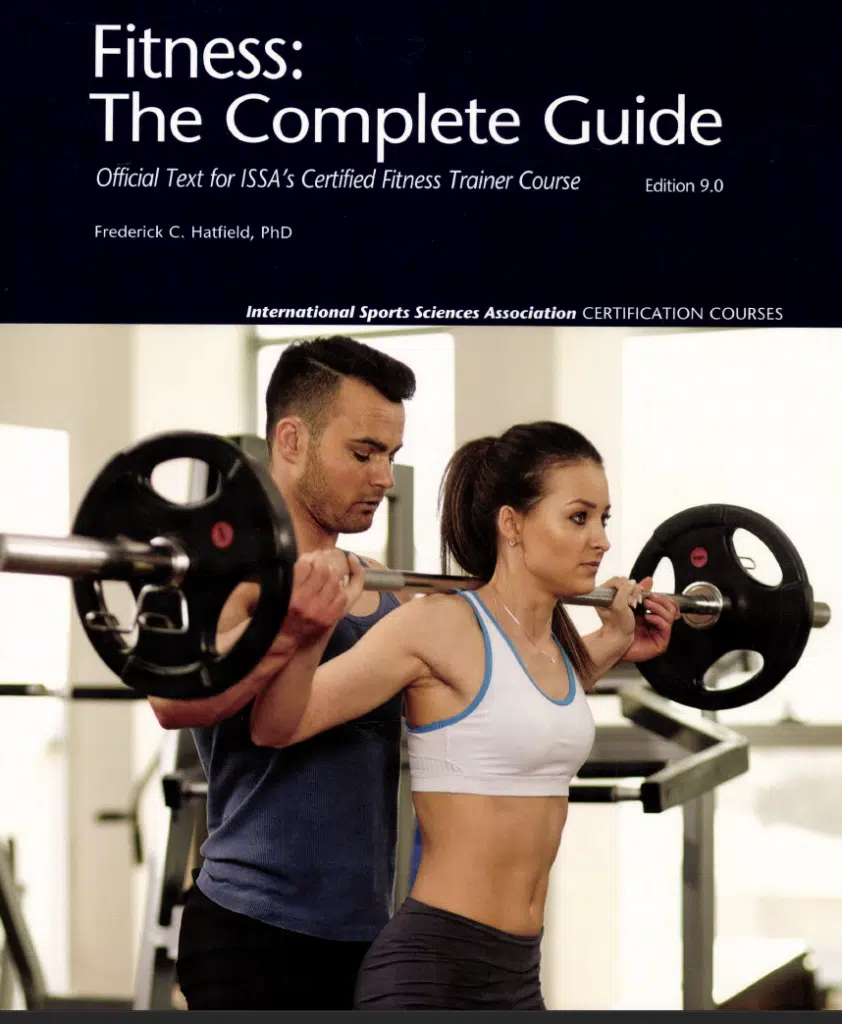 Its conversational tone makes the information accessible while still expanding on technicality and terminology.
I'd strongly advise you to read the ISSA-CPT book thoroughly, but if ever you're stuck, the ISSA support team is on hand.
The general price for ISSA personal trainer certifications is $999, and comes with the following:
ISSA-CPT textbook
Entrance to the ISSA certification test
ISSA-CPT course
Extra online study materials
Practice tests
Note that you may also refer to my free ISSA study guide and practice test.
For premium materials such as flashcards, audio guides, multiple practice tests, and an exam pass guarantee, I recommend the Trainer Academy ISSA-CPT MVP Study Package.
If you really want to get a bang for your buck, the ISSA Elite Trainer Bundle makes the most logical sense.
This includes the ISSA-CPT, nutrition certification, and another certification of your choice.
Comparing ISSA vs NASM on this matter, ISSA takes the lead because its high-quality fitness education and reasonable prices can't be beaten.
While some argue that having multiple options and NASM-CPT costs makes you freer to choose, others actually appreciate the simplicity and straightforwardness of the ISSA-CPT cost.
If you are wondering how long it takes to become a personal trainer, the ISSA-CPT tends to be a shorter study period, about half that of the NASM-CPT.
But this really varies from person to person based on experience and education.
ISSA provides superb course materials with all its programs. How you use them is up to you.
ISSA vs NASM CPT course layouts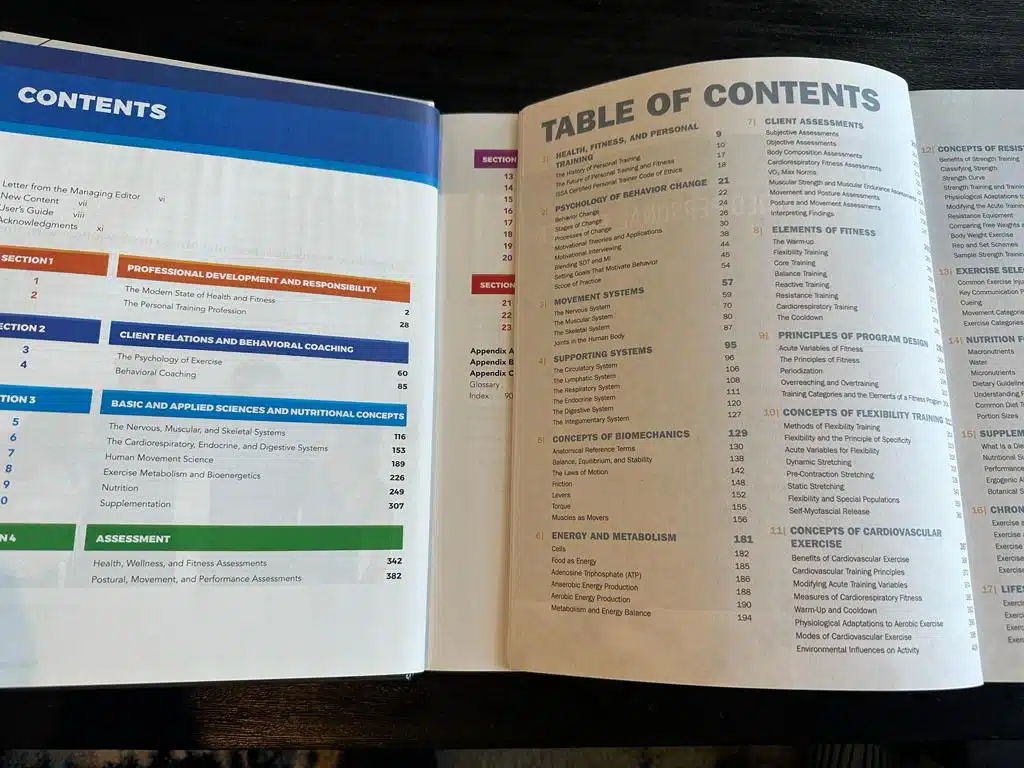 Exercise science
Both NASM and ISSA CPT cover structures of the body, anatomical planes of motion, basic biomechanics, and energy systems.
The only area where NASM does a better job is in the energy calculations for calculating total daily energy expenditure (TDEE). NASM's formula is a lot easier to use than ISSA's.
I find it helpful that the NASM textbook includes corresponding charts and infographics, especially for visual learners like myself.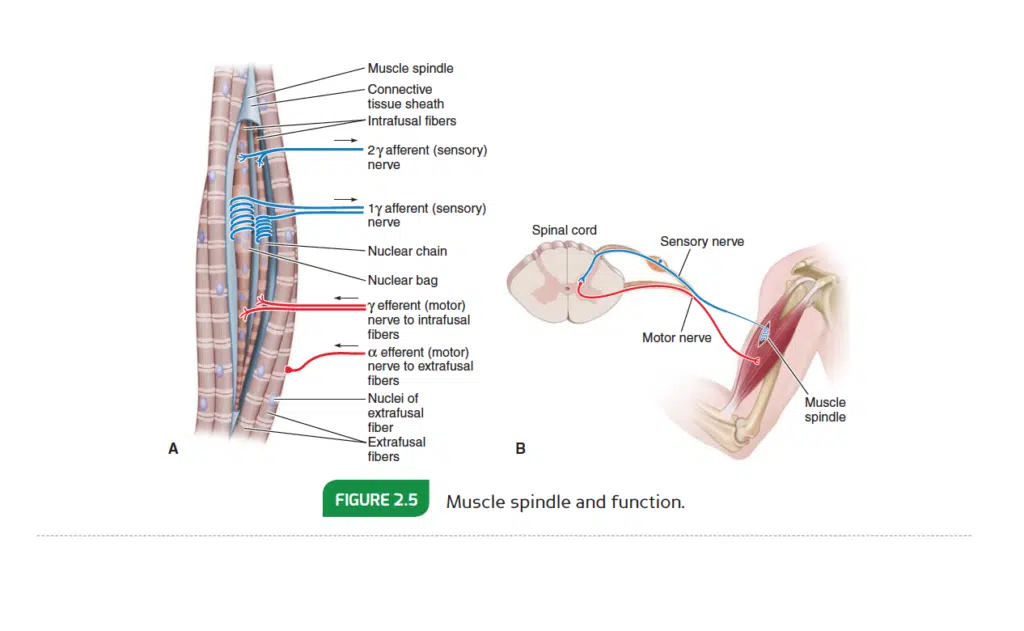 Although the ISSA Certified Personal Trainer (ISSA-CPT) certification is dubbed as a basic certification, I wouldn't call it outright easy.
But, for those just entering the personal training industry, the ISSA-CPT might be the perfect fit.
As one of the best online personal trainer certifications, ISSA provides its fitness trainers with a solid base of knowledge to expand on as they go on throughout their careers.
While their heavy focus is on general populations and fat and weight loss, ISSA gives minimal emphasis on corrective exercise.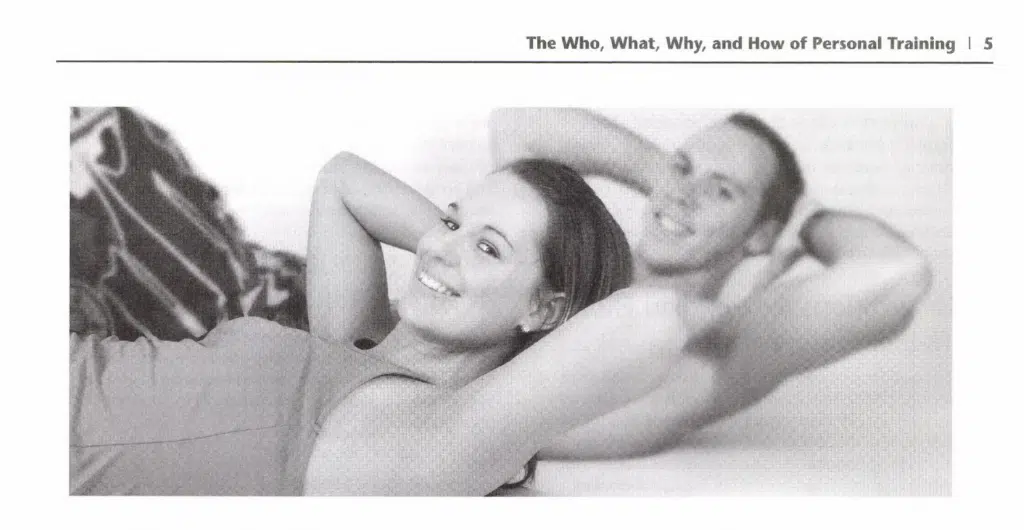 Overall, ISSA focuses on both scientific and practical principles of health and fitness.
It's one thing to know something, but once you can apply it, the real rewards of training start.
NASM vs ISSA on exercise science coverage remains neck-and-neck, as both certifications extensively cover exercise science.
But I should point out that the ISSA CPT gives you more practical advice.
Behavior change coaching skills
Aside from being personable, knowledgeable, and having great time management, personal trainers everywhere must be cognizant of client behaviors and apply effective behavior change coaching skills.
NASM highlights the Stages of Change Model exceptionally. The NASM-CPT emphasizes how to motivate your clients utilizing SMART goals, which is an acronym broken down below: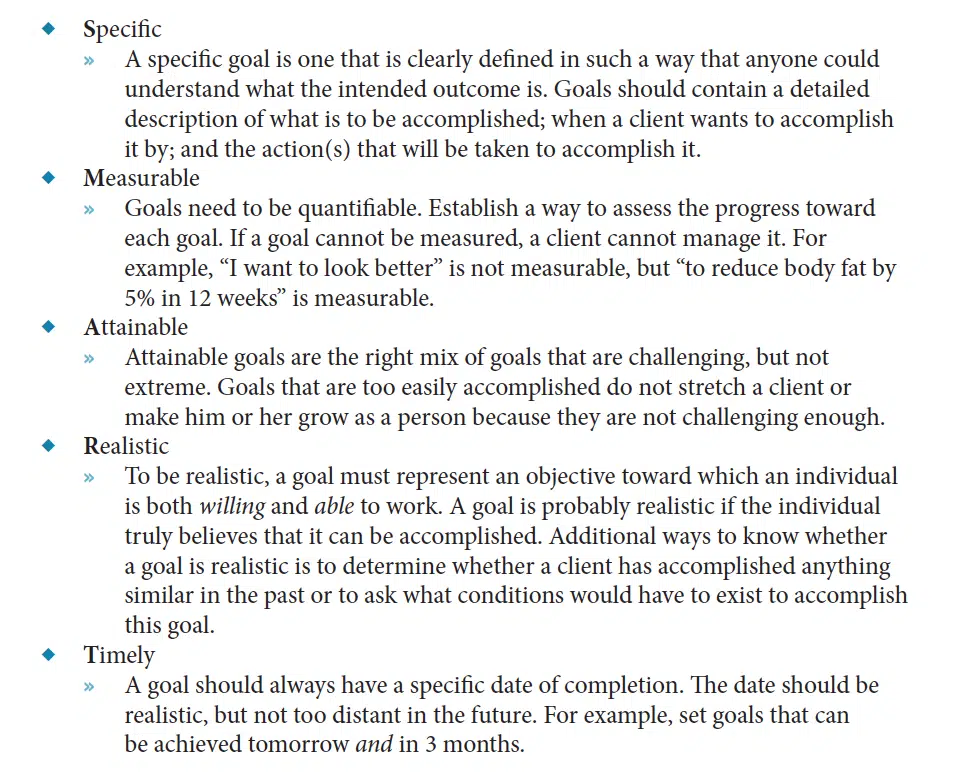 Clients need realistic, measurable goals they can achieve and feel confident about.
Having such goals not only benefits clients' short-term success but, even more, their life-long adherence to a health and fitness regime.
ISSA uses all the same tools as NASM but also gives you processes of change (experiential and behavioral), motivational interviewing, smart goals, self-monitoring, and feedback.
ISSA vs NASM training instruction on behavior coaching skills remains a tie, as they both cover this topic exceptionally and pretty similarly.
Both certifications recognize and reinforce the importance of behavior psychology surrounding health and fitness and how it impacts clients' overall lives.
Although, when comparing NASM vs ISSA, ISSA does a much better job at exemplifying these skills as they are used in real life.
Consulting and screening clients to reduce risks of injury
Before training your clients, you must understand their strengths and limitations so you can accurately devise a fitness program.
Exclusive PTP CPT Offers



Gold Standard Cert

Most Popular Cert

Best Study Materials

A Good Option

A Good Option

Best CPT for you?

You also want to know if there will need to be any modifications to prevent aggravation of any medical conditions.
ISSA does a good job of simplifying the pre-screening process for a trainer, giving you easy guidelines to follow.
I would say the ISSA-CPT creates a great foundation for beginners, but it doesn't give you as many test options as other certifications.
NASM's section is very similar to ISSA, but strangely enough, NASM only includes sub-maximal walking cardio assessments, whereas ISSA has both a walking and running assessment.
In ISSA's Basic Assessment of Fitness Participants section, ISSA covers the Graded Exercise Test (GXT).
This is a treadmill or cycle ergometer test that delivers heart rate, ECG, and other data and does require medical supervision.
The workload is gradually increased until an increase in workload is not followed by an increase in VO2 max.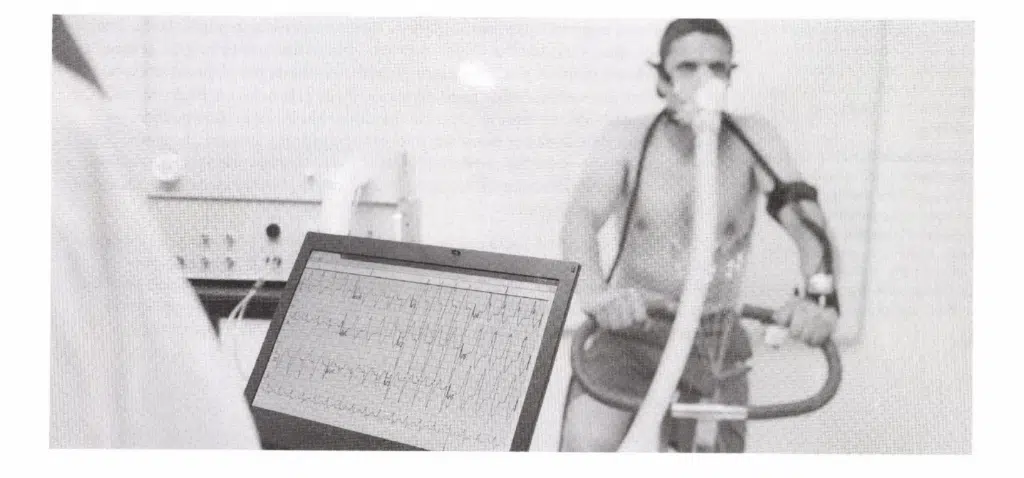 Results of the GXT test help trainers develop an accurate aerobic training program for their clients.
Their comprehensive section on consulting and screening, Assessments, Training Concepts, and Program Design, is heartier than a few other organizations, like ACE's personal trainer textbook.
One of the places NASM has ISSA beat is movement assessments.
NASM is known as the king of corrective exercise. The NASM textbook gives you many ways to recognize and fix postural imbalances and asymmetries, along with some good case study examples so you can see practical examples of how you'd assess particular clients.
Program design and resistance exercise technique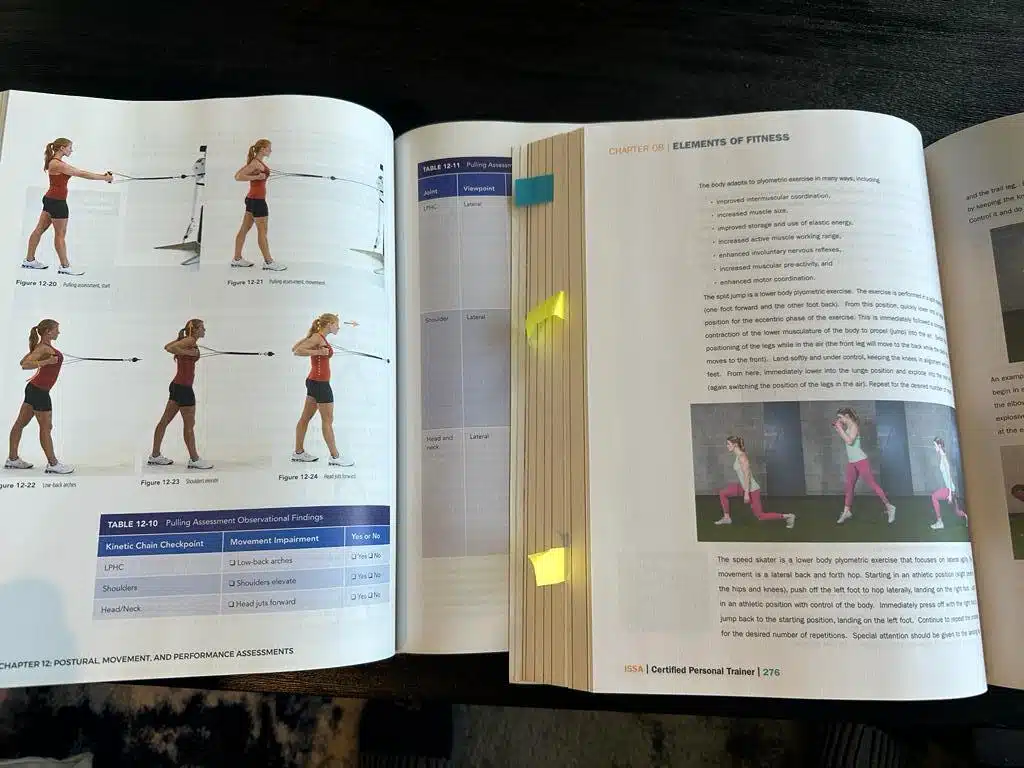 ISSA's program design covers the essentials, breaking down exercises into foundational, strength, metabolic, and speed/agility/quickness with solid exercise instruction and cueing tips.
NASM uses its Optimum Performance Training method (OPT) and gives good attention to each stage of training in the system. They provide good examples of exercises for stabilization to strength to power.
NASM also devotes an entire chapter to balance exercises, whereas ISSA only includes a few.
NASM developed the OPT Model based on scientific evidence and principles and consists of five OPT Model phases trainers use to safely, effectively, and appropriately progress clients.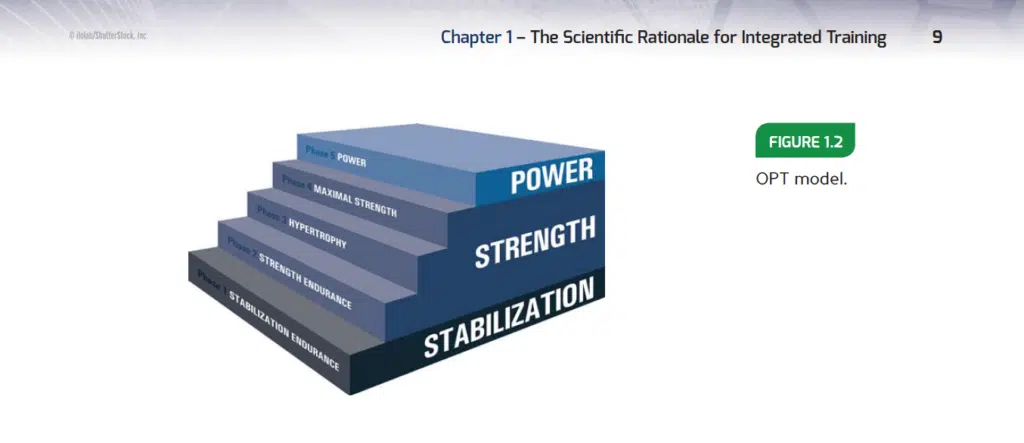 In the Stabilization Endurance phase, trainers aim to help the client's breathing and heart rate function properly.
Exercises included in this phase include walking, jogging, swimming, and/or biking.
Second is the Strength Endurance phase, which ordinarily involves weight lifting and other functional resistance exercises.
Once clients prove they can handle stabilization and endurance exercises without hesitation, they are ready for this phase.
The third phase is Hypertrophy, which is the muscle-building process.
Hypertrophy training involves strength training to build muscle and, often, to decrease body fat.
According to a recent study, most clients hire personal trainers for this type of exercise alone.
Attempting these resistance training techniques without a trainer is dangerous, especially if you don't know the proper form.
Fourthly, the Maximal Strength phase tests the client's overall strength.
During the initial session, trainers typically conduct an overhead squat assessment to give the client feedback on where they're at.
This brings us to the final phase, Power, which combines both bodybuilding and powerlifting exercises.
I've spoken with many trainers, all of whom know that the NASM-OPT Model is something to be grateful for.
The OPT model works as both a blessing and a curse.
It teaches you a version of periodization that certainly works for many clients, but you may find this cookie-cutter model doesn't work for every client's goals.
The ISSA-CPT doesn't have a patented approach to periodization, but they cover the essentials, which works just as well in training sessions‌.
Their strong focus on programming and the practicality of being an amazing trainer make ISSA stand out head and shoulders above other fitness certifications.
In addition to including tips on creating effective core workouts, the ISSA-CPT curriculum thoroughly covers proper stretching techniques; something rarely prioritized in other training curricula.
Aerobic training program design and technique
NASM clearly covers basic components of cardiorespiratory training and how various physiology responds and adapt.
While both certifications cover aerobic training program design, NASM does a much more complete job according to case studies.
NASM is better able to implement aerobic training into a variety of clients' fitness programs using an individualized approach.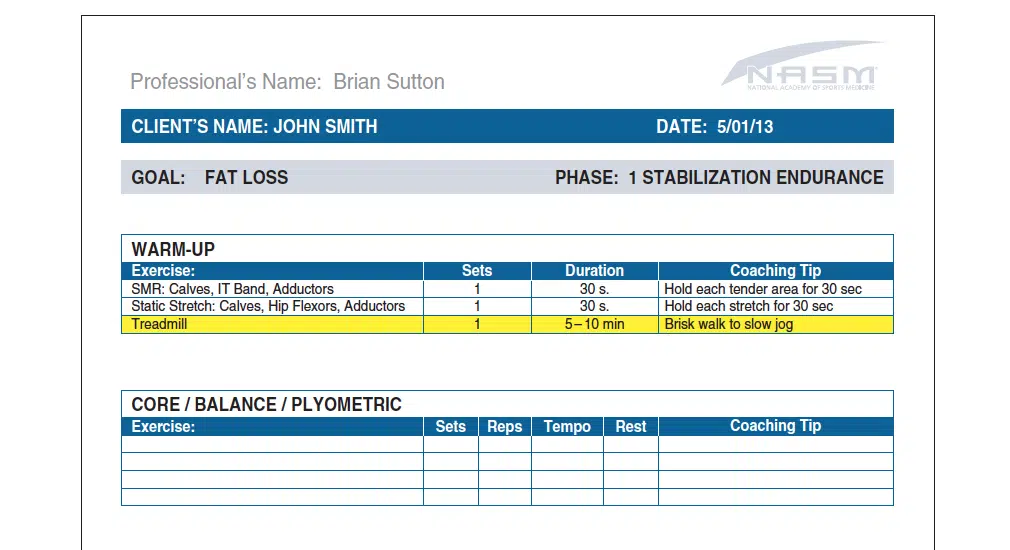 You learn many aerobic training techniques in the ISSA-CPT curriculum, and the section details how to appropriately use RPE and target heart zones to establish intensity and heart rate reserve, which are the 3 best methods in my opinion, to learn.
In the ISSA program, the technique is described for various cardio methods, although very briefly.
One of the places ISSA falls a bit short here is in the discussion of speed, agility, and quickness (SAQ) training.
ISSA only covers these exam topics briefly, whereas NASM has an entire chapter devoted to them, so when picking ISSA or NASM here, NASM is the better choice.
Helping special populations with fitness
Given NASM's MO as one of the best corrective exercise certifications, they provide a wealth of information on working with special populations.
Table 16.20 in the NASM-CPT textbook is a great example of training considerations for pregnant women.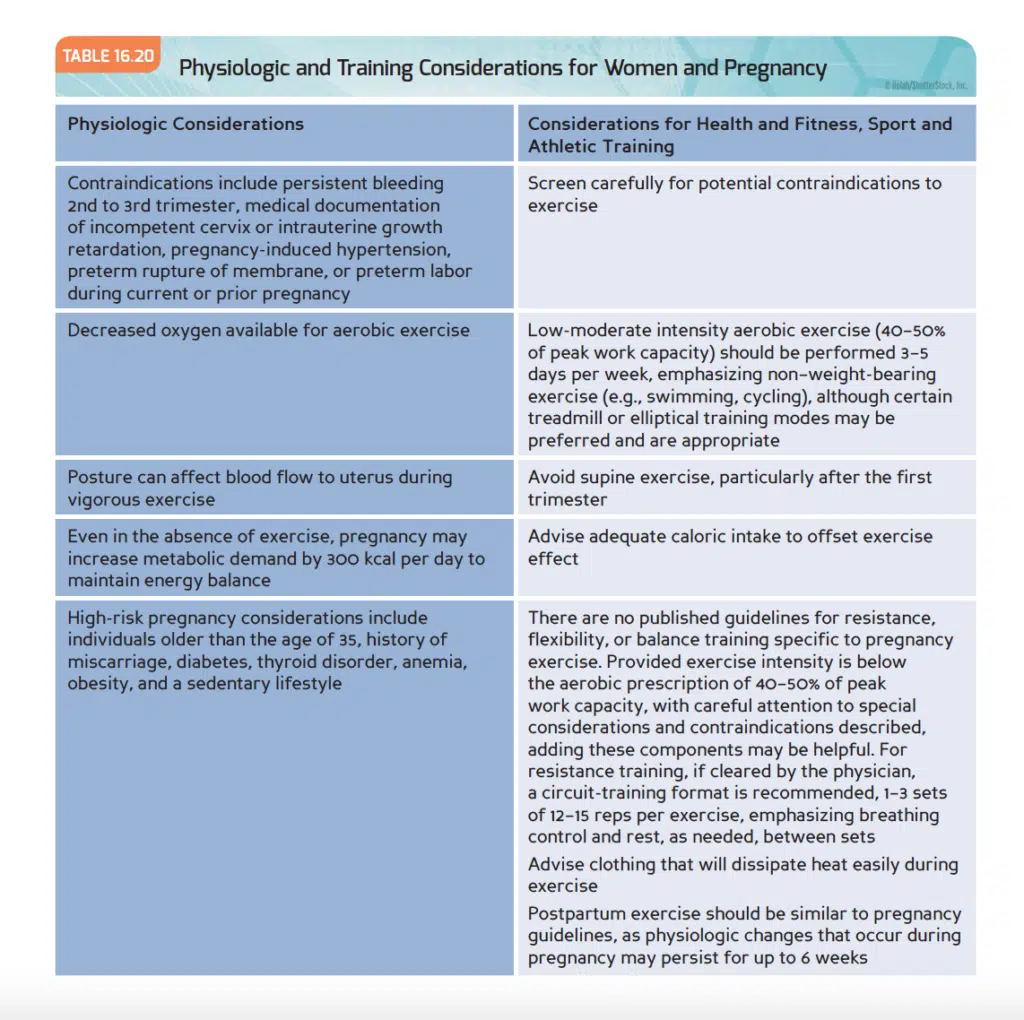 As seen above, their textbook includes many detailed pictures, infographics, and templates on special population exercise routines.
The only population that I wish NASM covered better is those with asthma. This is a huge segment of the population and it's missed here.
Like most fitness textbooks, ISSA has its own section on training clients in the following special categories:
Youth fitness
Pregnant women
Lifestyle-induced and genetic diseases
Compared to NASM and most other fitness certification programs, ISSA exceeds expectations with its in-depth coverage of special populations.
For instance, section 6 in Fitness for All, is one of the most extensive special populations sections I have ever seen.
ISSA provides the appropriate guidelines for fitness programs and insightful descriptions of the issues people in that special category face.
With this knowledge, there's no doubt that you'll have a clearer understanding of nearly every client you run into and be able to provide quality personal training tips for beginners with passion as well.
So here again, the ISSA-CPT wins out in ISSA vs NASM.
Nutrition
On the nutrition side of things, NASM has good coverage of the scope of practice as a trainer, which is integral to understanding.
Often clients ask you questions, some of which may be outside your expertise as a trainer, so knowing what you can answer and when you need to refer questions to an outside expert is essential.
NASM also provides good protein recommendations based on athletic goals and ways to carb-load before an endurance event.
While NASM covers some basics, ISSA goes much more in-depth on nutrition.
ISSA gives you a comprehensive framework for micronutrients, solid research-backed recommendations, an overview of vitamins, common diet trends, and very actionable advice.
I can't tell you how often clients have asked me about "keto" or "vegan" diets, and the ISSA nutrition chapter tells you the unbiased science regarding the pros and cons of different food choices.
I think ISSA's nutrition chapter is among the best of all the personal training programs, so for this reason, only, you may want to consider this certification strongly.
Thinking long-term: business skills for personal trainers
NASM exceeds expectations with its strong emphasis on the fitness business, cutting-edge personal training, marketing ideas, and cultivating a successful career.
You'll explore the following:
Places personal trainers can work
Employment type
Much more
With this information so easily accessible, you can gauge the pros and cons of ideal workplaces before you even start.
NASM also covers gym memberships and how to sell personal training, key knowledge to apply to kickstart a fitness business.
Furthermore, I appreciate how NASM enforces the importance of developing a niche because the most successful personal trainers will always have and know their niche.
Both certifications offer some small group personal training tips–group training experience can be a great way to build your business.
While NASM teaches you the solid fundamentals of the personal training business, ISSA goes even a few steps further on how to obtain and retain clients.
The ISSA-CPT discusses business structures, making a proper business plan, and identifying your market.
They cover using social media and email to build your business—essential tools today.
Both these certifications do a good job but I give ISSA a slight edge.
Something ISSA definitely got right is its emphasis on business and entrepreneurial strategies in ISSA's very own business guide, Fiscal Fitness.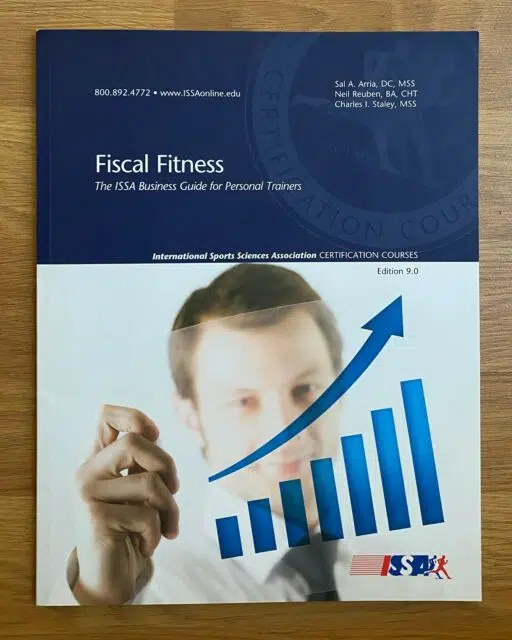 If you want to learn how to become an online personal trainer, consider seeking additional resources.
Fiscal Fitness is a great foundational tool for business basics and can help tremendously with helping you learn how to be a successful personal trainer in no time.
What are the prerequisites to getting each personal training certification?
Both ISSA and NASM require you to be over 18. You must have a high school diploma or GED equivalency. Also, you need to be CPR and AED certified.
These requirements are pretty standard across all training courses.
Average income of ISSA vs NASM personal trainers
According to Ziprecruiter, the average income for an ISSA trainer in the US using 2023 data is $65,555.
For NASM, the average is $50,905.
So, what does this mean for you?
This means on average ISSA trainers make more, which is mostly because ISSA includes more modern business skills training in their certifications.
When looking at ISSA or NASM certifications, either one will be a solid option. These numbers are just averages, and focusing on what you think you can make is more important.
From my experience, a full-time personal trainer salary often starts at about $40,000 in the first year and then builds up from there.
NASM vs ISSA final exams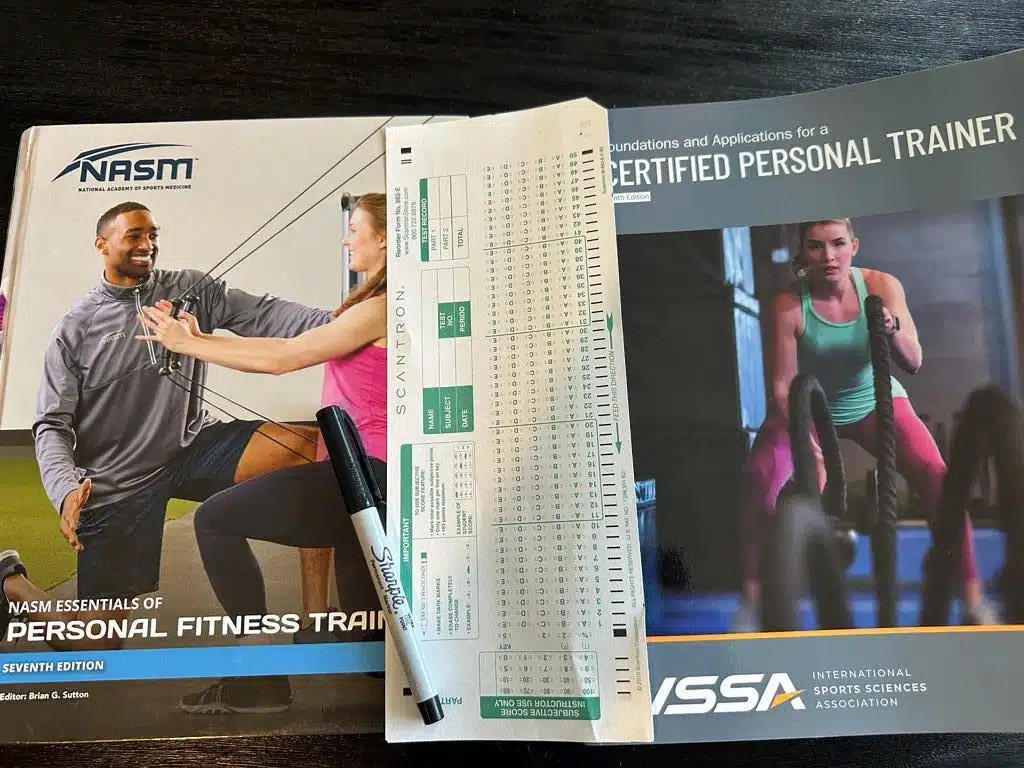 Pass rate of NASM vs ISSA
Let's explore NASM vs ISSA on exam difficulty.
NASM aligns with other top-notch fitness certifications, like ACE or NSCA, with its exam difficulty.
As of 2021, the NASM-CPT pass rate is 60% for first-time test-takers, making it slightly harder than ACE or ACSM, both at 65%.
Is ISSA nationally accredited?
There are two versions of ISSA's test: one is an open book, which makes the ISSA-CPT the easiest to obtain.
For the open test, there is a 90% pass rate, where a vast majority of candidates pass their first attempt.
The ISSA exam is a non-proctored test, which means no one or nothing monitors the integrity or activity of a candidate during an exam.
Also, because it's an entirely open book, you can refer to all your study materials as you do the exam.
And your ISSA-CPT certification exam is self-paced, so there isn't a time constraint.
ISSA also has an NCCA-accredited NCCPT version of the exam with a 75% pass rate.
How many test questions on the ISSA vs NASM exams?
The NASM exam consists of 120 multiple-choice questions, giving you two hours to attempt.
You must achieve 70% or higher to pass.
The NASM-CPT practice tests are the most helpful when preparing for the exam.
Should you fail, you may retake this exam as many times as you need to pass it.
There is a $199 retest fee, but if you choose the Premium Self-Study Package, you can retake the exam entirely for free.
Although the ISSA is easier to pass than, say, ACSM or NASM, there are sections of this exam that are relatively difficult.
The passing score is at least 75% in each area and overall.
ISSA's open book exam contains 200 questions you must answer.
The NCCPT version of ISSA's test has 140 multiple-choice questions.
Thankfully, ISSA has a more lenient approach to retakes, where immediately following the failure, you are permitted to retake the exam for free.
This is a one-time deal, so if you fail your free retake, you must pay a fee of $50 to be allowed another shot at it.
This retake fee is still pretty decent, considering what other certifications charge, which can sometimes be as high as $200.
While some suggest this is convenient, others might argue that it's a little too convenient.
Having a retake fee with a stringent policy equals quality control.
Comparing ISSA vs NASM on exam difficulty, NASM is much harder and certainly requires more prep time.
Again, when people ask, "Is ISSA NCCA accredited?", the answer is yes and no, depending on the exam you take.
ISSA accreditation depends upon the proctored vs non-proctored versions of their exam. The proctored version is NCCA-accredited, while the other is only DEAC-accredited.
Personally, I recommend choosing the proctored version (which isn't open-book) on account of the better accreditation. It won't be a deal breaker, but many gyms still look for the NCCA accreditation.
NASM vs ISSA recertification details
The NASM-CPT certification stays valid for two years after passing your exam.
During that two-year period, you are required to obtain 2.0 continuing education credits (CECs). Luckily, NASM provides lots of continuing education credit options.
Technically, it's 1.9 CECs because the last .1 comes from your CPR/AED recertification course.
Note that you can use a completed college degree related to the field (i.e., exercise science or kinesiology) toward your CECs.
Taking courses for certification renewal from other organizations not yet recognized by NASM requires you to pay a $25 fee for the NASM certification board to verify them.
Similarly, ISSA requires certification renewal every two years.
And in that two-year period, you must obtain 20 hours of CECs.
While CECs provided by ISSA make your recertification free, CECs from other organizations will cost you $99.
Here again, I'd say that ISSA makes the recertification part slightly easier for you.
ISSA vs NASM overall ratings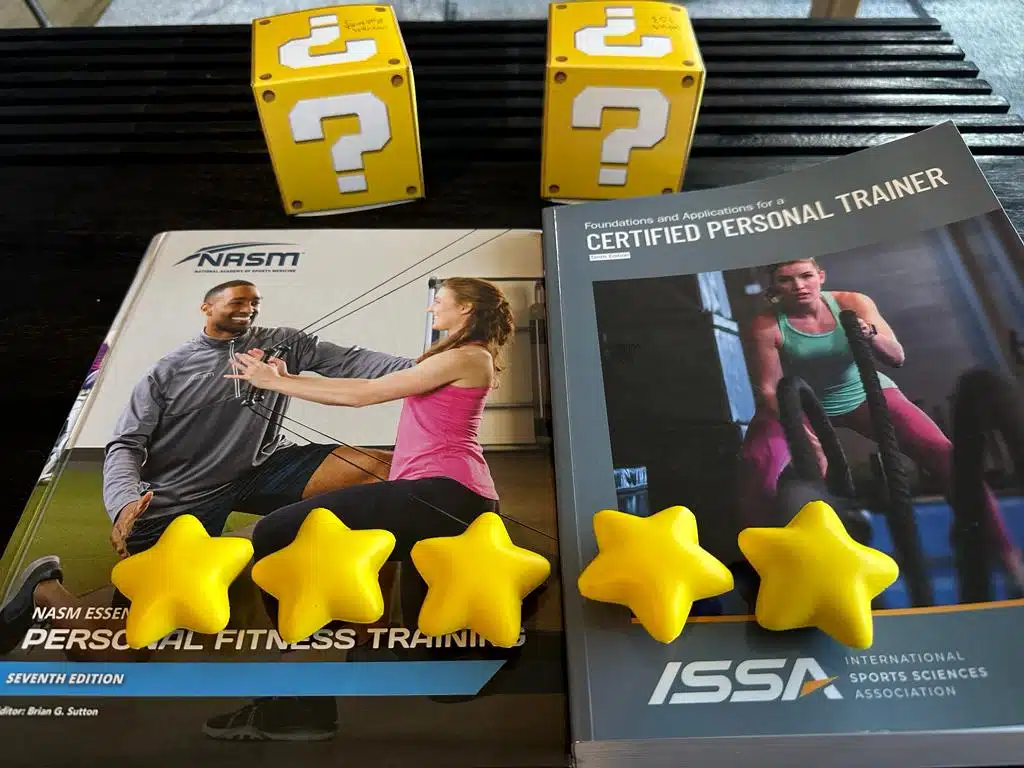 Regarding scores, when you compare ISSA and NASM, I would give a slight advantage to the ISSA CPT.
Due to the improved business skills resources and better special populations discussions, I personally put ISSA as the winner over NASM when it comes to the best personal trainer certification.
Also, because ISSA gives you more options for taking the test at home or a testing center, I'd say ISSA will appeal to most people in terms of an option.
For these factors, ISSA gets a 9.5 and NASM gets a 9.3.
NASM edges out ISSA only in its corrective exercise and SAQ training coverage.
NASM vs ISSA frequently asked questions (FAQs)
What is the difference between DEAC and NCCA accreditation?
While the Distance Education Accrediting Commission (DEAC) is responsible for accrediting distance educational programs, the National Commission for Certifying Agencies (NCCA) is a non-profit organization responsible for accrediting professional certification programs.
Is Personal Training with a credential from NASM or ISSA worth it?
Both NASM and ISSA have the highest reputability in the fitness industry. That's what makes comparing NASM vs ISSA hard. So overall, choosing a certification really depends on your fitness training career aspirations.
Is NASM a good personal trainer certification?
Hand down, NASM is highly reputable in the industry, recognized by literally all employers, and is the most sought-after CPT certification. It's difficult for other fitness certification organizations to compete with the NASM-CPT.
Is ISSA a good personal trainer certification?
Recognized by most employers and also highly respected in the industry, ISSA is the best certification for new trainers entering the field. ISSA also offers other certifications, such as Master Trainer, Elite Trainer, Group Exercise Instructor, Nutrition, and so much more.
How long is the NASM-CPT exam?
The NASM-CPT consists of 120 questions which you'll be given 2 hours to complete.
How long is the ISSA online CPT exam?
For the DEAC-accredited version, it's as long you need. Your ISSA-CPT exam is entirely self-paced and flexible to a point you can test anywhere, at any time in as much time as you need. For the NCCPT version you have 2 hours.
Does the GI bill pay for ISSA-CPT?
Unfortunately no, but you would be eligible to receive military discounts of $100 off.
What are the prerequisites to getting a personal training certification?
Most personal training certifications require a high school diploma, CPR/AED certification, and being 18 years or older.
Thank you for reading!
References