Welcome to the most exquisite PTPioneer certification review of the NASM Certified Personal Trainer (NASM-CPT), in which I break down the following:
When finished reading, there's no doubt you'll be equipped with more knowledge about the NASM-CPT.
Perhaps you may be unsure about which CPT you should choose, which is why I recommend that you take the quiz to find out which PT certification is the best fit for you.
Let's explore!
Quick Breakdown: NASM-CPT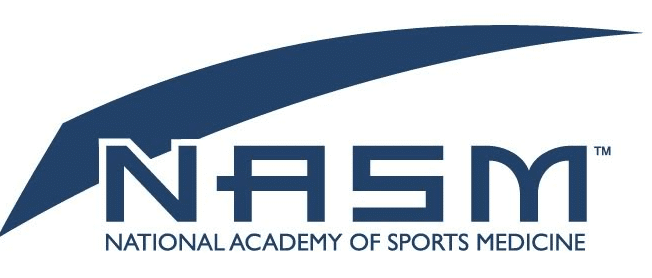 NASM-CPT General Information
Exam cost: $599+
Study material cost: $600-$1000+
Prerequisites: High School Diploma (or GED), CPR/AED certification from a qualifying provider
Exam passing score: 70%
Exam pass rate: 60%
Average completion time: Approximately 6 months
Pros
Highest credibility in the industry
Amazing OPT model
Practical training skillsets
Cons
Expensive study packages
Difficult certification exam
Weak special populations coverage
Exercise science foundations
8
Special population training
7
Aerobic fitness training
8

Trainer Academy Guide
Complete curriculum study preparation
Audio guide, flashcards, and mnemonics
800+ practice questions
Highest exam pass rate
Exam pass refund guarantee
Cheaper pricing than NASM materials

NASM Materials
Curriculum study preparation
Video and written curriculum included
Textbook purchased seperately
200+ practice questions
No exam pass refund guarantee
$899.00 for starter package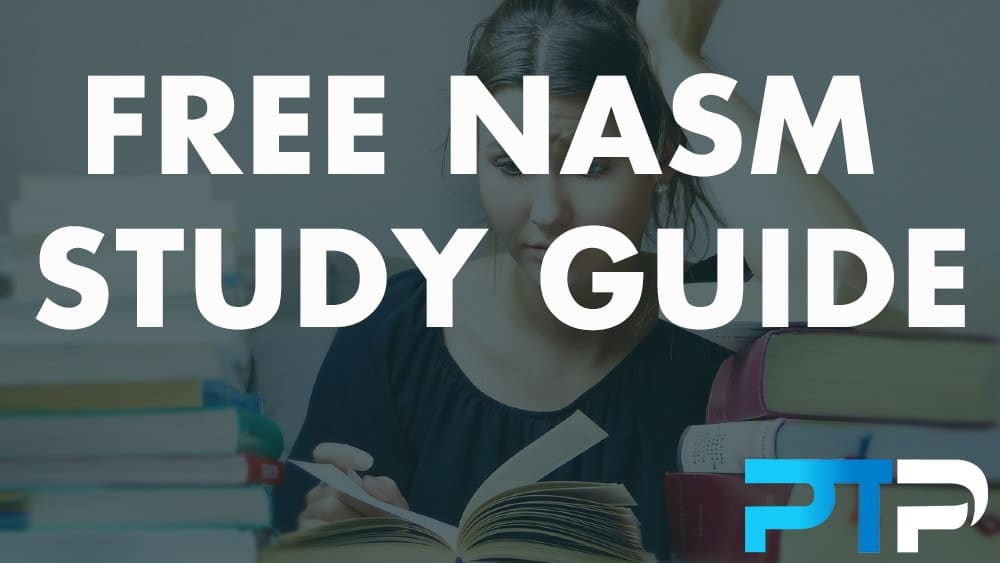 Free NASM Study Guide
Curriculum material overview
Complete chapter breakdowns
60 practice questions
130 flashcards and cheat sheet
Free from PTPioneer
The National Academy of Sports Medicine, otherwise known as NASM, offers far and above one of the best personal trainer certifications.
Established in 1987, NASM is a fitness professional certifying agency fully registered with the National Commission for Certifying Agency (NCCA).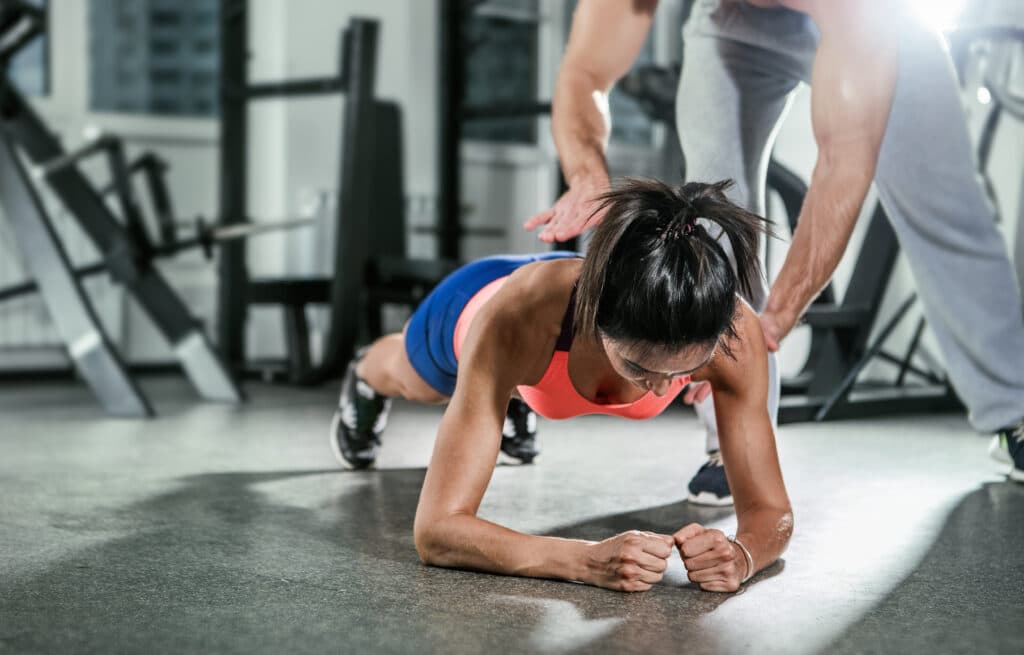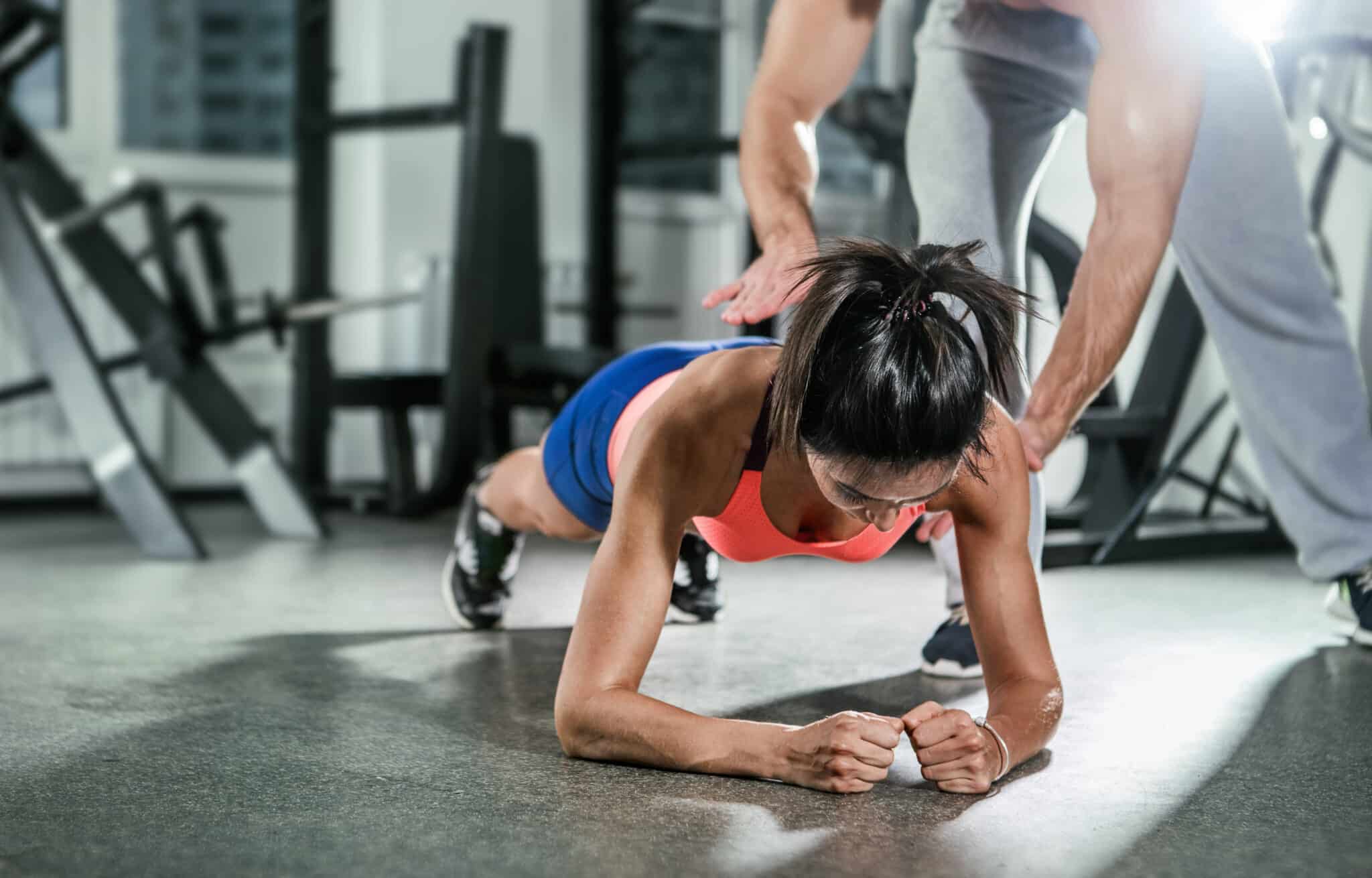 NCCA accreditation demonstrates compliance with the set gold standards in the fitness industry.
For a deeper breakdown on the top CPT programs, check out my comprehensive breakdown of the best personal training certifications.
If you are still confused as to where to start with your personal training certification, you can take my quiz to determine the best NCCA accredited certification for your goals.
I also want to mention that I highly encourage my students to get multiple certifications to maximize their opportunities and earning potential right out of the gate.
Combining nutrition coaching with a CPT certification, for example, is a killer combo for offering a full stack of fitness services to your clients.
An additional fitness specialization is also highly recommended for crushing it as a trainer in your first year.
Specializations include things like group exercise, corrective exercise, and strength and conditioning.
Consider the power of having the triple-threat certification stack of personal training, nutrition coaching, and a fitness specialization.
With this expertise you will boost your career (and earnings!) right away compared to just having a CPT.
The great news is that NASM has one of the sweetest deals in the fitness industry for bundling certifications.
The NASM Elite Bundle includes the CPT certification and Nutrition Coach certifications in addition to the following NASM certifications:
Corrective Exercise Specialist
Certified Nutrition Coach
Performance Enhancement Specialist
Behavioral Change Specialist
Certified Group Fitness Instructor
The entire bundle costs $2,999.00, or $273 per month with interest free financing.
Since its inception, NASM has grown to become one of the most prestigious online personal trainer certifications, and besides their Certified Personal Trainer (CPT) certification, there are other specializations, such as:
The fitness industry has come to stay, which is certainly one of the greatest benefits of being a personal trainer.
According to the U.S. Bureau of Labor Statistics, the health and fitness field is growing and the personal trainer job outlook will continue to grow throughout the next decades.
The research concludes that a personal trainer's role is critical, result-oriented, and therefore leaves no room for mediocrity.
Once certified, personal trainers can work in gyms, studios, health clubs, outdoors, or help other clients in their homes.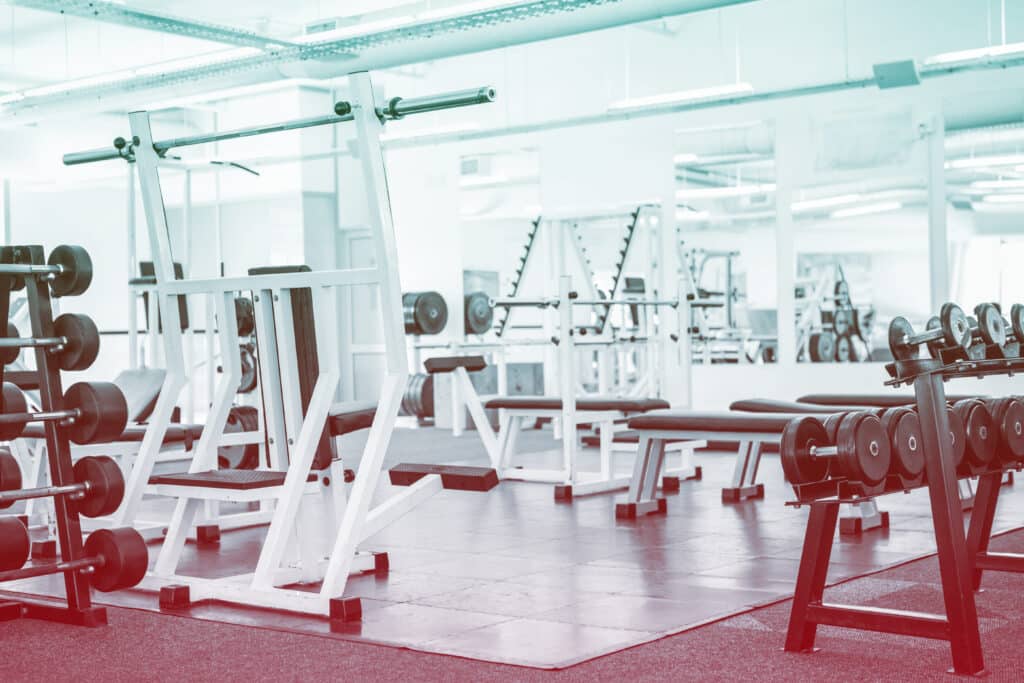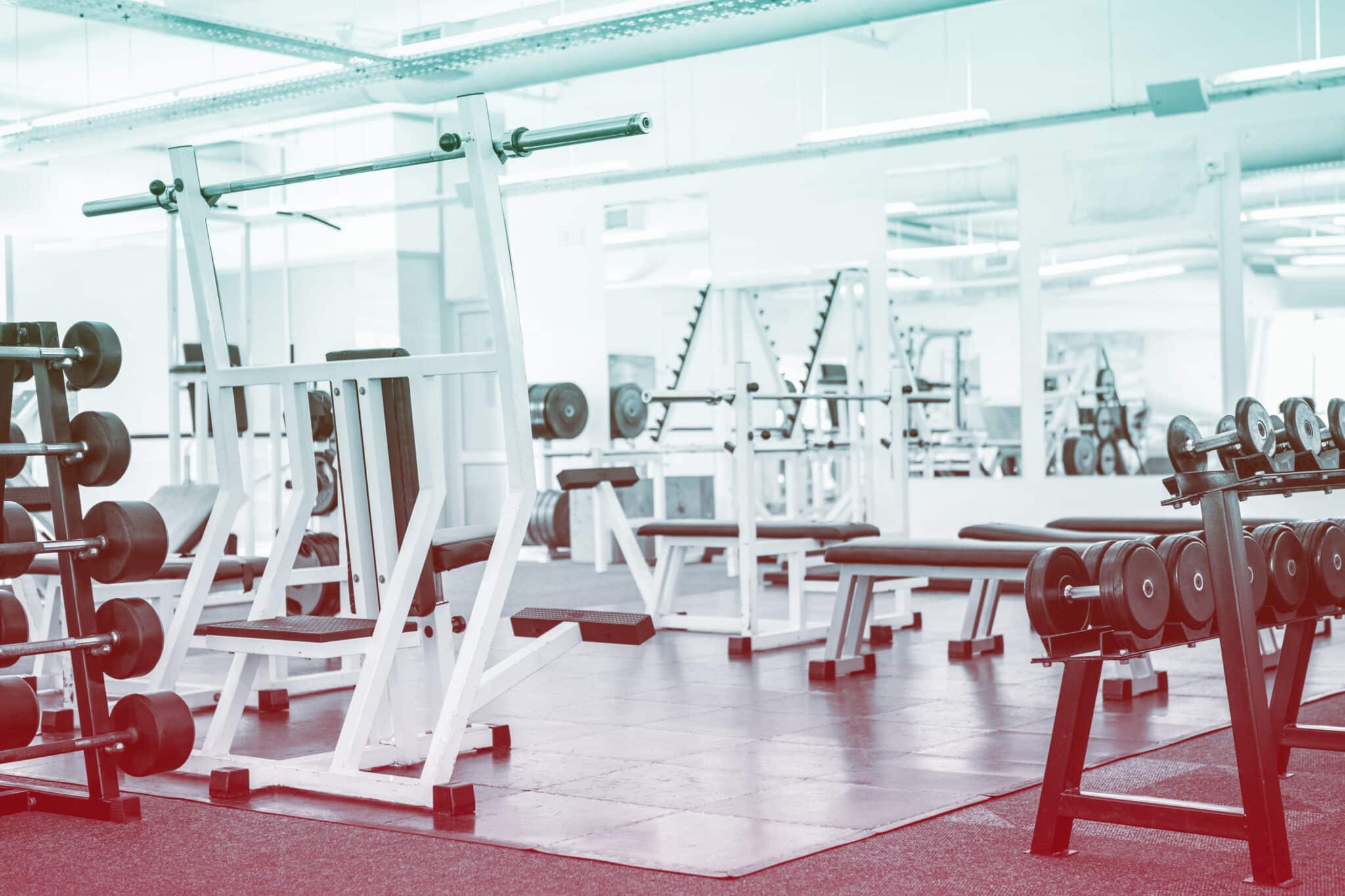 And how much do NASM certified trainers make in a year?
According to the most recent salary reports, NASM personal trainer salary falls just slightly below other top-earning PT certifications, ISSA and NSCA, but above ACE.
Your journey to becoming a personal trainer starts with choosing a certification, studying, and passing your certification exam.
If you are convinced already that you want to be a NASM certified trainer, I recommend checking out the Trainer Academy MVP Study Guide.
The Trainer Academy package offers an amazing array of premium materials including a complete study guide, flashcards, practice questions, and an exam pass guarantee.
You can also kick off your NASM studying for free right here on PTPioneer.
For the most up-to-date NASM study packages, please check the NASM official website.
NASM-CPT Content Coverage: the Good and the Bad
In terms of content coverage, the NASM CPT has a broad scope.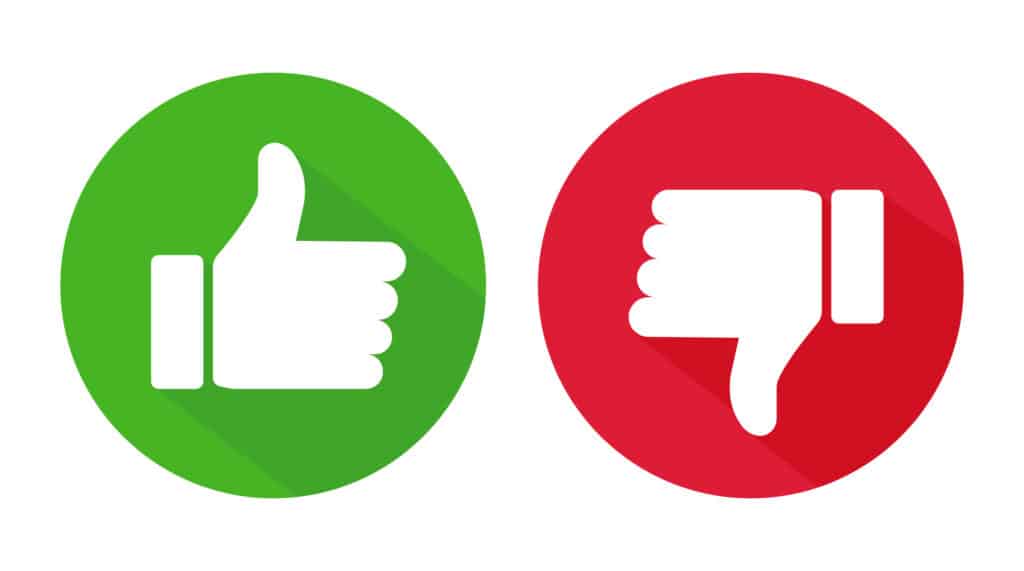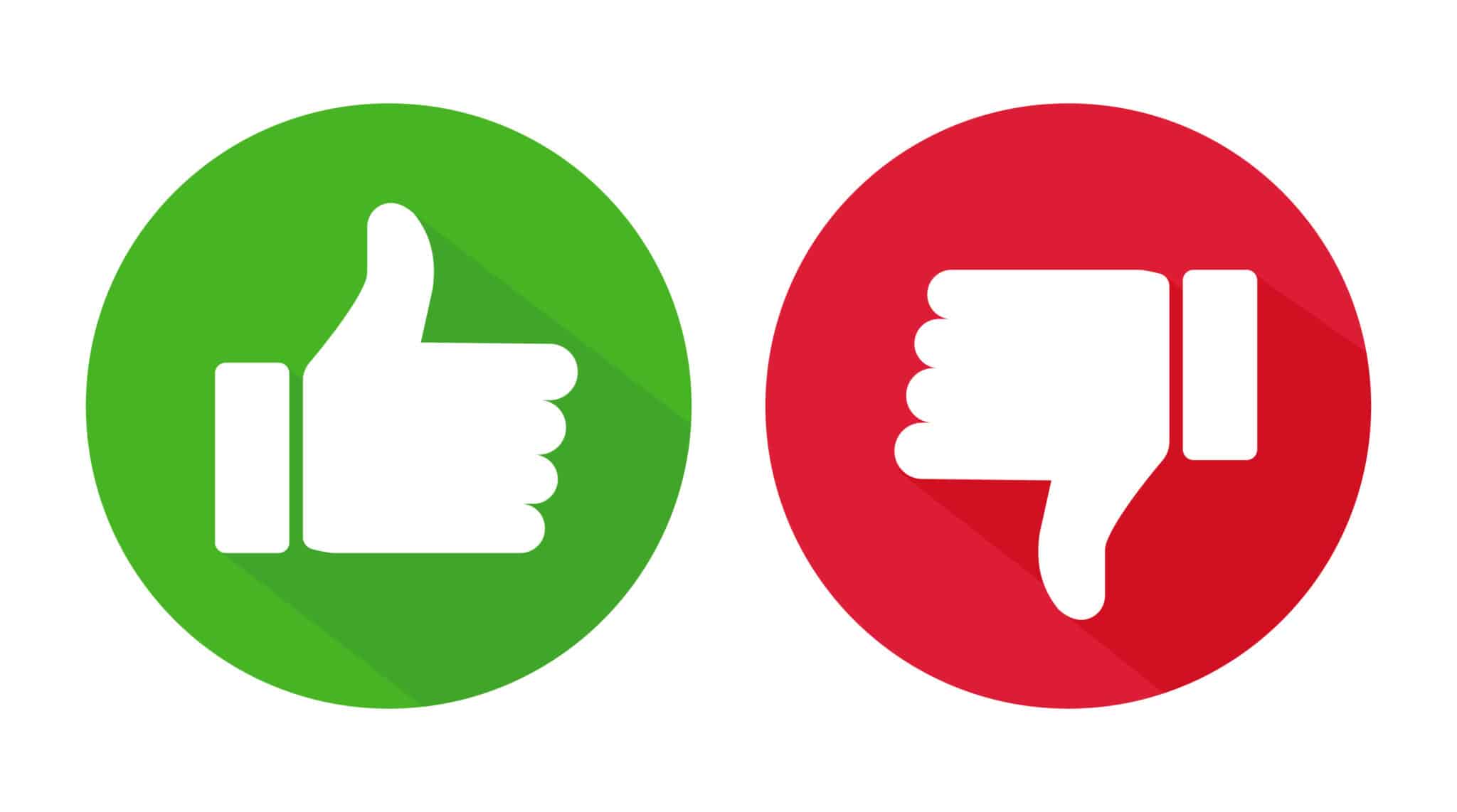 The overall curriculum is laid out in the textbook, NASM Essentials of Personal Fitness Training, 6th Edition.
Available both digitally and as a hard copy, I prefer hand-held study materials, so I liked the hard copy the best.
With over 600 pages and 20 chapters overall, the chapters are further broken down into these four sections:
Fundamentals of Human Movement Science
Assessments, Training Concepts, and Program Design
Nutrition and Supplementation
Client Interaction and Profesional Development
In my perspective, the exercise library, OPT exercise programs, one rep max conversion, muscular system, and exam prep materials are all pretty easy-to-digest.
Exercise Science
Though not as extensive as the NASM-CES, the NASM-CPT textbook covers sufficient exercise science and corrective exercise material.
The wide use of terminology along with its respective definitions definitely helps during final certification exam preparation.
Exclusive PTP CPT Offers



Gold Standard Cert

Most Popular Cert

Best Study Materials

A Good Option

A Good Option

Best CPT for you?

While still rich with detail, the pictures in the book are colored and comprehensible, as seen below in Figure 2.2: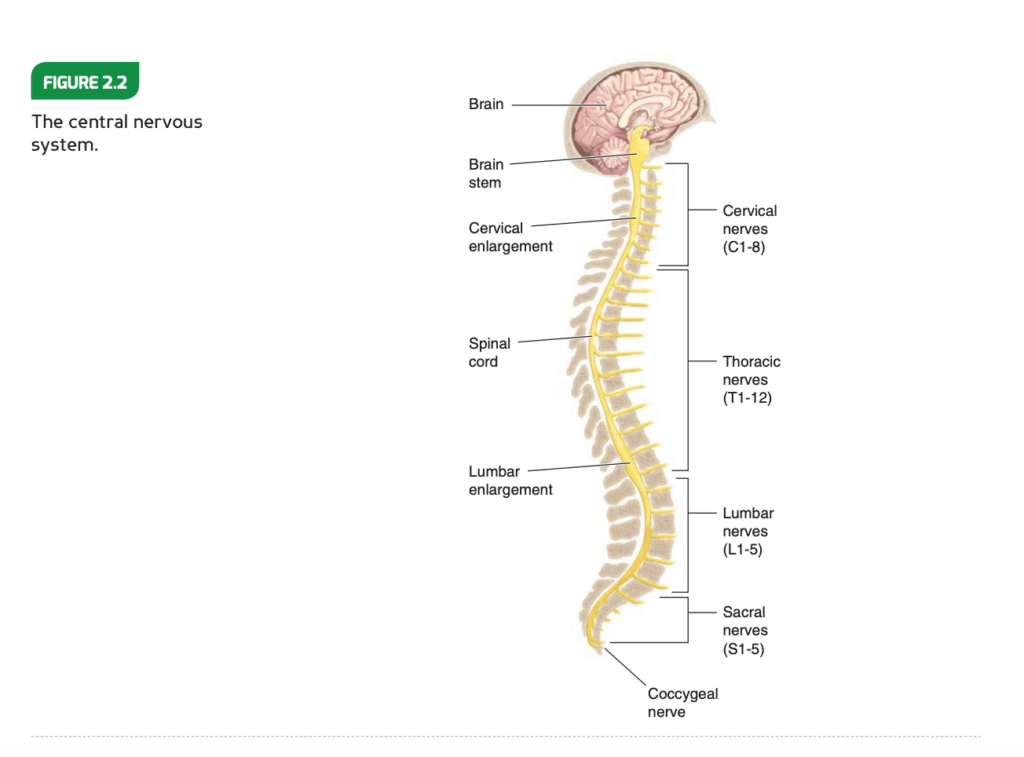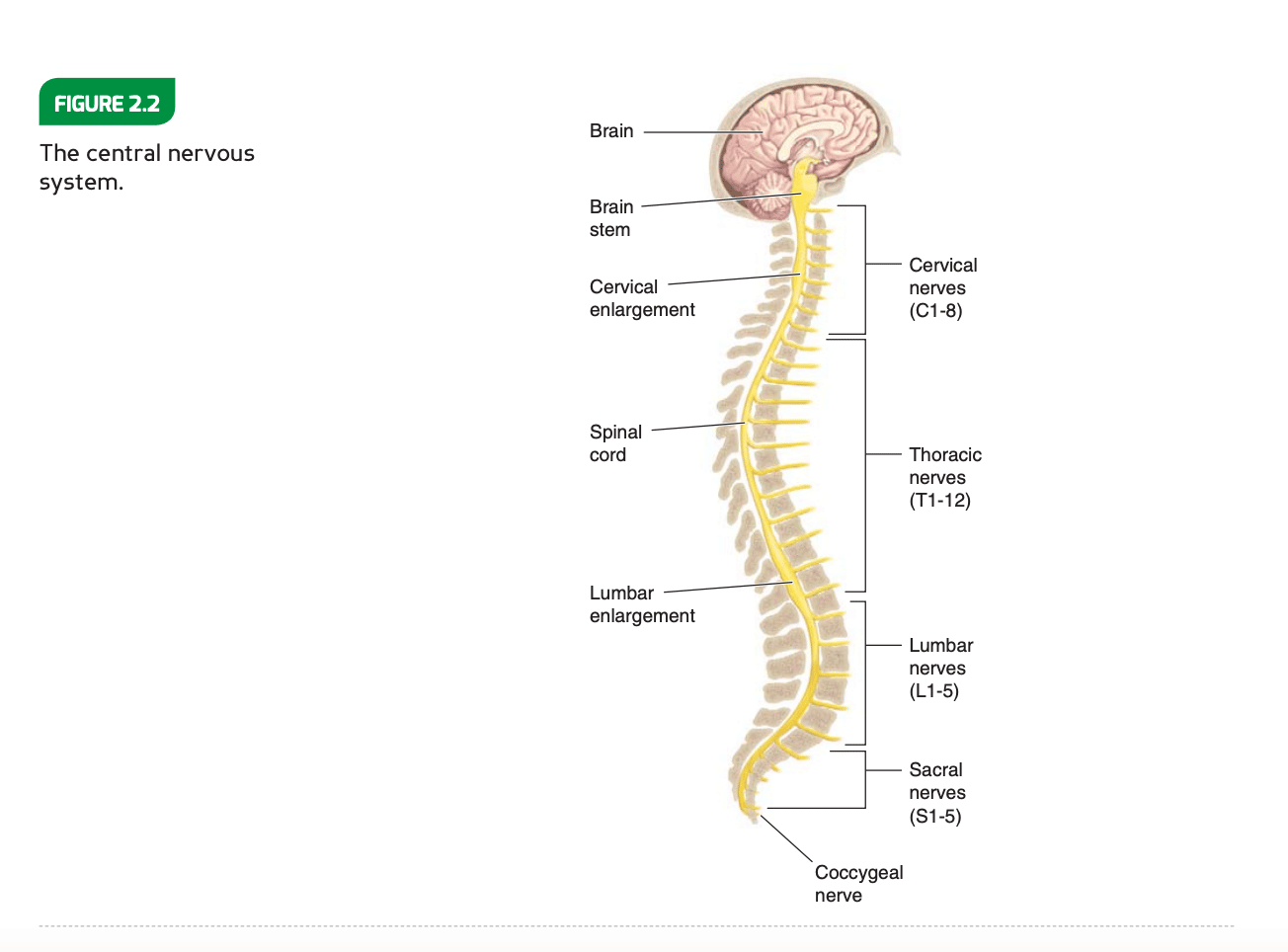 NASM covers bones and muscles, and all body systems in great depth, too, with corresponding charts and infographics.
This is especially helpful for visual learners, such as me.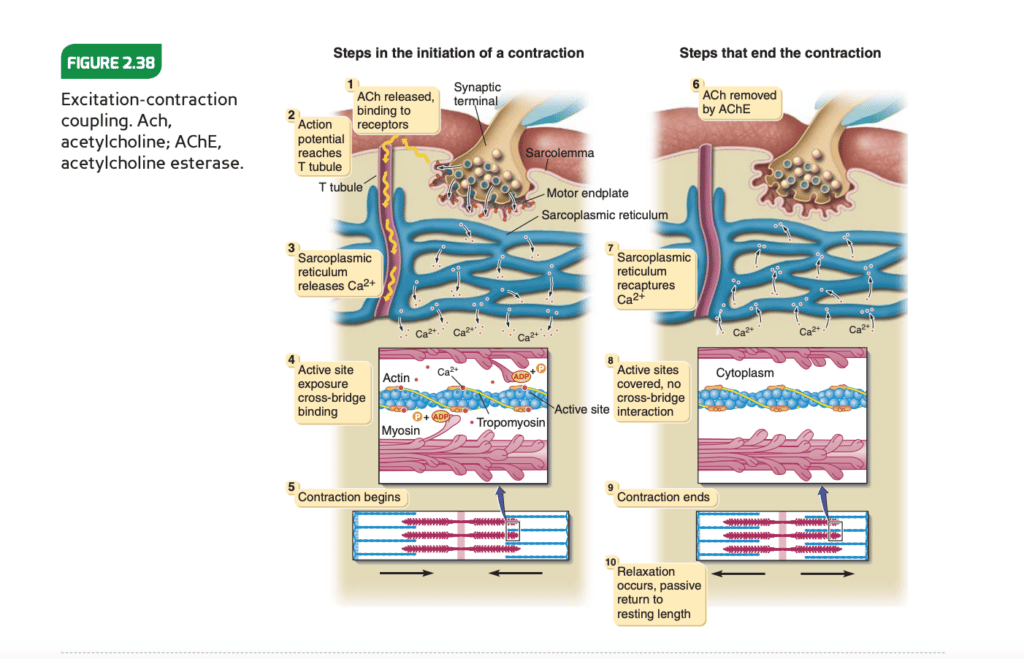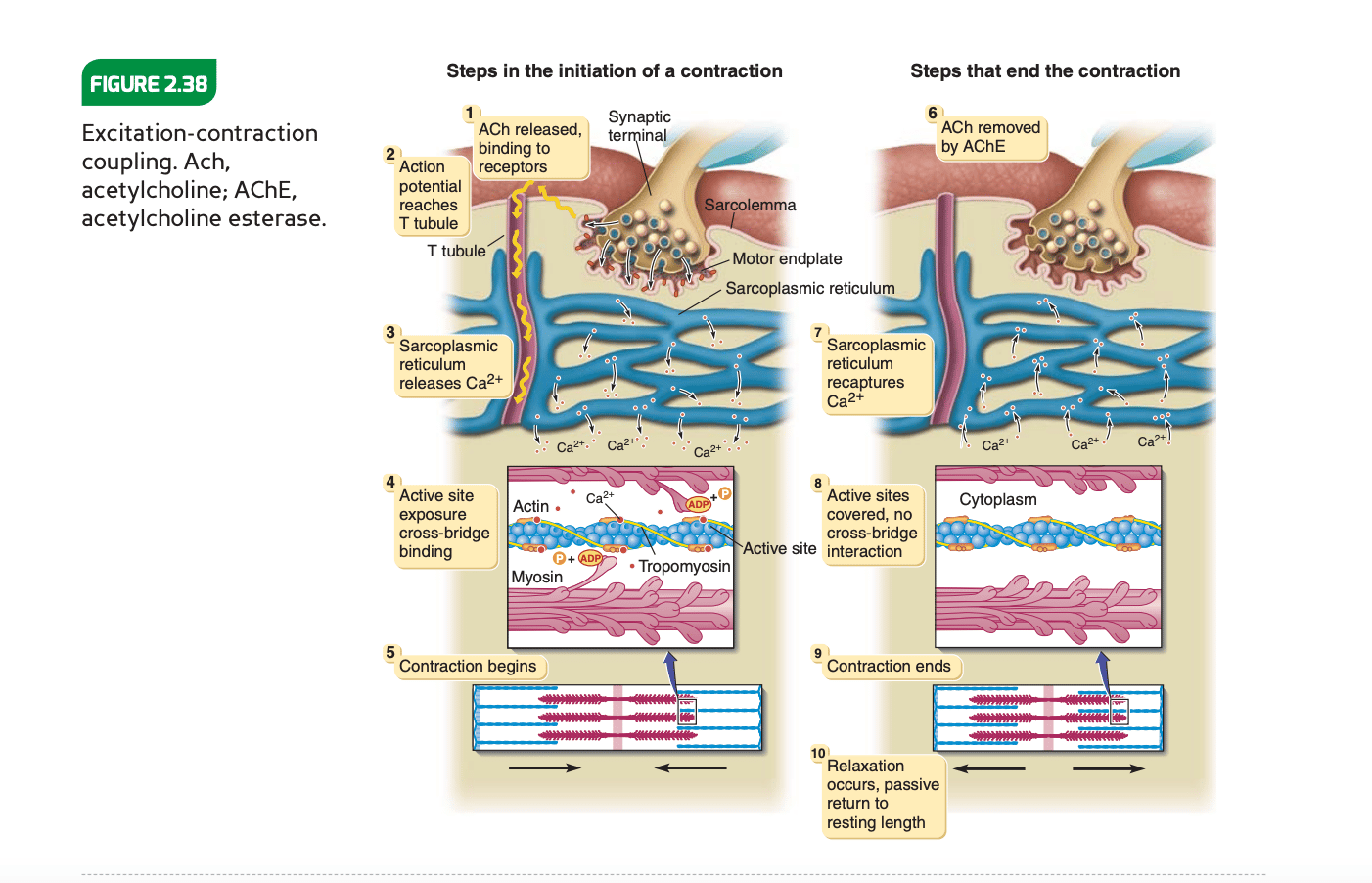 The cardiorespiratory system has its own chapter that is heavily detailed, but yet again, the NASM-CPT has a great habit of making the content easy to understand and not boring.
NASM does not leave out any information on energy systems and biomechanics and covers everything much to a tee.
Behavior Change Coaching Skills
Lifestyle modification and behavioral coaching are definitely key in helping clients transform into better selves.
I think the stages of change model (as pictured below) helps trainers conjure rough ideas of where clients are and how to appropriately progress them.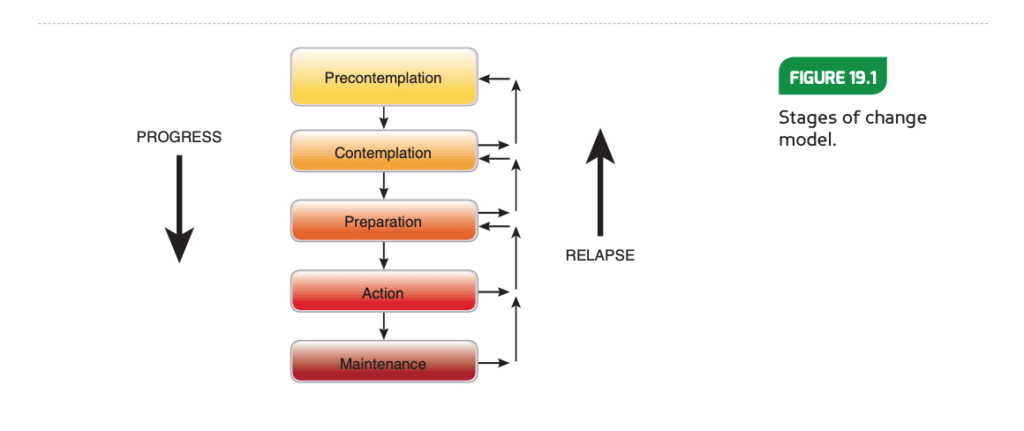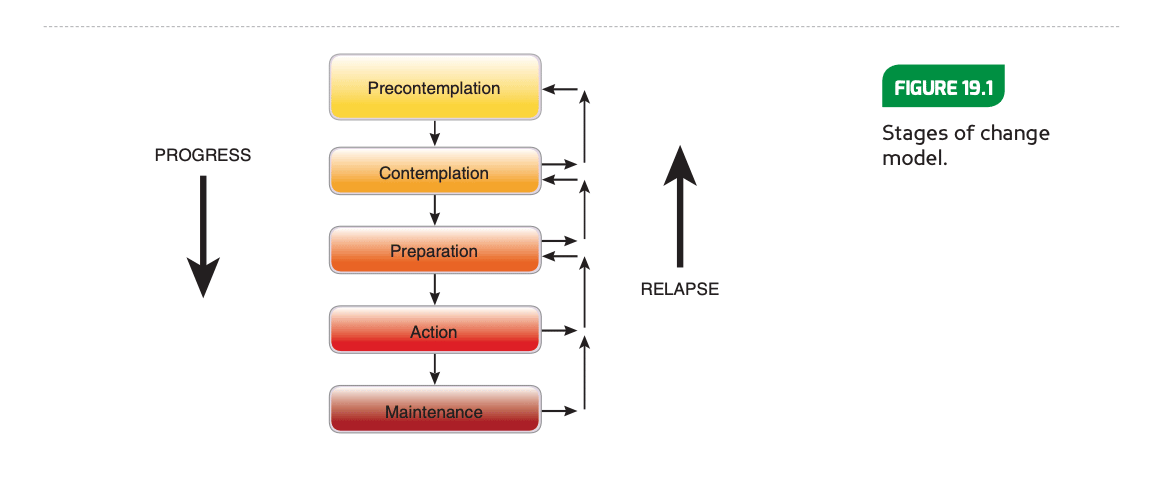 Although not as strongly as ACE, NASM adequately covers behavior change psychology and unveils the most common barriers to lifestyle modification.
NASM highlights ways to motivate your clients inside and outside the gym and includes the use of SMART goals, which can be measured and realistically accomplished.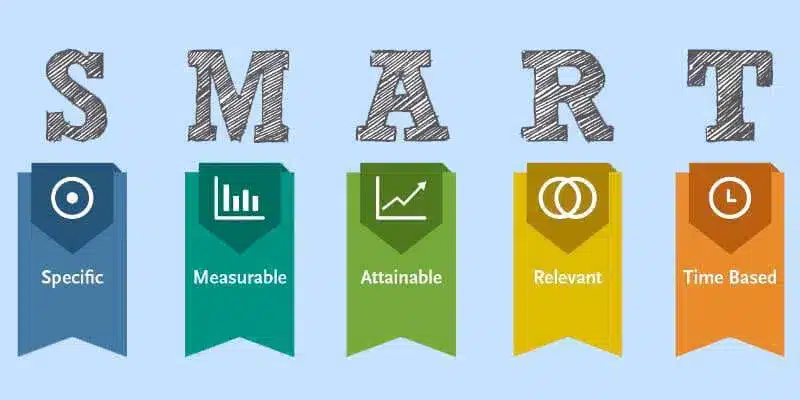 Having these goals keep clients accountable when you aren't around and will definitely benefit them throughout their whole lives.
If lifestyle and behavioral coaching interests you, then I'd recommend checking out the NASM Weight Loss Specialization (NASM-WLS) so that you can help clients adopt habits to keep them feeling and looking their best.
Consulting and screening clients to reduce risks of injury
Before training your clients, you must understand their strengths and limitations so their fitness program is designed accurately.
You'll need to be cognizant of personal training equipment and interpretations of fitness assessment results.
Knowing exercise modifications needed to prevent aggravation of any medical conditions is also critical.
NASM exceeds expectations with its personal training tips surrounding consultation and screening protocols in Section 2 of the textbook: Assessments, Training Concepts, and Program Design.
Another thing I appreciated was its inclusion of made-up scenarios and client cases, as shown below: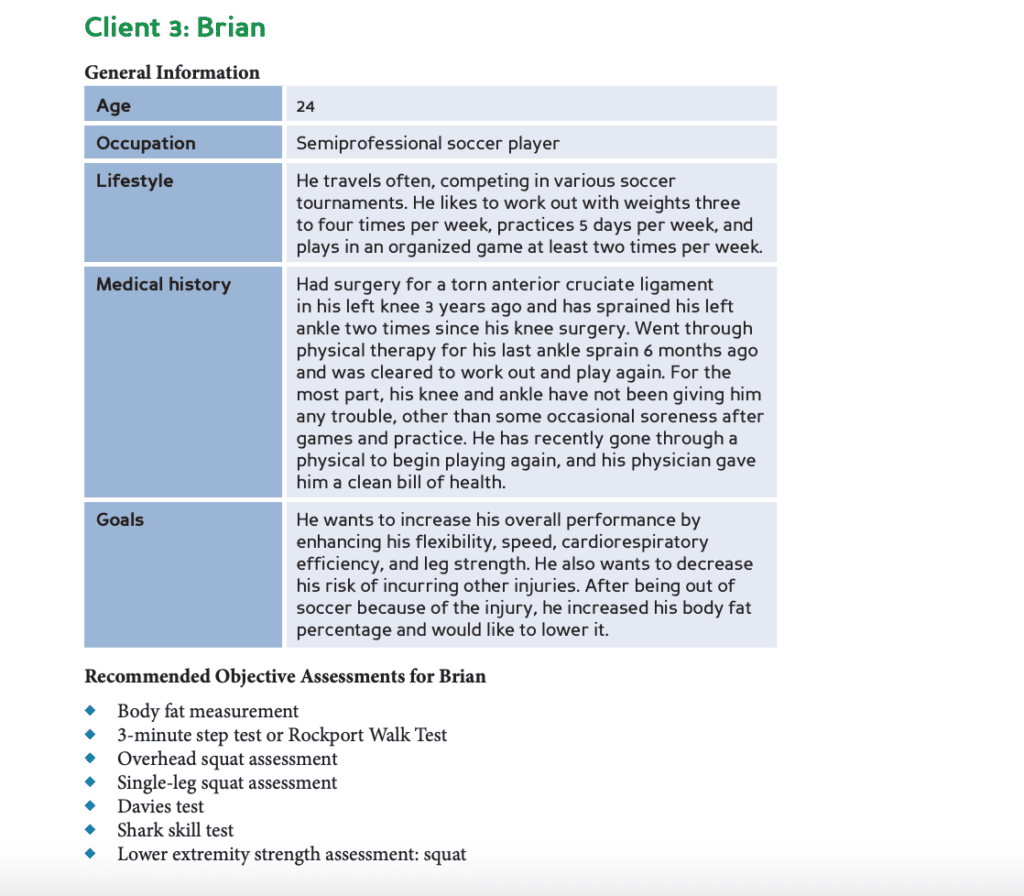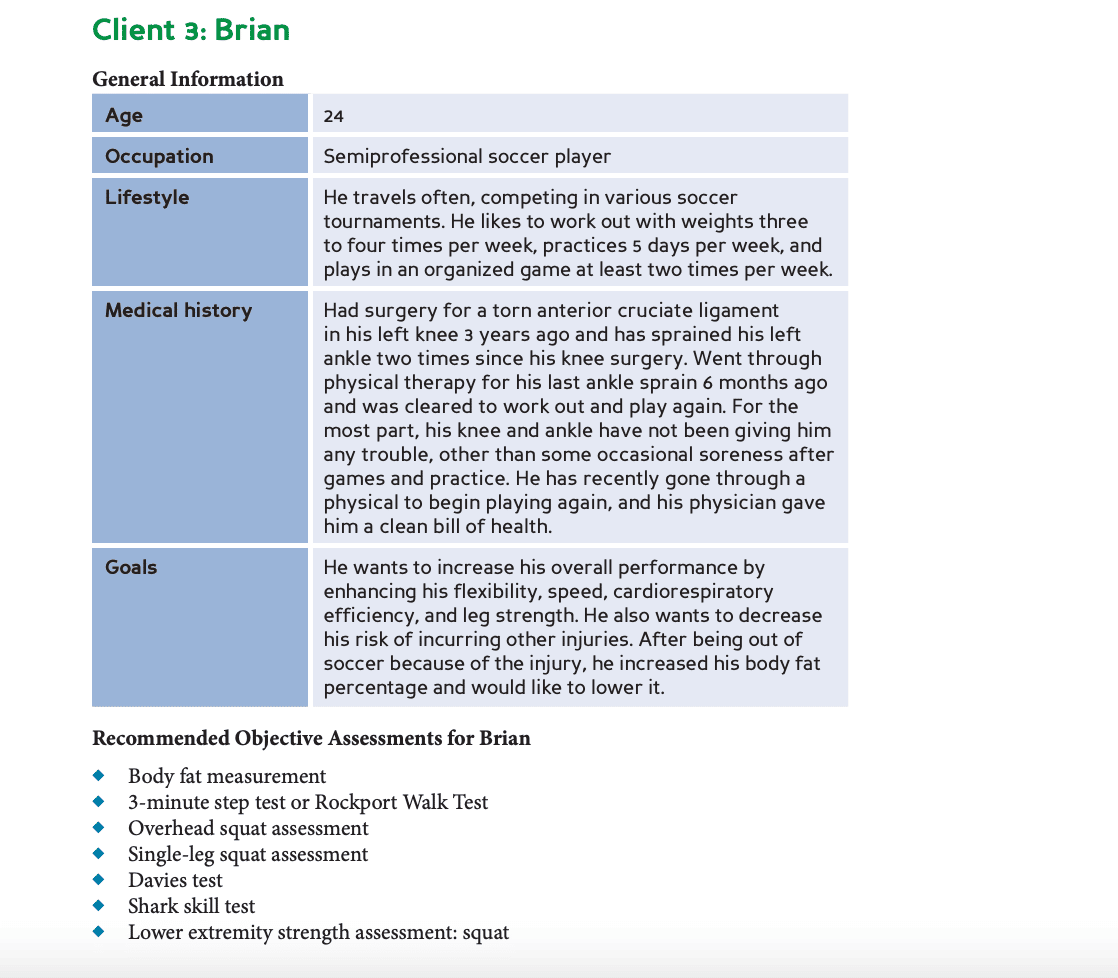 The practicality of these activities makes learning how to be a good personal trainer easy and only sets you up for success in your soon-to-be personal training career.
Program design and resistance exercise technique
In regards to program design and resistance exercise technique, NASM dives right into its famous Optimum Performance Training Model (OPT Model).
The OPT Training Model is an exercise training model developed by NASM based on scientific evidence and principles, so that you, the trainer, can progress clients through these five phases: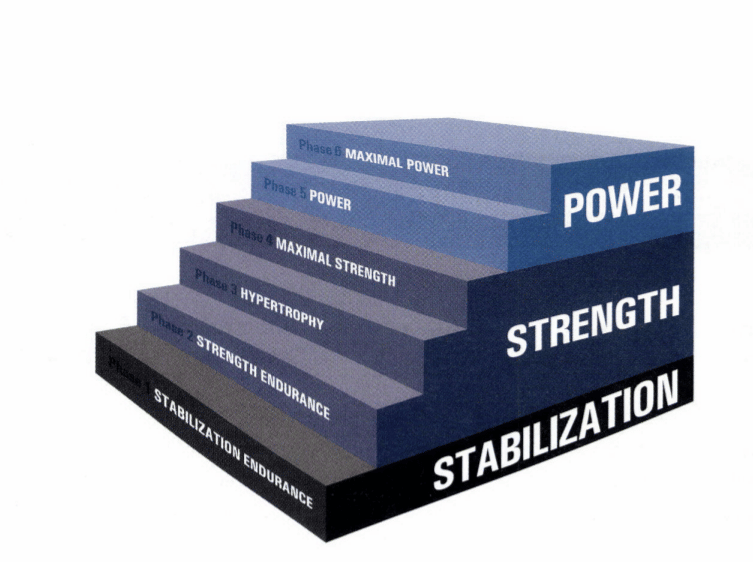 First is Stabilization Endurance, where the trainer's main mission is to help the client's breathing and heart rate function properly.
Examples of exercise included in the stabilization endurance phase include walking, jogging, swimming, and biking.
Secondly, you have Strength Endurance, which ordinarily involves weight lifting, core workouts, and other fitness works (See Table 1.1).


The third phase is Hypertrophy, which certainly helps with muscle building.
Overhead squats, back squats, and fronts squats are strength-building exercises that personal trainers use to reduce body weight that is unhealthy.
In fact, according to a survey, many clients hire personal trainers for this type of exercise alone.
Fourthly, the Maximal Strength phase tests the client's overall strength, and mainly includes exercises such as squats.
During the initial session, trainers conduct an overhead squat assessment to give the client feedback on his or her progress.
And lastly, there's Power, which combines both bodybuilding and powerlifting exercises.
Taking clients through the NASM OPT Model workouts makes everything easy, safe, and productive.
NASM reinforces getting creative with your exercises and workouts to avoid monotony and overtraining specific muscle groups as well.
I've spoken with many individuals in the industry, all of who know that the NASM OPT Model phases are proven to be effective among clients, and are thankful for it.
In the end, NASM has successfully been using the OPT model to ultimately improve the lives of its clients.
If you want to advance your career with a broader focus on strength and conditioning training, then I'd consider the NASM-PES to best complement your CPT.
To start testing your knowledge of all the NASM content, check out the free NASM practice quiz.
Aerobic training program design and technique
NASM strongly covers basic components of cardiorespiratory training, along with ways various physiologic systems respond and adapt.
In the most professional and organized way, you can track clients as they progress with their aerobic training using the OPT Model: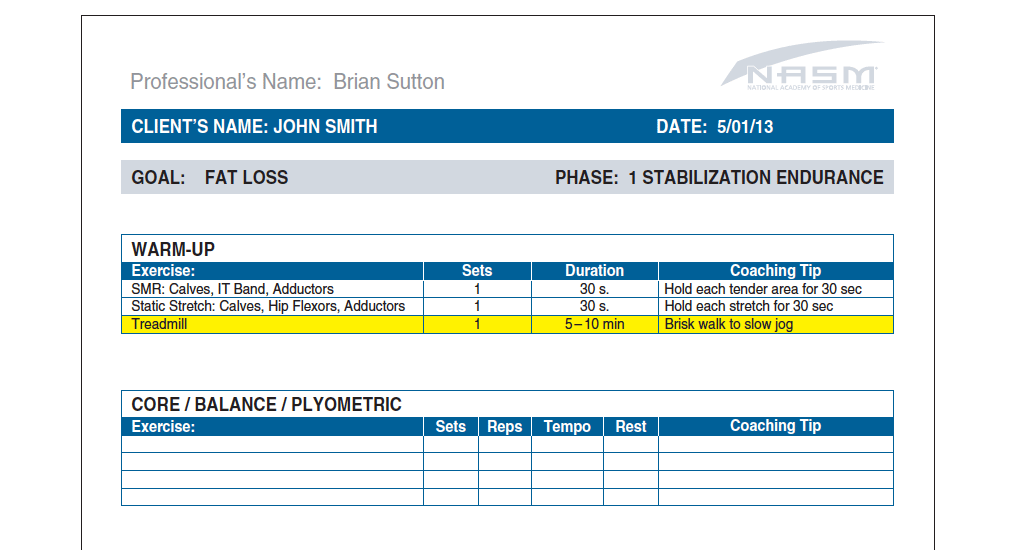 Using an individualized approach, NASM successfully implements aerobic training into a variety of clients' fitness programs.
Nutrition
Although not in the scope of practice for personal trainers, I think nutrition is an important topic to cover.
Personal training clients are bound to have questions surrounding nutrition and healthy eating, so NASM prepares you with the basics.
The NASM-CPT curriculum covers the fundamentals of nutrition in an easy-to-grasp way, while at the same time, is rich in detail.
For instance, you'll cover the macronutrients (protein, fat, and carbohydrate) along with their molecular breakdowns and how each is digested.
You'll also learn how each macronutrient is used for energy and how each affects the body.
You do cover micronutrients, such as vitamins and minerals, that are found in foods too.
I'd say NASM falls in line with most other fitness certifying agencies with its coverage of nutrition.
Though nutrition is clearly not the focus of fitness certifications, it is worth briefly mentioning just for trainers to have a rough idea.
In case you are further intrigued, the NASM-CNC would be one of the best nutrition certification programs to consider getting certified.
You can breeze through and study NASM-CNC content for free to see if it's something that may interest you.
Helping Special Populations with Fitness
Similar to NSCA, ISSA, and ACE, NASM provides comprehensive guidelines for working with special populations.
You'll learn about personal training for seniors, youth, pregnant women, and clients dealing with lifestyle-induced and genetic disorders.
Overall, the NASM-CPT curriculum educates you on special populations well enough and includes many detailed pictures, infographics, and templates on special population exercises.
Thinking Long-Term: Business Skills for Personal Trainers
Major props to NASM for going over ways to become a successful personal trainer.
In its own chapter, you'll learn about the various places and types of employment for personal trainers.
Table 20.1 shows you the advantages and disadvantages of certain work environments.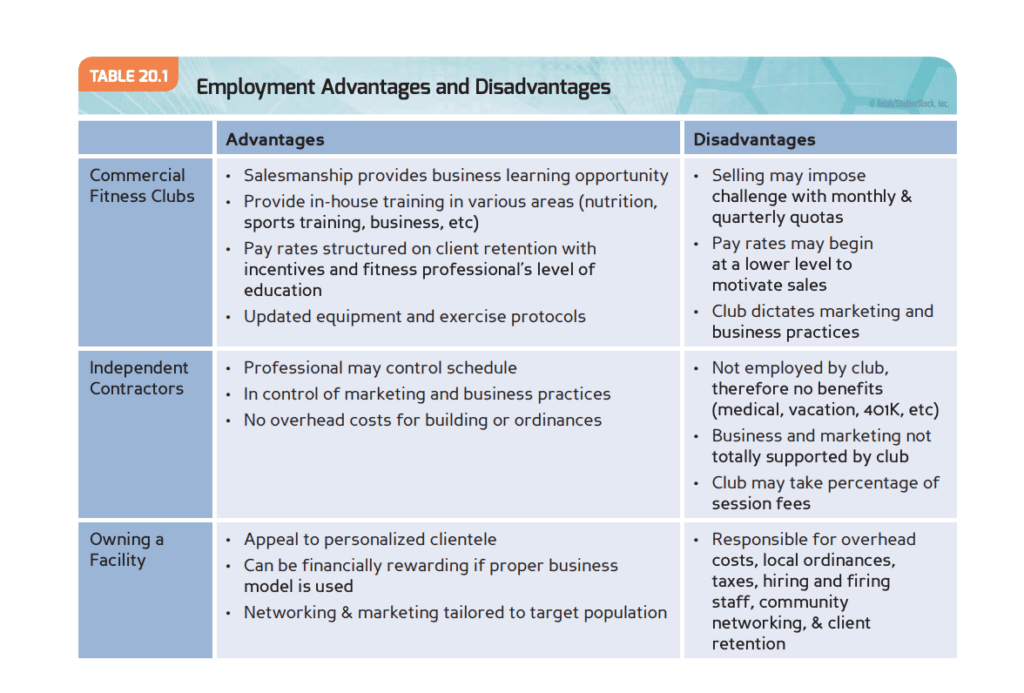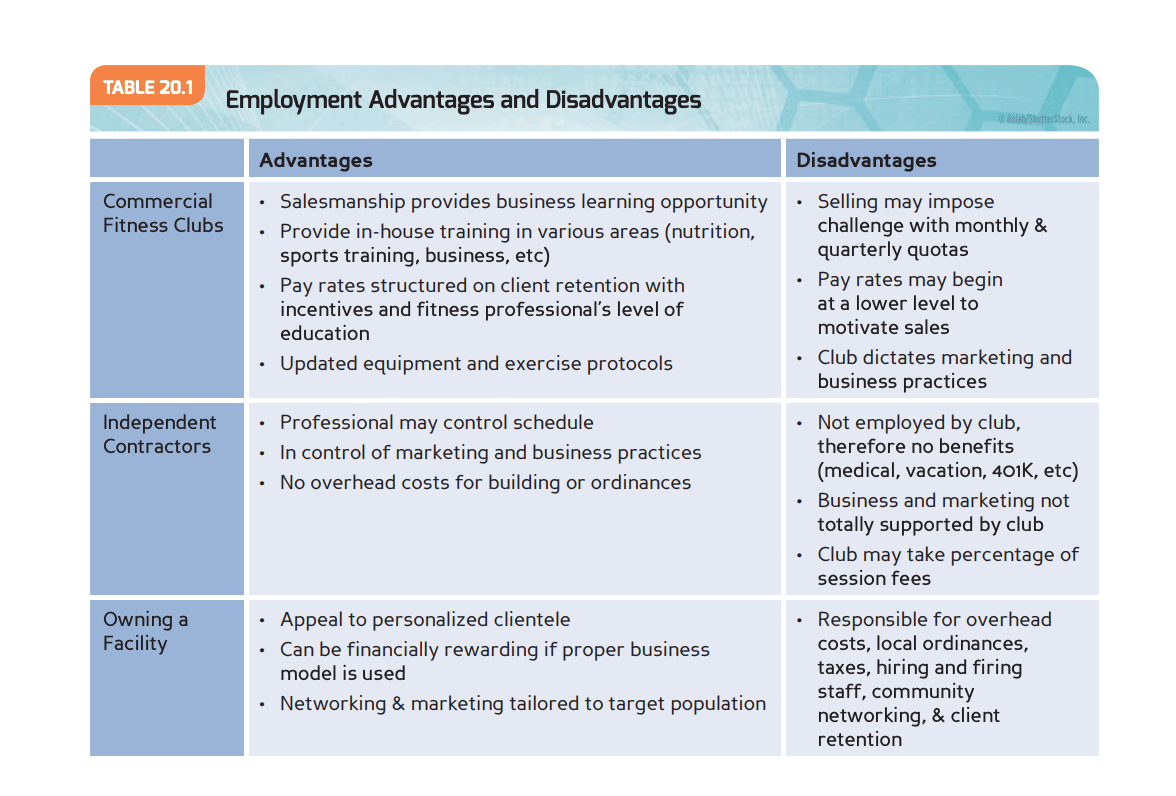 NASM highlights how to sell personal training and how to set reasonable personal training rates for in-home personal training, gyms, studios, and more.
Exclusive PTP CPT Offers



Gold Standard Cert

Most Popular Cert

Best Study Materials

A Good Option

A Good Option

Best CPT for you?

This chapter informs you on gym membership types, personal training contracts, and other fitness-related sales closing techniques, which are key to cultivating a booming fitness business.
Personal training marketing ideas are briefly discussed, too.
As a personal trainer, your marketing strategies greatly influence how you obtain and retain clients throughout your career.
This holds true for all, especially if you want to become an online personal trainer exclusively.
With having this information available at your fingertips, you can gauge the pros and cons of ideal workplaces before you even start.
Also, the strong emphasis on developing a niche makes sense because having a niche keeps you focused and relevant.
Before you apply to any job, I'd suggest seeking out personal trainer resume advice to ensure you hold yourself with the utmost professionalism.
Without a doubt, NASM teaches you the ropes of the personal training business just as well as ISSA and NCSA.
Summary
While in my perspective, the NASM textbook deserves a solid 5 out of 5 for the most part, there were a few things missing or not covered as strongly or sufficiently as other fitness certifications.
Always seek additional resources and self-educate yourself throughout your career.
You can never stop learning.
Overall, combining the NASM-CPT main textbook and study materials with the most important personality traits, such as punctuality and friendliness, formulates a great personal trainer.
As listed below, the NASM-CPT personal trainer requirements are relatively simple, straightforward, and similar to most other fitness certification programs:
High school diploma or the equivalent (GED)
Current and valid CPR and AED certifications (on or before taking the exams)
Clearly, you must also have a passion for health and fitness and helping others lead healthier lifestyles, or it will be hard for you to succeed in this career.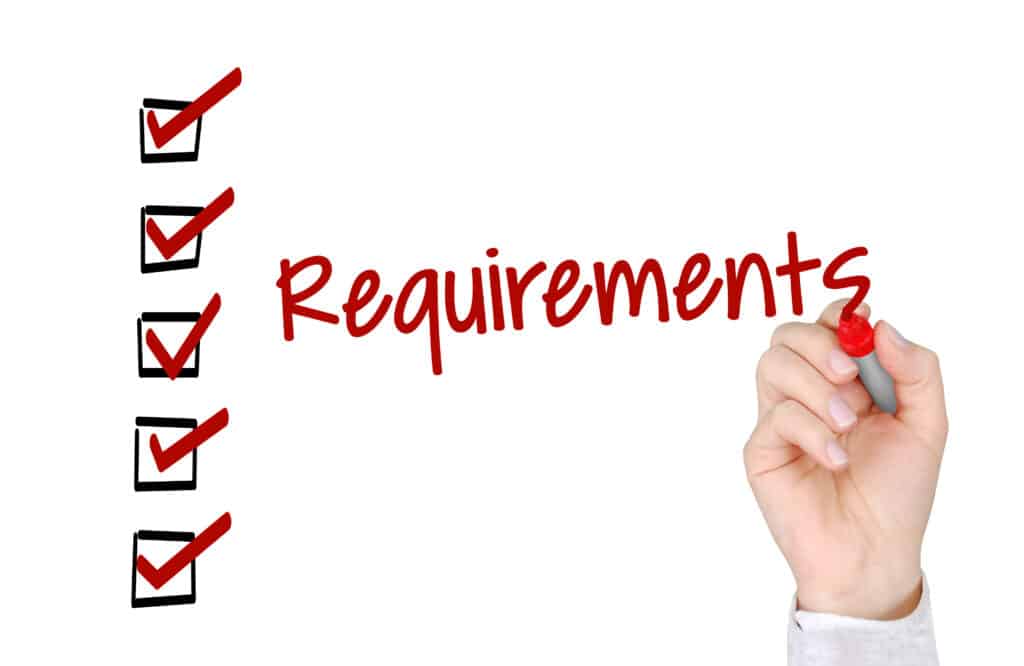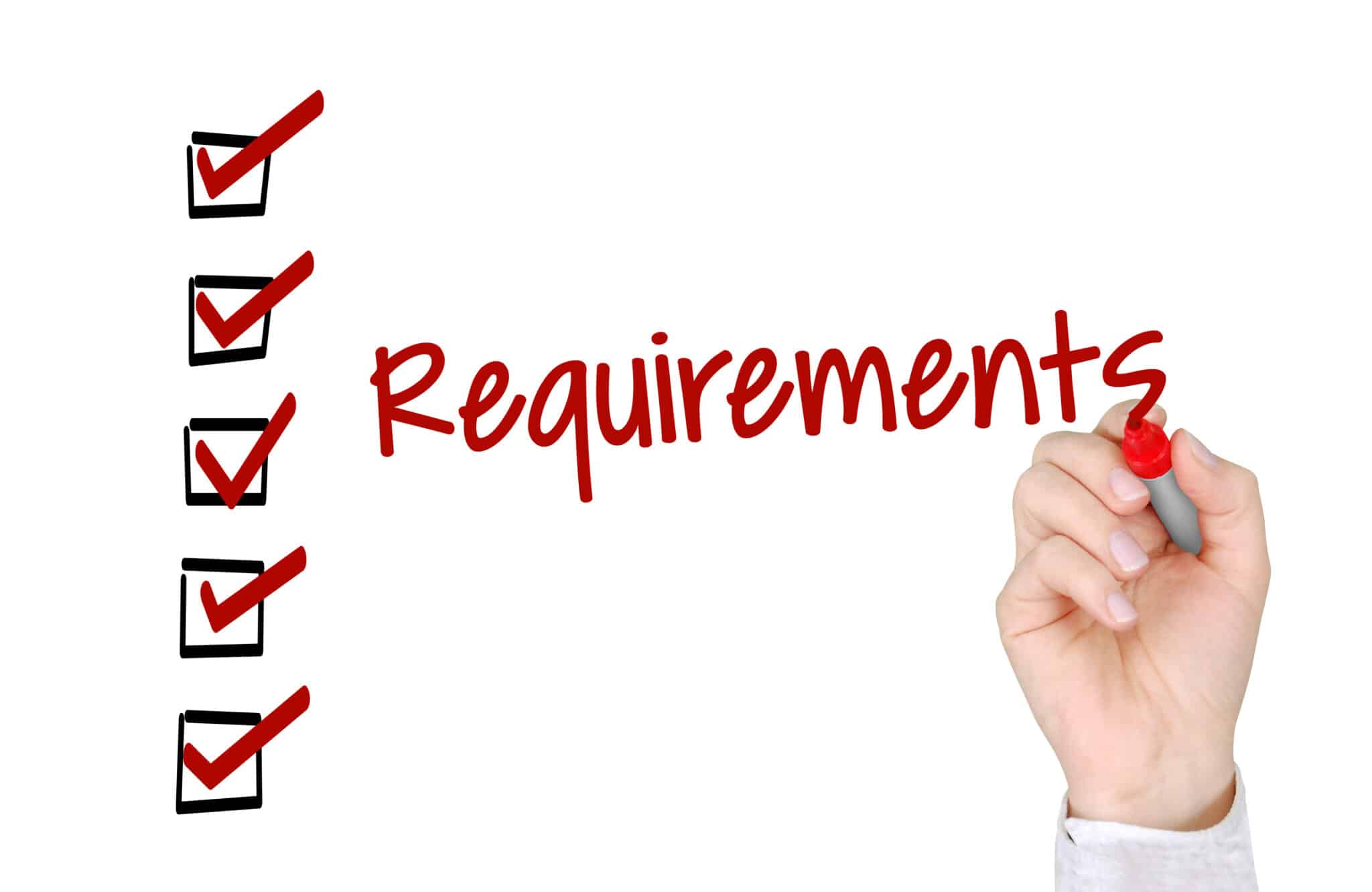 Although not required to be at least 18 years of age to take the exam, most employers require you to possess personal trainer insurance.
And most of these liability insurance companies require the insured to be at least 18 years of age.
This minor drawback makes NASM slightly different from other fitness professional certifying agencies.
NASM Personal Trainer Certification Packages
The first thing I'll tell you about the NASM personal trainer certification cost is that there is more than just one option.
I will say that NASM is far from the cheapest personal trainer certifications, however the clout and respect associated with being NASM certified makes the juice worth the squeeze, so to speak.
For this article, I will lay out the pricing before any promotions. NASM often runs temporary promotions so it's worth checking directly through the site for current deals.


The Self-Study is the first tier of NASM's study prep materials.
It costs $899 before any current promotions and provides the following:
NCCA-accredited personal trainer certification exam
NASM Textbook
Series of lecture videos
NASM exercise library
NASM practice exams
NASM exam answers
Online CPT certification quizzes
Comprehensive NASM study guide
The NASM Self-Study can't be beaten and is best for those who just want to study and sit for the exam, without any additional, "fancy-schmancy" resources, like flashcards.
Next, there's the NASM Premium Self-Study, which includes exactly what the Self-Study does, plus some additional features, such as:
Anatomy Memorization Activity
Correcting form videos
Learning Activities
NASM Flashcard bundles
This package is ideal for those who thrive on the extra push and who are visual learners.
The most popular, NASM Guided Study, costs $1599 and includes:
NASM study materials and exam readiness webinars
Access to coach and mentor
Nine discussion questions
Live workshop
NASM-CPT test prep guarantee
NASM-CPT hardcopy textbook
Additionally, you'll get direct access to a team of coaches and a mentor who will be dedicated to working with you throughout the process of obtaining your CPT certification.
This package is perfect for learners who crave the hands-on aspect of studying and live engagement.
Finally, the fourth and juiciest one of all is the All-Inclusive, which you really wouldn't want to miss because you are guaranteed a NASM job offer.
It costs you a whopping $2,699, but the benefits include:
NASM Job guarantee after the completion of your "NASM Gymternship"
Real-life experience working with experts
All the benefits you get from the Guided Study
Note that this package even includes the ultimate level of assurance with the "Job Guarantee," which states that if you do not get a job within 90 days, you get your money back.
I think the job guarantee is an excellent addition because sometimes even if you are certified, it can be hard to get your foot in the door with personal training internships, let alone jobs.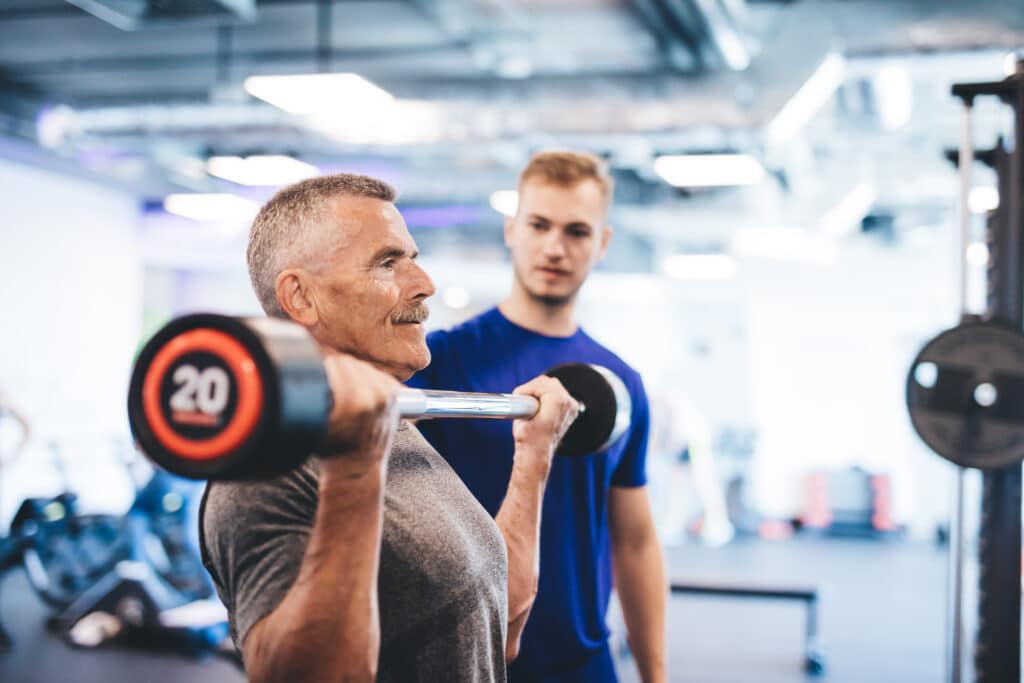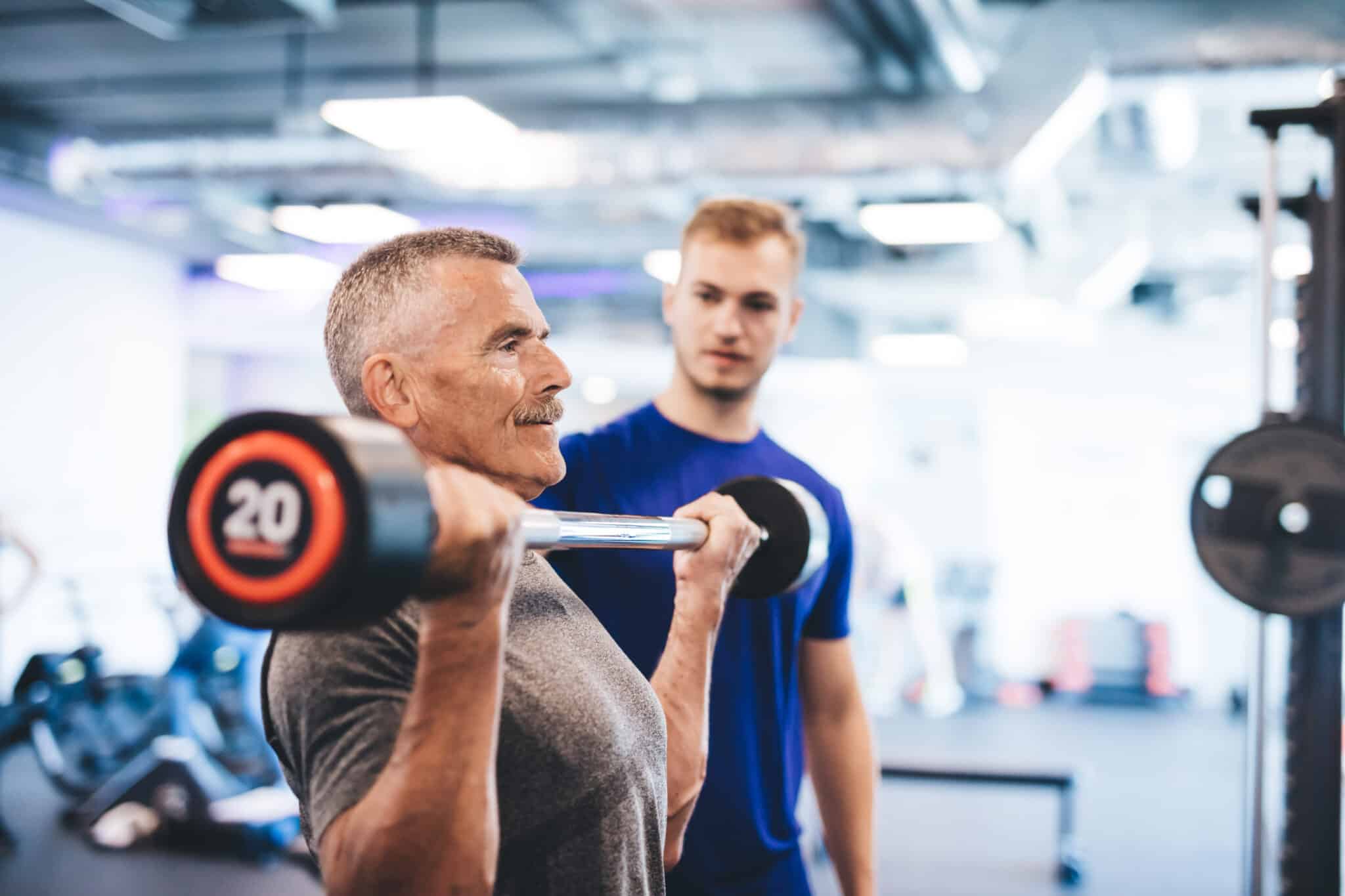 In other words, the NASM Job Guarantee lets you get your feet wet in order to get your bearings right and start working directly after getting certified.
Whereas most personal training organizations teach you how to train clients and tend to neglect the sales, marketing, and business aspect of the profession, NASM does the exact opposite.
NASM provides guidance on maintaining a successful personal training business perspective with their "NASM Business Accelerator Program."
You'll learn actionable techniques to help you maximize your profits, time management, and the value that you provide when training clients.
Want to be on the fast track to becoming a thriving industry-leading personal trainer?
Then this is definitely the package I'd recommend for you.
Want to test only?
Alone, this CPT Exam costs $599 but does not include study materials or any other perks of the full packages.
As long as you are willing to put in the time, this bundle practically assures you that you will successfully pass the exam.
I wouldn't recommend the test-only option unless you have a strong exercise science or kinesiology background, or a Bachelor's Degree in either discipline.
On a final note, please check their website for any updates and/or price changes, as these are always subject to occur.
According to their website, right now you can save 30% on all certification packages, so:
Self-Study – $629
Premium Self-Study – $839
Guided Study – $1,119
All-Inclusive – $1,889
But is getting the NASM-CPT worth it?
I'd say abso-freaking-lutely.
You get what you pay for.
If you are ready to start studying right now but don't want to shell out a bunch of money just yet, you can check out my free NASM study guide and practice test.
For premium materials such as flashcards, audio guides, multiple practice tests, and an exam pass guarantee, I highly recommend the Trainer Academy NASM-CPT MVP Study Package.
When you pass your exam, you are one step away from becoming a NASM Certified Personal Trainer and making even more money compared to your investment in the test.
NASM-CPT Exam Content Outline
Let's dissect the NASM-CPT final exam:
Basic and Applied Sciences and Nutritional Concepts (15%)
Assessment (16%)
Program Design (20%)
Exercise Technique and Training Instruction (24%)
Client Relations and Behavioral Coaching (15%)
Professional Development and Responsibility (10%)
Though the NASM exam is not easy to pass, it's not the hardest test in the industry, so please be sure that you are fully prepared.
How long does it take to prepare for the NASM exam?
While most people need approximately 6 months to become personal trainer certified, others bang it out in as little as twelve weeks.
NASM Exam Difficulty: How hard is the NASM-CPT exam?
The NASM-CPT exam consists of 120 multiple-choice questions, which you're given two hours to attempt.
To pass, you must achieve 70% or higher.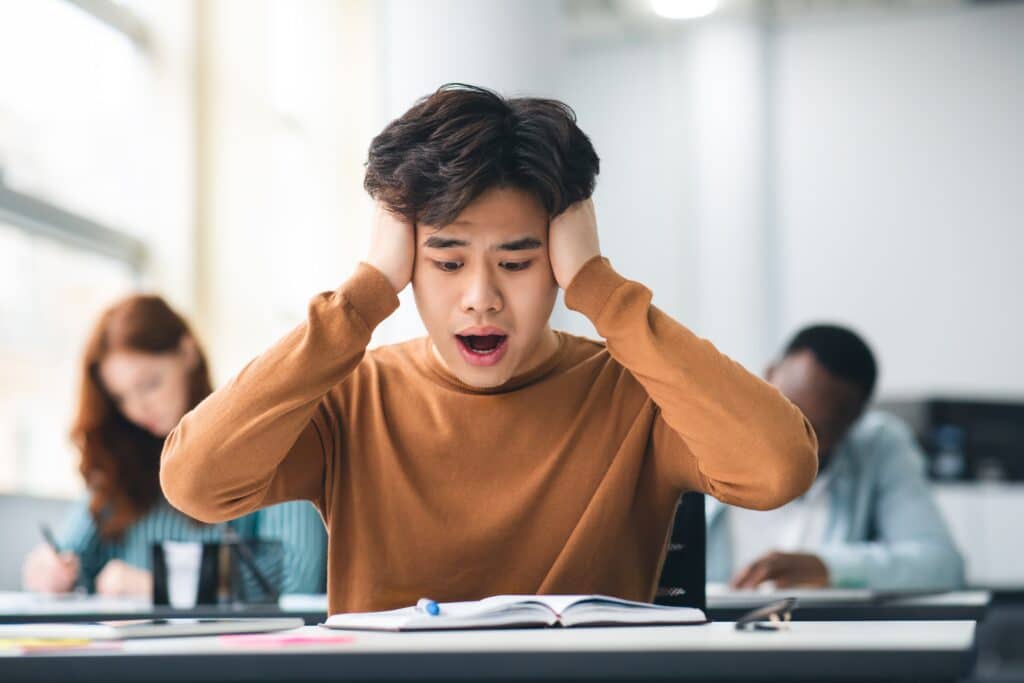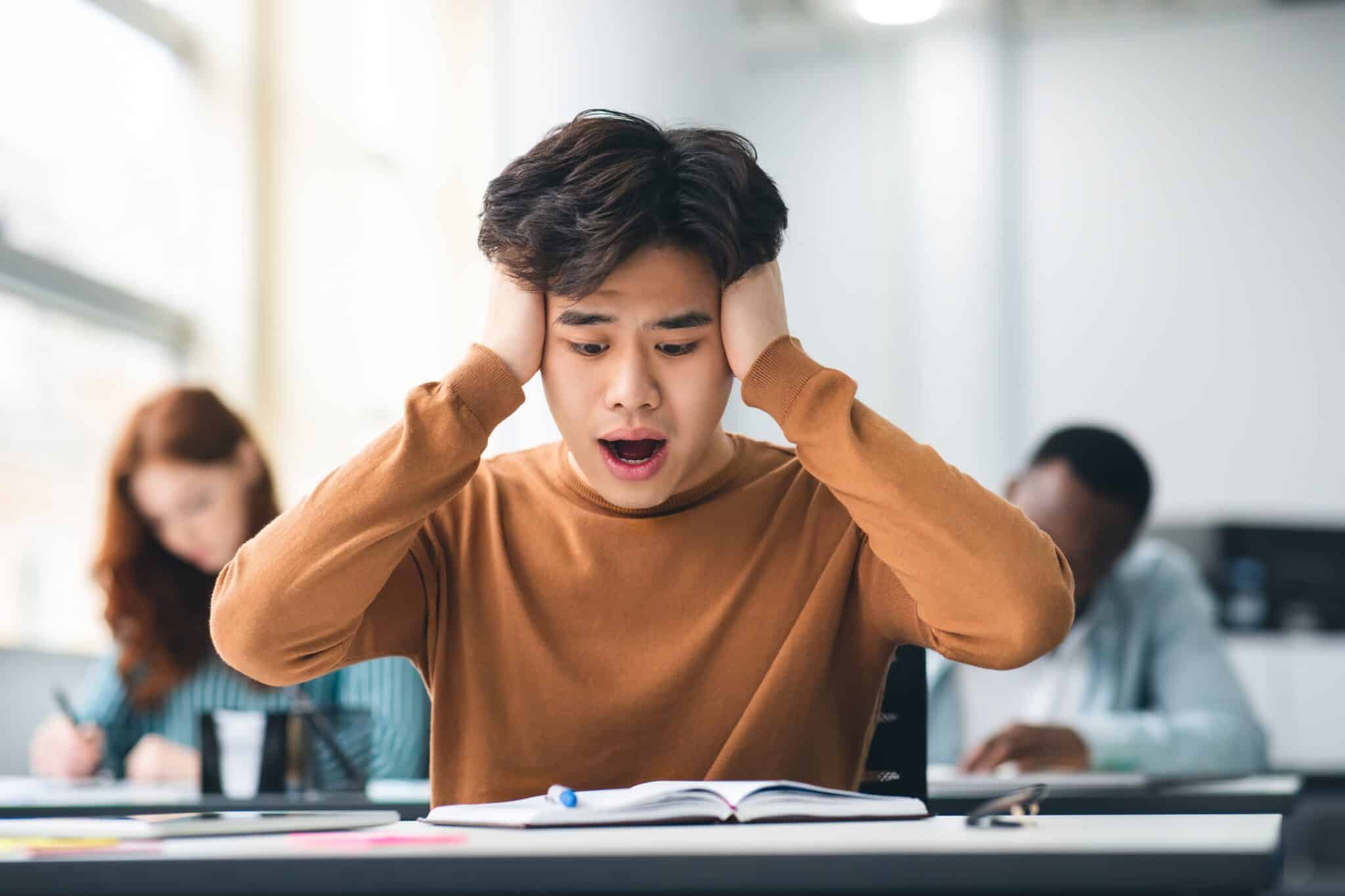 This exam is administered at the closest PSI facility, and finding NASM exam locations is not difficult.
Having a third-party test-taking facility ensures that there is no cheating and that you will receive a passing or failing grade immediately after finishing the test.
Although NASM is considered one of the easiest personal training certifications, this exam is no walk in the park.
As of 2021, the NASM exam pass rate is approximately 60% for first-time test-takers, which is slightly harder than ACE and ACSM, both at 65%.
And according to some NASM-certified trainers I've spoken with, questions on both the practice exams and real exams are purposely designed to trick you.
Personally, I found NASM test prep to be the most helpful when studying for the exam.
If you fail, you are allowed unlimited retakes until you pass.
While there is otherwise a whopping $199 NASM retest fee, if you choose the Premium Self-Study Package, you may retake the exam entirely for free.
If you get overwhelmed with the course content and think you may not be able to pass the exam on your own, the NASM Academic Partner Schools have your back.
This is a live setting offering top-notch personal fitness training education, where you will be trained first-hand by experts in a gym or in a partner facility approved by NASM.
The aim is to ensure you gain the best-in-class knowledge of all areas you'll be tested on in the exams, and it is focused on functional assessment, program design, and human movement science – all of which are practical.
So you'll not only study the materials but actually see it in practice long before you get certified, which is much better than attempting online practice questions and is great value for your money.
NASM-CPT Continuing Education and Recertification
The NASM-CPT certification is valid for a two-year period after passing the exam, in which you will be required to fulfill 2.0 continuing education credits (CECs).
The NASM recertification fee will cost you $99 on top of your continuing education costs.
But unlike most other personal trainer certifications, NASM gives you a choice to "NASM Recertify For Life."
You'd pay $399 once and never have to pay the recertification fee every two years.
This is a great deal if you know you'll be personal training for over six years and/or make personal training your career.
Also, you can use a completed college degree related to the field (i.e. exercise science or kinesiology) toward your CECs.
Just submit your college transcript with your recertification application.
If you take courses from other organizations not yet recognized by NASM, you are required to pay a $25 fee.
This way, the NASM certification board can verify those CECs.
While I recommend taking other NASM courses, its best to consider going for other specializations to advance your career, such as:
As much excellent training you get from NASM continuing education credits, consider obtaining personal trainer insurance to keep you safe throughout your career, especially if independent.
Also, consider management software that will make your job easier and better.
Almost all NASM-CPTs I have spoken to have done this and would also recommend every trainer to do the same.
I based my expert review of the NASM Certified Personal Trainer certification based on the following criteria:
The opinions of experienced NASM-CPTs
A critical review of quality and pricing of NASM-CPT study materials
Typically reported information from trainers who passed the NASM-CPT exam
Other comparable entry-level fitness certifications, specifically other CPT certifications
Frequently Asked Questions (FAQs)
In case you're wondering which gyms accept which certifications, there are many gyms that prefer NASM-certified personal trainers.
The NASM-CPT is ideal for working with clients in the general population and even offers some insightful small group personal training tips as well.
Whether you see yourself training in a gym, client's homes, or in your own personal training studio, the NASM-CPT is a stepping stone toward your success.
I know that choosing a personal trainer certification can be daunting, which is why I suggest that you seek as much information as you can about different personal training certifications.
I hope that my NASM-CPT review article provided you with a deeper understanding of the NASM Certified Personal Trainer certification itself and some additional information as well.
While it's not the absolute best CPT program, the NASM-CPT is definitely worth it.
Now let's get training!
Discover All PTP Fitness & Wellness Career Articles
Tick a box from each section to narrow the results.
×
I want to know more about: