If you're here on PTPioneer, you're probably interested in becoming a personal trainer.
But how much do personal trainers make?
PTPioneer proudly presents the ultimate guide to personal trainer salary in 2023, which covers the following:
Maximizing your personal training income
The 3 primary earning structures: personal trainer jobs
Highest paying gyms
What private trainers make
What online trainers make
Top-earning states (interactive map)
Successful personal trainers salary
Though my goal in writing this article is to educate you on personal trainer jobs salary, I recommend that before you work, you should definitely consider becoming certified.
Make sure to take the quiz to get a good idea of which personal trainer certification is right for you.


Let's find out how much do personal trainers make!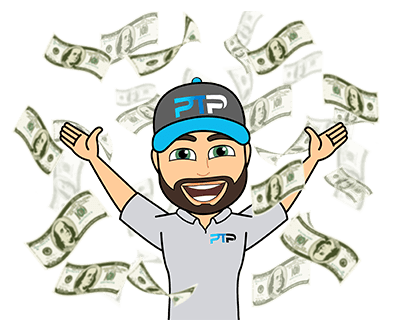 Getting the right personal trainer certification
Earning a high personal training salary always starts with getting certified through an NCCA-accredited CPT certification.
You can check my article on the best personal training certifications for a comprehensive breakdown of the top CPT programs.
Earning your certificate from any of the best personal trainer certifications can lead you toward success. This will far outweigh how long it will take to become a personal trainer.
I also suggest taking the quiz if you are still confused about which certification is best for your goals.
Maximizing your personal trainer income
Unlike some jobs with very specific salary ranges, personal trainer salaries vary wildly.
On the low end, the Bureau of Labor Statistics (BLS) reports that the bottom 10 percent personal trainers earned less than $22,960 per year, while the top 10 percent earned more than $75,940. The reported median pay for "fitness trainers and instructors" in 2021 was $40,700 per year or $19.57.
Maximizing your personal trainer income and making it to the upper realm of personal trainer income requires you to stand out from the crowd.
Offering additional services such as nutrition coaching and serving niche clientele is an absolute must to get ahead of the curve on your personal trainer salary.
I highly recommend looking into a nutrition coaching certification for your CPT.
Additionally, consider what specific type of clientele or employment setup you want to work in and consider getting a specialist certification in line with your desired career.
Examples of specializations include group exercise, corrective exercise, and strength and conditioning certifications.
Stacking these certifications adds up quickly, so I recommend looking for certification bundle deals.
The best deal in the fitness industry by far is the ISSA Elite Trainer Program, which includes the acclaimed ISSA CPT, ISSA Nutritionist, and a third ISSA specialization of your choice.
Additionally, the Elite Trainer includes the CPR certification required to take the CPT exam and offers 12-month, interest-free financing.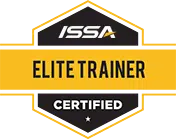 You can sometimes find additional promotions on the ISSA Elite Trainer Package directly on the ISSA website.
If ISSA is currently running an Elite Trainer deal, it's tough to pass up.
Oftentimes, people ask, "How much does a personal trainer make," or "How much do personal trainers make a year?"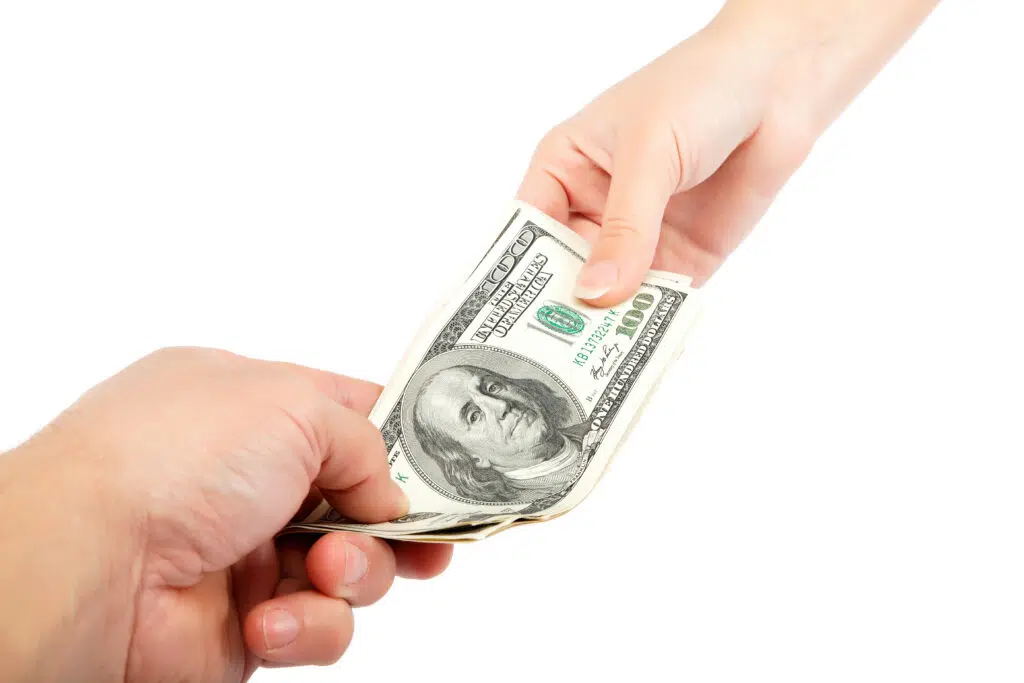 To best answer this question, you need to understand the three primary places trainers work and the base salary in each.
I'm sure you already know that the personal trainer job description best fits your career interest, so you can check out my free Running Start course to help you jumpstart a kick-ass fitness career!
While this article won't teach you how to become a personal trainer, it will definitely educate you on personal trainer salary in every respect.
Commercial gym trainer
This is the most basic setup in which you operate as an employee of the gym and gain a minimum, fixed wage.
Employers will typically incentivize your job performance by offering raises or bonuses based on how much traffic you generate.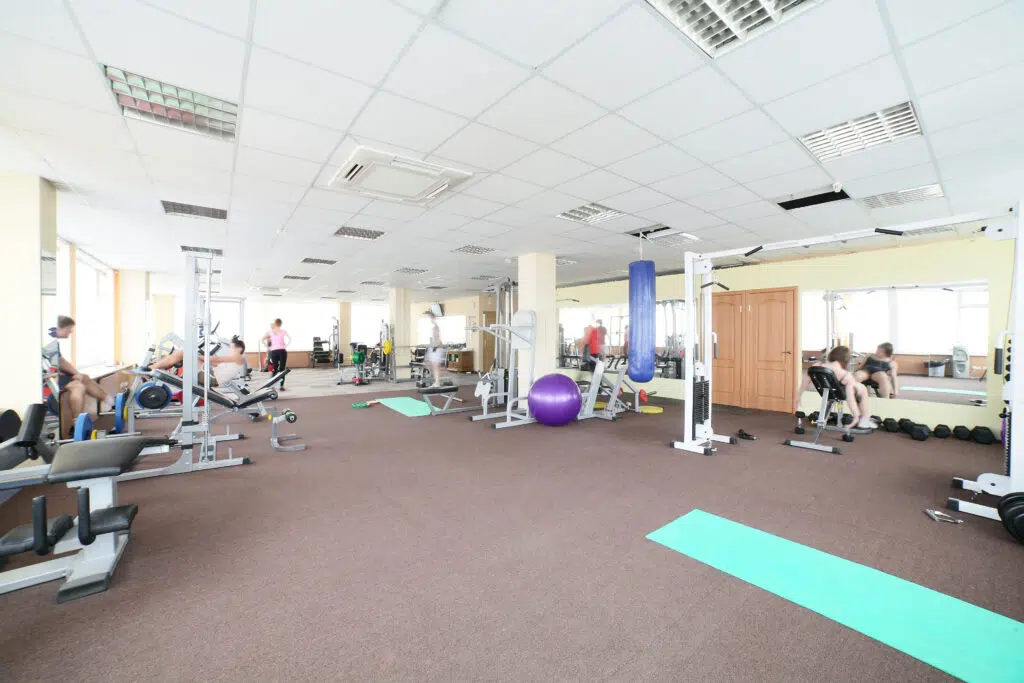 Some important personality traits that are best for personal trainers include being firm but friendly, organized, and having exceptional time management skills.
If your sales skills are sharp and you know how to sell personal training, you'll earn a decent cash flow through a commission-based model from your employer.
Personal trainer jobs at commercial employment offer the lowest earning potential of the three, but commercial gyms provide the most stable income for their employees, as these jobs come with a W2 form and basic benefits you would expect as an individual working for a company.
According to the Bureau of Labor Statistics (BLS), the personal trainer job outlook has grown faster than average as more people become proactive with their health and fitness.
Independent personal trainer
One of the greatest independent personal trainer benefits includes the freedom to work, schedule, and charge whatever you want.
With your own personal training business, you can create your own work environment and set your own prices (within industry standards) without pressure from a corporate overlord.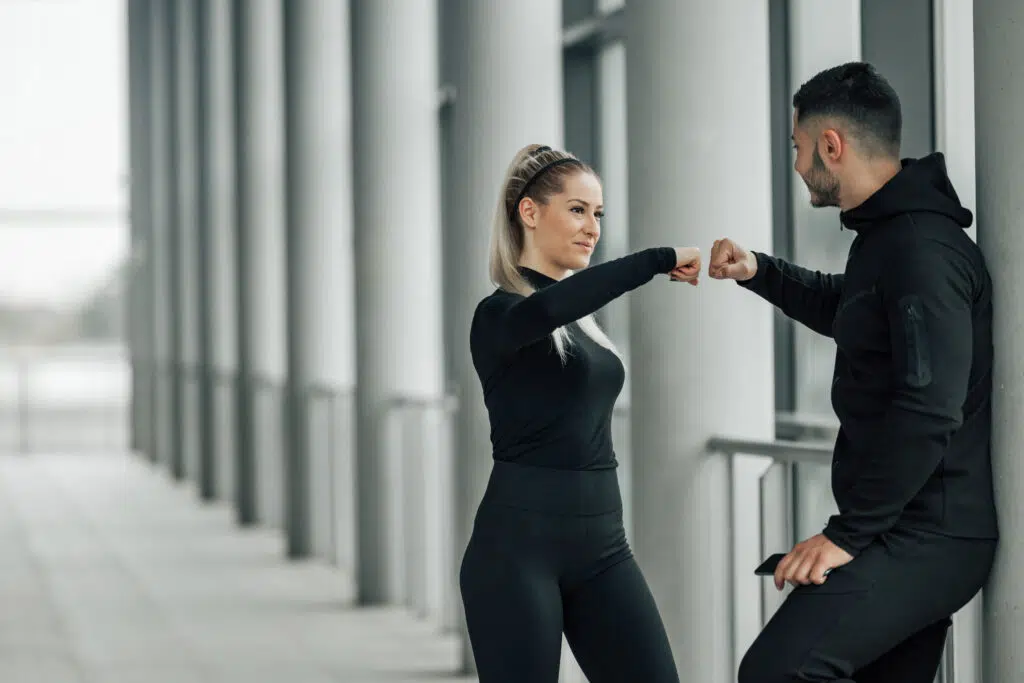 You can even get creative with your exercises and workouts without adhering to a strict training protocol.
The only downside is that you are less exposed to a regular stream of clients, so you'll need to optimize your networking and personal training marketing ideas to convert sales.
And since you aren't guaranteed a fixed salary as an independent personal trainer, you'll have to rely on how well you can obtain and retain clients in the long run.
In a sense, building your own personal training studio means all the administrative technicalities, such as tax and insurance, rest squarely on your shoulders.
Overhead costs such as facility use, which counts as a rental fee, are also deducted from your earnings.
Most independent trainers charge between $60 and $100 per 1-hour training session, and even at the higher end, business expenses and taxes will eat away at approximately 25% of your total income.
1099 contract structure
A 1099 arrangement is sort of a hybrid between being employed and independent, where you work as an independent contractor who supplies a gym with your expertise to serve their clients.
This allows you a general degree of freedom like you would expect if you were independent, plus some of the perks of income security you would enjoy as an employee.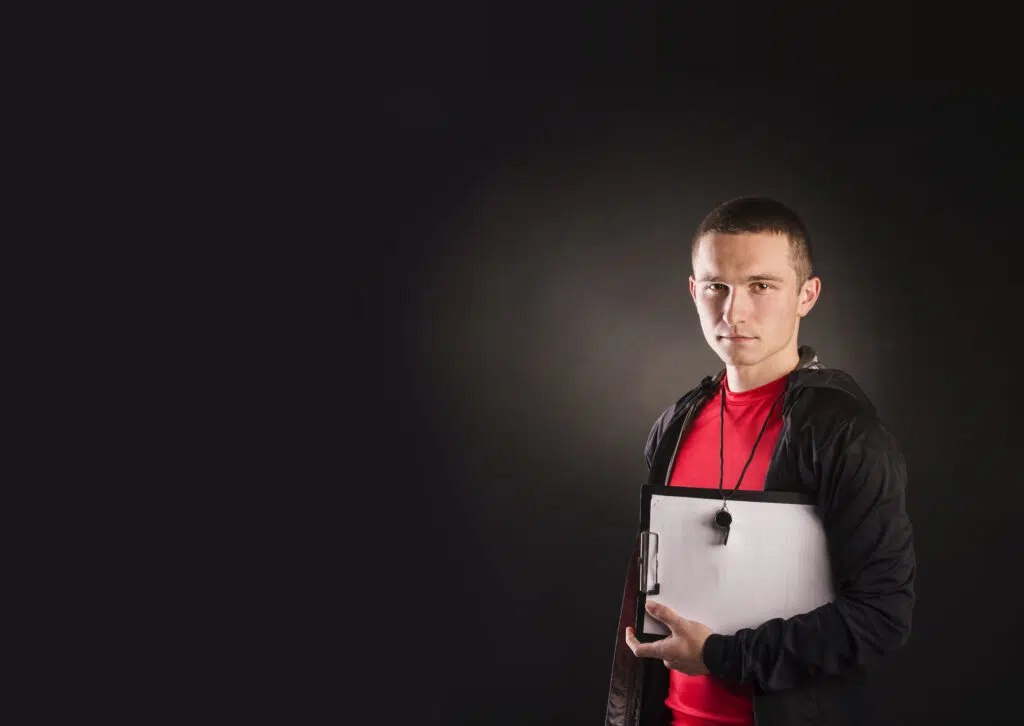 Unlike private or in-home personal training rates, where you keep all your earnings, a 1099 arrangement works by having you split your earnings with the gym or facility based on an agreed percentage split.
Typically, the trainer and the facility split the payments received by the clients 50/50, which means if the client pays $70 per session, the trainer gets $35 and the facility gets $35.
Considering most trainers start their careers in gyms, I developed a list of popular gyms in the United States so that you can learn how to generate income by associating yourself with them.
Top 9 highest paying gyms for personal trainers
In the process of my study, I've reached out to several big gym brands to see how their trainers earn so that you can decipher how to charge your clients if you're going to fill a vacancy in a gym.
How popular brand name gyms pay their personal trainers
While the aim here isn't to teach you which gyms accept which certifications, this information will help you decide where you want to get your foot in the door and give you an understanding of the job market.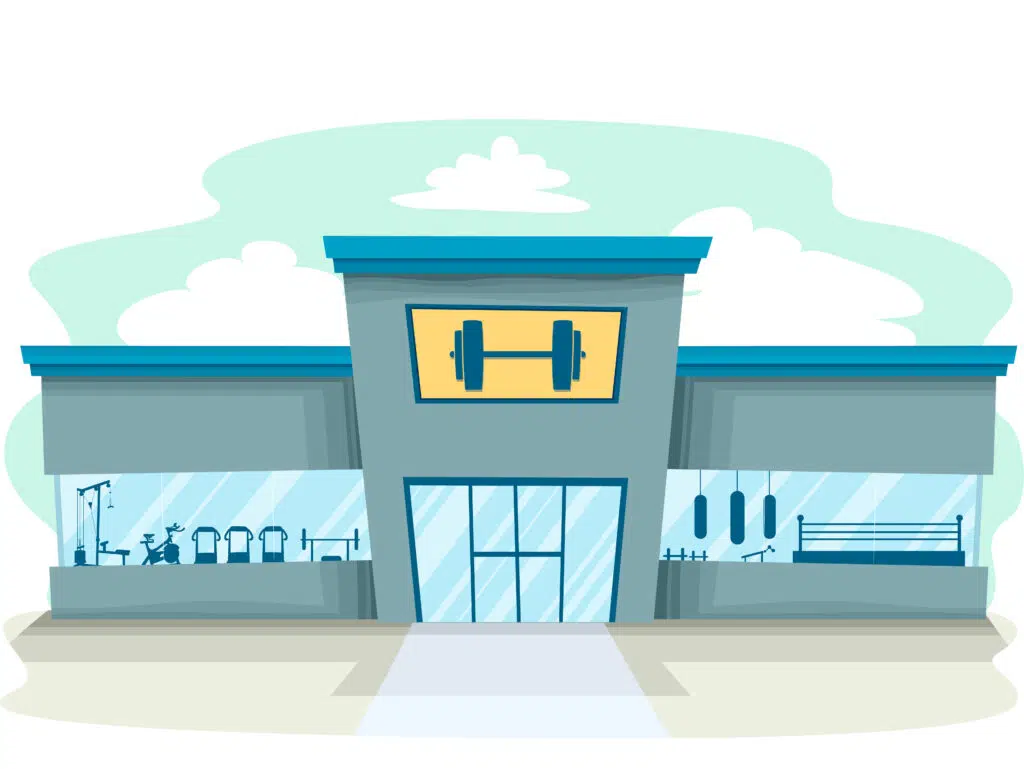 24 Hour Fitness

Personal trainer jobs minimum wage:
The personal trainer starting salary is $7/hour per session and is based on trainer tiers.
Trainer Tiers: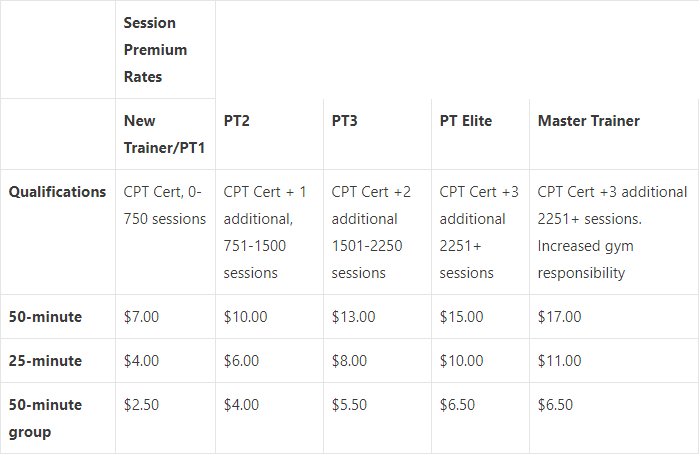 Incentives:

Bonuses:
The 24 Hour Fitness personal trainer salary also includes a 5% bonus for every 60 sessions or more over a 1-day period.
Trainer earning capacity comparison example (new PT1 Trainer vs Master Trainer)
Example of a new PT1 trainer
| Salary type | | |
| --- | --- | --- |
| Hourly income | ($10/hour x 120 hours) | $1,200 |
| Training income | (60 sessions at $7/hour) | $420 |
| Training package sales | ($2,500 in sales at 20%) | $500 |
| Bonus | N/A | $0 |
| Total monthly income | | $2,120 |
Example of a master personal trainer
| Salary type | | |
| --- | --- | --- |
| Hourly income | ($10/hour x 160 hours) | $1,600 |
| Training income | (120 sessions at $17/hour) | $2,040 |
| Training package sales | ($5,000 in sales at 20%) | $1,000 |
| Bonus | 5% bonus for 60+ sessions | $232 |
| Total monthly income | | $4,872 |
Equinox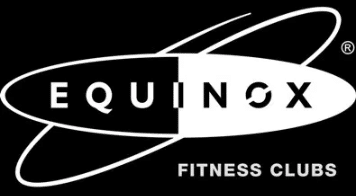 Personal trainer jobs minimum Wage
Equinox has a complex wage tier structure, but wherever you land, you'll earn more here than at most gyms, even at entry level.
Also, take into account that Equinox trainers work an average of 27 sessions per week, and with that said, their average Equinox personal trainer salary estimates should reflect that.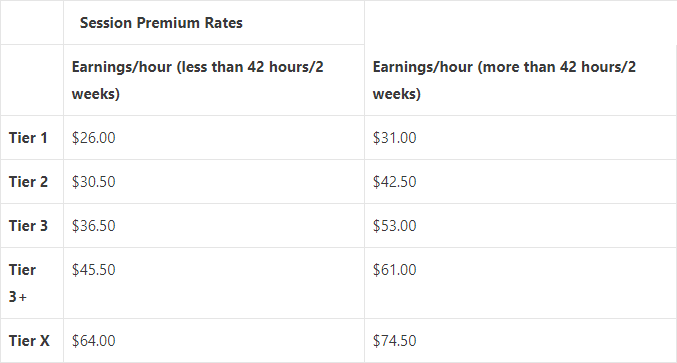 Incentives:
The incentive program starts once a trainer works more than 42 sessions per 2-week pay cycle.
Bonuses: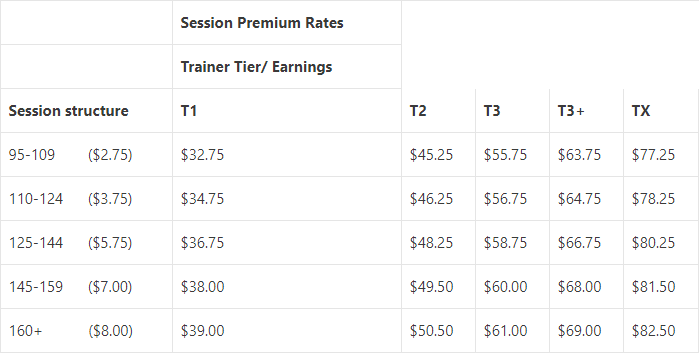 LA Fitness

Personal trainer jobs minimum wage:

Location-Based Earning Stats

Incentives:
None were reported outside of the increased earning capacity for conducting group sessions.
Bonuses:
None reported as of reaching out.
LA Fitness presents the lowest job satisfaction of most major gym chains due to the high trainer turnover and anecdotal accounts.
Note, at this point, that the corporate trainer's salary also varies according to gyms and locations.
YMCA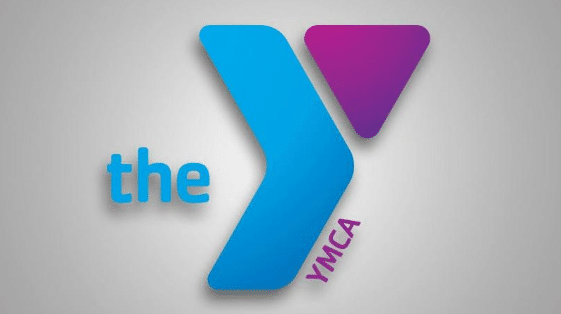 Personal trainer jobs minimum wage:
YMCA personal trainer salary consists of a 4 tiered earning structure that starts out at $15/hour per session.
Tier structures are as follows:

Incentives:
Benefits include payment of $100 towards recertification fees and trainer continuing education credits (CEUs). (Pro tip: There are plenty of cheap CEUs for personal trainers.)
Bonuses:
None outside the tiered structure.
Gold's Gym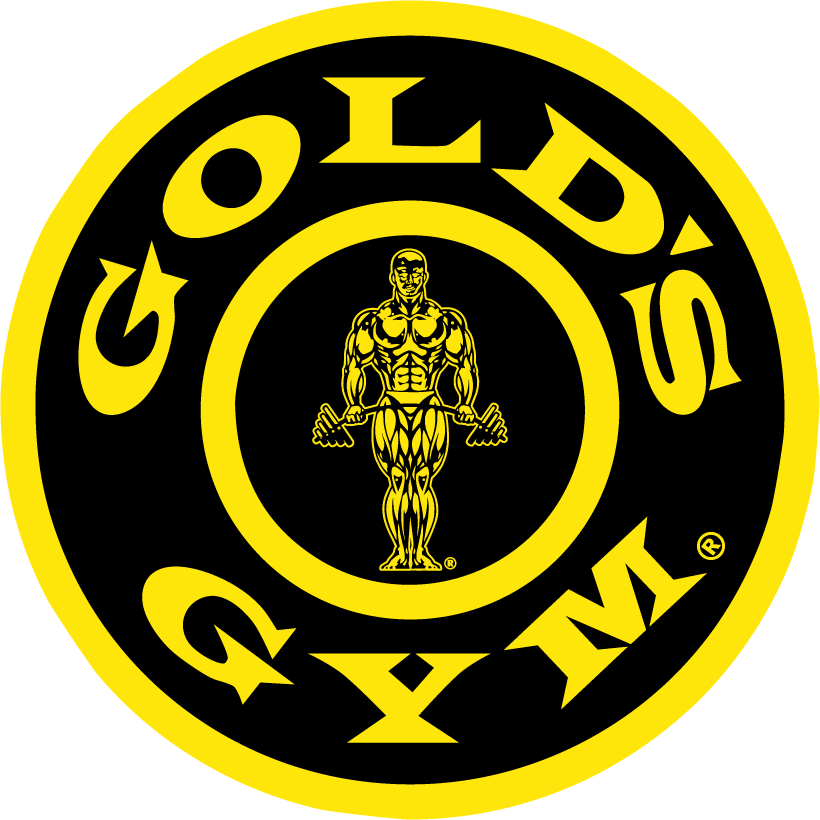 Personal trainer jobs minimum wage:
The starting pay for personal trainer range at Gold's Gym begins at $10/hour per session, going up to $30/hour per session, depending on your experience and length of employment.
The hourly rate for personal trainers at Gold's Gym is $12 – $15/ hour per session (minimum wage is location-dependent).
No specific figures or stats were given on how that's all structured.
Incentives:
None reported.
Bonuses:
On top of your base personal trainer hourly wage, you get $400 for every 55 sessions.
Snap Fitness

Personal trainer jobs minimum wage:
Though the starting salary for a personal trainer at Snap Fitness is $10/hour per session and can rise to $15/ hour per session, the total personal trainer annual salary here is still somewhat low.
Incentives:
None reported.
Bonuses:
None reported.
Planet Fitness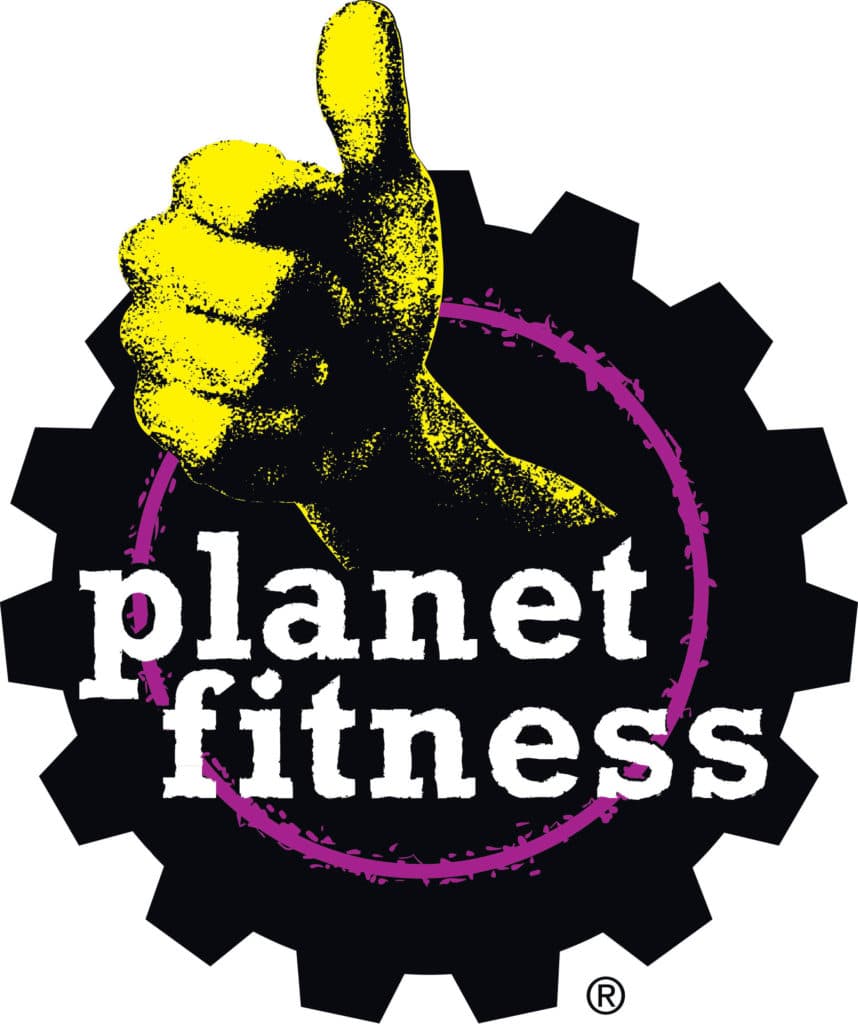 Personal trainer jobs minimum wage:
The base Planet Fitness, personal trainer salary, is also $10 to $15/hour per session, and based on the trainer I reached out to, wages and bonuses vary from location to location.
Incentives:
Pay increases based on the amount of time working and overall performance at the discretion of management and based on location.
Bonuses:
No bonus structure was reported.
Crunch Fitness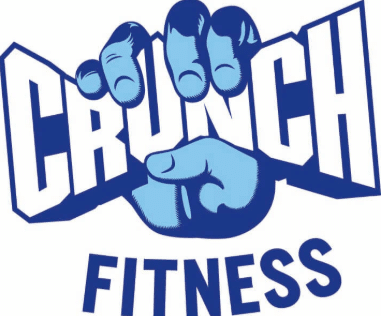 Minimum wage:
The personal trainer average salary at Crunch Fitness varies based on franchise location.
Incentives:
Incentives also vary from location to location, and trainers earn different commission structures based on what and how much they sell in terms of packages, ranging from 40% to 65%.
Bonuses:
Bonuses and incentives are tied in.
Anytime Fitness

Minimum wage:
While the Anytime Fitness personal trainer salary depends on location, the minimum starting wage fluctuates between $10 to $15/hour per session.
Incentives:
None other than commission split for packages sold and the ability to increase earnings by running group classes.
Yes, a group trainer salary could upgrade your overall income.
Bonuses:
You get bonuses for selling monthly packages.
Summary
I hope you gained more insight into which gyms may be worth your while by providing some basic personal training tips.
Also, if you ask, it's easy to land personal training internships at gyms you're interested in working at.
If anything, you'll learn how to be a good personal trainer and have a head-start on building rapport with members who could turn into clients you could motivate inside and outside the gym.
Now let's delve into private personal training.
Private personal training
People who consider becoming fitness professionals often have prospects of a lofty, lucrative career that affords them freedom and financial security beyond maintaining their cost of living.
But truthfully, this route requires a lot of experience, preparation, and hard work.
While most trainers will opt for the ease of gaining employment through gyms, others will seek out a more self-sufficient route and rent space or facilities from an established fitness operator.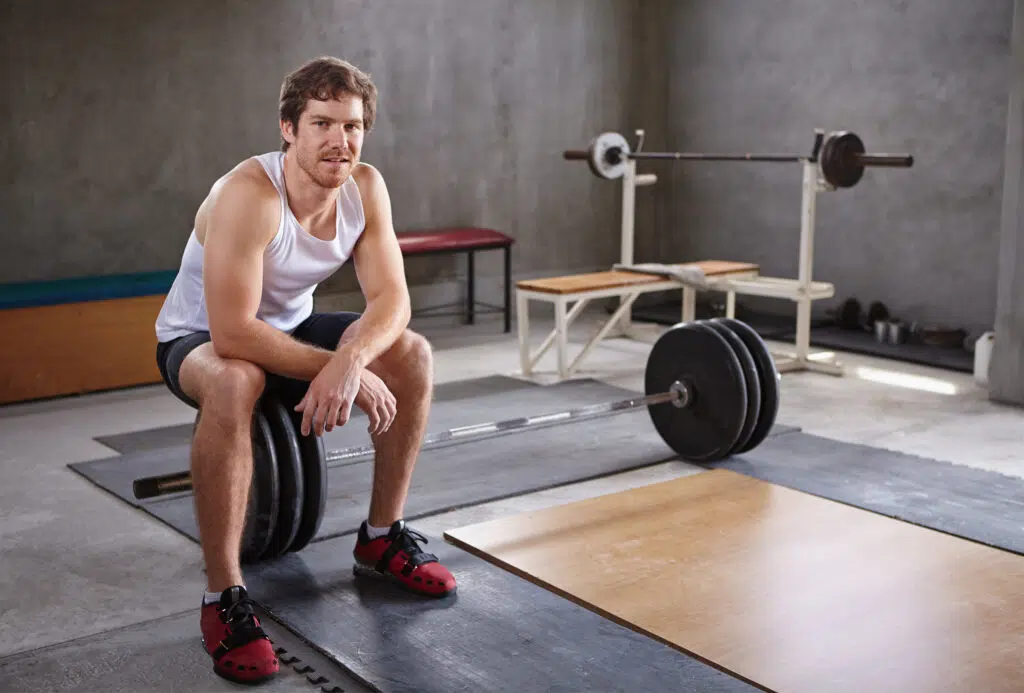 While the former has the advantage of employee benefits, as an employed trainer, your income is fixed for as long as you remain in the position you find yourself in the company structure.
When W2-employed, your schedule is not your own, and there's limited flexibility and time which you could otherwise use to be proactive, creative, and industrious in ways that could elevate your career and income.
Conversely, independent trainers set their own prices and decide how to deliver their services and what those services are.
You'll need to have enough resources to manage to pay a gym rental or commission so that you have access to the necessary space and infrastructure to make your business viable and valuable.
However, although you're operating your own business, you're still at the mercy or whims of someone unless you outright own your space.
If you're renting space and equipment, you're subject to that company's policies and guidelines and will have no ultimate say in decisions that would be made which could affect you.
If the gym is full, you won't have access to floor space or personal training equipment you may want to use, and if the gym closes temporarily or permanently, you are out of luck.
So despite operating independently, you're still pretty dependent.
Is it even possible to actually operate as a truly self-sufficient trainer?
Yes, it is.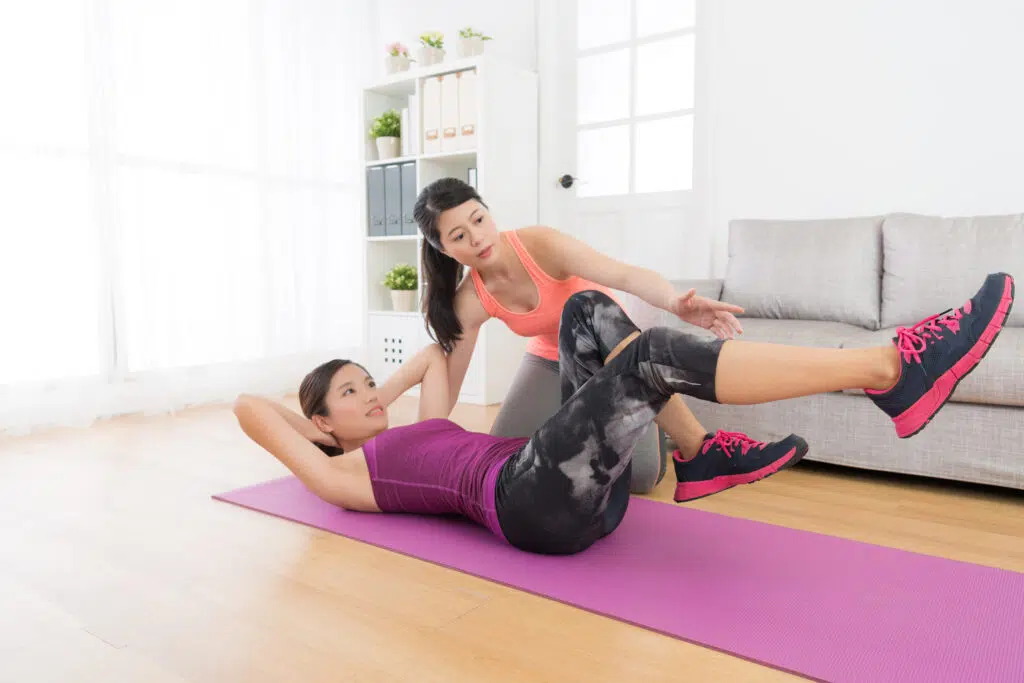 Independent personal trainer gym pay structure
Let me introduce the most lucrative option: private personal training.
As a private personal trainer, you can operate a fitness business with complete autonomy and self-reliance, and any necessary infrastructure you would normally rent is no longer a concern.
You are completely free to decide every aspect of your operation.
Also, you may want to look into personal trainer insurance to guarantee protection from any possible legal issues.
While building a name and client base without access to gym traffic can be arduous, overall, private personal trainer salary can fall in the highest-earning percentile using the right strategies.
These personal trainer stats show the average annual earnings across different employment models.
Exclusive PTP CPT Offers



Gold Standard Cert

Most Popular Cert

Best Study Materials

A Good Option

A Good Option

Best CPT for you?

| | Average Annual Earnings |
| --- | --- |
| Private PT | $78,000 |
| Independent PT | $62,000 |
| Gym Employed PT | $34,000 |
With average session fees, you can now see where private training has the edge over the other two income options.
How much is a personal trainer going to make? Let's see rates.
| | Rate per hour |
| --- | --- |
| Private PT | $50 |
| Independent PT | $30 |
| Gym Employed PT | $22 |
Despite having a lower premium on what you'll earn, gym employment might prove to be more rewarding with the benefits factored in.
Kindly note that independent trainers actually often earn more than this; in some cases, they earn double, a large portion of which gets gobbled up by rent or commission.
Let's also consider the amount of time or hours worked.
While gym-employed and private trainers seem to work similarly, the difference is that the private trainers make their own schedules, whereas the gym-employed trainers must deal with a roster.
Independent trainers are likely working more hours to make up for any earnings lost to commission or rent. Don't forget that an independent trainer is a business owner, and business owners must deal with operations, administration, marketing, taxes, bookkeeping, and much more.
| | Hours/Sessions per week |
| --- | --- |
| Private PT | 30 |
| Independent PT | 40 |
| Gym Employed PT | 30 |
Though it's clear that being a private trainer is the winning strategy, then why isn't every trainer a private trainer?
Perhaps it could be that establishing your own business takes much more work initially and that you won't have access to top-tier equipment unless you rig out your own little gym operation and essentially become a gym owner.
So how would one actually go about being a private trainer without the hassle of investing in equipment and infrastructure?
Well, two words: online training.
Online personal training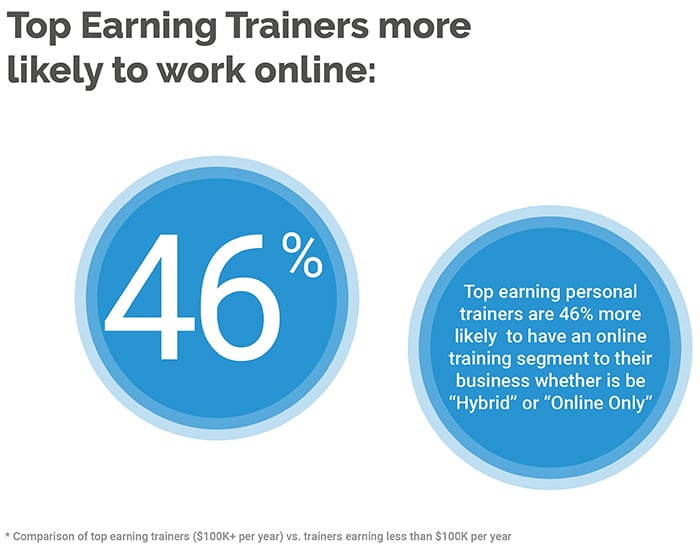 Did you know that as many as 46% of the top earners in the United States have an online segment from which they earn limitless amounts of passive income?
According to top earners, the Internet can definitely help you reach potential clients and increase sales.
So how much money do fitness influencers and online trainers make from the internet?
According to my survey, online personal trainers earn a big chunk of their monthly revenue from passive income from online services.
Statistics demonstrate that trainers with an online component or those whose entire business model runs online are among the top-grossing earners on average.
So what makes online fitness such a big income stream?
To answer your question, let's review the different services offered, which mostly include the following:
Billed consultation
Once-off customized
Ongoing/recurring service
Let's explore the details.
Billed consultation
A billed consultation is something like Skype, Zoom, Facetime, or phone calls, where you communicate with clients in real-time in a remote or virtual capacity.
While you could bill such sessions at a per minute or per hour rate, most bill per hour, which is typically a pay range between $40 and $50.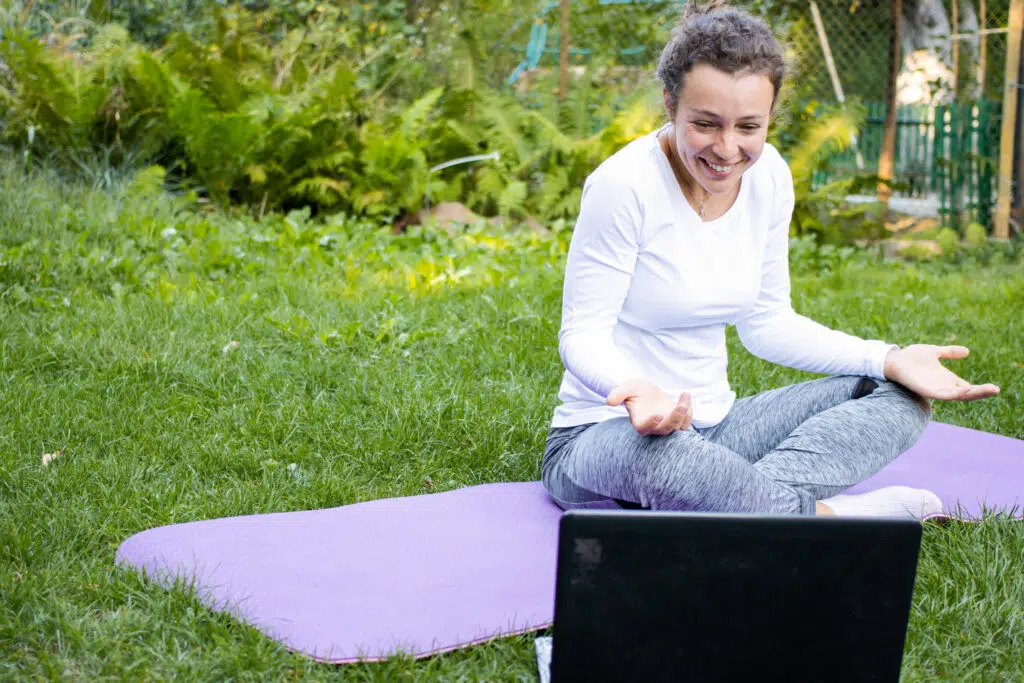 The number of calls you receive depends on your level of influence, reputation, and the volume of clients, and most well-established trainers receive up to nine consultation calls per week.
With a call running up to about $50/week, the annual salary of a personal trainer here is roughly $23,400/year.
Once-off customized
A once-off customized plan consists of something like a 6-, 9-, or 12-week fitness plan, and beyond delivering the program, the trainer will have no further business guarantee with this client.
The going average for such fully customized programs are around the $200 to $500 mark, so let's work with an average of $350.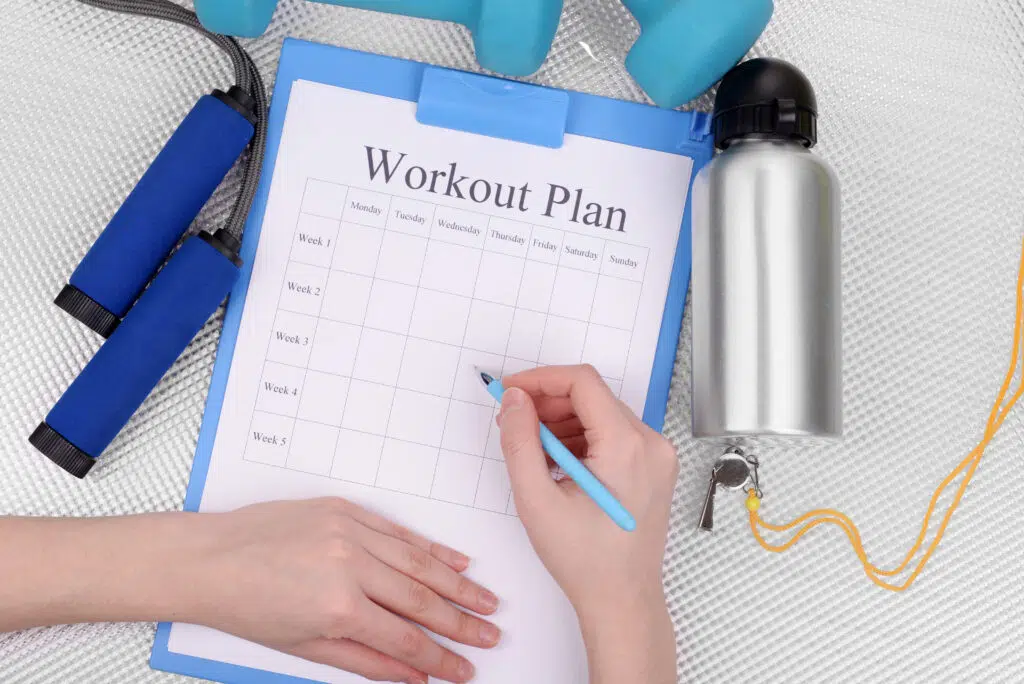 With this in mind, the average sales volume for customized programs is five to seven per week, which elevates the average salary for a personal trainer who delivers once-off plans to $109,200 per year. Content like this can be extremely lucrative.
Ongoing service
Some clients prefer long-term retention of an online trainer's service as sort of a fixed component to their lifestyle to help them with adherence and accountability.
This more hands-on approach consists of regular follow-ups, progress tracking, and feedback–just like you'd do with in-person clients.
The trainer would set a monthly fee, which is a great way to ensure income stability.
The typical personal trainer monthly salary in this situation is approximately $500/month.
Established trainers work with up to 10 or even 15 clients, but the more common number seems to be around 6, and even then, they can expect to net around $36,000 annually from retainers.
Summary
When looking at these figures, you can easily see compensation differences for several types of online trainer earnings.
Service
Potential Annual Earnings
Billed Consultation
$23,400
Once-Off Customized
$109,000
Ongoing/Recurring
$36,000
Total
$168,400
If you ask yourself, "How do personal trainers get rich," the proof is in the pudding.
Based on these stats, I've gathered an online private trainer could earn up to $168,400 before any running deductions.
With the right amount of work considered, private and online training seems to be the way to go.
Personal trainer earnings by the state (map)
Made with Visme Infographic Maker
Report on the top-earning trainers in the USA [STUDY]
The Highest Earning Specializations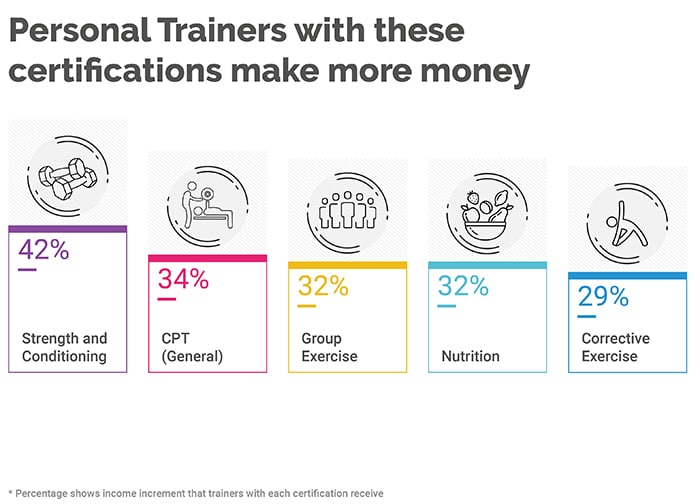 Since most certifying agencies provide a general approach to health and fitness, there will be areas of focus and tiers of specialization, so my goal is to help you determine the most valuable ones.
Let's dive in.
Strength and Conditioning
Results from my nationwide survey of people holding some of the best strength and conditioning certifications conclude that this is the industry's most valuable and sought-after certification.
The top-rated trainers I surveyed earned a whopping 42% more than those without those certificates.
When you learn how to become a strength and conditioning coach, you'll make much more back than you spent on this certificate and your personal trainer certification cost.
With billions of dollars thrown into most schools to create sports stars at the professional level, there will always be young athletes requiring your skills to help strengthen and condition them.
Imagine a Cristiano Ronaldo or Dwayne Johnson without a strength and conditioning coach.
These celebrity fitness trainers, who athletes pay good money to see week-in and week-out are expected to stay in top shape.
It gets even better.
With such skills and experience helping professional and amateur athletes, my research indicates that this knowledge is one of the easiest to transfer to other areas in the field.
So, beyond sports, you can also work in a gym, at home with a client, or elsewhere.
As long as there will continue to be professional leagues, billion-dollar sports teams, and a vibrant athletic population, the services of strength and conditioning coaches will always be required.
General CPT
Following closely is the general certified personal trainer (CPT) certification.
With this certificate, you can earn 34% more than those without it.
While part-time personal trainer salary is roughly $25,000 to $35,000, the top 10% of full-time personal trainer salary is usually between $70,000 and $100,000 or more.
With so many CPT certificates to choose from, I've narrowed it down for you by listing the easiest personal training certifications.
If you're concerned with price, no worries: You can browse some of the industry's cheapest personal trainer certifications.
How do general personal trainers make money?
Since the skills you acquire while becoming certified allow you to work with many groups of people, a general CPT can work with high school students, professional athletes, and more.
You can give novice athletes some tips for beginner core workouts, or you can help people recover from broken bones, other injuries, and/or illnesses.
No other credential in the fitness industry provides such wide-range access to all kinds of clients. This is a good certification for almost everyone.
Group Exercise
Ever considered obtaining a group fitness certification?
Those who hold this certificate earn 32% more than those without it, so I suggest you look at some small group personal training tips and group fitness programs.
Modern urban life is gradually conditioning people to seek out health and fitness clubs where they can feel loved and valued, and gyms are becoming popular places for group activities.
And people qualified to lead such groups are essential in the grand scheme of things, so if you become a group fitness instructor, you'll thrive!
Whether it's yoga, Zumba dancing, aerobics, calisthenics, Pilates, or trekking through a trail, urban dwellers increasingly need the services of group fitness instructors.
Nutrition
While not as popular as the first two, sports and fitness nutrition certifications are important, too.
My research suggests that a trainer who wants to become a nutrition coach would also be sought out in the sports sector just as much as in-home or in-gym personal training clients.
Corrective Exercise
Corrective exercise trainers are not as popular as the others because they work in a specialized field and require in-depth knowledge of human anatomy and other health-related considerations.
Earning 29% more than people without a certificate, these head personal trainers commonly work with physiotherapists or alone, helping people correct their posture or recover from illnesses.
Though the intensity of studying and exam difficulty are deterring factors, if this interests you, I recommend researching to find the best corrective exercise training program for you.
Summary
Overall, the certificate you hold largely determines your initial personal trainer salary.
Although not mentioned, another popular certification personal trainers can obtain to enhance their career is that of Certified Health Coach.
To learn how to become a health coach, you can take a look at which certifications best match your career goals.
And if you truly want to thrive as a successful personal trainer, find your niche!
Youth, pregnant women, athletes, or personal training for seniors are among common niches.
I surveyed the most successful trainers in the United States and all agree that spending more time building your profile by offering specialized services is the way to go.
While there is absolutely nothing wrong with having diverse skills, most people indeed seek a specialized trainer rather than the "Jack of all trades," so I suggest you find your niche and stick with it.
Top-earning certifications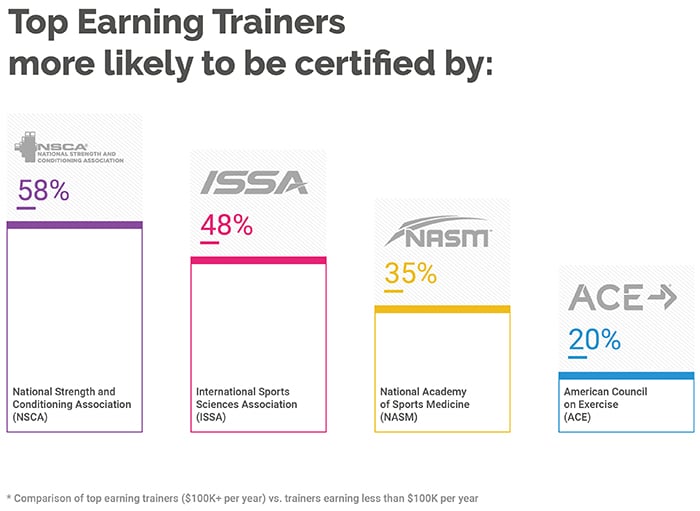 My research indicates that overall income potential is greatly influenced by the certifying body that issued the certification.
Given the proliferation of certifying bodies offering full or "short courses" traditionally or online, gym owners and athletes alike are wary of the paper trainers carry about.
Based on my study, there are hundreds of purportedly legitimate certifying bodies, of which many grant their certificates after a few hours of the candidate's viewing of recorded video clips.
Some are so bad they want your money and send you materials in PDF format: no video, no hands-on training, nothing!
After speaking with dozens of top earners in the fitness industry, my research indicates that certifying bodies accredited by the NCAA and DCEA are the most recognized.
Also, interviewees confirm that NSCA-CPT professionals are the highest in the industry, and following NSCA in that order are ISSA, NASM, and ACE.
With such strict study requirements and tough exams, it's no wonder that trainers who pass the NSCA Certified Strength and Conditioning Specialists (CSCS) exam are the most respected.
And if you wonder who is the highest-paid personal trainer, it's most likely a CPT/CSCS.
On the other hand, ISSA is a unique fitness certification body that operates quite differently from the other three in the list above.
Thanks to celebrity endorsement, the access it offers international candidates, and its work with the military and vets, people have come to trust its specialist certificates.
These factors alone make holders of the certificate earn more.
The ISSA personal trainer salary falls second in line after the NSCA personal trainer salary, earning 48% more than NASM and ACE trainers.
NASM and ACE are more or less on the same pedestal, trusted over the years for providing quality study materials and standardized tests.
Whereas the NASM personal trainer salary is 32% higher than others, the ACE personal trainer salary is 20% higher according to data.
In the end, your certificate matters in determining your overall certified personal trainer salary, so I'll leave you these individual reviews in case you want to explore them further:
Do you need a personal training degree to earn more?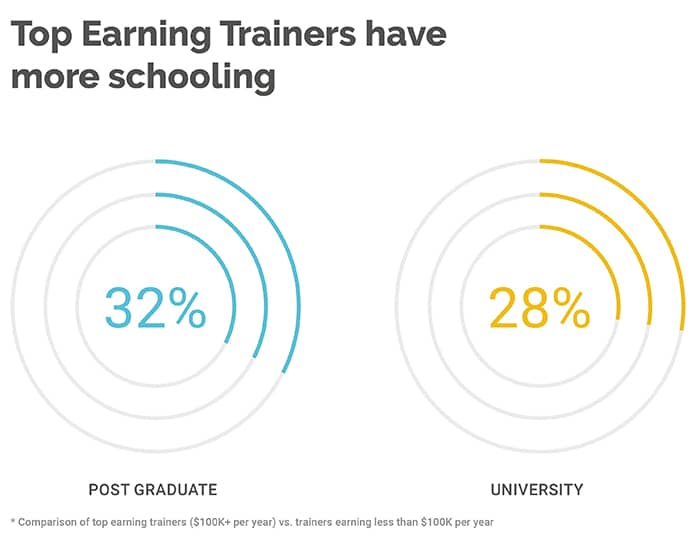 While having a degree to work as a trainer is not compulsory, and you can still earn decent money without one, the average personal trainer salary with a bachelor's degree is higher.
Why?
A college degree proves that you've endured all the required training, passed your exams, and have been authenticated by the school as qualified to train and give advice.
As a kinesiology graduate me, I can tell you categorically that my worth is much higher than someone with, say, only an NSCA-CSCS certificate.
Having a degree combined with additional specialist certificates greatly increases your value and credibility.
Trainers (like myself) who hold a degree can branch out to other fields, such as writing and publishing books for exercise, being paid to give advice, managing big athletes, and much more.
It goes without saying that a relevant post-grad degree (a master's degree or a doctoral degree) pushes your worth and earnings even higher.
So, it's no surprise that studies indicate that 32% of the top earners hold advanced degrees.
Additionally, 28% of the top trainers that earn over $100k per year hold a minimum of a bachelor's degree (among other industry-specific certificates).
So does a college degree matter?
Judge this for yourself.
CPT salary infographic

Personal trainer salary frequently asked questions (FAQ)
What does a beginner personal trainer's salary look like?
According to the Bureau of Labor Statistics (BLS), a typical entry-level personal trainer salary is approximately $42,000 annually, but this varies based on many factors.
Can personal trainers make $100k?
While making $100k per year as a trainer is possible, you won't be relying 100% on in-person sessions. Most trainers use a hybrid approach of training live and online sessions to earn 6 figures.
How much do personal trainers cost or make?
According to the BLS, the average hourly rate for a trainer in 2021 is $19.57/hour. This usually ranges between $10 to $50 per hour. Again, this varies and the hourly rate can be increased greatly if you also work online.
How much do personal trainers make per session?
Most trainers make $18 per hour-long session and $10 per half an hour per session. These are entry-level rates at a typical commercial gym such as 24 Hour Fitness, Bailey's Fitness, and other big chains. Also, prices per session may vary by area, state, or city. 
How much do personal trainers make per week?
Most trainers make approximately $939 per week.
How much do personal trainers make per month?
Most trainers make around $4,071 per month.
Which gyms pay personal trainers the most?
According to my research, 24-Hour Fitness is the highest paying gym, where a master trainer can earn approximately $5,000 monthly.
How do personal trainers get paid?
Trainers get paid by the gym they are working for or directly from their clients if they are independent trainers.
3 types of gym pay structures common to personal trainers?
Pay structures will either be full-employment or part-time employment on a W-2, or private contractor status with a 1099 form.
Personal trainer salary video (YouTube)
Personal trainer salary (Podcast)
Conclusion: what is the average salary for a personal trainer
With these findings from my study, I ensure I have all the angles covered to help you make the right choices as your progress in your career.
Utilizing outcomes and stats sourced from some of the highest-paid and most recognized trainers in America will help guide you properly as you shoot for the top.
Is becoming a personal trainer hard?
Is becoming a personal trainer worth it?
Be that as it may, I'll strongly recommend that you stick to what you have a passion for.
That fitness trainers with CSCS certification earn more than sports nutritionists does not mean you must choose that path if your passion is helping people stay fit through proper eating habits.
I hope that my well-researched report will help you find your path and do great things.
Happy training, happy gaining!
References
Bureau of Labor Statistics. Occupational Outlook Handbook: Fitness Trainers and Instructors. BLS.