Hey everyone, and welcome to my NCSF Study Guide Hub.
Here we have the current edition study guide for NCSF Personal Training 2023, an NCSF practice test, NCSF flashcards, as well as NCSF study tips at the very end.
It is highly recommended that you bookmark this page and use it as a study resource to help study for the certification exam.
If you have not yet signed up for the NCSF CPT certification, receive a big discount here.
Get your copy of the NCSF CPT exam cheat sheet. It helps immensely for studying for the exam.
Make sure to check out Trainer Academy for premium NCSF CPT study materials. They will reduce study time by 50% and have an exam pass guarantee. Read my full review of them here. You can save $100 on their MVP study system with the code: PTPSUB
My Bitmoji counterpart will be walking you through the NCSF CPT study guide to make sure that you are on track for passing the NCSF CPT exam. Say hello to Tyler-Moji.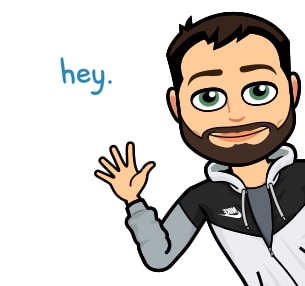 Intro to the NSCF Study Materials
Before we get started, you will need the official textbook from the NCSF to study for their exam.
The current textbook is called NCSF's Advanced Concepts of Personal Training, second edition. It consists of 17 chapters and is written by the National Council on Strength and Fitness
Refer to the image on this page to pick up the correct textbook. I recommend either picking the book up from the NCSF website or from Amazon.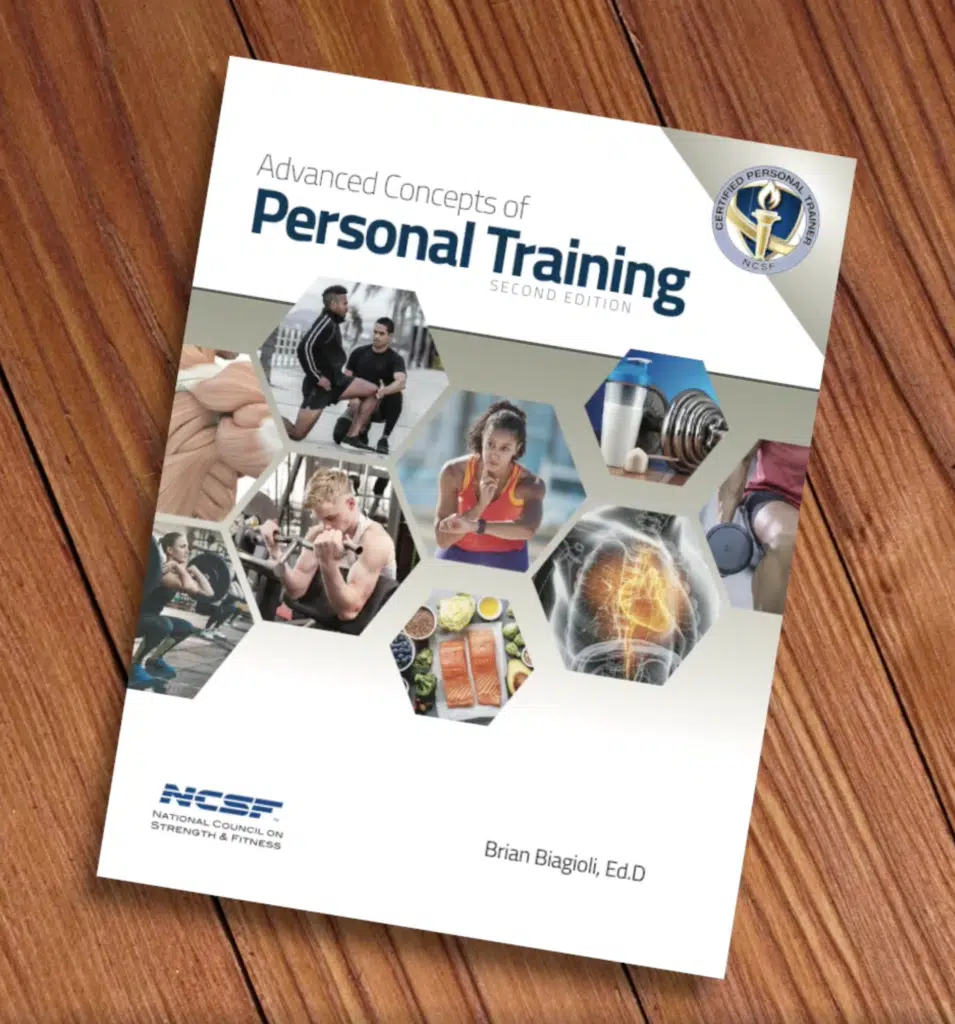 Top 10 Tips To Passing The NCSF Exam (Video)
(coming soon)
Top 10 Tips To Passing The NCSF Exam (Podcast)
(coming soon)
Free NCSF Study Guide updated for 2023
Free NCSF practice test for 2023
The NCSF exam is broken down into 10 different domains, compared to 9 in the study materials. This is due to one domain being split into two for the exam.
Domain 1: Functional Anatomy; (represents 12% of the exam)
Domain 2: Exercise Physiology; (represents 8% of the exam)
Domain 3: Health and Physical Fitness; (represents 11% of the exam)
Domain 4: Screening and Evaluation; (represents 13% of the exam)
Domain 5: Nutrition; (represents 7% of the exam)
Domain 6: Weight Management; (represents 9% of the exam)
Domain 7: Exercise Programming; (represents 19% of the exam)
Domain 8: Training Instruction; (represents 15% of the exam)
Domain 9: Considerations for Special Populations; (represents 3% of the exam)
Domain 10: Professionalism and Risk Management; (represents 3% of the exam)
NCSF Practice tests answer key below ⬇️ (Don't Peek Until After!)
Q1: Heavy resistance training is known to release a higher concentration of what anabolic hormone?
A1: Testosterone
Q2: What is the rotator cuff's role?
A2: All the above
Q3: Which term describes muscle discomfort that occurs 24 hours post-exercise?
A3: Delayed onset muscle soreness
Q4: Muscles lengthen in which contraction type?
A4: Eccentric
Q5: Which body system controls the muscle adaptations for strength?
A5: Endocrine system
Q6: Which adaptation takes 5-7 weeks to occur?
A6: Improvements in lean mass
Q7: Which of these tissues increases joint susceptibility for injury when stretched?
A7: Ligaments
Q8: Which recommendation is likely to reduce the risk for heart disease directly?
A8: Reducing chronic psychological stress
Q9: Which positive change can be expected from an aerobic exercise intervention on a chronic scale for a hypertensive client?
A9: A reduction of blood pressure by 10 points
Q10: The Hammer Curl is programmed to activate which muscle to a greater degree compared to the regular dumbbell curl?
A10: Forearms
Q11: During postural assessments, the thoracic spine will have this…
A11: Kyphotic curve
Q12: Which one will not overpredict the body fat of a weightlifter?
A12: Skinfold measurements
Q13: What is systolic blood pressure?
A13: The blood pressure reading when the heart contracts
Q14: Which one identifies the correct body fat classification for morbid obesity?
A14: Males – 30%; Females – 40%
Q15: What should you do if a client had recent surgery, but wishes to train during rehab?
A15: Get medical clearance and recommendations from his physician
Q16: Which percentage of the diet should come from proteins?
A16: 10-15%
Q17: What muscle is being a prime mover in the front squat?
A17: Quadriceps
Q18: Which supplement is used for increasing the capacity of the body to produce max force?
A18: Creatine monohydrate
Q19: Which one of these is associated with fluid balance and body hydration?
A19: Essential amino acids
Q20: How many calories are needed to burn one kg of fat?
A20: 7700
Q21: What should be the limit for dietary saturated fats?
A21: 10% of total calories consumed
Q22: Consumption of which of these before exercise reduces the protein catabolism?
A22: Carbohydrates
Q23: Which muscles are likely to be trained by the deadlift?
A23: Lower back
Q24: How many reps need to be done to maximize muscle growth?
A24: 1-6
Q25: Which training system uses a heavy conditioning exercise followed by a light-fast exercise?
A25: Contrast training
Q26: What is the max intensity that can be performed for 8 repetitions?
A26: 80%
Q27: What is dynamically stretched in a side lunge?
A27: Hip adductors
Q28: How many calories does the body use per liter of consumed oxygen?
A28: 5 calories
Q29: Your physically active client wants to add muscle mass as their primary goal. You explain that when focusing on hypertrophy training, they should anticipate seeing increases in lean mass after ______.
A29: 8-10 weeks
Q30: What degree of shoulder abduction is needed to train the posterior deltoids properly?
A30: 90
Q31: Which of these is a closed chain exercise that happens around a distally fixed point?
A31: All the above
Q32: Which should be selected when seeking to increase the dynamic range of motion of the hip flexors during resistance-based exercise?
A32: Split stance
Q33: Which of these is a proper rest interval for 2 sets of power cleans done at 85% one rep max?
A33: >120 seconds
Q34: In terms of strength training design and the principle of progression, how much should the total load be increased each week when expressed as a percentage?
A34: 2-5%
Q35: Which of these would be the greater choice for upper body power improvement?
A35: Incline medicine ball passes
Q36: Which one is considered a contraindicated exercise due to potential risks for injury?
A36: Lat pulldown behind the head
Q37: Where should clients be spotted in the back squat?
A37: Lateral aspect of the rib cage
Q38: Which of these is the largest concern for children during exercise?
A38: Overheating
Q39: A new client is a 66-year-old female who is concerned about her bone health. What should be included in her program to address her concerns?
A39: Resistance and power training using all major muscle groups
Q40: Which course of action is best for someone who might not reach the initial measure on the sit-and-reach test to identify an actual score?
A40: Document the individual as inflexible and ensure the program addresses the issue
NCSF Flashcards
NCSF Study Tips
While my study materials here are excellent for the NCSF as far as free study guides go, they are not meant to replace the entire text that NCSF offers through their study program.
These free study materials are just a small portion that will help you along the way to becoming an NCSF certified personal trainer.
Below this, I will list some additional study materials that are highly recommended so that you can ace the exam with confidence.
The study materials listed below will guarantee you pass the final exam.
Premium NCSF study guide!
The free study guide through PTpioneer is the best free option out there.
With that said, if you are looking for, hands-down, the best option to guarantee success on your exam and certification, you can't go wrong with Trainer Academy!
Trainer Academy crafts the greatest premium study materials you can find, and they do so for many certifications with their years of experience.
Their study guide removes all of the unnecessary material and really hones and perfects the exact material that you need to know for your exam. Check out their NCSF study materials here.
More NCSF practice tests
The NCSF practice exam on this page is a great tool to see the styles of questions that will come up on the actual NCSF exam.
If you'd like to feel more confident, it will be a good idea to go to outside resources to study and practicing the exam.
The actual exam is 150 multiple choice questions, and I would recommend taking at least 2 of these practice tests.
Many people contact me while saying that they have failed the exam, and this is often due to not having any form of practice for the actual exam questions.
The absolute best practice tests can be found through Trainer Academy. They have multiple unique practice tests that they use to optimize your readiness.
Trainer Academy Academy has 3 practice tests for the NCSF, each with 150 questions to ensure you ace your final.
If you can pass those three exams from Trainer Academy, you will finish your certification exam with max confidence.
Spaced repetition NCSF flashcards
Spaced repetition learning is an excellent learning method that pairs well with studying for these types of exams or any form of studying for that matter.
Essentially, this is a form of studying where, in the case of flashcards, the studying focuses on separating the flashcards you have mastered from the ones you have a hard time with. This means you are wasting less time having the same flashcards that you continuously get right.
These forms of learning algorithms will ensure that you are not wasting time with your studies.
The flashcard on this page use the simple standard flashcard forms and don't cover the near 1,000 flashcards that could be made from the text.
The team at Trainer Academy has made hundreds of flashcards to cover every topic in the book in the form of spaced repetition, which is guaranteed to save you a ton of time.
NCSF Mnemonics for the tough parts
One of the greatest methods to nail down the tougher groups of information in the text would be through the use of study mnemonics.
Study guides, flashcards, and testing are very useful for studying, but they may not help the information stick around after testing.
To help with this, study mnemonics should be utilized. These mnemonic devices help by taking material and creating memorable pictures in your head to remember the words you need.
I suggest that you use this as you go through the textbook, or simply pick up on some that are already done for you.
Trainer Academy has over 30 mnemonic devices made for their NCSF study programs for the hard concepts.
NCSF CPT Cheat Sheet
One last piece of advice would be to create a cheat sheet with all the materials you need in one concise space.
Do yourself a favor and check out this cheat sheet we have for you by clicking the button below!
Starting our FREE Study Guide
Click on the button below to start studying our free study guide, starting with chapter one of the NCSF.