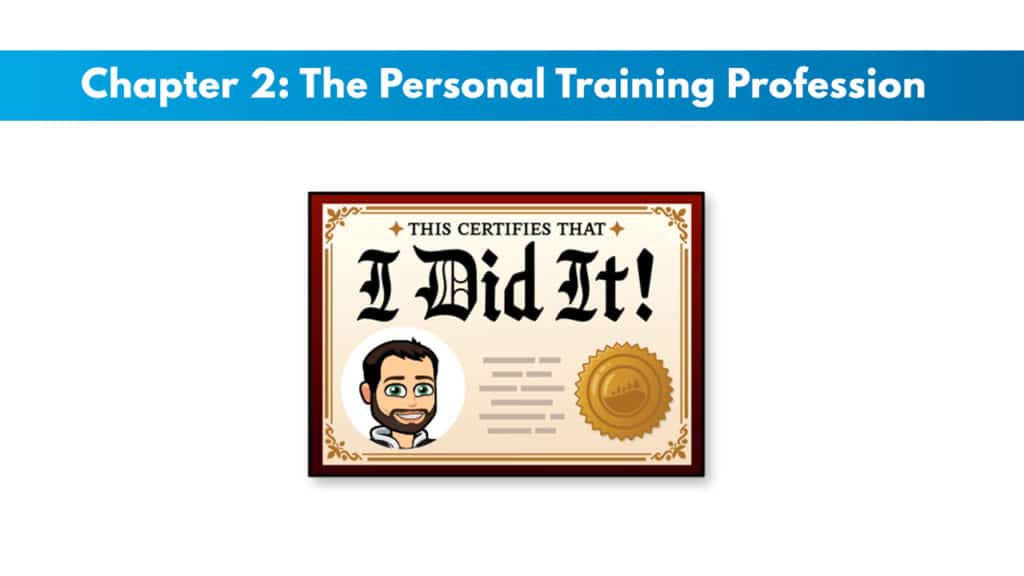 If you have not signed up for NASM CPT, sign up here to save 25% with my personal code PTP25.
Get your copy of the NASM CPT exam cheat sheet. It helps immensely for studying for the exam.
Make sure to check out Trainer Academy for premium NASM CPT study materials. They will reduce study time by 50% and have an exam pass guarantee. Read my full review on them here. You can save $100 on their MVP study system with the code: PTPSUB
Chapter Goals:
Find the employment opportunities for entry-level fitness professionals.
Be able to make a professional resume and hone your interviewing skills.
Be able to describe the most common daily job tasks for fitness professionals.
Make sales and marketing strategies for driving clientele growth.
Find the requirements and opportunities for continuing education in the fitness industry.
Fitness Industry Employment
There is enormous levels of growth around the world occurring in the fitness industry. This is shown in the US whereby in the end of the year 2028 there could be 402,000 jobs. And this is just in the American health clubs alone.
Fitness professionals have the ability to work for many types of employers or to work for themselves. This shows why the fitness professionals should perhaps use a lifetime learning mentality to improve their knowledge and skills.
Importance of Education and Certification
The profession traces back to around the 1970s when the athletes and bodybuilders were hired to help clients develop a muscular appearance.
After this, the commercial clubs realized that this could create a whole new stream of revenue through the use of personal training.
The functions of a certified personal trainer has changed from just working on aesthetics and appearances to that of working on a clients' overall quality of life through the design of exercise programs for losing weight, preventing injuries, athletic performance, and functions for daily living activities.
As personal trainers go through their career, they will continue to educate themselves to keep them relevant and fresh. This is required through the continuing education credits by NASM.
Employment Opportunities
The next step after certification through NASM is to decide the best option for employment for the trainer for a steady income with a schedule that suits them.
The personal trainer needs to decide between working as a direct employee of some organization or as someone independent of a company or organization.
If those two options do not suit the trainer, then they may choose to start their own business and work in their home or their clients' homes.
Commercial Health Clubs
The health club industry is the biggest of the options for personal trainers.
Health clubs can be local, regional, national, or even international with locations in many countries.
There can be low-cost, mid-market, premium, and non-profit health clubs, and these all have differences between them.
As direct employees, the fitness professional is paid hourly most often when working a scheduled shift on the fitness floor, and then additional amounts when delivering training sessions to clients, with bonuses for sold training sessions.
Independent Professionals
Another option is being an independent contractor for health clubs or studios.
Exclusive PTP CPT Offers



Gold Standard Cert

Most Popular Cert

Best Study Materials

A Good Option

A Good Option

Best CPT for you?

Fitness professionals will usually have to pay per client or monthly fees of some form in order to use their location. They become somewhat of a customer themselves in this scenario.
The different options for employment are studio or health clubs, traveling to client homes, online coaching, and organizational wellness.
Being an independent contractor usually means you will set your own pay rates and earn the whole amount. This means that the trainer is required to pay the operational costs also.
Small-Group Training
This can be a way to provide a more affordable price point for workouts led by coaches, a more enjoyable experience for clients, and a number of other factors that are leading to the rise in group training.
Many studios are using high-intensity interval training in the form of boot camps and similar group training ideas to get people into the gyms.
Online Fitness Coaching
Many people are motivated to exercise on their own, but still need the guidance of a trainer to do it. This leads to the growth in the online training businesses.
There are many models to this form of training, just like with actual in person coaching.
Career Development
Personal training can be found to be rewarding as far as careers go because of the help given to others and changing their lives and earning a living doing so.
Every place of employment is going to vary, but it's important to know some base information about the specific jobs in the industry.
Fitness Manager
A manager's duties include making the staff schedule, providing mentoring to the fitness professionals, and holding regular meetings to keep the team up to date, and doing all of this while responding to member questions when needed.
General Manager
These manager positions are responsible for all business operations in the club, from the sales to the maintenance of said club.
These managers will generally oversee multiple departments and individual employees also.
Facility Owner
One of the major benefits of personal training is the relatively low cost for starting a business compared to other industries.
Fitness professionals may start a business working with their clients, and eventually get to the point where they can start a business and own a physical location of their own.
Some owners may invest in a location and then not be active and hire others to cover the business, or some may take the role of managing the business.
Adjacent Careers
Some of the adjacent careers are that of Master instructor, Writer and Blogger, Strength and conditioning coach, Social media influencer, and College or Trade school instructor.
Resume Writing
It is important to have a well-written resume as a personal trainer. The resume should be short and give an outlined presentation of the individual's ability to contribute to a type of organization. It should highlight the life of the person, and not just strictly their jobs.
Resumes should be creative, organized, unconventional, and vulnerable.
Online searches will show the most current and effective ways to write a resume to attract a potential employer.
Exclusive PTP CPT Offers



Gold Standard Cert

Most Popular Cert

Best Study Materials

A Good Option

A Good Option

Best CPT for you?

Job Search and Interviewing
The purpose for the resume is marketing a person's skills to get an in-person interview with the hiring manager.
Where to look for a job
Most online website have the job postings for companies in need of a certified personal trainer. You can also use the websites of those specific places to find possible jobs.
It is always a good idea to visit the job site in person and meet the people working there.
Attire
When visiting a place and inquiring about a position, it is ideal for to dress in business attire. This shows the place of business that the job will be taken seriously, and that the person understands the importance of being professional.
The Interview
This is a formal process that enables job candidates to show their personality, convey work ethic, and discuss aspects of their job history beyond that of the resume.
How to Follow up
It is always a good idea to follow up an interview with a thank you via email or a handwritten note. This again shows how serious the person is in their pursuit of a job.
A Day in the Life of a Certified Personal trainer
There are only specific times in which a person is available to meet their trainer. Most people are generally available before or after work, or during their lunchtime. With the way the job market is changing, this recently has changed to have it possible to meet during many times of the day depending on the client's job.
A normal schedule will have trainers training clients in the morning before work, having some administrative time, then having lunch, training lunchtime clients, more administrative time, and then training after work clients.
Sales and Marketing
Clients seek services from fitness professionals due to problems they have that need to be solved. This could be anything from losing weight, lowering blood pressure, and/or improving strength and stamina.
It is important for trainers to understand the sales process to be able to handle their business interactions and such.
Introduction to the Sales Process
There are specific stages in the sales process:
Identify the customer's needs
Communicate the solutions to their needs
Making the sale by asking for a financial commitment to solving their needs
Prospecting and Lead Generation
Prospects should be found in a few ways:
Ask for referrals from your already existing clients
Work the floor to meet the members of the facility and build rapport with them
Obtain warm leads provided by the member or the sales department
Answer inquiries from social media and other streams for marketing
Building Rapport
Rapport is built on open communication and trust. This is vital for getting new clients and requires the ability to communicate honestly and make friendly, personal connections.
Forecasting
This is financial foal setting to determine how many prospects a trainer needs to interact with on a daily basis to keep a consistent flow of clients in the pipeline.
Asking for the Sale
Buying decisions are mainly driven by emotions, and the decision to invest in sessions with personal trainers may be extremely emotional.
When asking for the sale, the trainer should present all available price points and allow the potential clients a little time to receive the information.
Marketing
Once the goals are set, and a trainer knows how much work they need to do to earn a specific income amount, it is necessary to market the fitness services to the possible clients.
Marketing is the process of promoting a service for the purpose of communicating features, advantages, and benefits of training to the clients.
Many health clubs will have dedicated marketing in some form, and often make it easier for the trainer to take on new clients. In the case of independent contractors, it is more often that they need to promote themselves and market a way that they can solve a problem.
It is important to have your own unique selling point and convey that in your marketing. This is a trait or skill that allows you to stand out compared to other trainers.
Some examples of a USP would be like this:
Specializing in an age group like 55 years or older
Focusing on weight loss specifically and teaching long term health and body composition improvement
Training athlete to improve their performance in sports
Building Value and a Brand
Your brand tells a story and creates an identity for the product or service.
It helps to create your own when you look up how your own brands do this.
Using a SWOT Analysis to Build a Brand
SWOT analyses look at the Strengths, Weaknesses, Opportunities, and Threats to your business. It requires research into these four areas and comparisons to the rest of the market. It is a good idea for all businesses to go through this.
Four Ps of Marketing
Communicating the benefits of using a PRODUCT
Identifying the competitive PRICE of the service
Finding how to PROMOTE the service
Choosing the PLACE or distribution method
Social Media
Social media can be used by personal trainers to help market their services and be found by clients. It is important to separate your business and personal accounts when doing this form of marketing and business.
Industry Events and Networking
Attending industry events such as conferences, trade shows, or workshops can help to market and network for the benefit of your business.
Email Campaigns
These can be beneficial when using online platforms and websites designed for the purpose of managing email lists.
Continuing Education
As the career of the trainer progresses, it is important to pursue additional education for the development of skills and serving a wider range of clients.
Requirements
The NASM requires trainers to get 2.0 CEUs every 2 years, which is the equivalent of 20 hours of continued education credits over those 2 years.
The opportunities for these credits comes in the form of trade shows, workshops, online CEUs and Specializations, college courses and industry contributions.
Some other uses of these continuing education credits are to increase the work you can do with niche populations and to increase your pay due to those specializations.