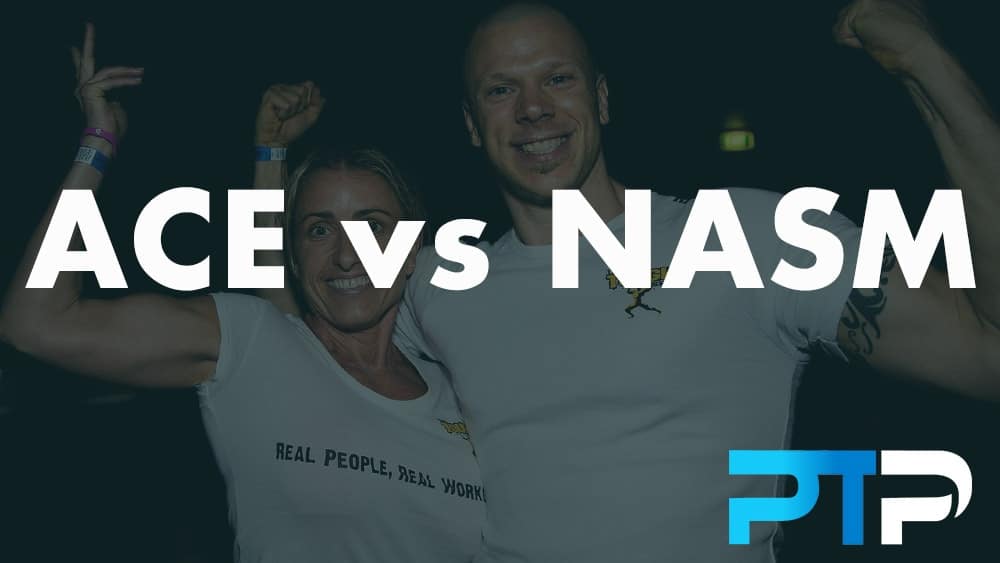 Welcome to my ultimate comparison breakdown of the ACE and NASM CPT certifications, two of the best personal trainer certifications around.
My review looks at the following key NASM vs ACE certification components:
While you're here, I suggest you take this quiz to get a quick idea of which cert is best for you.
Alright, let's dive in and find out which of these fitness industry certs is best for you!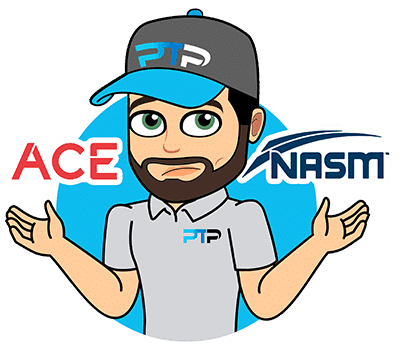 CPT
ACSM vs ACE Quick Breakdown
Features
Price
ACE

One of the most popular and highly regarded certification providers in the world
A non-profit organization that drives many community-based projects
A good entry point for new, up-and-coming fitness professionals and group fitness experts

Check ACE Pricing
NASM

The most popular and recognized certification providers in the world
Specializing in corrective exercise technique methodology
Great for newcomers and seasoned professionals

Check NASM Pricing
Product
Exam cost
Study Material Cost
Study Material Cost
$509+
$699.00 – $2199
Prerequisites
Prerequisites
CPR/AED, 18 years of age, high school diploma/GED
CPR/AED, 18 years of age, high school diploma/GED
Exam Passing Score
Exam Passing Score
72%
70%+
Exam Pass Rate
Average Completion Time
Average Completion Time
3 to 6 Months
3 to 6 months
Introduction
Out of the gate, I want to emphasize that ACE, and NASM are two of the best personal training certifications in existence.
Additionally, both ACE and NASM offer a range of nutrition certification programs, strength and conditioning certifications, and group fitness instructor programs.
As I tackle each critical aspect of how to become a personal trainer, you'll begin to understand which is the best personal trainer certification program for you.
Both certifications are equally convenient since they are both online personal trainer certifications that do not require you to attend any in-person training.
ACE vs. NASM: Quick Information
ACE Personal Trainer Certification
ACE is the American Council on Exercise. They are a well-recognized and well-received certification provider with a global influence.
Founded in 1985, ACE is a non-profit organization focused on improving public health by training fitness professionals within the ethos of enhancing the lifestyles of the general population.
This ethos is espoused by the IFT model, short for integrated fitness training, providing a way to be creative with your exercises and workouts.
This is the main feature of ACE fitness certifications as you will soon learn.
ACE is an accredited program through the NCCA, meaning it has been thoroughly vetted by subject matter experts.
For a more comprehensive look at the top organizations in the fitness industry, check out my article breaking down the best personal trainer certifications.
NASM Personal Trainer Certification
The National Academy of Sports Medicine, or NASM, is a certification provider that educates health and fitness professionals.
Founded in 1987, it has become one of the leading names in health, fitness, and nutrition certification programs.
NASM is often indicated as the most popular certification institute by various metrics, including Google search trends.
This has allowed NASM-certified trainers to be the most successful from a personal trainer salary perspective.
Additionally, NASM trainers are typically sought after in gyms across the globe.
It is accredited by the NCCA, the National Commission for Certifying Agencies.
Aside from my free NASM study pack, you'll find a ton of useful prep resources from them when we go through the study materials later.
The General Focus and Popularity/Recognition of ACE vs. NASM
Each certification provider has its own unique flavor. What this means in formal terms is that each provider has a niche field such as group fitness certifications, that they pour a majority of their academic focus towards.
This is regardless of the different specialty certifications on offer.
One certifying agency might focus more on strength and conditioning certifications, while another might be more about health coaching programs.
It's important to understand these differences so you can make informed choices and become a successful personal trainer.
ACE-CPT
ACE has tasked itself with the mission of improving public health through behavioral change, health coaching and lifestyle optimization.
The epidemic of obesity and metabolic disease in modern society, and especially in western societies like the US, has led to a health crisis with a dire need for alleviation.
Our increasingly sedentary lifestyles, along with the reduction in quality when it comes to nutrition, are both factors that plague modern health.
With this being the case, ACE provides the right education and tools for a sustained influx of qualified professionals who will be equipped to help the general public towards a healthier state, while also earning a good personal trainer salary.
That means many of the principles and concepts outlined in the ACE certification curriculum fall within the general category, thus imparting candidates with an all-rounder approach to fitness instruction.
Despite this, ACE does touch on special populations training.
ACE leads this initiative with its IFT model.
The Integrated Fitness training model is a fitness training methodology based on the core principles of fundamental human movement.
By tackling fitness in phases that go from fundamental function and essential health all the way up to the optimized performance.
This is one of the strong aspects of ACE training programs.
NASM-CPT
NASM is a sports medicine-orientated organization as its name applies.
From a generalist perspective, this translates into corrective exercise certifications.
Corrective exercise specialists have a career in the methodologies and protocols around improving musculoskeletal issues caused by:
Injury and recovery from injury
Movement compensations
Imbalance
Poor posture
Chronic conditions
Disabilities and impediments
Sub-optimal movement patterns
That means trainers who qualify through NASM have the tools and know-how to administer principles that enhance the quality of physical function while also catering to general needs such as maintaining healthy body composition and cardiorespiratory health.
This approach is exemplified in the NASM OPT model, short for Optimal Performance Training.
Skills and Knowledge Covered in ACE vs. NASM
The area of focus of each certification gives us a quick impression of their curricula.
But to get a complete image of that, I want us to go through each significant aspect of personal training and how each of these certs helps you sell personal training.
Exercise Science Principles
Exercise science principles are crucial for PT education as they form the foundation for all other understandings.
Helping your clients establish a mind-muscle connection through scientific principles is what gets things going, literally.
Both ACE and NASM have an approach towards exercise science.
Exclusive PTP CPT Offers



Gold Standard Cert

Most Popular Cert

Best Study Materials

A Good Option

A Good Option

Best CPT for you?

NASM tackles this in Chapter 5: The Nervous, Skeletal, and Muscular Systems, Chapter 6: The Cardiorespiratory, Endocrine, and Digestive Systems and Chapter 7: Human Movement Science.
Topics covered in this regard include:
The principle of exercise science is prevalent throughout the course curriculum underpinned by the OPT model.
ACE presents exercise science by describing the IFT model, short for Integrated Fitness Training, a method of implementation developed by ACE.
You can get the low-down on this in Chapter 11: Integrated Exercise Programming: From Evidence to Practice.
Chapter 9: Muscular Training: Foundations and Benefits also digs into many exercise science-related topics.
Outside of that, exercise science isn't expanded on in any fundamental detail and leaves a lot to be desired, in my opinion.
NASM definitely takes the cake when it comes to this topic, going as far as equipping trainers on how to improve bench press technique to grow a bigger chest, build strength, and avoid injury.
Behavioral Coaching Principles
To have what it takes to motivate your clients and help them achieve results, you need to know how to catalyze a shift in behavior.
Change psychology is of significant importance for practical, results-driven personal training tips for beginners.
ACE does an excellent job of highlighting this topic, in my opinion.
This is based on content in Chapter 3: Basics of Behavior Change.
NASM also covers behavioral coaching, but to a lesser extent than ACE.
The topic can be found in Chapter 4: Behavioral Coaching.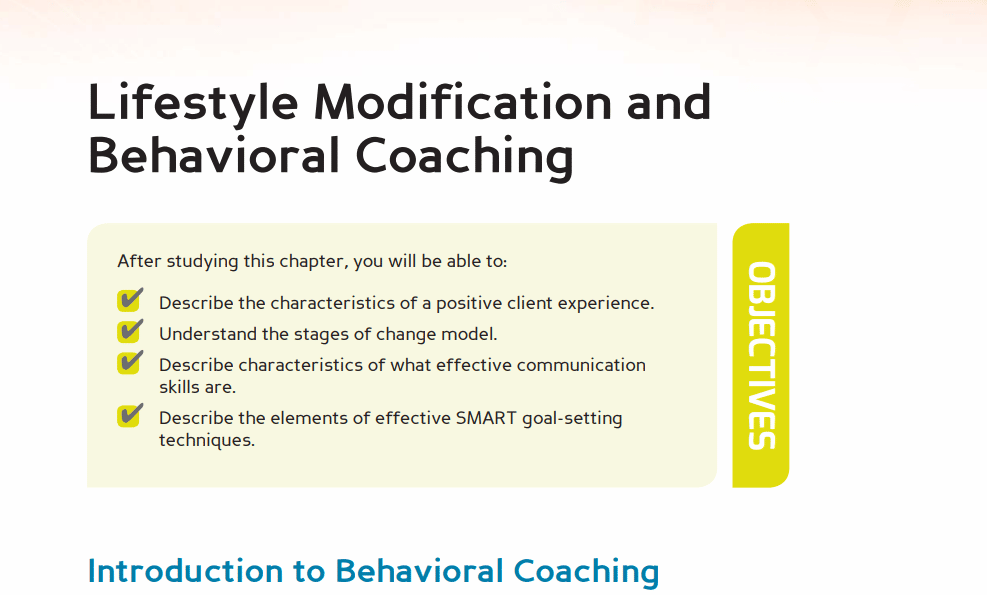 For this reason, I would conclude that ACE has a superior approach to behavioral coaching principles than NASM does.
This makes sense considering the focus ACE has on inspiring change of attitudes within the general population, motivating people to even engage in at-home workout routines.
Consulting and Screening Clients to Reduce Risks of Injury
Before any workouts or training can occur, you need to understand your client's strengths and limitations so you can plan accordingly.
You also want to know if any circumstances or conditions need to be specifically accommodated to prevent aggravation of medical conditions.
All this lies in your ability to conduct initial assessments with your prospective clients.
NASM covers this extensively in Chapter 11: Health, Wellness, and Fitness Assessments and Chapter 12: Posture, Movement, and Performance Assessments.
As for ACE, Chapter 10: Muscular Training: Assessments, Chapter 8: Cardiorespiratory Training: Physiology, Assessments, and Programming and Chapter 7: Resting Assessments and Anthropometric Measurements comprehensively expand on fitness and health assessments.
This part of the curriculum even covers how forming positive bonds with clients (Building Rapport) is important in conducting accurate initial assessments, an essential aspect in how personal trainers get clients.
Resistance Training Program Implementation
Resistance training will form a large portion of the exercise methodologies used with your clients.
In fact, most exercises can be considered resistance-based to an extent, so understanding the biomechanics behind it is crucial in a general sense.
I went into this topic assuming NASM would trump ACE, but it turns out that ACE has a bit more of an in-depth approach to resistance training principles than NASM.
NASM brings resistance training up in Chapter 20: Resistance Training Concepts.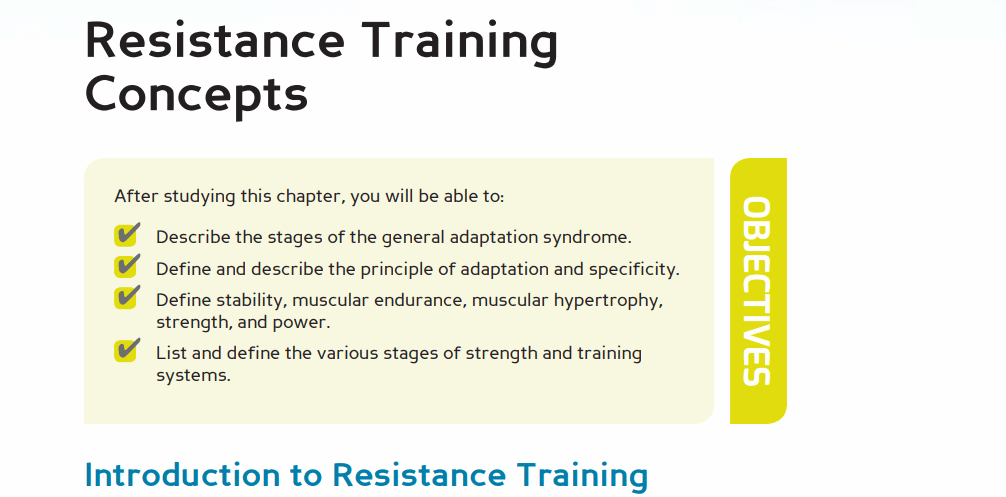 ACE makes it's own case for resistance training with Chapter 9: Muscular Training: Foundations and Benefits.
With that said, NASM isn't incredibly far off and spreads out its attention across other pillars of fitness such as core strength, balance, and flexibility, areas not well covered in ACE's curriculum.
Aerobic Training Program Design and Implementation
Aerobic fitness, commonly known as cardio fitness, is probably the most fundamental aspect of fitness and exercise.
Without "good cardio," other areas of your client's fitness goals will suffer, including general health.
Understanding aerobic training and implementing practical cardio protocols in a program are the keys to success.
The ACE IFT model is a tremendous pre-packaged strategy toward implementing successful aerobic fitness principles.
Aside from that, Chapter 8: Cardiorespiratory Training: Physiology, Assessments, and Programming also provides value.
The NASM OPT model provides a similar richness in its approach to cardiorespiratory programming principles, expanding on the unique benefits a personal trainer can provide.
NASM delves into aerobic training in Chapter 15: Cardiorespiratory Training Concepts.
I would say both ACE and NASM are on equal terms regarding aerobic training implementation.
Helping Special Populations with Fitness
Each client you consult and train with is a unique individual; as such, their needs and preferences, as similar as they might be to others, will always have a uniqueness about them.
Sometimes the unique attributes of a client's needs or goals fall far outside the range of what's considered normal.
If this is the case, you can consider such clients to be members of a particular population group.
Such groups include:
Competitive athletes,
Youth and children
Prenatal and postnatal women
People with disabilities
People with chronic conditions
Understanding the nuance behind training people with such special requirements allow you to diversify and cast your net wider as a trainer.
ACE highlights training principles for special populations in Chapter 14: Exercise and Special Populations.
The chapter is relatively large and touches on most of the fundamentals of different unique client scenarios.
NASM's curriculum does consider special training scenarios in the way of clients with chronic conditions and exercise limitations.
This is in Chapter 23: Chronic Health Conditions and Special Populations. NASM covers methodologies around training clients with limiting health conditions.
Exclusive PTP CPT Offers



Gold Standard Cert

Most Popular Cert

Best Study Materials

A Good Option

A Good Option

Best CPT for you?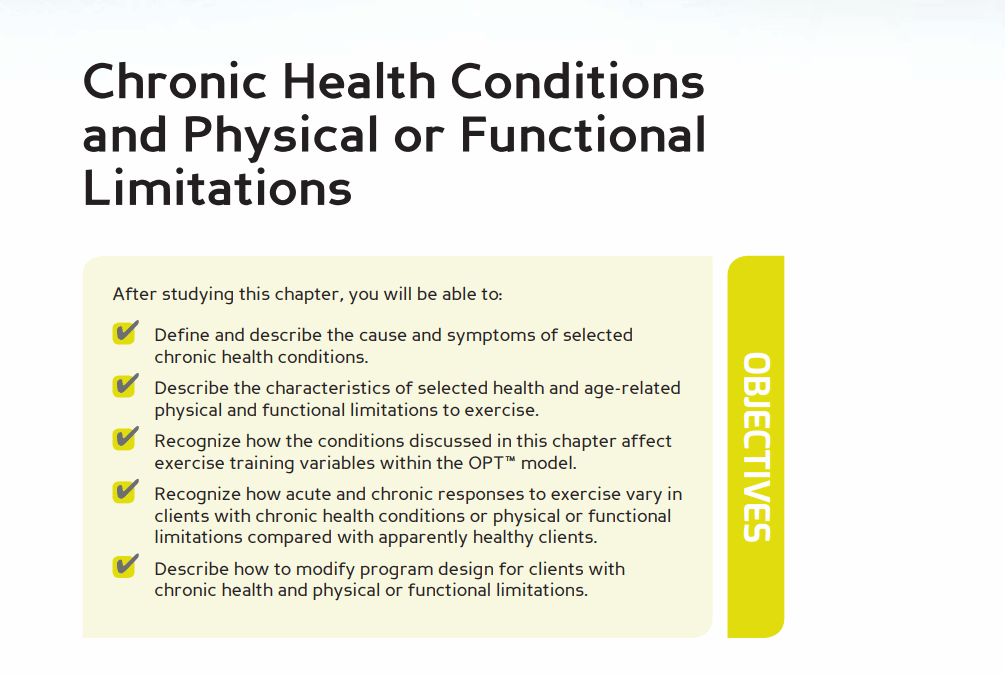 While this grouping does fall under special populations in a sense, it's just one of many different types of special populations, as you would have gathered from the list I mentioned above.
Perhaps the lack of focus NASM holds in this category is due to the fact that they have a number of dedicated special populations certs such as the NASM Senior Fitness Specialization program.
I would say ACE has a superior take on special populations training than NASM with that in mind.
For a more in-depth look at the content in these CPT programs, you can read my comprehensive NASM CPT review and ACE CPT review.
Certification Popularity and Recognition of ACE vs. NASM
Popularity and recognition are essential considerations when deciding which cert to go for.
The more popular certifications are obviously the ones with a better track record. The pre-selection bias around picking something popular helps people make good decisions with far less of a challenging investment.
As far as industry recognition and the collective opinion of personal trainers is concerned, that's also important to bear in mind.
Industry recognition allows you to understand what opportunities and job prospects you can expect while carrying specific qualifications.
Having the right cert can count towards gaining access to the best gyms to work in.
As far as popularity and recognition are concerned, no two certifying agencies are more popular than ACE and NASM, thus making them poised to lead you to be a successful personal trainer in no time.
They are by far the most recognized certification providers by the academic fitness community accounting for a large portion of personal training internships.
They are almost equal in annual enrollment figures and are equally accepted in the labor market for online personal trainers.
The only area where NASM has an edge on ACE is google trends search data over the 2020 – 2021 period.
This shows that there is a bit more interest in NASM than ACE when looking for the right cert.
The Study Materials and Pricing of ACE vs. NASM
Study materials determine the quality of your learning experience, so no matter how good a cert looks in terms of its popularity and recognition, you need to understand the content you'll have access to and determine if it will work for you.
When it comes to CPT certifications, the top agencies usually present several options for their tentpole qualifications.
The variance in these materials will determine how much it costs to become a personal trainer as well as how long it takes to become a personal trainer.
These tiered options contain varying amounts and types of materials and are priced accordingly to suit your needs and budget.
You might be well versed in PT principles, meaning your best bet is the cheapest personal training certification.
When it comes to personal trainer certification cost, you need to measure up the quality of the qualification vs its monetary value.
In the case of ACE and NASM, they are so close qualitatively, that your decision could be influenced by which is the cheapest certification of the two.
ACE Certification Cost and Materials
ACE has three packages on offer, the Basic, the Plus, and the Advantage.
The Basic package has the essential study materials, but only at a bare minimum level.
It includes the following:
ACE Practice Exam
ACE Answers (Basic)
ACE Certification Exam
ACE Personal Trainer Study Companion
ACE Personal Trainer Textbook
ACE University
The Plus package has a more rounded approach, offering most of what you need to reach for exam success.
It includes:
2 ACE Practice Exams
ACE Answers (Plus)
ACE Certification Exam
ACE Personal Trainer Study Companion
ACE Personal Trainer Textbook
ACE University
ACE Exercise Science 101
The final tier, the Advantage package comes with all the basics and necessities plus a few extra bells and whistles.
Honestly not necessary in my opinion, but it will help you cross the finish line quicker and more comfortably, provided you do the work required.
4 ACE Practice Exams
ACE Answers (Advantage)
ACE Certification Exam
The Basic package costs $849, the Plus is $999, and the Advantage package is $1,499.
To take the ACE exam only without additional materials costs $499.
If you want to get started on your ACE CPT test prep as soon as possible, take a look at my free ACE CPT study guide and practice exam.
My students regularly lean on third-party resources such as the Trainer Academy ACE CPT Prep Course, which includes flashcards, study guides, practice tests, and an exam pass guarantee.
You should always consider purchasing the higher-priced official ACE study materials directly from the organization itself.
NASM Certification Cost and Materials
NASM takes a similar approach to ACE in that they have a multiple-study package offering.
The only difference is that NASM offers four packages as opposed to ACE's 3.
These packages are: Self-study, Premium Self-study, Guided Study, and All-inclusive
The cheapest package from NASM, Self-study, includes the following::
The certification final exam
Textbook
A series of lecture videos
NASM exercise library
NASM exam answers
Online CPT cert quizzes
Comprehensive NASM study guide
The Premium Self-study includes everything in the Self-study package in addition to
Job Guarantee
One-year NASM EDGE Trainer Plus
Next, we have the Guided Study package, which in addition to everything you've already see, includes the following:
Unlimited Access to NASM Fitness Experts
Certification Exam Retest
NASM-CPT Hardcopy Textbook
Bonus Course: Motivational Interviewing for Coaches
I like this package specifically for the inclusion of a hard-copy textbook. I personally prefer being able to flip through a physical book. You can also highlight and bookmark essential sections in the book for permanent retrieval.
Lastly, we have the All-inclusive package, which, as you may have guessed, includes everything.
In addition to everything the other packages have, All-inclusive also contains:
NASM's Edge CPT Exam Prep
Gymternship™
Recertify for Life
CPR/AED Certification Online
I honestly don't think the All-inclusive package has any value to justify the price. Perhaps if you consider the recertify for life feature, you could rationalize your spending on that package.
Speaking of price, NASM is often considered one of the more expensive certification providers.
The Self-study package costs $899, while the Premium Self-study, Guided Study, and All-inclusive cost $1,199, $1,599, and $2,699, respectively.
Note that you can take the NASM CPT exam only for $599.
Whichever of these you choose, I can't say enough about the Free NASM CPT study guide and practice exam, or the Trainer Academy NASM MVP Study System. It's always good to get some extra help.
Don't forget to check out the pricing on NASM's official site as they often have specials and discounts running.
NASM often has deals on certifications so be sure to check out the NASM website for the latest pricing.
Prerequisites: ACE and NASM Certification Requirements
Most courses or education programs will have a list of requirements that prospective students must fulfill to be granted access.
These are called prerequisites, and they also apply to personal training certifications.
The requirements for a PT certificate are pretty relaxed and only ask that you be 18 years or older, hold a high school diploma, and have all their first responder certs in place (CPR, AED, First Aid).
Information On The Tests and Recertification: ACE vs NASM
Before sitting down for your final exam, it's wise t go into it with a good understanding of what to expect.
Understanding difficulty, and figuring out which of the two is the easiest personal training certification might just sway your decision.
That way, you can minimize confusion and anxiety and just focus on retrieving the knowledge you would have gained through your learning and studying experience.
After you pass and become certified, you should also consider the impending need for recertification.
Every couple of years or so, certifications need to be renewed.
This renewal process is designed to incentivize certified trainers to keep their knowledge and skills up-to-date with current trends, research, and knowledge.
For this, you will be asked to produce CEUs or continuing education credits as well as a nominal recertification fee.
In order to gain CEUs, you'll need to take part in credit-earning activities, and other CEUs for personal trainers.
ACE Certification
The ACE certification exam runs for 3 hours and consists of 150 multiple-choice questions.
In order to pass the ACE CPT exam, you need to achieve a scaled score of 500 out of 800, equivalent to 90 out of the 125 scored questions, leading to a pass mark of approx 72%.
About 70% of ACE test takers pass the exam to become certified.
You may be wondering why you only need to score out of 125 questions when there are 150 of them in total.
That's because there are 25 floating or non-scored questions.
These are included so that the exam panel can assess their viability for future tests.
You won't be able to tell which questions are scored and unscored, so your best bet is to just go through the material and answer as many questions as you can.
As for recertification, you will need to submit 2.0 CEUs of continuing education credits every two years to maintain your cert with ACE.
NASM Certification
The NASM certification exam is a two-hour-long paper consisting of 120 questions.
You will need a score of at least 70% to pass.
The current pass rate for candidates taking the NASM exam is 64%, making passing considerably more challenging than many other top-tier certification exams.
NASM Recertification is necessary every two years at the cost of 2.0 CEUs and a $99 recertification fee for on-time recertification.
I used my access to NASM and ACE resources gained through enrolling in each certification to provide an insider, first-hand account of the certs and their structure as well as how long it takes to become a personal trainer through the different programs.
I also used anecdotal information gathered from forums and reviews to gauge the general impression of these certifications.
Frequently Asked Questions (FAQs)
Conclusion: Which is the best personal training certification, NASM or ACE?
ACE and NASM training certification offer similar if not equal value; where one is weak, the other one shines, so there's no clear winner on which to certify with.
Both have fantastic fitness methodologies. ACE has the IFT model, and NASM has the OPT model.
Both have NCCA accreditation and are widely accepted by employers in the health clubs and gyms sector as gold standard certs.
It all depends on what sort of trainer you want to be.
If your goal is corrective exercise, strength training, strength and conditioning, and performance enhancement, then NASM is the specializations cert for you.
If you're looking at a more general approach that will allow you to explore a more diverse range of career options, then ACE is your golden ticket.
ACE is also better suited for health and wellness fields, such as being a health coach, while NASM certification courses would be great if you want to be an athlete coach.