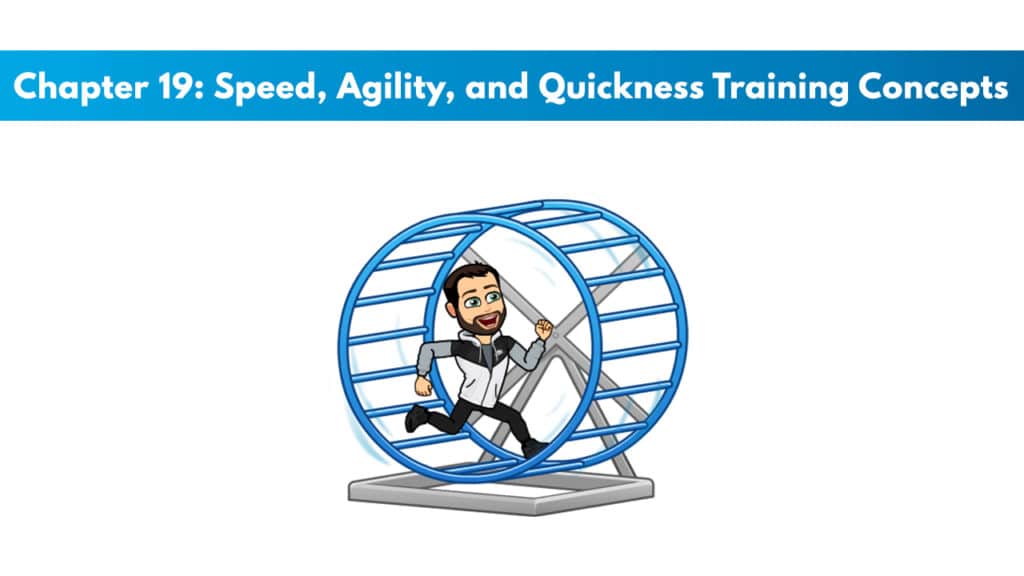 If you have not signed up for NASM CPT, sign up here to save 25% with my personal code PTP25.
Get your copy of the NASM CPT exam cheat sheet. It helps immensely in studying for the exam.
Make sure to check out Trainer Academy for premium NASM CPT study materials. They will reduce study time by 50% and have an exam pass guarantee. Read my full review on them here. You can save $100 on their MVP study system with the code: PTPSUB
Chapter Goals:
Be able to discuss speed, agility, and quickness training and its purpose.
Be able to talk about the importance of speed, agility, and quickness training for various populations.
Make a training program for speed, agility, and quickness for clients at any training level.
Be able to use solid methods for effective execution, instruction, and cueing for the various drills and exercises of speed, agility, and quickness.
Concepts in Speed, Agility, and Quickness Training
SAQ training is useful and effective for stimulating muscular, neurological, connective tissue, and even cardiovascular fitness adaptations. 
The term for speed is straight ahead velocity, measured as the distance covered, then divided by the time it is covered in. 
Agility refers to the ability to sprint in multiple directions while maintaining postural control, and it usually requires reacting to stimuli. 
Exclusive PTP CPT Offers



Gold Standard Cert

Most Popular Cert

Best Study Materials

A Good Option

A Good Option

Best CPT for you?

Quickness refers to the ability to react to stimuli and change the body's motion as a response.
SAQ training will improve the ability of the client to accelerate, decelerate, and dynamically stabilize the whole body in high velocity movements in all of the planes of motion.
Speed will be the product of both stride rate and stride length. Stride rate is the number of strides in a certain amount of time or distance. Stride length is the distance covered in one stride, like in running.
Change of direction requires the client to be able to run at max speeds in all directions. It requires a lot of control and coordination.
Agility combines a change of direction with unpredictability. The athlete needs to react to a stimulus and sprint according to it in the right direction.
Speed, Agility, and Quickness for Nonathletic Populations
Although these are widely used and accepted training styles for sports and athletes in general, the components of an SAQ program may improve the physical health profile of healthy sedentary adults and those with medical or health limitations.
Many recreational activities will require these attributes to excel, like golf, hiking, running, skiing, and sports like those.
Due to the elevation in intensity associated with SAQ protocols, it is vital to perform extensive assessments to determine the exercise experience, quality of movement, health history, and injury profile of the client before they start the programs with SAQ training.
Exclusive PTP CPT Offers



Gold Standard Cert

Most Popular Cert

Best Study Materials

A Good Option

A Good Option

Best CPT for you?

A solid base, like that with the plyometric training, should be emphasized and is needed to start with these training styles.
SAQ Training Programs for Youth
Children continue to develop progressively greater neuromuscular capabilities throughout their development. This is innate, for the most part at first, but after the basics, they can develop more specific and challenging things, like athletic activity, to enhance their abilities. 
The environments need to be ones that challenge the child and allow for their body to learn and develop even more.
For youth, we see recommendations for the frequency of weekly sessions at 1 – 3, the number of suggested drills as 4 – 8 with 1 – 4 sets of each drill and 3 – 5 reps. The rest periods are recommended at 15 – 60 seconds. 
SAQ Training for Weight Loss
Interval training, where participants have short, repeated bouts of high intensity activity, has been seen to be very effective in improving a variety of health related factors.
High intensity interval training with SAQ drills can burn more subcutaneous fat than the long duration, low and moderate intensity endurance training styles.
SAQ for Older Adults
SAQ training for seniors may help with the age related decreases in bone density that we see or the ability for coordination and muscular power. 
All of the things helped here for older adults will help with the overall quality of life.
Osteoporosis is a major concern for this population, so it is beneficial to find ways to bring the risk of it down.
Osteopenia is the loss of bone tissue that can occur for many reasons. Sarcopenia is the loss of skeletal muscle mass, which is detrimental to the functional capacity maintained in older adults.
Drills done for older adults need to focus on activities they use for daily life.
SAQ Drills and Programming Strategies
These exercises need to be carefully put into the overall training program.
Here are some general ways we look to design programs based on the training status of clients:
Beginner clients should look to incorporate 4 – 6 drills with limited inertia and unpredictability. They should aim for 1 – 2 sets of 2 – 3 reps with 15 – 60 seconds of rest.
Intermediate exercises should aim to incorporate 6 – 8 drills with more horizontal inertia and limits in unpredictability. They should aim for 3 – 4 sets per drill and 3 – 5 reps each. 0 – 60 seconds is the recommended amount of rest.
Advanced clients should look to have 6 – 10 drills with max inertia and unpredictability. The sets are 3 – 5 and the same 3 – 5 for the reps with 0 – 90 seconds between the drills for rest.