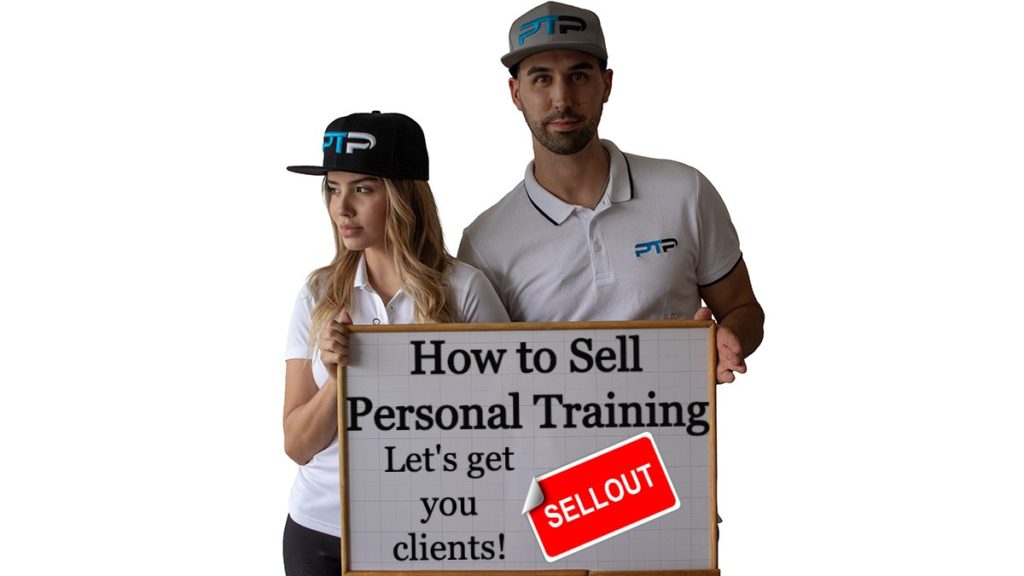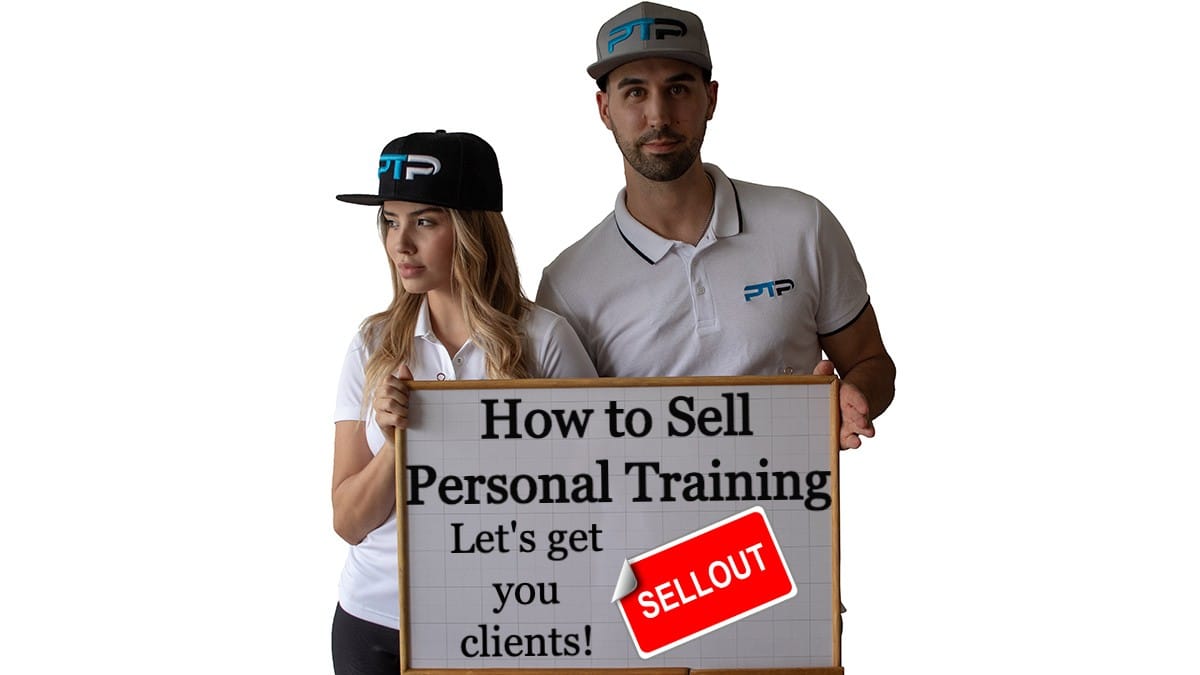 Welcome to the ultimate guide on how to sell personal training.
Whether the idea of selling personal training excites you, terrifies you, or both, being able to sell personal training is an absolutely key skill for all fitness professionals.
In this article, I break down the art of selling personal training across the following aspects:
Methods to acquire leads
Interviewing prospects
Common objections to overcome
How to follow up with prospects
Importance of retaining clients
How I learned to sell personal training
By the time you finish reading, you'll be ready to meet leads, conduct interviews, close sales, and change lives.
If you still need to get certified as a personal trainer, I recommend you take my quiz to determine which personal training certification is best for your career.


Without further ado, let's learn how to sell personal training!
The importance of selling personal training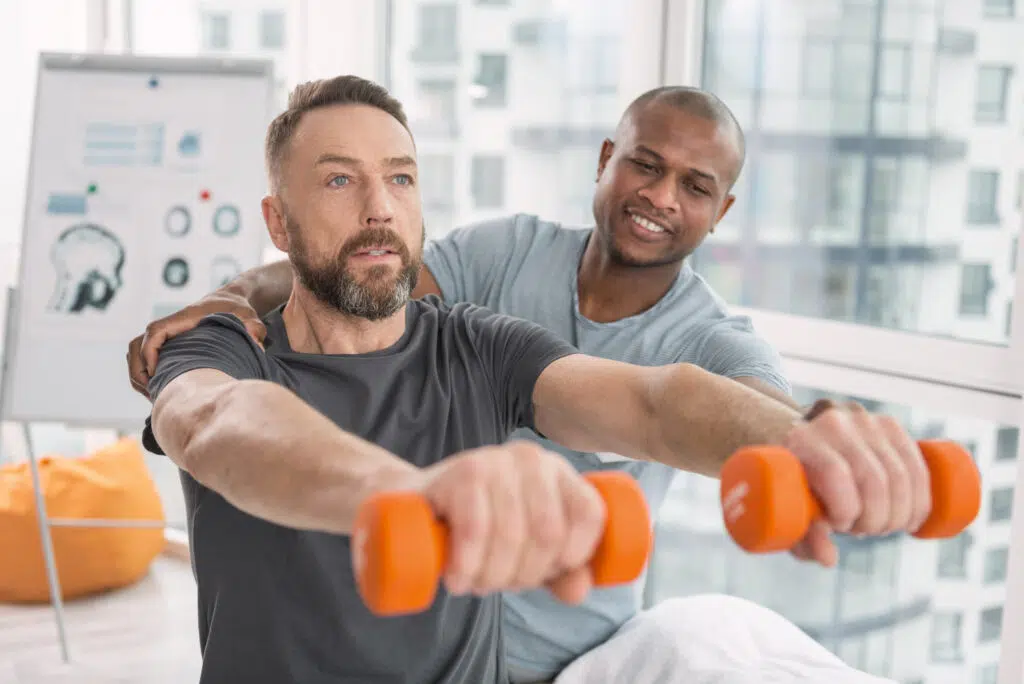 Selling personal training is a skill requirement for virtually all trainers, and certainly, all successful personal trainers learn to sell training sessions.
Many people think of sales and conjure up the idea of a sleazy used car salesman or greedy stockbroker.
However, this is not the way to think about fitness sales.
Remember, if you are certified through one of the fitness industry's best personal training certifications, you are in the fitness business because you want to change lives by helping people through fitness coaching become stronger, fitter, and healthier and reach their different goals.
For a deeper look at the top CPT programs, check out my comprehensive breakdown of the best personal training certifications.
If you need guidance on which accredited personal trainer certification is right for your goals, I highly recommend taking my quiz below to determine the right CPT for you.
When it comes to getting clients for personal training, you need to know how to sell training to start improving lives.
This applies whether you sell fitness programs online or work the training floor doing the typical services personal trainers offer.
When you meet a prospective client for personal training, you must first listen to them and be able to convince them in the interview that your personal training services will help them reach their fitness goals.
I always recommend offering several service options, such as a fitness coaching and nutrition coaching package.
Your clients will see much better results when you combine fitness and nutrition coaching.
Additionally, the combined service allows you to charge more and earn a higher personal training income.
You can further benefit by becoming specialized in a specific aspect of fitness.
This includes things such as getting a corrective exercise certification, group exercise instructor, and strength and conditioning coach certifications.
Obviously, the cost for multiple certifications adds up quickly – so I highly recommend looking into certification bundles for your continuing education.
If you still need to get your personal training certification, I highly recommend looking at the ISSA Elite Trainer Bundle.
This bundle includes the famed ISSA certified personal trainer and ISSA nutritionist certifications and a third ISSA specialization of your choice.
Note: I highly recommend the bodybuilding specialist certification.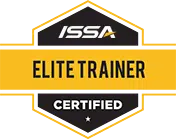 The cost for the entire Elite Trainer bundle is roughly 1.5x the cost of the average NCCA accredited personal training certification (~$1200 vs. ~$800).
The ISSA Elite Trainer program is an absolute no-brainer if you choose the ISSA personal training certification.
Furthermore, ISSA periodically runs deals on the Elite Trainer program.
I highly recommend considering the bargain if they currently have a discount running.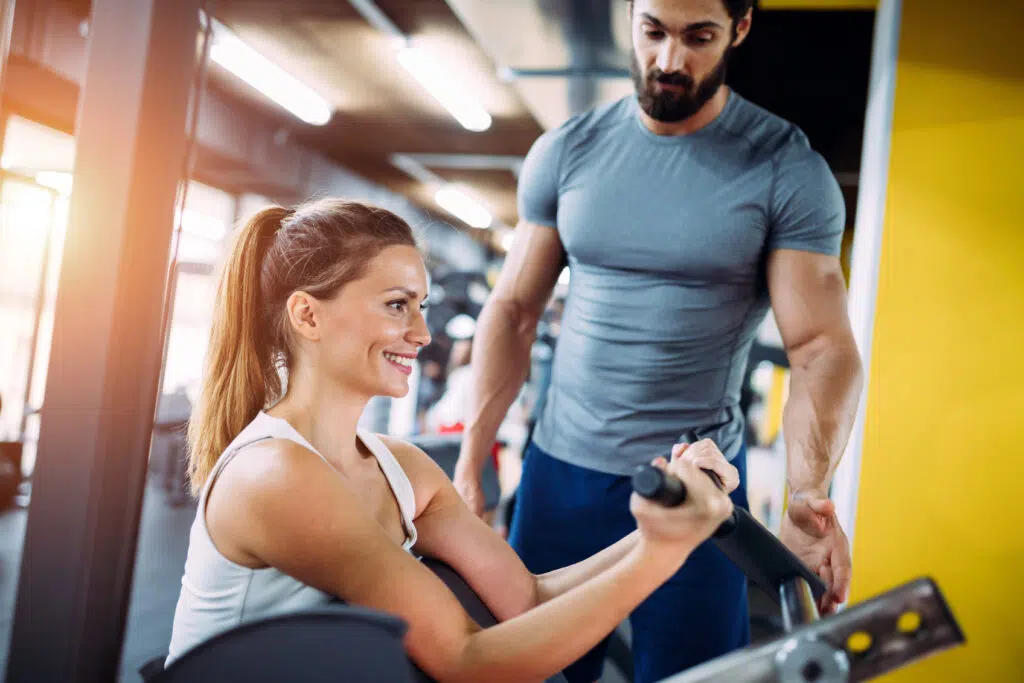 Whether you plan to sell online personal training or sell personal training sessions at a gym, you need strong personal trainer sales skills. In fact, becoming a successful personal trainer depends very heavily on your ability to sell your training to potential clients.
To have the confidence to convince prospects to buy, you need to believe in what you are selling.
This may be the most critical point in the whole article. If you do not believe in what you're selling, there is going to be no one that wants to buy!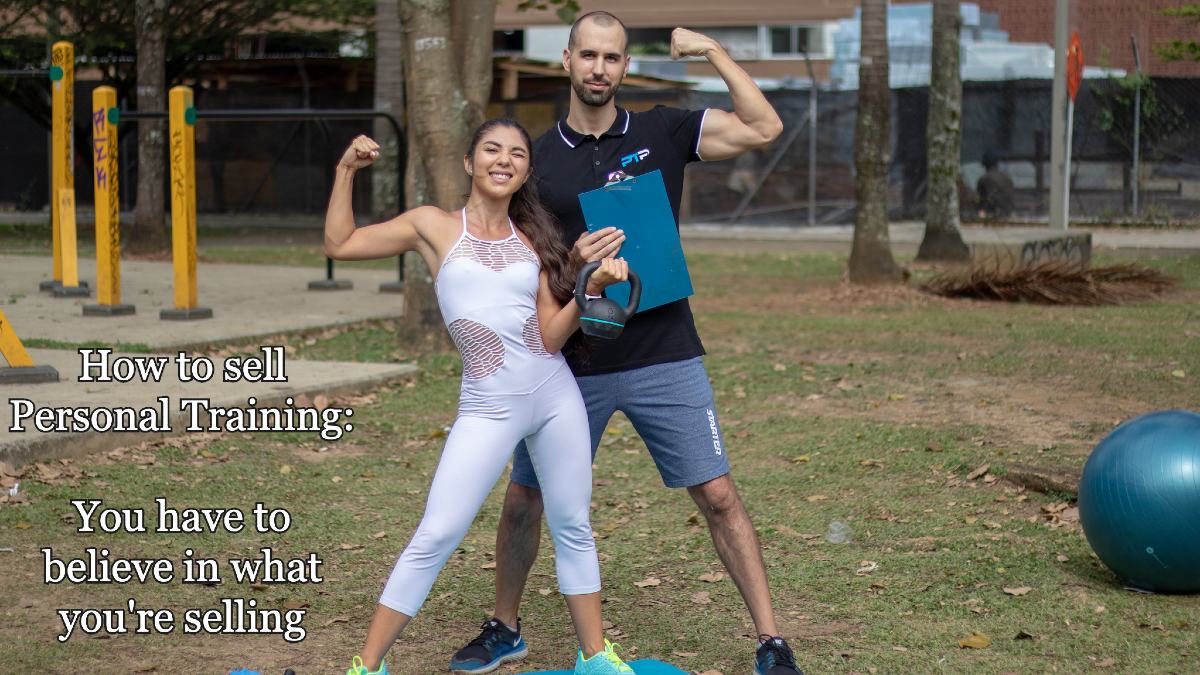 The most important thing for you is that you believe in the service you provide and that you're confident you can help them.
If you do not believe you can help them solve their problem, neither will they.
The sales process itself will vary depending on your employment situation and whether you are doing in-person or online fitness training.
I also want to mention that these sales skills apply to certified health coaches, strength and conditioning coaches, group fitness instructors, and nutrition coaches.
However, for the purposes of this step-by-step guide to selling personal training, I will focus on the traditional certified personal trainer selling training sessions to prospective clients.
1. Acquire personal training leads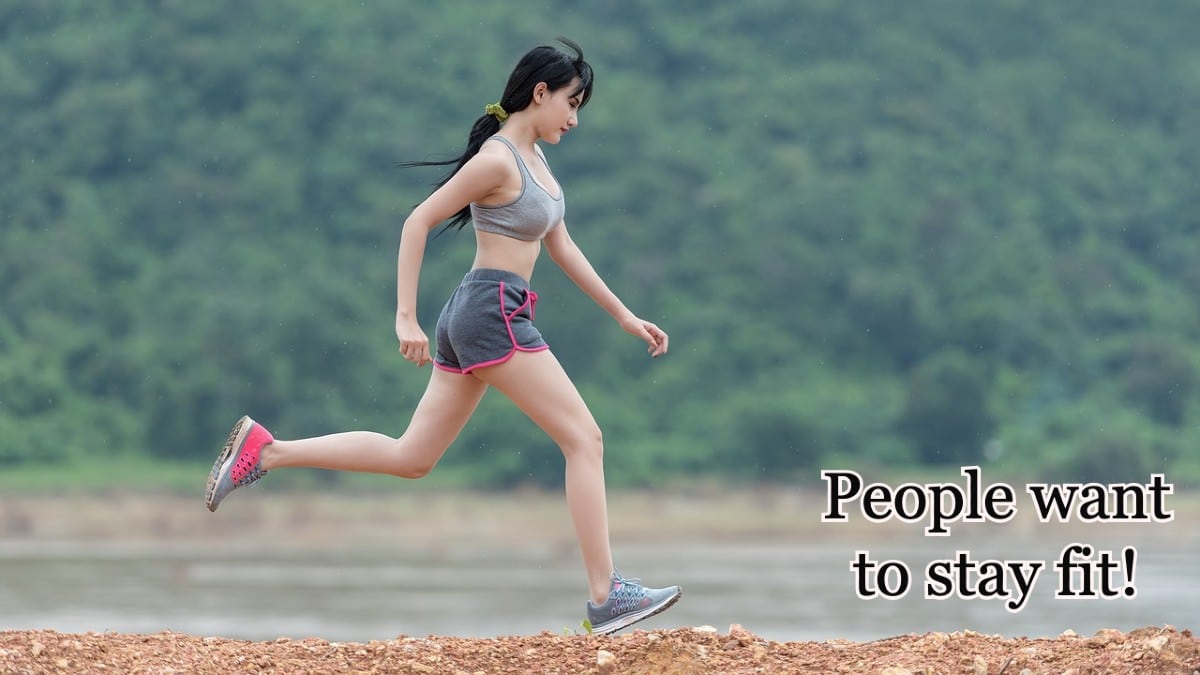 Acquiring personal trainer leads is the first major step in selling personal training and getting more personal training clients.
A lead is essentially any individual who might be interested in your personal training services.
While there is no single best way to get personal training clients, when it comes to how to market yourself as a personal trainer, the following are the most common methods:
Fitness marketing and personal training advertising
Working the gym floor
Word-of-mouth
Networking
Social media
If you land a job at of the best gyms to work for, your employer will typically provide some leads via the gym's own fitness marketing and general brand.
However, if you are a self-employed trainer or plan to open your own fitness studio, then personal trainer marketing must be a component of your personal training business plan.
Additionally, appealing to specific clientele by becoming specialized in a certain fitness area and offering services such as nutrition coaching.
Getting the additional nutrition coaching certification and fitness specialization is an absolutely better way to kick start your career than the CPT alone.
If you still need your CPT certification, consider checking out the ISSA Elite Trainer program.
As I mentioned, the Elite Trainer gives you triple-threat fitness, nutrition, and specialization for a fraction of the retail cost of these programs.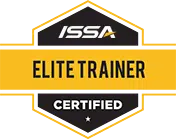 Furthermore, you can occasionally get a further discount on the Elite Trainer program from the ISSA website.
I highly advise you to consider any promotions currently offered by the ISSA.
Working the gym floor is another common and traditional way to get new personal training clients.
Exclusive PTP CPT Offers



Gold Standard Cert

Most Popular Cert

Best Study Materials

A Good Option

A Good Option

Best CPT for you?

Put, working the gym floor involves walking around the gym, introducing yourself to different people, and asking them if they might like assistance or simply being present on the gym floor.
When it comes to selling personal training on the gym floor, it's as much art as science.
You must avoid bothering gym members who want to be left alone.
However, if you notice someone who appears to be confused about a machine or exercise, or someone who makes eye contact and looks like they might have a question, you should approach, ask for their name, and introduce yourself as one of the trainers at the gym.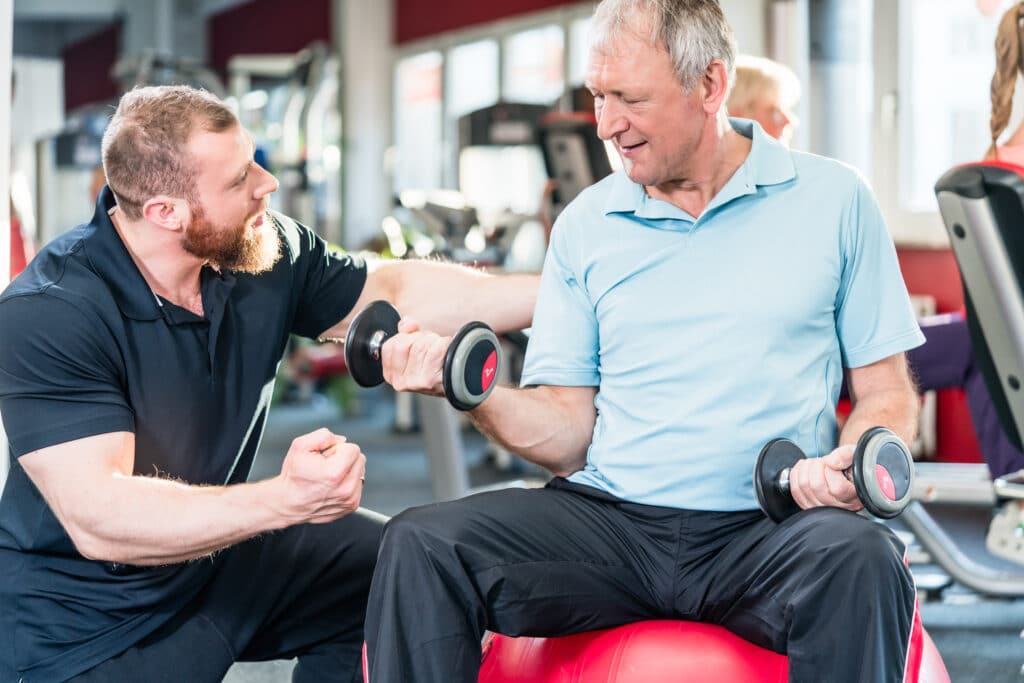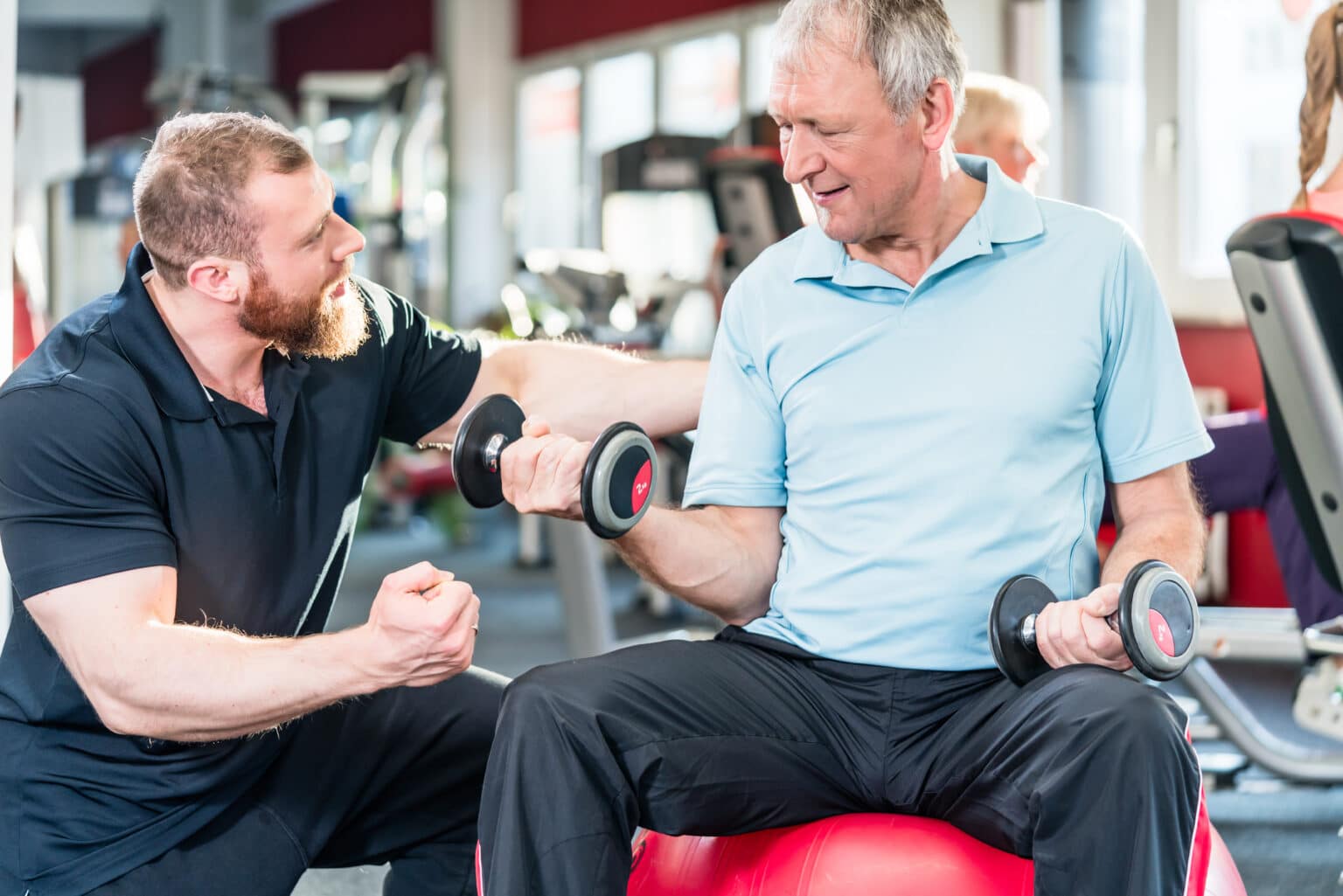 Working the gym floor for clients is an art in itself and requires fairly good social skills and an ability to read people's interests and social cues.
Nevertheless, throughout the entire history of the fitness industry, working the gym floor has been a staple for personal trainers to get new paying clients.
The best personal trainers ultimately end up acquiring clients via word-of-mouth. However, this takes time to build, and word-of-mouth clients do not come pouring in when you pass your certification.
Generally, as you help clients reach their fitness goals, their friends, family, and coworkers may notice how active and fit your client has become.
This typically leads to them asking your client how they did it, to which your client, assuming they are happy with you as a trainer, will recommend you to whoever is asking.
In fact, I have had several clients from whom I received countless leads and multiple additional paying clients!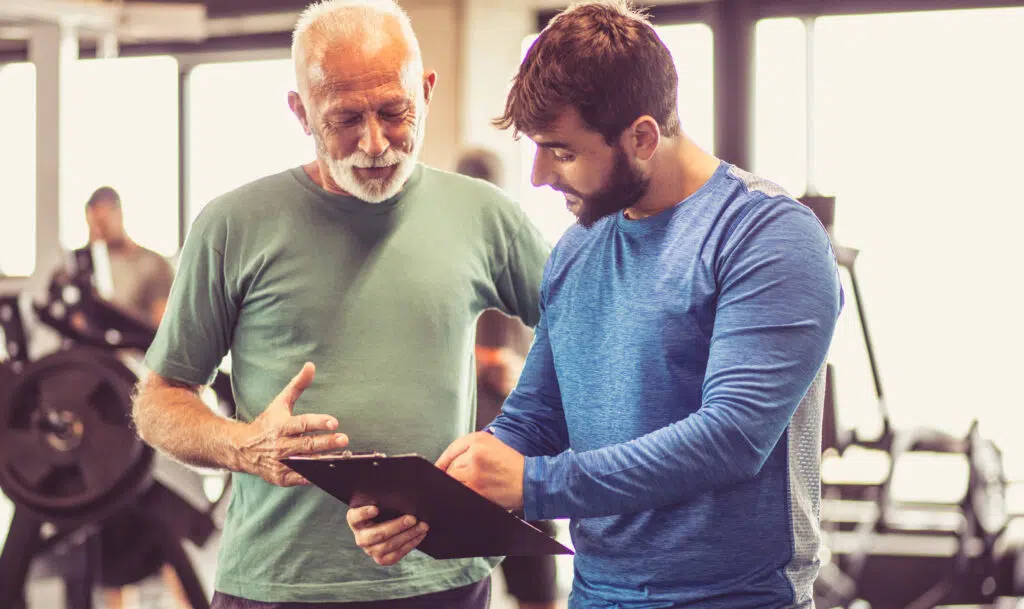 Word-of-mouth is powerful, but it takes at least 1-2 years for your reputation to build up to the point of being a reliable way to get new personal training clients.
I recommend looking into personal training internships If you are still building your personal trainer resume and need job experience.
Upon completing the internship, you will probably have at least one job offer and several prospective clients who might be your first successful sale!
Networking is another great way to get personal training leads. Often, this is simply a matter of mentioning you are a personal trainer and handing out your personal trainer business cards.
People often have fitness goals but have not researched gyms or trainers so they may be a hot lead and you may be just the person they need!
Finally, social media is an increasingly common way to get personal training clients. This is especially true if you plan to sell workout plans online or run any online business in the fitness industry.
Showcasing your clients and your business on social media while remaining respectful – or at least 'on brand' – is a free and often rewarding way to build up a great client base and sell many personal training programs.
Nevertheless, making thoughtful posts that generate high value leads is no small task, so be sure to focus on learning social media for personal trainers as you make your fitness business plan.
You must absolutely learn social media marketing if you intend to sell workout plans online.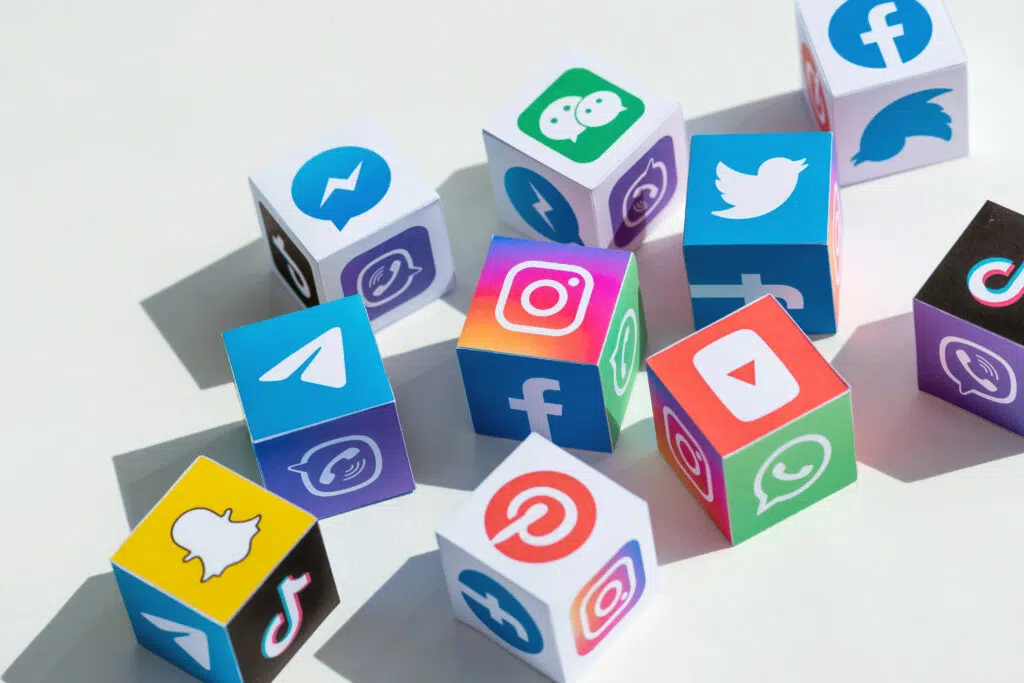 Note that your personal trainer business name, as well as your personal trainer bio can have a significant impact on the type of leads you attract. Even the personal training logo you choose determines who might want to train with you.
Regardless of your preferred methods of acquiring leads, it would help if you ground out the hours of getting personal training leads early in your career to establish a solid client base.
2. Schedule a fitness consultation and conduct a client interview
After you meet your leads, the next step is to schedule a consultation and interview prospective clients to turn them into paying clients.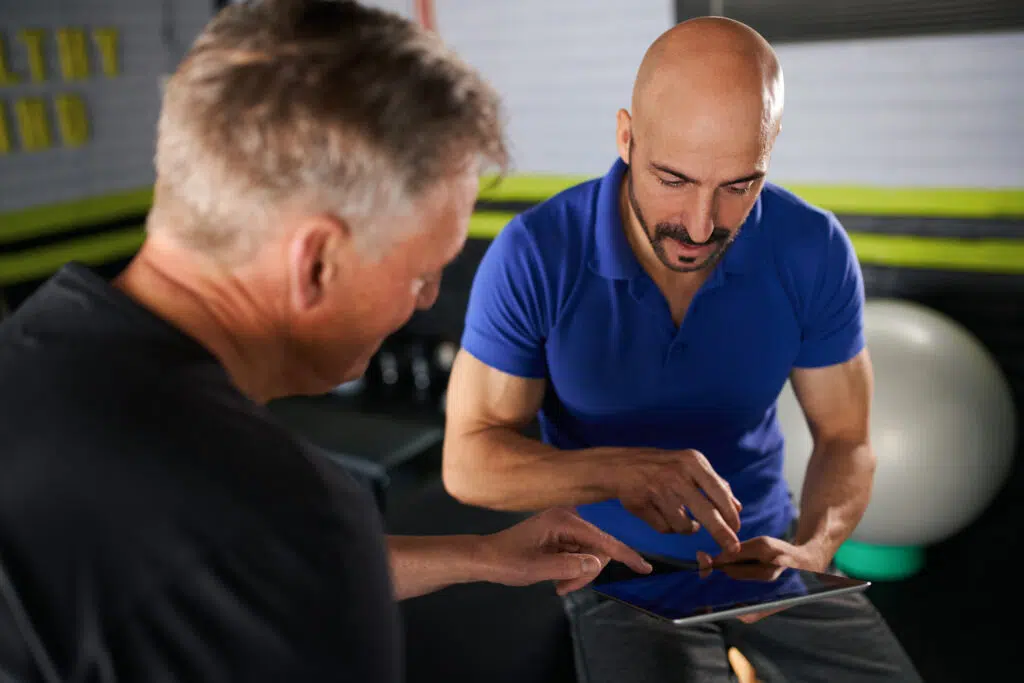 The interview process can vary, but it typically begins with sitting down with the prospective client and discussing their goals and why they are looking for personal training.
A trial training session often follows the consultation interview to demonstrate your skills training services and knowledge of exercise science to the prospect.
You can think of the fitness consultation and trial session as the first component of your personal training sales pitch.
In fact, one of my top personal training sales tips is to absolutely crush this component of getting new clients.
While you haven't officially discussed pricing or asked for the sale, by the time you finish the consultation and trial session, your client has probably decided whether or not they will train with you before they even know how much it will cost.
This is a point where skills such as active listening and motivational interviewing play a key role.
You need the person to feel heard and understood by you to build rapport and trust, which will ultimately help you close the sale.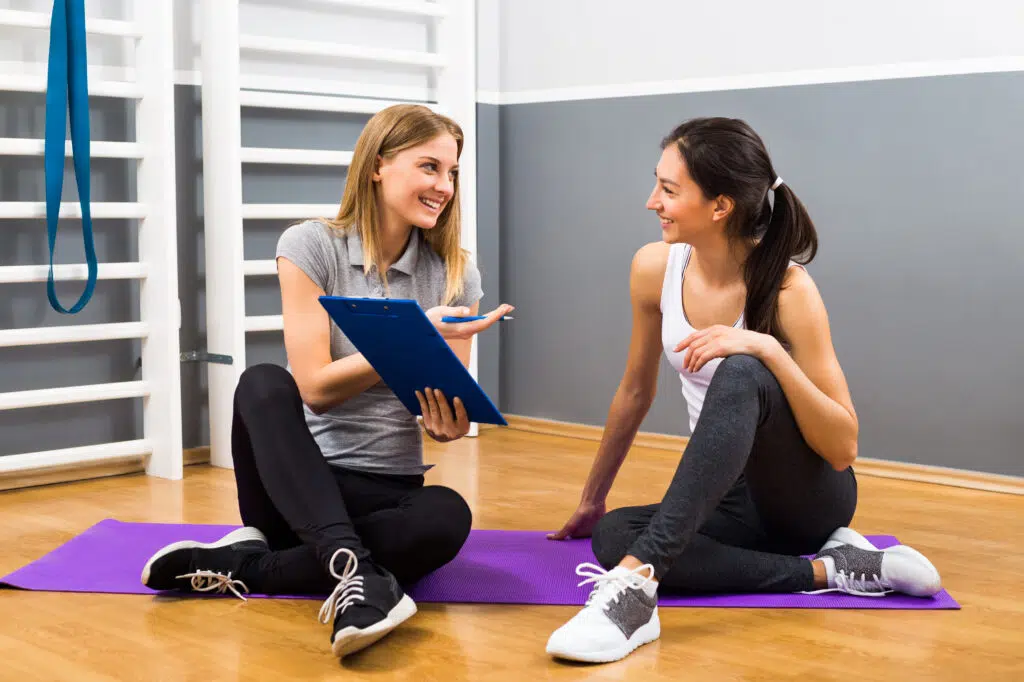 I want to mention that the ISSA CPT and the NASM CPT both have an excellent section breaking down the key steps to conducting client consultations as part of the sales process.
If you do select to study for either of these certifications, I recommend checking out the Trainer Academy ISSA Study Package and the NASM CPT Study Package.
These study preparation packages include premium materials and an exam pass guarantee, which removes much of your anxiety about losing your money on study materials should you fail the exam.
If you want to start studying immediately, you can check out my free ISSA CPT study guide and practice exam and my free NASM study guide and practice test.
As you conduct your consultation and interview, you want to establish a connection with the prospective client and inspire confidence in your ability to deliver results.
Consider a small statement such as the following if your prospect laments about the difficulty of being consistent:
"Yes, being consistent can be challenging. Its certainly something I work with new clients on in particular to develop a schedule that allows them to progress in fitness while staying balanced in their overall life."
If you were to say something like, "Yeah, being consistent is tough but you just need discipline," it will probably drive your prospect away from hiring you – even though the statement is technically true.
A lot of this boils down to who you are specifically working with.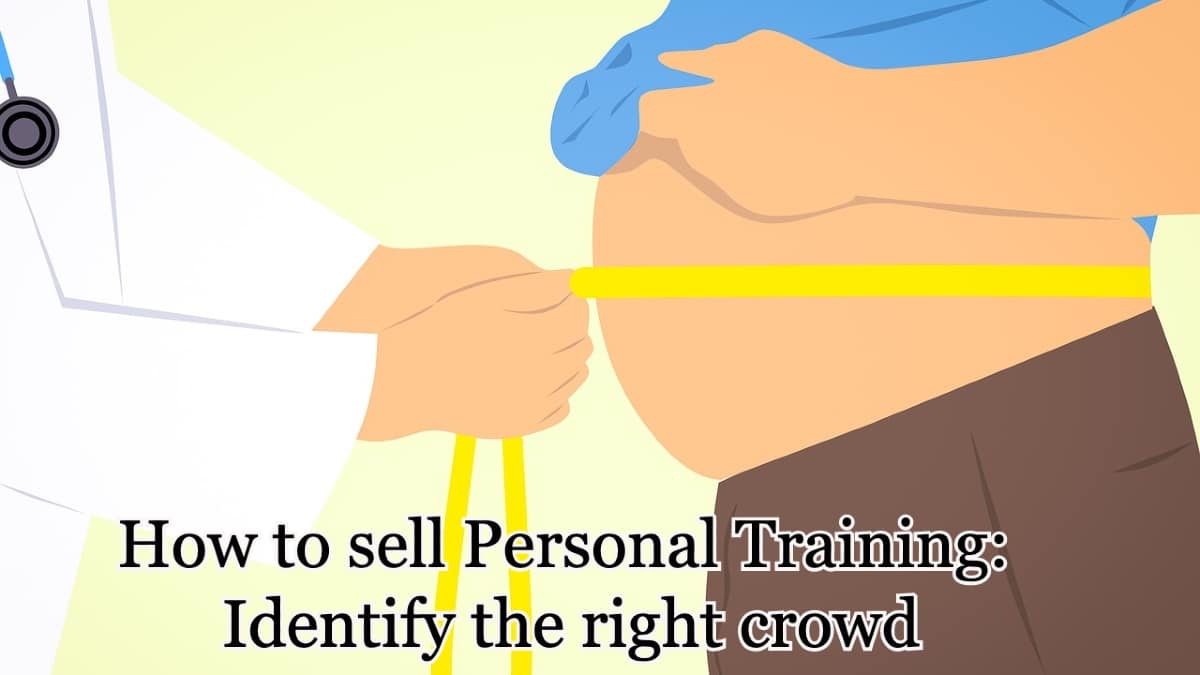 An older, shy, and deconditioned prospect will require a slightly different interview approach than a young client rearing to get after it in the weight room.
In personal training sales, you need to address what the client wants.
Another key focus during the interview is 'selling results' instead of 'selling packages.'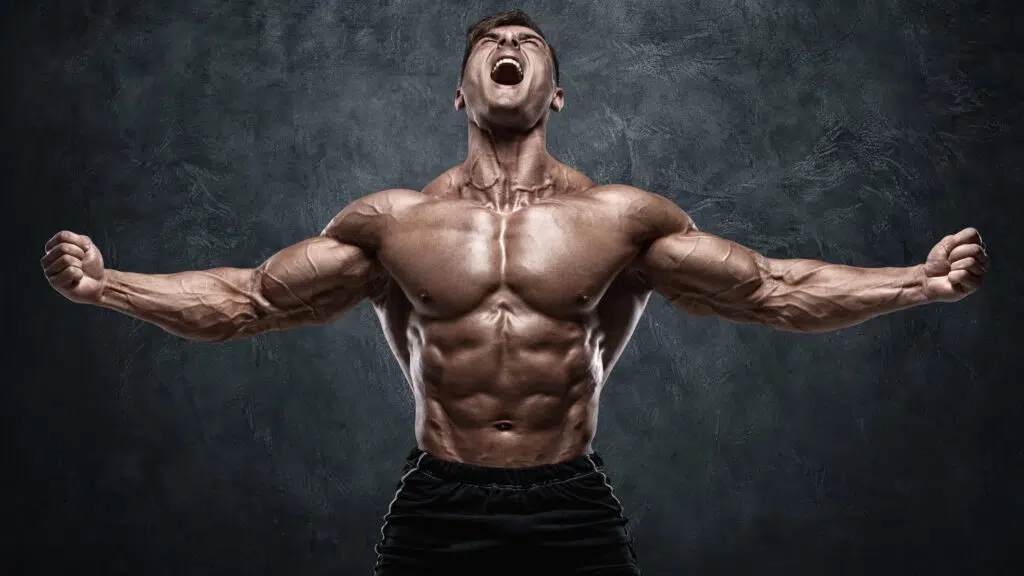 Always tie everything back to the results your prospect discussed throughout the interview.
For example, focus on a client's weight loss goal when framing the session rather than discussing a target number of weekly sessions.
You may lose the prospect if you solely talk about pricing per session or weekly commitments.
However, consistently highlighting how your coaching will lead them to the desired result will motivate them to shell out the money for your training services.
Regardless of the ins and outs, the more consultations you conduct, the smoother and better they will tend to go over time.
Ultimately, your client should be doing most of the talking. As you conduct your interview, you will glean their specific pain points and tailor your responses to guide them toward trusting you with their fitness.
The worst thing you can do is stress about every consultation.
You will inevitably botch a sales interview at some point. If you end up having a prospect walk out without closing the sale, you must reflect on the overall conversation and try to see if there was somewhere you 'lost them' as you were conducting the interview.
Also, remember that sometimes people are not serious about hiring a trainer.
After the interview, it can be a good time to offer a free trial session to demonstrate the value of your service. Sometimes the gym you work for will pay you for the session but comp the client.
If you are a self-employed trainer, you may need to eat the cost and give the free trial out of pocket.
However, it may well be worth it if you end up with a long-term paying client.
Once you have a good word-of-mouth reputation and project confidence out of the gate, you can often close a sale or offer a one-time paid session since your prospect already trusts your abilities.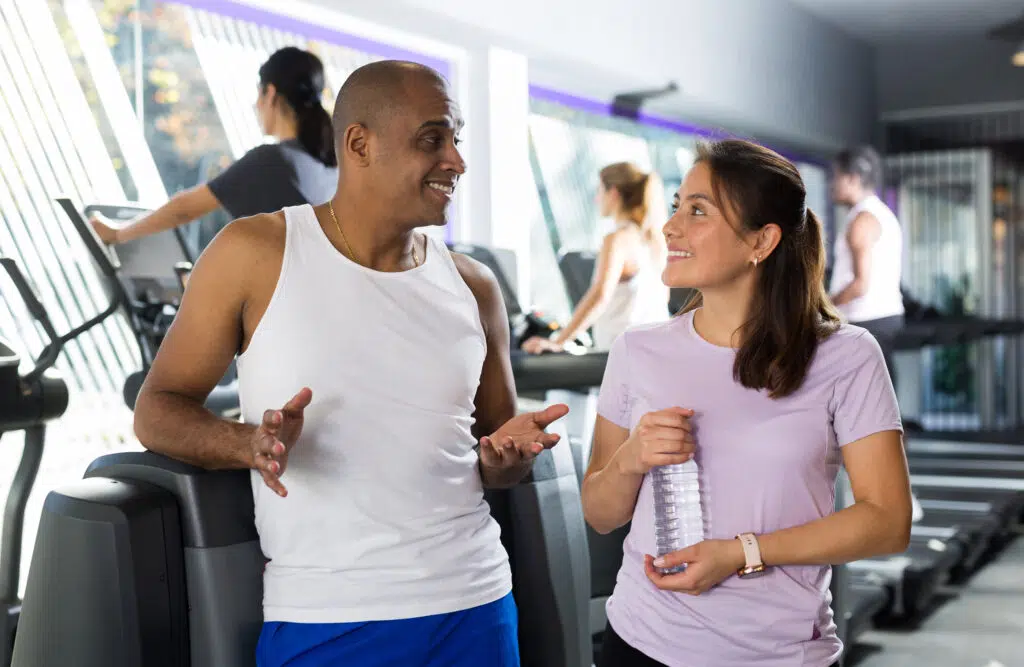 However, offering a free trial is an excellent way to show the prospect how awesome it will be to train with you. Many experienced trainers still offer free trial sessions even if they could technically get away without doing so.
After all, if a client is completely in the dark about proper fitness training, it is worth showing them the product before they chunk out large amounts of money for a long-term package.
This is also a suitable time to show creativity in your workout programs based on any limitations the client may have.
After all, the trial session is your chance to show the prospective client just how much better off they are hiring you as a trainer.
For a pro tip, including great beginner core workouts in your trial session is a good strategy, given how important strengthening that area is for many clients.
Exclusive PTP CPT Offers



Gold Standard Cert

Most Popular Cert

Best Study Materials

A Good Option

A Good Option

Best CPT for you?

As you near the end of the interview or wrap up your trial session, it's time to overcome objections and close the sale.
3. Overcome objections and close the sale
Before your new client swipes their card or hand over cash for their first purchase of training sessions, you will typically have at least one objection to overcome.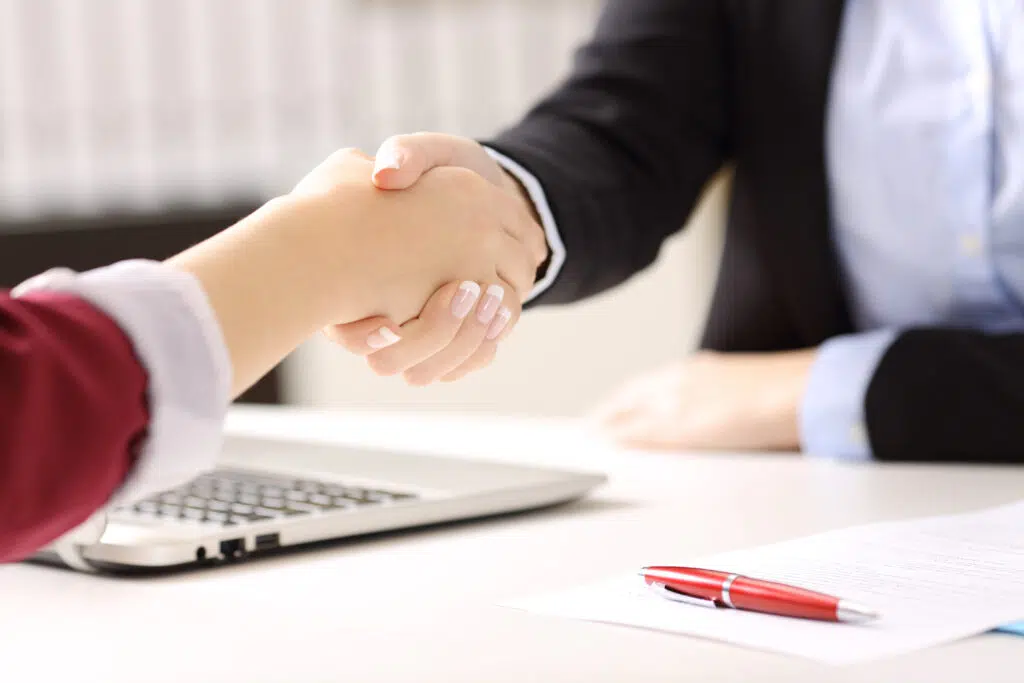 An objection is any reason, real or perceived that your client brings up regarding why they cannot purchase sessions right then and there.
The most common objections include the following:
Not enough time to come to the gym
Cannot afford the cost of personal training
Not confident that you, as the trainer, will deliver results
Want to check out other gyms or trainers before committing
Need to talk to significant other before committing
Understand that while these objections may be true, they are often simply an excuse to avoid committing to a training program.
It is your job as a trainer and fitness salesperson to help come up with solutions during the objections to close the sale and begin delivering results to your new client.
I will now go through each objection one at a time and offer some solutions I have used in the past to overcome the objection and close the sale.
Not enough time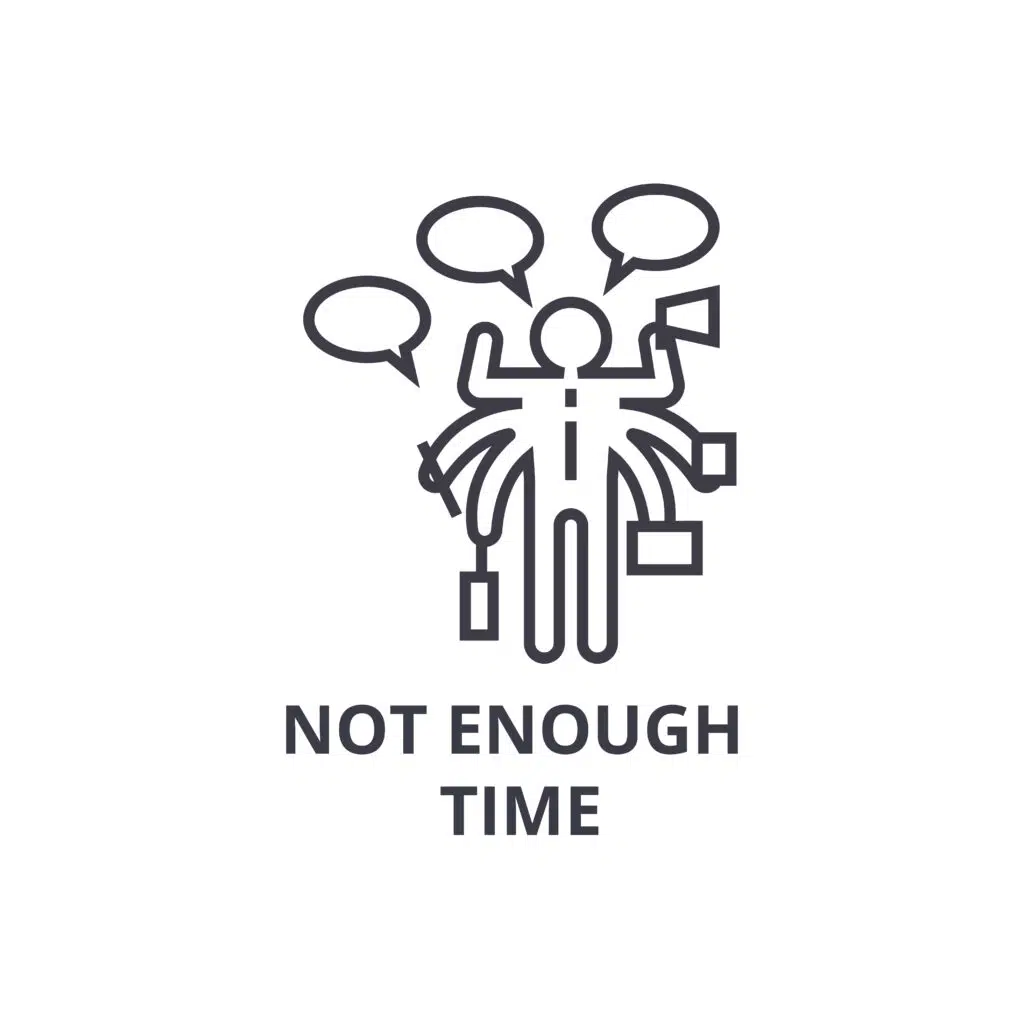 Prospects often mention that they do not have enough perceived time to train.
While it is true that getting in shape is a time commitment, most people can make the time to get on a program that will deliver results.
Typically, if time is the objection, I will have the prospect map out their week with me right then and there in the interview, day by day and even hour by hour, to discover where potential windows of time would be to train.
If you can identify 2 to 3 hours per week that the client could potentially train, I suggest trying some of the following approaches:
Getting in shape does not require an excessive amount of time. Even two 30 minute workouts per week will make a big difference over time. Propose two 30 minute sessions per week to start and see how it goes with their schedule.
Sacrificing a few other leisure activities to allow time to work out will pay big dividends through having a stronger, fitter body and potentially many additional years of healthy life.
Refer to your interview and reference some of the reasons the prospective client said they were interested in training – for example: "Remember that you wanted to be fit enough to play with your grandkids, is an hour and a half a week of training worth being strong enough to do so?"
Remember that your prospect already agreed to the consultation, so they likely do have the time to train; you need to convince them it is worth it.
Training is too expensive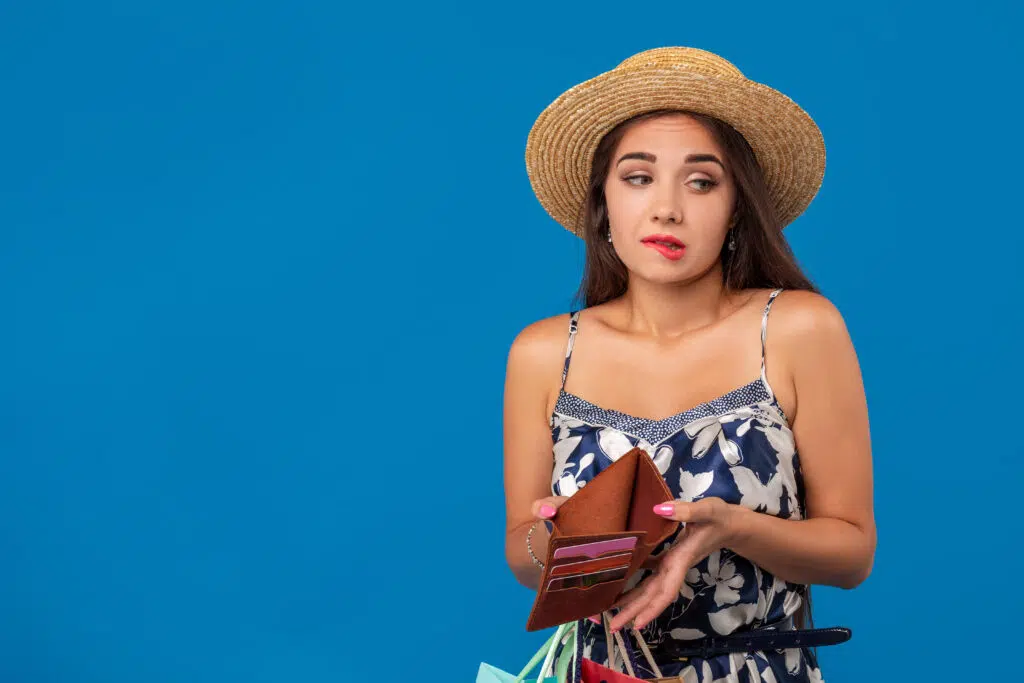 A very common objection to buying personal training is the cost. The bottom line is that personal training is expensive, and there are many people who cannot afford it.
However, just as with time objection, if the prospect scheduled the consultation and showed up, they probably have the budget for at least some training.
It's often a matter of convincing the client the investment is worth it. However, you must know the client's budget to propose a good solution.
First, ask them what they can afford to get a baseline of what to offer. Often, training 3 times per week for an hour may price out otherwise viable candidates.
For example, perhaps they can budget $50 per week to train and you charge $50 per hour.
In this case, offer either shorter sessions or even a once-per-week training program with them doing additional workouts independently.
If their budget is unrealistically low to afford any training, it's a good opportunity to direct them towards a group fitness membership.
This is a good place to offer integrated training services, combining in-person and online training components.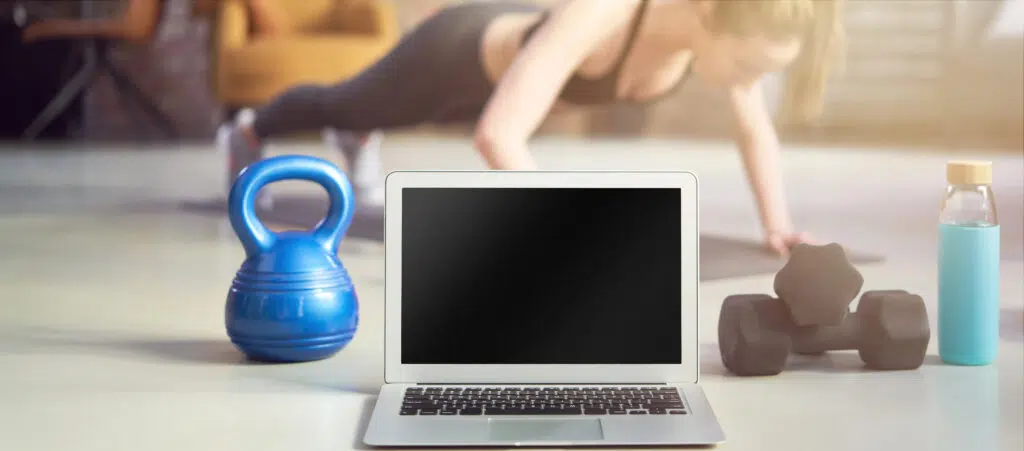 I have successfully sold custom one-time 8-12 week programs that clients do independently. This can be a win-win if you are quick at putting together programming and have a client who is comfortable training alone.
However, solo training plans are less appropriate if your client is new or lacks confidence in the gym.
If your client has the money but still thinks training with you is not worth it, you likely failed to demonstrate enough value during the interview and trial session, and its worth revisiting that aspect of your sales process.
Prospect is not confident in your ability to deliver results
If your client has the time and money to train but still is dragging their feet on the sale because they are worried about not getting results, likely, you did not inspire enough confidence in the interview and trial session.
Getting insanely good at the initial interview and crushing it during the trial session is a good way to avoid this objection altogether.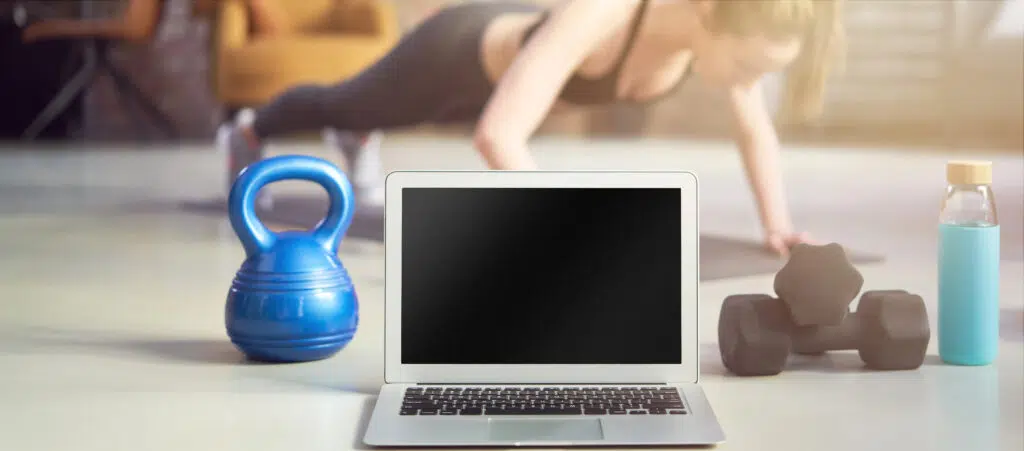 Additionally, having many social media reviews or word-of-mouth recommendations can nip this objection in the bud.
I should also add that maintaining a fit and professional appearance yourself goes a long way to convince prospects you know what you are doing regarding fitness.
Want to check other gyms before committing.
Naturally, people want to shop around before making a big purchase. However, if you conduct your trial session and the prospect walks out without buying, your chances of closing that sale decrease drastically.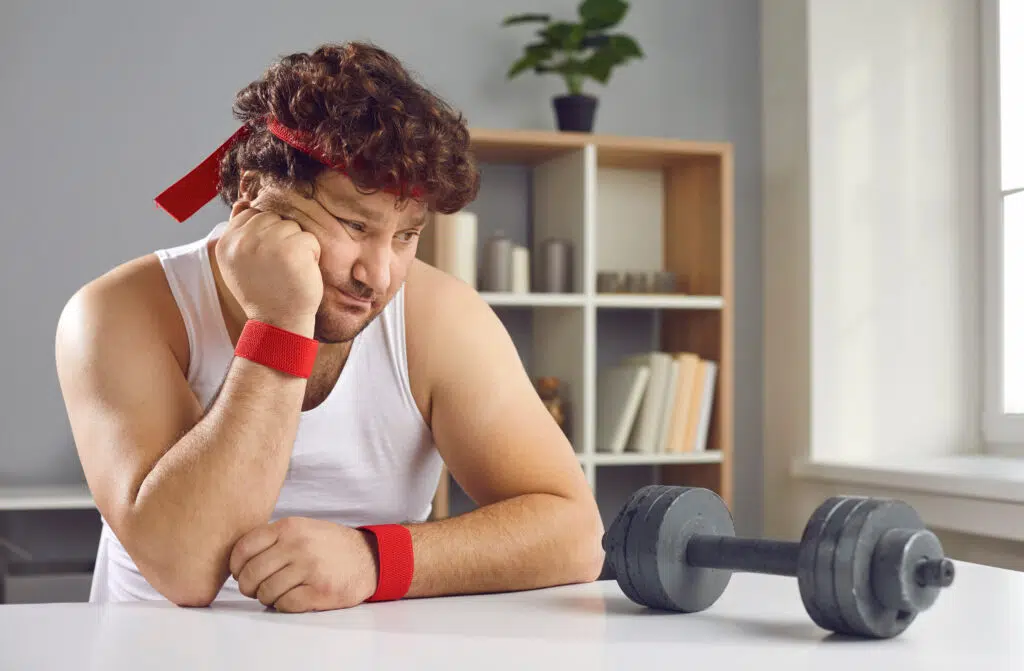 Assuming that you did all the previous steps correctly, having a few "flash sale" discounts in your back pocket is a good way to close a client who might spend weeks wandering around every gym in town and never committing.
Simply saying, "If you purchase a package of 12 sessions today [for example], I can offer a 10 percent discount on the total cost of the package."
This instills a sense of urgency to buy in the client, which can be very effective if they are already close to making the purchase.
It's worth planning out ahead what discounts you can offer in the event of a fence-sitting prospect so that you don't end up undercutting yourself.
Also, be sure not to come out of the gate with your lowest offer, as that removes your ability to use the deal to overcome the objection.
Need to check with significant other before committing
A classic objection in virtually every sales-based industry is the need to discuss the purchase with a significant other before committing.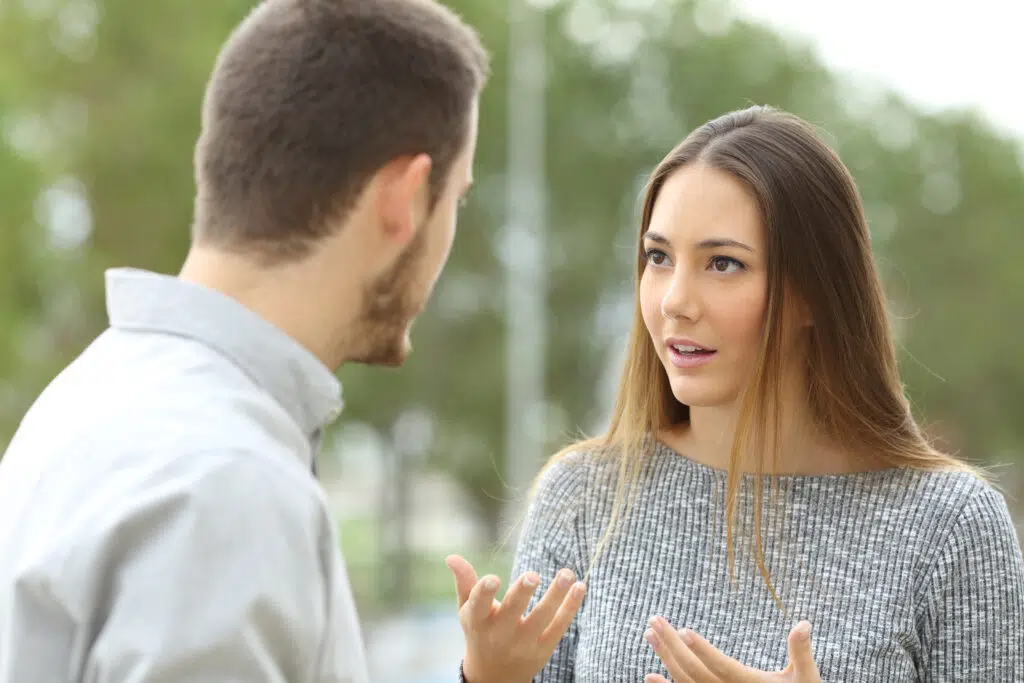 In the case of fitness, likely, this has already been discussed between the prospective client and their significant other.
Most of the time, prospects' significant others are very excited about them starting their fitness journey and have already agreed it's a worthwhile investment.
For this objection, I recommend asking them what they think the significant other's objection might be and whether or not your prospect's getting in shape will make their significant other happier.
Of course, sometimes they really need to talk it over first, which is okay. However, you should push at least one step further before accepting this objection, as it is often just an excuse to put off getting in shape.
Once you've overcome any objections, closing the sale is time. This is the shortest yet most fun part.
Essentially, your client has decided to purchase whatever you were able to discuss in the previous steps.
You collect their payment, issue their sessions through whatever personal training software, or even pen and paper you use, and schedule their first workout.
4. Follow up with prospective training clients
Although you ideally want to close the sale immediately after the interview and trial session, this often does not happen.
That doesn't mean you bail on the prospect you've already invested so much time and energy into.
In fact, if you did everything right and they genuinely had to think it over, you have a great shot at closing the sale even days later.
I recommend following up within 24 hours, then again 48 hours later, then 72 hours, and finally, following up every week, asking them if they've thought it over and want to come back to commit a fitter, stronger, and stronger, and healthier version of themselves.
Generally speaking, unless someone gives you a hard 'no' that they are 100 percent not going to train with you, I would always continue following up, perhaps with decreasing frequency.
That being said, if you have not closed the sale within one or two calls after the initial interview, the chances of that person becoming a client drop off substantially.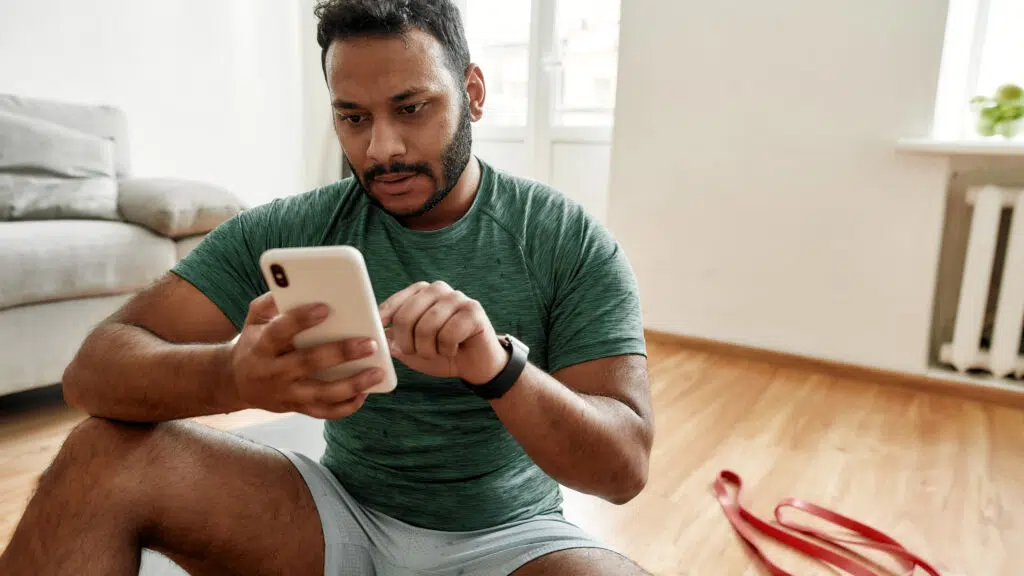 5. Retain your fitness client base
Once you have clients, I recommend focusing on client retention and sales.
Simply put, it is almost always easier and more profitable to renew existing clients rather than attempt to get new clients.
Think about it.
The entire process I've outlined so far is a substantial time and energy commitment just for the chance to get one single client, which probably gives you between 1 and 3 paid hours of work in a week.
Any time you go through the sales process and fail to close, you are losing time and money, so you must use every failed sales interview as a learning opportunity, lest all your efforts go to waste!
I always recommend going the extra mile every time you train an existing client, regardless of how long you've known them or how many sessions they've purchased.
Retaining clients is also much easier when you offer nutrition coaching and specialize in a specific fitness area.
If you are an expert, you are less replaceable than a general personal trainer.
Also, clients will be more motivated not to fall off the wagon if they are on a combined fitness and nutrition program, as they have much more to lose.
If you are still lining up your CPT program, I highly recommend going for the ISSA Elite Trainer bundle.
The Elite Trainer includes the internationally-recognized ISSA CPT program, nutritionist program, and third ISSA specialization.
This ultimate trifecta of certifications will help you retain clients, earn much more money, and become a much more successful personal trainer.
Furthermore, this bundle comes in at a fraction of the cost of purchasing the three certifications at retail value.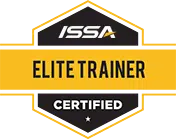 If you choose the ISSA CPT, going for the full Elite Trainer is a very easy decision.
Additionally, you should check the ISSA website for current promotions.
If you can stack a discount on the Elite Trainer on top of its already insane value, it's almost too good to be true.
Regardless of the service you offer, treat every current training session like a trial session in the sense that you always continue to demonstrate how valuable your time and knowledge are.
Always seek to demonstrate just how much the client would be missing out were they to stop training with you.
You can also consider obtaining and retaining clients using data and consumer preferences. This is especially relevant if you plan to build your own fitness studio.
Once their sessions are up, the renewal process will be a piece of cake because they've had dozens of amazing sessions with you and plan to keep you as a trainer as long as you are willing to train them.
You should also think about how to structure your personal training contracts to encourage client retention and focus on good strategies for dealing with client cancellations to keep your business running smoothly.
On a related note, even as you train existing clients, you should also focus on your continuing education credits and soft skills, such as time management, to ensure you become a good personal trainer.
Another one of my tips for new personal trainers to improve client retention is using software to enhance the client experience. This is also vital if you want to train clients online.
Personal training software typically has features such as workout tracking, weight tracking, scheduling, and sometimes even payment processing.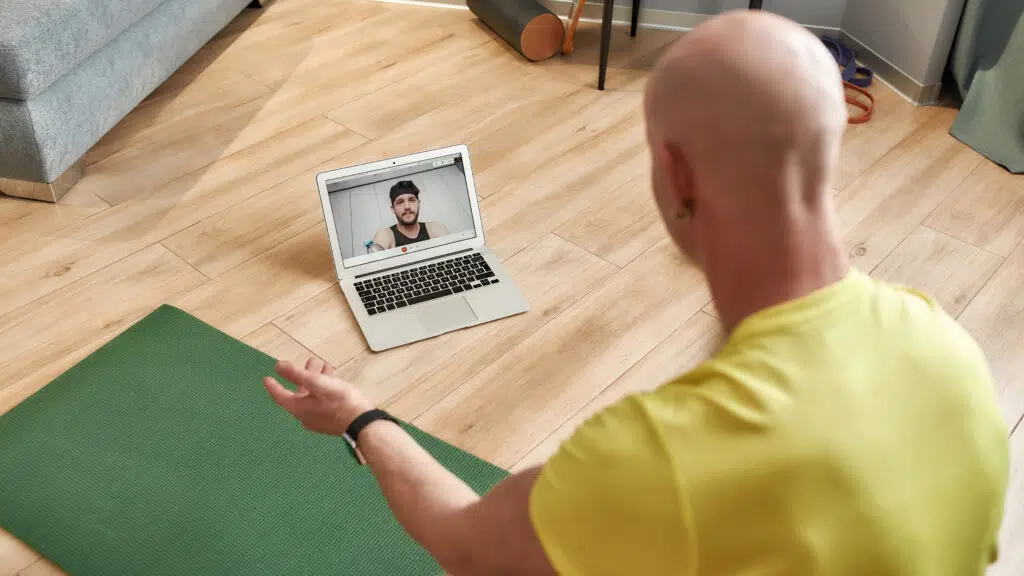 The following are just a few of the top personal trainer software programs:
Using the software is just one tip to motivate your clients inside and outside of the gym.
I also recommend reading additional personal trainer books to further your knowledge of the various aspects of personal training.
This does not mean that you do not entertain new leads or conduct consultations. After all, even the most dedicated client may stop training for reasons entirely unrelated to your skills or business.
However, once you have a good client base, you will naturally be spending less unpaid time finding and nurturing leads and doing trial sessions. Most of your work week is now spent training paying clients.
At this point, word-of-mouth referrals typically start coming to you if you are good enough to have a full client schedule.
You can run these passive leads that come to you via word of mouth through your interview and sales process.
But you are now in the lucky position where you do not need to actively conduct personal trainer marketing to acquire new personal training leads.
If you are crushing it and are self-employed, you can even opt out of giving trial sessions if you feel your time is limited and you are not desperate for new clients.
Regardless, keeping your existing client base happy should be a very high priority once you have a good client base to keep your whole operation afloat.
How I learned to sell personal training
In many ways, I was lucky. After getting certified as a personal trainer with NASM and ISSA, I got hired at a commercial gym with great sales training and many opportunities to find leads, conduct consultation interviews, and close sales.
I did the good old fashioned methods of working the gym floor, cold calling leads, distributing flyers… you name it.
Eventually, I was ready to become a self-employed trainer. However, I then had to focus more on the online fitness marketing and social media marketing side of things to grow my online personal trainer business and sell individual workout plans.
Throughout this decade of experience, I learned quite a bit about sales and made a fair share of mistakes.
This article outlines my general approach to sales.
However, as I mentioned, when it comes to sales in fitness, there is no way around learning by doing!
FAQ
How much do personal trainers make?
Based on the Bureau of Labor Statistics, ZipRecruiter, Indeed, and Glassdoor, personal trainer salaries range from 30k to upwards of 70k, depending on location, experience, and hours worked.
How to sell high-end personal training?
Becoming a high end personal trainer is an excellent way to make big money as a personal trainer. Selling expensive training requires appealing to clientele who can afford your sessions and building a brand that attracts high ticket clients.
How much should I charge for personal training?
The rate for personal training varies drastically based on location, experience, and the services and value you offer. Typical training sessions range from $50 to $70 per hour. However, budget-conscious gyms may offer sessions between $30 and $40, while high-end gyms in prime locations can charge $100 or more per session.
How do I get more personal training clients?
Getting clients boils down to finding leads, conducting consultations, and closing sales. There is no single right way for every person, but using tools such as social media, networking, and word-of-mouth are common ways trainers find leads and acquire clients.
How do you charge someone for online personal training?
If you are working live with an online client via video feed, then the charge would be based on the duration of the session, like a gym. For pricing online training programs, you will have to figure out the specific value and market price for similar programs. However, you should always consider the time it takes to put each program together.
How many clients do personal trainers have?
If you assume a personal trainer is working a typical 30-40 hour work week and trains clients 2-3 times per week for an average of 1 hour, then a typical trainer would have 15-30 clients to maintain a full time schedule.
How do personal trainers get clients?
Traditional marketing, word of mouth, social media, and working the gym floor are all common ways personal trainers get clients. Social media and online marketing are key for selling workout programs online.
Is becoming a personal trainer worth it?
If you have a passion for fitness, helping others, and a willingness to work hard and be around people, then becoming a personal trainer is worth it.
Why is personal training so expensive?
Personal training costs so much because the client hires a skilled professional for direct one-on-one time. On top of paying the trainer for their time, some sales go towards gym expenses, paying other staff, and continued marketing growth. This adds up quickly to the final price for personal training sessions.
Conclusion: how to sell personal training
Selling personal training packages can be a challenging aspect of being a successful personal trainer in the fitness industry.
However, it is undeniably one of the most important skills you must learn to develop outside of the personal training skills covered in most fitness certifications.
The great news is that the personal training job outlook is very good, which opens additional career options for personal trainers and also means selling personal training has never been a more important skill.
While mastering the art of the sale takes lots of practice and many embarrassing botched interviews, the satisfaction of closing a sale, making your money, and helping your new client crush their fitness goals is well-worth the grind.
Cheers to getting new clients and closing your personal training sales!
Suppose you need a hand picking the best personal training certification for your goals. In that case, I highly recommend taking my quiz below to match you with the optimal certified personal trainer program.