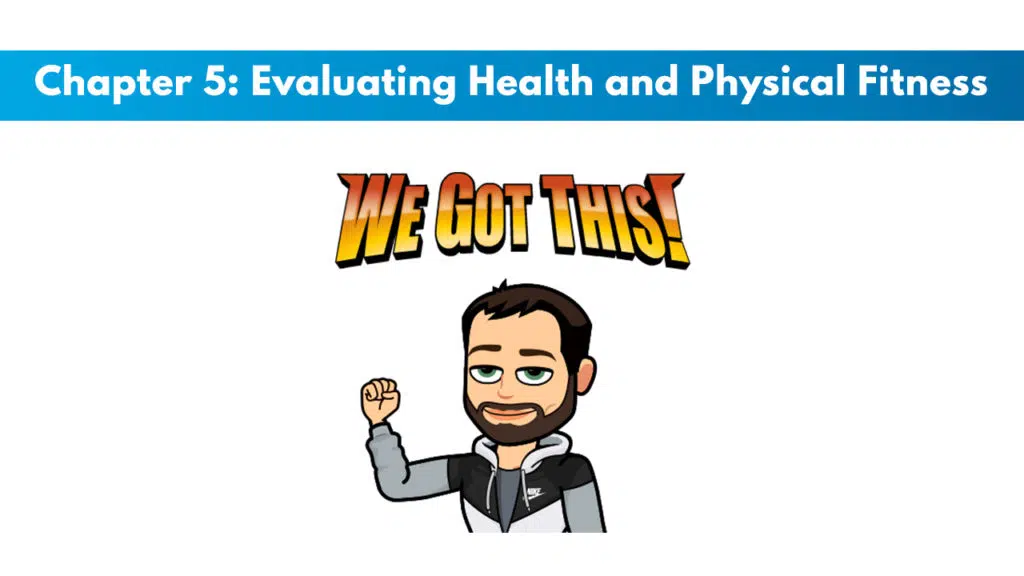 If you have not yet signed up for the NCSF CPT certification, receive a big discount here.
Get your copy of the NCSF CPT exam cheat sheet. It helps immensely for studying for the exam.
Make sure to check out Trainer Academy for premium NCSF CPT study materials. They will reduce study time by 50% and have an exam pass guarantee. Read my full review on them here. You can save $100 on their MVP study system with the code: PTPSUB
Chapter Goals:
Find the common factors that impact our health and fitness.
Know the relationship between quality of life and level of activity.
Define the key terms throughout the chapter.
Find the specific injuries associated with common activities.
Know the documents used to screen individuals before starting an exercise program.
Factors that Affect Fitness
The baseline measurements in fitness will be influenced heavily by genetics, environment, and stress the body experiences each day.
For someone that is sedentary, the strongest factor, besides lack of activity, will be a genetic predisposition.
Sedentary describes a lifestyle where behavioral patterns include very little physical activity.
A genetic predisposition is something that increases the propensity toward conditioning or outcome based on one's inherited genes.
A person's genetics usually account for around 40% or all the way up to 66% of the uncontrollable hereditary factors affecting the physical health and performance components. That leaves the remaining 40 – 60% as controllable factors that can be manipulated for improvement.
Many environmental factors affect physical fitness, each having its own co-factors.
A big factor that plays into the behaviors people partake in is interest.
The basic factors that we find impacting our fitness are:
Genetics, age, and sex
Environment
Social factors
Stress
Nutrition
Levels of daily activity
Education and economic factors
For many people, the simple knowledge of the benefits of physical activity is enough to decide to partake in some form of activity every day.
Physical Activity and Life Quality
Health-related quality of life is an important outcome coming from wellness behaviors.
Exclusive PTP CPT Offers



Gold Standard Cert

Most Popular Cert

Best Study Materials

A Good Option

A Good Option

Best CPT for you?

The perception of improved physical function in activities of daily living is one of the more important effects of physical activity.
Most people may be able to complete activities of daily living. Still, it is usually well-documented that we see improvements in ease or proficiency in these tasks with regular physical activity.
The factors seen to affect health-related quality of life include education, spirituality, family, health and safety, work, stress, and psychological factors.
As it goes, premature and overall mortality is mainly caused due to controllable diseases.
Premature mortality measures unfilled life expectancy or death before the age of 75.
Mortality is death that occurs in a population or other group.
Physical Activity and Risk for Injury
Exercise is proven to improve the quality of life for most people. This holds true for people who are healthy or diagnosed with a disease.
Novice exercisers will have an increase in the risk of these things when proper acclimation periods are not applied:
Muscle strains or tendon strains
Tears and sprains of ligaments
Fractures of bones
Some other conditions to know about are:
Hyperthermia – a dangerous increase in body temperature above normal, which can lead to heat illnesses like exhaustion or stroke.
Hypothermia – This is a dangerous decrease in body temperature lower than normal levels that lead to diminished control of the body, frostbite, or death.
Rhabdomyolysis is a life-threatening condition that occurs from the destruction of muscle tissue and subsequent release of muscle fiber content to the bloodstream, which may cause major organ failure.
Hyponatremia – this is a lower-than-normal plasma sodium concentration.
Considerations for Pre-Exercise Screening
Screening someone before a program may allow for the right modifications to be made to avoid the risk of many conditions in physical activity.
Exercise may cause more harm than good, especially in people with some form of cardiovascular pathology. Some of these conditions are arrhythmias, acute angina, and myocardial infarction.
Exclusive PTP CPT Offers



Gold Standard Cert

Most Popular Cert

Best Study Materials

A Good Option

A Good Option

Best CPT for you?

Another increasing condition within the united states is type 2 diabetes mellitus.
Type 2 diabetes is a metabolic disorder with high blood pressure, insulin resistance, and a lack of insulin production. It is often the result of little activity and the presence of obesity.
Pre-Exercise Screening
There is a lot of research saying that daily physical activity is vital to healthy aging. Data also suggests the absence of routine leads to greater danger than the inherent risks of physical activity.
The main reason we screen clients before they participate in a program is to find the possible factors that increase the risks of injury when exercising.
The Benefits of Client Screening:
1. Educate the client about relative health risks associated with their lifestyle, behaviors, and history.
2. Identifying current health status compared to recommended ranges.
3. Providing data that will be used to create a needs analysis as the basis for the exercise prescription.
4. Establishing starting points and predictions of performance.
5. Identifying interests, aptitudes, or possible limitations.
Liability is the state of being responsible for something, especially by law. This is an important reason that we have screening before entering training programs.
Ignoring these simple screening rules that we have set could result in professional negligence.
For our purposes of fitness and health, the exercise screening should be:
Practical and give us information
Viable across multiple segments of the population
Effective at identifying those at risk for untoward events
Informed Consent
This is not necessarily a screening form but instead more of a waiver that requests voluntary permission or consent for health screening, fitness evaluation, and/or exercise participation.
The document is needed to clearly explain the contents, specific details of the program and its activities, and the risks and benefits of participation.
Components of Informed Consent
A reasonable explanation of procedures
Normal physiological expectations
Assumed risks of participation
Reasonably expected benefits
Opportunity for inquiry
Right of refusal
Right of confidentiality
Background and purpose
PAR-Q+
This stands for the physical activity readiness questionnaire for everyone. The plus represents the most recent updates to it.
The primary objective of this form is to find the people who may be at an increased risk for some form of a cardiac event.
This new + form has seven questions that serve as a red flag for the trainer if they answer yes. It also then expands on those questions a bit further.
Health Status Questionnaire (HSQ)
This is split into the sections of general client information, self-reported health, and fitness status, current medical information, medical history, and self-reported psychological considerations.
The key risk areas are:
Family history of cardiovascular
Undesirable blood lipid profiles
Metabolic disease
High blood pressure
Current medications
Previous injuries or surgeries
Smoking history
Sedentary lifestyle
Obesity
Impaired glucose tolerance
Behavior Questionnaire
The behavior questionnaire follows the health status questionnaire in a comprehensive screening process.
There are several reasons this form is useful:
Identifying obstacles to the program goals and needed improvements in health status.
Identifying factors correlating to current health status.
Providing the opportunity to educate clients about how their behaviors impact their health.
Identifying appropriate behavior management strategies.
Compiling the Data
When getting the information altogether, we are looking for medical problems and disease, signs and symptoms that show disease, characteristics of some form of health risk are increased, and lifestyle factors that increase health risks.
We can create a needs analysis to help narrow down the information. This usually includes health, fitness, and behavior needs and the potential remedies we have for these areas.