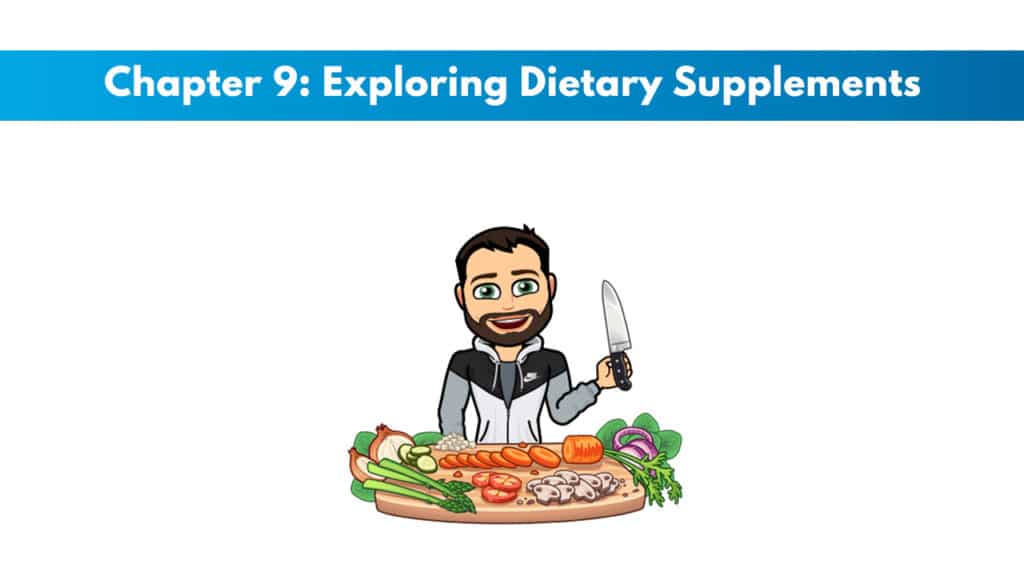 If you have not yet signed up for the NCSF CPT certification, receive a big discount here.
Get your copy of the NCSF CPT exam cheat sheet. It helps immensely for studying for the exam.
Make sure to check out Trainer Academy for premium NCSF CPT study materials. They will reduce study time by 50% and have an exam pass guarantee. Read my full review on them here. You can save $100 on their MVP study system with the code: PTPSUB
Post 9 of 17 in the NCSF Study Guide
Chapter Goals:
Find the common issues that exist for choosing healthy dietary sources.
Be able to read food labels properly.
Understand differences in ergogenic aids and supplements.
Know the common supplements that are used for the increases in muscle mass, improvement of strength, and for losing weight.
Reading a Food Label
Food Labels
The government set requirements that producers and retailers must display the basic nutrition information on pre-packaged food products.
The nutrition facts label has been updated most recently in 2016 to reflect the new information in science like the link between diet and chronic disease.
These are the required nutrient information for labels:
Servings per Container
Serving Size
Calories per Serving
Total Fat
Saturated Fat
Trans Fat
Cholesterol
Sodium
Total Carbohydrate
Dietary Fiber
Total Sugars
Added Sugars
Protein
Vitamin D
Calcium
Iron
Potassium
The Daily values are also an important part of the labeling. These are nutrition label guides for the nutrients in one serving of food based on a 2,000-calorie diet for a healthy adult.
There are many nutrient content descriptors. These are terms we use to describe relevant aspects of food sources.
Some of the main food descriptors are:
Free – which signifies less than 0.5 grams per serving or less than 5 kcals per serving.
Low – this is for foods that do not cause excessive intakes of their referred parts.
Low-calorie – this is less than 40 calories per serving.
Low-fat – this is less than 3 grams with each serving.
Low-cholesterol – this is less than 20 mg with each serving.
Low sodium – this means lower than 140 mg each serving.
And the list goes on. It is important to know all of these when we are looking at labels and to inform our clients how to recognize this information. Some others to note are High in, Extra, High Fiber, Lean, Sodium free, and Good source.
Exploring Dietary Supplements
Each person has their own set of nutrition requirements that differ due to the broad number of factors affecting the energy needs of humans.
One example is when there are great amounts of stress placed on the body, the supportive nutrition needs increase alongside.
Exclusive PTP Offers



Gold Standard Cert

Most Popular Cert

A Good Option

Best Study Materials

Best online PT course

The Top PT Software

Post-Exercise Recovery Considerations
When working out with high volume and heavy resistance, muscle glycogen gives the largest portion of calories available for work. This means it is a good idea to maximize the glycogen storage in the muscles, for maximum efficiency with training.
4 hours after training, cells have an increased permeability to nutrients and are more sensitive to the anabolic hormones that help to build, like insulin.
Ideally, there should be many carbs consumed, somewhere in the realm of 1 gram per kilogram of body weight, to recover optimally.
The number of carbs taken in should reflect the energy needs of the next training session or competition.
It is also a great idea to replenish the body with carbs through high glycemic foods as they are quickly put into the bloodstream.
Protein drinks are not always the best, even though they are most often advertised as optimal recovery drinks. They can help with tissue recovery, but not actual replenishment of the glycogen stores.
Ergogenic Aids
In order to enhance physical performance further, many exercise enthusiasts and athletes supplement their dietary intake of nutrients.
Supplements are products that are intended to fulfill or simply complement the diet and may contain one or more ingredients like vitamins, herbs, amino acids, and any of their constituents.
Multi-vitamins and mineral pills are the most common dietary supplements in the US.
Ergogenic aids are products that offer a mental or physical edge of some kind when the user is exercising or in a competition. These are also known as performance enhancers.
Some popular categories of ergogenic aids are:
Muscle and strength gain
Weight loss
Anti-aging
Improved energy
Improved endurance
Pro-hormones
Herbs
Sports performance
Multi-vitamins
Consumer Caution
The industry for supplements should always be a "buyer beware" market, as there are a lot of products that simply do not work.
The supplement market has its own regulation, and this has created an environment where almost anything goes, as long as there are no medical claims made.
NCSF does certify supplements that it believes in, and these undergo the process of screening for banned substances, label claim review, contaminant review, and facility audits.
Mass and Strength Gains
Training that focuses on hypertrophy of muscles will have compounds used to aid mass and strength gains.
These are primarily going to include things like creatine monohydrate, supplemental protein,
branch chain amino acids (BCAAs), glutamine, nitric oxide (NO), and beta-hydroxy beta-methylbutyrate (HMB).
Creatine monohydrate is a dietary supplement that improves muscle strength and athletic performance. It is naturally occurring in the body and is found already in the diet through red meat and seafood.
Branched-chain amino acids are the essential nutrients that the body gets from a protein found in foods, especially with meats, dairy, and legumes.
Glutamine is the most abundant of all amino acids and it is naturally found in the body. The muscles have the ability to make it and the blood distributes to organs in need.
Nitric oxide is a molecule used for signaling the body for vasodilation. Athletes supplement with this aid to support the blood flow and oxygen in skeletal muscles.
Beta-hydroxy Beta-methylbutyrate is a metabolite of essential amino acids like leucine. It has been shown to enhance gains in strength and lean body mass.
Creatine is seen to enhance performance by:
Increased intramuscular creatine and phosphocreatine content
Greater resynthesis of phosphocreatine
Increased metabolic efficiency
Enhanced adaptations with training
Creatine does not have any proven side effects, but through anecdotal reports, it has been seen to cause abdominal cramping, diarrhea, muscle stiffness, and strains.
Muscle hypertrophy is defined as an increase in the overall size of skeletal muscle.
Protein can be considered a valuable thing to supplement into the diet since it is the main thing when it comes to increasing the size of muscles.
Exclusive PTP Offers



Gold Standard Cert

Most Popular Cert

A Good Option

Best Study Materials

Best online PT course

The Top PT Software

Inadequate protein in the diet will cause the body to be more catabolic and thus put it into a state where it is breaking down molecules to get protein for metabolism.
L-arginine is a conditional amino acid that has been seen in supplemental use also. This aids in protein synthesis increases the immune and nervous system functions, increases the delivery of oxygen to the heart, and regulates the levels of growth hormone.
Androgenic-Anabolic steroid is the official terms for all male sex steroid hormones, their derivatives, and any of their active metabolites.
These are most commonly seen being used for aesthetic purposes but have also been seen in cases of professional and Olympic sports competitions.
These have been banned in practically all professional sports, but it doesn't stop them from being seen in bodybuilding, weightlifting, and anaerobic and aerobic sport.
There are significant risks that come along with the use of these anabolic steroids. They are seen to affect virtually all parts of the body in bad ways, while still being quite popular.
The degree to which these side effects occur has been shown to purely depend on the dosage of these compounds. Many people who use them will cycle on and off to help deter these effects.
Weight Loss Supplements
The sale of supplements for the idea of weight loss is seen to generate over 1 billion dollars each year.
These are seen as a quick fix for anyone who wants to avoid the labor associated with exercise and dieting.
In general, these supplements are seen to do these things:
Increase energy expenditure
Modulate CHO metabolism
Suppress appetite
Increase fat oxidation or reduce fat synthesis
Block dietary fat absorption
Caffeine is a popular supplement for weight loss, as it stimulates the central nervous system.
It is naturally occurring and one of the most used drugs around the world.
Caffeine ingestion is well proven to assist in improvement in concentration, reduction in fatigue, and enhancing levels of alertness.
For the desired effects listed before, the ergogenic aid needs to be in a dose of 250 – 700 mg.
Caffeine consumption chronically and in high amounts can lead to issues like excessive sweating, nervousness, feelings of unease, anxiety, upset of your stomach, and high tolerance and thus a future need for more of the drug.
Ephedra alkaloids are very common in the realm of weight loss. These are drugs that mimic the sympathetic activation on the heart and circulation, causing smooth muscle contraction and vasoconstriction.
These alkaloids have been shown to have high chances of some serious problems with gastrointestinal issues, hypertension, and even sometimes more serious things.
Synephrine is a plant that is used for weight loss in products. It is used for treatments of skin infection, weight loss, chronic fatigue syndromes, and some gastrointestinal problems.
Conjugated Linoleic Acid is a fatty acid found naturally in meat and dairy, and its effect on health include:
Body fat reduction
Weight loss maintenance
Lean muscle mass retention
Improved control of type 2 diabetes
Tea is a popular supplement used for general weight loss purposes and it is seen to modulate obesity and regulate the metabolism of fat. It is not very well understood.