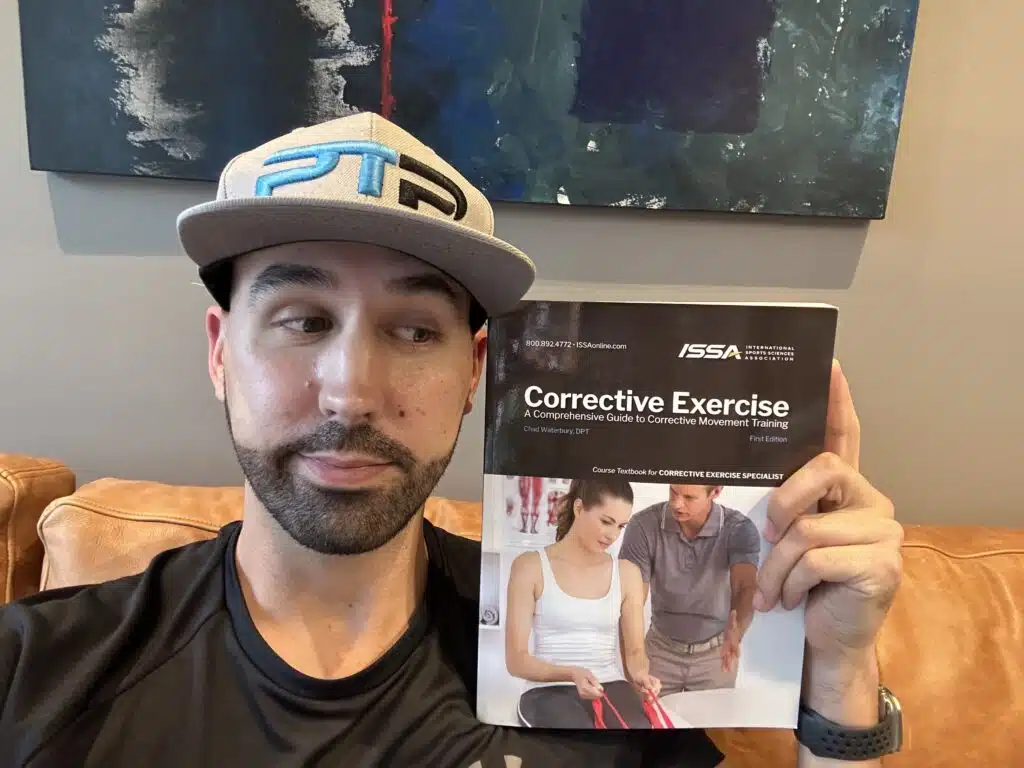 This is my complete review of the ISSA Corrective Exercise Specialist. I took the ISSA CES certification. In this breakdown, I detail my experience with studying for and taking the exam and applying the ISSA corrective exercise principles in real world situations.
I will detail who the ISSA Corrective Exercise Specialist certification is meant for, how it compares to the other corrective exercise certifications out there, and after reading this article you should have a clear idea of whether this is the ideal program for you.
I cover:
Organization information: pricing, packages, prerequisites
Quality of the program and textbook
Pros and Cons, is the ISSA CES the right cert for you?
How this specialization compares to other corrective exercise programs
Before we begin, I suggest taking my quiz, which is a straightforward way to figure out the best personal training certification for your needs.
What is the ISSA Corrective Exercise Specialist?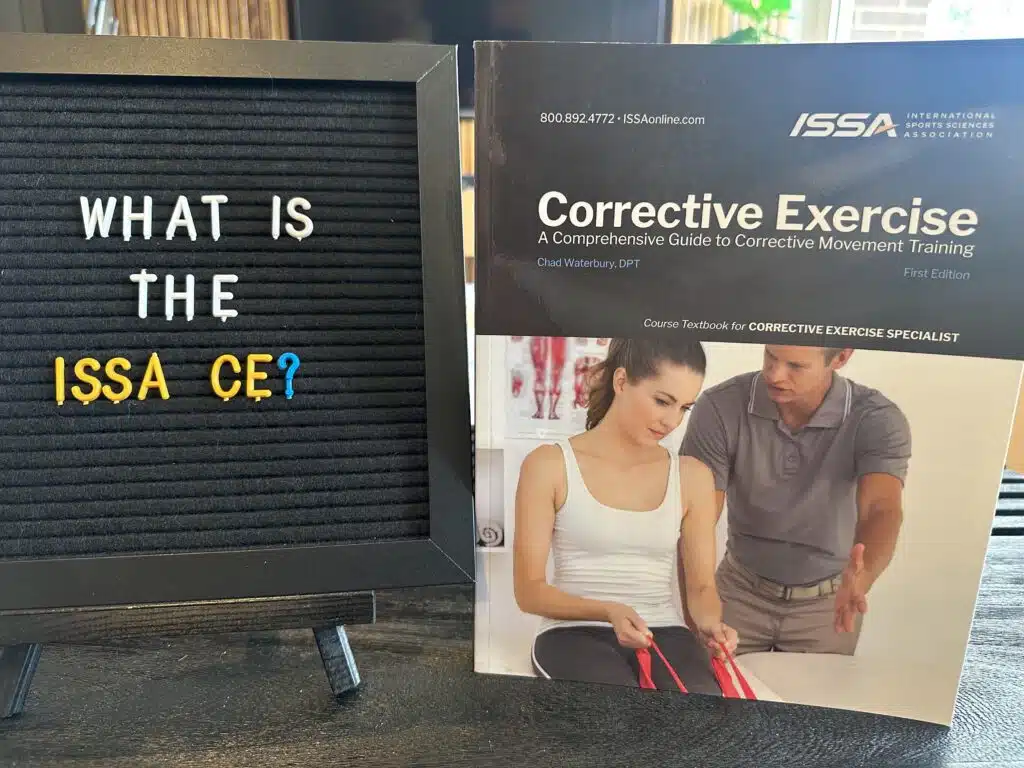 The ISSA Corrective Exercise Specialist teaches existing fitness professionals how to help clients fix muscle imbalances, prevent injuries and pain, increase range of motion, and achieve better overall performance.
While scope of practice prohibits certified personal trainers from diagnosing or treating an injury, fitness professionals should help clients achieve better ranges of motion and strength through exercises that prevent the risk of injury and address current mobility restrictions.
These are the key topics the ISSA Corrective Exercise Specialist discusses:
Roles that a personal trainer or health care practitioner are legally and ethically allowed to play when correcting physical dysfunctions
Structure and functions of the human skeletal, muscle, and nervous system
Primary joint actions and the muscles that drive them
How movement is initiated, maintained, and modified
Essential roles of motivation, feedback and exercise capacity
Steps to perform a movement analysis for any exercise and restore structural alignment and stability from head to toe
Corrective exercises that correspond with the most common movement dysfunctions
Soft tissue assessments and correctives for the most common joint restrictions
I find the above topics cover any and all situations you will encounter as a trainer in the corrective exercise field.
ISSA Corrective Exercise Specialization General Information
Exam cost: $639.24
Study material cost: $53.27/month for 12 months
Prerequisites: High School Diploma, CPR/AED
Exam passing score: 75% on each section
Exam pass rate: 90%
Average completion time: 3-5 months
ISSA credibility and reputation
In my professional opinion, ISSA (the International Sports Sciences Association) is one of the more credible certification organizations.
They provide a multitude of high quality NCCA accredited certifications.
The NCCA (National Commission for Certifying Agencies) offers the highest level of accreditation and most top gyms and employers like to see a certification from a NCCA accredited program.
ISSA began in 1988 in an effort to stem the tide of physical decline in the world.
ISSA's mission is to use education along with a robust fitness community to bring healthy living to the world. They aim to connect 100 million people to healthy living by 2030.
The International Sports Science Association has a job guarantee with their personal trainer certification, a perk many other major organizations out there don't even offer.
I also like how ISSA puts business skills in their certification programs, which again isn't always the case with their rivals and adds to ISSA's credibility and reputation.
Is the ISSA Corrective Exercise Specialist worth it?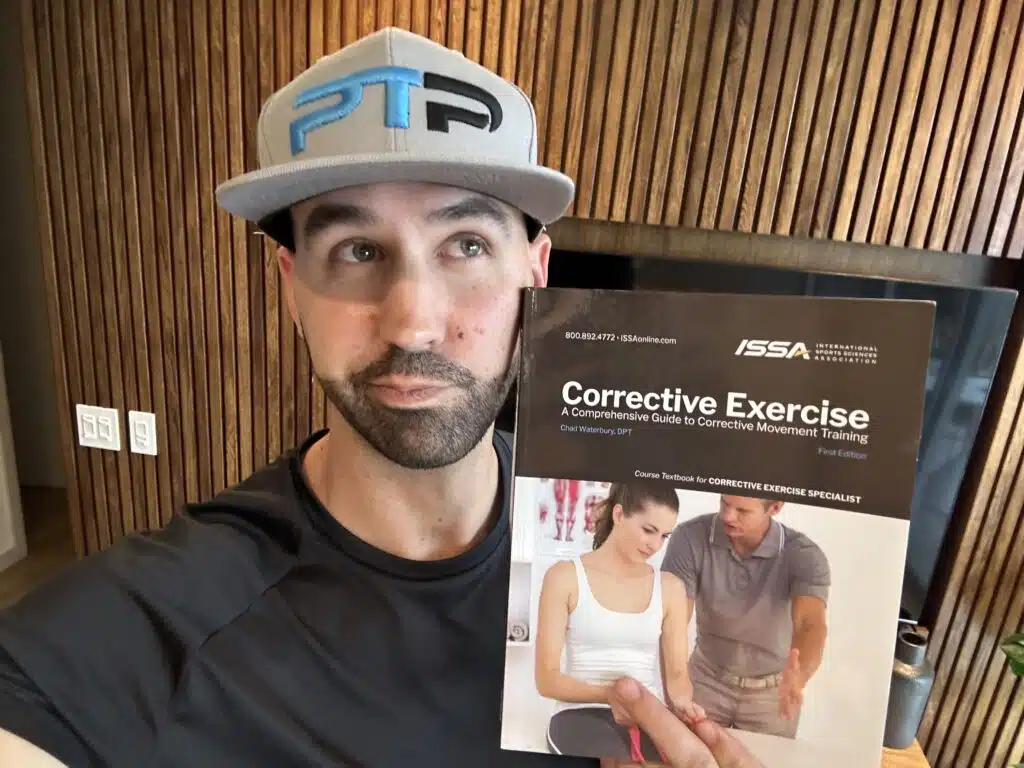 The ISSA Corrective Exercise Specialist is worth it for personal trainers looking to fix and recognize dysfunctional movement patterns in their clients, as well as for coaches seeking to prevent injury in their athletes.
The program is designed to help individuals improve their posture, balance, and coordination.
Pros
Great textbook
Easy to use online guided study
Elite Trainer package offers the best value in the fitness industry
Cons
Not as well known as NASM CES
Slightly more expensive than other programs by itself
ISSA's online video library isn't as comprehensive as NASM
Most trainer certification programs briefly mention correctional exercises, but the ISSA CES was created for trainers who want to fully understand how the body works and the proper ways to correct and recognize dysfunction.
The textbook and lectures excel at explaining complicated exercise science topics in a way that's easy to learn.
The price is a little higher than NASM if you purchase the specialization by itself, but if you take advantage of ISSA's bundle options, then the cost is actually more reasonable than the competition.
I always recommend students of mine to look at multiple credentials rather than just a personal training certification.
ISSA has a BOGO (buy-one-get-one) deal that offers excellent value for trainers wanting to double dip on specializations.
Exclusive PTP CPT Offers



Gold Standard Cert

Most Popular Cert

Best Study Materials

A Good Option

A Good Option

Best CPT for you?

Multiple credentials are a good way for a trainer to stand out in the fitness marketplace.
For those wondering if getting a corrective exercise certification or specialization is the right option, I can only speak from my own experience:
I've found in my own practice (and from discussions I've had with other top trainers) that knowing as much about corrective exercise as possible is vital to coaching clients today.
Most average people you encounter on the job spend hours in front of a desk or peering down at a cell phone screen. This means almost every person you train will have mobility restrictions along some joints.
Often a client's aim is to "get stronger" or "build muscle," but they can't move their shoulders or hips through an acceptable range of motion. In this case, you must include corrective exercises in the program either during workouts or outside of them.
You never want to add strength to dysfunction. The mobility issue must be corrected first. Eventually these issues will catch up to your client if not corrected.
Additionally, most clients won't go to a physical therapist if they have nagging pain or injuries, so it's important for a trainer to recognize what they can do within their scope of practice and when to refer clients to the appropriate health care professional.
I urge any trainer to learn as much as they can about corrective exercise.
The proper implementation of corrective exercises will help prevent injuries in your clients and aid in almost every goal they have.
In the last ten years of coaching I have only encountered one adult client who had no mobility restrictions—out of hundreds of clients.
ISSA vs. other top corrective exercise certifications
The main rival to the ISSA CES is NASM's Corrective Exercise Specialist. NASM is more well known in the corrective exercise field than ISSA, but, having taken both of these, I actually think the quality of the ISSA materials match NASM's course. The ISSA course is only 5 years old, so they have taken inspiration from the NASM model, which has been around for much longer.
Either one of these is a good option, but I personally prefer the ISSA CES a bit more because it's easier to access the textbook itself versus in NASM's case.
This ISSA program is among the best corrective exercise programs.
Who is the certification meant for?
The ISSA Corrective Exercise Specialist course is meant for fitness professionals, giving them more tools to be able to do their jobs better.
Personal trainers and athletic coaches might want to use this program to learn how to prevent injuries in clients.
Massage therapists and chiropractors could benefit from learning more about specific exercises that will aid in the healing process.
This program would even be a great option for exercisers who want to bullet proof their own bodies and learn more about the underlying physiology of exercise on their own.
Being a corrective exercise specialist with ISSA is not meant to serve as a medical credential. This course will not make you a physical therapist or doctor. It will only give you more information as a fitness professional under the trainer scope of practice.
Great for:
Personal trainers
Athletic coaches
Any fitness professional who wants to prevent injuries/learn about the body
ISSA CES course costs and options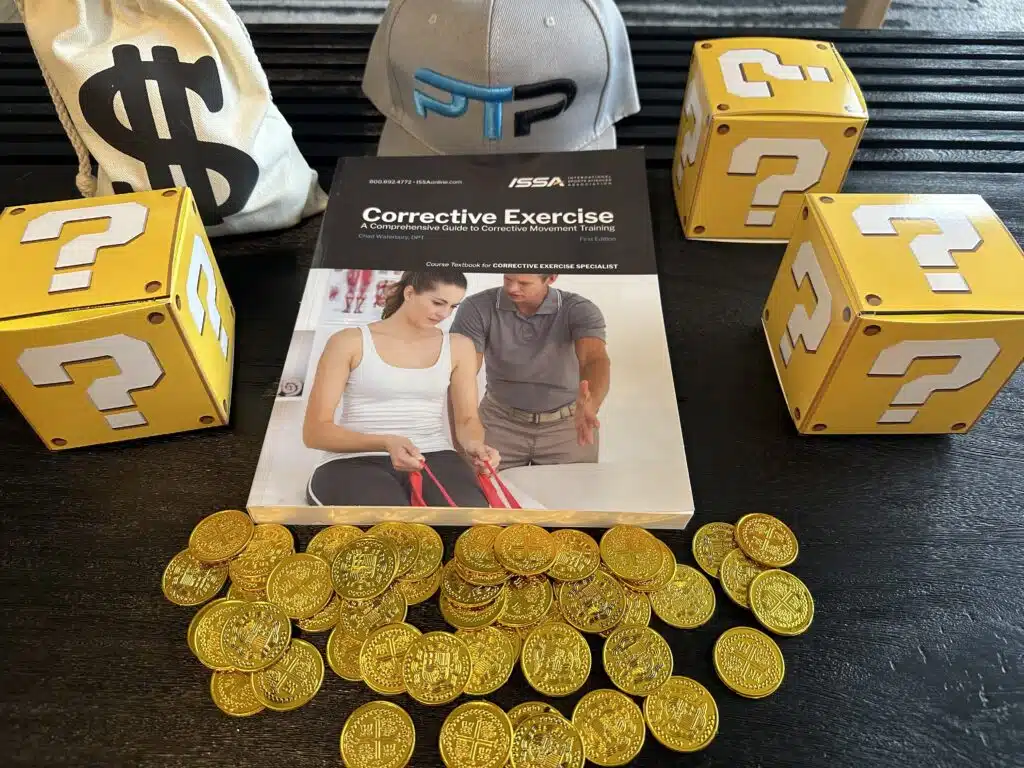 ISSA's Corrective Exercise Specialist costs $639.24, which you can also pay in 12-month installments of $53.27 with the ISSA payment plan. There are no major prerequisites for the ISSA CES prior to taking the course.
If you do have an ISSA CPT you will get 2.0 CEUs from this program, which is the amount needed to re-certify in terms of continuing education requirements.
Unlike other certifications that have multiple course costs and options, the ISSA Corrective Exercise course has only one major option, but that includes some study resources along with it.
ISSA CES course layout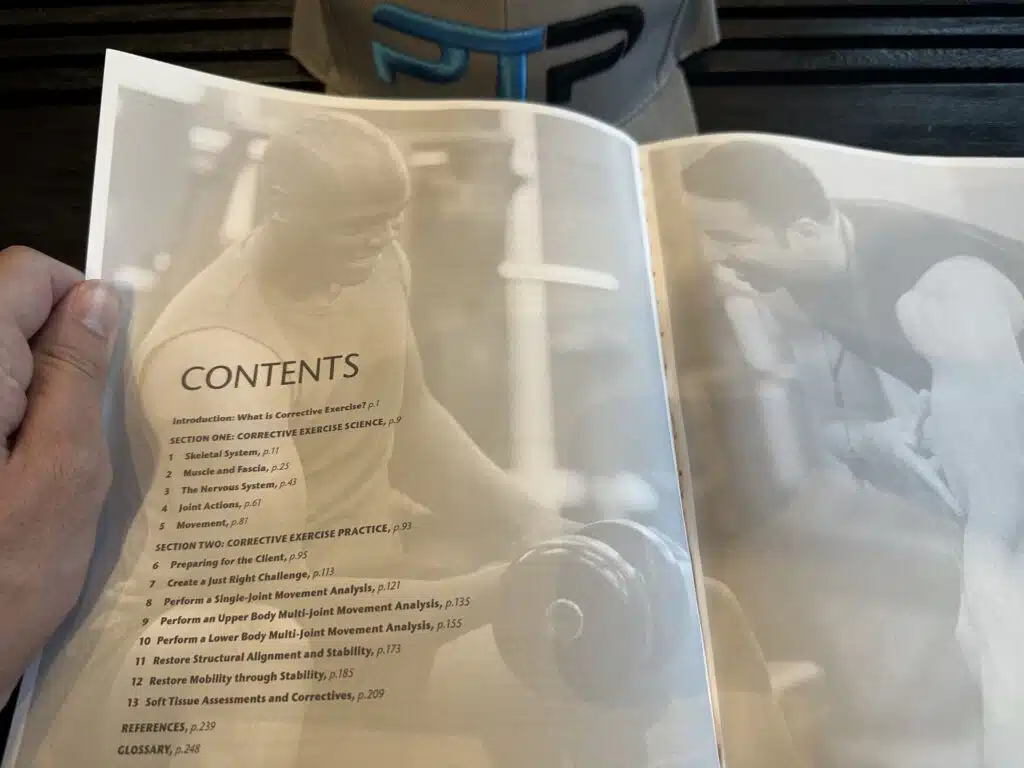 Exclusive PTP CPT Offers



Gold Standard Cert

Most Popular Cert

Best Study Materials

A Good Option

A Good Option

Best CPT for you?

The ISSA CES course is similarly laid out to all the ISSA programs. You have an online portal with sections for dashboard, guided study, textbooks, quizzes, downloads, and the final exam.
Personally, the easiest way for me to learn the information was through downloading the PDF of the textbook directly and then reading it via a computer or tablet. In the guided study program there are lectures going through chapter content, available in video and audio formats, which benefits those who learn aurally or like listening to podcasts in the car.
This course covers a lot of detailed information. While the online study site doesn't have the sleek look of NASM or ACE I found it extremely easy to navigate and as stated earlier, I really like that you can just read the textbook. Often, organizations force you to use their online study system and embed sections of the text within each module; I personally find following these overcomplicated systems frustrating.
Everyone learns differently, but my preferred method has always been to just read the text at my own pace rather than spending extraneous time clicking through menus and screens.
Section One of the textbook goes over corrective exercise science aspects, covering the skeletal system, muscle and fascia, the nervous system, joint action, and movement. Some of this content you will remember from your CPT course (like concentric, eccentric, isometric muscle actions) but this goes a lot deeper.
For example, in most personal trainer certifications you learn about how a motor neuron signal works, but in the ISSA CES you learn about which specific nerves control which motor functions in the body.
This component becomes very valuable when determining which issues in the body need to be addressed in a workout.
The ISSA CES program also details more about anatomy than a traditional CPT certification. It details which joints participate in rotation, extension, flexion, and so on, but it also shows the insertion and origins of all the musculature.
Knowing all your origins and insertions is important from a biomechanics perspective, because it allows you to understand which muscles are acting in any joint movement.
When I work with new trainers, I've noticed they often struggle with understanding how to modify exercise to target specific muscles; the information in the CES textbook will help fix that.
Section Two of the ISSA Corrective Exercise Specialist textbook details corrective exercise practices like preparation for movement, analysis of movement, how to restore structural alignment and mobility and soft tissue assessments and corrections.
I think the ISSA CES layout is an excellent way to teach corrective exercise as the first section gives you the foundation to understand how to apply the information learned in Section Two through technique and program design. At no point in time did I feel like I was learning information I couldn't use in practical life applications.
The ISSA Corrective Exercise Specialist defines ways to determine the appropriateness of corrective exercise, when to refer a client to a medical professional based on a list of red flags. I find this CES red flag list highly beneficial when dealing with clients who don't like going to the doctor or tend to try to "work through" pain or discomfort.
Another highlight of the CES textbook includes the movement analysis chapter, which gives several helpful examples of both single and multi-joint problem-solving cases a fitness coach might encounter with a client, along with solutions.
The exercises I use most with clients come from the activation exercise section of the textbook. I've found incorporating a few of these exercises into a quick warm-up at the beginning of training sessions to be invaluable when it comes to preparing the body for exercise in order to make sure the right muscles are contracting.
The Soft Tissue Assessments and Corrections chapter is very complete. It covers when to use each assessment, how to use it, and common mistakes to avoid with these correction exercises. Knowing this information gives you the flexibility to know when to apply corrective exercises.
I think a lot of trainers know that they should be using correctional exercises, but sometimes don't know which ones and why. The Correction chapter section of the ISSA CES solves that issue.
ISSA Corrective Exercise Specialist exam prep and study materials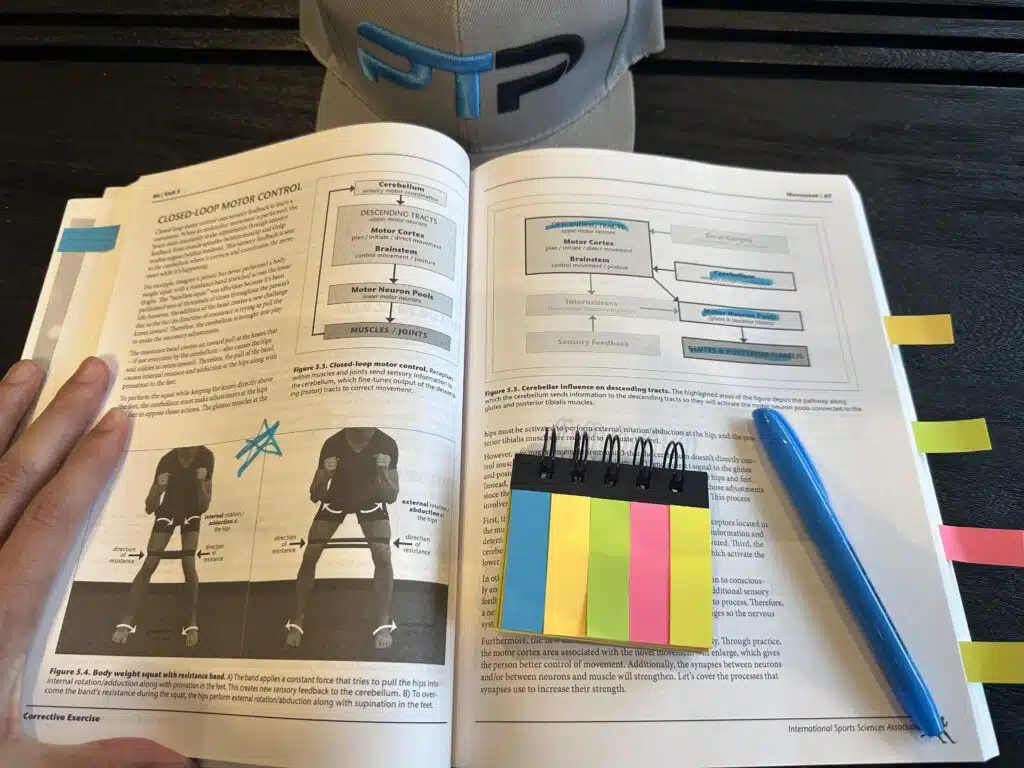 The ISSA CES comes with:
Online Study Guide and Workbook
Online and Home Study Exam
Online Exercise Lab
Online Student Forum
Practice Exam and Section Quizzes
Free Professional Website
Unlimited Educational Support.
Plus Bonus Support After Your Exam
I've found ISSA's online support team very helpful in guiding me through any questions that arose during the CES as I prepared for the exam.
Each of the quizzes at the end of the chapter will give you an indication of how you're doing in terms of synthesizing the information, but remember that you can only take a quiz once before you know each particular test answer, so use those wisely in your preparation.
ISSA's online guided study program contains case studies within each section of the book, which is very helpful when it comes to practically applying the materials within real-world settings.
Make sure to pay attention to these case studies as they are part of the final exam.
ISSA Corrective Exercise requirements
Although having an exercise degree will help you with the ISSA CES, it is not a requirement. Unlike other corrective exercise certifications, ISSA only requires you to have a current CPR/AED certification and be over 18 to qualify for their Corrective Exercise Certification.
ISSA CES salary
ISSA Corrective Exercise Specialist salary ranges are similar or slightly higher than typical personal trainer salaries. Glassdoor and Indeed give estimates of between $40,000 and $50,000 for corrective exercise specialists.
Of course anyone with multiple credentials has a higher ceiling in terms of financial opportunities so this amount may be higher for personal trainers who are also corrective exercise specialists.
Taking the ISSA Corrective Exercise Specialist exam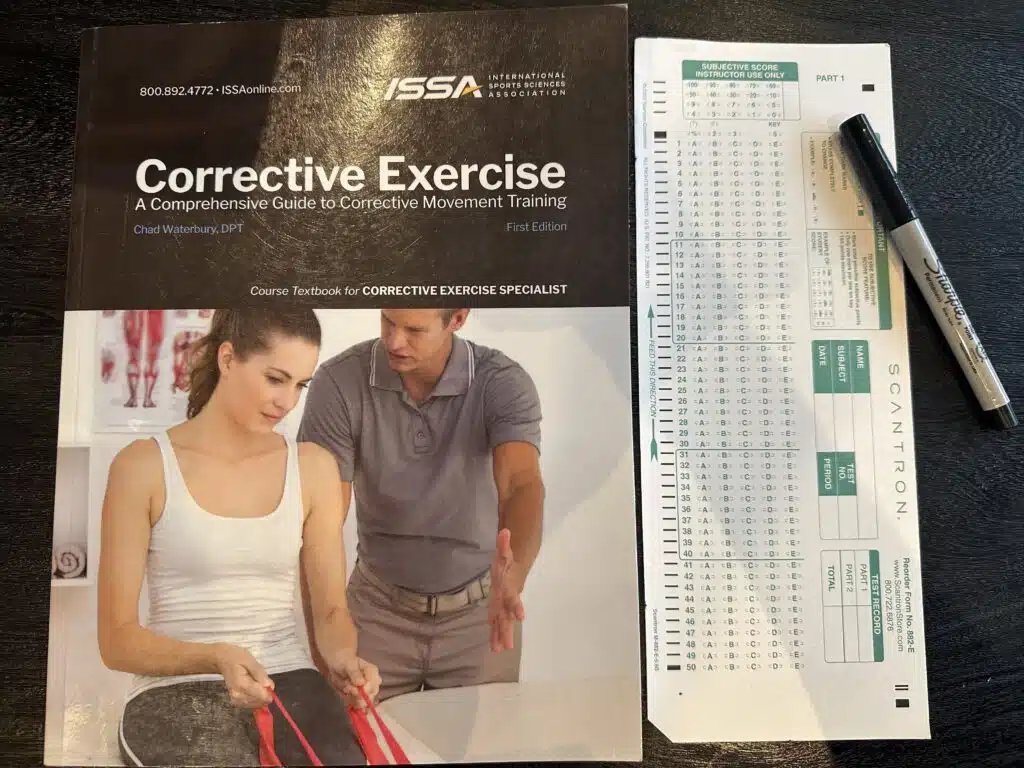 This online exam is much harder than any personal trainer certification so make sure to factor in extra study time. Remember everything is open-book and you have an unlimited number of retakes, unlike other exams, which makes the task seem much less daunting.
In my case, I passed on the first attempt, but that was after devoting extensive time to go through and review the course material, and I've also completed other corrective exercise tests in the past.
There is less stress here in terms of the final, but make sure to put in the work.
ISSA Corrective Exercise continuing education and recertification
ISSA requires you to have 20 hours (or 2.0 ceus) of continuing education requirements every two years for their certifications.
Because the ISSA Corrective Exercise Specialist is not a full certification, it does not require any continuing education units.
Other ISSA offerings
ISSA has a variety of other courses and certifications that will give you ISSA CEU credits:
You can also get additional CEUs on other topics, but these won't typically give you an extra credential to add to your name.
I would certainly recommend looking at these other ISSA certifications or courses, as they will give you more career opportunities in the exercise field along with more areas of knowledge. It's one of the strategies that has certainly helped my career.
ISSA Corrective Exercise program overall rating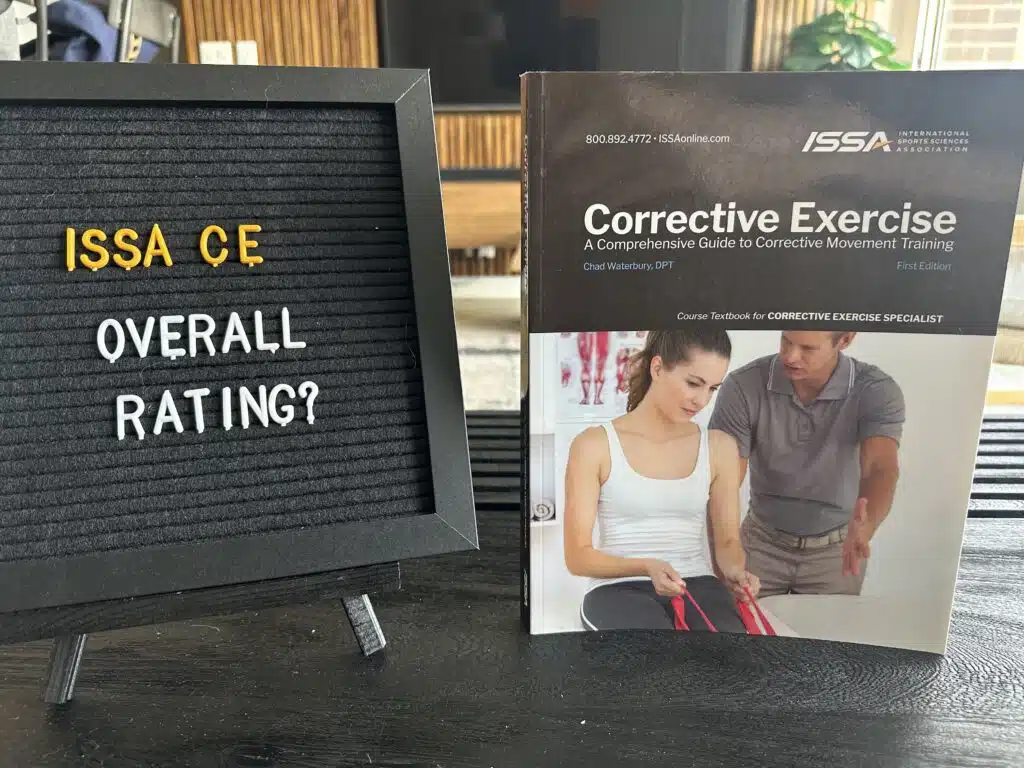 ISSA Corrective Exercise Specialization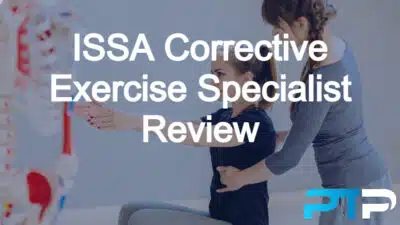 Read my complete review of the ISSA corrective exercise specialist certification including ISSA CES cost, and value. Learn if the ISSA CES is worth it for you.
Product Currency: USD
Product Price: 639.24
Product In-Stock: InStock
Pros
Very complete program
Excellent exercise science
Great textbook
Cons
Not as well known as NASM CES
The ISSA CES scores a 9.7 out of 10. The only reason I don't give it a full 10 out of 10 is the fact that it's a newer specialization without the same clout of NASM's CES. I really like how ISSA's course is laid out, the information is thorough but easy to digest, and the quizzes prepare you well for the final exam. If you are looking for more information on corrective exercise to augment your current practice, this comes highly recommended. It's definitely a good way to start off your corrective exercise specialist career.
ISSA Corrective Exercise Specialist FAQS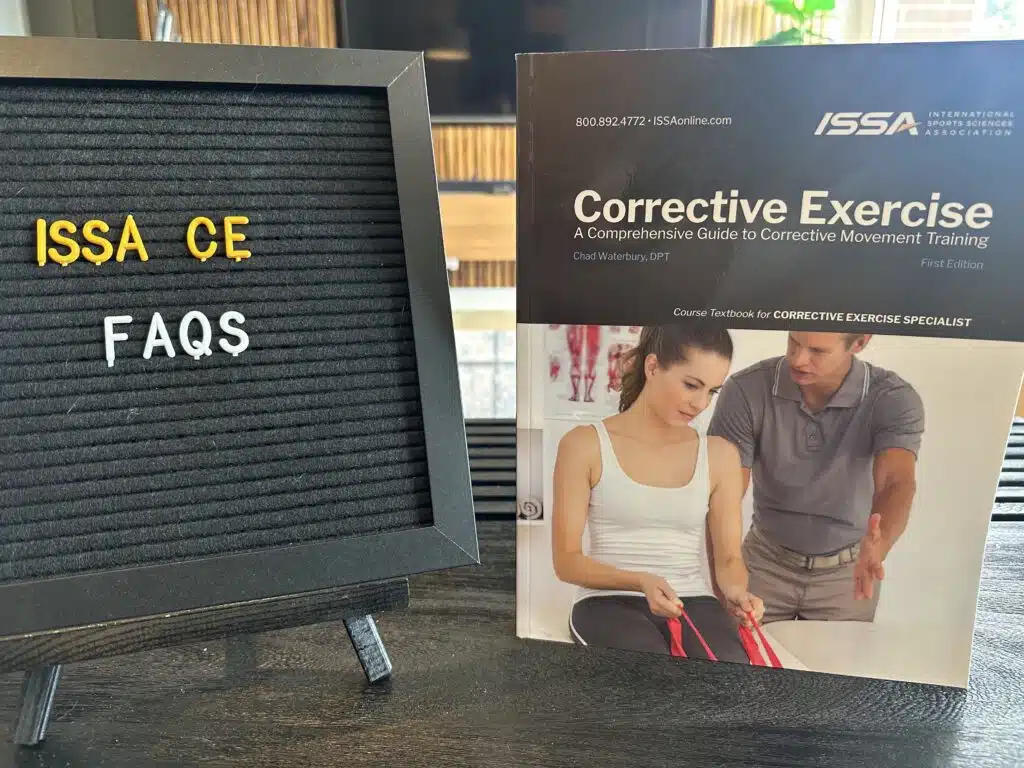 Is ISSA certification legitimate?
ISSA certifications are NCCA approved, meaning they achieve the highest level of accreditation. ISSA courses and specializations are legitimate as well. 
What can I do with a corrective exercise certification?
Trainers with a corrective exercise certification can use specific exercises to improve physical function in their clients. A corrective exercise specialist is able to use movements which will help their clients improve their mobility, range of motion, and strength. 
What is the difference between corrective exercise and physical therapy?
A physical therapist diagnoses and treats existing human body disorders while a corrective exercise specialist helps prevent such disorders from developing.
In the United States a physical therapist must achieve a doctor of physical therapy (DPT) credential. A DPT usually also requires a prior bachelor in an exercise-related field, while a corrective exercise credential does not require a bachelor's degree. 
Who can benefit from corrective exercise?
Almost any exerciser or athlete benefits from using corrective exercises to fix their posture, imbalances, or tightness in an area of the body that might contribute towards a potential injury.