How to Become a Personal Trainer! – PTP's Ultimate Guide!
Hello and welcome to my ultimate guide on how to become a personal trainer! Are you looking to get into the health and fitness industry? Do you have a passion for helping others achieve their goals and live exceptional lifestyles? If you answered yes to either one of these questions then starting a career as a personal trainer may be the a perfect fit for you! I created PTPioneer.com to help individuals get started in the personal training industry. This guide on how to become a personal trainer is one of my most important posts that I have written to this date! In this article you'll learn everything you need to know when it comes to how to become a personal trainer! So grab some popcorn because this is going to be a long read! Before I start, let me explain why I love my job as a personal trainer. Not only do I get to live the healthy lifestyle that I desire, but I get to help others achieve the same goal as well. My hours are very flexible and I can practically pick my own schedule. I make great money as a personal trainer and the working environment is extremely positive! It is great because I am my own boss and I get to live the life that I want. You will learn all about the process from choosing a certification (like ACE or NASM), all the way to applying for a job and specializing as a trainer! Come along on this journey and I will teach you how to become a personal trainer. I guarantee you will not regret it!
The industry is Expanding Quickly!
Over the last 10 years and for many years to come, the personal training industry is growing rapidly and predicted to continue doing so for many years. One of the main reasons for this is because the baby boomer generation is reaching the age where it is necessary for them to focus on health and fitness. Because the baby boomers are placing high priority on health and fitness, personal trainers are in high demand! According to the US Department of labor, there is an approximated 24% growth rate for personal trainers through the year 2020. That roughly equates to 60,000 new jobs for personal trainers by the year 2020! This is way higher than the average growth rate for most other professions! Right now is the perfect time to get started in the personal training industry because the salaries for personal trainers keep increasing due to this high demand for them. Let's jump right in to the article so you can figure out how to become a personal trainer!
Infographic: Why & How To Become A Personal Trainer
Expand the window below to check out this awesome informative infographic on the 6 benefits of being a personal trainer and the 9 essential steps to becoming one, but don't forget to read the rest of the article as it provides much more in depth detail into the necessary steps to becoming a personal trainer. Hope you like it!
First thing is first! How to develop the right attitude and qualities for personal training!
The primary goal of any personal trainer is to change their clients lives to make them feel great about themselves and be healthy. In order to achieve these primary goals for your clients you must possess certain qualities. Let's talk about these qualities one by one so that you can understand what it takes to be an effective trainer.
Since the majority of your time will be spent one-on-one with individual clients, you need to be able to relate to each and every one. Since each of your clients will have a completely different personality type, you need to be able to adapt in order to relate to each of them personally. Your clients put a lot of faith and trust in what you're doing. You need to display from the beginning that you have the knowledge that they need to achieve their goals and that you care greatly that they achieve them. Having excellent listening skills is a must in order to become a successful personal trainer.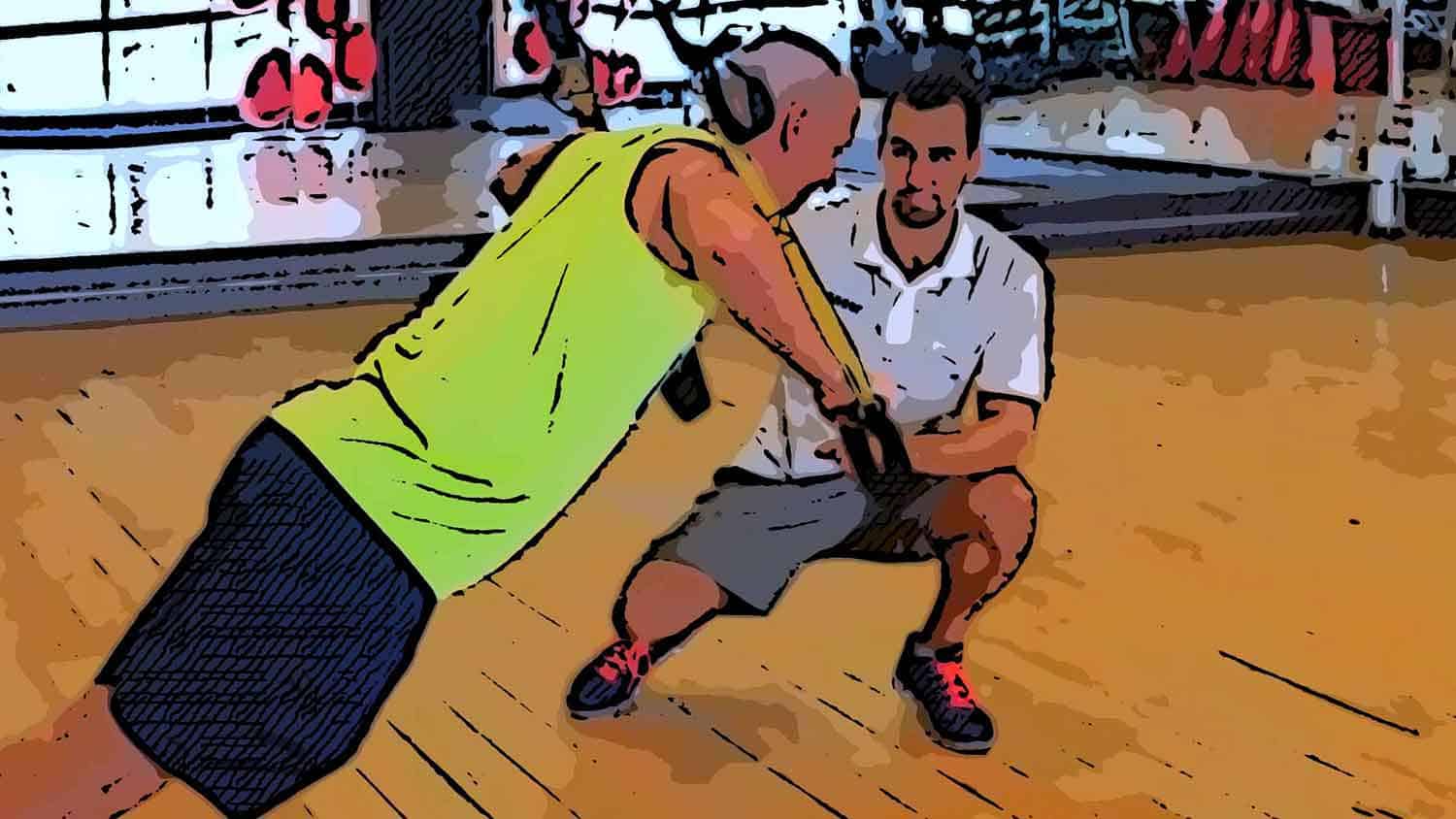 Possessing excellent leadership qualities
In order for your clients to trust you as a trainer, you need to display a confident manner that you know what you're talking about and can lead them to success. When you speak to your clients you need to speak confidently. You are the expert and they are paying you for your expertise. If you come off as unsure of what you are talking about, you can bet that they will not be confident in achieving their goals as well. If you feel that you lack leadership qualities, take a class on public speaking so that you can build your own confidence. Trust me, it works!
You need to live a healthy lifestyle
Have you ever heard the saying "practice what you preach"? You are promoting healthy eating and exercise to your clients, there should be no way that you are not following the same lifestyle habits. If you do not live the lifestyle that you preach, how do you expect your clients to trust what you say? Your clients cannot follow your lead if you are not leading in the right direction. Your clients are 1 million times more likely to trust what you say and follow your instructions if you live the healthy lifestyle that you promote! Also make sure to check out my article on personality traits for personal trainers.
The qualifications that are necessary to become a trainer
In this section I will be talking about all of the necessary qualifications that you will need in order to become a personal trainer. The biggest qualification that you'll need is getting certified as a personal trainer through one of the various respected certifying agencies. There are literally dozens of certifying agencies that are accepted by potential employers that I will be talking about. Every certifying agency requires its potential trainers to be at least 18 years old, have a high school diploma or equivalent(GED) and to be CPR/AED certified by a reputable certifying agency. That being said, if you meet the age and educational requirements that I mentioned above, then lets jump right into the next steps!
Getting CPR/AED certified by a reputable agency
Pretty much every single reputable certifying agency will require you to be CPR/AED certified prior to taking their exam or even signing up for the certification program. Every single CPR/AED certification that I have seen is valid for two years before it expires and you are required to get recertified. I have been recertified multiple times since I got into the health and fitness industry. Most CPR/AED classes will last around four hours. During this time you will learn about chest compressions, how to give proper rescue breaths and how to operate an automatic external defibrillator (AED). Two of the most popular as well as most reputable places to get certified are through the American heart Association or American Red Cross. There are literally tons of different CPR providers out there, but in my opinion these are the two most reputable organizations. These two organizations also seem to offer more classes than any other organization. If you want to find an American Red Cross class that is close to you, here is a link to their website. If that link does not work for you or does not offer a class nearby, you can hop on Google and search "CPR classes near (your location)". This is a necessary step you need to take because no reputable certifying agency will allow you to get certified through them without first being CPR/AED certified. And having the knowledge to save people's lives is even more important!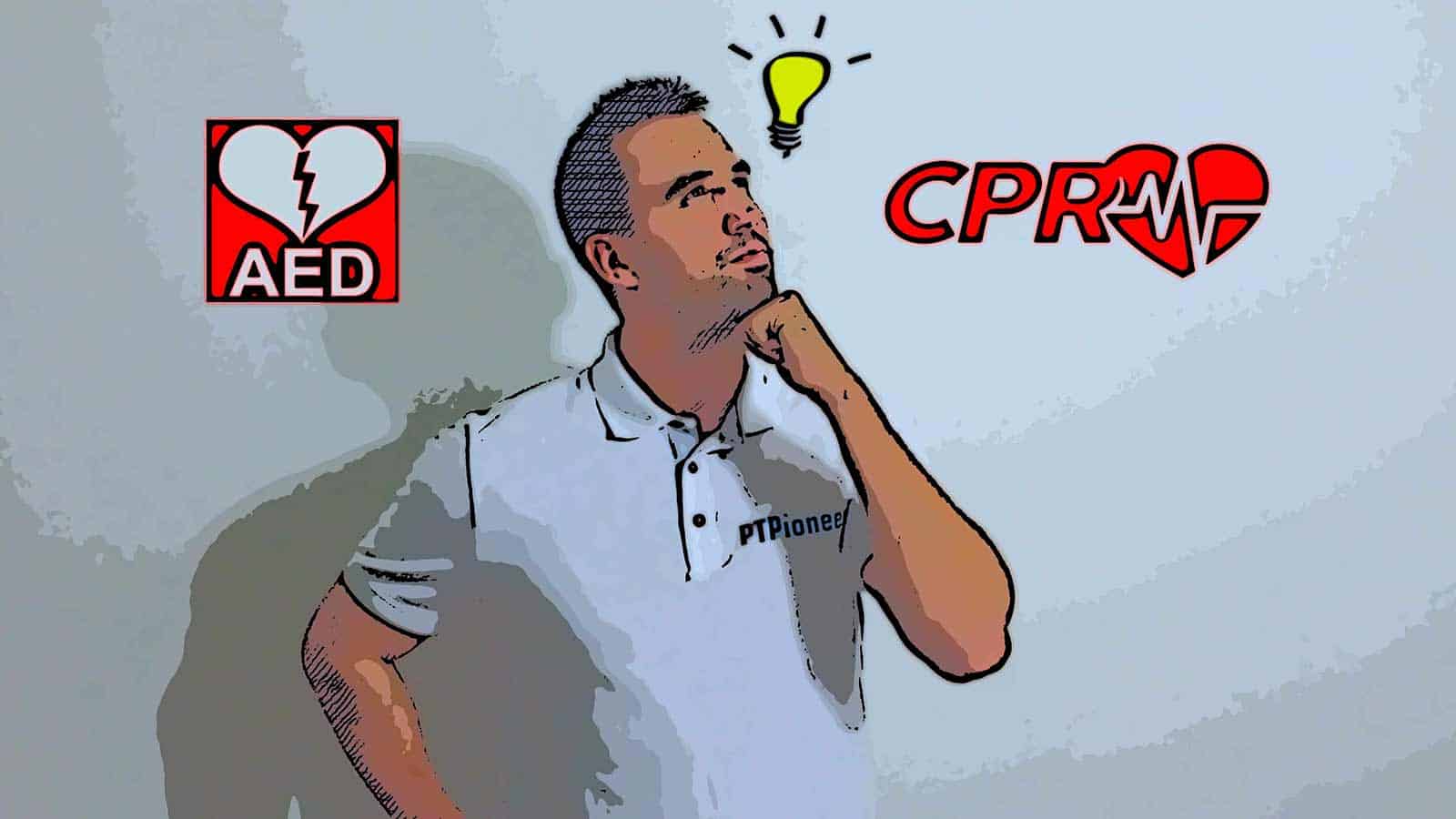 Do your research on the personal training certification that will be best for you!
One of the most important steps towards becoming a personal trainer is getting certified through a reputable certifying agency. There are dozens of certifications on the market today and all of them have a slight different emphasis on the style of training they teach. Today is your lucky day because a large part of my website PTpioneer.com is dedicated to reviewing and talking about the differences between each certification! Because a lot of the website has much more in depth information on this topic, I will only do a quick summary of some of the good certifications. If you want to learn more, head over to the VS section (like NASM vs ACE, NASM vs ACSM and ISSA vs NASM), the individual certification reviews or my main article on my top 10 certifications. There are some quick things I would like to warn you about though. There are multiple online scams that try to "get you certified" by taking a weekend online course by forking over money to them. These fake certifications will definitely not be accepted by potential employers! Certifying agencies are not legitimate unless they are accredited by either the DETC or NCCA. Two certifications that stand out to me are ACE and NASM. Both of these certifications are highly recognized by every employer and are preferred by most. Check out the ACE website here or the NASM website here!  The most important thing is that you understand what type of clients you would like to train. This is the most important factor in determining what type of certification you should get! Once you get to the crossroads of trying to decide which certification to go for, you should read the other articles and sections of my website that I linked to above. If you want to learn how to become a personal trainer, getting the right certification for you is very important!
Once you have chosen a certification, it's time to study!
Study materials provided by your specific certification
Once you have sat down and thought long and hard about which certification would be best, you need to get into the studying mindset. Most certifying agencies have specific packages that contain different types of study materials that will prepare you for their test. Every agency at least contains the textbook to study from. In fact some agencies provide you with multiple textbooks. Sometimes your study bundle will come with instructional videos that can better help you visualize the information. Almost every single certifying agency offers some sort of live workshop to help you get hands-on practical experience and to help those that are kinesthetic learners. When preparing to study and work through the curriculum you should ask yourself in what ways do you learn the best. Are you a visual learner, audio learner, kinesthetic learner or good at memorizing textbooks. You might be a combination of two or more of the learning styles above. Personally I am more of a visual learner. I got a lot of value from videos and flashcards more than anything else. Certifying agencies typically provide multiple different packages that contain different types of study materials. You should learn what type of learning style works best for you so that you can receive the study materials that are best fit for you. Take a look at the study materials provided by NASM or ACE to get a good idea of what is provided.
Study materials that are outside your certifications curriculum
If you are still in the process of deciding which personal training certification is right for you, you could still study general kinesiology (exercise science) because there are sections of each certification's curriculum that are virtually the same. For example if you were to pick up an anatomy textbook, you could flip to the section about the musculoskeletal system. Studying the muscles, bones, origins and insertions of the muscles will help you no matter what certification you decide to choose in the future. The biggest problem is that these large anatomy and physiology textbooks are quite expensive. A solution to this problem is to head over to a local library and either check one out or study it there. Some great free online resources for anatomy are www.innerbody.com and www.biodigital.com. I suggest that you check those two out. By studying on your own, you'll be able to learn all about different exercise routines, proper form, repetition ranges and hundreds of exercises from popular websites such as bodybuilding.com and www.exrx.net. All of this great information will give you a huge head start in preparing for any of the certifications that I talk about on this website. Obviously there are tons of other curriculum specific information for each certification, but you will be leaps and bounds ahead of other people if you do some studying on your own before you decide which certification to complete.
If possible, get permission to follow a personal trainer around
This is definitely one of the most important tips that I would love to travel back in time to give myself before I started out. If you have a friend, family member or acquaintance that is a personal trainer, you should definitely contact them to see if you could shadow them during one of their sessions. In my experience, all you need to do is ask, and in most cases they will be extremely willing and possibly flattered by the idea that you want to shadow them. I'm sure that with just a little searching you will be able to find somebody that is willing. Once you get the thumbs up, you should come fully prepared to the session with a pencil and notepad. Make sure not to interrupt or ask questions during the session because the client pays good money for their time. Make sure to make detailed notes and have a good list of questions for the trainer after the session is done. This is one of the best ways to learn information that is NOT IN THE TEXTBOOK! Check out my full article on personal training internships.
Get pumped and take the test!
If your head is spinning from too much studying, that is a good thing! It means that you are ready to take the test and dominate it! If you are in the process of setting a test date, but are not quite confident you have the material down, make sure to make the test date a couple months ahead. This will allow you to perform any tweaks to the information you know. Your daily routine for the day of the test, as well as the night before, are important to the success you will have. During the night before your test day, make sure you have a good study session of key points you have collected. This should not be a time to cram all the information into your head. That is why you gave yourself months to prepare! I have seen friends that have procrastinated to the last minute and try to learn it all in a couple nights. It did not work out well for them. Make sure you get plenty of rest the night before and in the morning make sure you have a protein packed healthy breakfast. This will help you calm your nerves and nourish your brain!
After the test: how to become a personal trainer in the real world!
After you pass the test for your certification of choice, it is time to suit up, fine tune your resume and start hunting for jobs! In most cases you will receive your certification by mail a few weeks after you pass the test. Certifying agencies allow you to print out a temporary copy while you are waiting for the real thing to come in the mail. During this time you need to prepare yourself so that you stand out from the the rest of the crowds applications. I have a great article on how to create a fantastic personal training resume that you should check out. Once you have finished perfecting your resume, you are ready to hand it out to potential employers. In general, there are two different places you can work when you are just starting out as a personal trainer. You can either work for a corporate gymnasium such as 24 hour fitness or a local gym or studio. The third option is that you can work completely for yourself by either bringing clients to your house or renting out studio space and filling it with the necessary equipment. This option is far less likely if you're just getting started out as a personal trainer because of the initial investment costs and the lack of clients you will most likely have when just starting out. Let's dive in to learn more about these three options.
How to become a personal trainer: Getting a job at a commercial gym
Working for a corporate gym is probably the most common job for a first time personal trainer. It is also a fantastic way to get your foot in the door and learn more about the industry. Commercial gymnasiums such as Bally's and 24 hour fitness are two examples of corporate gyms. These are a great option for first-time trainers because they sign up a lot of members. On top of this, they have dedicated sales teams that will help build up your clientele quickly. This is a good thing and a bad thing in the long run. It is a good thing because you will get lots of experience extremely fast by working with lots of clients. It is a bad thing because you will need to split the money that your client pays between the salesperson as well as the gym. If you are not a good salesperson this is a great option because you dedicated sales team performing that part the process. However the salesperson will typically make one third (the same as you) from what your client pays for your time and expertise. In most situations, the salesperson makes the most money out of any one person working at the gym. Some gyms will let you sell your own training and if you have a knack for sales, you could make two thirds of what your client pays. Working for a commercial gym is typically the lowest paying option for personal trainers with the average hourly rate of $16-$20 an hour. This doesn't seem that much when you realize that your client is paying $50-$60 for every hour of training that you do with them.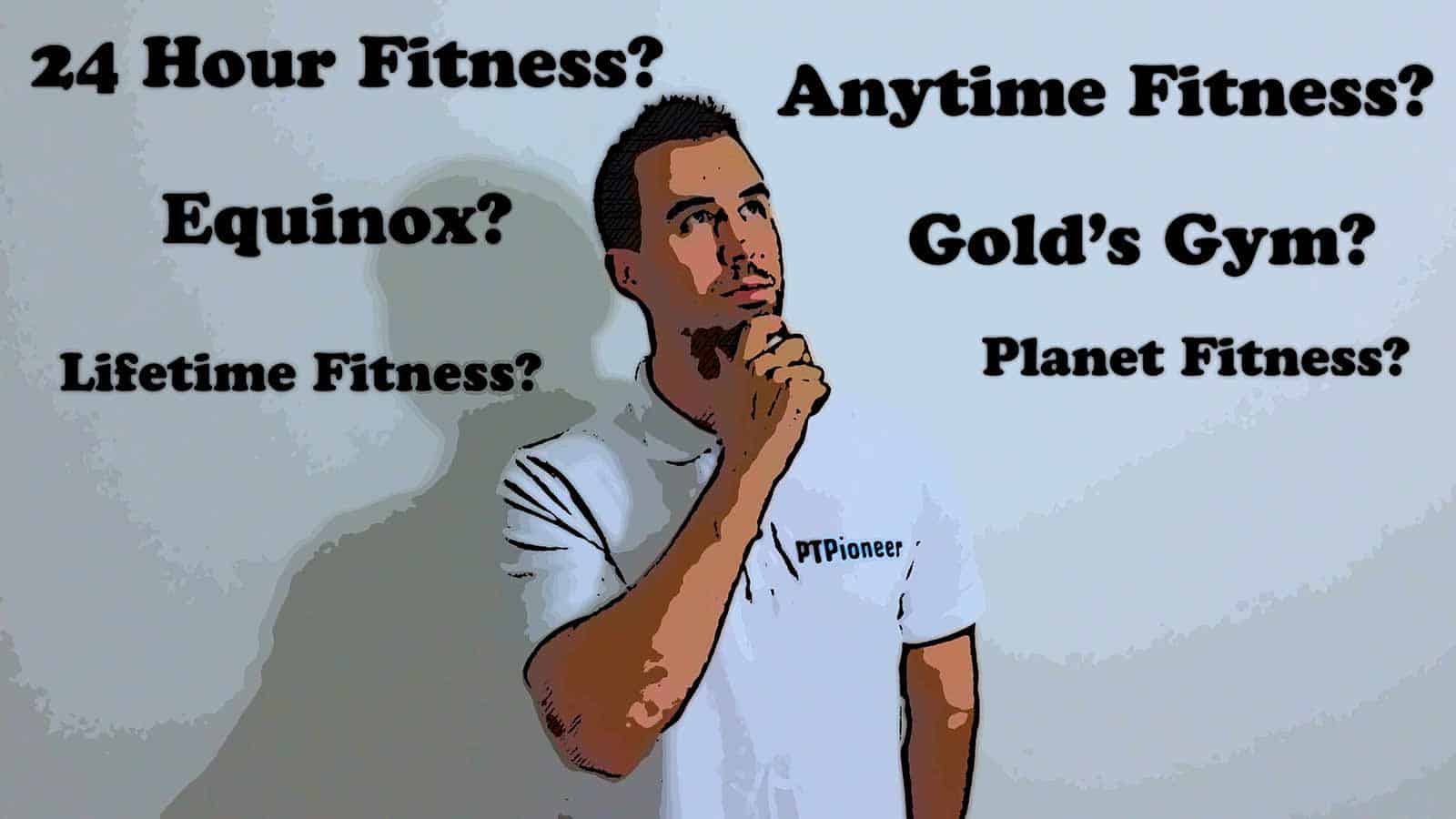 How to become a personal trainer: Getting a job at a local studio or gym
Working for a local studio or gym can be a lot more profitable because typically you aren't splitting your clients money three ways. Local spots also tend to give a higher percentage of the clients money to the trainer right off the bat. Ase salesperson is not hogging all of your clients money, you can really start to gain traction financially by making approximately $30-$40 for every hour session you do. The biggest downfall is that you need to build up your own clientele. If you're confident in your abilities and skills as a personal trainer, this should not be that difficult. Sales is a necessary skill you will have to learn in a setting like this (check out my article on how to sell personal training). But once you have built a decent network and you have a reputation for getting great results, your clients should come to you much easier. I have seen multiple trainers that started at a commercial gym and moved over to a local studio bringing most of their clients with them. Typically this is against the rules and your agreement with a commercial gym, but it still happens all the time and really is the client's choice! Another way to get more clients is to use some fantastic marketing techniques that I like to use.
How to become a personal trainer: Working for yourself
Working for yourself is by far the most profitable scenario out of all three but it is also the hardest to accomplish. It is the most profitable because you will not be splitting any of your clients money with a gym or a salesperson. You will make 100% of the money that you charge your client. The reason why this scenario is the hardest is because you do not have a full gym with lots of members. You will have to have a fairly large network of individuals that are interested in your service prior to starting your own personal training business. You also have to be a talented salesperson because you will have to be selling every single one of your personal training agreements. The great thing about working for yourself is that you only need approximately 1/3 of the total clients that you would need at a commercial gym in order to make the same amount of money! You can be working part-time and be financially stable once you get enough clients! There are four main necessities that you need in order to run your own personal training business. These four necessities are space, necessary equipment, liability insurance and great sales/networking skills. Let's dive into each of these necessities to take a look at them individually.
Having the necessary space to perform training sessions
Finding the necessary space that is needed to perform training sessions is probably the hardest obstacle when it comes to working for yourself. This is largely dependent on the necessary equipment you need to perform your sessions. Three reasonable options are to create space in your own home, to create space in your clients home or to rent out a designated space for your training. If you require large pieces of equipment such as squat racks, your best bet is to rent out and create your own training studio. This could run you upwards of $1000 per month in rent alone plus the cost of all the equipment (which is not cheap). If all you require are some dumbells, bands, stability ball or bosu ball, you can very easily create space in your own home to do your training sessions. You need to make sure that your training location is clean, spacious and safe. The last option that you have is to perform your training sessions outdoors! This option is best for summer months when it is nice outside. You could take your clients to a local park or even a beach if you live near one! The only problem is that this option is not viable year-round.
Purchasing the necessary equipment
The equipment that you need will completely depend on the type of clients that you train and the goals that they have. For example, if most of your clients are athletes that are focusing on peak performance training, you will need a lot of heavyweights and equipment that takes up lots of space like squat racks, benches and Olympic weights for powerlifting. On top of this, you will not be able to do this type of training outdoors so you will probably have to rent studio space. If the type of client you are training is focusing on flexibility, functional training and corrective exercises, you can get away with a lot less. You could perform excellent training sessions with light dumbbells, bands, floor mats, bosu balls and a stability ball. Not only is this equipment light and portable, but it is also not that expensive. You could fit most of this in your car and perform your training sessions either outdoors, in your own home or in your clients home. You can get away with very little equipment depending on what type of clients you train.
Acquiring liability insurance for your business
Since you are not working for a commercial gym that supplies your liability insurance, you will need to get out there and purchase your own. There are literally dozens of companies that provide liability insurance for personal trainers. Larger certifying agencies such as ACE and NASM have an option for liability insurance to personal trainers for an additional cost. You should see if your certification provider has this option for you. Besides going through your certifying agency there are lots of other options out there depending on how much you want to be covered for. On the lower price range you can typically get covered for about $1 million in damages with an annual  cost of approximately $150. I recommend anyone just starting their own personal training business to get covered for at least $1 million. This amount of money should be enough to cover any medical or legal action taken against you. Make sure to check out my full article on personal training insurance!
Having the necessary sales and networking skills
Besides having the necessary training space, this is the most important aspect about working for yourself. After all, you will not have any clients if you do not have a network of people and the ability to sell yourself and your skills. These are two skills that you will have to actively study and practice. One good way of finding potential new clients is to let your current clients know that you are looking for more work and to help you spread the word by asking their friends and family. Something that is necessary for you to have is an awesome business card! This is a fantastic way to promote yourself and also gives potential clients an easy way to find your contact information to get a hold of you. You should be handing these cards out like hot cakes! Don't worry about the price, you can usually get approximately 1000 cards printed out for $10-$20. Once your name starts spreading around town, you will have a list of potential clients. At this point you need to reach out to each of them individually to sell yourself and your services. There are literally dozens of books written about sales techniques that you can read but in general just be yourself, be confident and be extremely helpful. Even if you don't make the sale to a specific individual, if they remember that you are very helpful and you made a good impression they might recommend your services to a friend or family member!
Continuing your personal education is important!
Most of the certifications that I know of require you to show proof of continuing education every 2 to 3 years in order to get recertified through them. Most certifying agencies either use continuing education credits (CEC's) or continuing education units(CEU's). There is no real difference between these two, they are just a way to measure how much continuing education you have received. There are multiple different places that you can receive continuing education from. If you look online for "fitness workshops in my area" you should be able to find some weekend workshops that offer continuing education ranging on various topics. Another option is to either get a separate certification (like ACE or NASM) or an advanced certification from either your current certifying agency or another. In my experience, almost all certifications transfer over as valid continuing education for big-name certifications. It is always a good option to get additional certifications because it will make you a more diverse trainer and you will be able to work with a wider range of clients. The last option is also the cheapest option that I know of to get continuing education. A website called exerciseetc.com is a great place to get home study materials and the ability to take an online test. Some of these programs will cost you less than $100 and will fulfill most certifications continuing education requirements! Check out my article on the cheapest continuing education credits if you need them right now.
Advanced certifications and specializing with personal training
Once you have gathered some experience in the personal training industry you might find yourself gravitating towards one style of training over others. You may discover that you prefer working with individuals with muscular imbalances and that you are good at correcting them. There are advanced certifications that will fit almost every direction you want to take personal training. For example NASM's corrective exercise specialist would be a great advanced certification for working with individuals with muscular imbalances. You also might find that you would rather work with peak performance athletes that are trying to get the top of their respective sport. For this type of training I would recommend NASM's performance exercise specialist or NSCA's CSCS. There are literally dozens of other specialized certifications such as a weight loss specialist certification or youth exercise specialist certification. ACE also has some great specialization certifications such as a health coach certification or a group instructor certification. These specialization certifications will take your knowledge of specific topics to a whole new level. On top of gaining this helpful information they also fulfill your continuing education requirements so its a win-win! If you are wondering "how to become a personal trainer that people look up to?", Getting a specialist certification is what you need to do!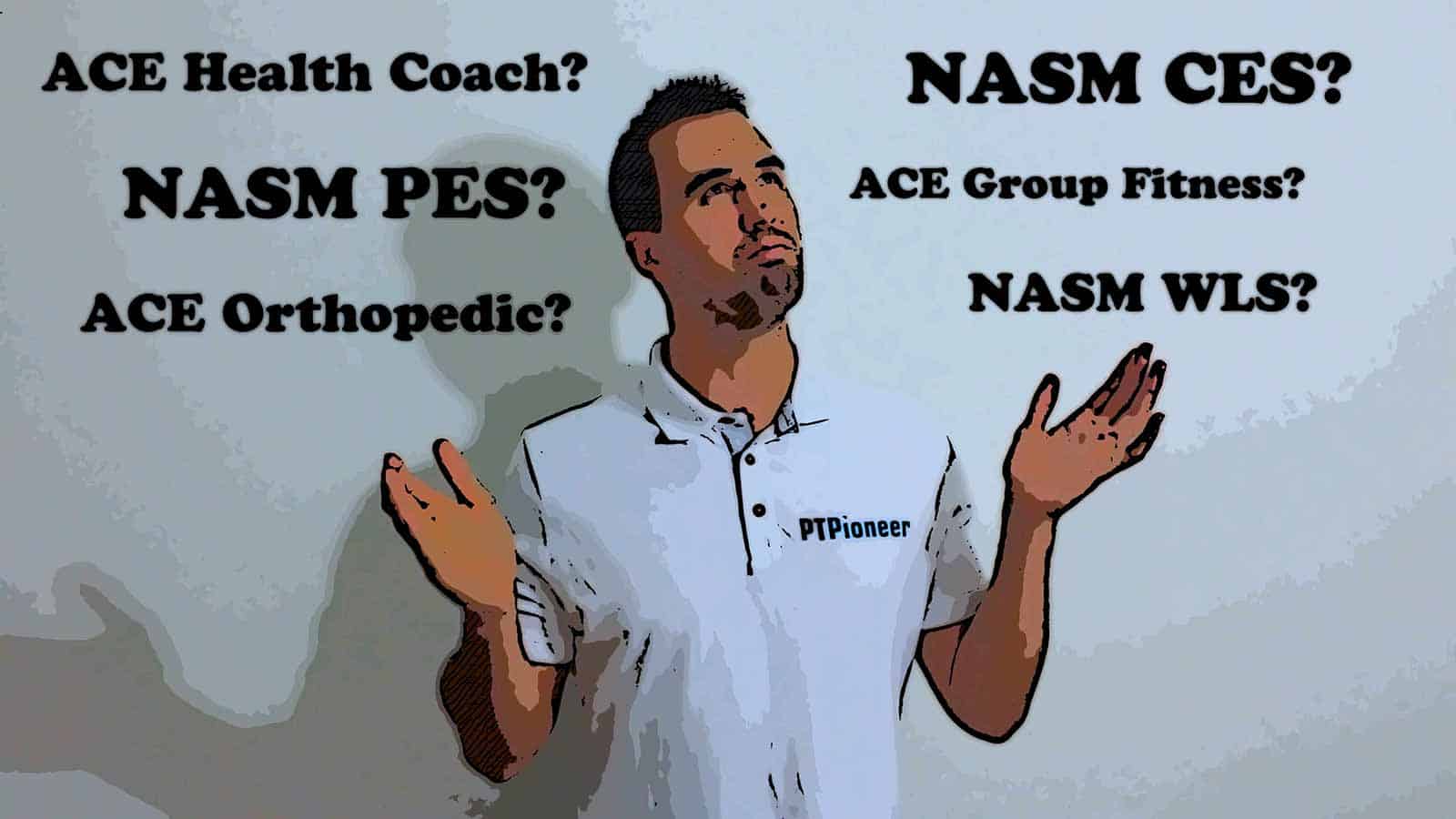 How to become a personal trainer Conclusion
Look at you! You made it to the end of this monster article on how to become a personal trainer! I really hope you gained some valuable information from this guide. Personal training is definitely the best job I have ever worked in my life and I can't imagine doing anything else. The feeling that you get from helping people reach their goals and live healthy lifestyles is extremely rewarding and I am grateful for that every single day. With drive, ambition and the help of this guide you should be able to get certified and start working full-time as a personal trainer in no time! This post is just the beginning, make sure to check out my other articles on PTpioneer.com because the whole point of this website is to help people get started and excel in the industry. So right now, I suggest that you think long and hard about what type of clients you would like to train and then check out my article on the best personal trainer certifications so you can find the one that will fit your training style! My top two certification that I recommend right now are the NASM cert and the ACE cert. I highly suggest you check those two out to get you started on the right path! If you have any questions or comments or tips for how I can improve my website, leave me a comment down below! Make sure to spread the word about my website especially if you have friends or family that are also trying to get into the health and fitness industry. I hope you guys enjoyed my article on how to become a personal trainer! Good luck on your path to personal training, it is a great one! Now get out there and help some people achieve their goals! 🙂