In this well-detailed article, I will not spare any knowledge and experience from my 10+ years in the industry to help you understand the agencies that offer NCCA Accredited Certifications.
Let me show you:
My aim is to get you more than equipped to have a full grasp of the certification bodies accredited by the NCCA.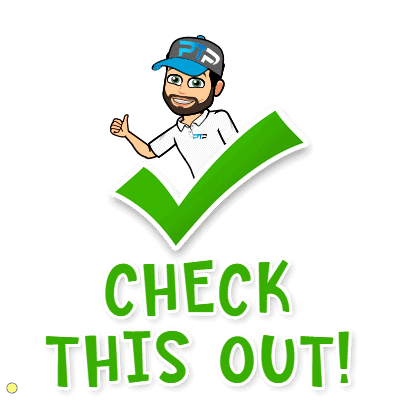 Introduction to NCCA Accredited Certifications
You guys came here because you were wondering what different NCCA accredited certifications for personal training are on the market.
By the end of this article, you will have a fantastic list of all of the best certifications and the ones that are worthy of your time.
In my opinion, the best NCCA Accredited Certifications are currently the NASM (National Academy of sports medicine), ISSA (International Sports Sciences Association) certification and the ACE (American Council on exercise) certification.
I recommend you check out my comparison article between ACE and NASM. Also, check out my must-read on the top five training certifications.
Also, take the quiz to find out which PT certification is right for you.
The menu at the top of this page will answer any question related to personal training that you have.
If you have any questions, don't hesitate to leave me a comment here (I'll respond within 24 hours).
Also, visit the home page for the most recent and popular articles.
I also have free study guides and practice tests for a large number of certifications on this list including NSCA, NSCA CSCS, NASM, and ACE that can be found here.
Trainer Academy also offers fantastic study materials for a lot of these NCCA certifications.
It will significantly reduce your study time and they offer exam pass guarantees.
NCCA Requirements to get PT Certifications Accredited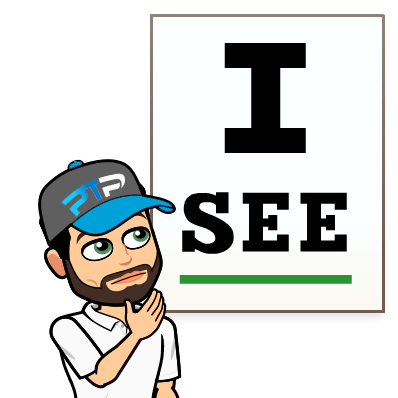 In this section, let's see what criteria are met by the agencies before they can offer NCCA Accredited Certifications.
The NCCA analyzes the systems and processes that are put in place by certifying agencies.
They investigate the curriculum provided by the certifying agency, professionalism and how the certifying agencies administer and score their exams.
They do this to understand the following:
To make sure that they have a fair and unbiased examination process
To make sure that the exam measures the minimum competence level of the test taker
To make sure that the clients will be protected from multiple incompetent personal trainers
To make sure that the specific certifying agency gives enough support to their certified professionals
List of Certifications That are NCCA Accredited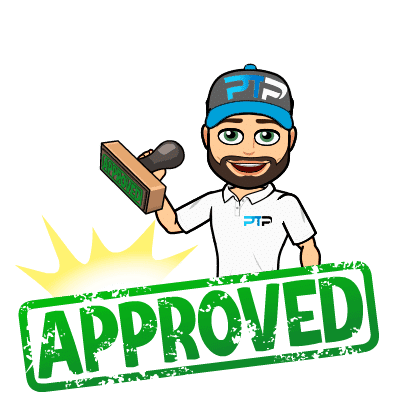 Are you as eager as I am to find out the agencies that made this exclusive list of NCCA Accredited Certifications?
Well then, read on to find out.
Here is the list of agencies that offer NCCA accredited certifications:
Introduction to the NCCA Accredited Agencies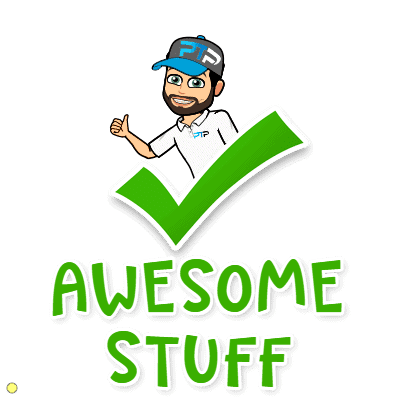 In this section, let's have a sneak peek on how the NCCA accreditation was incorporated into personal training.
For years now, the personal training industry has lived up to much higher in stricter standards than it once did in its infancy.
Back in the day, every single "personal trainer" was not certified by any organization.
They were just individuals that liked to exercise and therefore give their advice to their friends, families or any clients that were willing to pay for the information.
This was the case until the IHRSA (international health, racquet, and sports club Association) started talking with gyms and health clubs, recommending them to have their "personal trainers" get certified in some fashion.
The NCCA already existed at that point because they accredited other certifications from other industries.
A big leap forward for the personal training industry was when certifying agencies started going through the rigorous process NCCA Accredited Certifications.
This made becoming a personal trainer much more valuable because people knew that they were getting quality information from the trainers.
This also increased the value of personal trainers and raised their overall salary!
They made sure the certifications followed safety protocols and provided accurate information to their trainers.
In the year 2022, there are a good amount of NCCA Accredited Certifications.
How to Become a Certified Personal Trainer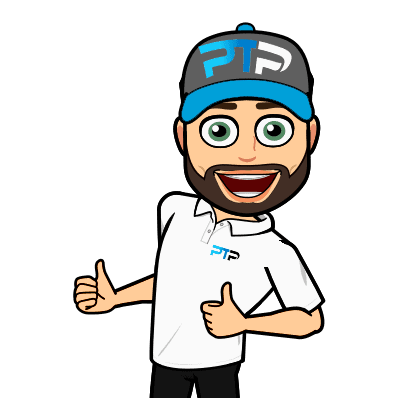 If you still not sure about how to become a certified personal trainer?
This section is definitely tailored for you.
Let me show you how.
Becoming a certified fitness trainer or obtaining a personal trainer license requires you to write one of the certification exams.
Preparing for a certification exam for an entry-level fitness trainer certification can be challenging.
So it is best if you enroll in one of the personalized training programs and exam prep courses offered by one of the NCCA accredited certification agencies I have mentioned in this article.
For more advanced professional development, you can take a personal trainer certification online.
Personal trainer certification cost varies from agency to agency, this makes it difficult to answer the question "what is the cheapest personal training certification".
For instance, the ACE certification cost might differ from ISSA personal trainer certification cost, but so is the respect for the certification obtained from these 2 agencies respectively.
Which Trainer Certification is Most Respected?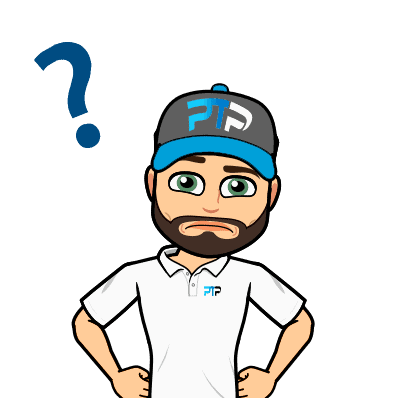 Do you want to know which trainer certification is most respected?
Read below to find out!
This is a very common question that I see been asked by aspiring personal trainers who seek to earn a CPT certification.
While there are a lot of fitness certifications that can help one become a certified personal trainer, the question about the best personal trainer certification still lingers on.
Though this post is not about the best personal training certification, I will take a moment to acknowledge ACE and NASM as my 2 top personal training certification agencies.
Exclusive PTP Offers



Gold Standard Cert

Most Popular Cert

A Good Option

Best Study Materials

Best online PT course

The Top PT Software

Having an ACE or NASM certification validates your personal trainer status and almost guarantees your chances to find a job.
The NCCA covers all education programs starting from early learning, through higher education.
Students athletes who participate in college sports are also approved by the NCCA.
But the DEAC focuses on all Distance learning programs offered by any institution of learning.
Conclusion on NCCA Accredited Certifications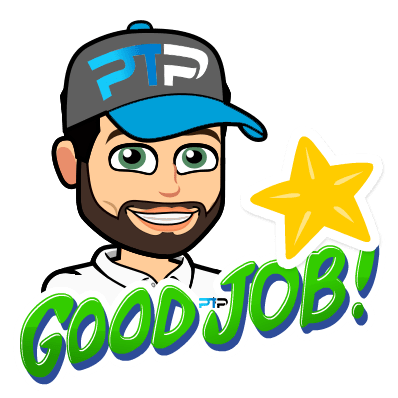 Well, there you have it. I hope you enjoyed the ride.
A comprehensive article on NCCA Accredited Certifications and the agencies that offer these certifications.
If you need more clarification on any of the certifications, kindly drop a mail below.
Currently, my top two NCCA certifications are the NASM certification and the ACE certification.
Check out study materials for these right here that have 99% pass rates.
If you have not done so yet, take the quiz to find out which personal training certification is the best fit for you.
If either NASM or ACE pulls your attention, I have a free NASM study guide and free ACE study guide, and both certification resources are incredibly helpful.
I hope after reading my article you have a better understanding of what the NCCA does and how they make personal training certifications safer as well as more valuable.
There are also other accreditation agencies besides the NCCA. Most individuals consider NCCA the best because they are the most strict with their qualification procedures.
For the most part, if a certification agency is not accredited by the NCCA, I would not trust them.
There are a few exceptions to this rule, including ISSA.
If you are getting started out in the industry, I suggest you check out some other articles such as why I like my job, my job description as well as how to create a kick-ass resume to guarantee that you get hired!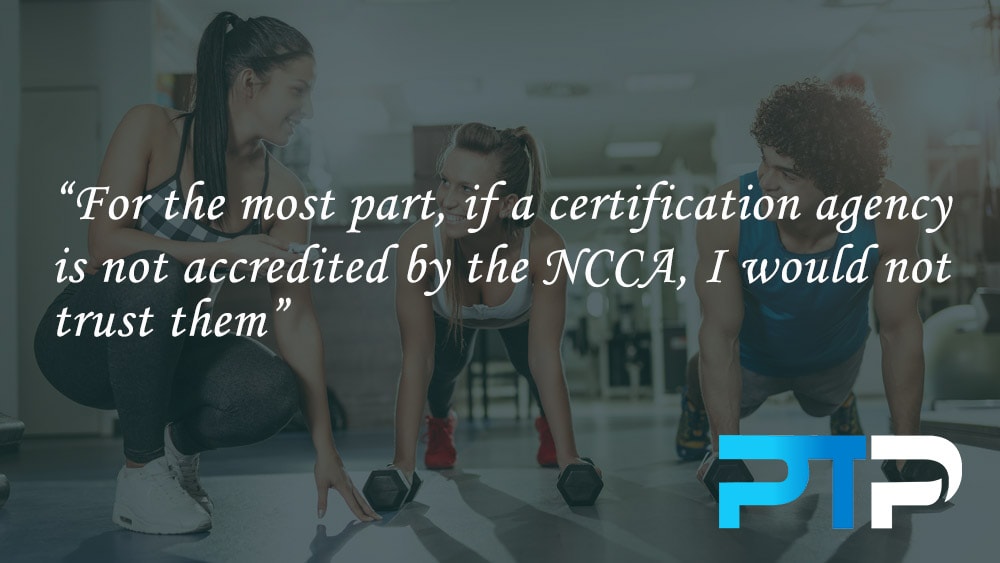 I hope this article on NCCA accredited certifications was helpful for you, please share it using one of the social media buttons or tell your friends and family about it.
Happy personal training!
Resources:
https://www.credentialingexcellence.org/nccadirectory
Discover All PTP Fitness & Wellness Career Articles
Tick a box from each section to narrow the results.
×
I want to know more about: