Hey everybody, and welcome to PT Pioneer. This article is part of a big series where I go state by state and take a look at what your options are as a trainer in each area.
In this article, I'll be digging into Indiana, and in the process, providing some insight on the career prospects there.
I'll be using a mix of data and anecdotal evidence to help you discover how to become a personal trainer in Indiana.
There's also a segment of this article where I'll break down the different qualification options and how to get your personal trainer license in Indiana.
For the sake of brevity, I'll only be looking at the three largest cities by population. That means we'll be discussing personal trainer jobs in Indianapolis, Fort Wayne, and Evansville.
With that out of the way, let's jump straight into it.
Make sure to check out the general guide on how to become a personal trainer.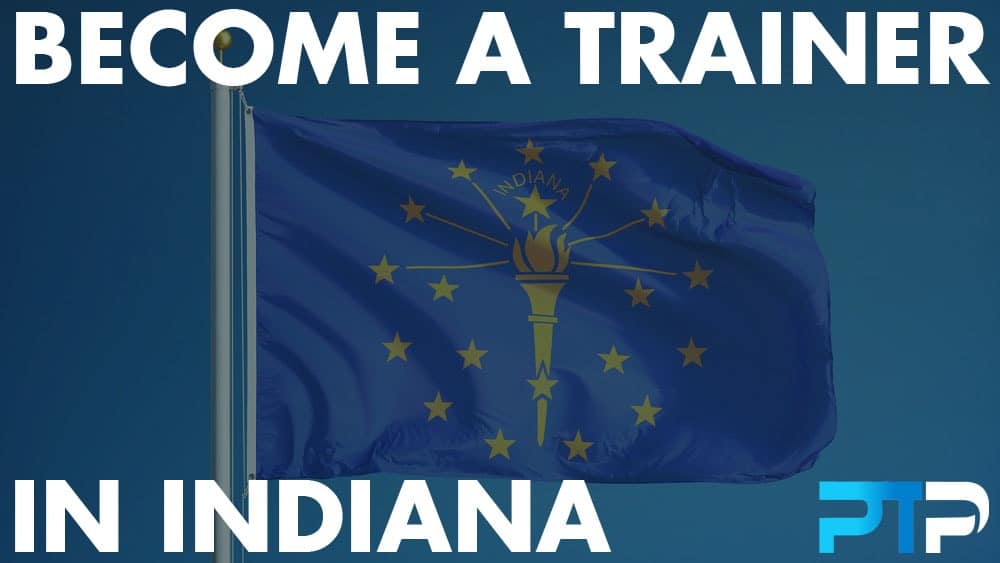 State Fitness Rating
First, to understand how to become a personal trainer in Fort Wayne or Indianapolis and the potential the state has to offer, we need to learn a bit about the population and its health status.
I've used data gathered by exercise.com to take an in-depth look into Indiana's health and fitness rankings, which will shine a light on the fitness trainer market there.
Two important factors go into this statistic, and they come together to give the state an overall ranking against the other 50 states.
These factors are the obesity rate and the presence of top gyms.
Top gyms can be categorized as large commercial gyms, the type that has many chains and franchises nationwide.
These gyms are household names due to their accessibility and affordability, meaning their presence influences how fit the general population could be.
Gyms in this category include:
Crunch Fitness
Anytime Fitness
Snap Fitness
Planet Fitness
Orange Theory Fitness
LA Fitness
Gold's Gym
24 Hour Fitness
YMCA
As far as Indiana is concerned, there are 403 top gyms available.
That means for a population of 6,633,053; there are 6.08 gyms per 100 thousand state residents.
This is a good figure that indicates good access to health and fitness and reveals any job opportunities if you have the right personal training certification.
This figure puts Indiana in 17th place out of all states as far as gym presence is concerned.
As for obesity, Indiana lags behind.
With an obesity prevalence of 32.5, Indiana finds itself ranked 41st out of 51 when it comes to this indicator of health and wellness.
Exclusive PTP CPT Offers



Gold Standard Cert

Most Popular Cert

Best Study Materials

A Good Option

A Good Option

Best CPT for you?

Obesity is a massive problem, no pun intended, and a high rate would indicate a population that has a low adoption towards the fitness industry.
It could also suggest a gap in the market, so let's see what Indiana's fitness market actually looks like.
Fitness Market Makeup
With a high rate of obesity, expect many of your client prospects to be people simply looking to get in shape and to a healthy weight through intensive training sessions or program designs.
This isn't your typical LA muscle beach crowd looking to get shredded, or your Denver Colorado adrenalin junkie contingent.
Some clients also have different fitness goals that are not related to weight loss.
You will find people from all walks of fitness at fitness centers and health clubs, of course, but expect your most significant client base to be healthy weight loss candidates.
This means your skills in change psychology and nutrition coaching will also come in handy in designing exercise programs.
Personal Trainer Certifications in Indiana
Personal trainer certification in Indianapolis and other cities is needed to get a job as a personal trainer in Indiana.
I have written an article on my best personal trainer certifications. Use this as a guide on how to become a certified personal trainer in Indiana.
Overall here are my top 2 best personal trainer certificates in Indiana. Ensure you have all or any of them when you decide to become a personal trainer in Indianapolis and other areas.
These certification programs will give you the best personal trainer certification Indiana.
Personal training schools in Indiana
As important as it is to get a personal trainer certification in Evansville or any other city, that's simply one step you can take towards being a bonafide fitness professional.
If you truly want to cement your status and prove your ability, a higher learning qualification from a college or university is the way to go.
Become a personal trainer by getting an associate or bachelor's degree in a recognized institution.
There are several kinesiology schools in Indiana you can look at if you want to become a personal trainer in Evansville, for example.
There's a good motivation for this.
That's because trainers with degrees often end up in the top income bracket.
They can easily leverage their credentials for better positions and more favor in the job market.
With that said, check out these options for exercise science schools in Indiana:
Exclusive PTP CPT Offers



Gold Standard Cert

Most Popular Cert

Best Study Materials

A Good Option

A Good Option

Best CPT for you?

Just remember, going for a college or university program is a huge investment in terms of time and finances.
Make sure you think it through carefully before going all in.
If you do decide to get a degree, a lot more opportunities will open up, and I know that from personal experience.
Personal Trainer Jobs in Indiana
Indiana has a good amount of gyms for its population size, so you have many options when it comes to gym employment.
Starting as a gym employee is an excellent way to pay your dues and earn your stripes, but you should aim higher if you genuinely want to achieve greatness in the fitness business.
I'm talking about running your own independent CPT business. This allows you the freedom to price and schedule as you wish while also building a brand that conveys your message.
An important factor in success as an independent trainer is to add an online component to your business model.
As the fastest growing sector in the fitness industry, online training is essential for present and future success.
Best Cities to Be a Personal Trainer in Indiana
With over 6 million residents, Indiana can be considered a middle-sized state by population.
I mentioned earlier that I'd only be looking at the top 3 cities, Indianapolis, Fort Wayne, and Evansville.
However, with 886,220 inhabitants, Indianapolis has a significantly larger population than second-place Fort Wayne, with only 270,402 residents.
Let's take a look at the top seven cities to paint a clearer picture for "personal trainers Indianapolis", "personal trainer Fort Wayne", "personal trainer Evansville Indiana".
| | |
| --- | --- |
| City In Indiana | Population |
| Indianapolis | 886,220 |
| Fort Wayne | 270,402 |
| Evansville | 117,979 |
| South Bend | 102,026 |
| Carmel | 101,068 |
| Fishers | 95,310 |
| Bloomington | 85,755 |
As you can see, Indianapolis has a total population almost as large as all the other cities combined.
With this in mind, you'll have to consider if any other city besides Indianapolis is worth it or presents the same level of opportunity for fitness jobs Indiana.
Personal trainer jobs in Fort Wayne, for example, might only yield a third of the potential as personal training in Indianapolis, and the odds only decrease from there for "personal trainer Carmel" or "personal trainer South Bend".
A quick search on google for "personal trainer jobs Indianapolis" or "exercise science jobs Indiana" will give you more answers.
Personal Trainer Salary in Indiana
The average annual income personal trainers in Indianapolis are expected to earn is $60,381.00
This is just shy of the national average of $61,802.00 per year.
In my opinion, this kind of makes sense, given the state fitness rating, but at the same time, it's not as sharp of a drop off from the national average as one would expect.
Make sure to check out the full guide on personal trainer salary.
Quality of Life Rating
Understanding the quality of life you can expect is just as important as understanding your job prospects and income potential as an Indianapolis personal trainer.
After all, once you've worked hard and made an income, you need somewhere pleasant to enjoy the fruits of your labor.
Fortunately, Indiana isn't a bad place to live, especially if you relocate to Indianapolis.
The state's highlights are its healthcare and business freedom as well as having adequate housing, a decent economy, and superb leisure and culture.
Travel connectivity, taxation, and education are some of the drawbacks you can expect.
Overall, I'll give Indiana a 7/10 QoL rating, mainly because it's actually Indianapolis that seems to be holding the state's status up.
Methodology
The methodology adopted for this review was based on carefully analyzed facts and figures and my final verdict was based on these important variables:
The population of the state and its major cities.
The obesity figures as compared with other states.
Personal trainer certifications that are obtainable.
Availability of personal training schools & colleges.
Career prospects for personal trainers.
Earning potential for certified PTs.
Quality of Life (QoL).
Final Words on How to Become A Personal Trainer in Indiana
Indiana may have an unhealthy population, but it also has the potential to allow you to turn that into gold.
The high number of gyms in relation to the population size speaks to this.
The options for qualifications are also great. Getting a personal trainer certification in Fort Wayne and other areas is straightforward, with the option to go for a degree.
I do, however, suspect that most of the opportunities lie in Indianapolis, with very little to show in other cities.
FAQs on How to Become a Personal Trainer in Indiana
References
https://www.exercise.com/learn/ten-fittest-states-in-the-us/
https://www.americankinesiology.org/SubPages/Pages/Kinesiology%20Institution%20Database