​​Welcome to the most comprehensive PTPioneer article on the net, the NFPT review!
I break down the NFPT-CPT certification along with the following aspects, and include both the good and the bad:
Once you've read my review of NFPT, you'll know whether this fitness certification is right for your personal training career.
Let's dive in!
Quick Breakdown: NFPT Certified Trainer Certification
Pros
NCCA accredited
Free continuing education can be obtained from their website
Study materials are user-friendly and easy-to-understand
Cons
Must recertify every year
Inexperienced trainers unwelcome
The least preferred CPT certification by employers
Textbook lacks in-depth coverage on important topics
Fails to demonstrate how to apply skills to real life
Exercise Science Foundations
4
Special Population Training
4
Aerobic Fitness Training
5

NFPT-CPT General Information
NFPT-CPT Exam Cost: $199 – $449
Study Materials: $15 – $99
Prerequisites: 18 years of age or older, high school diploma or the equivalent, current and valid government-issued photo ID
Exam Passing Score: 750/1000 (or 75%)
Average Program Duration: 60 to 90 days
Introduction: What is the NFPT?
The National Federation of Professional Trainers (NFPT) is a fitness trainer certification organization founded in 1988.
So NFPT has been around for quite some time and has been fairly successful in providing certifications to fitness professionals all over.
But based on other reviews, and talking with people who are NFPT certified, this is more of a middle-of-the-road certification.
What does this mean?
While NFPT does not have the best certification program or the best personal trainer certification online for everyone, they are still of quality.
Since 2005, they have been accredited by the NCCA, which is a gold standard accreditation in the fitness industry.
NCCA, which stands for the National Commission for Certifying Agencies, is a well-recognized and respected certifying agency in the United States and has very strict criteria for certifying a fitness organization.
For NFPT to scale through and get the NCCA accreditation, that certainly makes them one of the best personal training certifications.
NFPT-CPT Content Coverage: the Good and the Bad
The NFPT-CPT Personal Trainer Manual consists of 19 chapters, which are as follows:
Chapter 1: Understanding Health and Wellness͘ ͘
Chapter 2: Basic Human Anatomy
Chapter 3: Anatomical Terms and Biomechanics
Chapter 4: Skeletal and Muscle Function
Chapter 5: Cardiac and Smooth Muscle: Structure and Function
Chapter 6: Physiology of Nutrient Metabolism͘
Chapter 7: Metabolic Pathways and Energy Production
Chapter 8: Nutrient Review
Chapter 9: The Beginner Client
Chapter 10: Aerobic and Low Level Activity
Chapter 11: Cross Training and Enhancing Sports Skills for the Athlete
Chapter 12: Resistance Training
Chapter 13: Program Design: Charts & Tables
Chapter 14: Client Screening & Consultation
Chapter 15: Client Programming, Stretches and Exercises
Chapter 16: Special Populations
Chapter 17: Injury Prevention and Management
Chapter 18: Client Troubleshooting
Chapter 19: Legal and Marketing for Personal Training
Overall, the chapters provide some decent information, but for the most part, are much too vague compared to most other CPT certification textbooks.
One thing that stood out at the beginning of the book is the scope of practice dialogue and the brief discussion on what a personal trainer is.
It's helpful for those entering the profession.
Shortly after, NFPT goes right into discussing the importance and need to satisfy continuing education credits, which can be encouraging.
The first chapter on understanding wellness does a great job explaining what constitutes overall wellness, and most importantly, the personal trainer's role.
NFPT emphasizes that wellness is earned and highlights self-responsibility, which is key in helping clients successfully maintain long-term healthy habits and mind-body wellness.
Overall, the NFPT-CPT textbook is fairly thin and 343 pages, whereas most other personal training organizations such as NASM or ISSA have much more in-depth textbooks and other materials that are more than twice as long.
One thing I liked was the basic exercise and stretch library at the end.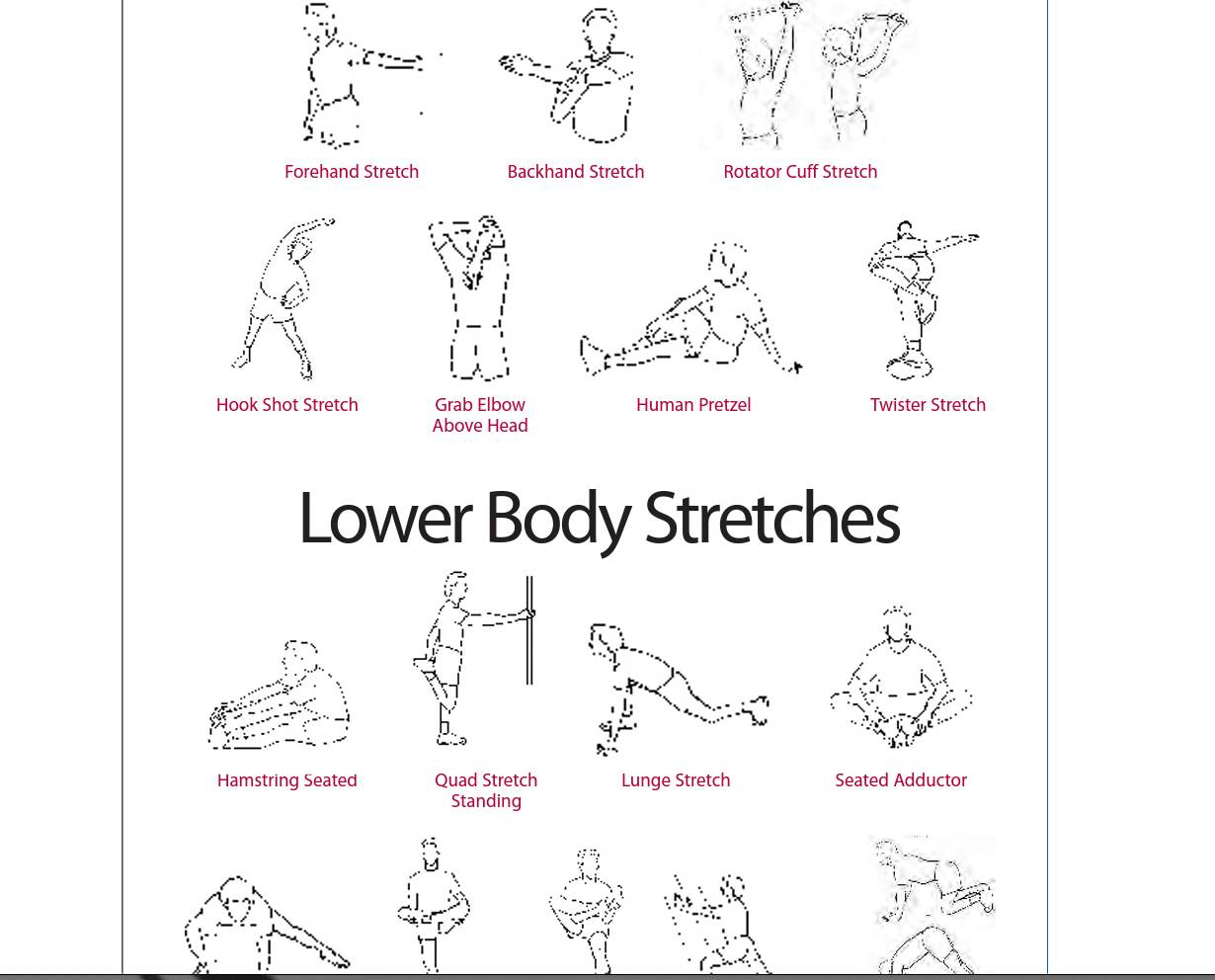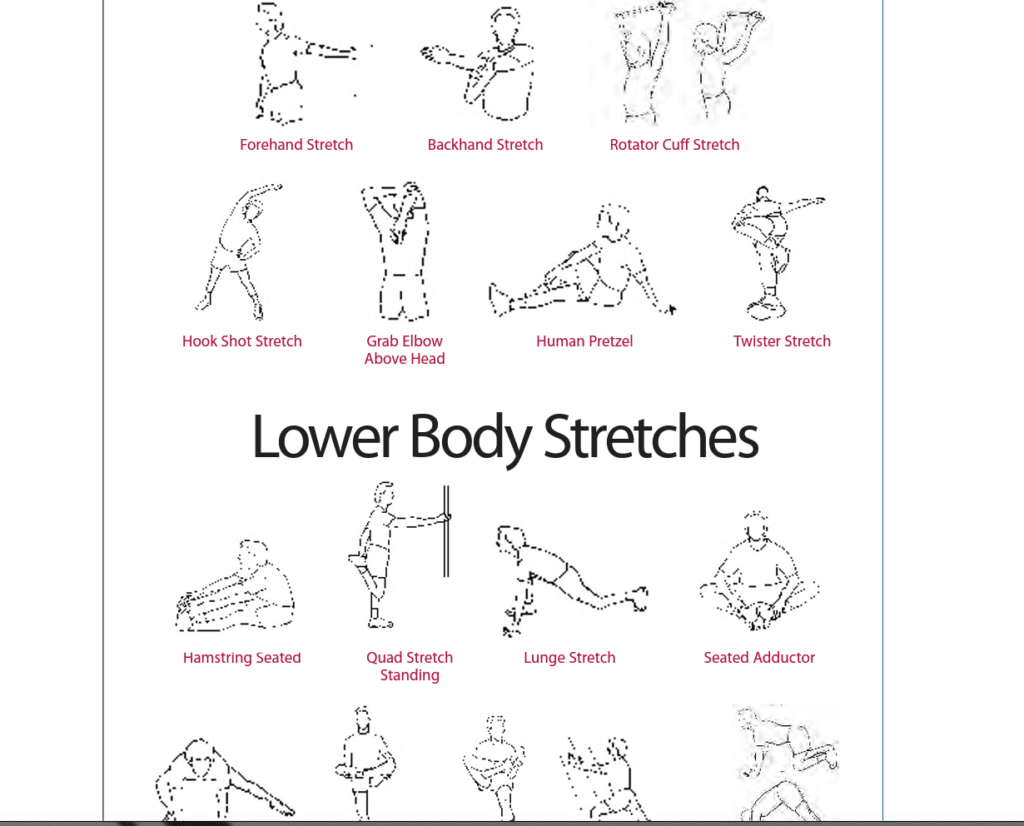 Every fitness certification textbook should have this.
While there are not many pictures, there are some charts and infographics which could be helpful for study purposes.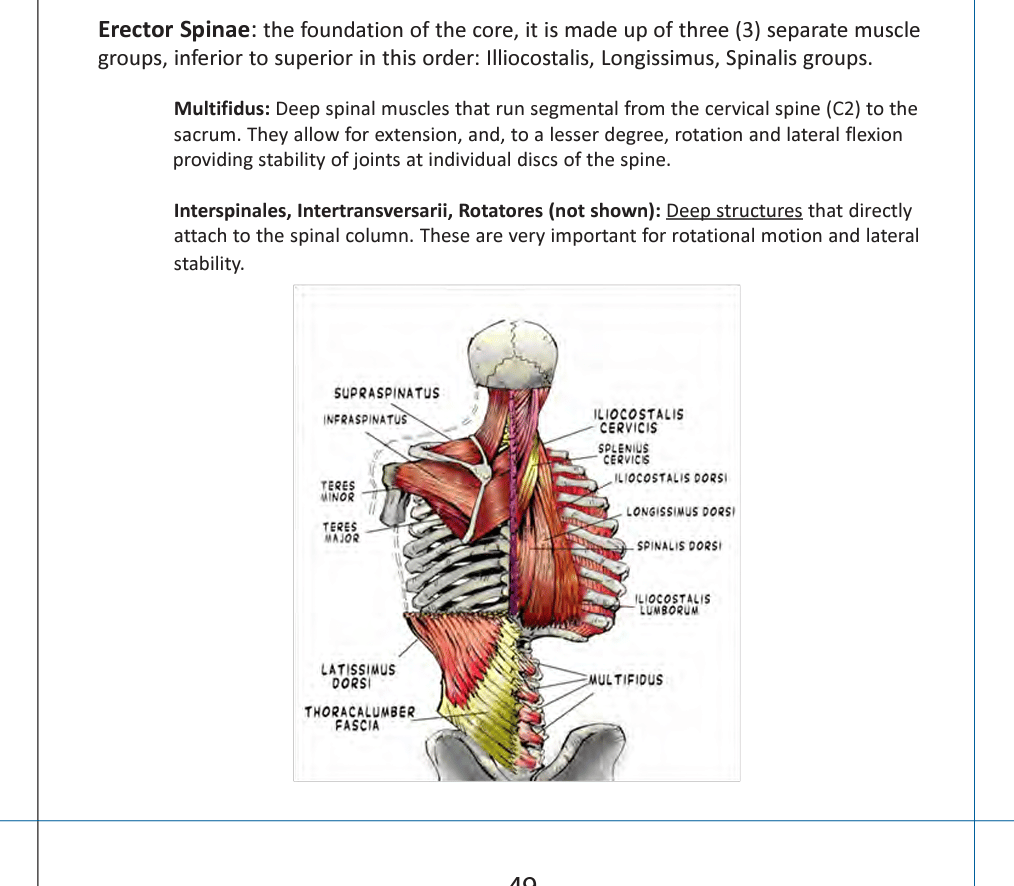 Its primary focus is exercise programming and client assessment, but there is too much of an emphasis on nutrition and dietary supplement recommendations, which is problematic for a number of reasons.
The first is that such recommendations are based on government guidelines, which are often controversial, not up-to-date, or not applicable to a general population.
There are more folks than not who follow alternate diets and lifestyles contrary to those guidelines and are successful health and fitness-wise.
Moreover, this is a fitness certification, not a nutrition specialist program, where nutrition and dietary supplement emphasis ought to be heavier.
Finally, the NFPT-CPT textbook lacks the most important aspects of all fitness certifications.
Here they are.
While the NFPT Personal Trainer Manual does a great job providing basic information on important topics for the personal training career, it does not demonstrate to the reader how to apply this knowledge to the field.
Also, the NFPT Personal Trainer Manual shines a very dull light on foundational fitness education, which means that you, and especially brand new trainers, may need to spend much time, money, and stress seeking more in-depth knowledge from other resources.
This is discouraging, especially for those entering the field and for those who have already purchased NFPT's Standard Package, where the sole means of studying is the NFPT Personal Trainer Manual and very little else.
Which leads to another issue.
Preparing for possible NFPT exam questions and passing is made very difficult.
More likely than not, this will cause unnecessary stress and the likelihood of failing at the first attempt, which will lead to more time and money spent.
Exclusive PTP Offers



Gold Standard Cert

Most Popular Cert

A Good Option

Best Study Materials

Best online PT course

The Top PT Software

Oh, and stress!
This is certainly not ideal, especially for applicants fresh out of high school trying to get certified to start working.
The NFPT-CPT is actually geared toward those with little to no fitness background, so the manual is much less sophisticated and much less in-depth than, say NSCA or NASM textbooks.
Also, the NFPT-CPT certification would be considered an employer's second or third choice for those who are more educationally advanced.
Perhaps, this certification was also designed for fitness professionals who are already certified and are seeking this certification as an addition.
NFPT-CPT Requirements
Similar to other CPT certification programs, the basic requirements before you can take this CPT course are as follows:
At least 18 years old
High school diploma or the equivalent (GED)
Current and valid CPR and AED certification
Current and valid government-issued photo ID
Failing to meet these prerequisites means ineligibility to sit for the NFPT-CPT exam.
However, unlike other personal trainer certifications, where you are welcomed as an inexperienced trainer, this certification requires having at least two years of experience.
This is bizarre considering most people who are interested in becoming certified personal trainers lack experience.
Also, how can someone really prove that they've had prior experience?
And, what kind of experience counts (i.e. playing a specific sport, training in a gym, etc.)?
This is something to question for sure.
NFPT Study Materials: Quality and Price
Now, let's dissect the study materials!
The study guide was very helpful and went along nicely with the textbook.
For myself, the online learning section and practice tests were the most helpful.
There are quizzes for each individual chapter from the textbook.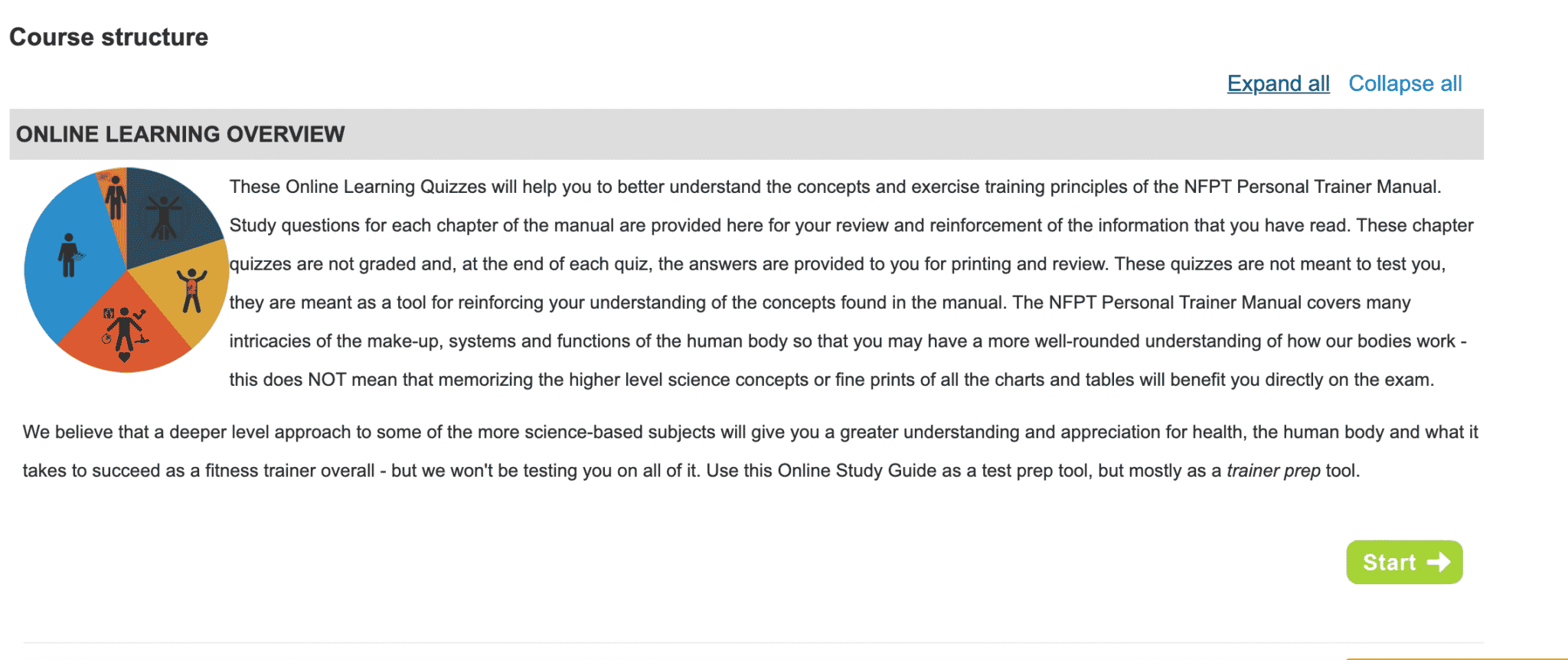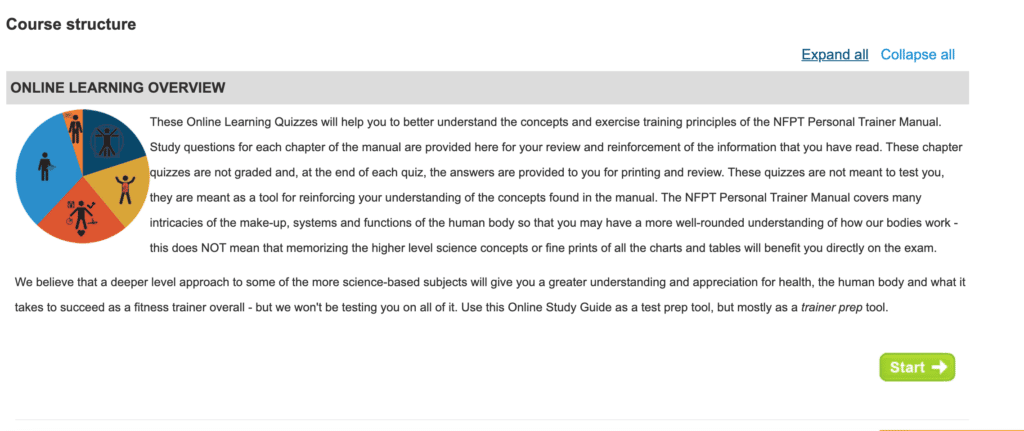 The online portal contains many helpful things as well, such as tips for training clients online, professional forms and documents, online exam content outline.
Each of the NFPT-CPT review materials, NFPT study guide pdf, NFPT practice exam, digital workbook, and online chapter reviews are uniquely helpful.
The NFPT-CPT workbook is straightforward, user-friendly. and divided by chapter.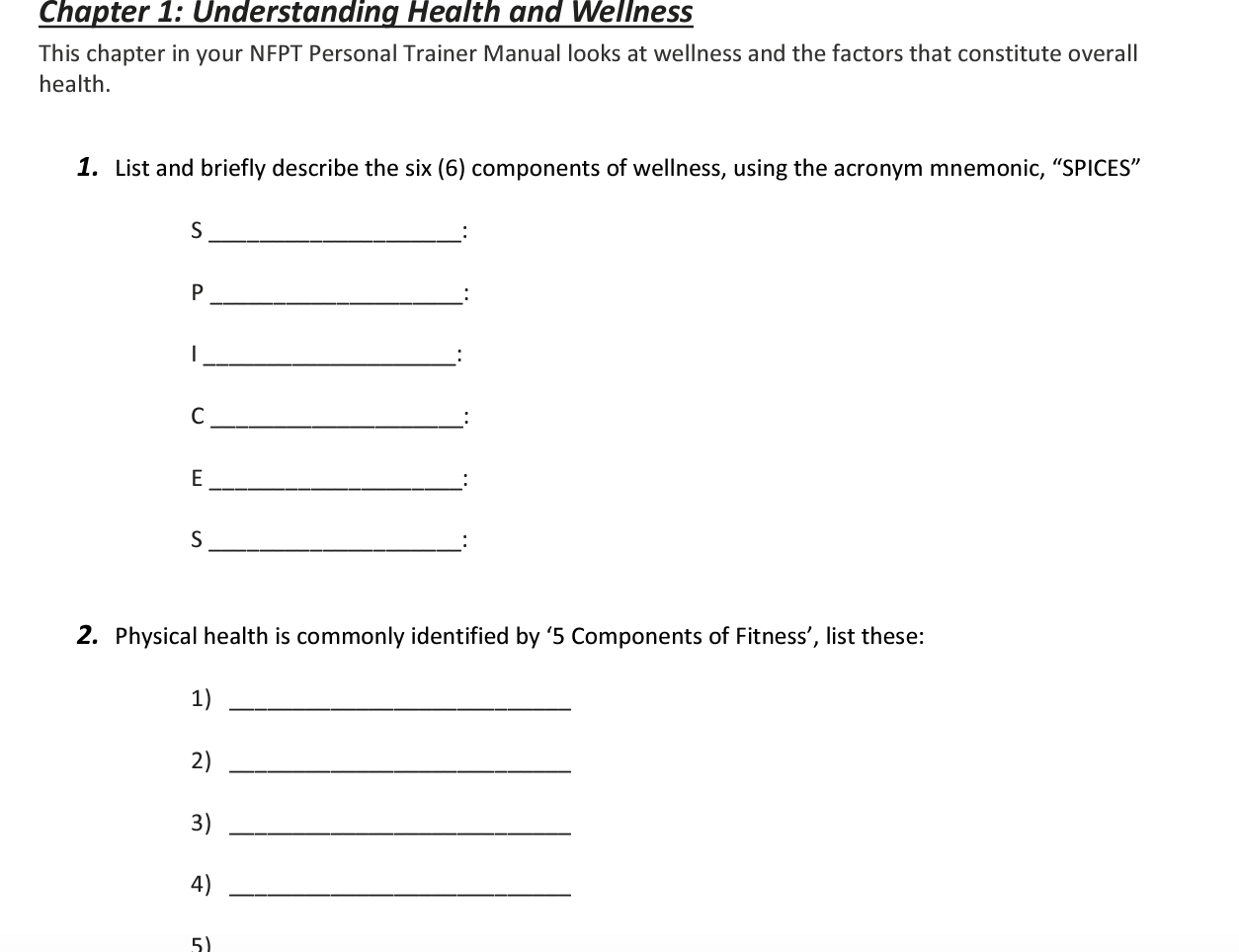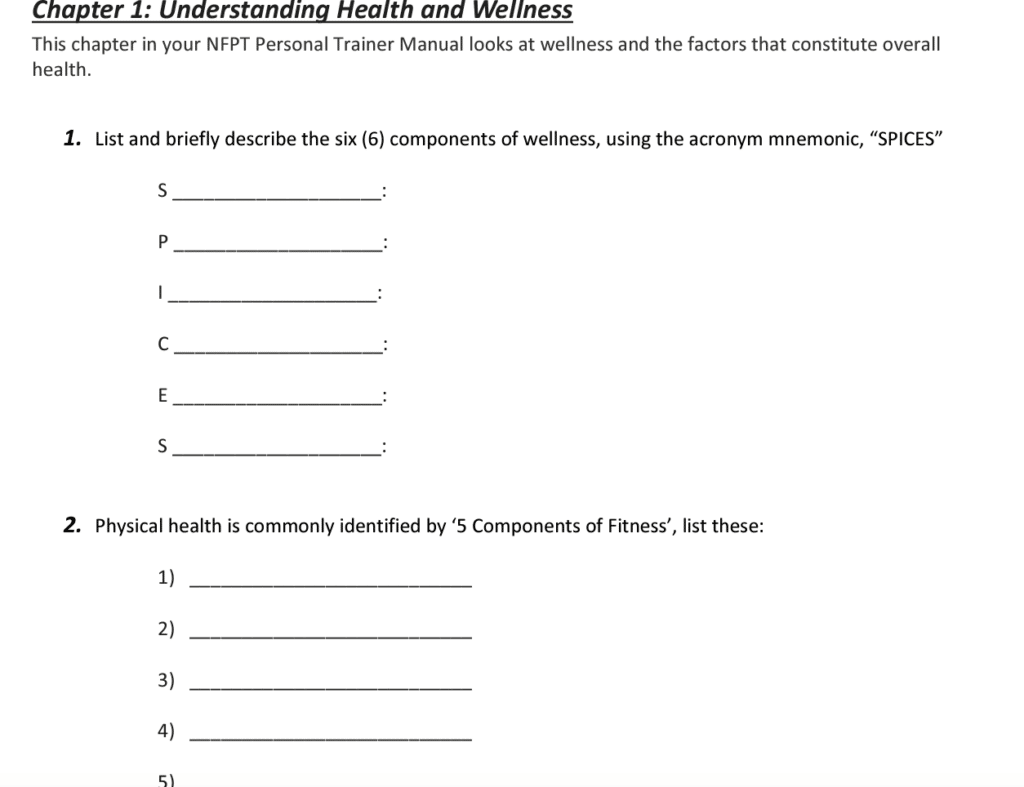 It consists of different tasks, such as multiple-choice, matching items, open-ended answers, and fill-in-the-blanks.
The workbook also leaves space at the end of each chapter test entitled "Notes" to track any notes you may want to write for yourself.
At the very end, is the NFPT review of exam content, as well as NFPT exam answers.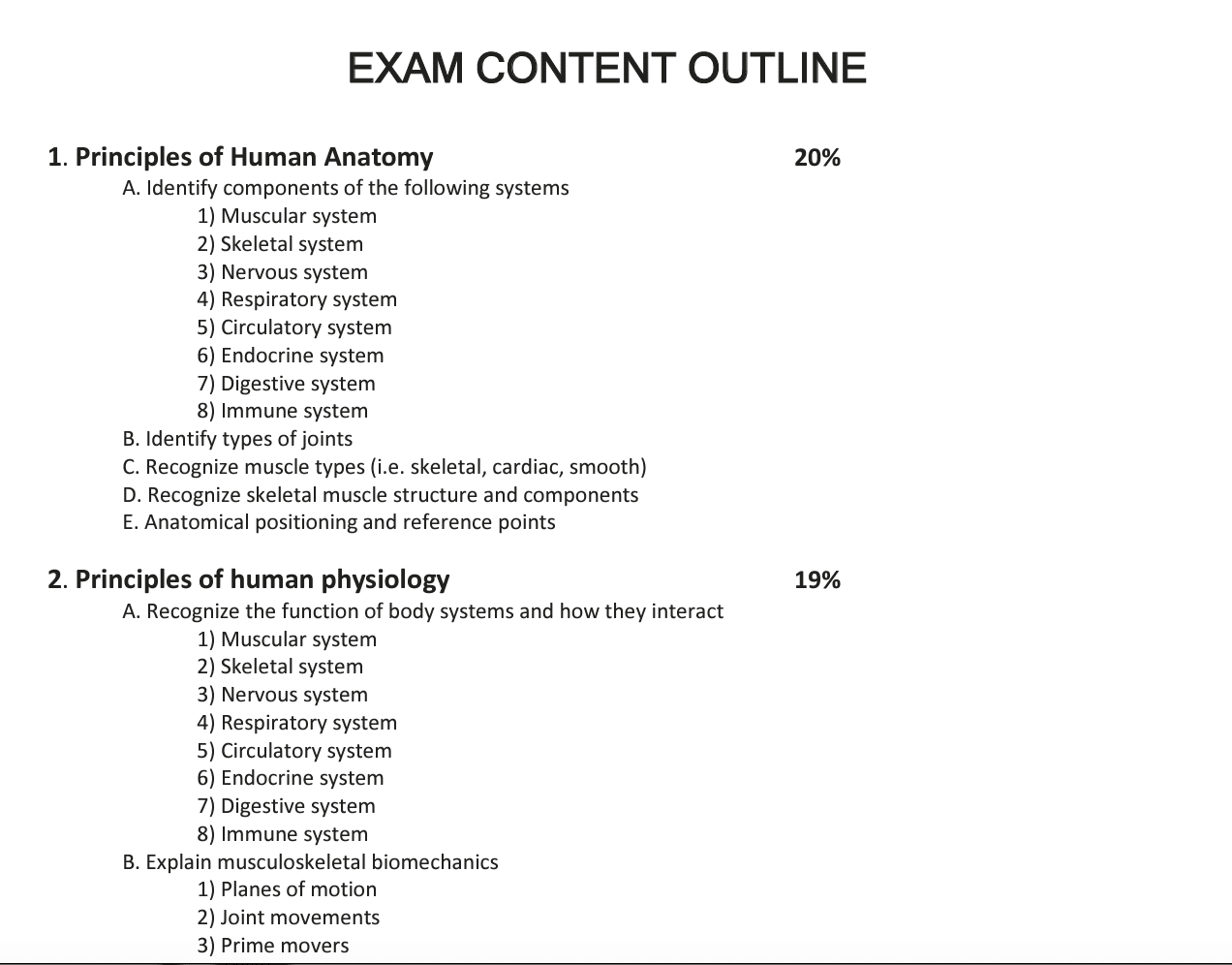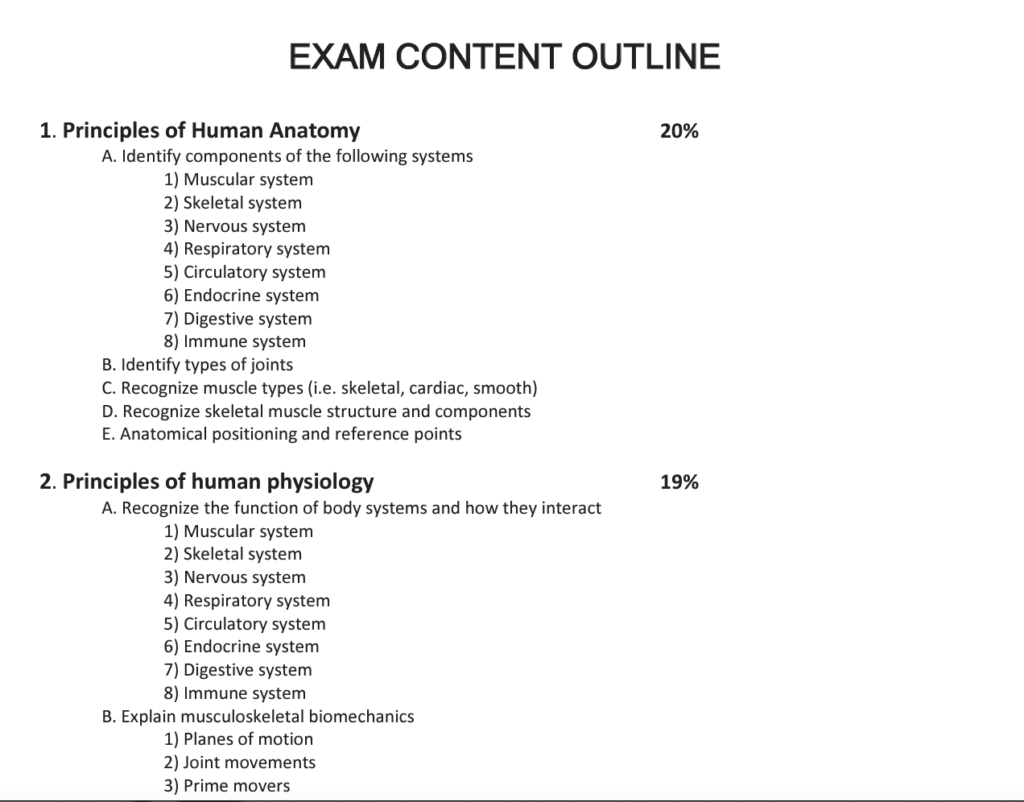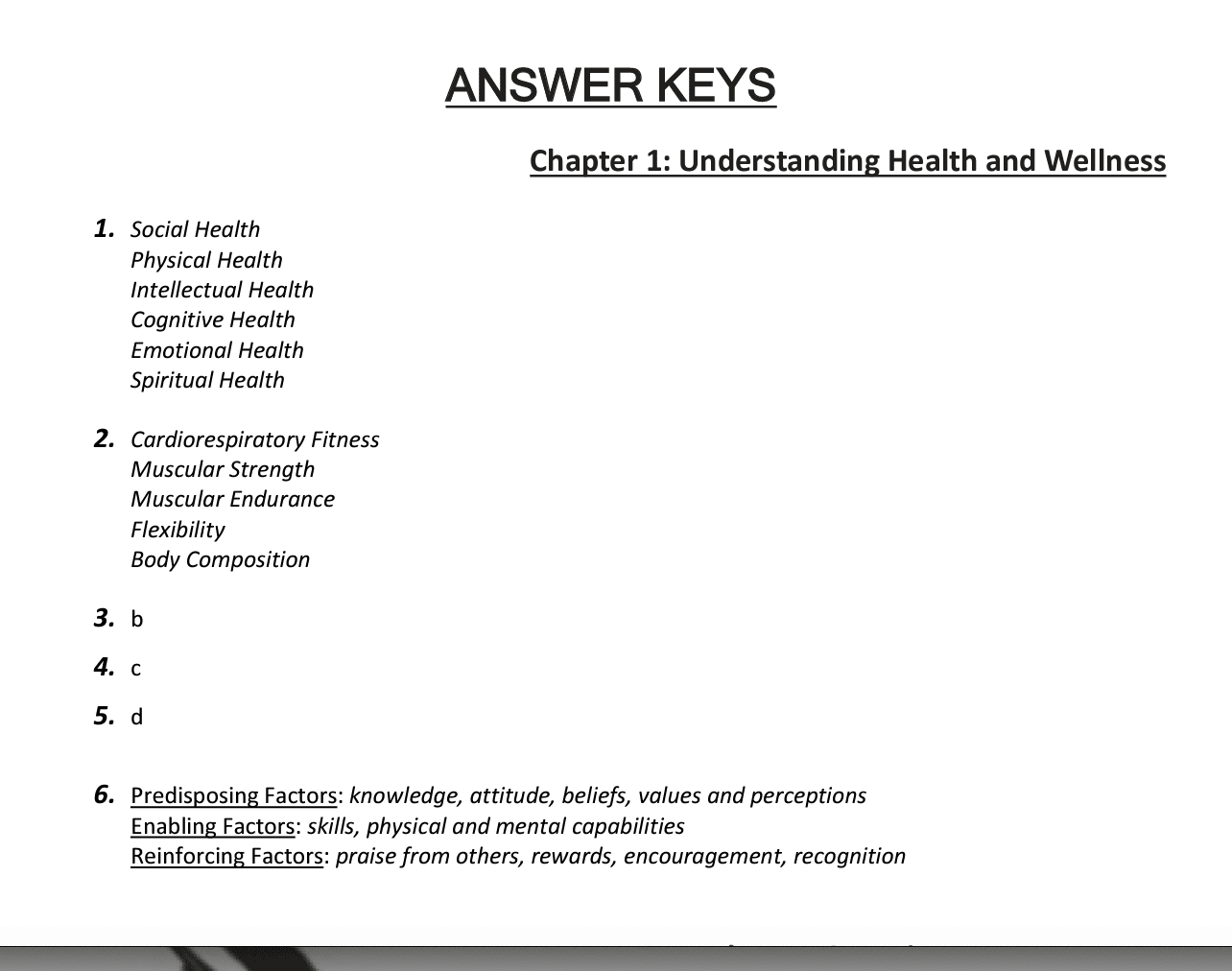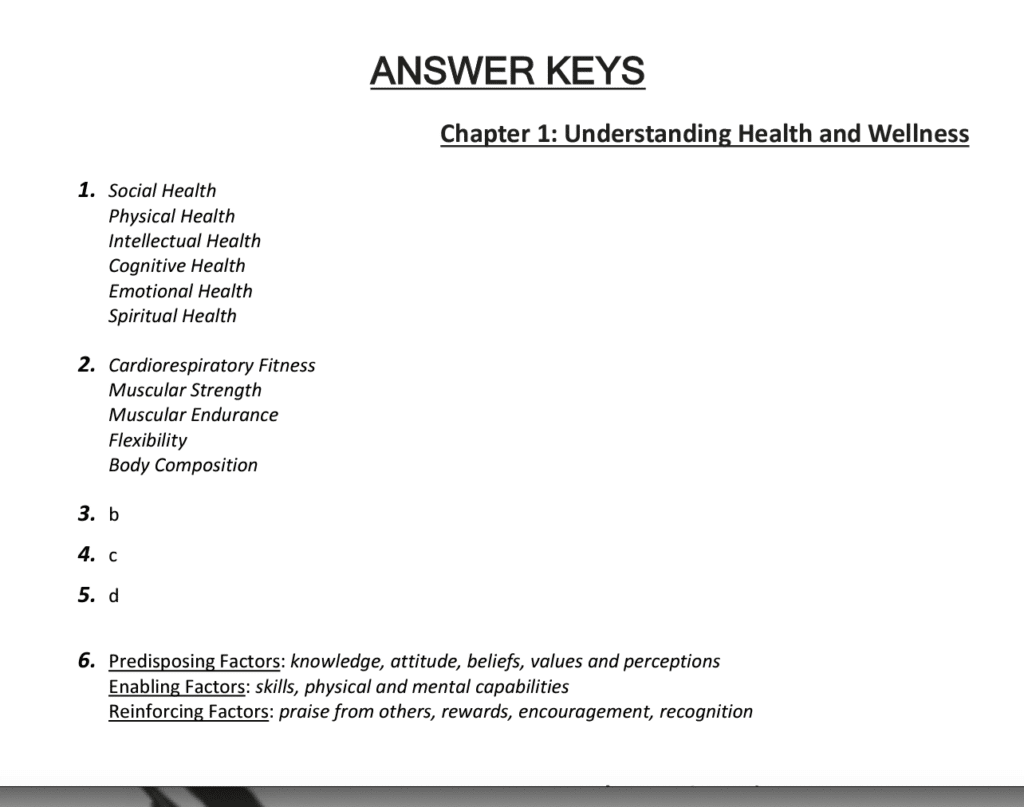 The NFPT test answers should be used only to check your work and for reference.
Something I didn't like was how the fourth category, Training Program Development, Implementation, and Modification, consists of so much information packed into just one.
This is certainly not ideal from a studying or a test-taking standpoint.
Every other chapter seemed condensed and relatively vague, whereas chapter four contained so much information, which could definitely be overwhelming.
Grades may be heavily impacted by this.
NFPT Personal Trainer Certification Packages
Let's now discuss NFPT certification costs.
The NFPT personal fitness trainer certification program bundles cost between $339 to $449.
This price range is actually lower than most other personal trainer certification costs, such as NASM or NSCA.
NFPT offers you two juicy study packages, which are the Standard Package and the Premier Package.
There is also an Exam-Only option.
The Standard Package includes the "bare bones" essentials for test prep (i.e. the personal trainer manual and study guide).
It also includes the exam sitting and exam content outline.
There is an NFPT study guide for the textbook as well as online learning quizzes.
This package costs $339, however, if you are currently working at a health club facility or gymnasium, you can often get this same package at a discounted rate.
On the other hand, the Premier Package costs $449.
It contains all of the standard package items, plus additional resources including NFPT practice tests, online study tools, and client assessment videos.
You will get two sample practice NFPT tests, which contain 45 multiple-choice questions from the five exam sections.
The exercise animations are 80+ dynamic exercises that show form and the involved muscle groups for each exercise.
This feature is good, especially for visual learners.
Also, the client assessment videos include 45 step-by-step assessments and help you assess your client's fitness.
One additional study material that I found helpful is their free NFPT personal training career guide.
This helps you learn a little bit about marketing, sales, and how to make more money as a personal trainer.
And finally, there's an Exam-Only option, which costs $199 and covers sitting for the exam and the exam content outline.
This is great for people who want to 'test-out,' but not ideal unless you already have the textbook from an old friend or have completed a four-year degree in Kinesiology or Exercise Science.
NTPT Hands-On Workshop
The NFPT-CPT certifications program contains two segments. You can learn half from the classroom and get the other half from real-life situations.
The real-life is the workshop where you get all the basic professional fitness training that will equip you enough for the skills required to be a functional personal trainer.
Exclusive PTP Offers



Gold Standard Cert

Most Popular Cert

A Good Option

Best Study Materials

Best online PT course

The Top PT Software

The 2-day workshop lasts for 16 hours, which is 8 hours daily. There are other benefits attached to this workshop package, too.
At the live workshop, you get to learn the personal training business and much more.
Hard and soft copy of the trainer manual
Expert support
Exercise videos
Workshop materials (workshop presentation slide and study guide)
Fitpro tool kit
Several chapters of quizzes
Samples of NFPT test questions for the upcoming exam
The certification exam
Member card
The workshop, plus certification, costs $728 and can earn you 2.0 CEUs.
As you get all the training required for this awesome career, also add to your competence by using sound management software to operate at the maximum level and get great professional insurance to protect yourself from liability.
NFPT Exam Difficulty: How hard is the NFPT-CPT exam?
Similar to NASM, the NFPT-CPT exam contains 120 questions, and you will have two hours to finish it.
The minimum passing grade is 750 points out of 1000 or 75%.
The NFPT-CPT test is divided into five exam categories, and below are each respective percentage it counts toward your overall grade:
Human Anatomy Principles: 20%
Principles of Human Physiology: 19%
Fitness Components: 23%
Training Program Development, Modification, and Implementation: 33%
Professionalism and Communication Skills: 5%
According to survey reports and NFPT exam reviews, it is relatively easy to pass this test.
Most people read through the textbook reasonably quickly and did a quick overview of the reference manual.
It never hurts to seek out NFPT practice tests, though!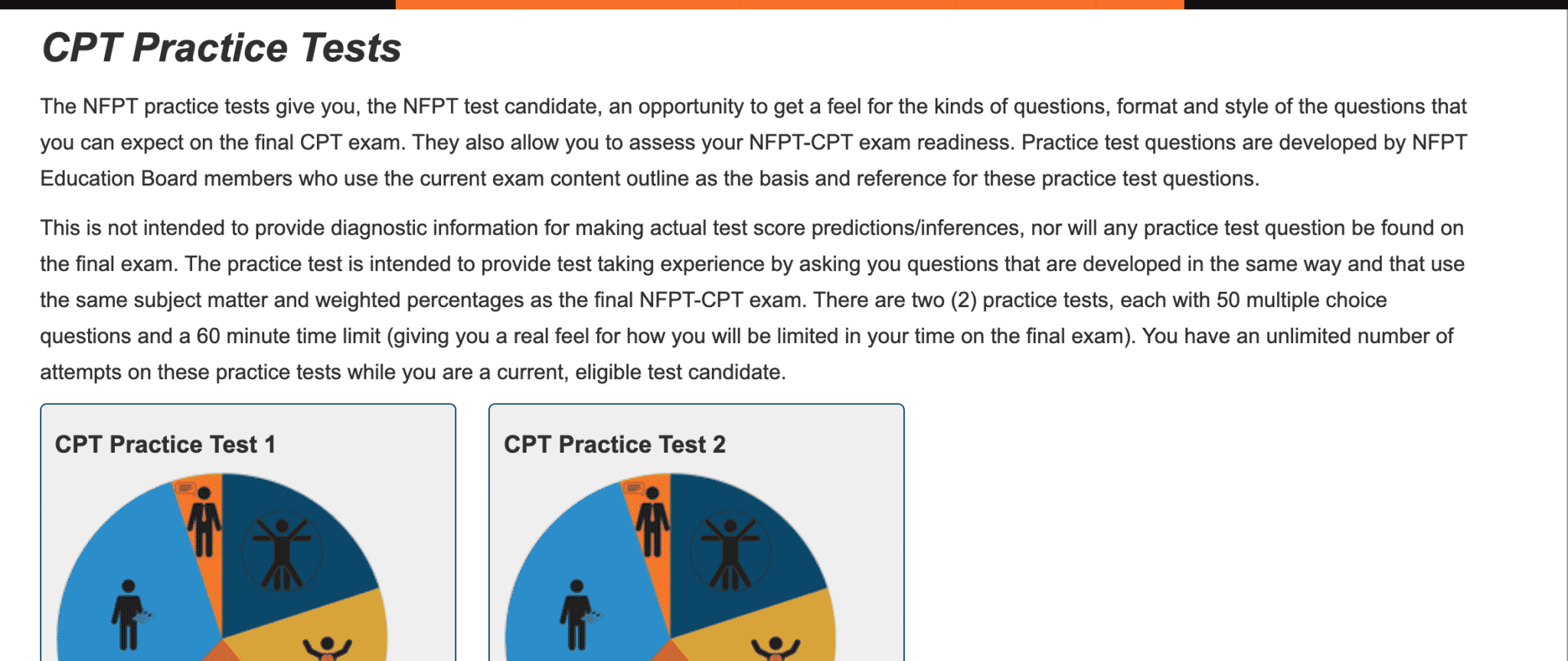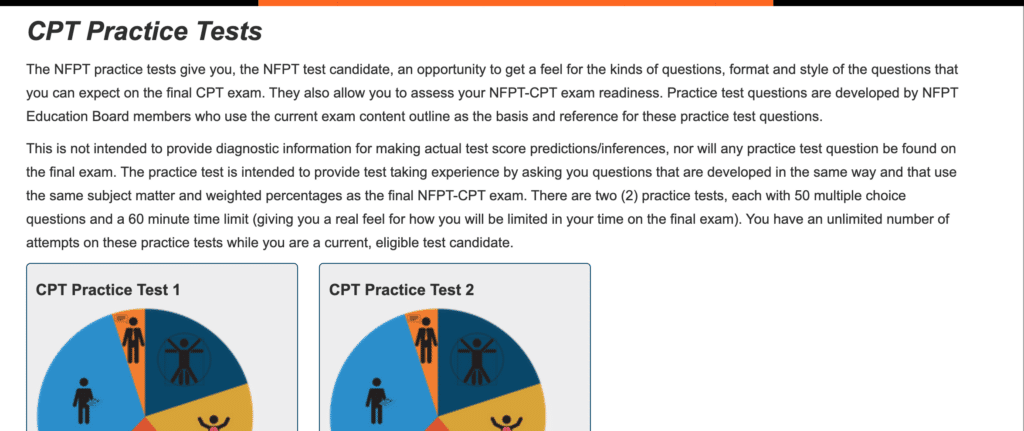 You have a full calendar year to prepare for your certification exam, which is certainly more than enough time to breeze through the materials and Personal Trainer Manual.
If you fail the NFPT personal training certification exam the first time, you can retake the exam.
The retake fee is $119, and you must retake the test within one year of registering.
NFPT-CPT Continuing Education
The recertification helps the NFPT Certified Personal Trainers to stay up-to-date with current knowledge in the exercise training field and also gives them a competitive edge in the health and fitness industry.
Besides the NFPT workshop, there are several ways of renewing certifications with NFPT.
Take Classes
Live Workshops
Proof of Insurance Seminars
Current CPR/AED Certification
Attending Seminars
Adding to the body of knowledge through conducting research
Free CEC courses
The membership renewal fee is $85.
Unlike other certification programs that give just a 90-day grace period for you to renew your certificate, NFPT allows for 2 years of grace for recertification.
This can be problematic for those who are not on top of their certificate, as two years is a long time, and may enable procrastination.
During that 2 years grace period, you can continue to acquire CECs to get your certifications renewed.
But the longer it takes you to recertify (after the certification expiration), the higher the number of CECs you need to obtain, and this can be somewhat costly.
Also, NFPT requires that the already certified fitness professionals renew their certifications every year, which is not ideal for most trainers.
This can certainly be taxing mentally and burdensome financially.
Having only one year to maintain all required CEUs, take courses, attend workshops, and whatnot can be problematic for someone who/s schedule is already quite hectic!
Most top-notch fitness certifications, like ISSA and NSCA certifications, are valid for at least two years to three years.
In any case, this certification didn't make it to the list of my top fitness trainer certifications.
There are so many reports on the future of the fitness training industry and I think you should check it out too.
NFPT-CPT Review Methodology
I based my expert review of the NFPT Personal Trainer certification based on the following criteria:
The opinions of experienced personal trainers
A critical review of quality and pricing
Typical reported information from trainers who passed the exam
Other comparable entry-level fitness certifications, specifically other CPT certifications
NFPT-CPT Frequently Asked Questions (FAQs)
Conclusion
After reading this NFPT certification review and you're still having trouble picking the right certification, take the quiz to help point you in the right direction.
NFPT personal trainer certification is accredited by the NCCA which is noteworthy. This also gives the certification validity.
Overall, this is a decent certification but not my overall top pick.
Discover All PTP Fitness & Wellness Career Articles
Tick a box from each section to narrow the results.
×
I want to know more about: